Friday the 29th sees the launch of the limited edition Trollbeads Sense of Shimmer bead for Black Friday. This Trollbeads blog brings live images ahead of that release.
We're fast approaching the biggest shopping day of the year and Trollbeads have a reputation for producing dazzling beads for the occasion. For 2019 comes the Trollbeads Sense of Shimmer, a warm chocolate, glittery, faceted bead.
There's always high expectations on the Black Friday beads. After all Thanksgiving marks the start of the holiday season for the USA. It needs to be glitzy and special!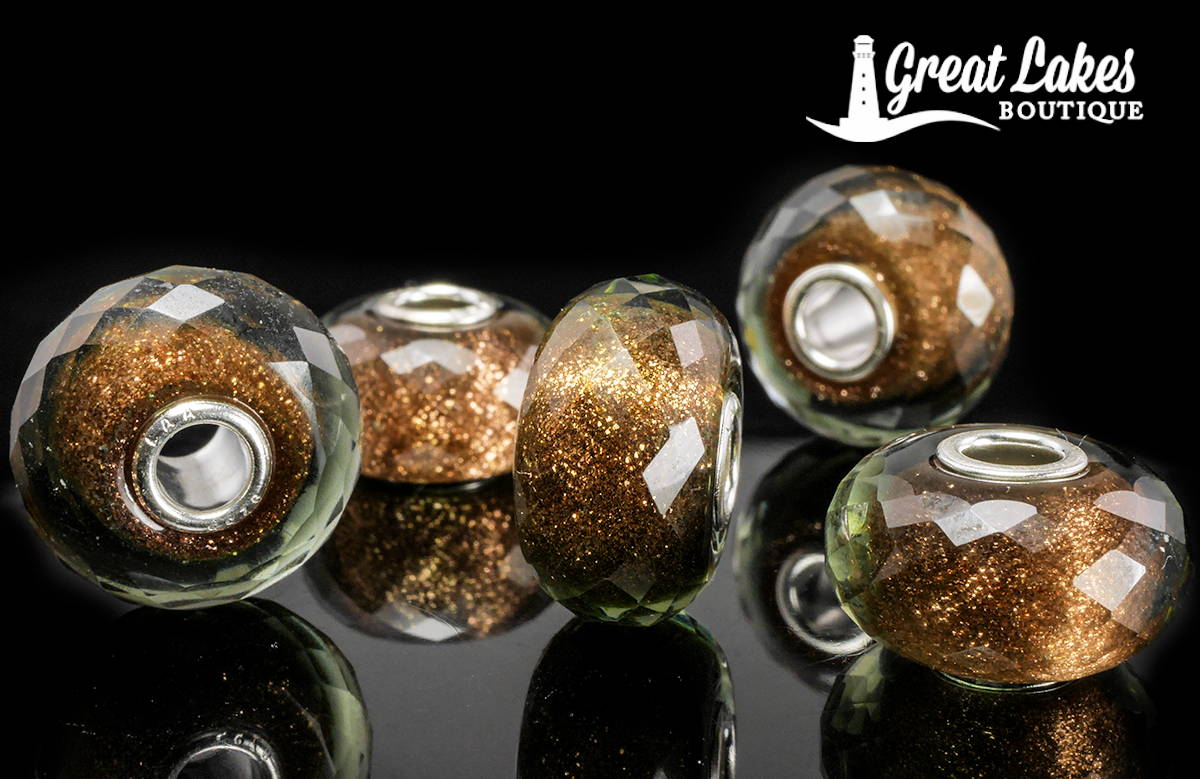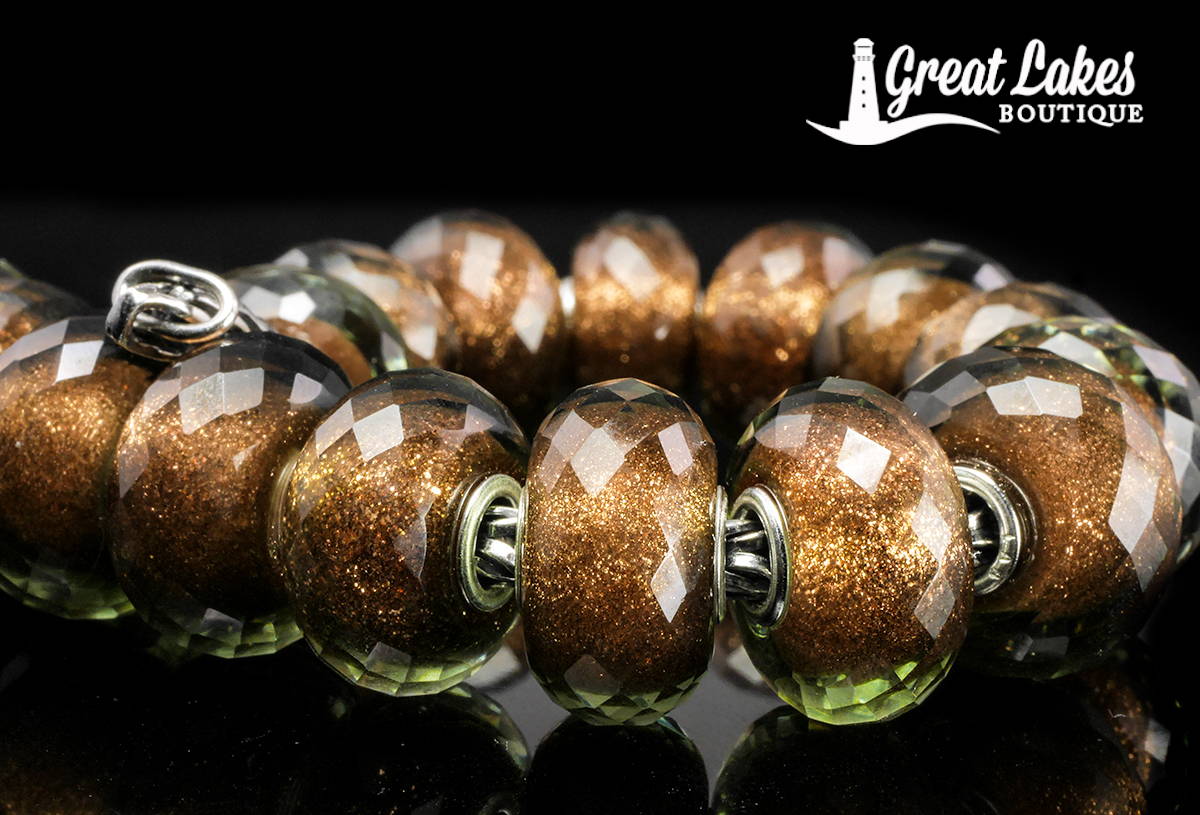 This bead has an olive green overlay which means it complements some of the Trollbeads Golden Night Kit, specifically the Golden Buds bead.
This green overlay is more prominent in direct light, you're not going to see it quite so much when it's on your wrist day to day.
I love this overlay. It's a great contrast.
For reference the bead will retail at $50.
Let's talk variation. You'll find the usual differences in size though these seem mostly quite consistent. More than height, some seem a little chunkier than others. The main variation seems to be in the size of the glitter and this was actually something seen with Shimmer Royal too. Some of these beads seem to have slightly larger glitter flecks than others. The difference is subtle and either type is very sparkly but some just seem to have a finer glitter than others.
In the images below the bead to the left has the larger glitter grains. The bead to the right has finer, more dust like inclusions.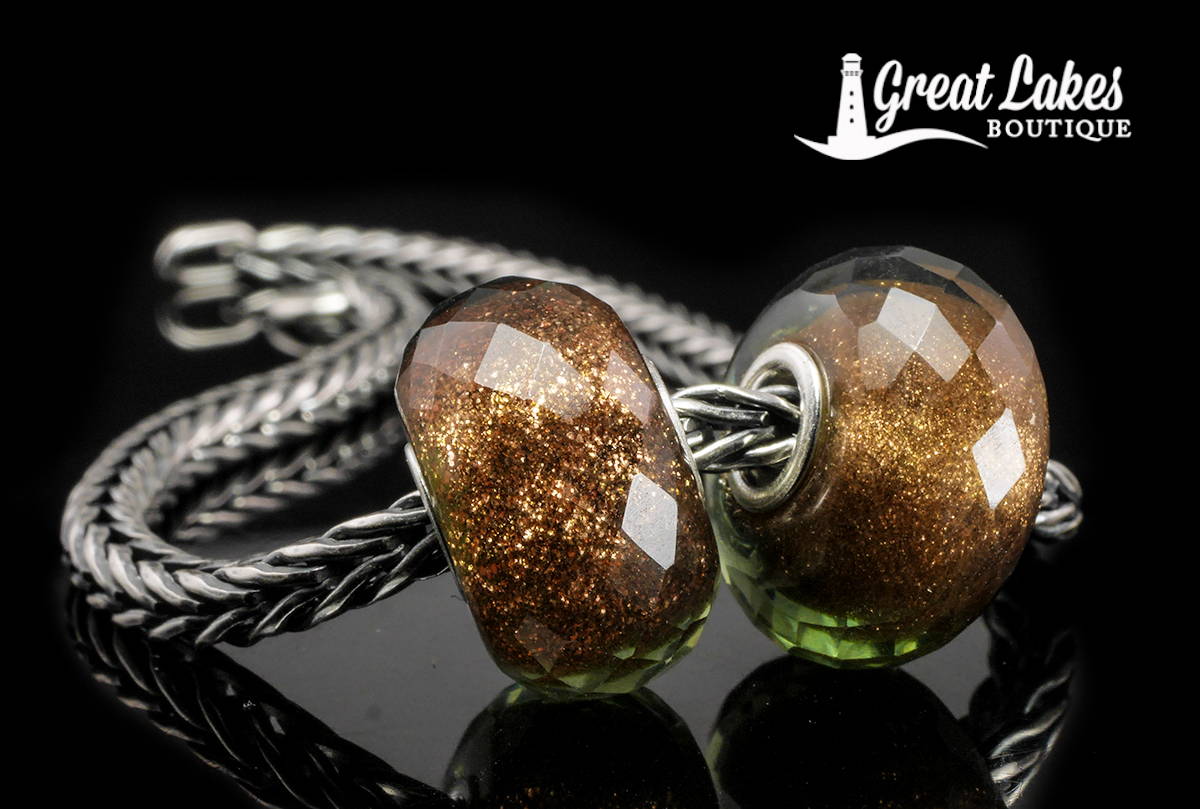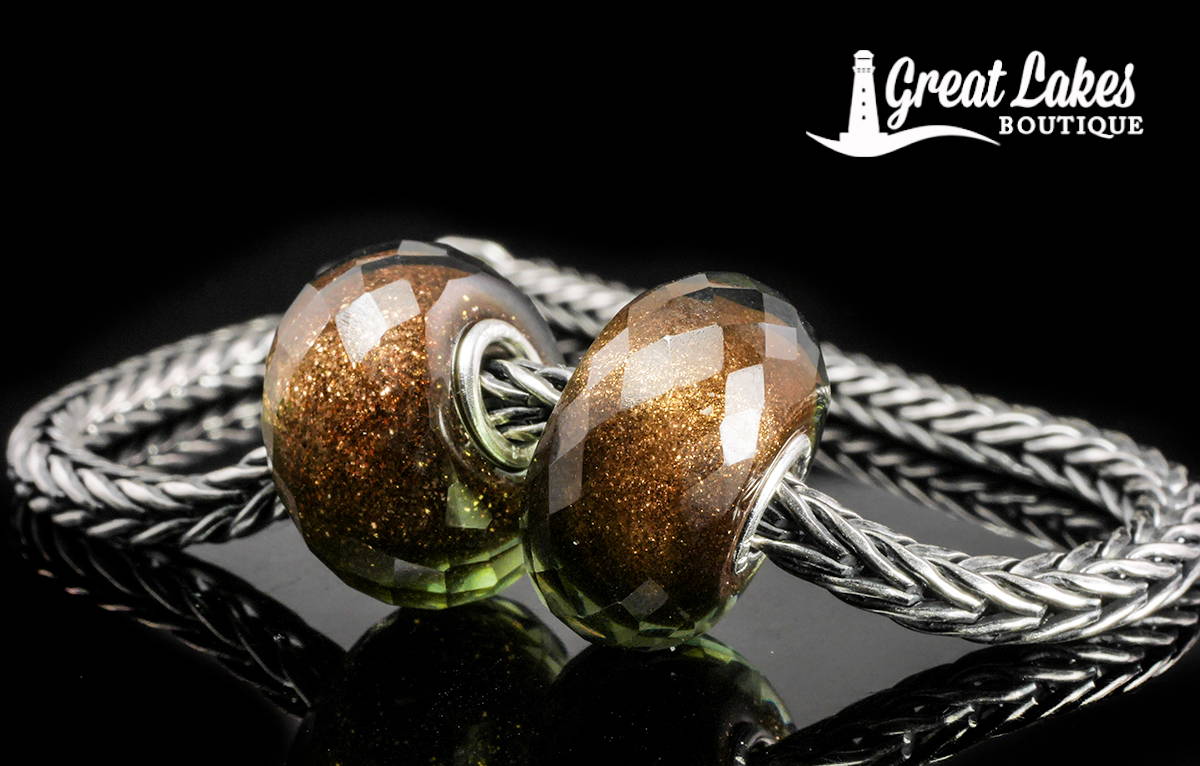 This bead is so eye catching in it's own right that you'll find it very easy to style. It looks lovely as a focal on a bangle. As mentioned earlier it teams beautifully with the winter glass too.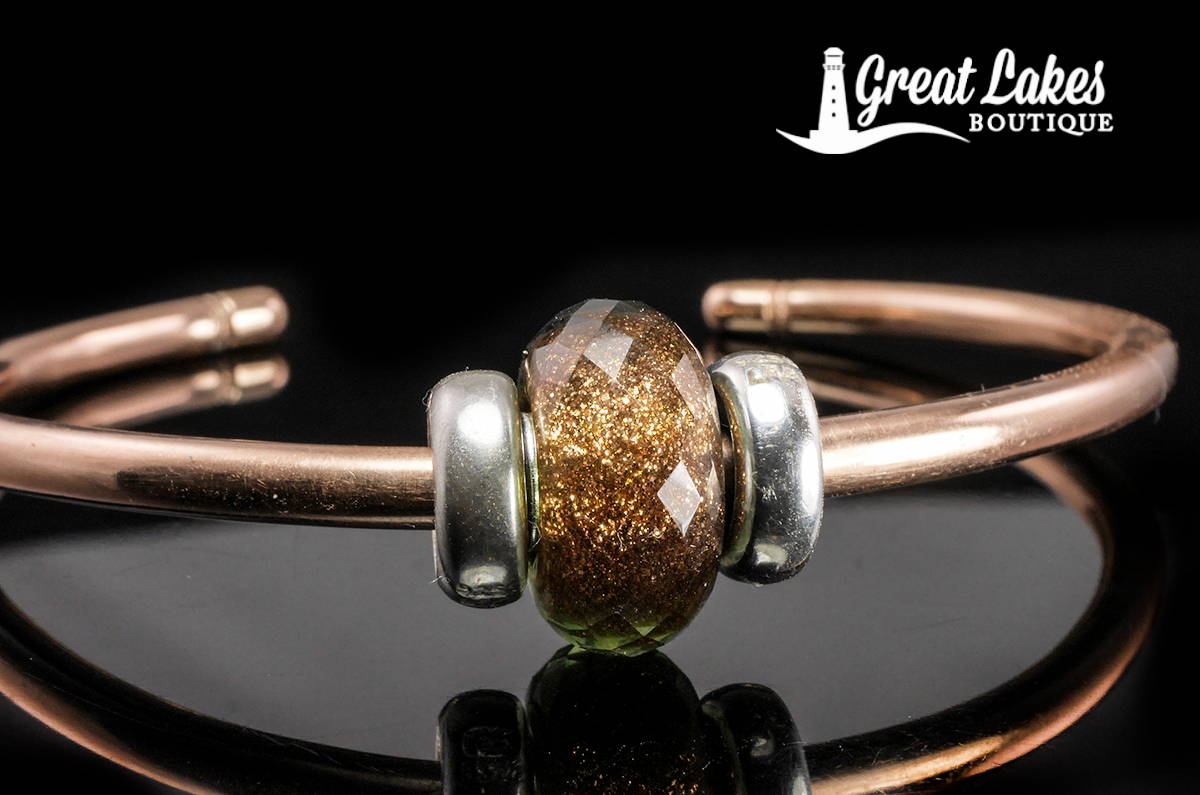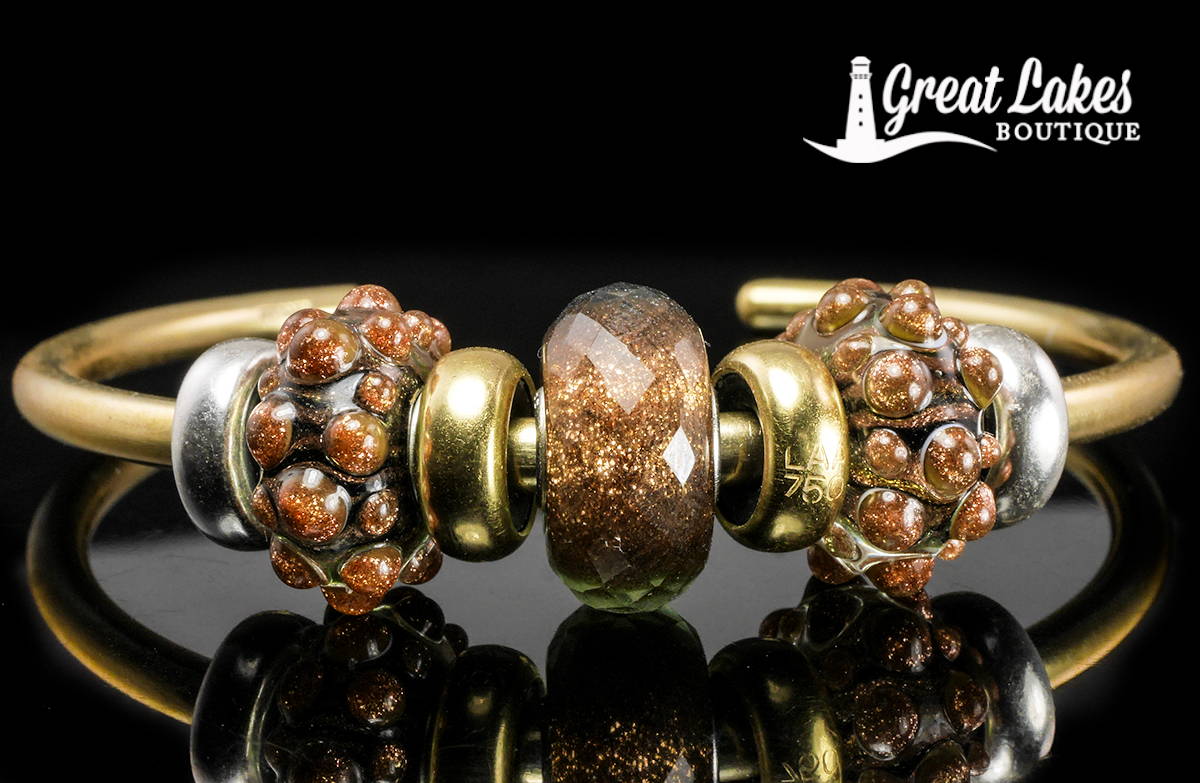 We'll be sharing a lot of inspiration for this bead on social media during Black Friday weekend but so far this is my favorite combination. The bangle uses the earlier Shimmer Royal, a single Sense of Shimmer and some beautiful gold.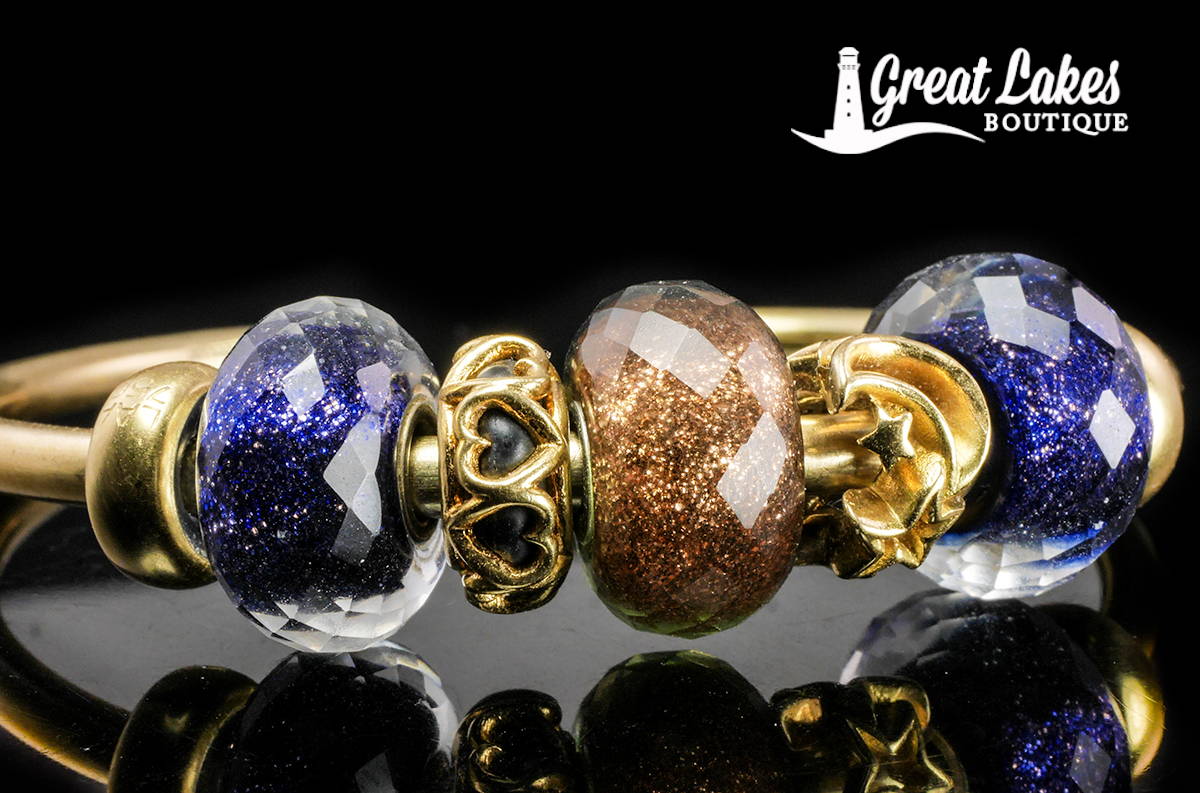 Sense of Shimmer will launch as the clock strikes midnight welcoming Black Friday, (so as Thursday night turns to Friday.) As always we'll be offering live image shopping for those of you keen to choose your own beads.
On Friday only anyone shopping Sense of Shimmer will receive 10% off the rest of their order. To clarify this means any beads in your basket that are not Sense of Shimmer, winter 2019 or autumn 2019 beads will have 10% off. This does stack with the 30% sale which can potentially give you a total of 40% off select items on Black Friday only.
Here's a quick recap of those amazing Trollbeads Black Friday 2019 promotions!
Save 30% across the brand. (Excludes Sense of Shimmer, Winter 2019, From the Heart Bracelets & Autumn 2019. Runs all weekend.)
Save a further 10% on Black Friday if your order includes Sense of Shimmer. (Excludes the above.)
Spend $50 or more and qualify to buy a Stackable Jewelry Case for $0.99
Spend $100 or more on Saturday to qualify for a free Mittens bead.
Shop Vine of Dreams for just $75.