This charm bracelet blog brings a second round of inspiration for The Palace of Amber Midsummer Night's Dream.
The Palace of Amber Midsummer Night's Dream is live on our website again but stock is low now. This was the exclusive event bead for spring and such a beautiful design for seasonal bracelets.
Although this is the second editorial for this bead, the color scheme here was my original plan. The combination is inspired by the Shakespeare play of the same name.
The color scheme was chosen to represent summer evenings with the strong contrast between pinks and blacks.
The silver and rose gold beads used here (and the lock and stoppers too,) were all chosen to represent forests, fairies, royalty, romance and magic. They're also all so seasonal and are perfect for the warm evenings ahead.
The stones used for the color are rose quartz from The Palace of Amber and Thomas Sabo Karma Beads, Trollbeads Round Black Onyx (top bangle and bottom bracelet) and then Thomas Sabo Karma Beads Smooth Obsidian (bottom bracelet.) You'll notice the Redbalifrog Cherry Blossom Stoppers on the upper bangle and we have six pairs of those remaining now.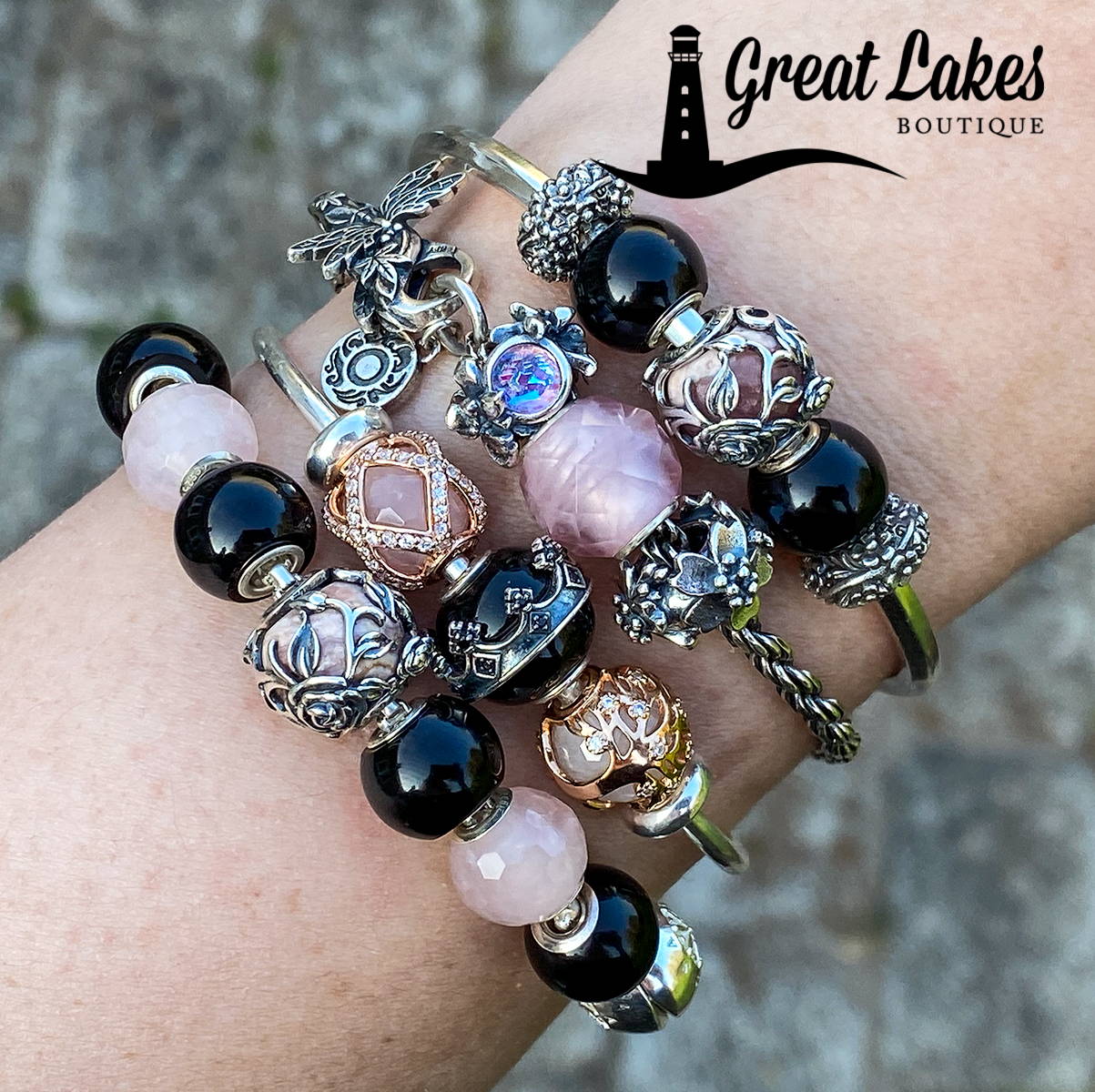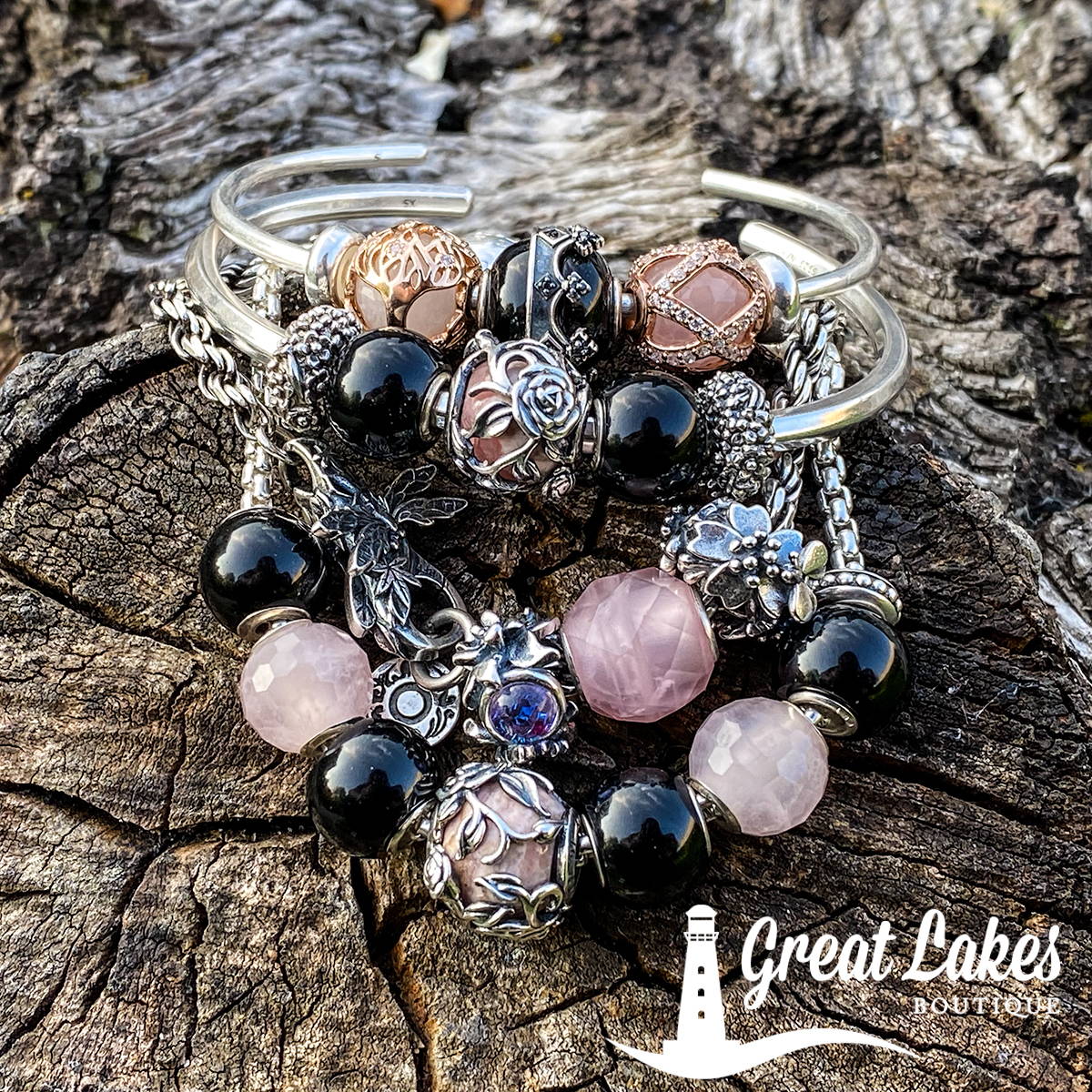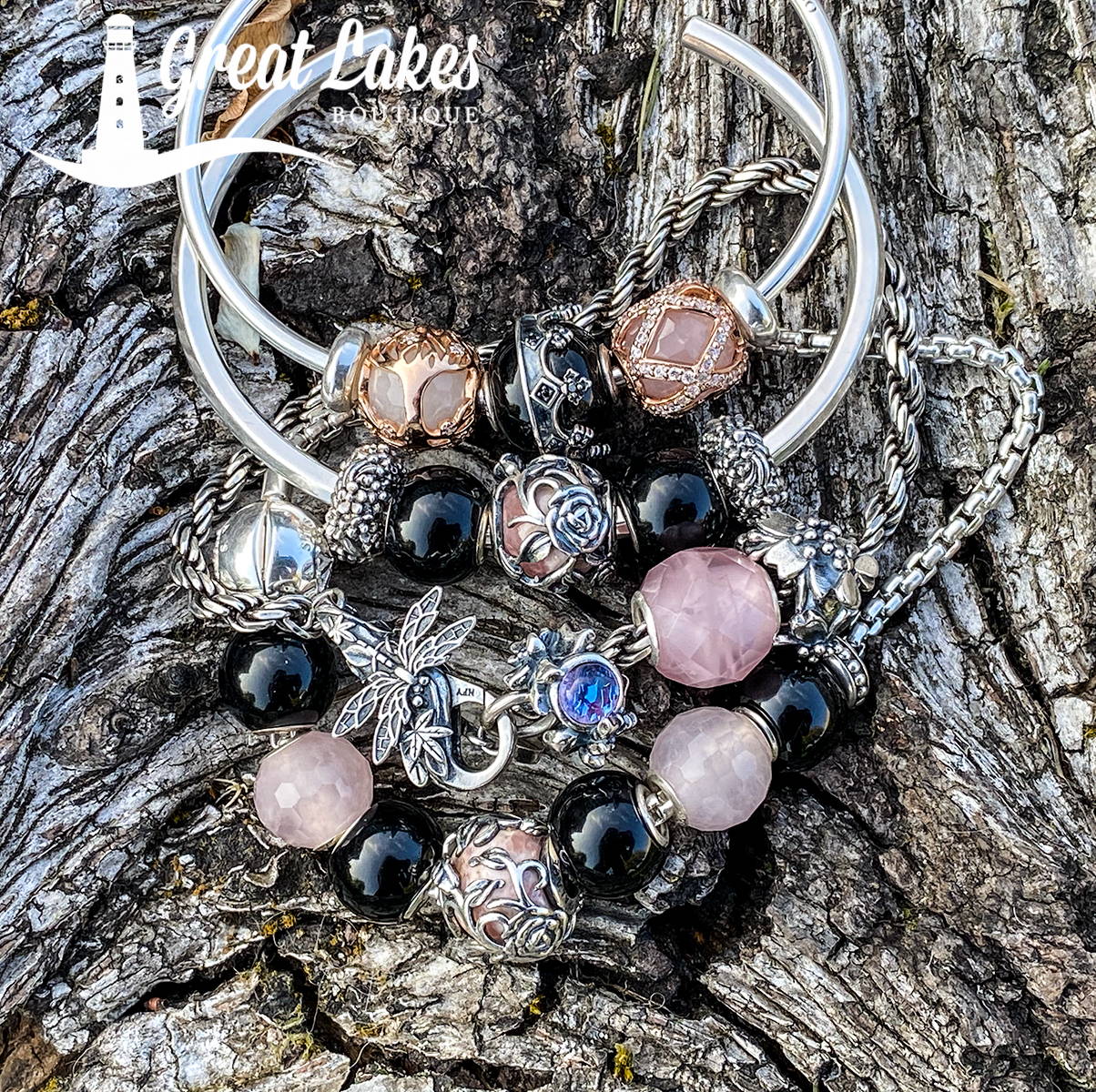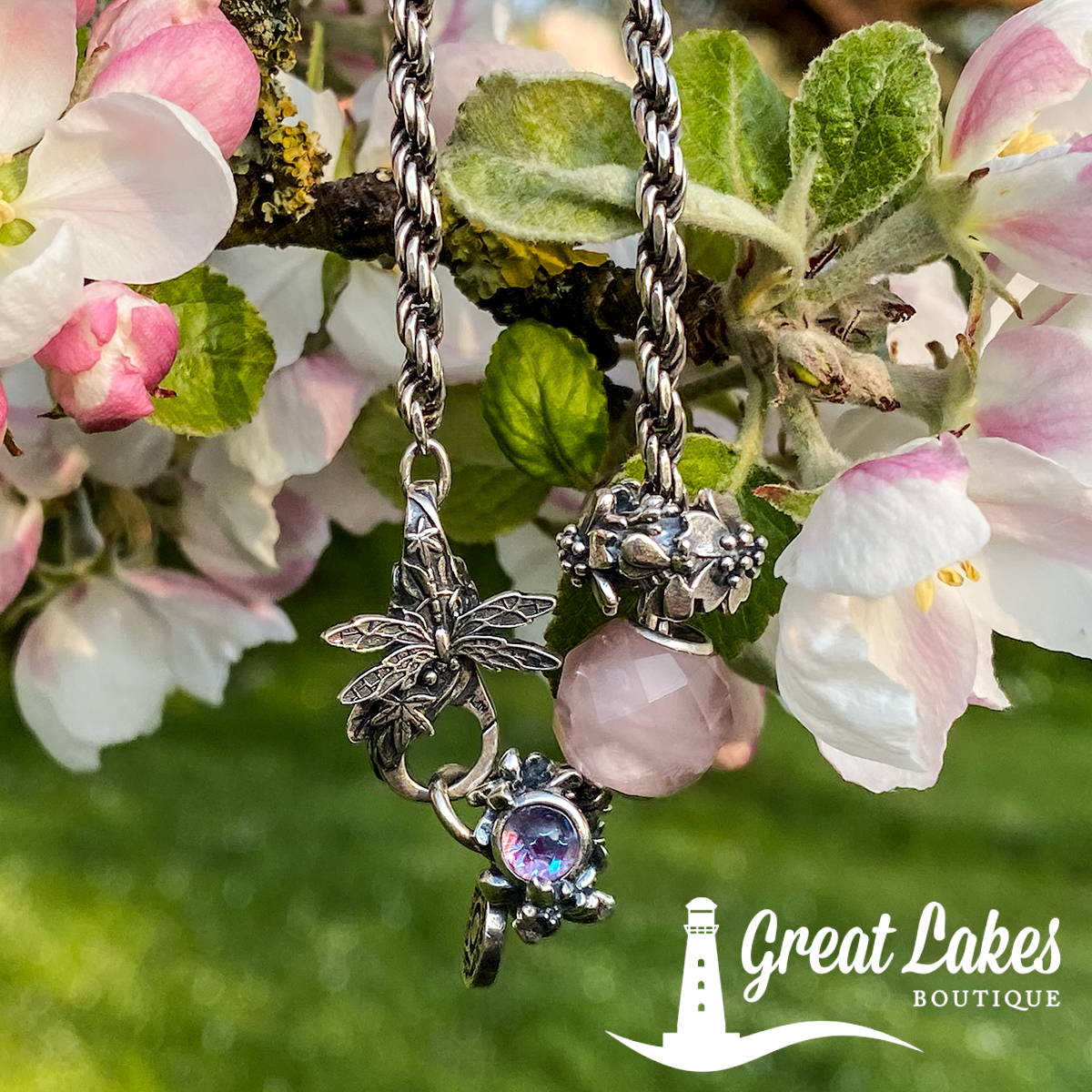 I adore this mini bracelet. It includes the new Drops of Life dichroic bead from The Palace of Amber which sold out just hours after it's release. We have a small restock due to arrive next week but that is the last stock we can get as this was a limited edition. At the same time we'll be restocking the Sky Ballerina too and I'll be sharing a little inspiration for that bead too.
Here it's styled with the round faceted rose quartz, Joys of Spring Stopper (restocks also due next week) and that amazing Lock of Glory.
I've mentioned before that the Thomas Sabo Karma Beads White Tree is one of my favorite designs from this brand. It depicts a rose gold plated cherry blossom tree with cz accents acting as the flowers.
Many of you have been treating yourself to this line over the past few weeks and if you're looking for a single focal to wear during the summer, I'd absolutely recommend this bead.
The Karma Beads Bangles are very minimalistic in design. They're definitely about showcasing the beads rather than the bangle itself and this helps in making the brand so comfortable to wear. It's petite and the shape ensures nothing digs in or pokes the skin. With the stoppers included in the price too, they're very reasonable.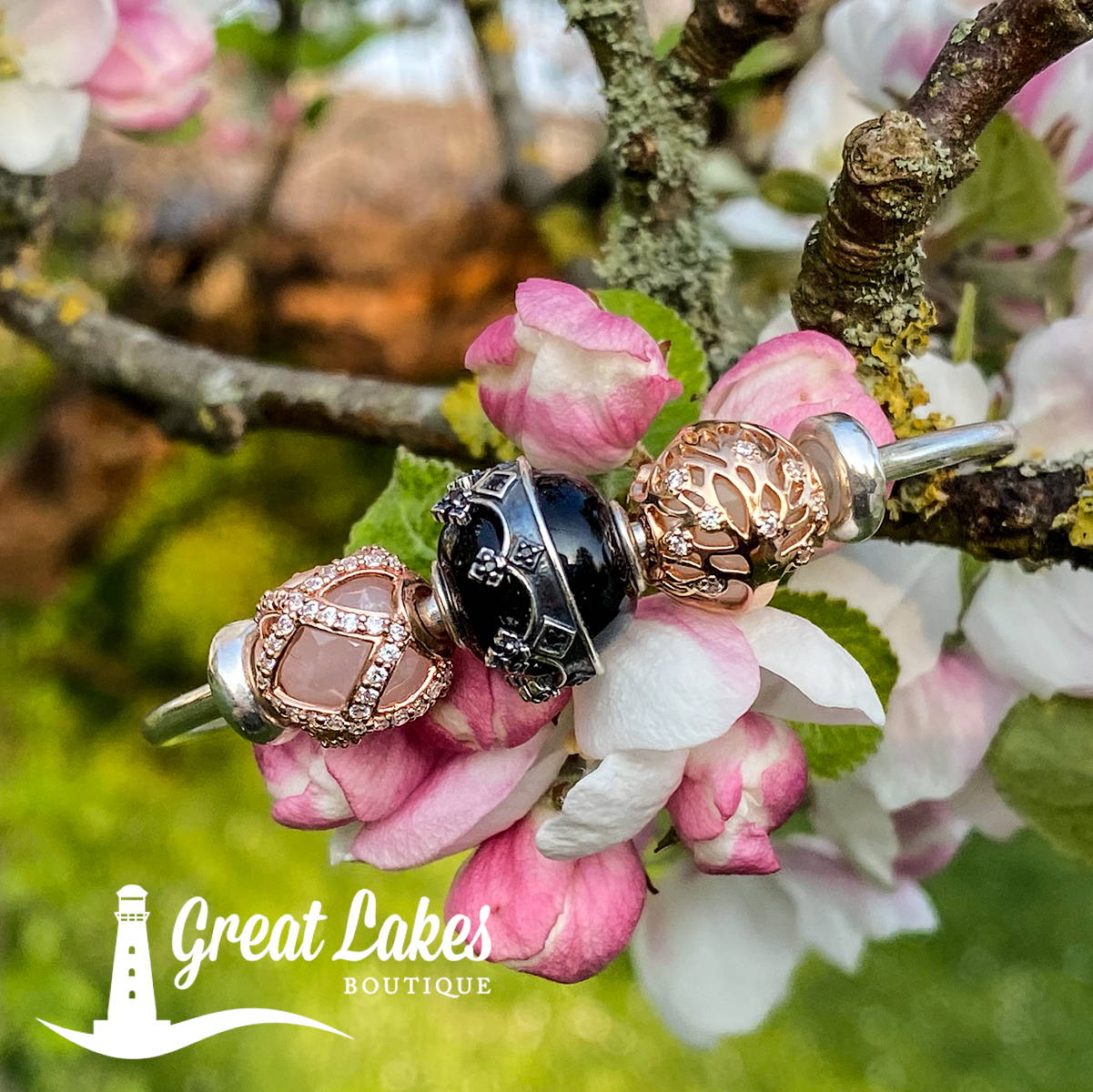 Finally Midsummer Night's Dream itself with the Redbalifrog Cherry Blossom Stoppers. Please be sure to grab any you may want while the stock is still available.