This charm bracelet blog brings a little inspiration starring The Palace of Amber Story, new and exclusive to Great Lakes Boutique.
The Palace of Amber Story debuted a couple of days ago as our latest exclusive and limited edition design from this brand. Story was always meant to have a wide appeal. On the surface it's for the book lovers and is a very intricately detailed tome. The covers open however to reveal a slightly deeper meaning with the front engraved with "Story of Life" and the rear with a simple semi colon. The meaning of the bead is simple though. No matter how bad one chapter of your life is, the next could be spectacular and I think that's a particularly poignant message right now as 2020 has been catastrophic for so many.
We're now low on stock of the initial batch of Story (there are a total of 50 of these being produced) but a second and final restock will appear at a later stage.
Charm bracelets were originally designed to mark occasions with each charm holding special meaning. They've of course evolved far from that and the bead bracelets helped but it's still a lovely concept for a bracelet to tell it's own tale.
This particular stack has a mix of some of my personal favorite things. It's a soft, feminine, romantic combination with an ode to reading, magic and night skies. There's a lot of beads here and again this stack could easily be split between two wrists for the sake of comfort and weight. Specifically it's a mix of Thomas Sabo Karma Beads, The Palace of Amber, Trollbeads and the Great Lakes Boutique Krossed appears too.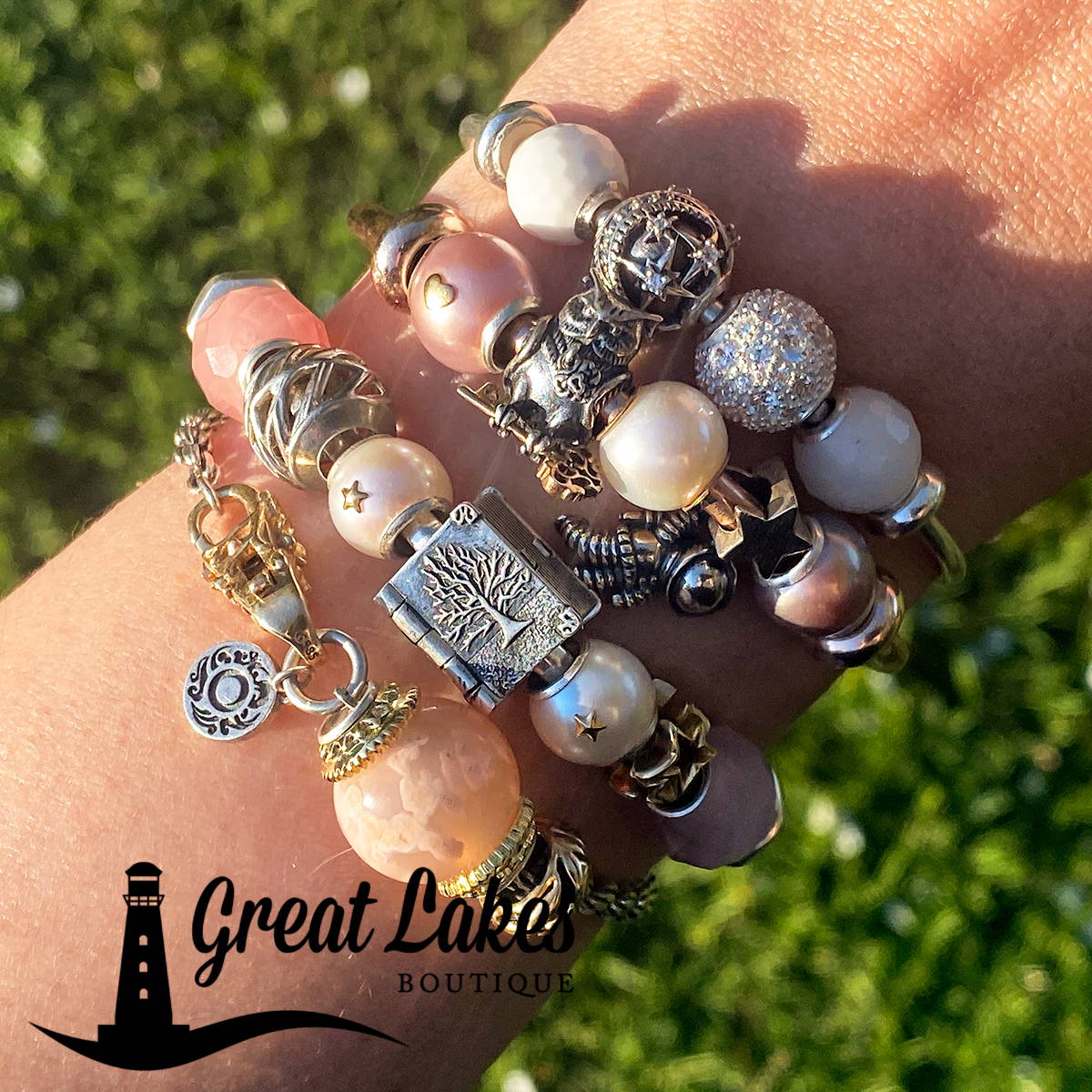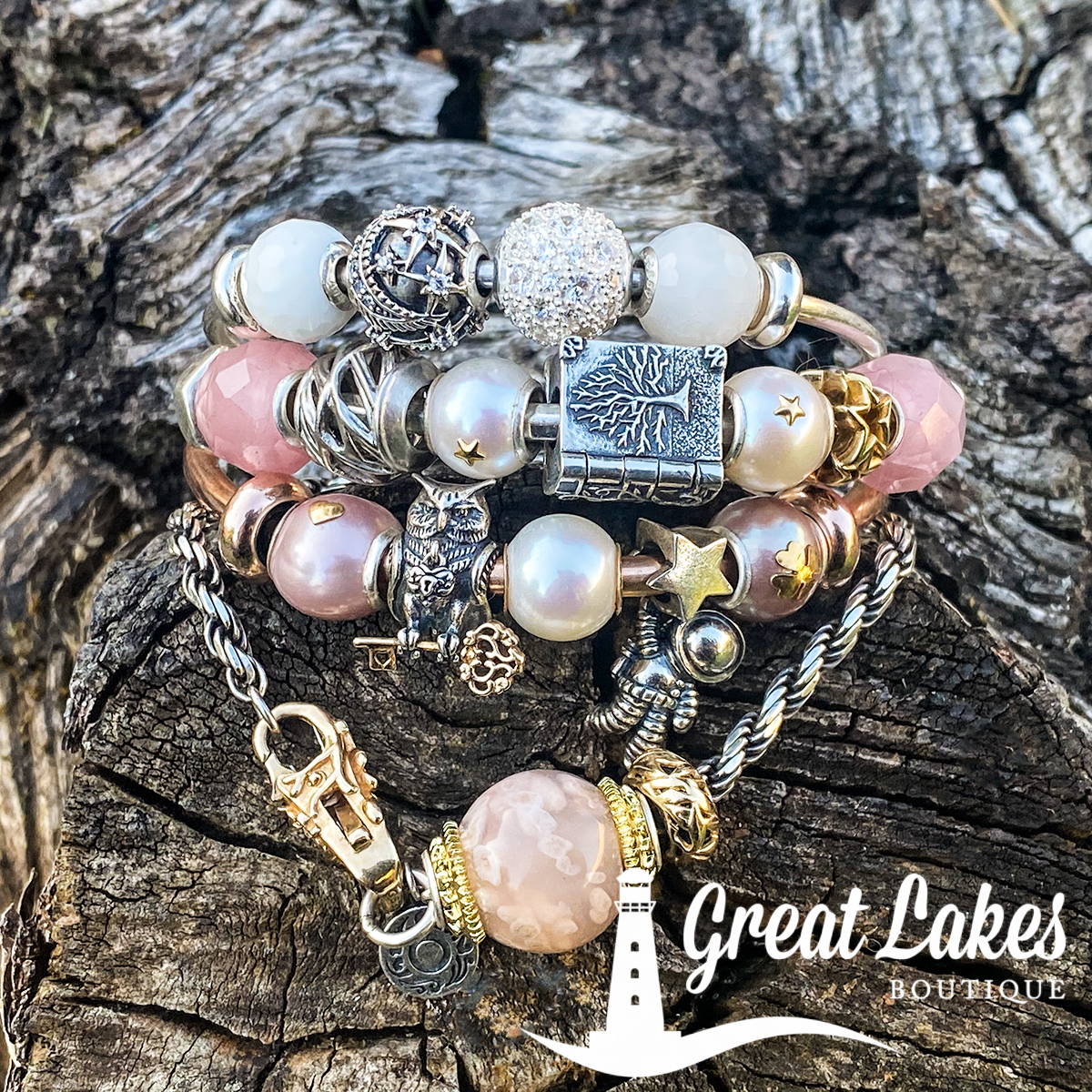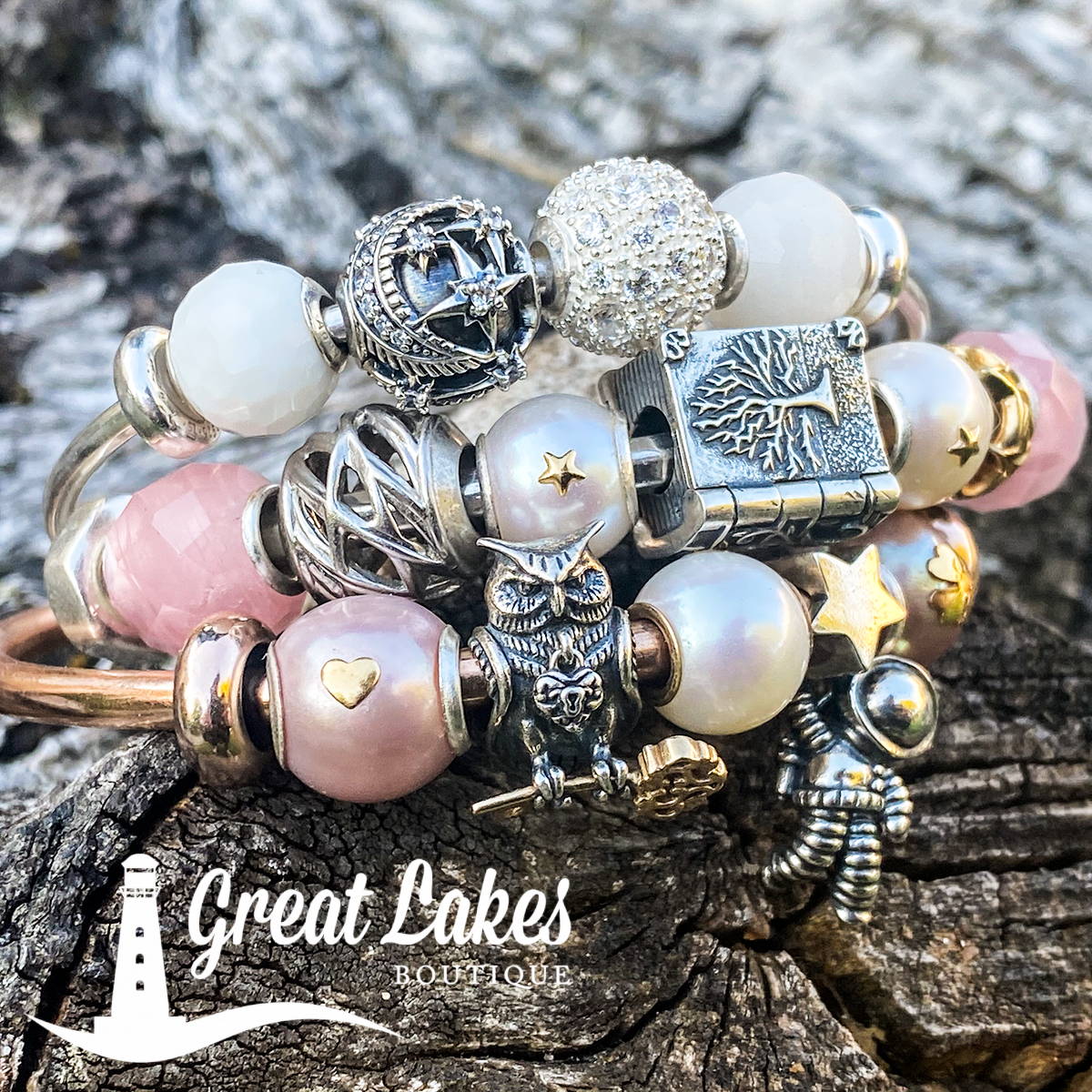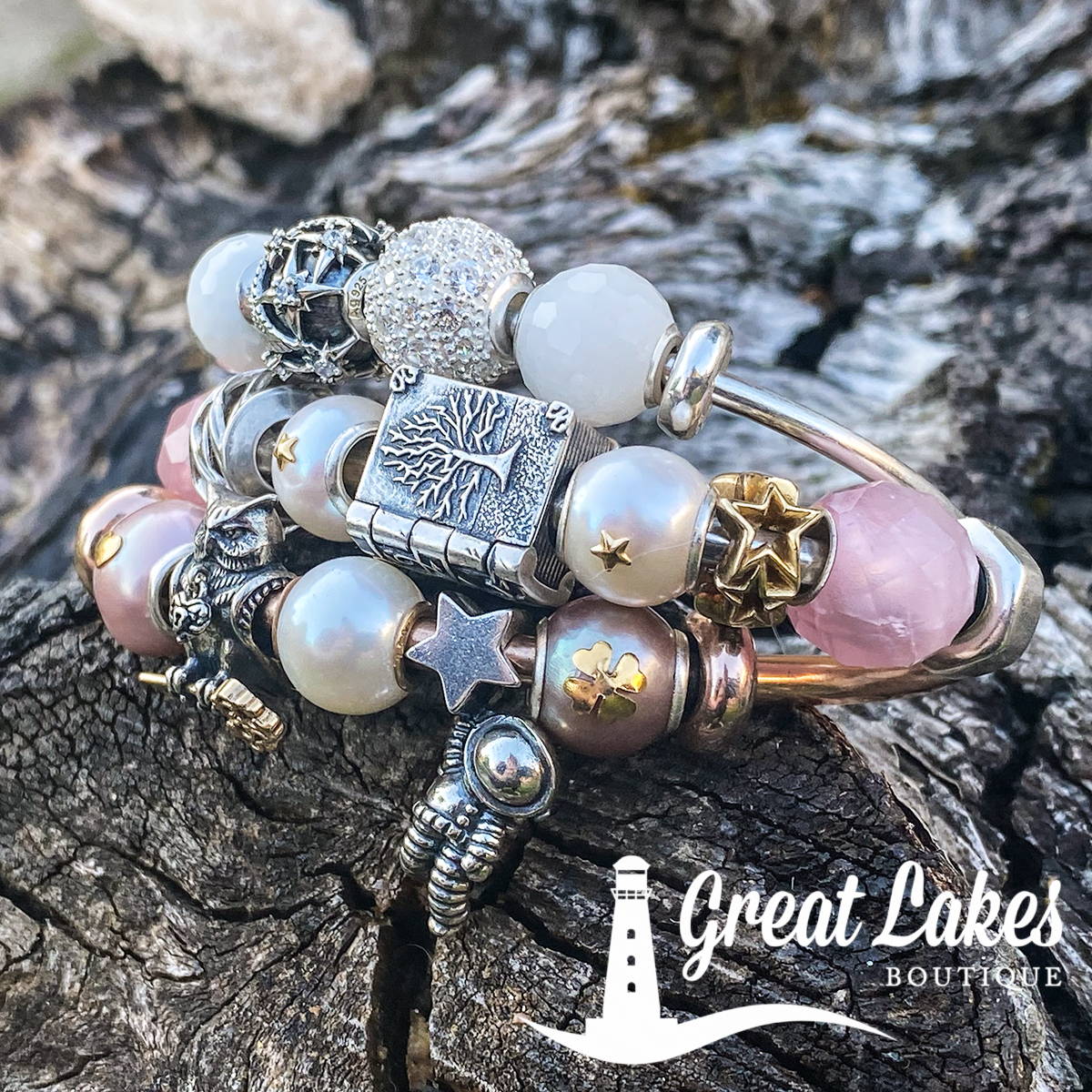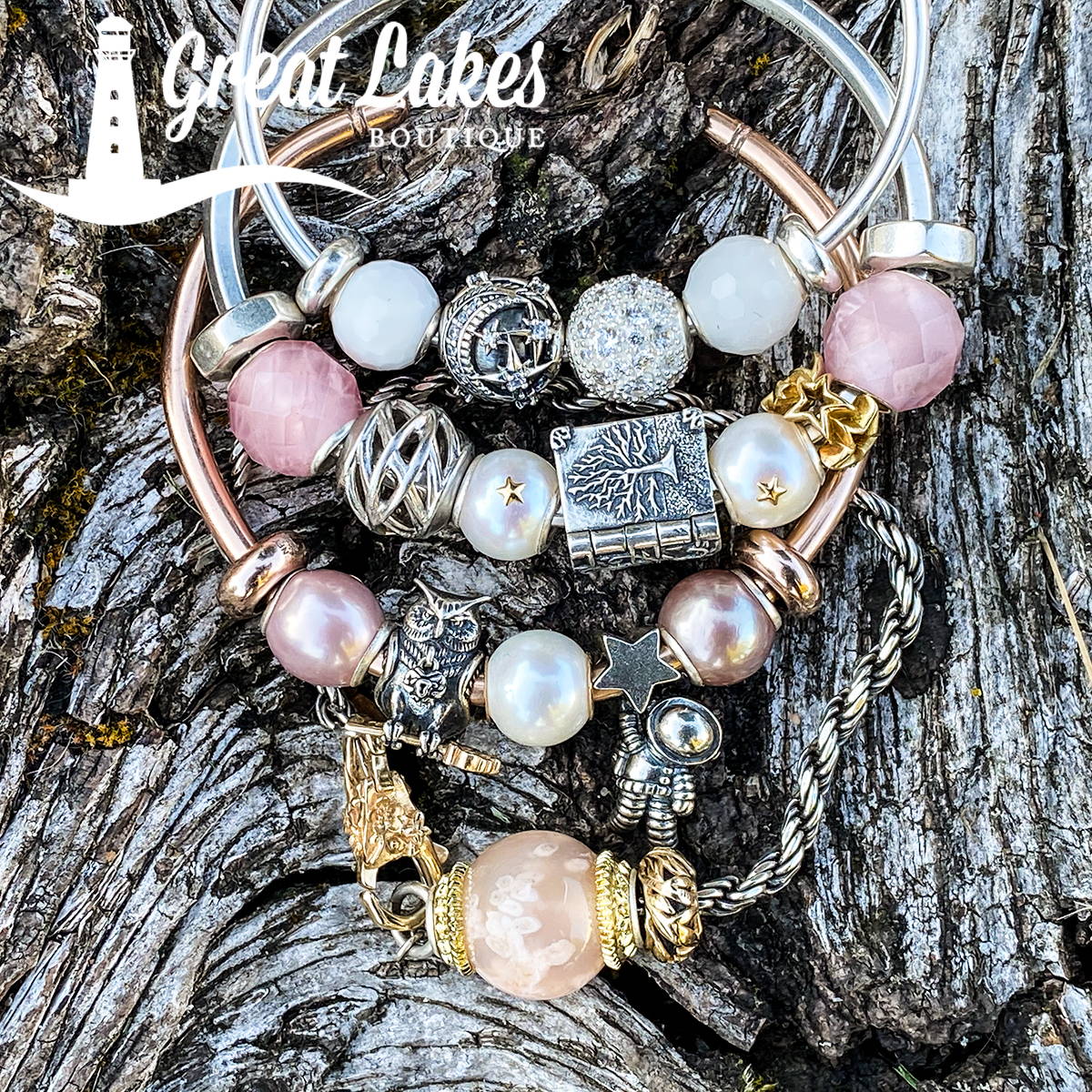 You can see from the images that Story isn't too large for a wrist (and for us it was imperative it would fit a bangle too.) That said it's chunky enough and focal enough to not vanish as a pendant either. Do remember also that right now you can save 30% off The Palace of Amber Baroque Necklace when purchasing either Story or Tick Tock. Necklaces are such a good alternative as the temperatures rise in the summer.
The stones and pearls featured here are The Palace of Amber Round Faceted Rose Quartz (this cut and shape are exclusive to GLB) plus the brands Pearl of My Heart, Lucky Pearls Rosa and Starry Pearls, all of which will be back online this weekend (the Lucky Pearls can be found below.) For Sabo it's the White Agate and White Jade beads with one of their amazing crushed pave designs.