This charm bracelet blog brings the online schedule for the Great Lakes Boutique Bead Bash on the Lake Spring 2020 event.
Bead Bash on the Lake begins at midnight as Thursday night turns to Friday morning. Please be aware that all of our times are on EDT as we're based in Ohio. You can find plenty of websites online that will convert this to local time.
This schedule comes with a disclaimer. As of right now (Tuesday night,) we are still missing stock. The pandemic has had a huge impact on global logistics. Coupled with an increase in the rate of people shopping online, the poor mail services are struggling. As such this schedule is subject to change. We will run to these times to the best of our abilities. We strongly advise following us on Facebook for any updates to times or any added listings.
Website glitches, internet issues, meteors (it's 2020, nothing is a shock any more...) can all cause issues.
All of the promotions will begin online as the clock strikes midnight welcoming May the 1st - so that's Thursday night to Friday morning. Please do remember if something doesn't work or if you spread your spends, all refunds will be addressed after the event. Many of you will need to split spends to ensure you get stock you want. We'll fix that.
A lot of general stock will go live at midnight (or probably over the course of Thursday evening.) This will include things like Ohm Beads CustOhms, The Palace of Amber glass and carved amber, Henhousebeads collection glass.
Some listings below are flagged as restricted. This is special Trollbeads stock that we are not permitted to offer outside of America, Canada, Australia and South America. These aren't our rules. Similarly the Trollbeads promotions cannot be offered outside of the above regions.
All other brand promotions and stock are available to customers globally.
The event ends at midnight on Sunday May the 3rd. All promotions will stop at that point.
Midnight - Gemstones (Trollbeads / TPoA / Thomas Sabo)
9am - Ohm Beads OhmMyGod
10am - Trollbeads uniques (classic cores)
11am - Retired TPoA decorative cores (Blizzard, Blooming Amber, Christmas Duet, Starry Golden Forest)
12pm - Redbalifrog Cherry Blossom Stoppers
1pm - Trollbeads Carved Ambers
3pm - Trollbeads Faceted Uniques (restricted)
6pm - TPoA Midsummer Night's Dream
7pm - Trollbeads Sophistication (restricted)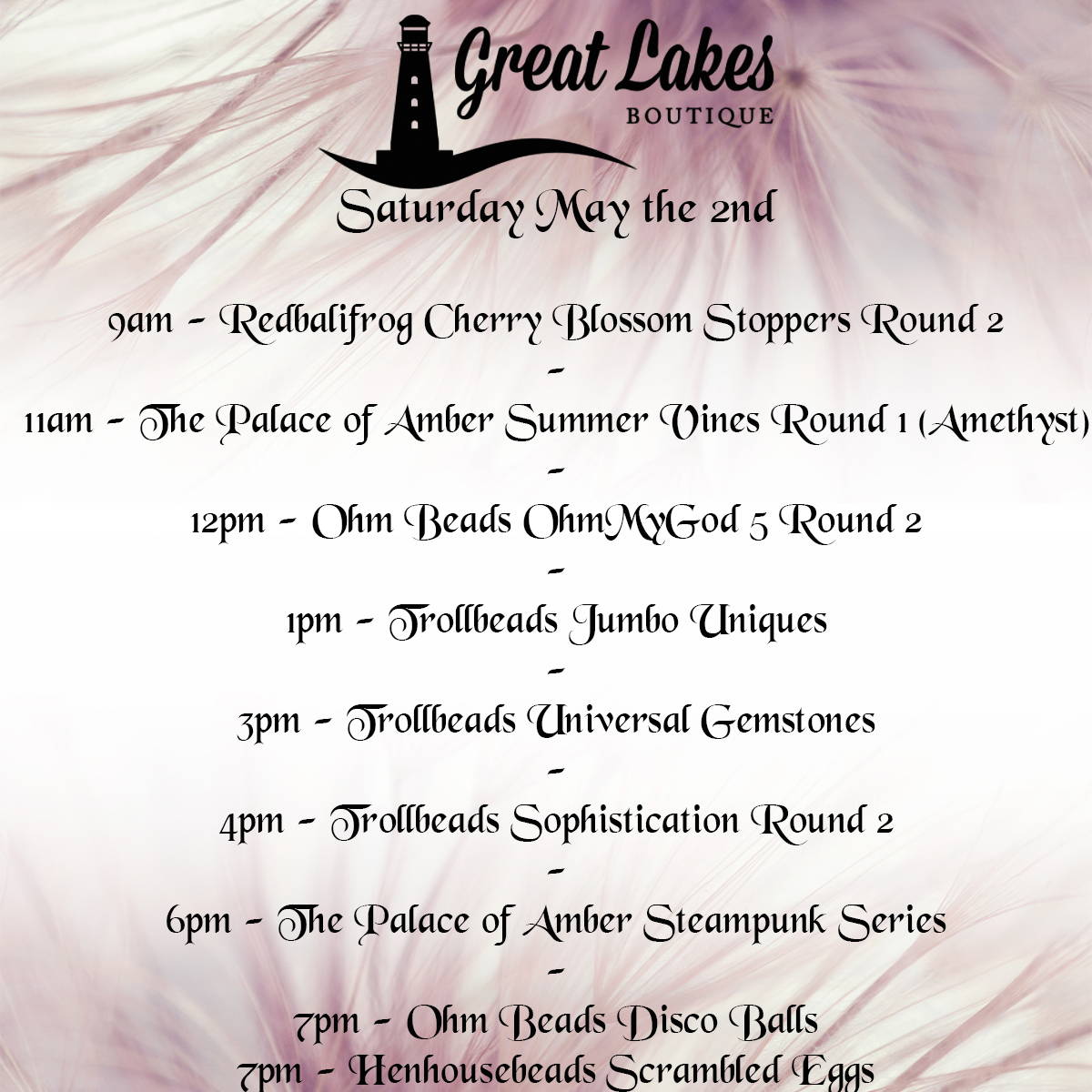 9am - Redbalifrog Cherry Blossom Stoppers
11am - TPoA Summer Vines (amethyst version)
12pm - OhmMyGod 5
1pm - Trollbeads Jumbo Uniques
3pm - Trollbeads Universal Gemstones (restricted)
4pm - Trollbeads Sophistication (restricted)
6pm - TPoA Steampunk Series
7pm - Ohm Beads Disco Balls (unreleased)
7pm - Henhousebeads Scrambled Eggs (final stock)
10am - TPoA Summer Vines (crystal version)
12pm - Redbalifrog Cherry Blossom Stoppers
3pm - Ohm Beads OhmMyGod 5
5pm - Trollbeads Sophistication (restricted)
Here's a recap of the promotions.
Once again do remember that Bella Fascini, The Palace of Amber & Henhousebeads are buy three get one free combined. You can mix and match those beads as you please.
Trollbeads Sophistication and faceted uniques are not part of the buy three get one free promotion.
**Update** The Ohm Beads buy two get one free promotion on retired exclusives will continue through the weekend. This does not include OhmMyGod 5 but all of the designs you can find here.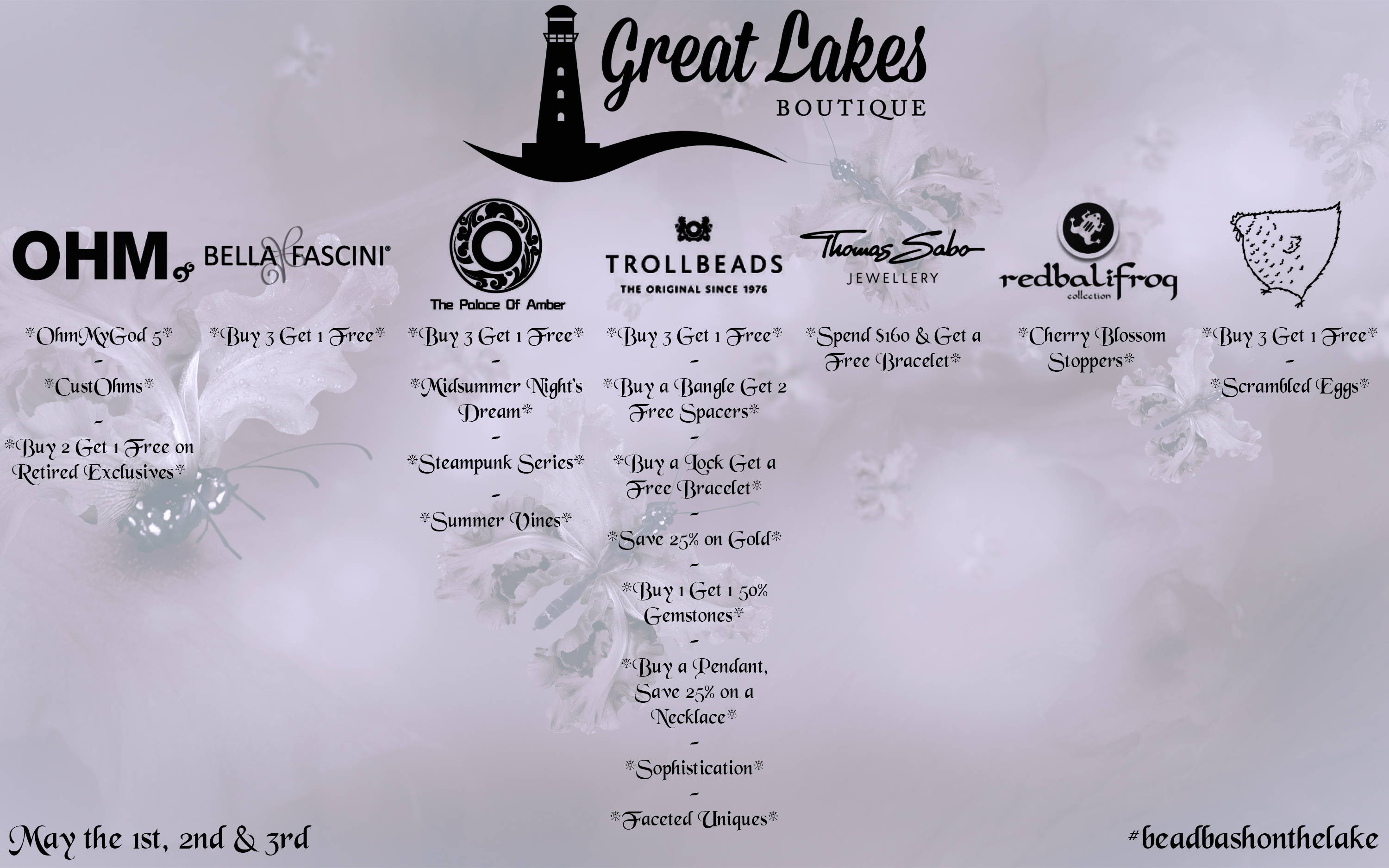 Finally once again, disclaimers, guidelines, rules and things to know.
If you spread your purchases across the weekend and need buy three get one free refunds, they will be processed next week.
Please ensure you do want a bead before you hit checkout. Please do not hit the checkout button just to reserve a bead. It's not fair on other customers and it's not something we'll tolerate.
The website will be charging shipping on all Trollbeads free bracelet promotion orders. If you spend an additional $50 or more, this shipping charge will be refunded. If you have multiple orders with shipping charges, we'll combine them and refund the excess. Please be aware we cannot remove shipping charges from your basket. We can only refund them after you check out.
All promotions will be processing automatically through the website. There's a lot of promotions happening and issues can occur. If your promotion doesn't process, rest assured we check every single order manually the week after the event and will issue any necessary refunds. We cannot edit active carts for you. If a promotion isn't working correctly, it's important you check out to avoid missing beads. There is nothing we can do until your checkout is complete.
The website operates on a first come first served basis. This also means a first to check out basis.
Online support via live chat, Facebook messaging and email (victoria@greatlakesboutique.net) will be available throughout the weekend. Please do remember that response times are slower but we will reach you as soon as possible.
If you have general event related questions, contact us as soon as possible before the event to clarify those.
All orders are shipped with USPS first class and first class international. We do not offer other services outside of these.
Orders are always combined automatically.
The mail is moving very slowly during the pandemic. Please understand this is absolutely out of our control. We see the same as you on tracking and there is nothing we can do to speed up shipping speed.
Due to the high number of orders experienced during event weekends, please be aware dispatch times are also longer. Once your order has been shipped you will receive an automated dispatch email with the tracking number. Approximately one day later the same tracking number is uploaded to the website where you can retrieve it either by logging into your account or using the Track My Order function on the front page.
Please ensure the email address you use to place your order is monitored.
We cannot provide additional images or videos for products during this event. We have tried our best to take the best images and video (where possible) that we can. As noted though, we do still have stock still arriving. Once beads are photographed, they are bagged, tagged and stored in the vault until shipping.