This bead bracelet blog alerts readers to the Great Lakes Boutique Christmas in July Event, beginning at midnight on Sunday night.
Happy Christmas in July! It's become quite the tradition here at GLB to have an online event to celebrate Christmas in July and this year it runs for a full week.
The event begins at midnight on Sunday night (so as we change from Sunday the 19th of July to Monday the 20th of July) and all times are EDT. It will continue until Sunday at midnight on July the 26th.
The promotions are as follows:-
Spend $140 or more on Thomas Sabo Karma Beads & get a free Karma Beads Bangle
Save 50% on The Palace of Amber Glass & Gemstones (this does not extend to all decorative cored beads.)
Save 50% on The Palace of Amber retired beads
Save 60% on all Henhousebeads (no exclusions & no minimum spend.)
Save 60% on the Great Lakes Boutique Krossed bead.
Save 60% on all remaining Ohm Beads stock (ongoing)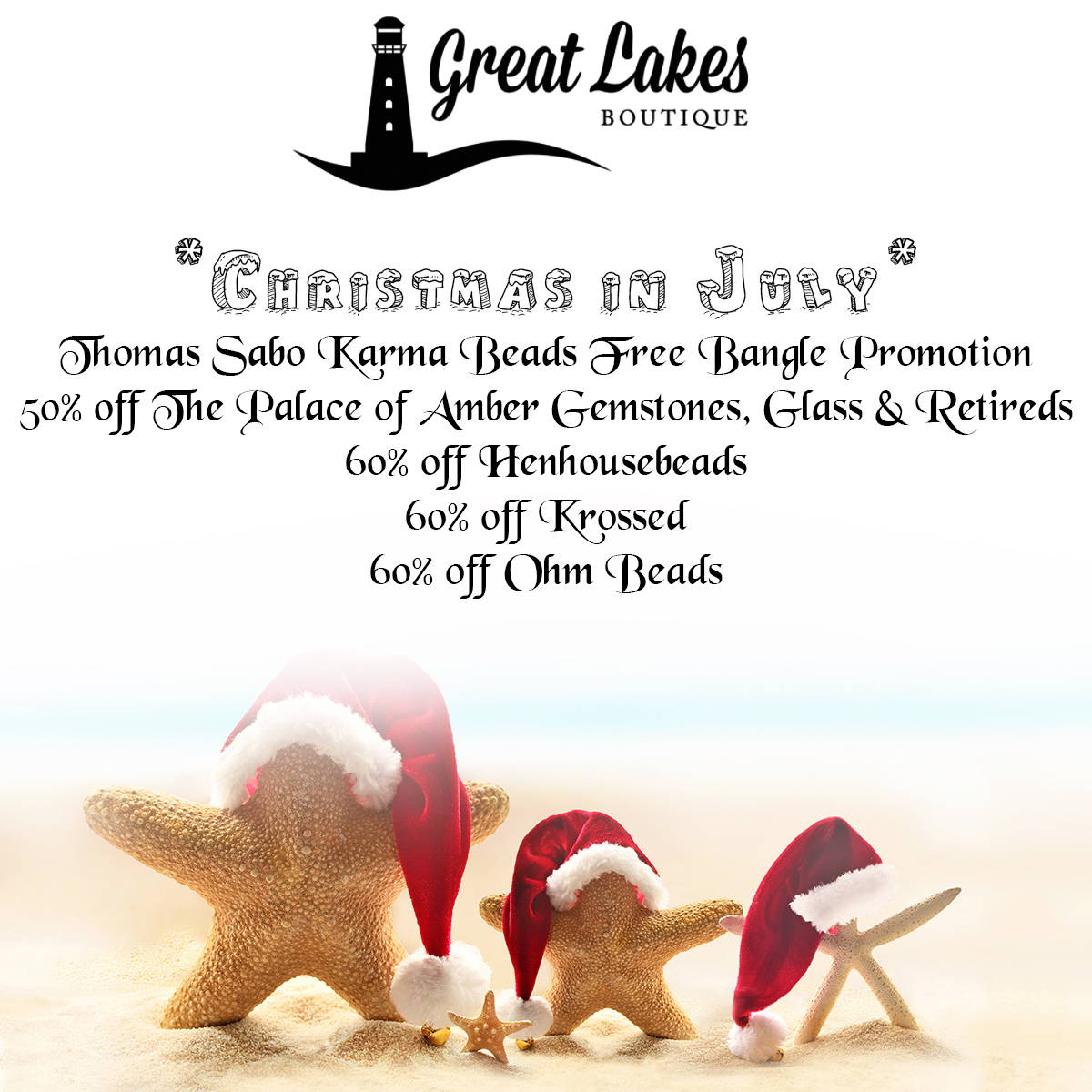 For The Palace of Amber, the 50% off covers regular gemstones and all retired stock. In addition Blooming Amber, Christmas Duet, Starry Golden Forest & Pumpkin Patch will be included from the decorative core line. To simplify this, all of the The Palace of Amber beads that will be part of the sale will be placed into one category too. The direct links to everything will be published on the front page tomorrow night.
We've already been busy loading up the website with gemstone stock for The Palace of Amber and we'll keep doing that throughout tomorrow. We'll also be refreshing the Ohm Beads live image section too.
Due to the size of the discounts on select products, the website will be charging shipping on all items in the sale. This does not apply to the Thomas Sabo Karma Beads promotion.
We will combine orders so those of you placing multiple orders will receive a shipping refund. Alternatively if you wish to spend $50 or more on full priced items, we will again refund your shipping costs.