This Redbalifrog blog brings a little Redbalifrog Spring Bracelet inspiration with The Palace of Amber gemstones.
It doesn't necessarily feel like it but we're just a few weeks from the meteorological start of spring. Of course we're also busy planning for Bead Bash on the Lake Spring 2020 in May. With snow on the ground, May feels another world away but time tends to fly as soon as spring arrives.
This week we've been busy restocking The Palace of Amber gemstones so I've decided to take advantage and share a pre-spring bracelet. This bracelet uses the Botswana Agate which such an amazing stone. They vary so much that they almost look like totally different stones. It stars one of my favorite Redbalifrog spring beads, the Love Birds. This is a chunky focal silver but so sweet for this time of year.
I chose the Botswana Agate for a couple of reasons. Some of them have the most amazing spotted or striped patterns which I've always loved with bird themed silver beads. Second to that they have a lovely neutral vibe that combines easily with so many other colors. In this case I used two of the new Trollbeads Trust from the Trollbeads Spring 2020 collection. I've been using these ornament embellished glass so often since their release and it's a lovely soft blue. This combination of pastels and neutrals works so well for a pre-spring bracelet.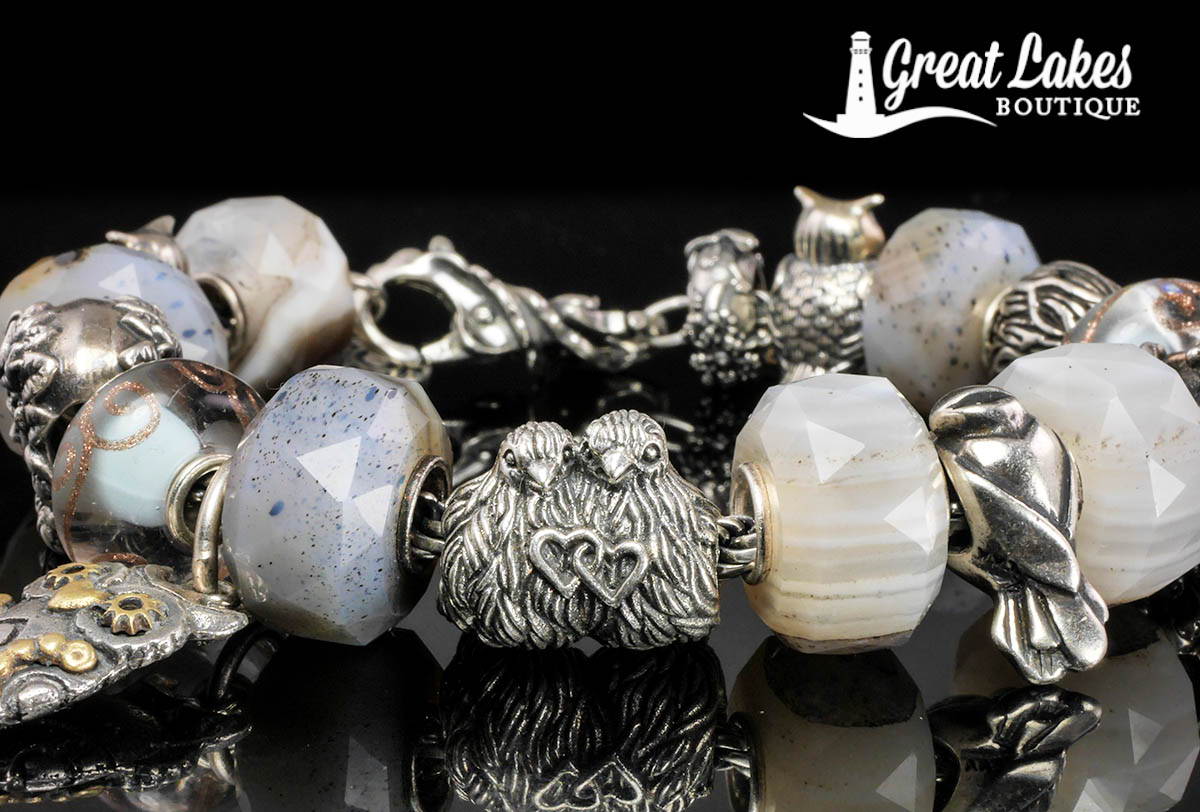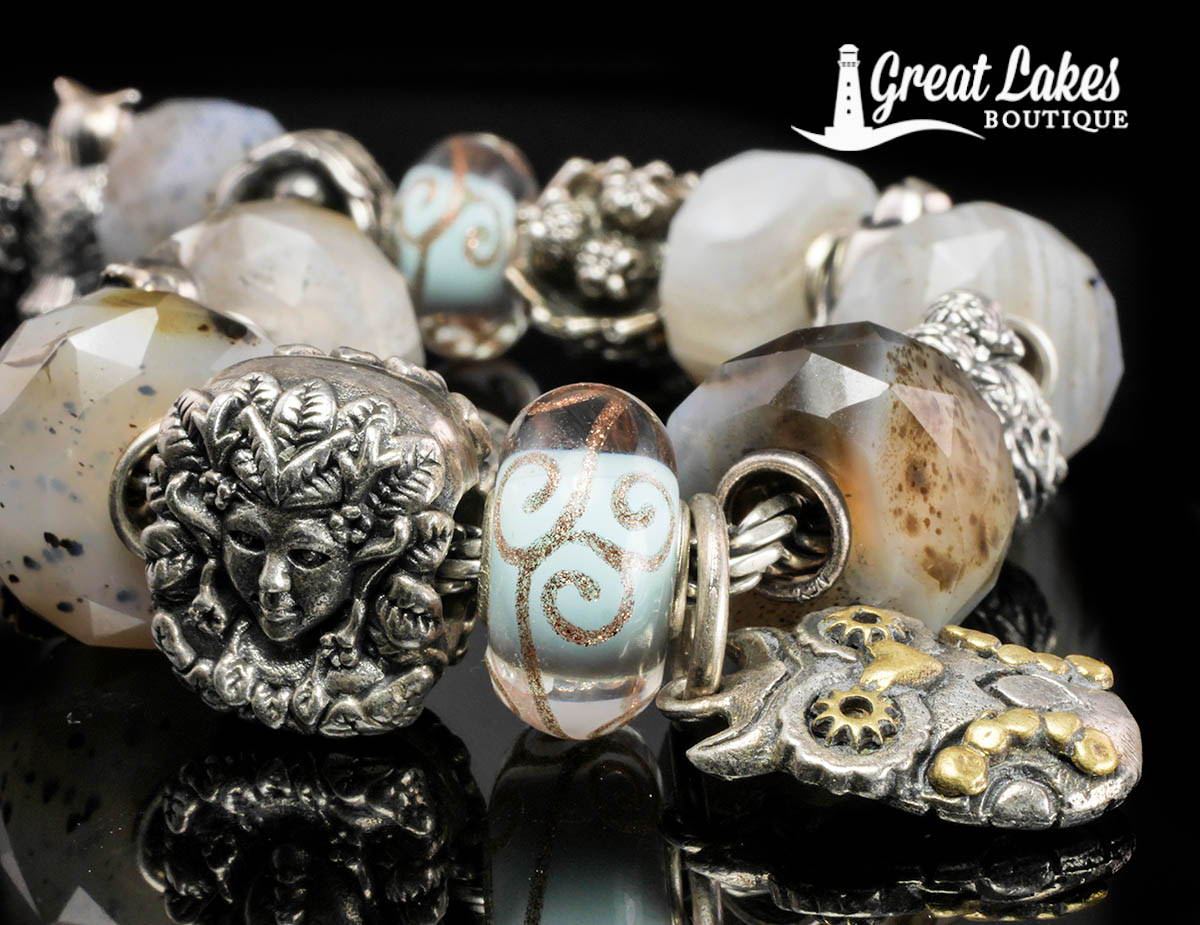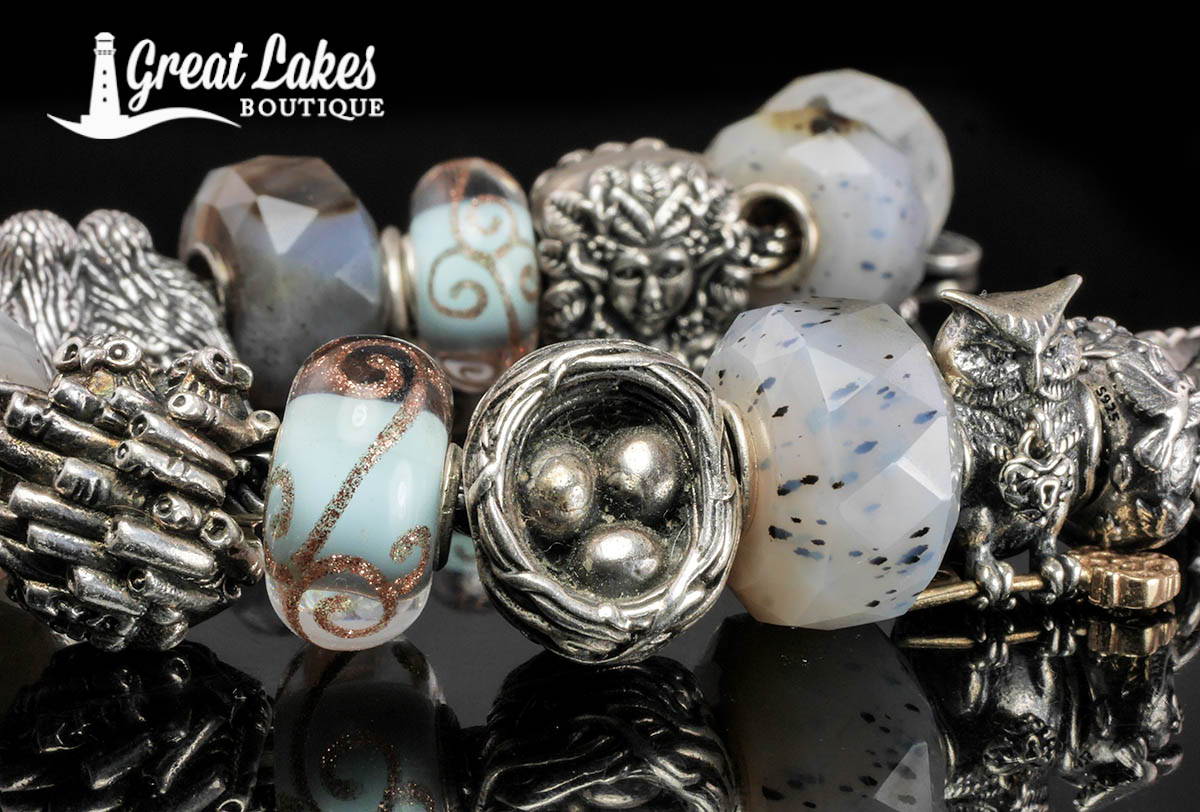 Aside from the multiple Redbalifrog spring themed silver beads, The Palace of Amber Noctis and Liberty Stopper both make an appearance.
The duo-tone version of Noctis is now down to single figures remaining in stock so if you've had him on your wish list for a while, it's worth prioritizing him.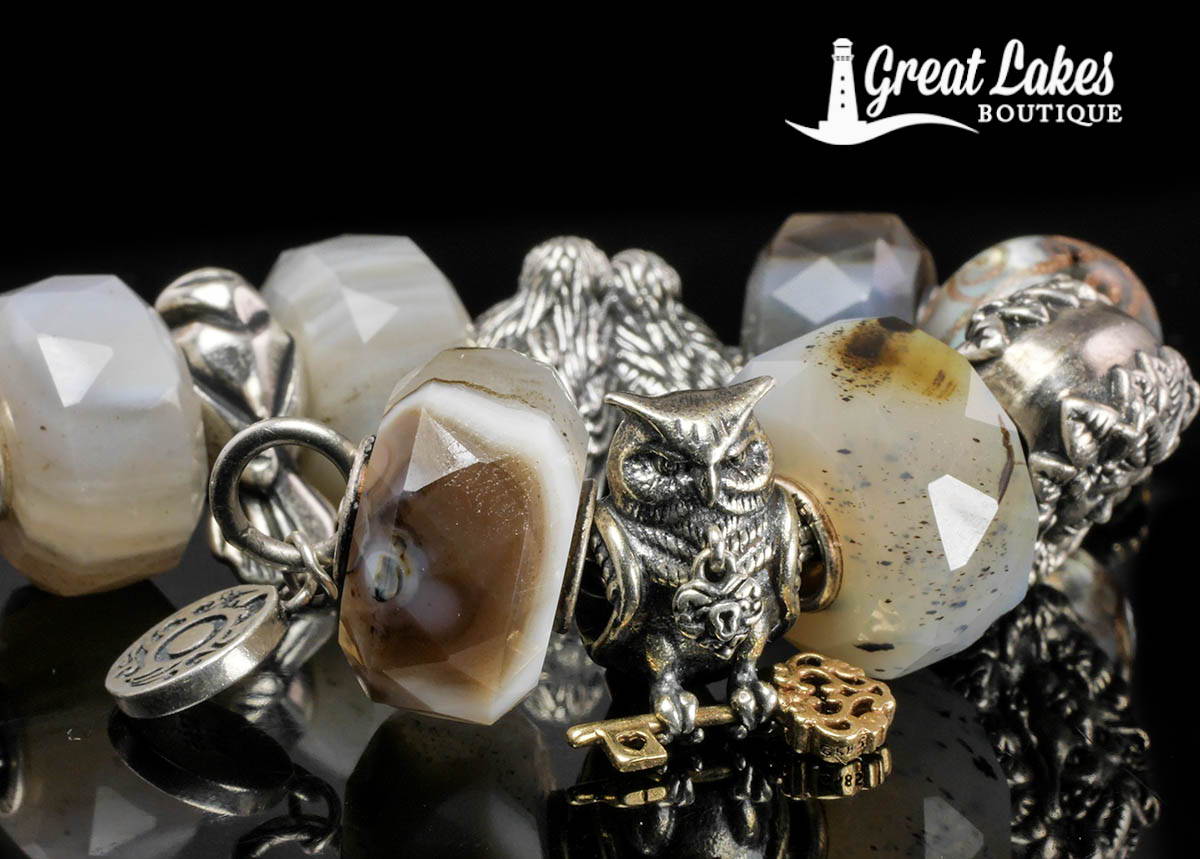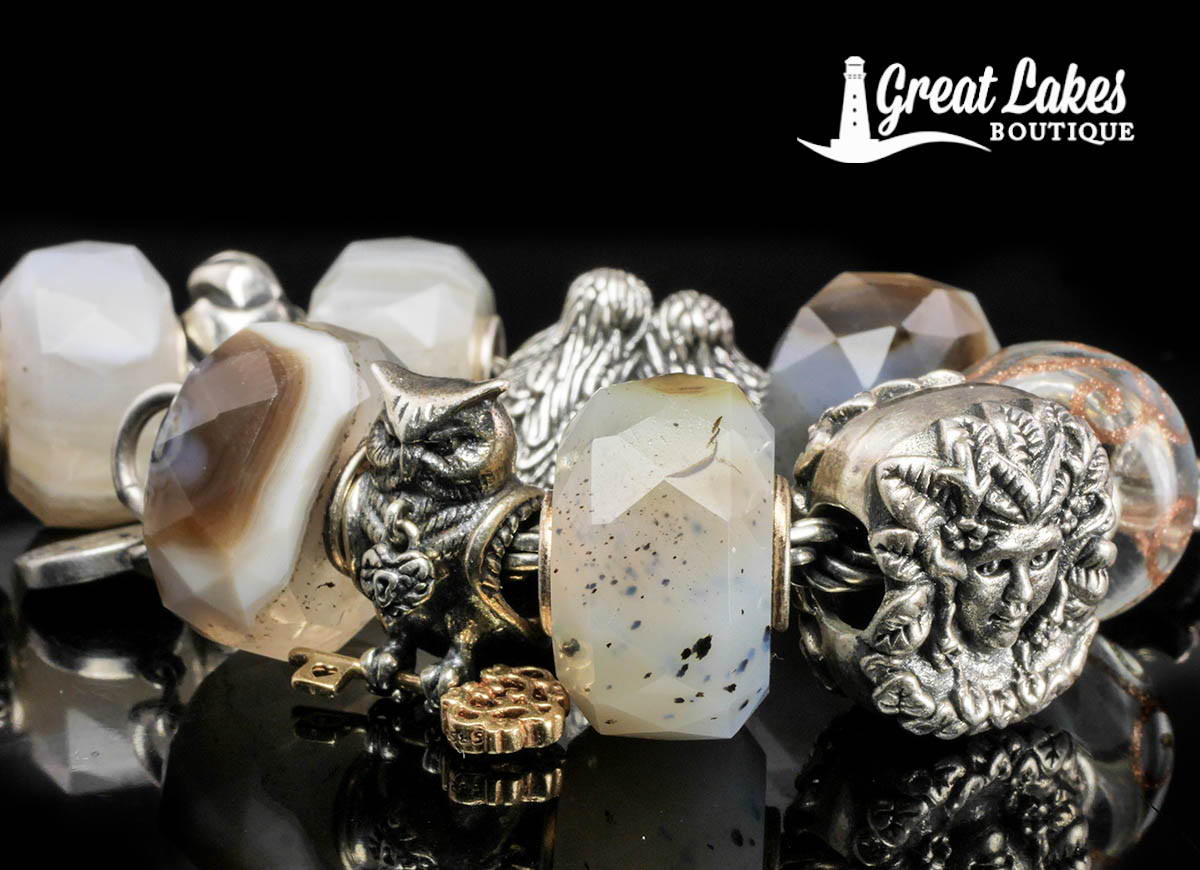 The cute Waxing Poetic Owl charm also appears. For those of you new to Waxing Poetic, these are charms as opposed to beads and though they're compatible with all major charm or bead bracelets, they also have their own range of carriers. I adore their necklaces with charm carriers. Layering them gives a really strong vintage romance vibe and you can then switch the pendants around to suit season or mood. The Waxing Poetic Spring 2020 collection will begin to appear on the website a little later today and it's amazing!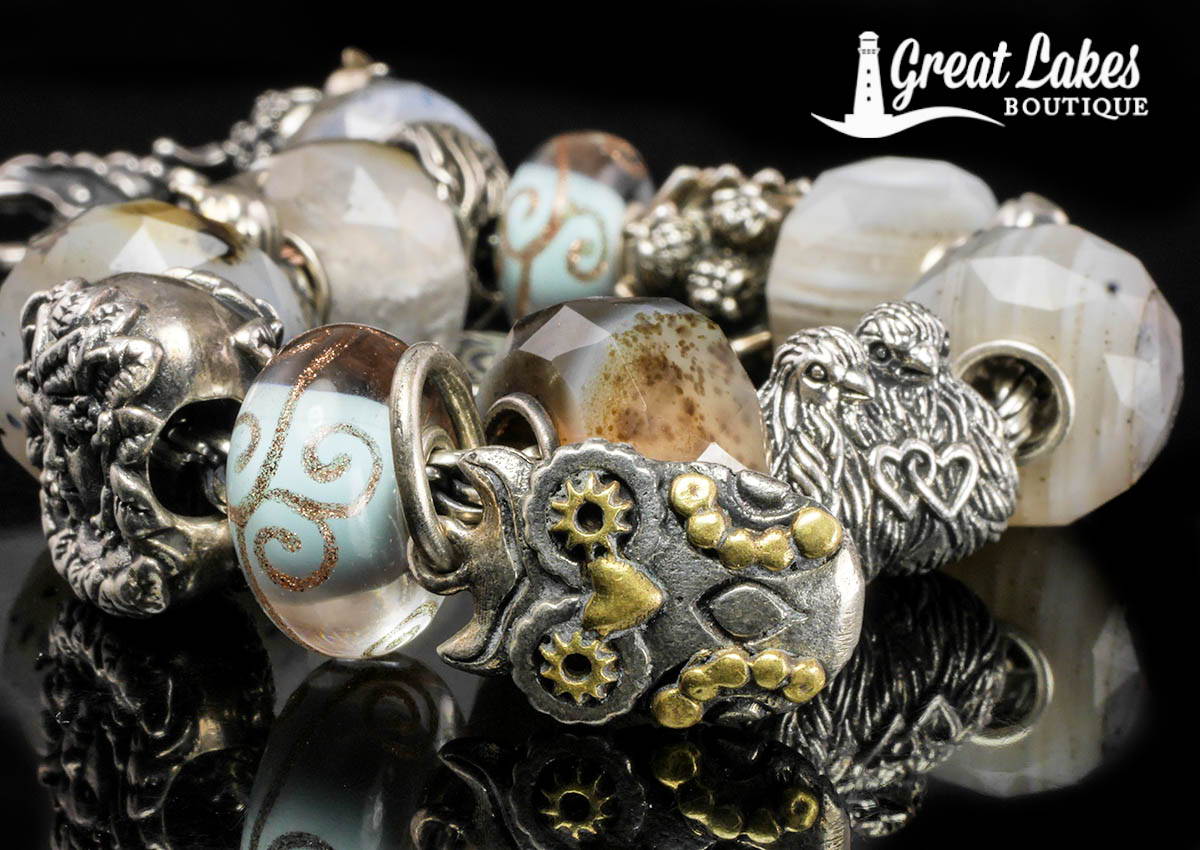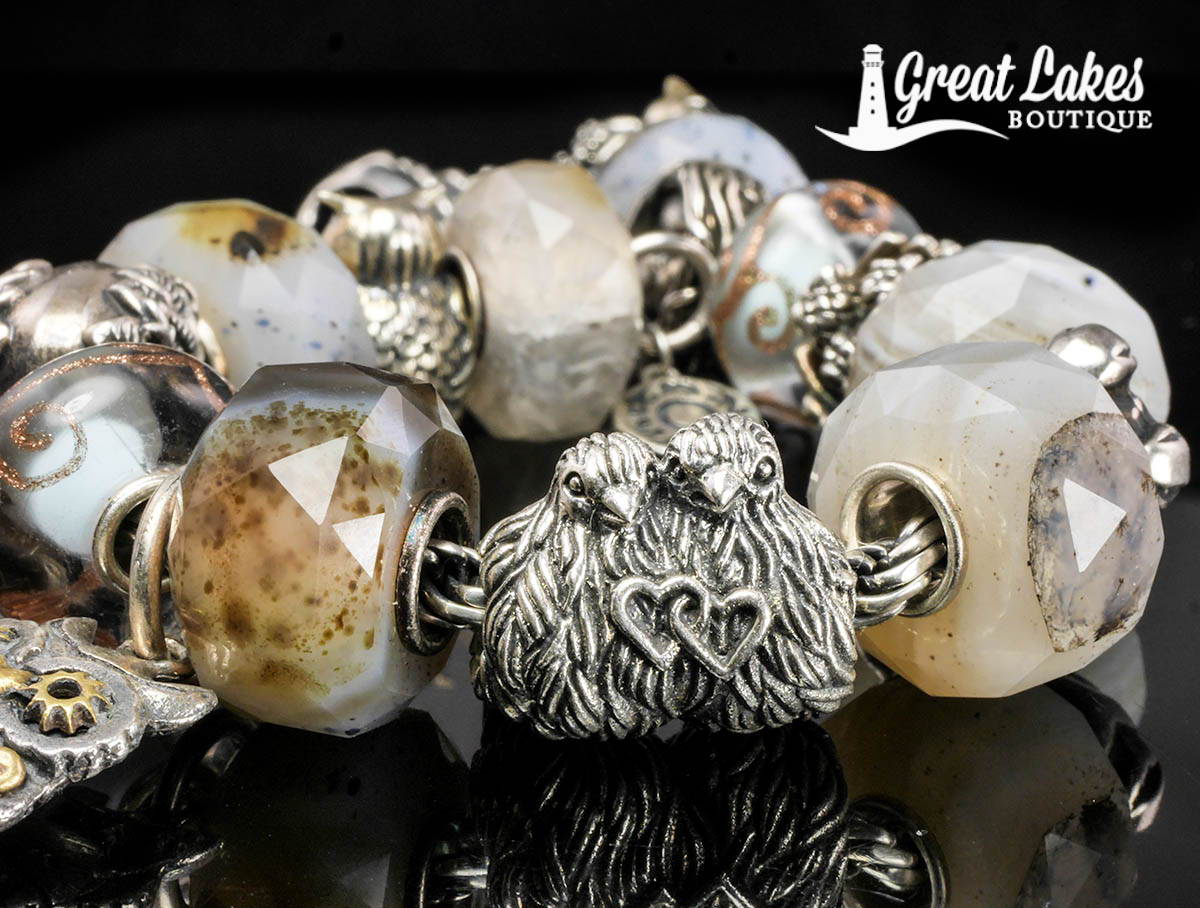 Here's that super cute Redbalifrog Love Birds. This bead launched for last spring but Redbalifrog beads feel so timeless. Here you can also get a better view of some of those Botswana Agates and how perfect their patterns are with animal themed beads.
I've also included the Trollbeads Lovebirds which launched for Valentine's Day 2019. I wear this bead so often on bangles (and actually I think I'd quite like a second which is unusual for me with silvers.)
This is actually quite a modern execution of a bird theme but it's so lovely and far more versatile than just for Valentine's Day.