We've seen all manner of gemstones from The Palace of Amber but one of my personal favorites is their blue lace agate. I'm a fall and winter girl in general so I love colors associated typically with those seasons. More than this what fascinates me about the blue lace agate is the amazing striations you see in the stone. This charm bracelet blog brings a little inspiration for The Palace of Amber Blue Lace Agate as we listed brand new stock or the upcoming winter season.
This is why I love this stone; these beautiful lines. This to me makes it a perfect choice for winter themed bracelets and bangles as the stone closely resembles ice.
The blue lace agate does vary a little in it's color. We had some last winter with some cream shades but they're predominantly this crisp shade of blue.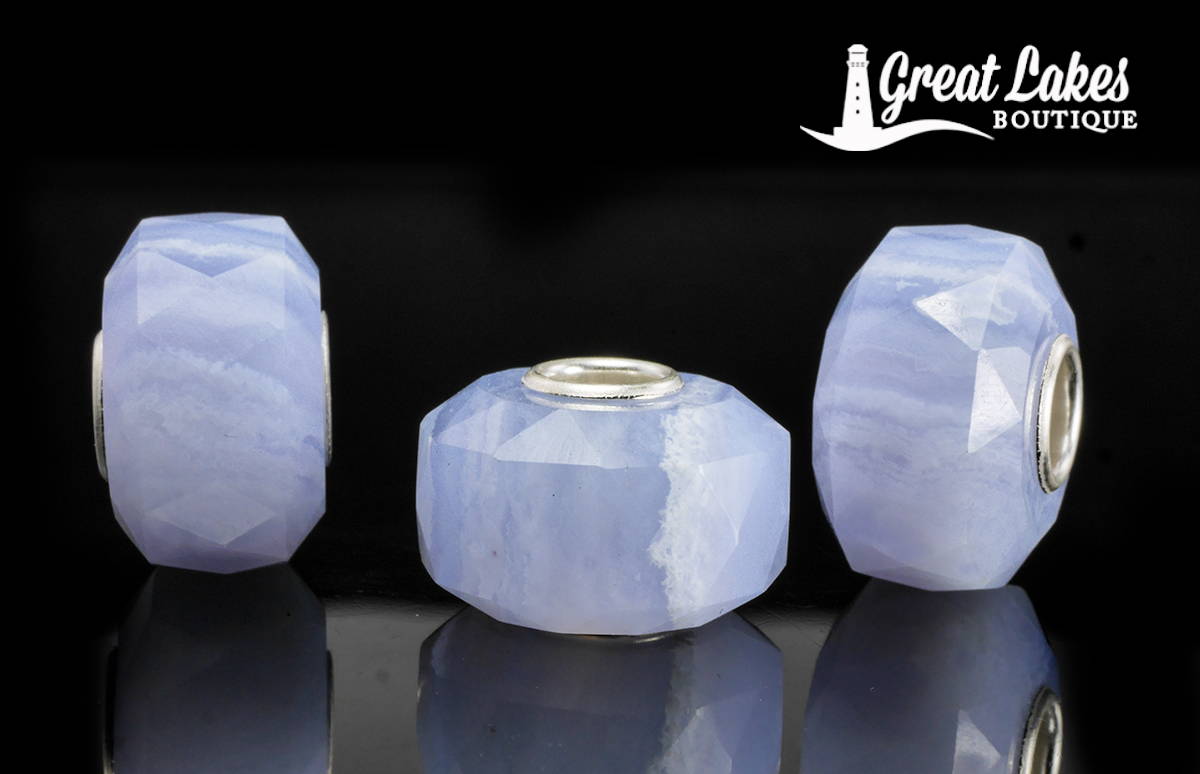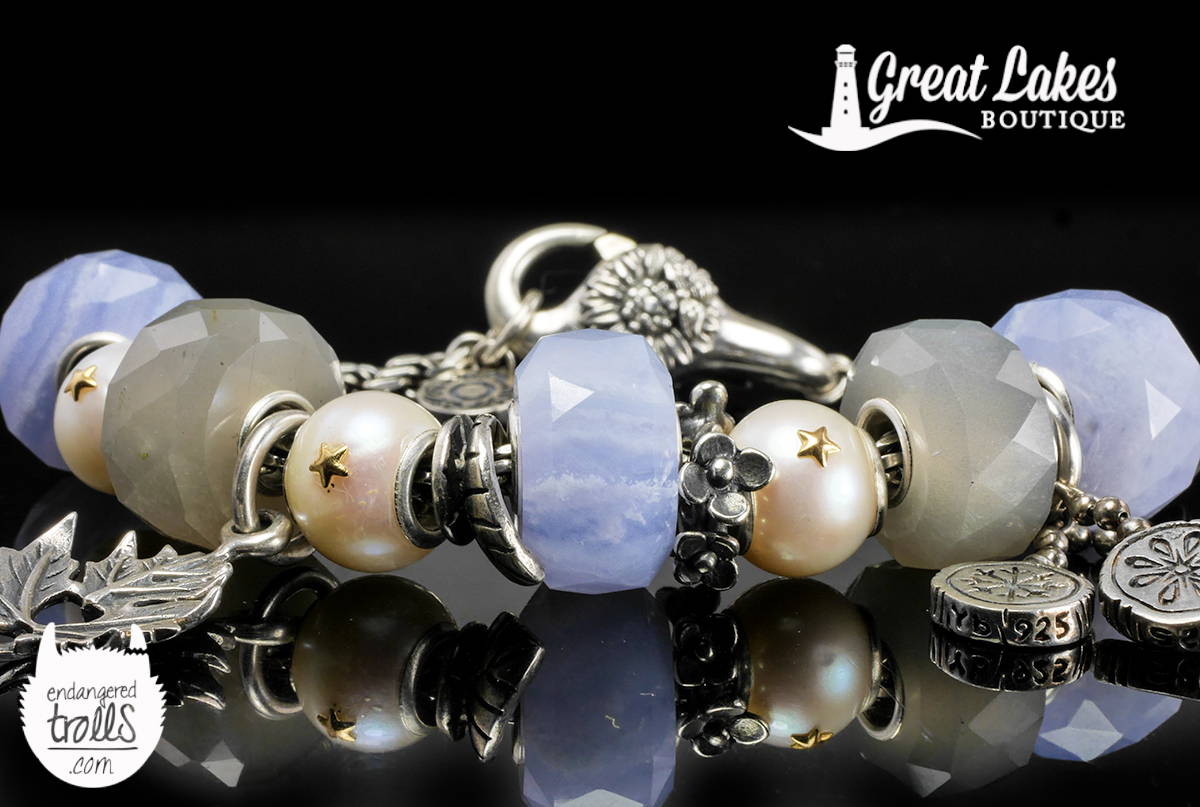 This is my first real winter feeling bracelet for this year. It features a mix of The Palace of Amber Blue Lace Agate, Grey Moonstones and Starry Pearls and I love the end result. It feels cozy and reminiscent of chunky, fuzzy sweaters.
I've kept the silver to a minimum here. The Redbalifrog Maple Lovers Leaf and Snowflakes are two of my favorite pieces from this brand even though I'm not usually a huge fan of dangles.
On reflection I wish I had replaced the Trollbeads Spacers with the Redbalifrog Snowflake Stopper as it would have just delivered a better finishing touch to the entire combination.
The Snowflakes dangle is a design I hope Redbalifrog reuse in the future. I'd love to see the same little logs featuring different seasonal motifs.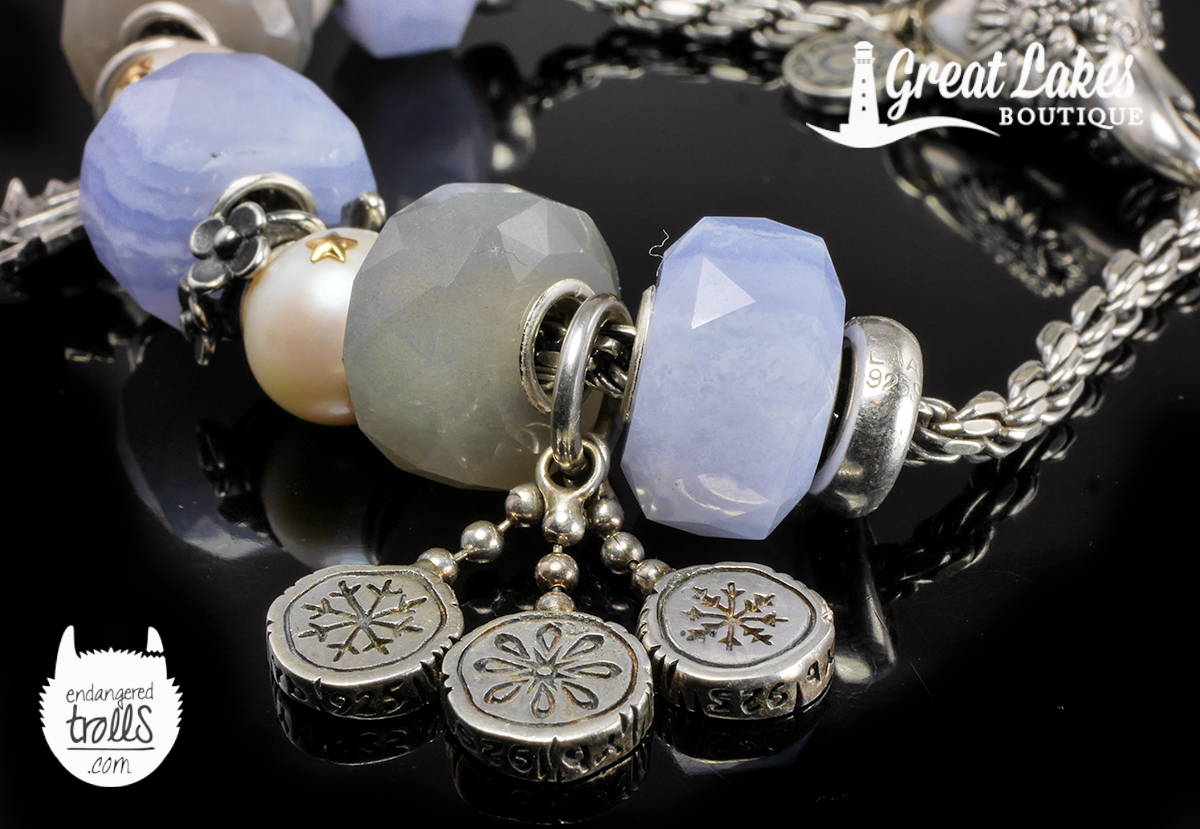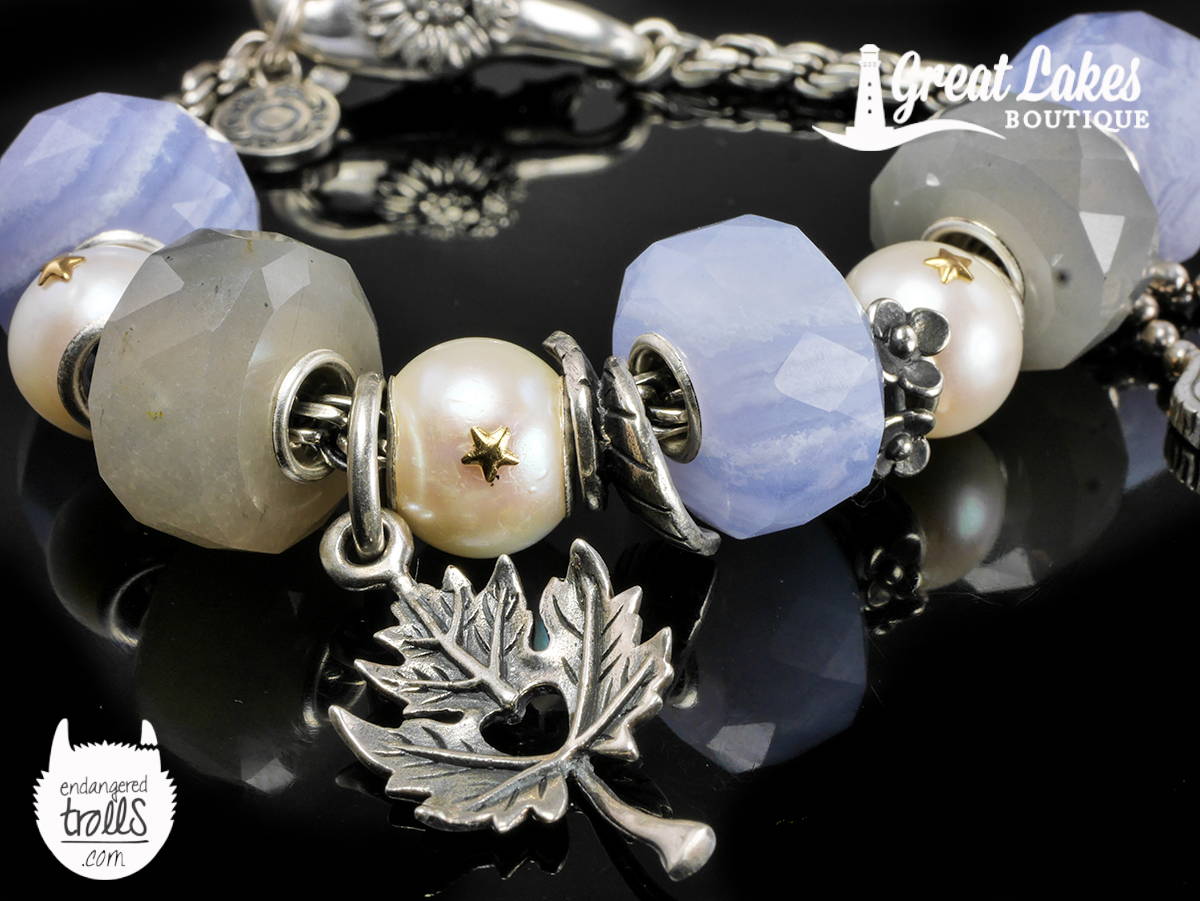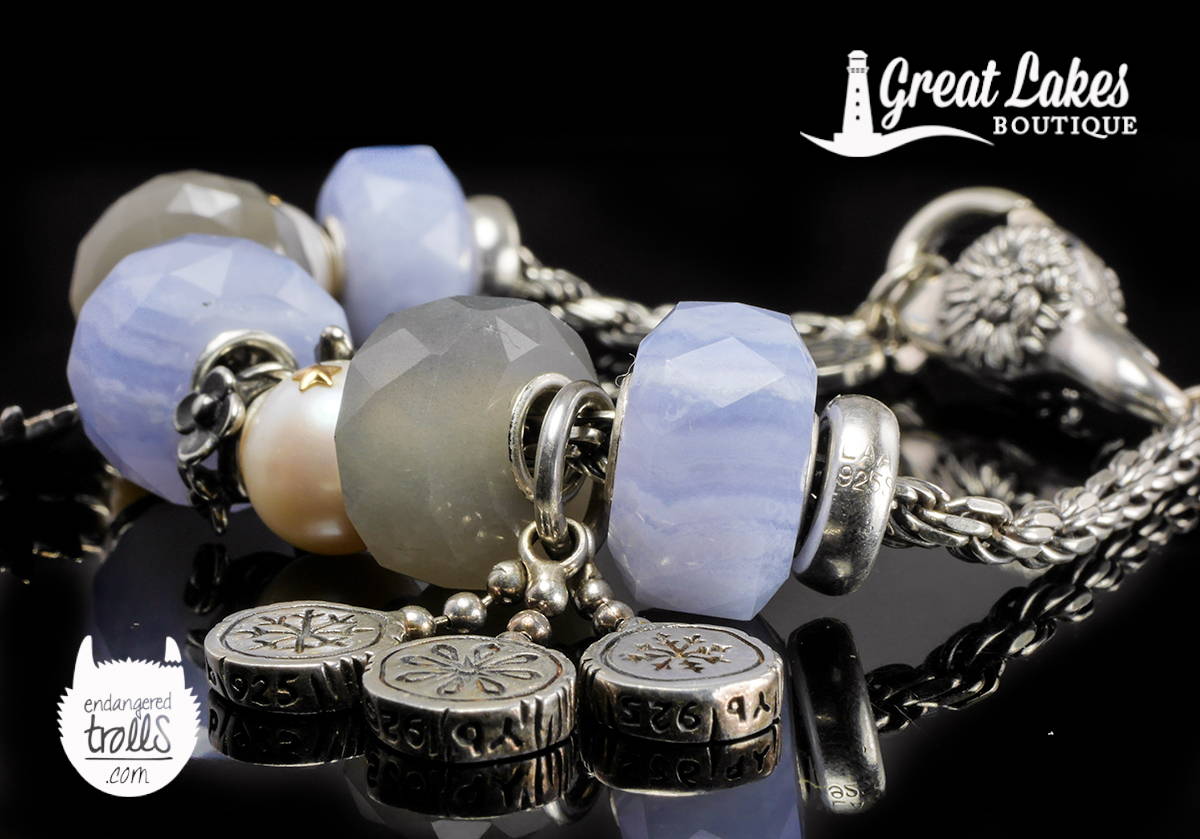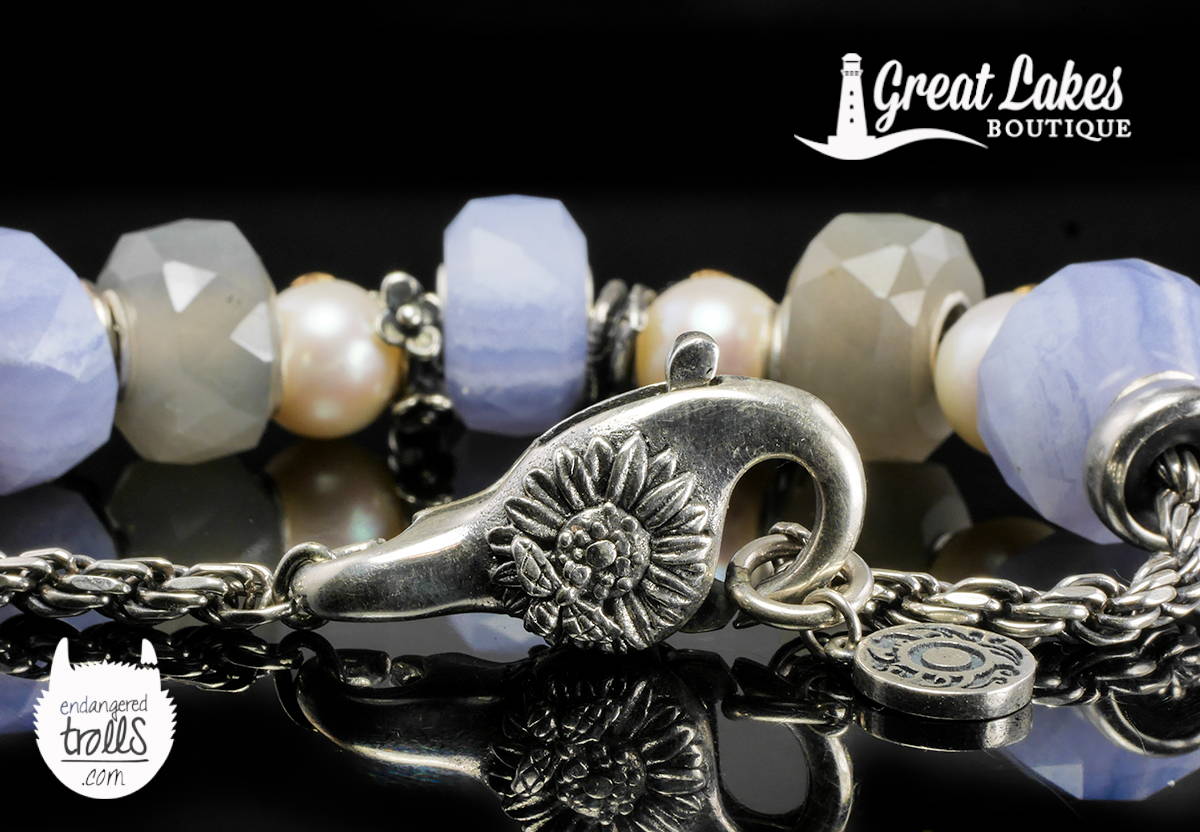 The lock is the relatively new Redbalifrog Sunflower & Bee Lock. I chose it to bring a little of a late fall vibe to the bracelet and it really is a lovely lock.
Finally here's the entire combination, with some extra bangles for stacking, on the wrist.
At the bottom is the Trollbeads Gold Plated Twisted Bangle. I tend to favor the twisted bangles in fall and winter. Again it's about delivering texture a little reminiscent of winter knits