This charm bracelet blog brings a little inspiration for The Palace of Amber Cosmos Flower Collection, new for October 2020.
Earlier today saw the launch of The Palace of Amber Cosmos Flower Collection. This is the final set of beads themed for the fall season aside from one *tiny* thing we'd like to address. Halloween! We've been blessed with releases from Redbalifrog and Bella Fascini so far. Rest assured we have big news for The Palace of Amber in the next few days.
Back to fall. I've been writing about bead releases now for ten years and as much as I adore the fall season, I've always felt it seems to get kind of condensed. Christmas releases have to launch a little early to give everyone good time to shop. Halloween is so adored that it tends to begin back in September. That leaves just a few weeks that seem to be dedicated to fall as a season, rather than as this countdown to the holidays. This year with The Palace of Amber, the designs very much fall into two categories; fall and Halloween so there should be something for everyone.
The Palace of Amber Cosmos Flower Collection is dedicated to those late season flowers. Cosmos flowers are a type of sunflower so this release is really quite feminine and although it's themed for October, you'll get a lot of use from these pieces throughout the year.
The collection features two clips, two locks, a stopper and a bead. To clarify the clips will work with any bracelet or bangle, (any that we carry at least.) They will only sit tightly like stoppers on bracelets that have clip stations, such as Pandora.
The lock and the clip are available in either Sterling silver of Spark finish. Spark is gold plating over a copper and silver mix. This means should the plating fade over time, the underlying metal is still gold in color.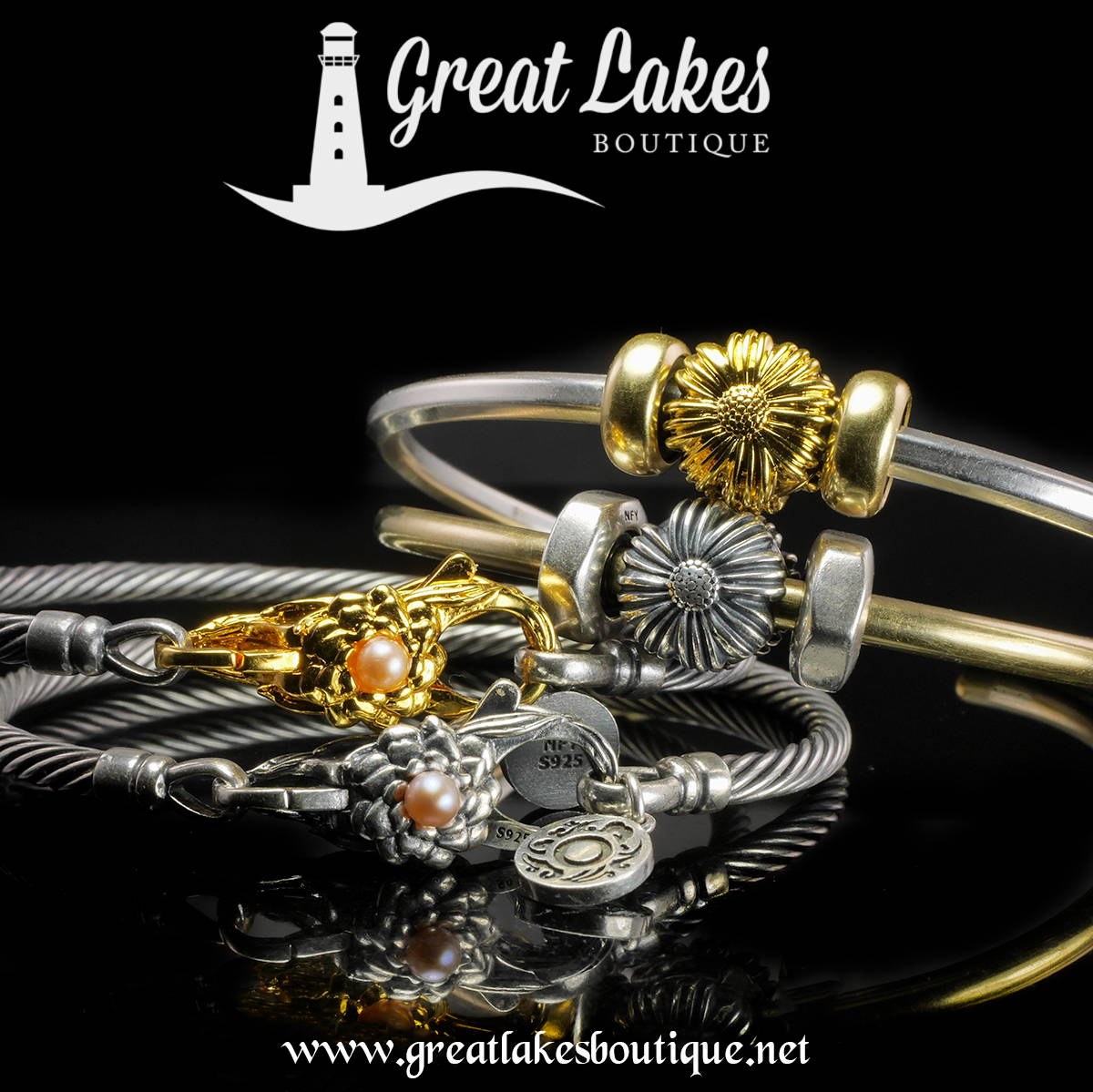 This is how I've been styling this new release and I adore this bangle set. It uses the Cosmos Flower Clips as focals on bangles, creating a lovely, warming mixed metal look. The glass are the limited edition Star Flowers and we've just restocked these. Only 99 were made so this is likely the final restock and they're so pretty!
On the top you can get your first "live" image glimpse of the Thomas Sabo Karma Beads Fall 2020 Collection and specifically the new Gold Apple. It's part of their Magic Garden theme which has a certain seductive quality to it, (in this case forbidden fruit.) It works so well for fairy tale themes too.
We hope you enjoyed this quick style segment and again we'll be back in the coming days with news on Halloween!