This charm bracelet blog brings a little inspiration for a pink combination starring The Palace of Amber Midsummer Night's Dream.
Midsummer Night's Dream was one of the event beads for spring and saw a new design for the brand. The Palace of Amber are well known now for their decorative core beads which are so collectible. This time we wanted to take things just a little further and fully encase a stone inside a design. We adore the end result.
There's not many of these beads left now but I do have a couple of bracelet ideas to share for them and the first is all pink.
When it comes to pretty summer shades pink is definitely a popular choice. The central stone in Midsummer Night's Dream is a rhodochrosite and these actually have some quite dramatic markings on them. Some of the beads you can just glimpse this through the silverwork. The luster of the stone almost looks a little pearlescent and with that in mind I've been really keen to team the event bead with rosa pearls.
We've also had a new batch of The Palace of Amber Round Faceted Rose Quartz arrive and you can see from the images that they're a great complement in terms of size. For Midsummer Night's Dream we had wanted a slightly smaller bead for those of you who find the decorative cores just a little overwhelming.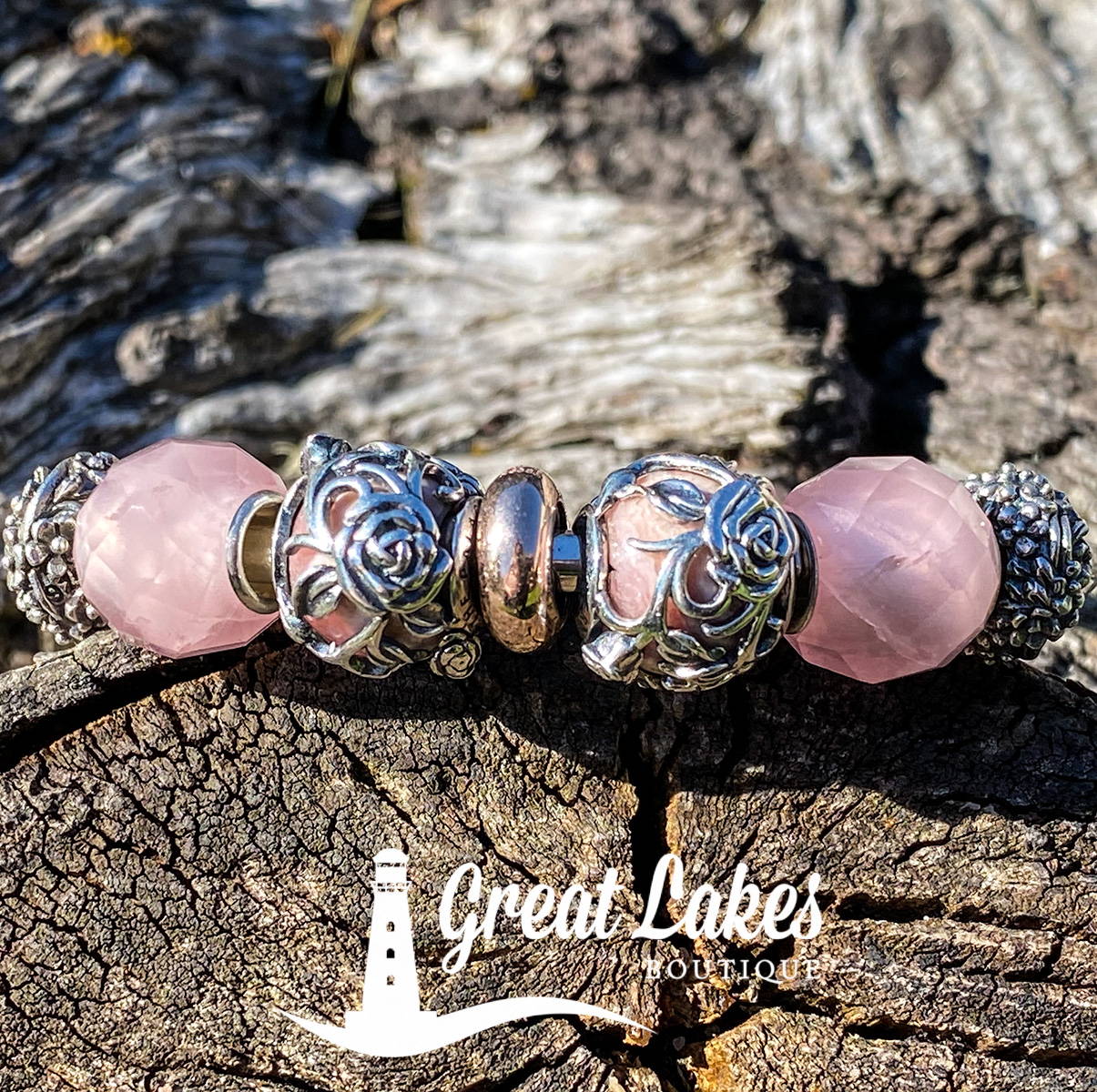 For the main bangle I've used two of the Midsummer Night's Dream with The Palace of Amber Rose Gold Stopper in between. These stoppers are exclusive to GLB and have been so popular. They're simple, they're solid gold and they're such an essential piece for those of us who adore rose gold.
The outer stoppers are the Redbalifrog Cherry Blossom Stoppers which were also created especially for the event. There are still a few pairs left and they're beautifully detailed.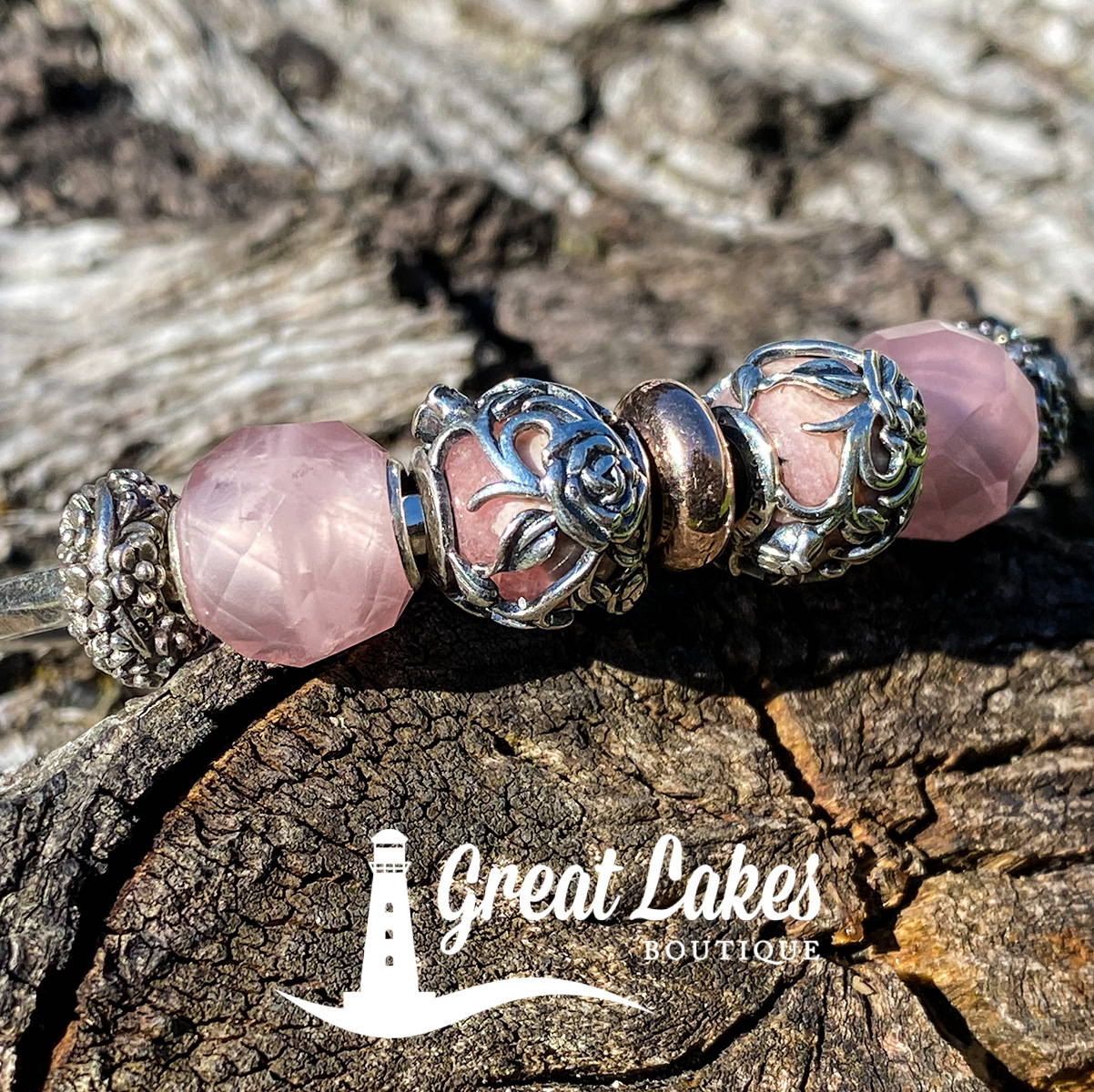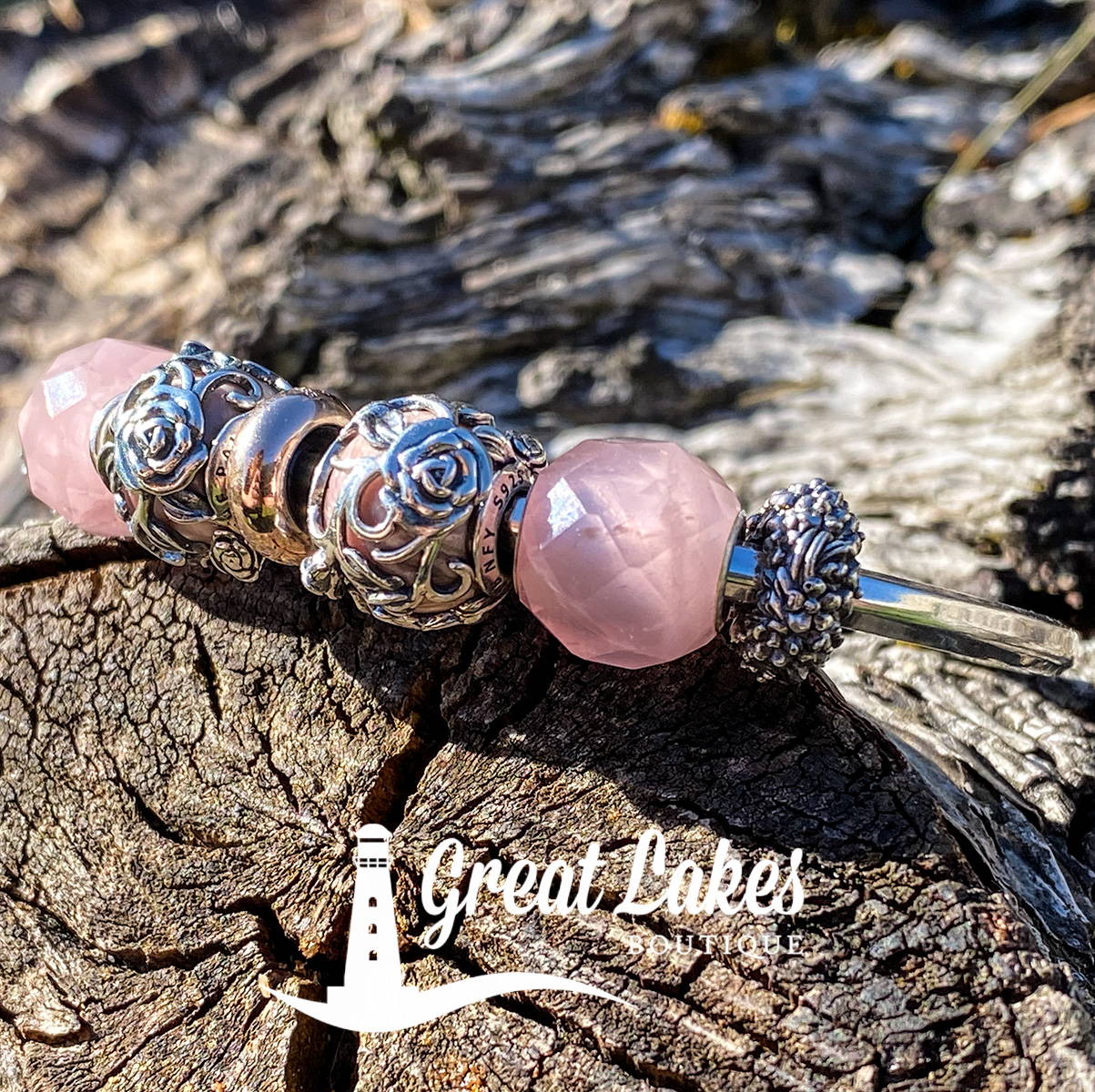 The mini bracelet features one of my favorite glass from The Palace of Amber to date; Belle. Belle is one of the two glow in the dark glass (Goldie being the second) but it's the colors I appreciate rather than the glow. Belle is a very soft, baby pink shade and these aren't available any more so the stock we have online is all that's left.
The central pearl is a Lucky Pearl in rosa and they have the 18k gold accents. These pearls have really strong coloring.
The lock is of course The Palace of Amber Lock of Glory and still arguably my favorite of the brand's clasps. It's a design people always comment on in images.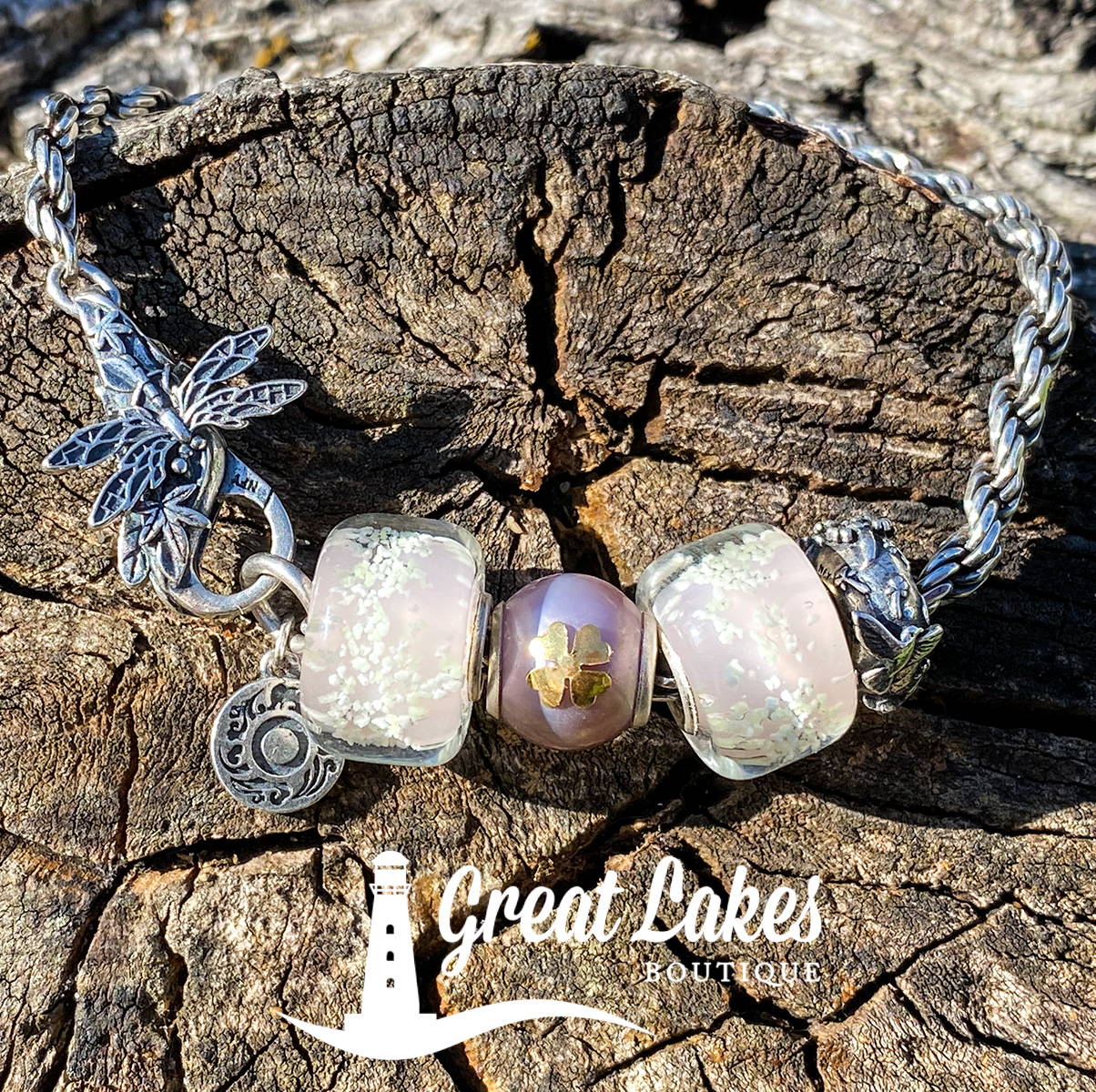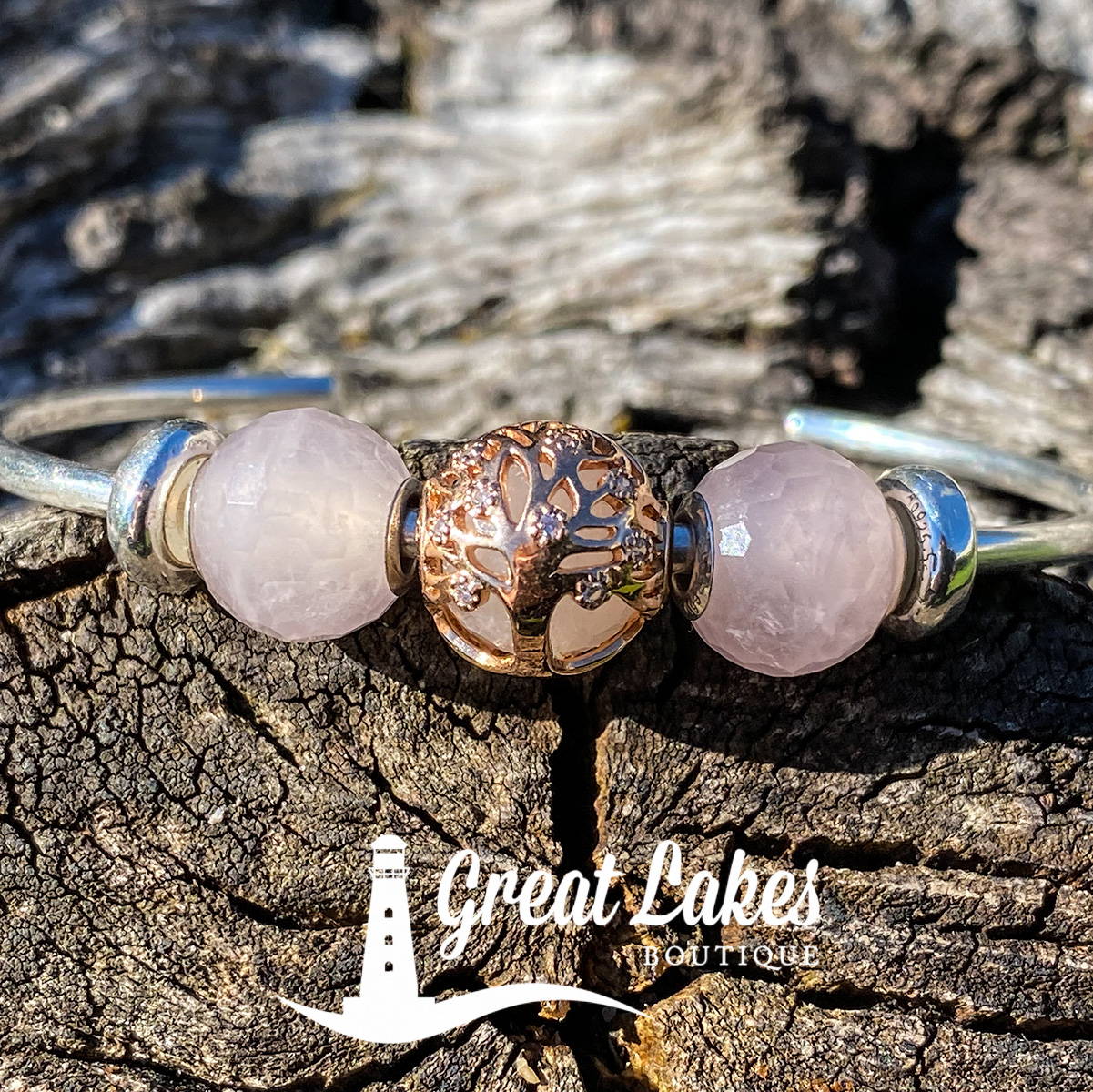 This Thomas Sabo Karma Beads bangle features on of my early favorites when this brand first arrived. The White Tree is such a lovely design. The rose gold tree motif is dotted with cubic zirconia accents, designed to look like blossom and the end result is very effective.
To either side are the Karma Beads Rose Quartz stones. The stones for Karma Beads have such a great price point which is really useful for those of you who like pairs.