This charm bracelet blog brings a little inspiration for The Palace of Amber Sky Ballerina.
Sky Ballerina launched earlier in May as one of three limited editions. It's the latest barrel design from the brand and I adore this style of bead. Firstly they're so comfortable to wear. Nothing pokes or catches. Secondly they tend to be focal beads and I find them really eye catching on bangles. When the design initially launched it sold out so fast that we never really got a chance to showcase it much. Yesterday our second and final delivery arrived.
Sky Ballerina is an ode to the dragonfly and specifically their appearance heralding the beginning of the summer season. The design itself features both a dragonfly and a lotus flower with the focal point being the raised opal stone set in solid gold.
The bead weighs 6g and measures 1.6 cm in length by 1 cm at it's widest point in width.
It's universally cored as with all TPoA beads and it does fit my XS Trollbeads bangles which I know is such good news for many of you. Sometimes with the barrel beads, they just get a little too long to go around the curve.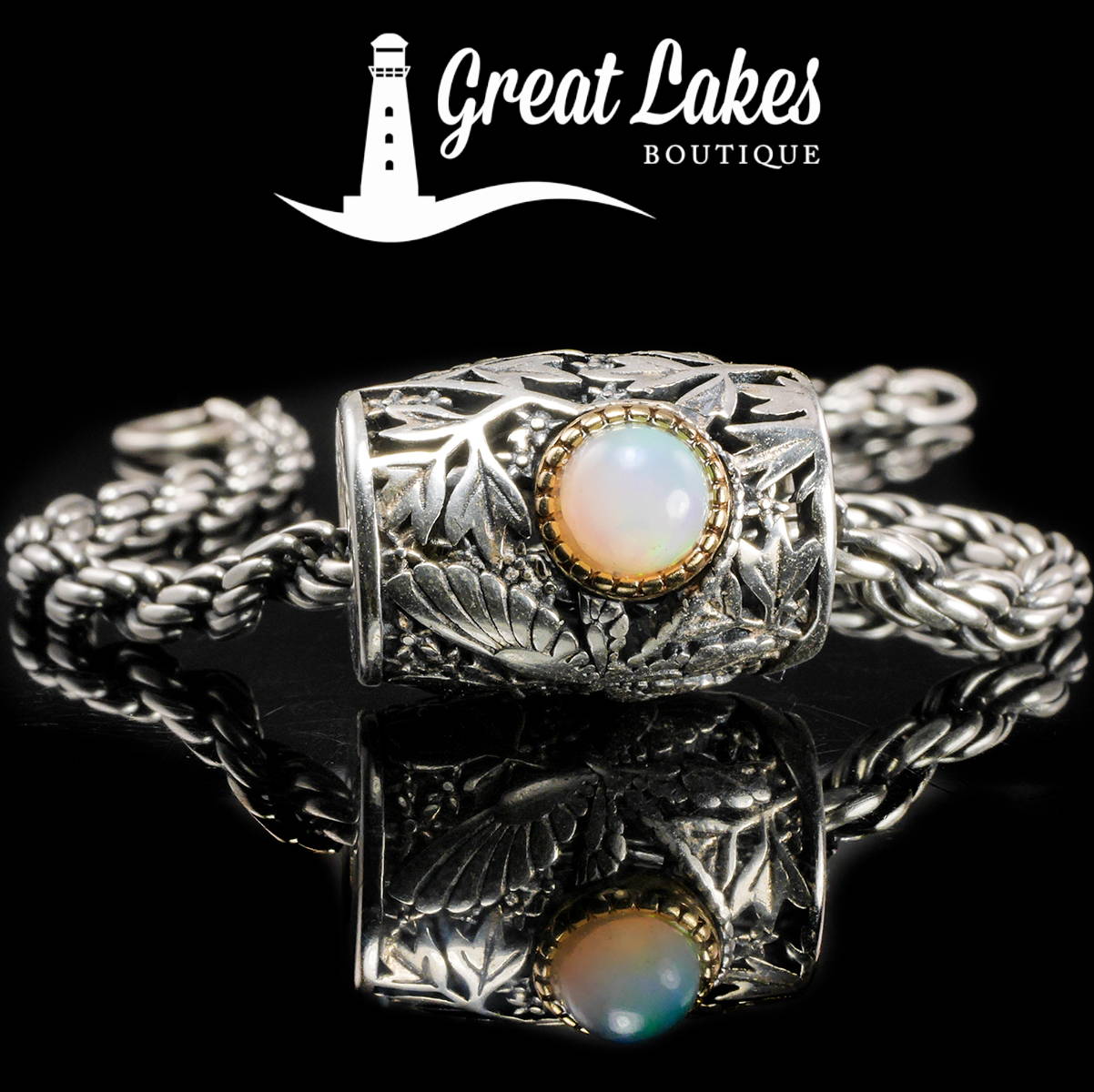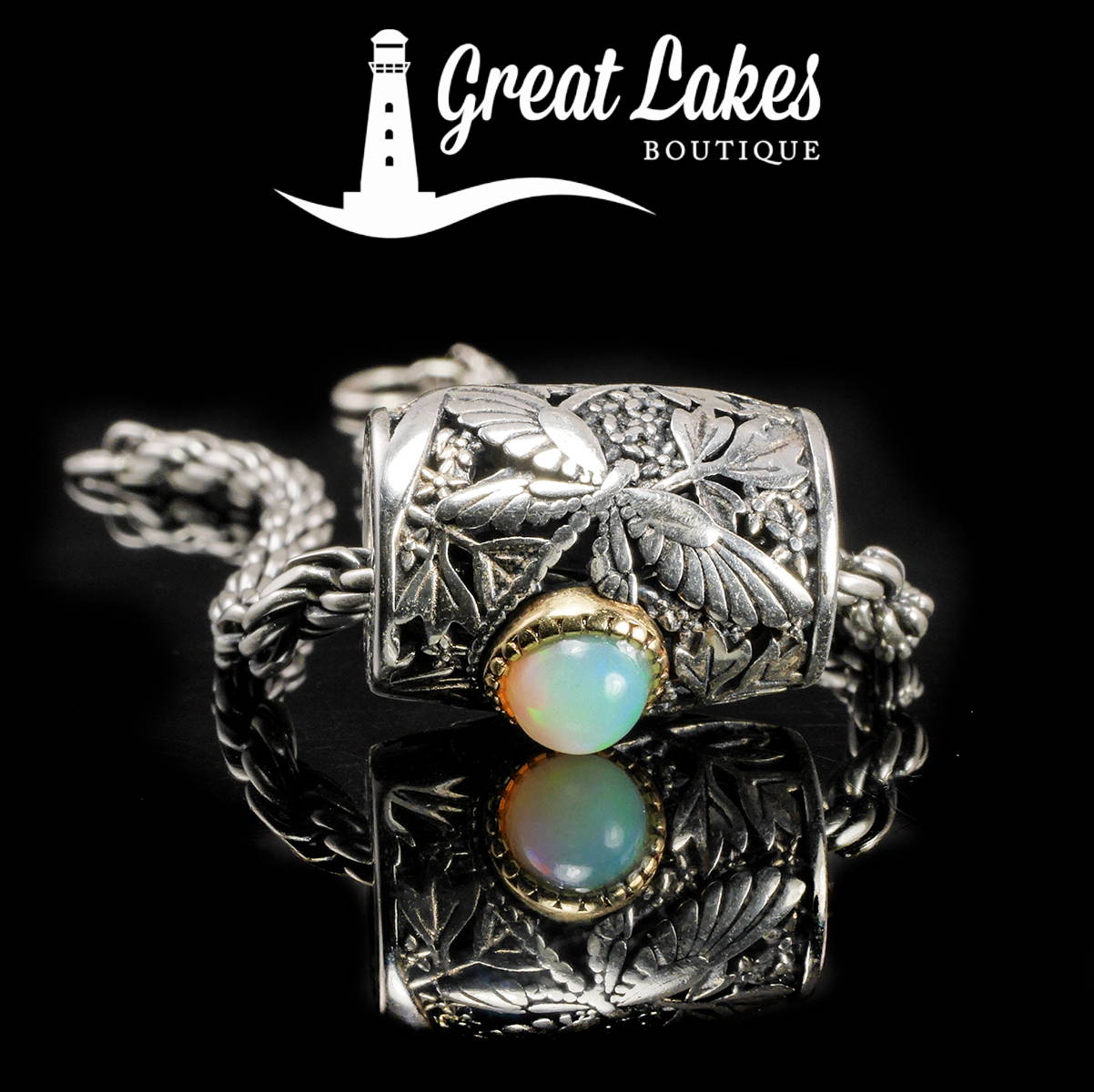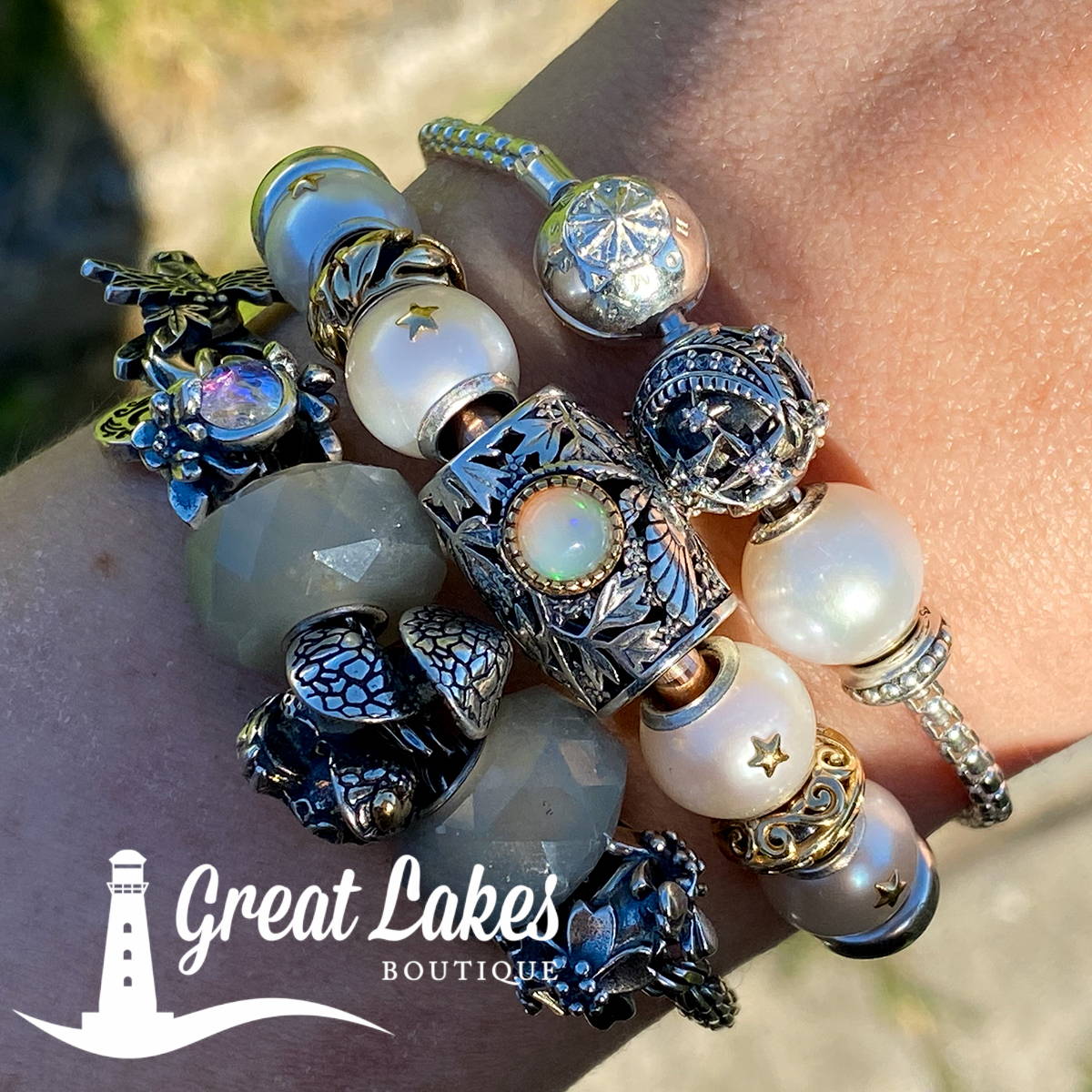 When it comes to styling I really wanted to capture that ethereal quality of the opal. I've always felt opals make perfect stones for evening or night time themed beads; anything related to the moon.
This stack uses The Palace of Amber Starry Pearls (new stock will be on the website soon but we do have some so anyone who doesn't want to wait can just drop over an email or shoot a message through live hat or social media.) With it are The Palace of Amber Gray Moonstones and mixed silver and gold pieces from Thomas Sabo Karma Beads and The Palace of Amber.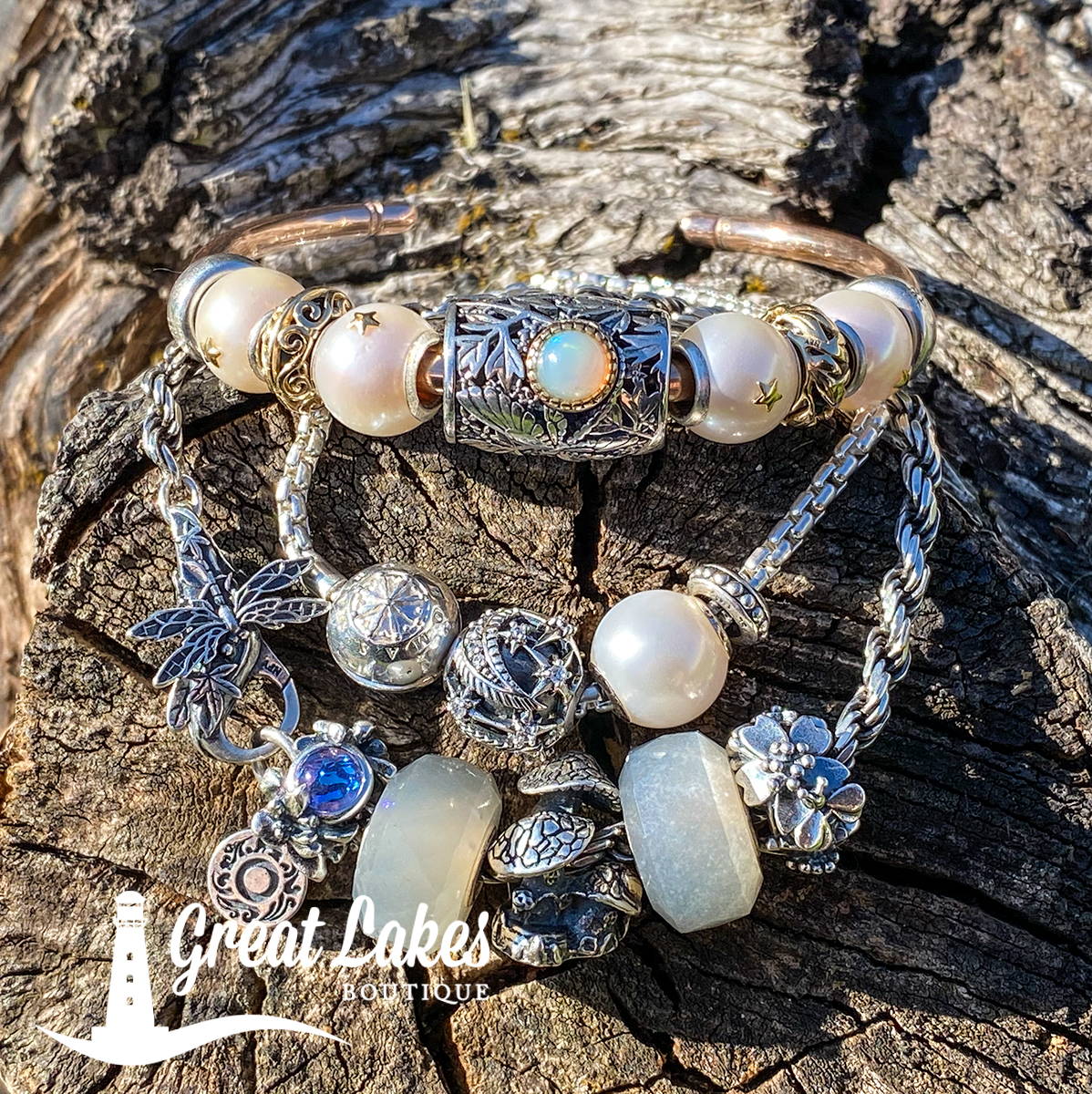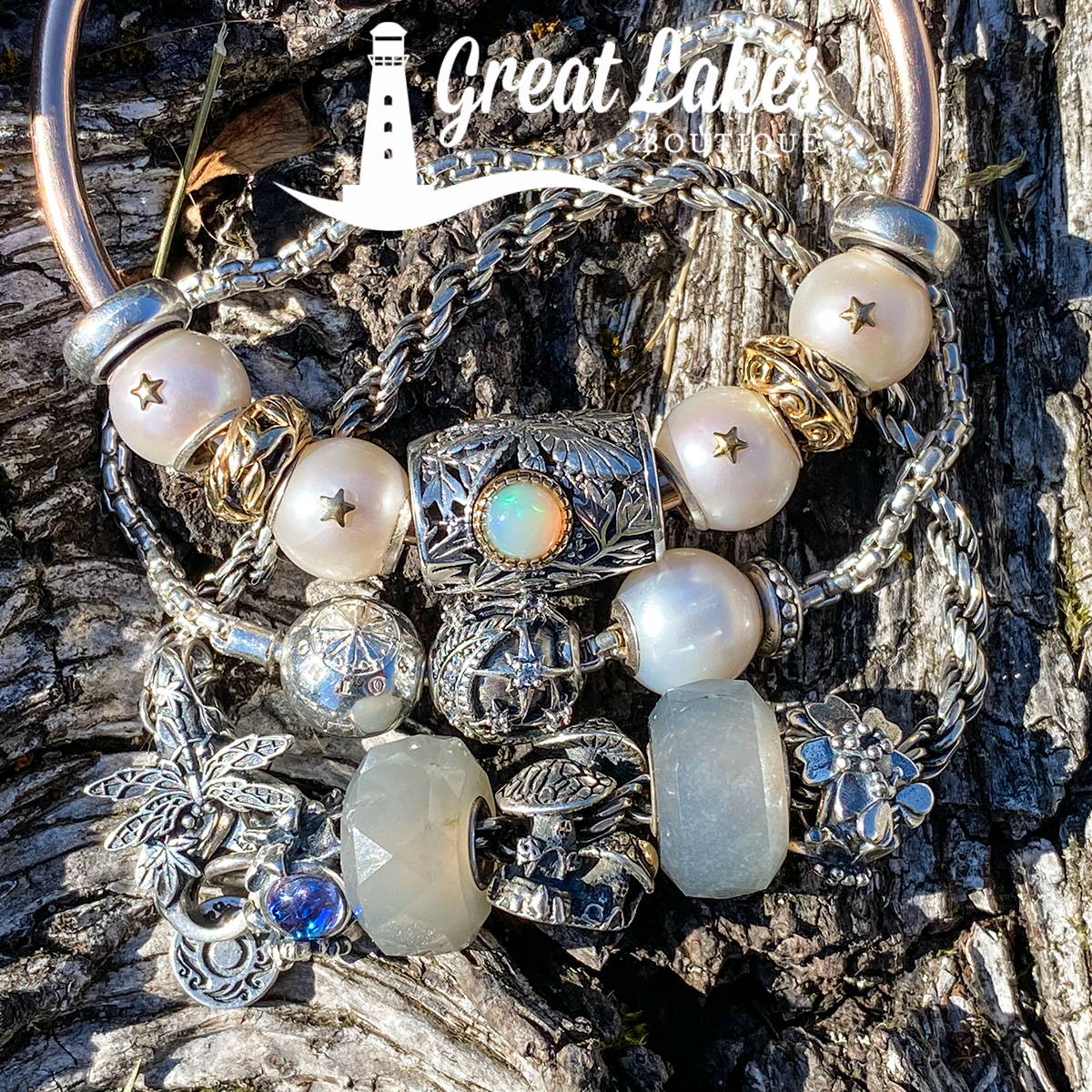 The end result is neutral but with a real shimmering quality to it thanks to the luminescence of the pearls and the flash of the moonstones. It's wearable, feminine and versatile.
For anyone who loves the design of Sky Ballerina, I'd recommend the Lock of Glory to accompany it. It's the same dragonfly motif on both and I'm pretty confident that has been the best selling TPoA lock to date. It's very eye catching and beautifully detailed.
Please be aware there's only a few Sky Ballerinas remaining. It was limited to just 55 pieces so once we're sold out, we cannot re-order.