This bead bracelet blog shares a little inspiration for The Palace of Amber Winter Rose Spark, new and exclusive to Great Lakes Boutique.
What a busy couple of weeks! The Christmas sales are drawing to an end and of course they have overshadowed everything else. (Who doesn't love a good sale?) On that note please remember you can save a huge 40% off many beads from The Palace of Amber but only for the next few days. We're still combining shipping too.
Just before Christmas however, we had some new arrivals and it's those we're talking about today. Remember too that even though the new items are not included in our sale, you do earn Gratitude Points on all of your purchases via our website. The scheme is proving really popular with customers and you don't need to do anything extra to participate. Every order earns you points automatically.
Back in November the first decorative cored glass arrived from The Palace of Amber. There were two shades; Sugar Plum and Winter Rose (pictured) and they are exclusive to Great Lakes.
The core features pine cones, maple leaves and assorted foliage in a real nature inspired design and we're all thrilled with the end result. We wanted to keep the actual glass itself plain to allow the core to shine a little bit more as the details in this silver are stunning.
Winter Rose is a creamy shade with just the gentlest hint of blush and is very versatile!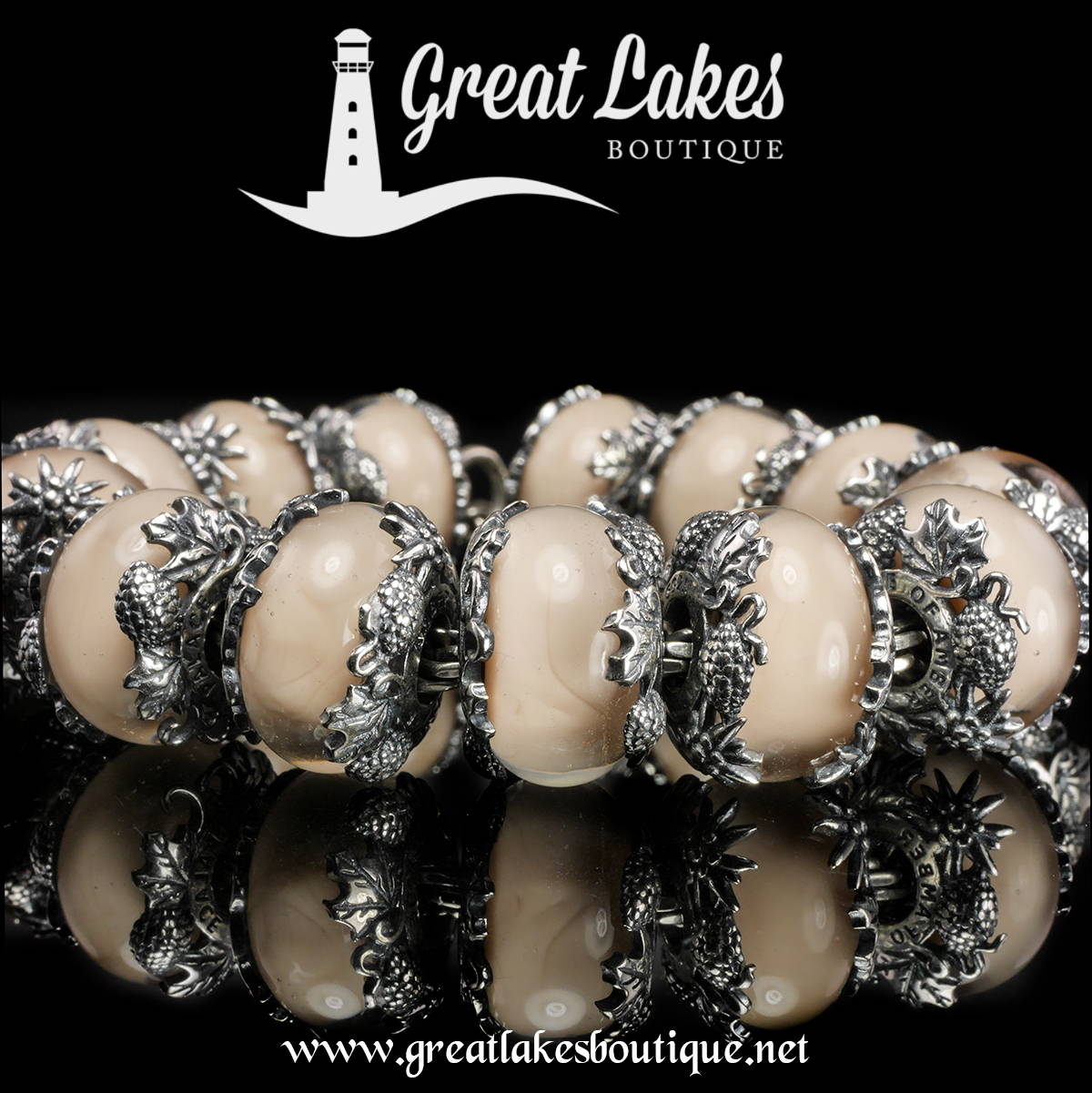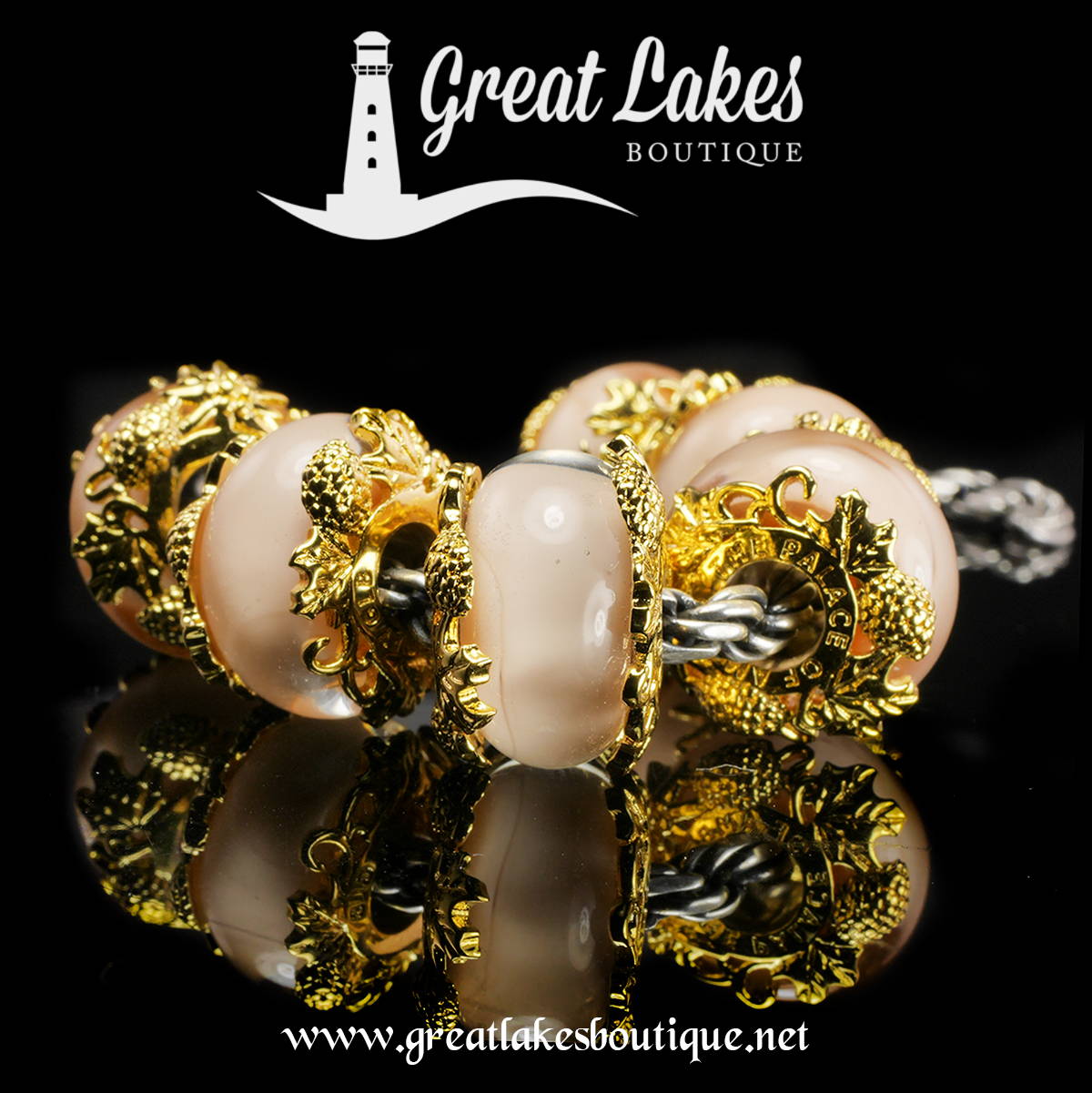 Now let's fast forward to the week before Christmas (which already feels an eternity ago!)
The second batch of Winter Rose and Sugar Plum arrived, this time with yellow gold and rose gold Spark cores. Spark is The Palace of Amber's gold plated finish and is identical in concept to a certain other well known brand's plated range. It sees a generous layer of gold plating applied over a mix of silver and copper. This means the underlying metal is yellow or rose in color. It ensures that if the plating does fade over much use, the metal showing underneath is still the same color so you don't end up with the dreaded two tone effect that can be associated with plated jewelry. It also allows people to play with warmer gold tones without the prohibitive price tag.
The glass used in the new Spark version of Winter Rose is identical to the original silver and actually is a perfect example of how neighboring colors can influence how a shade of glass looks to our eye. The color looks far cooler in tone with the silver core when compared with the Spark cores. It's an ideal way to illustrate why a glass bead you may order even from live images can look different in pictures to in person. Lighting and condition are everything when it comes to color perception. We always use the exact same photography setup here at GLB to keep factors as consistent as possible but see how different the same shade of glass looks in the images below.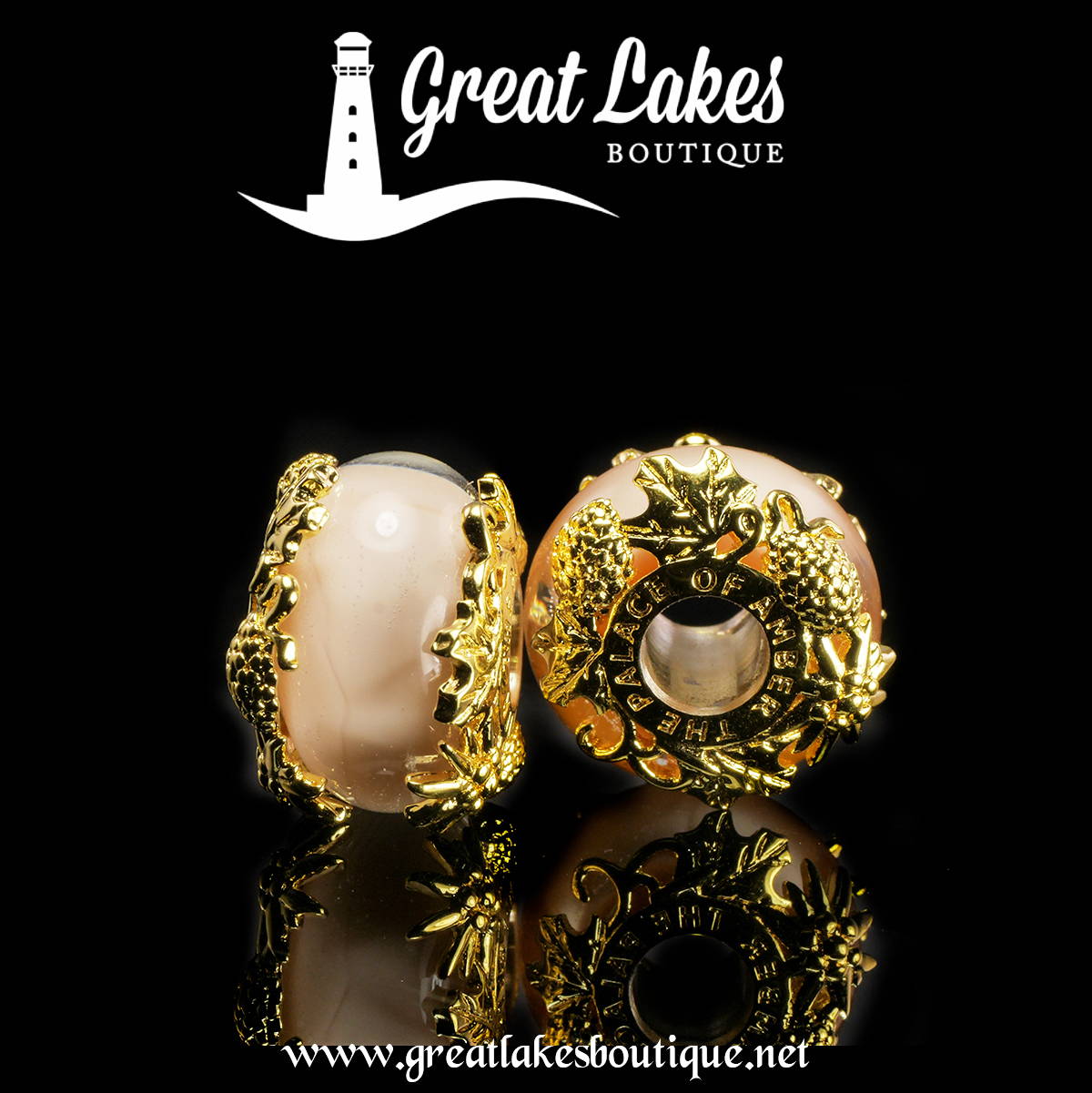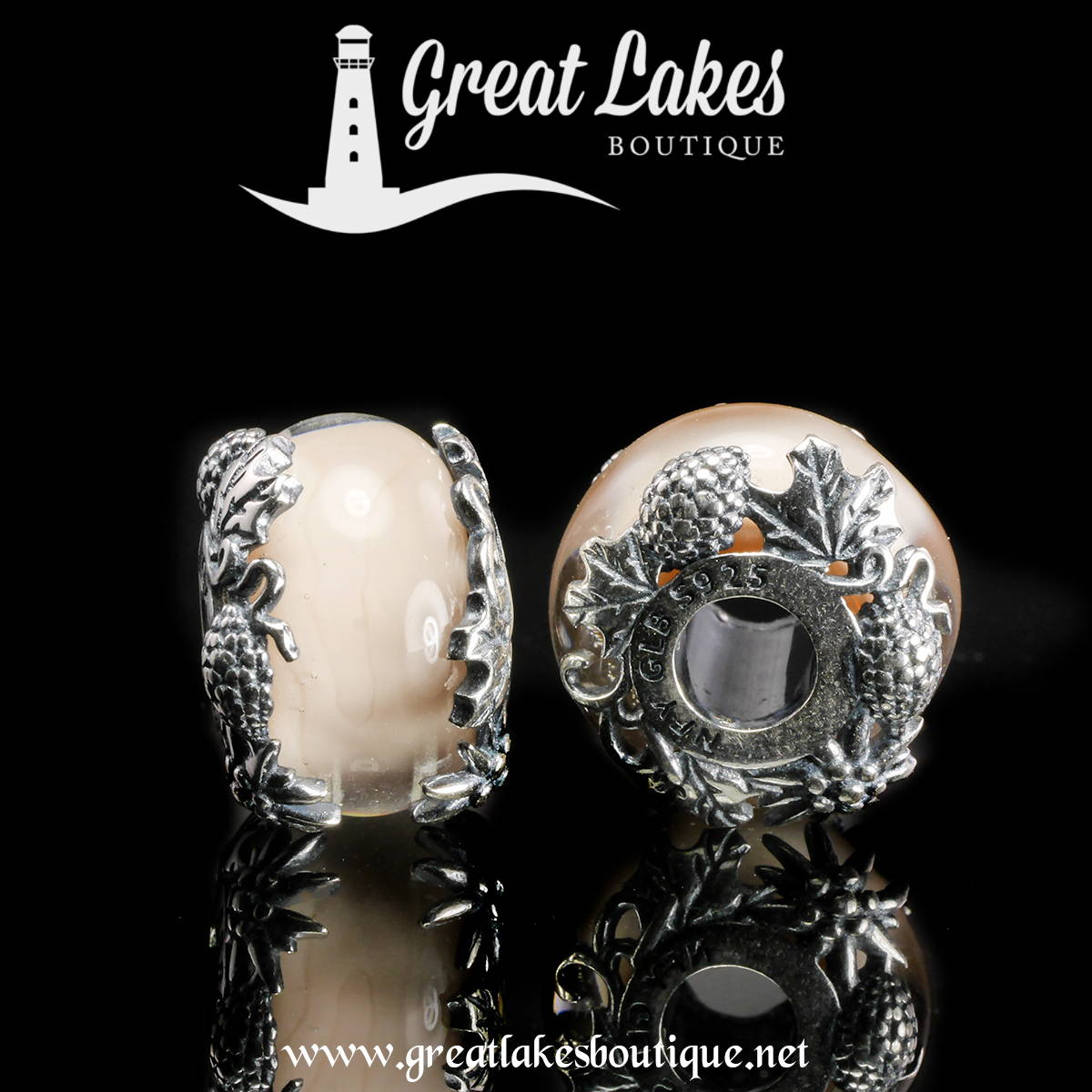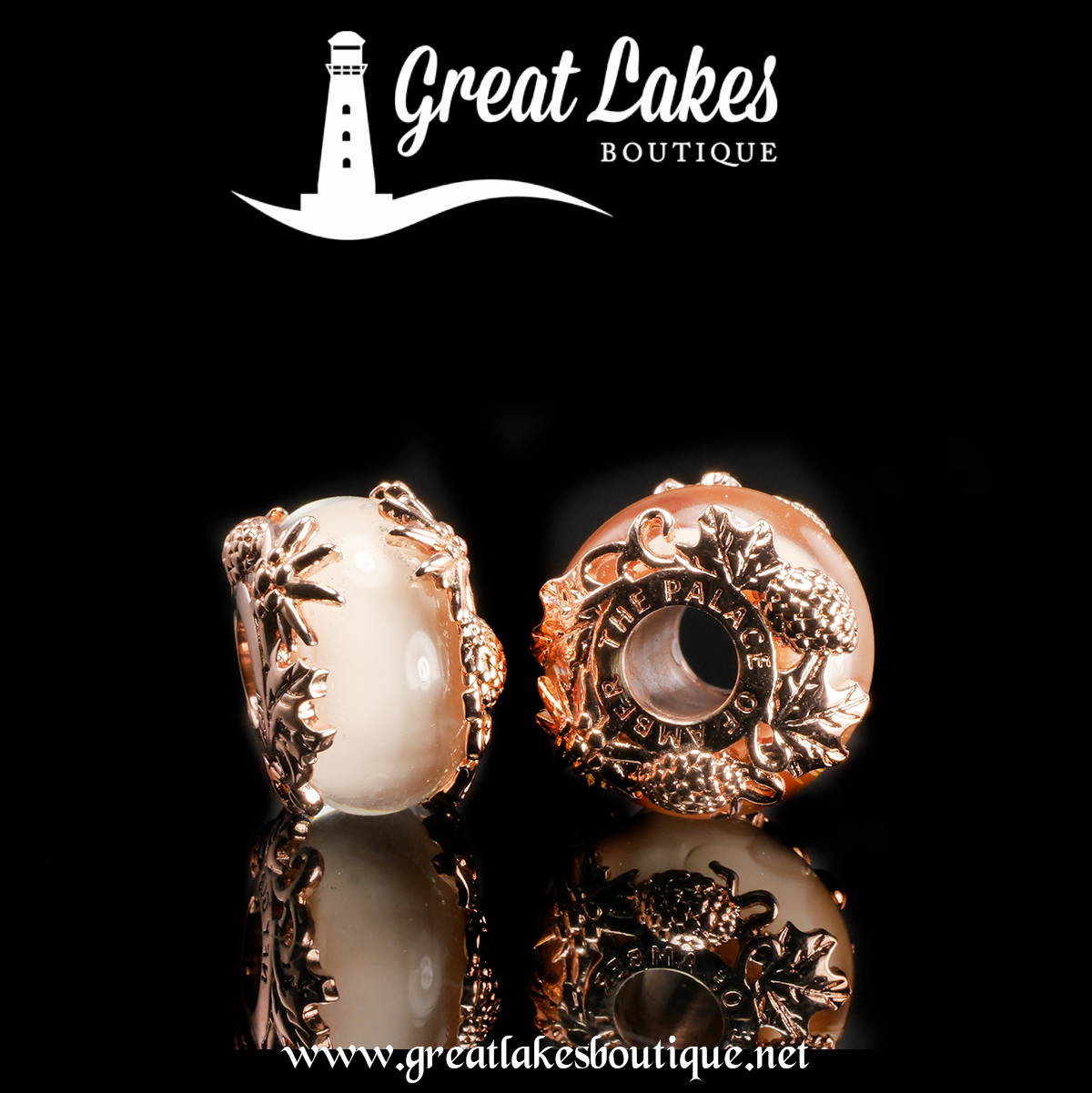 Realistically spring is not just around the corner, we still have two months of very cold weather ahead. That said January always sees the first of the new season releases (and actually we've already had the first here and you can check out The Palace of Amber Spring 2021 section on the website.) The moment those new beads start to arrive though, we can at least begin experimenting with new season motifs and colors.
Pictured here is a duo-tone look using the Winter Rose with yellow Spark core, the Cosmos Flower Clip in Spark (this clip is one of my absolute favorite pieces from fall) and the Cosmos Flower Lock with the Spark finish. The two stoppers are the solid gold Bamboo and Solstice so you can see how Spark and gold compare.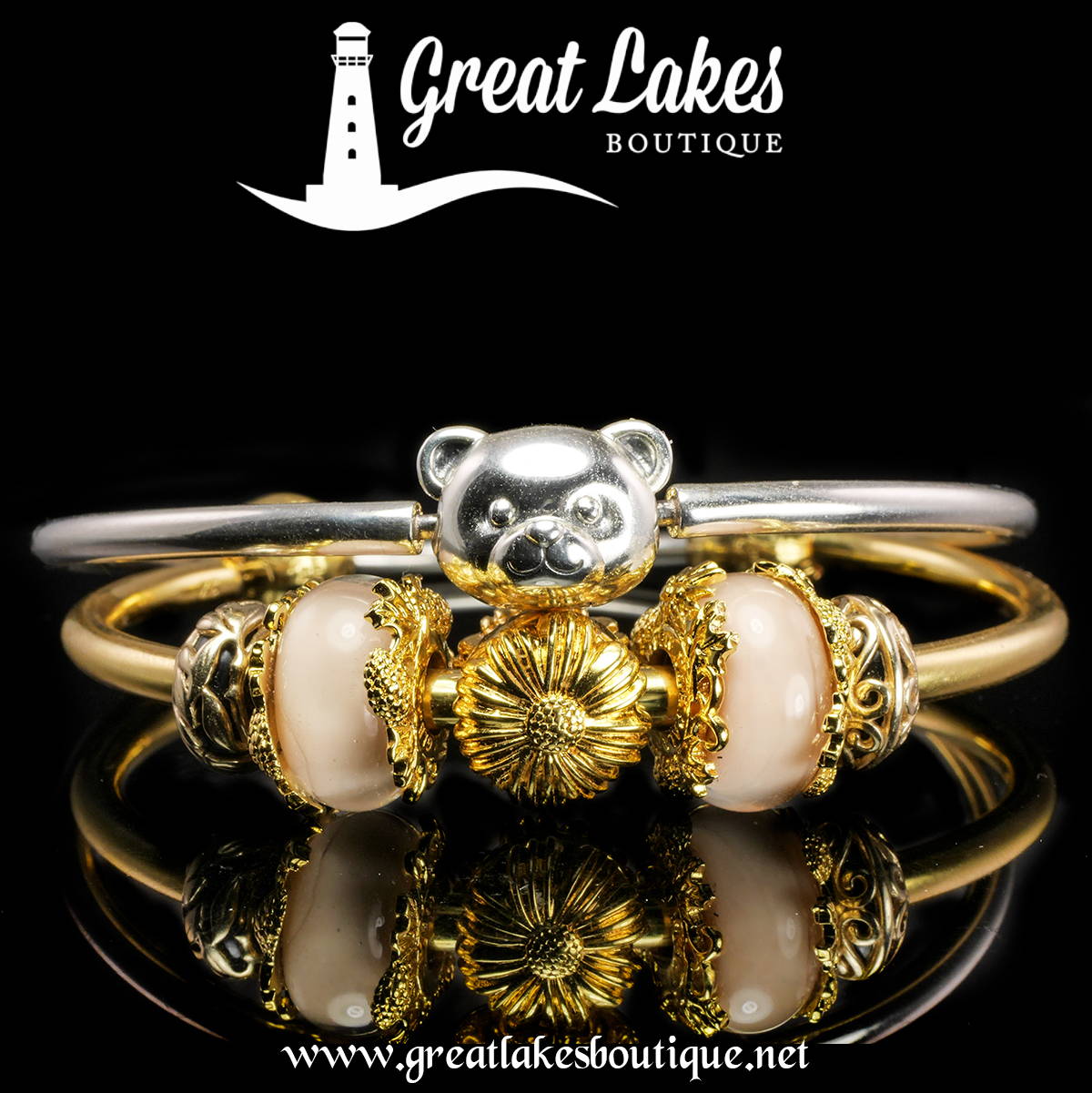 This super cute combination features The Palace of Amber Teddy Bangle, new for Valentine's Day 2021 and this hasn't been off my wrist since it arrived.
It's narrow enough to accommodate Trollbeads but of the spherical, looser bangle style and it's very cute! The Palace of Amber have really focused on creating different styles of bangles recently. Whether you prefer the open cuff, the more traditional style as pictured here or even want to wear locks on your bangles, you're pretty well covered by this brand now. For this bangle I've been mainly wearing it just to stack with others and as it's a looser style it's so comfortable to just wear alone too.
On that note the bangles we've used here are of course the new Teddy Bangle but then The Palace of Amber Skull Bangle in Spark. The Skull Bangle does of course have those skull twist end camps but you can choose whether or not those are visible. Worn as above with the glass on top of the wrist, it looks like a normal gold bangle. If you choose to flip it around, then the skull details will show on the top of your wrist. Again this just brings versatility to the line.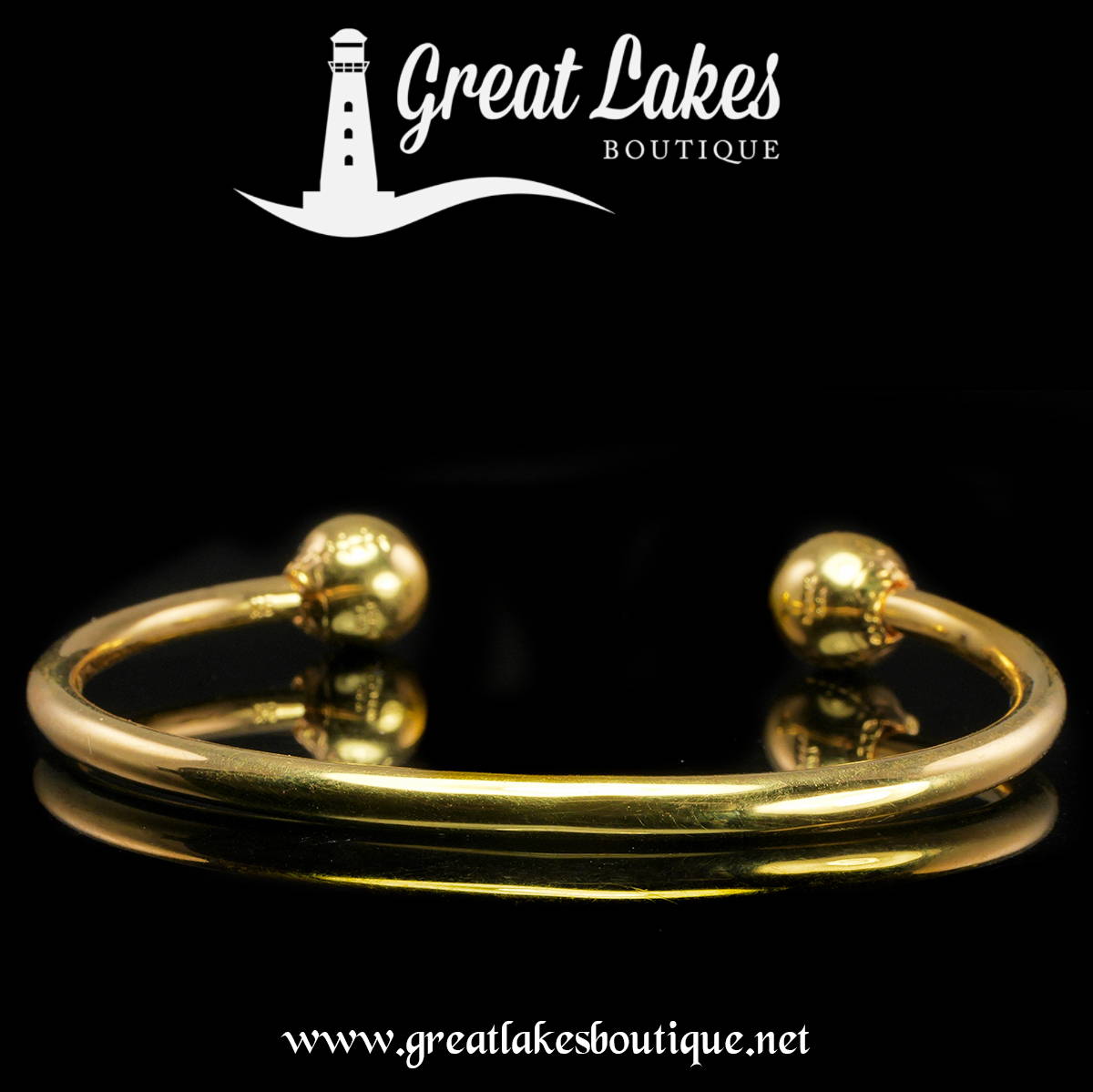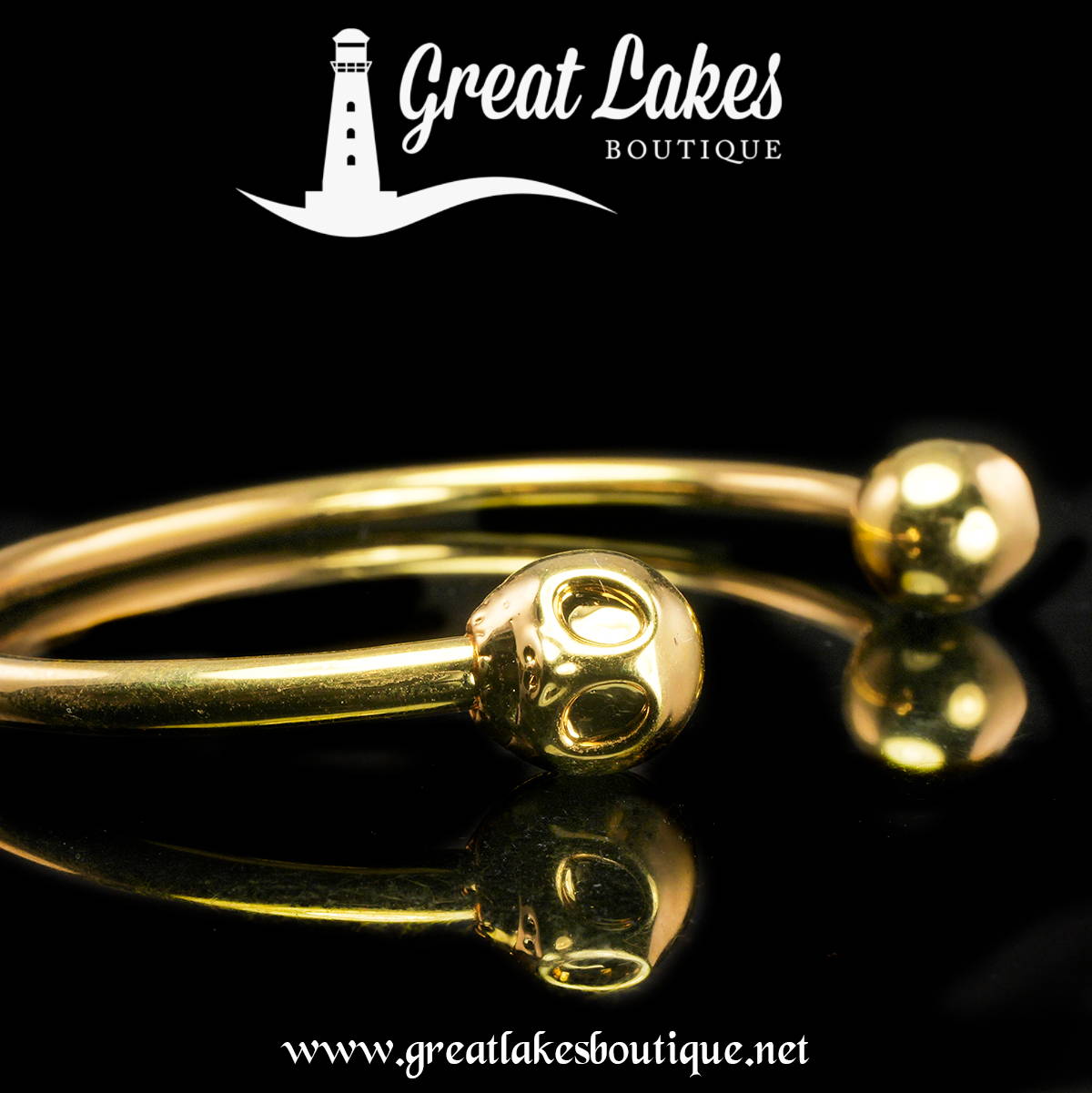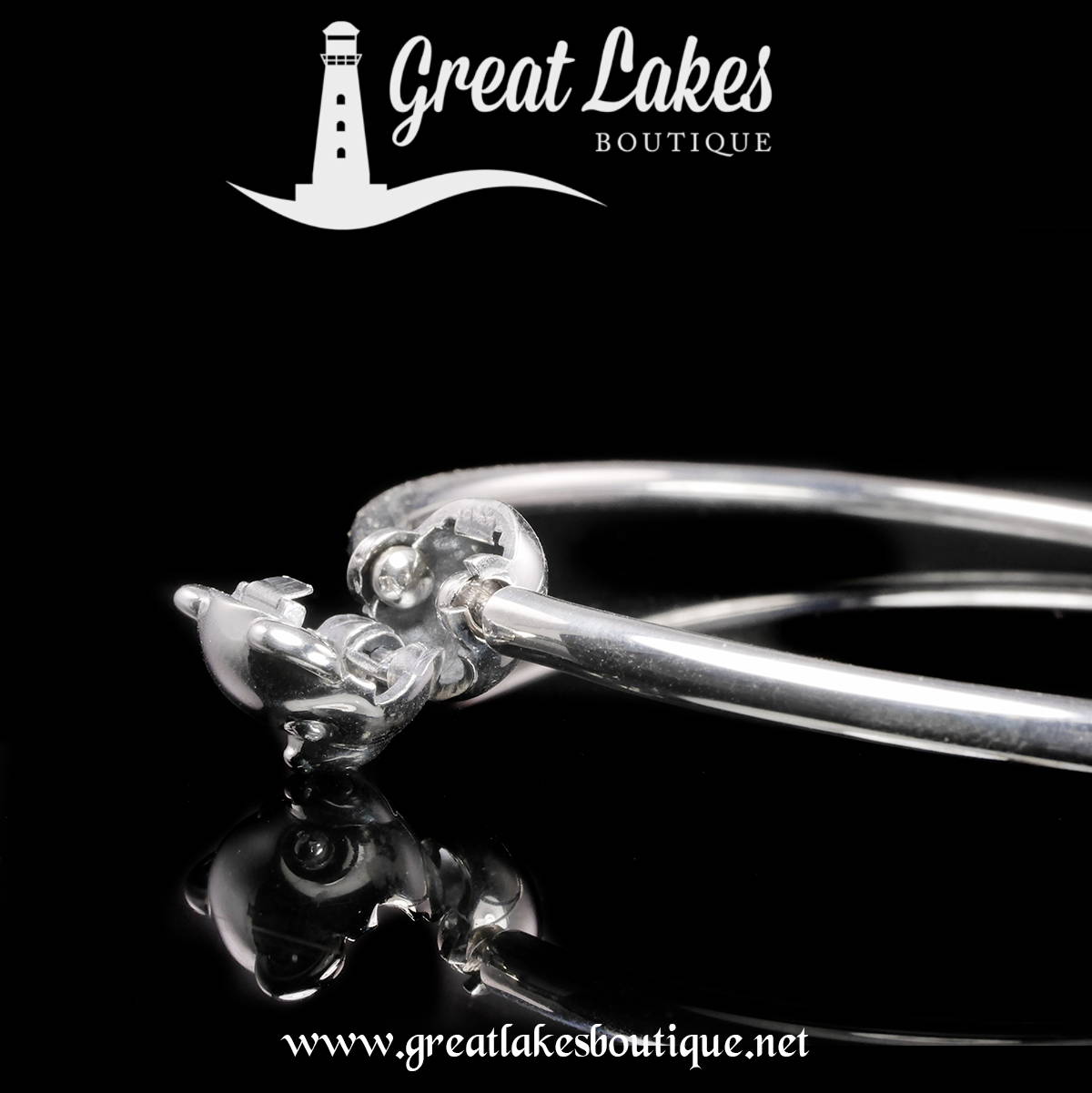 For those who prefer rose gold tones you can see a rose and silver mix here. This time we've used a mix of Winter Rose with the rose Spark core and the Sterling silver core.
The certain other branded bangle here is used to show how their rose finish compares to The Palace of Amber's, (though the bangle is a couple of years old so please do keep that in mind too.)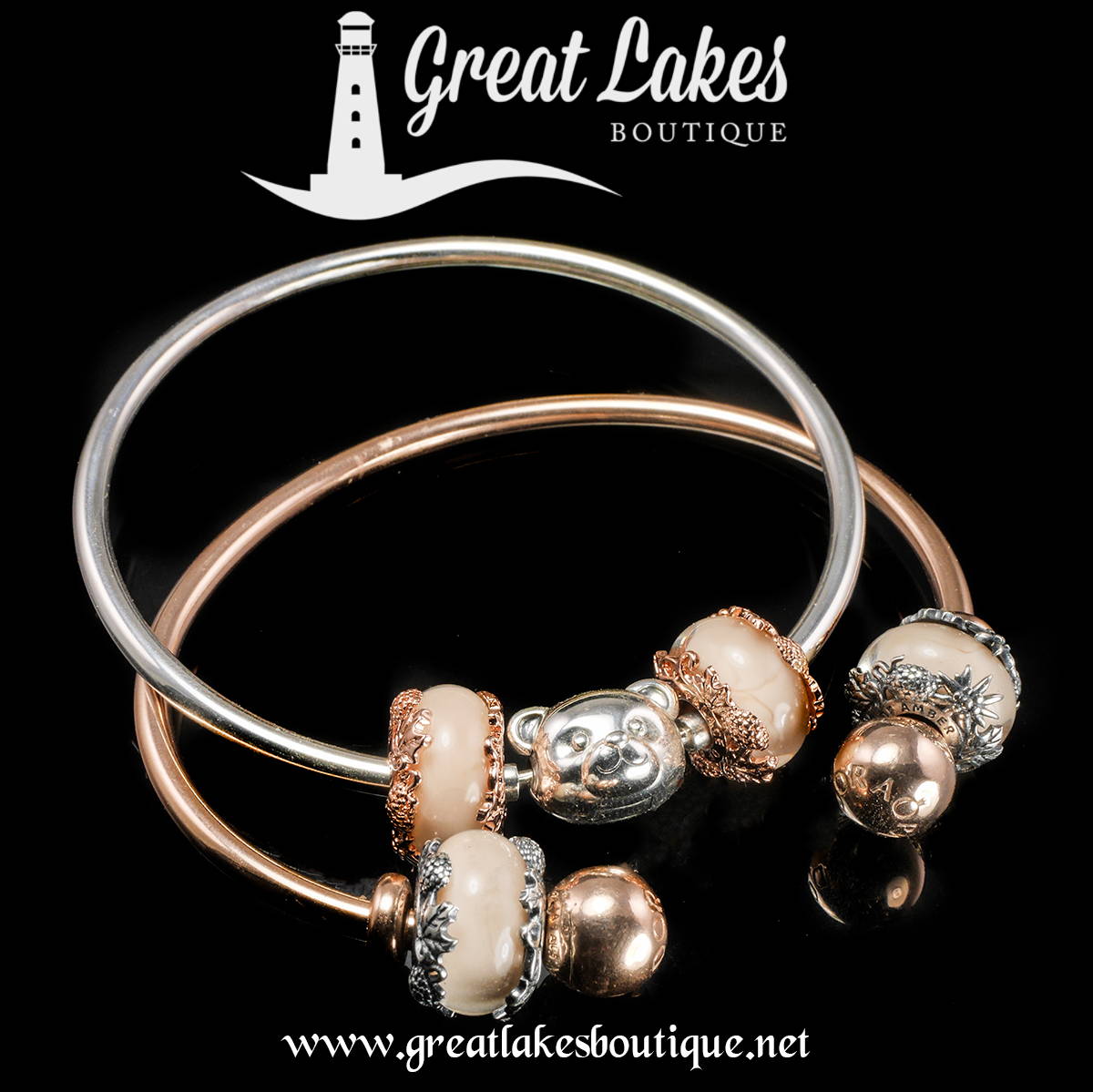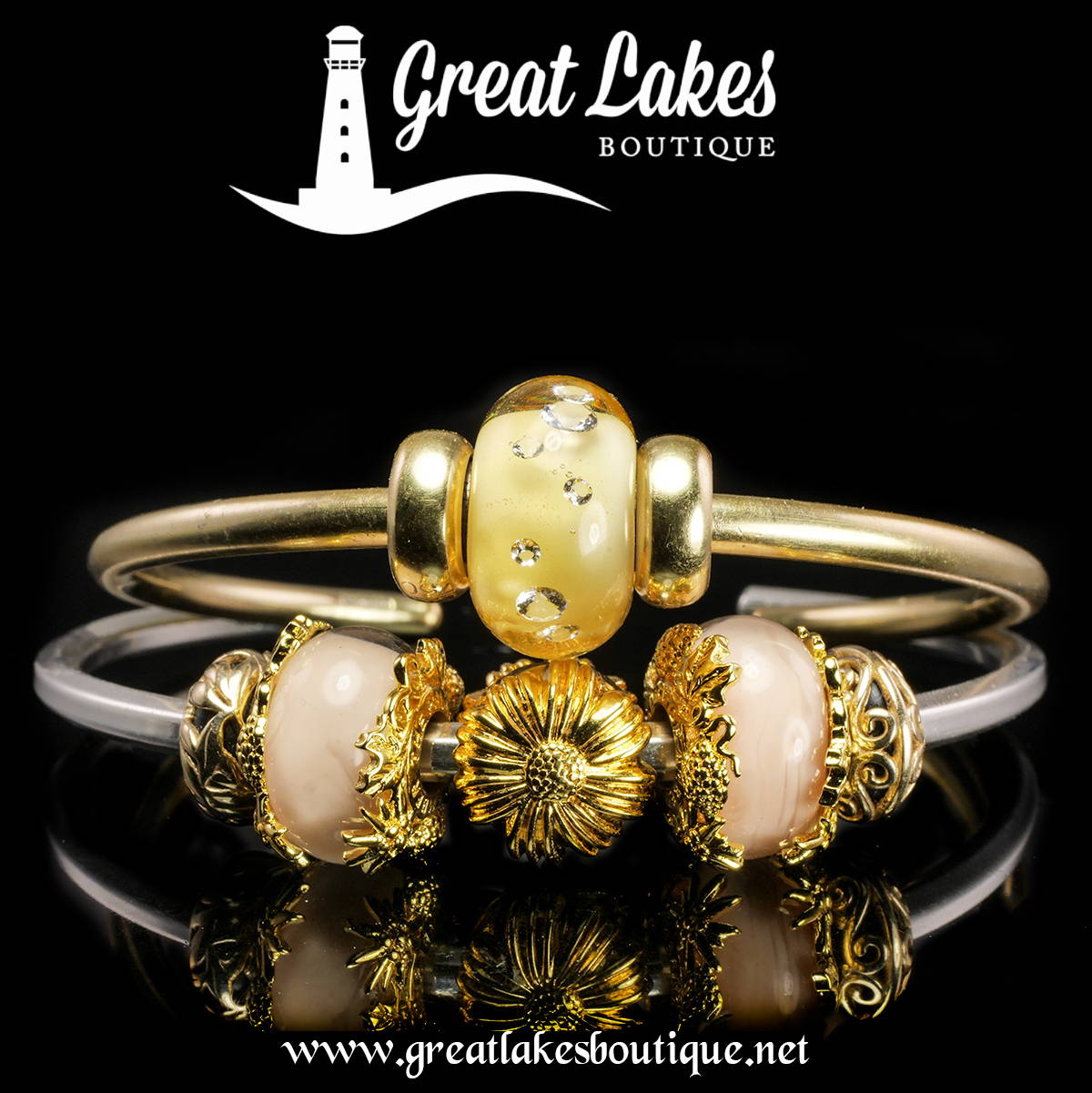 The final bangle combination just adds in the Trollbeads Diamond Bead Amber. We've always really liked America's shade of diamond bead as it can be styled for so many seasons or occasions.
We do still have some remaining in stock so be sure to grab yours if you don't yet have them.