This charm bracelet blog brings a little inspiration starring a Thomas Sabo Karma Beads teal & aqua bracelet.
Of all seasonal bracelets I find summer the most difficult. It's my least favorite of the seasons and I find the traditional colors difficult to work with.
The bracelet featured here was initially inspired from helping an online customer. I found the end result so striking that I've been really excited to feature it here and more over, it's perfect for summer!
This is another example of a stack that I'd probably split between two wrists.
Featured here is a Thomas Sabo Karma Beads Bracelet & bangle combination, The Palace of Amber bracelet with that amazing Lock of Glory, focal green chalcedony and Redbalifrog Cherry Blossom Stoppers (one pair left.) Finally are two Scout Curated Wears wraps.
The colors in this combination scream of summer for me and while they're out of my comfort zone, I am loving the end result.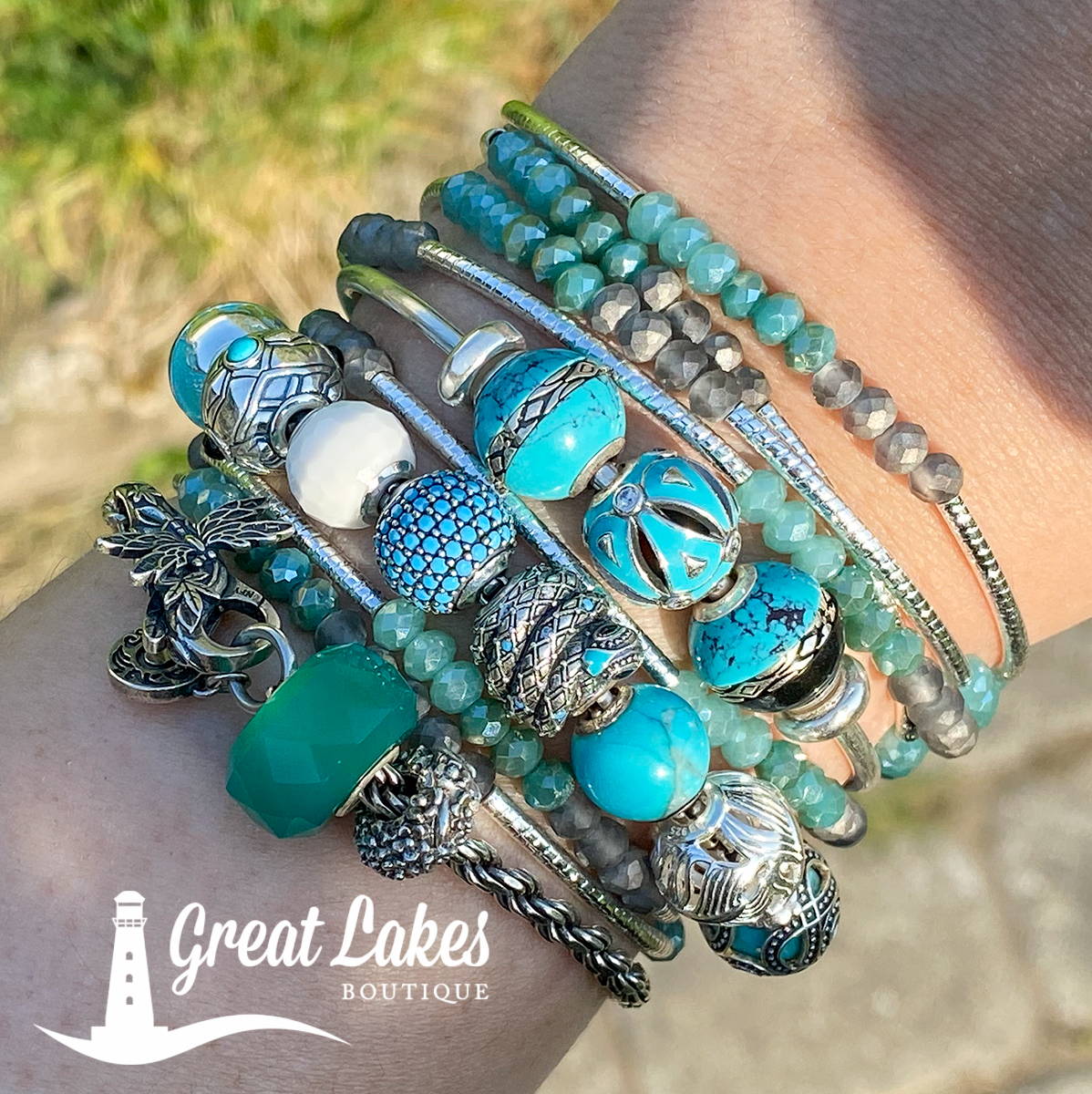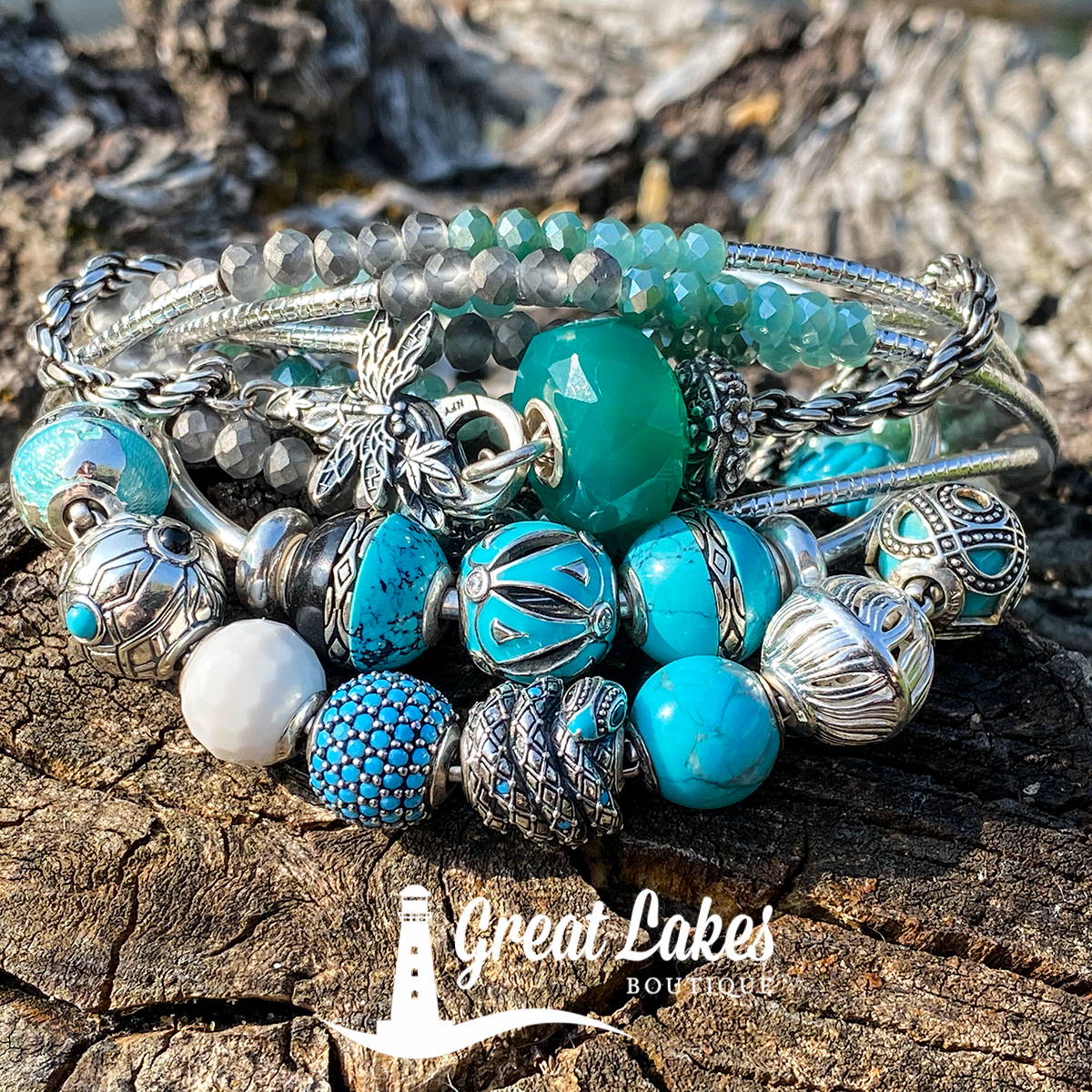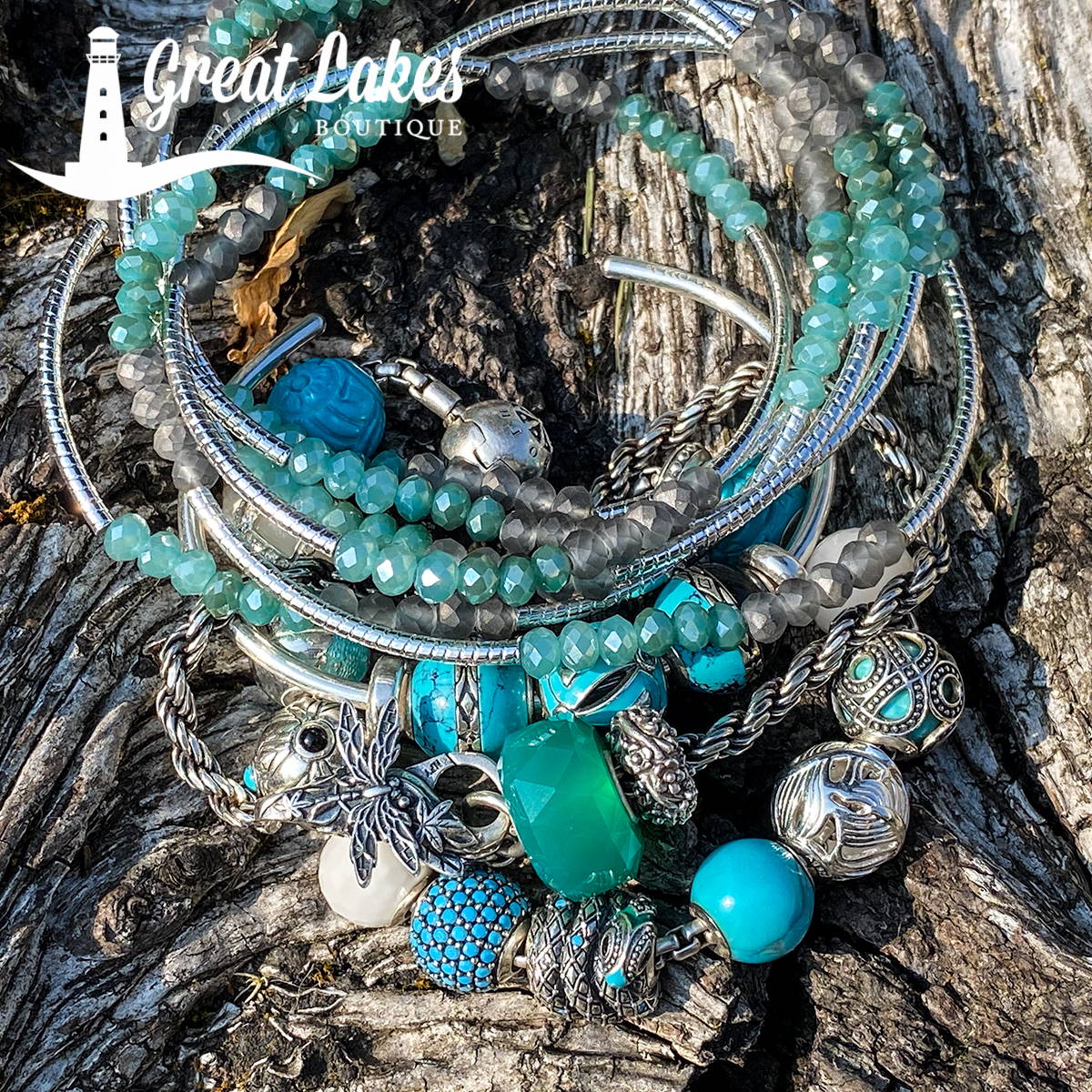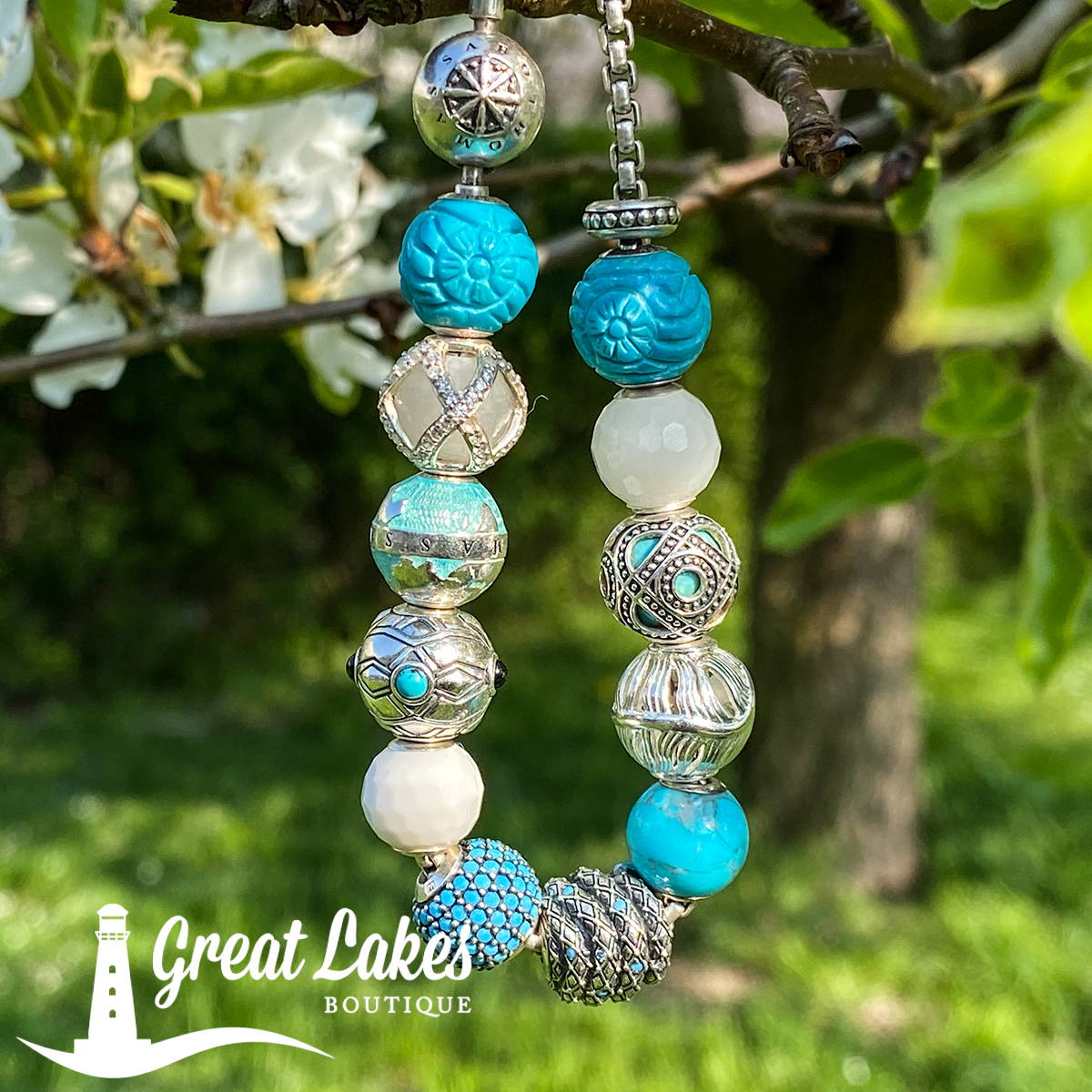 The aqua shade on the Thomas Sabo comes from a mix of enamel, stones and even a little pavé. The two carve flowers at either end are Howlite Summer Flowers and I think that has been one of the best selling beads since the launch. You can actually shop live images of those on our website an the link is just below.
I've tried to keep the rest of the silvers most high shine as it makes for a lighter overall combination.
That focal is the Thomas Sabo Karma Beads Snake with Enamel and is a perfect example of the amazing detail this brand manage to capture.
The bangle I actually wore alone with this Scout Curated Wears Delicate Stone Apatite Wrap. For those of you just starting out with Karma Beads or who just prefer less jewelry, especially in the warmer months, I think this simple combination is incredibly effective.
The beads on either side are turquoise, one mixed with onyx of course while the focal is enamel. (You can find links to all of the individual beads at the bottom of this edit.) This combination was so light and comfortable to wear and the consistently spherical Karma Beads add to that comfort level.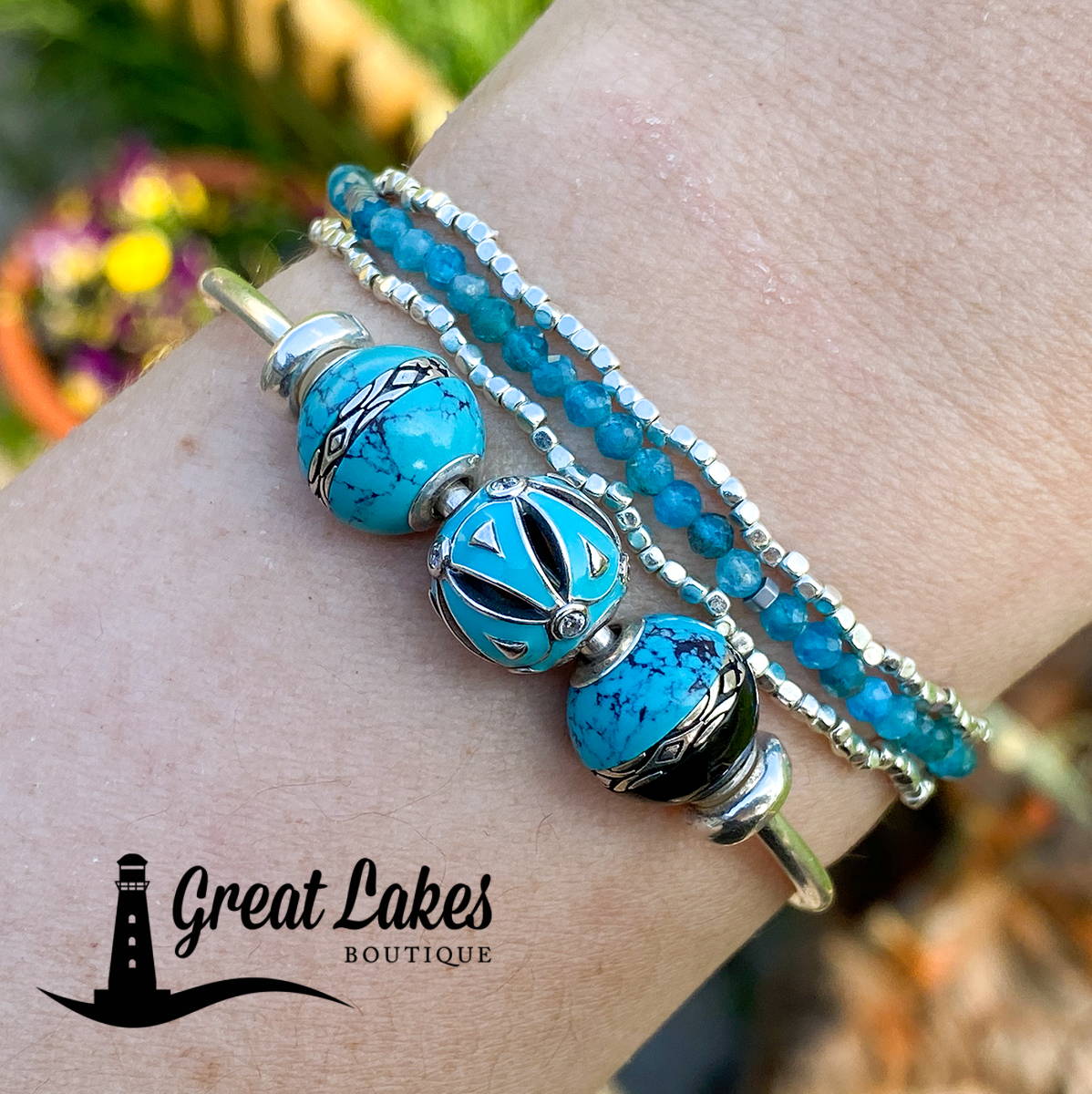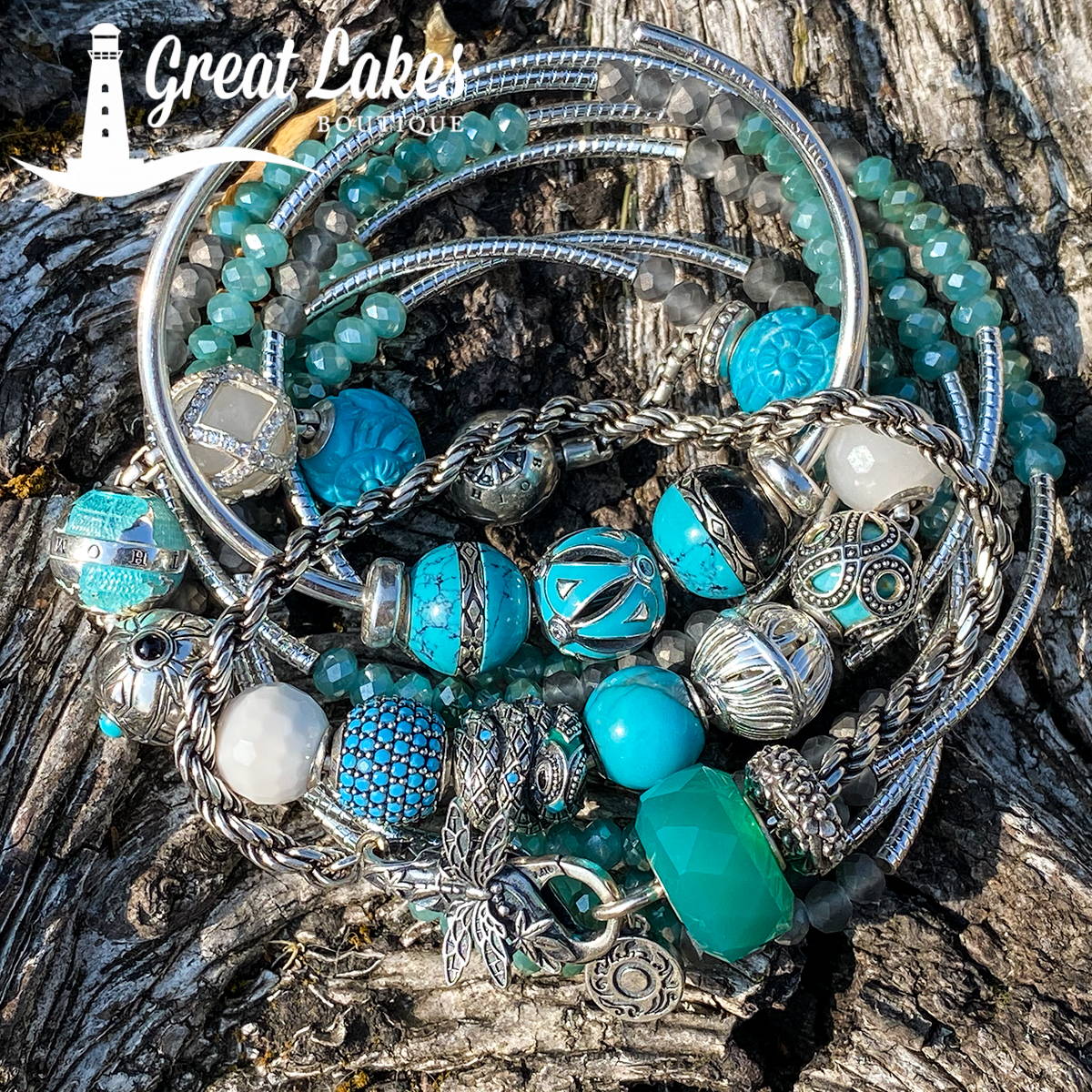 We do still have some of The Palace of Amber Green Chalcedonies left too. This was one of the spring stones so not a stone currently available.
Chalcedony is a really good choice is you hate inclusions in your stones. Inclusions are commonplace with stones but some more than other. Any quartz type for example will tend to have a lot of internal crystalizations. These chalcedonies were popular precisely because they're as close to flawless as we've seen. They do show variation in color, but you can shop live images and video below.