This Trollbeads blog brings live images of the Trollbeads Day 2020 Kit ahead of it's launch tomorrow.
We're now hours away from Trollbeads Day 2020! Saturday July the 25th is the annual Trollbeads Day celebration and as is tradition it's marked with a limited edition release. For 2020 that means engraved glass simply called the Trollbeads Day 2020 Kit, though the single beads all have individual names.
From midnight tonight we'll be offering both the kit and the individual beads on our website. The full kit retails at $366 with the individual glass at $61 each. Ahead of that launch it's time to share our own live images.
I mentioned in the original preview that this kit almost felt like a celebration of the seasons. The colors are just beautiful but it seems there's a shade and design that spans the entire seasonal year.
The Trollbeads Blueberry Flower is a cool shade with an engraved flower, not dissimilar to a lily in the shape if it's leaves. The frosted effect that results from the engraving feels quite icy on this bead, somewhat like the patterns on frozen windows. It's very, very pretty. You'll find variation in the exact shade of the blue base on this bead. Some run a little bit brighter than others as you can see in the bead at the forefront and the one just to the right of it.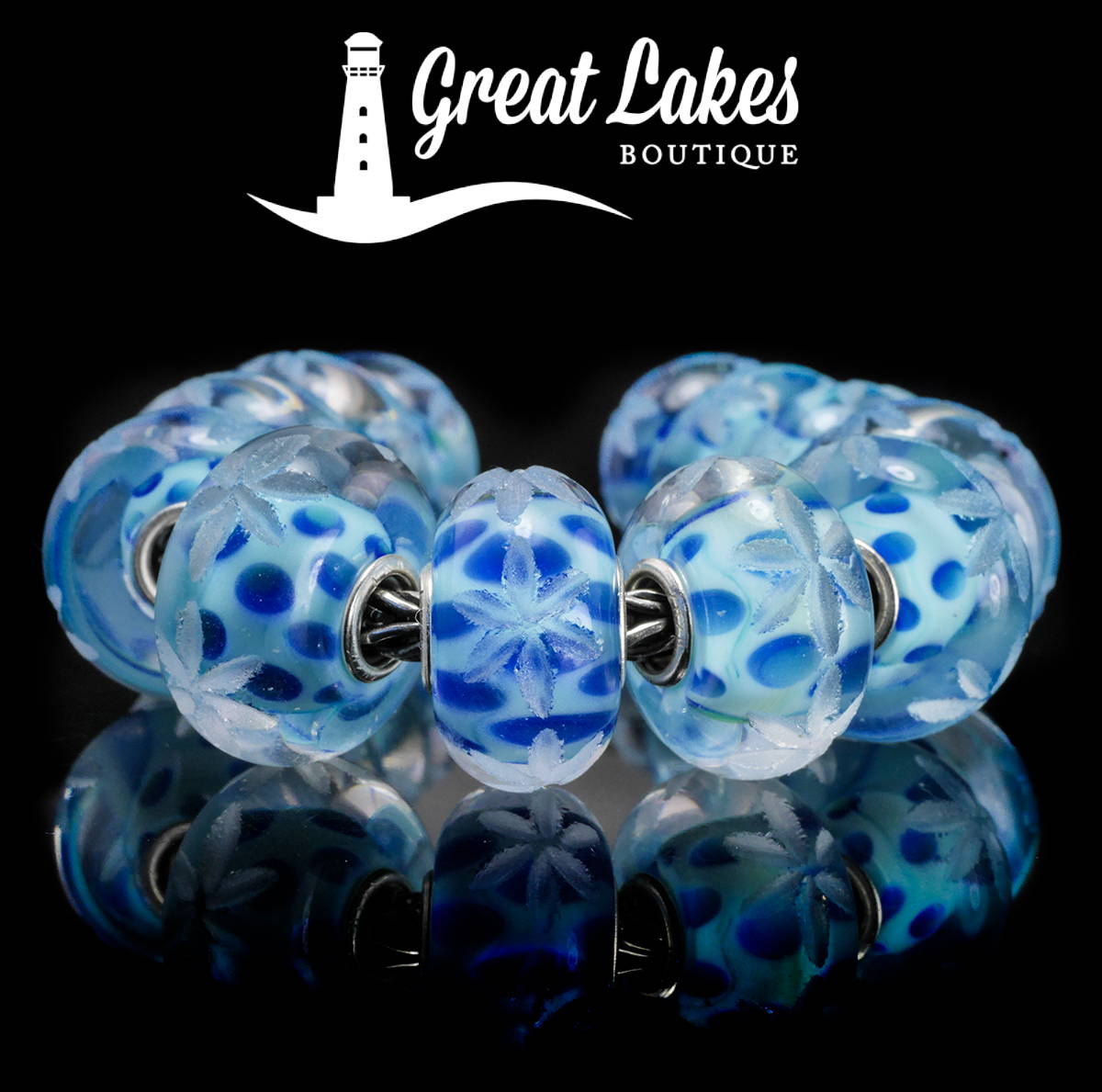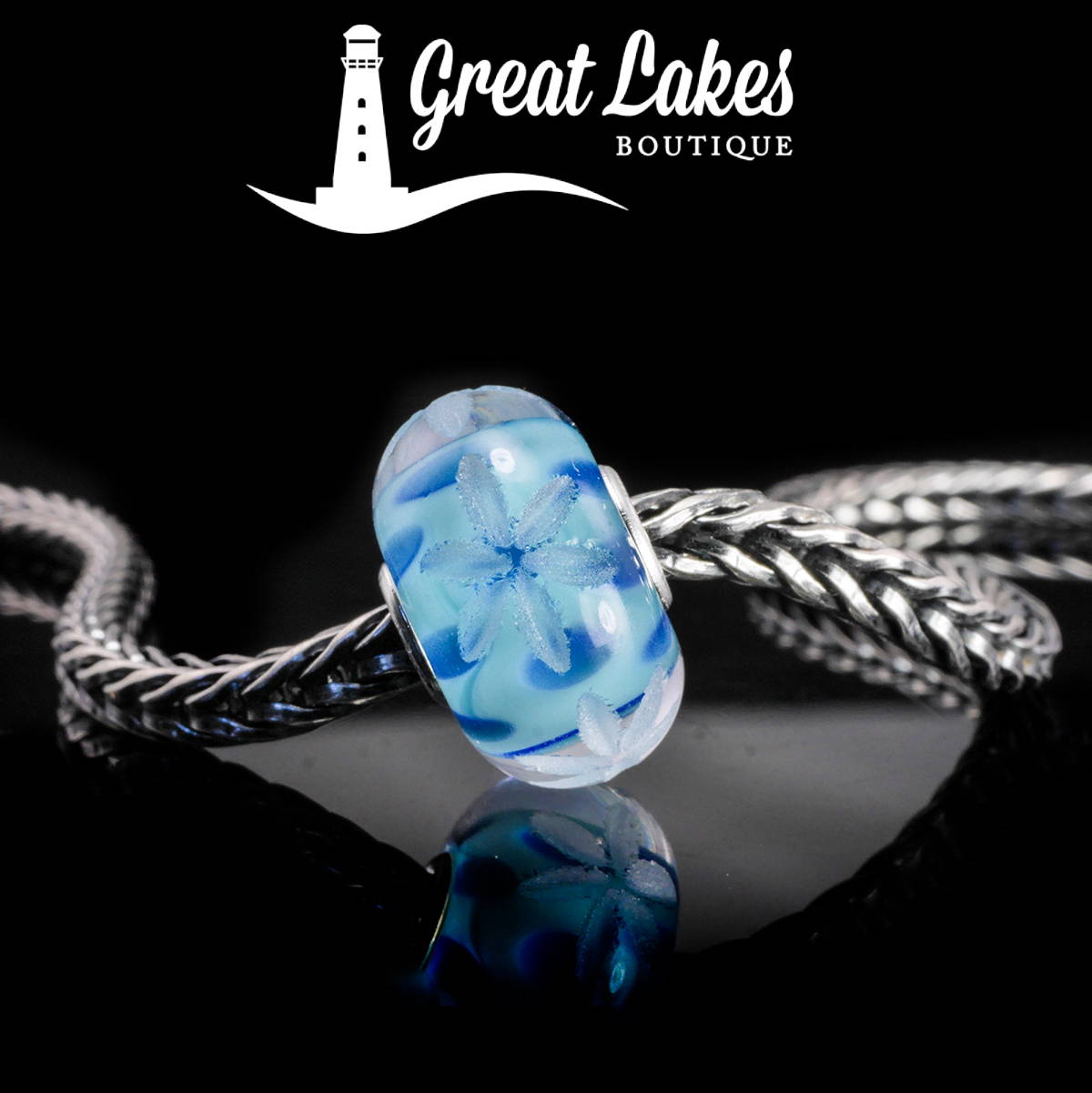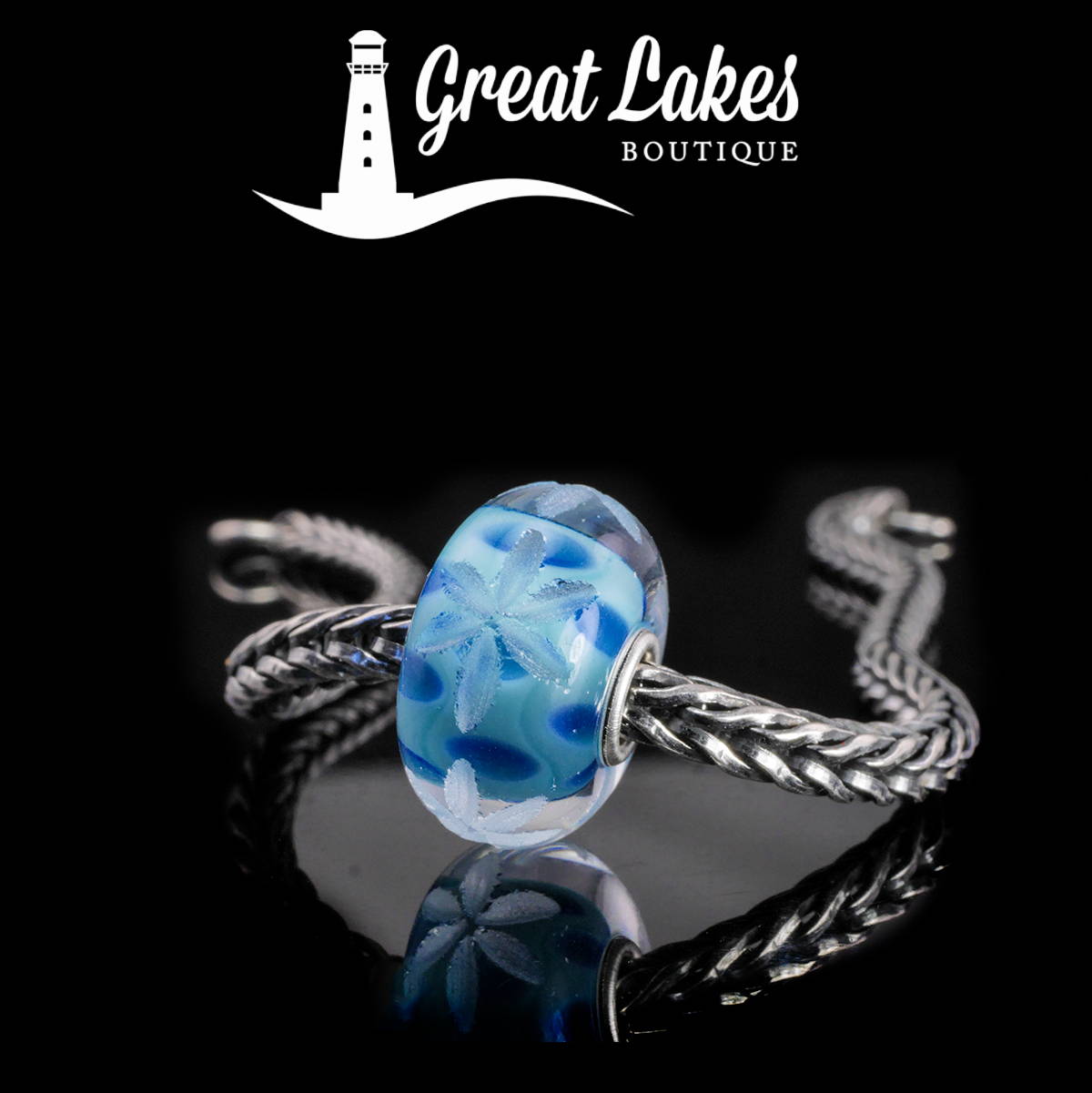 The Trollbeads Honey Bee uses tangerine colored polka dots over a rich orange base. The engraving on this bead is a honey bee. The bead has an air of lazy summer days to it, particularly towards the end of summer when everything tends to be sun bleached.
This would be beautiful styled with sunflower themed silver beads and of course the Trollbeads Bumble Bee Spacer. The exact colors of this bead have seemed a little more consistent based on the stock we have seen.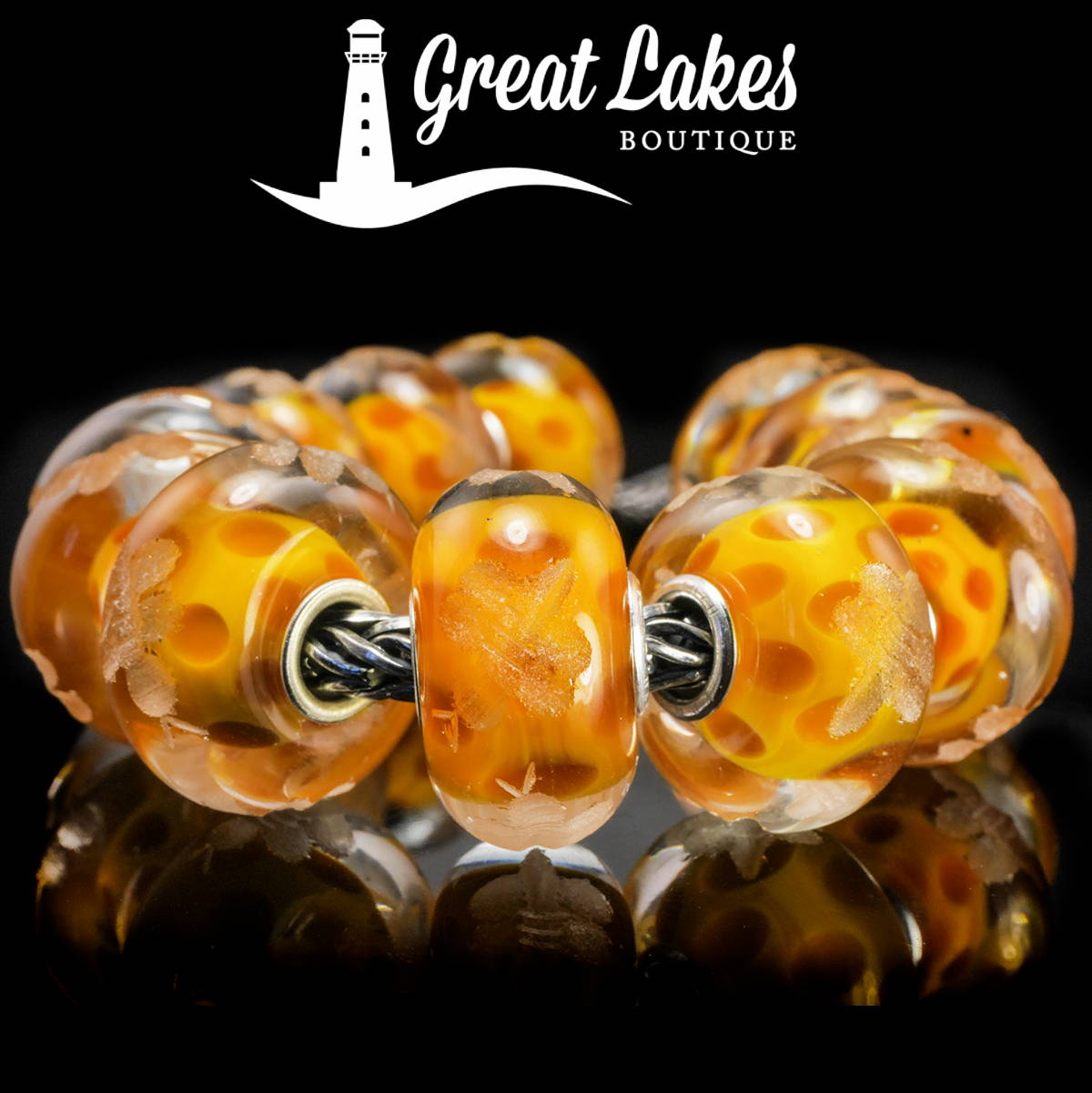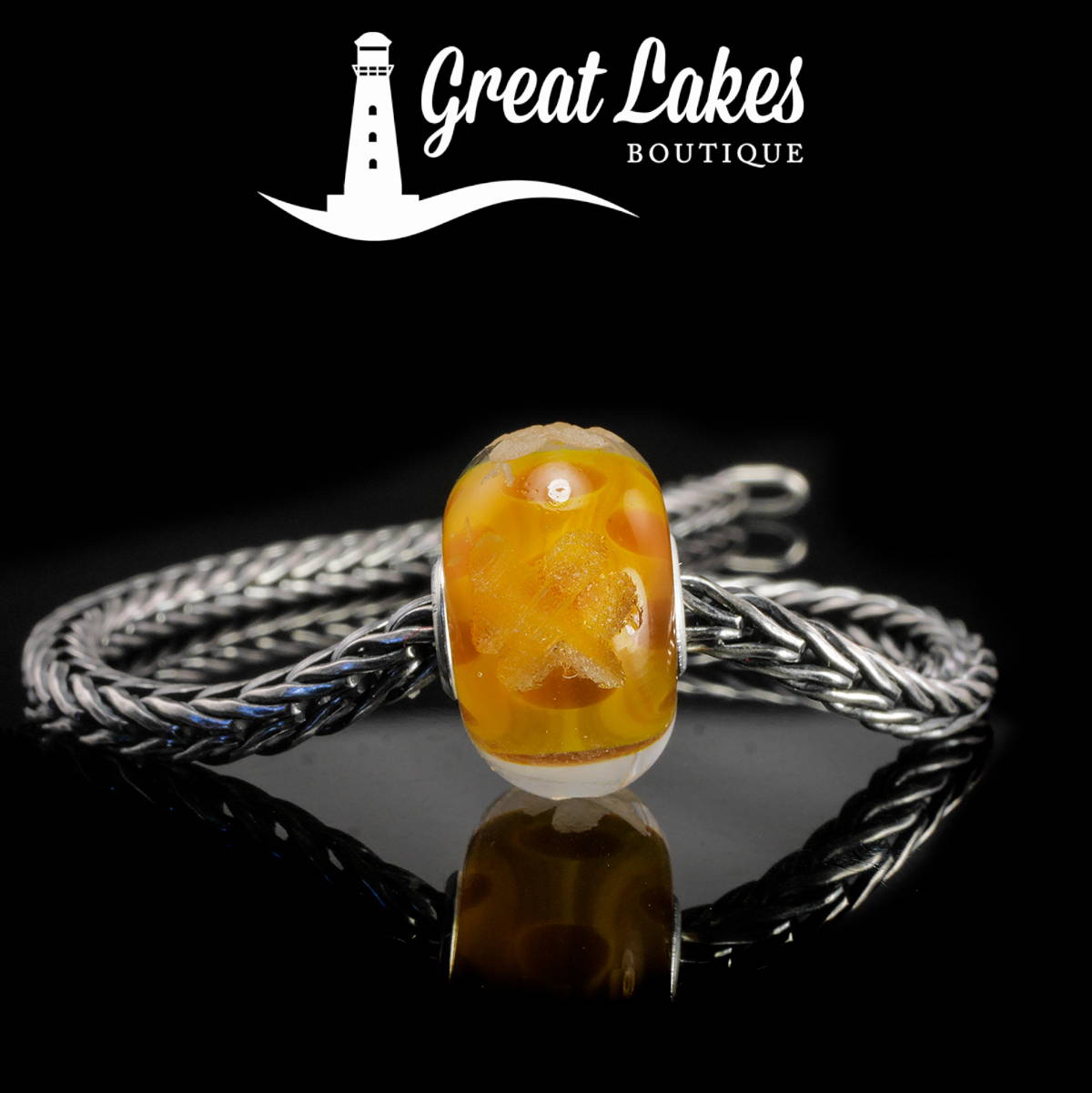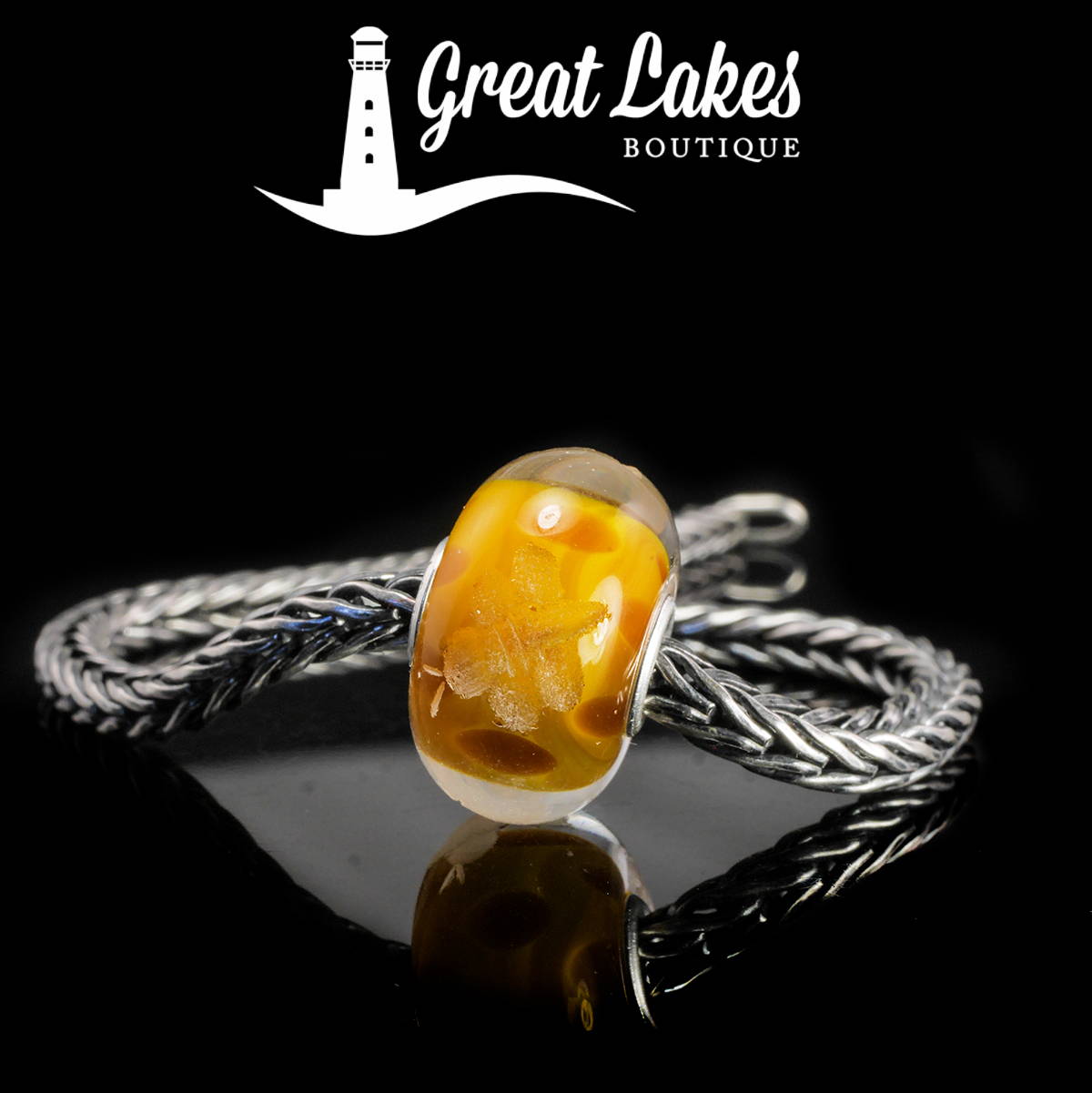 The Trollbeads Lime Leaves is a fresh and zesty feeling bead. It's perfect for lovers of spring when new roots and foliage all have that crisp, bright coloring.
Lime Leaves is engraved with a wavy vine and leaf design but the base itself has an ombre look to it. That ombre base does vary somewhat and you'll find some beads brighter than others but they're all incredibly striking.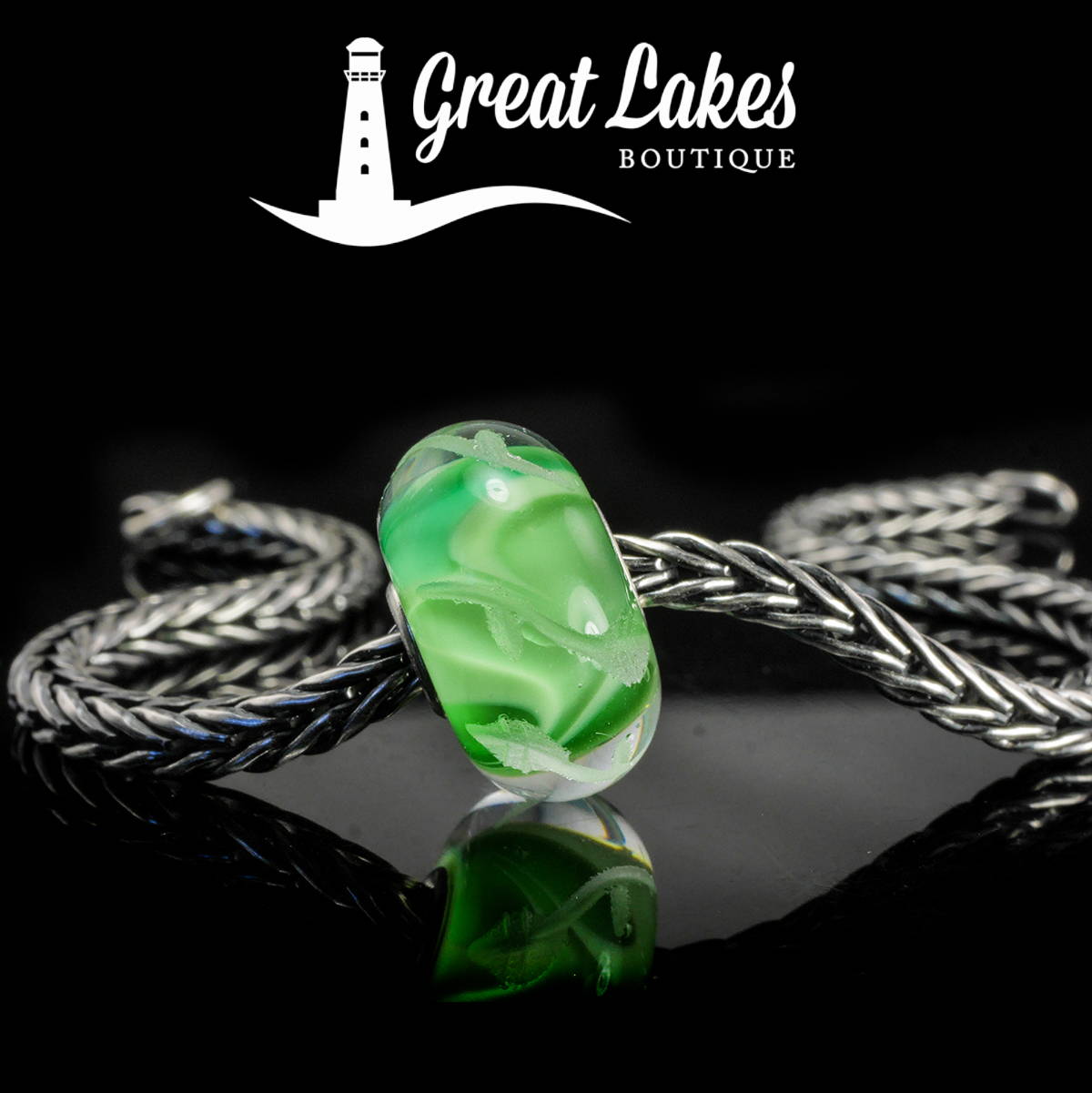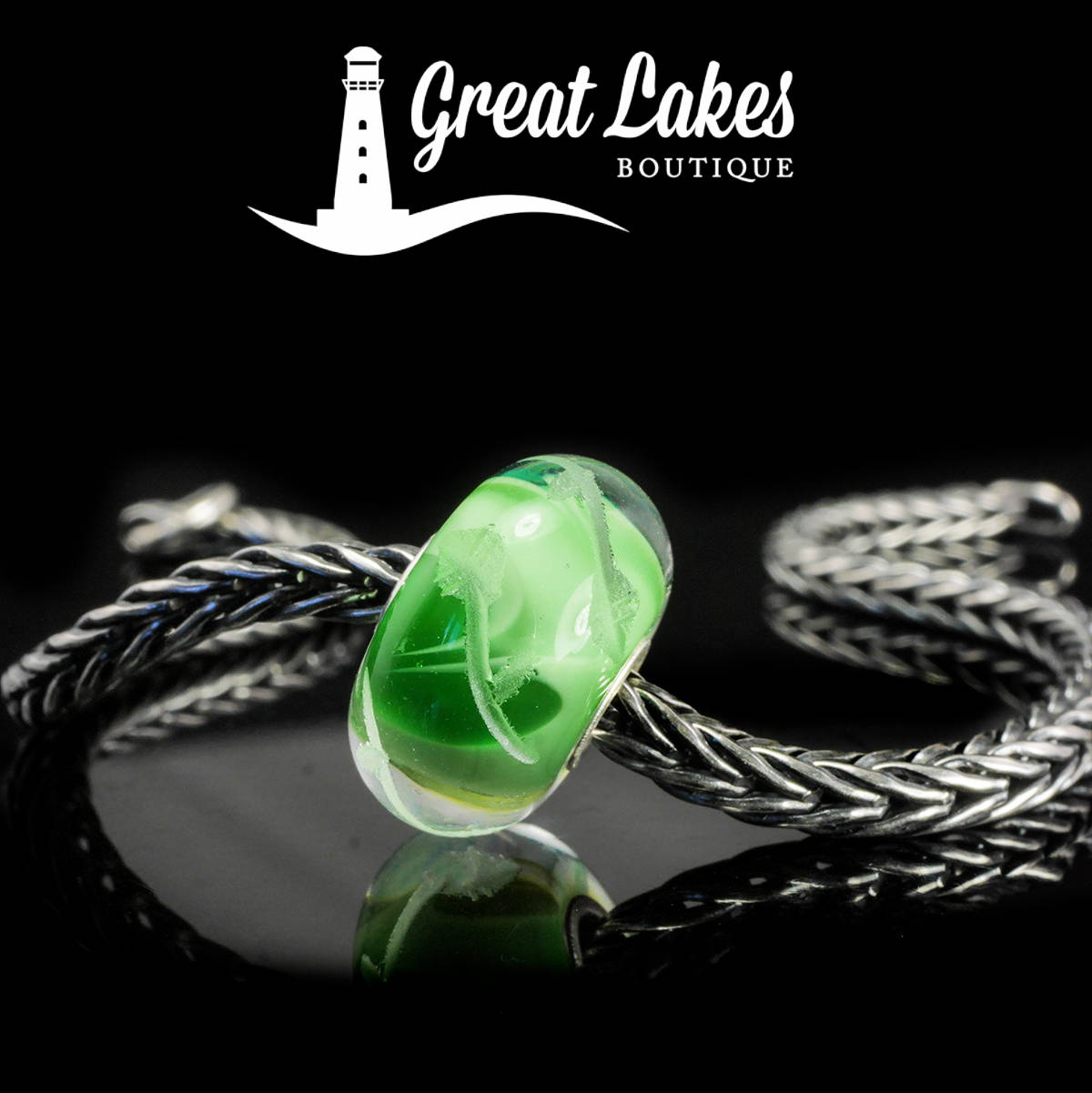 The Trollbeads Mint Mesh is reminiscent of swimming pools, clear seas and cocktails. This bead has a very distinctive ombre base with half being a teal or aqua shade and the other side more of a mint or apply green.
The engraving in this one is a fish net style and it's very striking. Arguably at least for me, this is the most eye catching of the actual engraved patterns. Perhaps because it covers more of the bead's surface than with the other designs.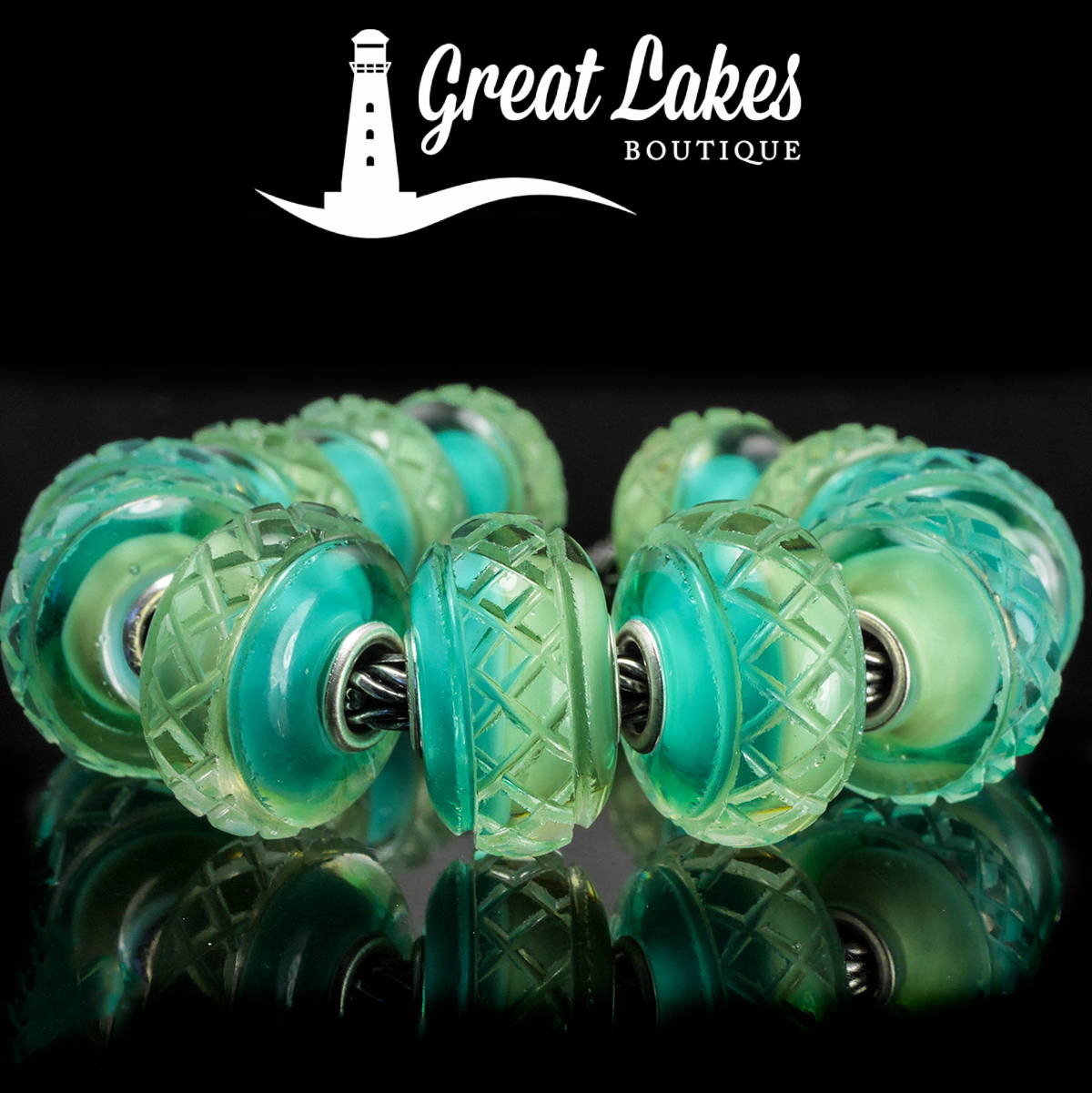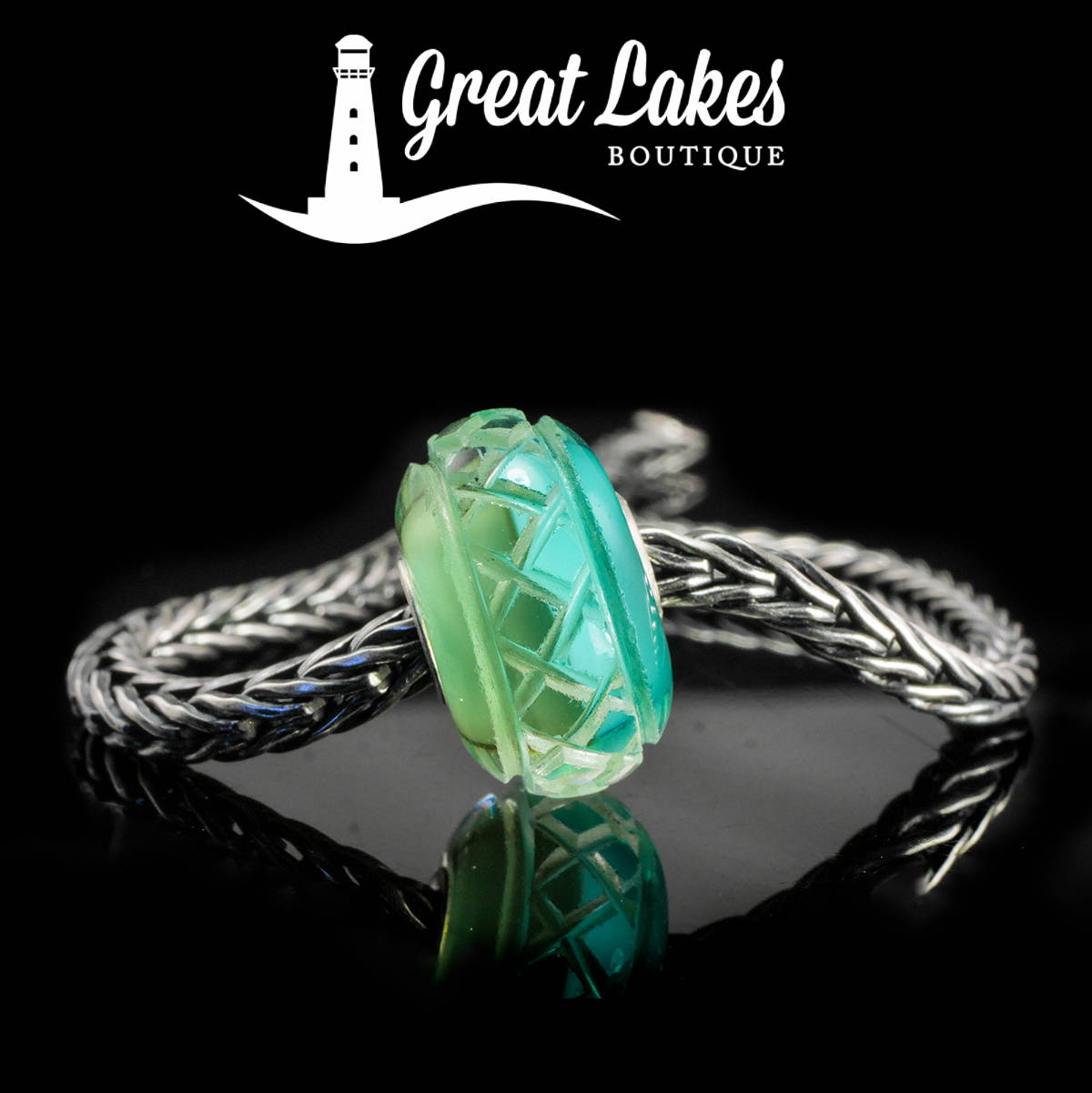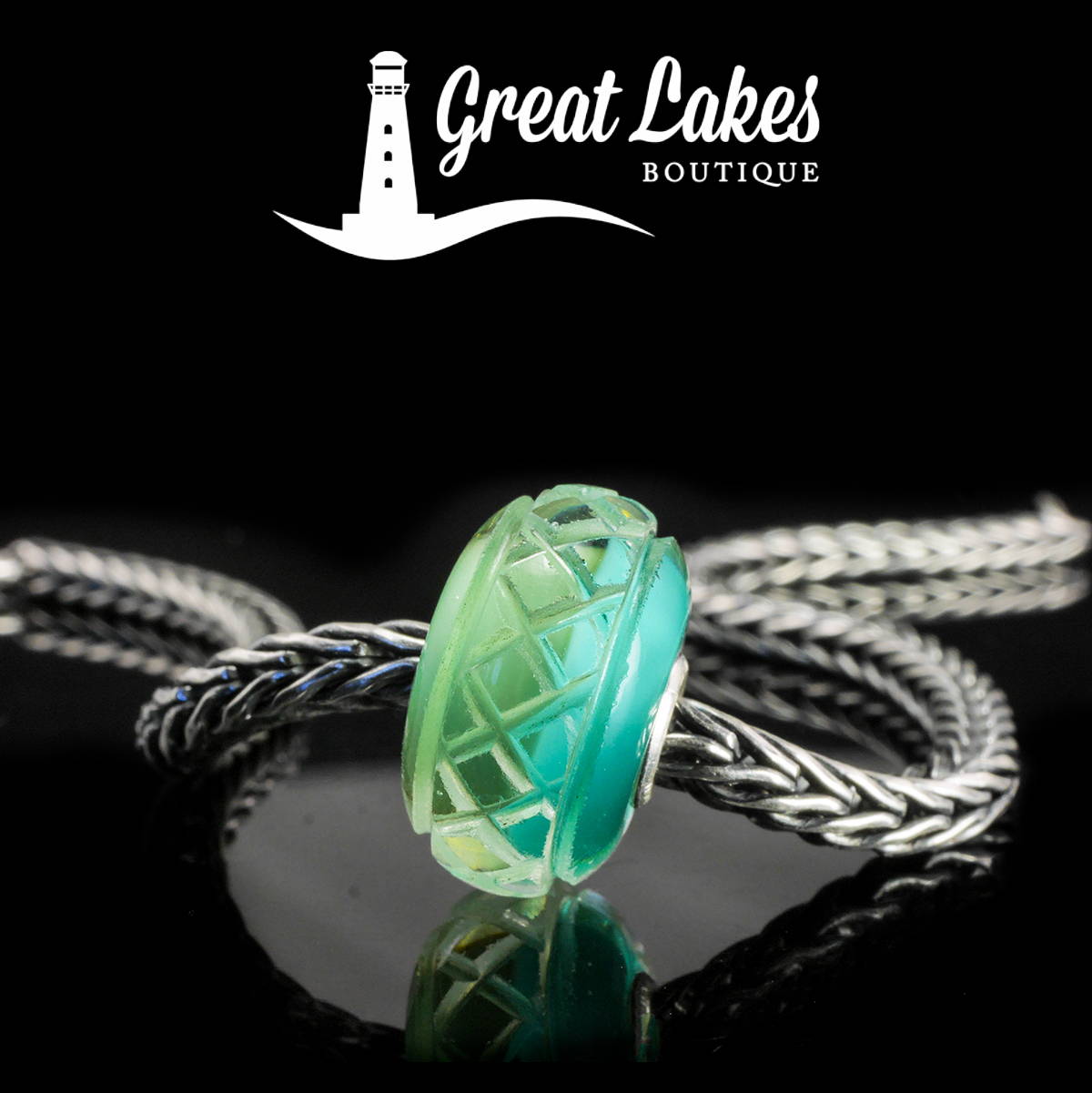 The Trollbeads Plum Tree is a personal favorite. Again this is an ombre bead with a mix between a pale baby pink and a darker rose shade. The ombre on all of these has been very distinctive with none of them failing to show that change in color.
The engraving is a leaf motif and this bead feels like early fall for me, though I know some will disagree on that one. It is a very pretty bead.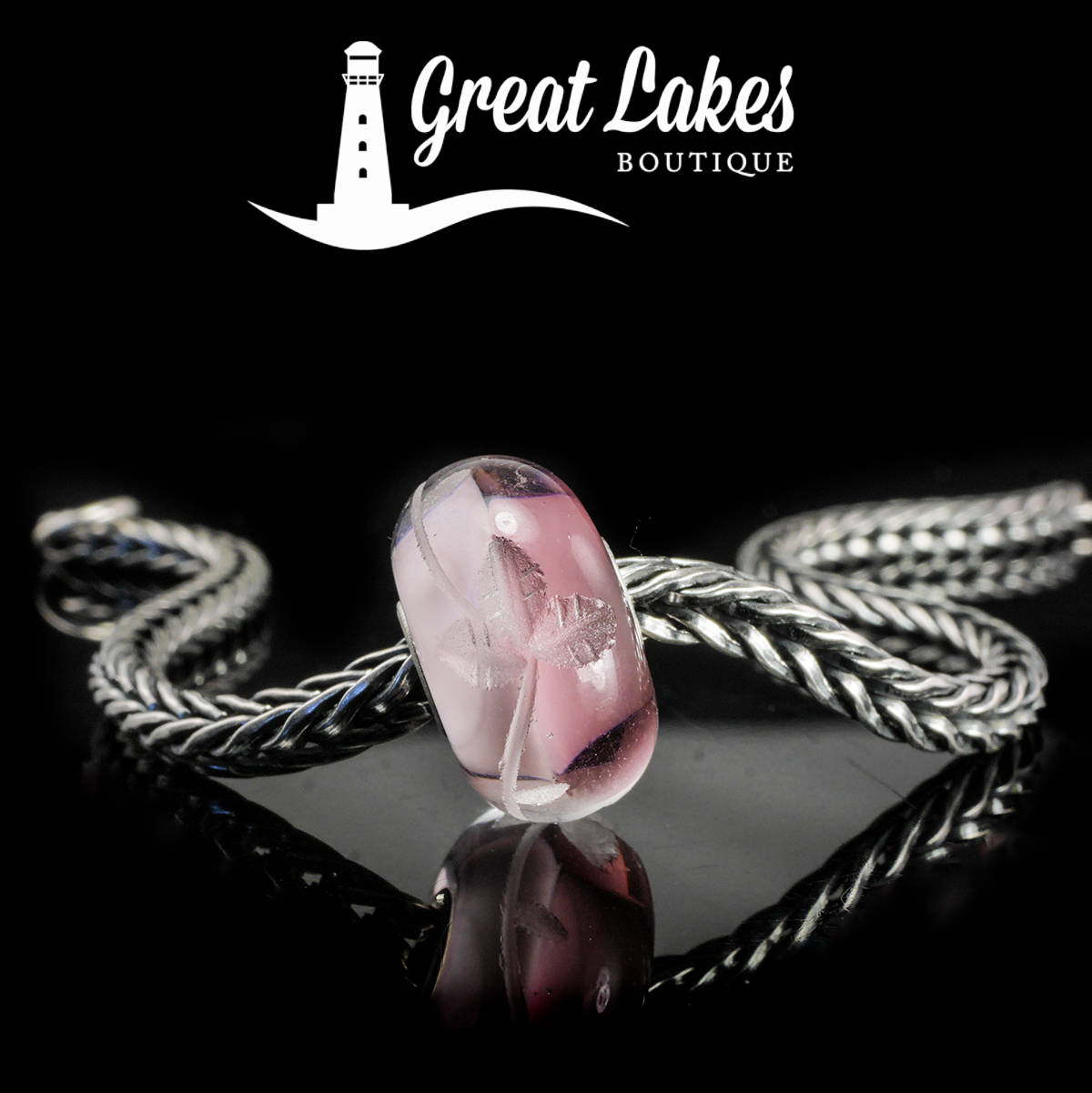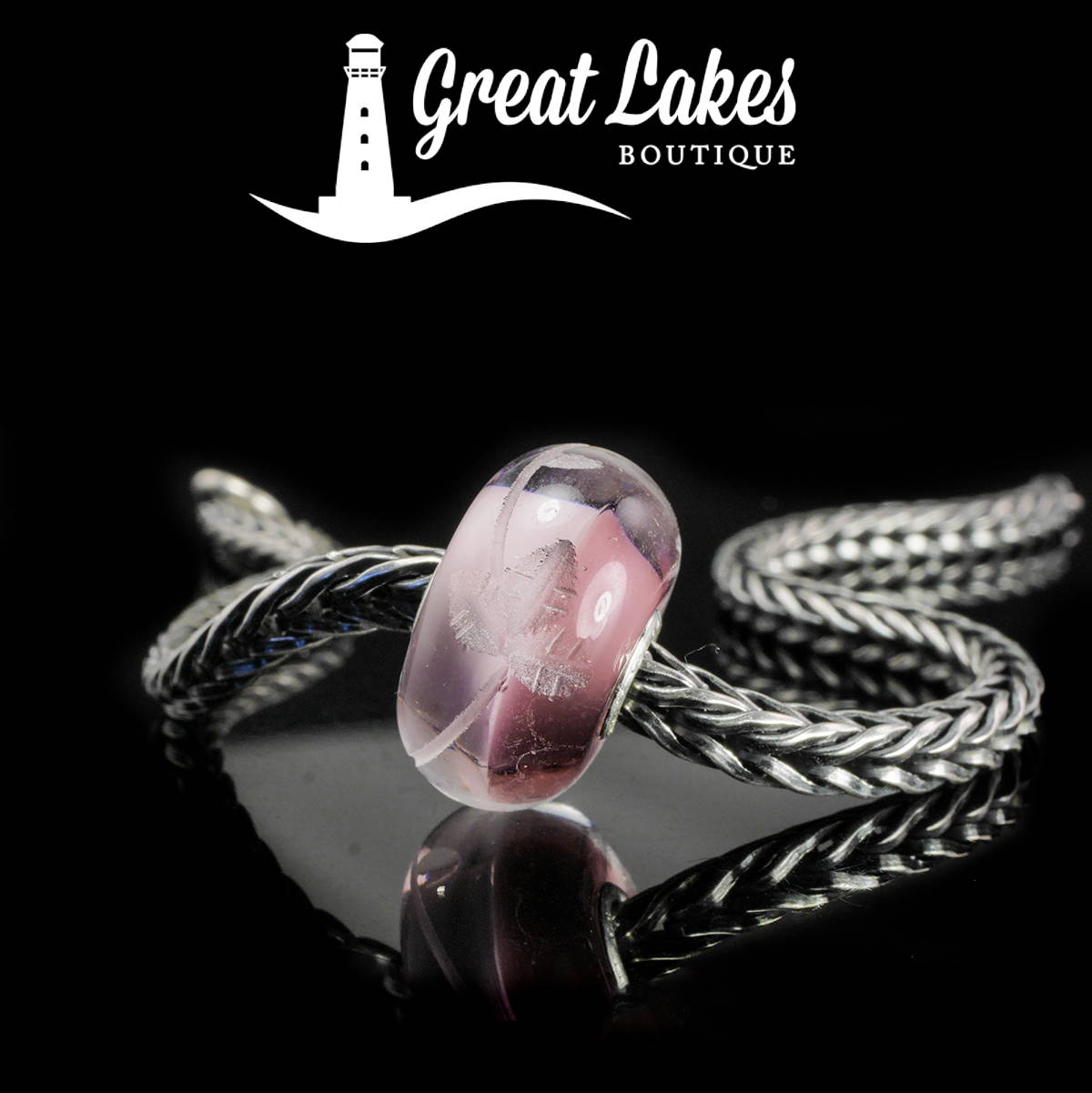 The Trollbeads Raspberry Bush is a strong cerise shade that feels like fall sunsets. There's no ombre shading on this bead but some of them do run deeper than others in color.
The leaf motif on this bead is near identical to Plum Tree but there's small differences in the shape and textured markings. Nevertheless from a distance or when you're wearing them, they'll look to be matched etchings.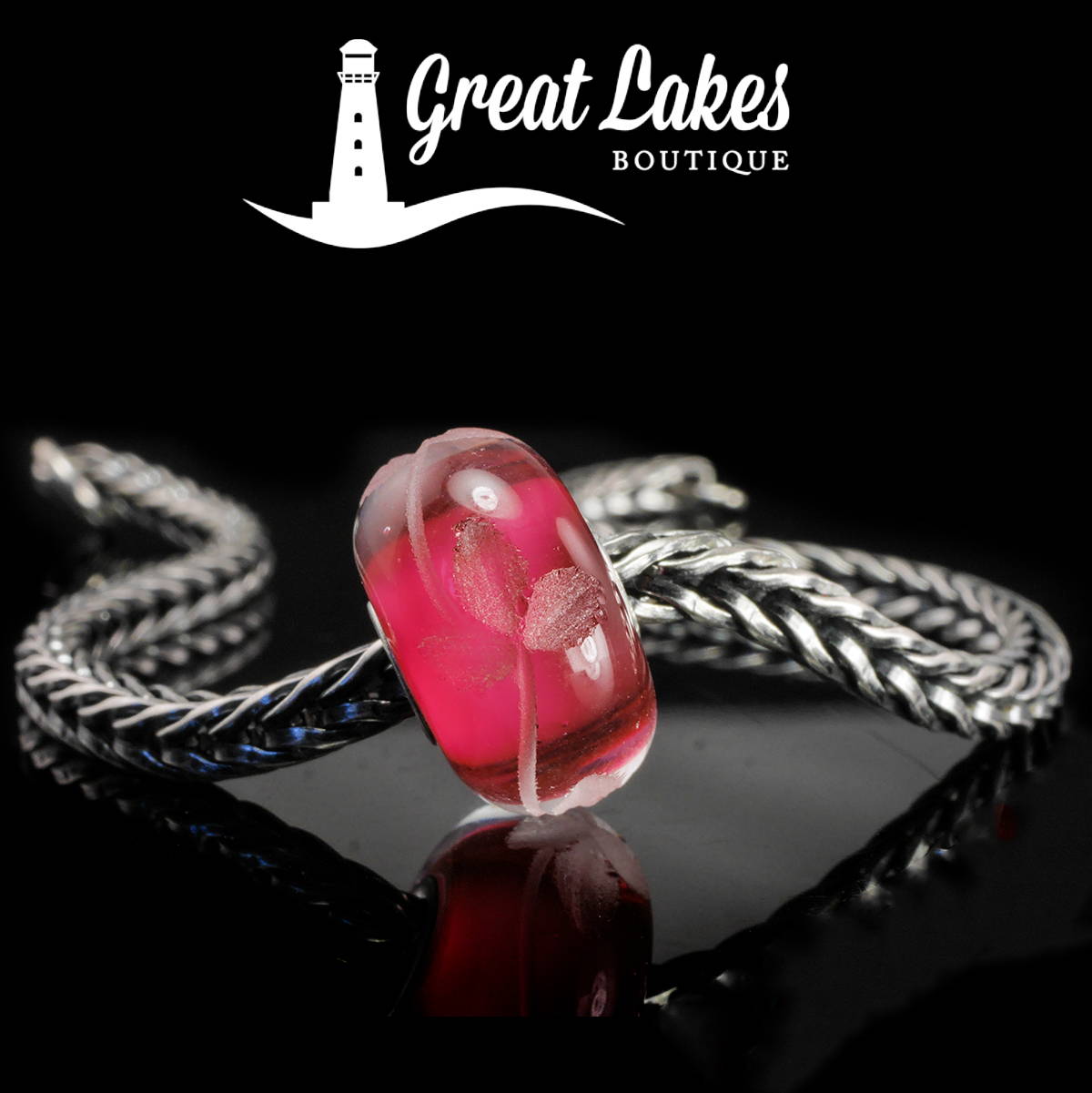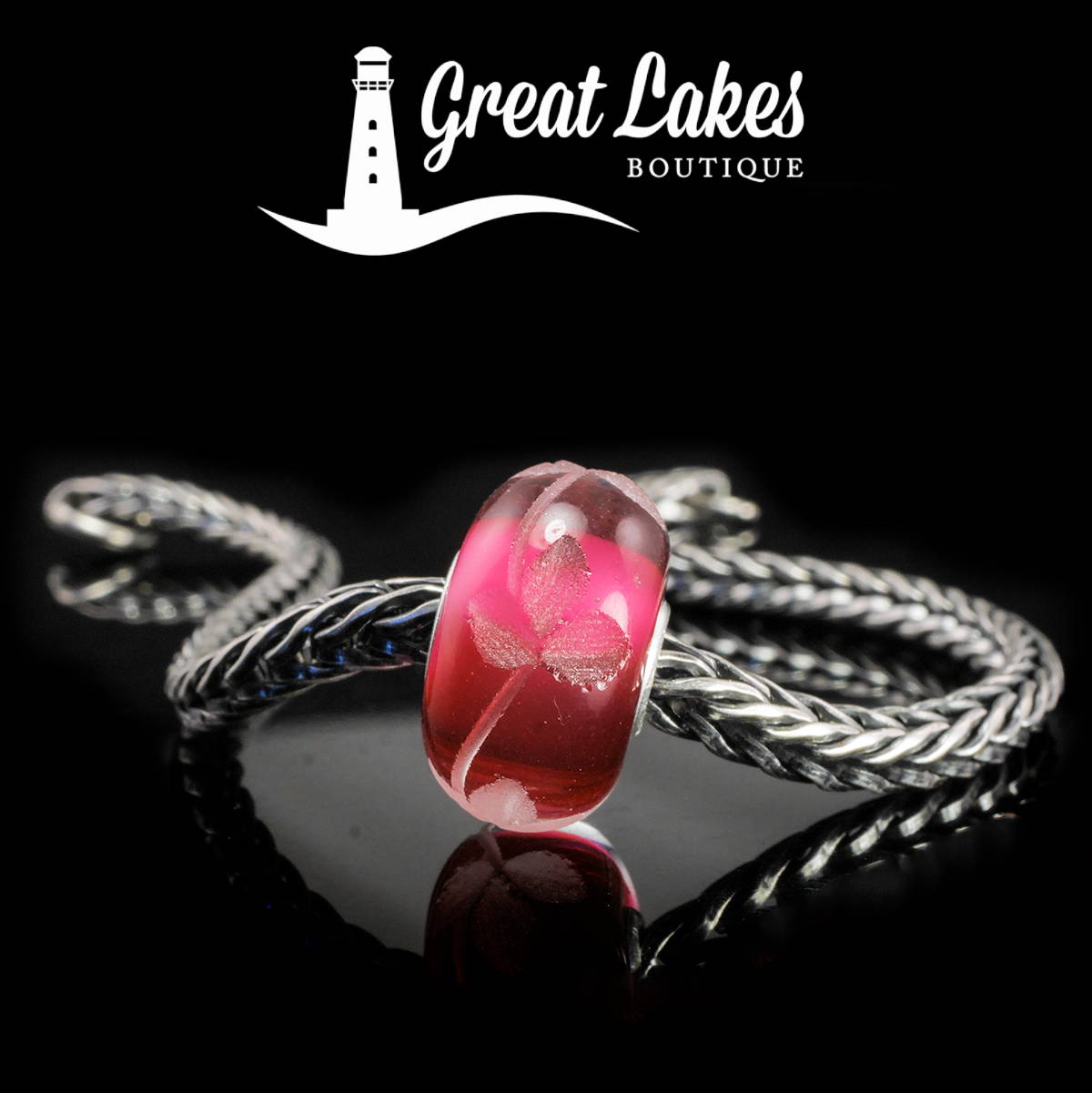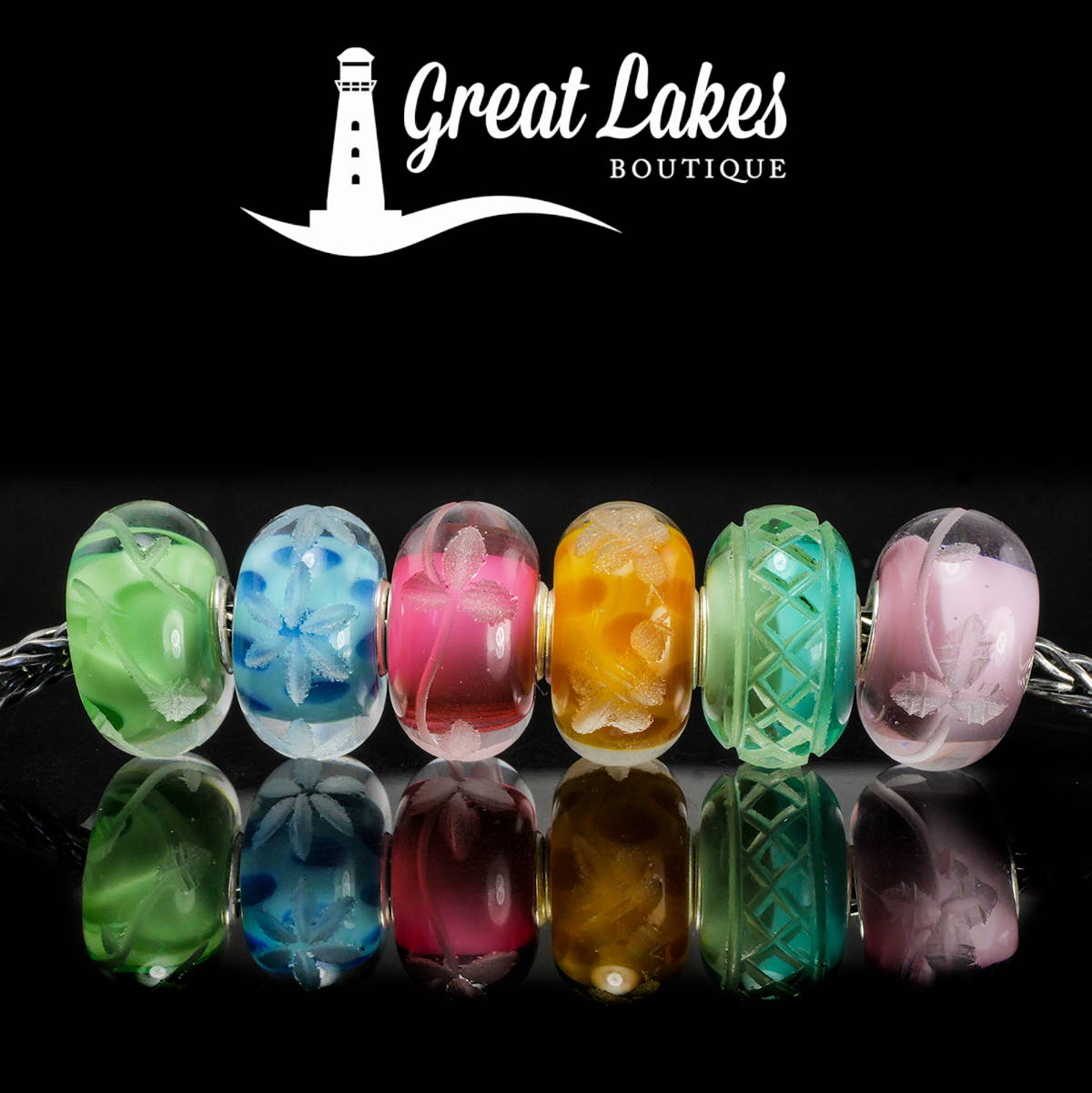 Finally here's the kit together. You will find some variation in these beads, as is to be expected from glass. That said they're a good, "average" shade. They feel neither petite nor too large.
All of these beads have 2020 engraved on their core to add that extra celebratory touch to these designs.
From midnight tonight you'll be able to shop live images and video directly via our website. For those of you who prefer to speed through checkout, stock image options will be available (but please do be aware if you choose that option, it is a "random" bead you'll receive.)