This Trollbeads blog brings a little winter inspiration for the Trollbeads Diamond Bead Amber.
The Trollbeads Diamond Bead Amber is a series of regionally exclusive diamond beads from Trollbeads. These beads are only available via retailers in the country they represent and generally speaking, they're produced in limited quantities.
This bead is now back in stock and we've decided to take the opportunity to share a little winter inspiration starring it. One of the many reasons this bead has been so popular is the versatility of it's color. It's all in the styling with this shade.
My personal favorite of this series of bangle ideas is this one.
We've used The Palace of Amber moss agate and green rutilated quartz to bring the wintery green color. The silvers are all stoppers, specifically the Evergreen Stoppers framing the Diamond Amber and then the two Silent Night Stoppers on either end.
With the winter solstice fast approaching I adore this combination and it's also a more subtle and elegant take on a Christmas combination.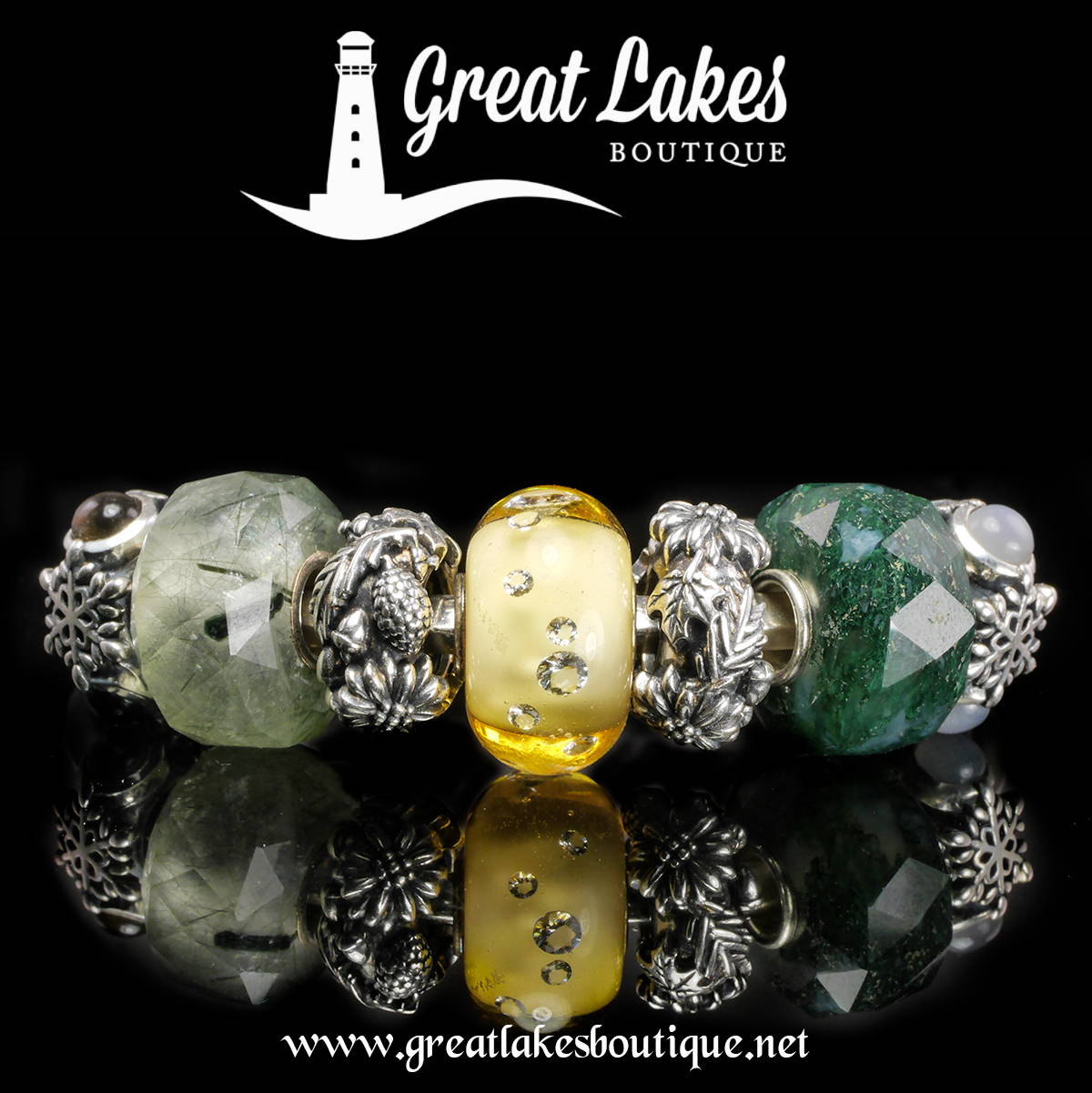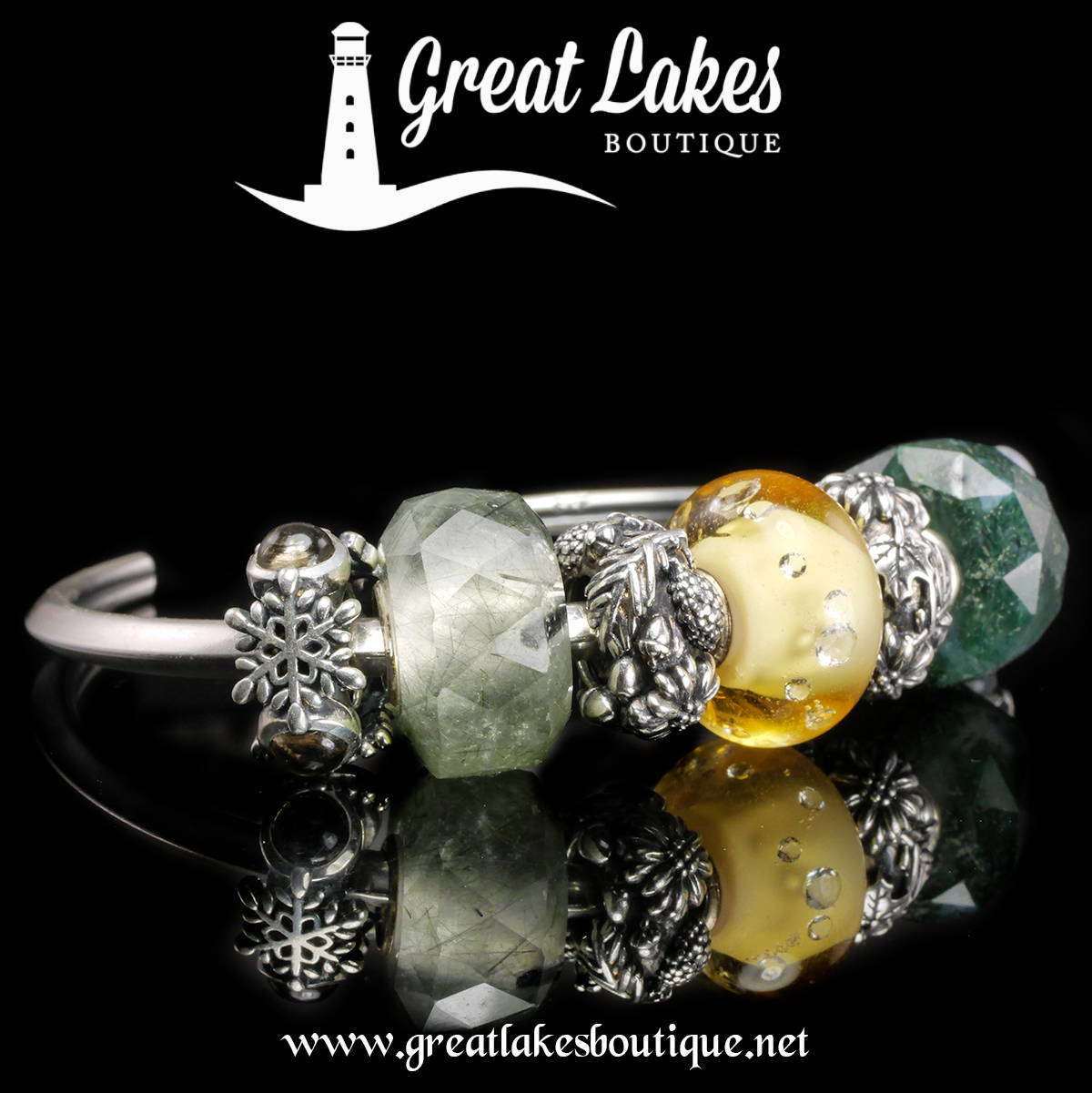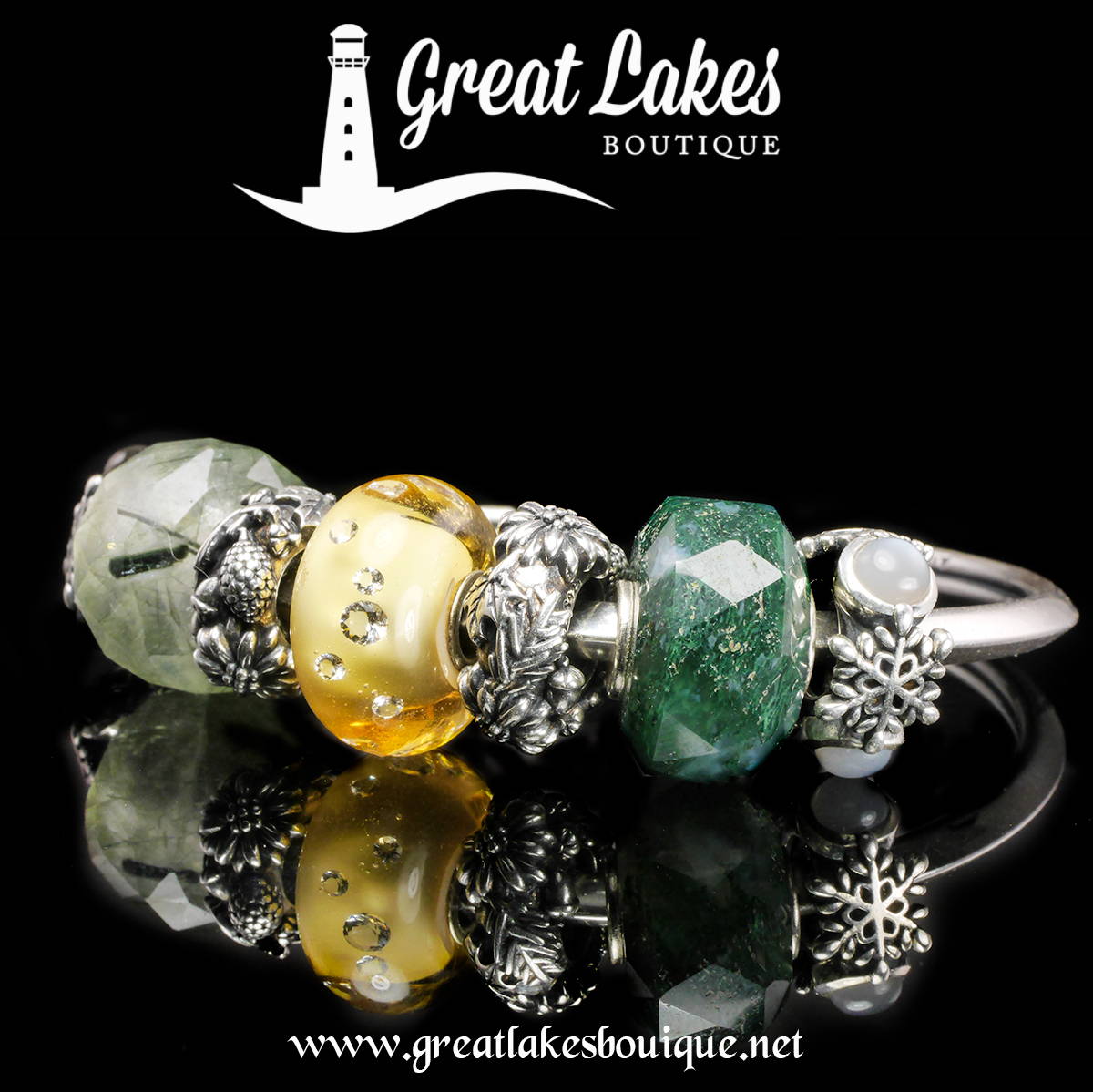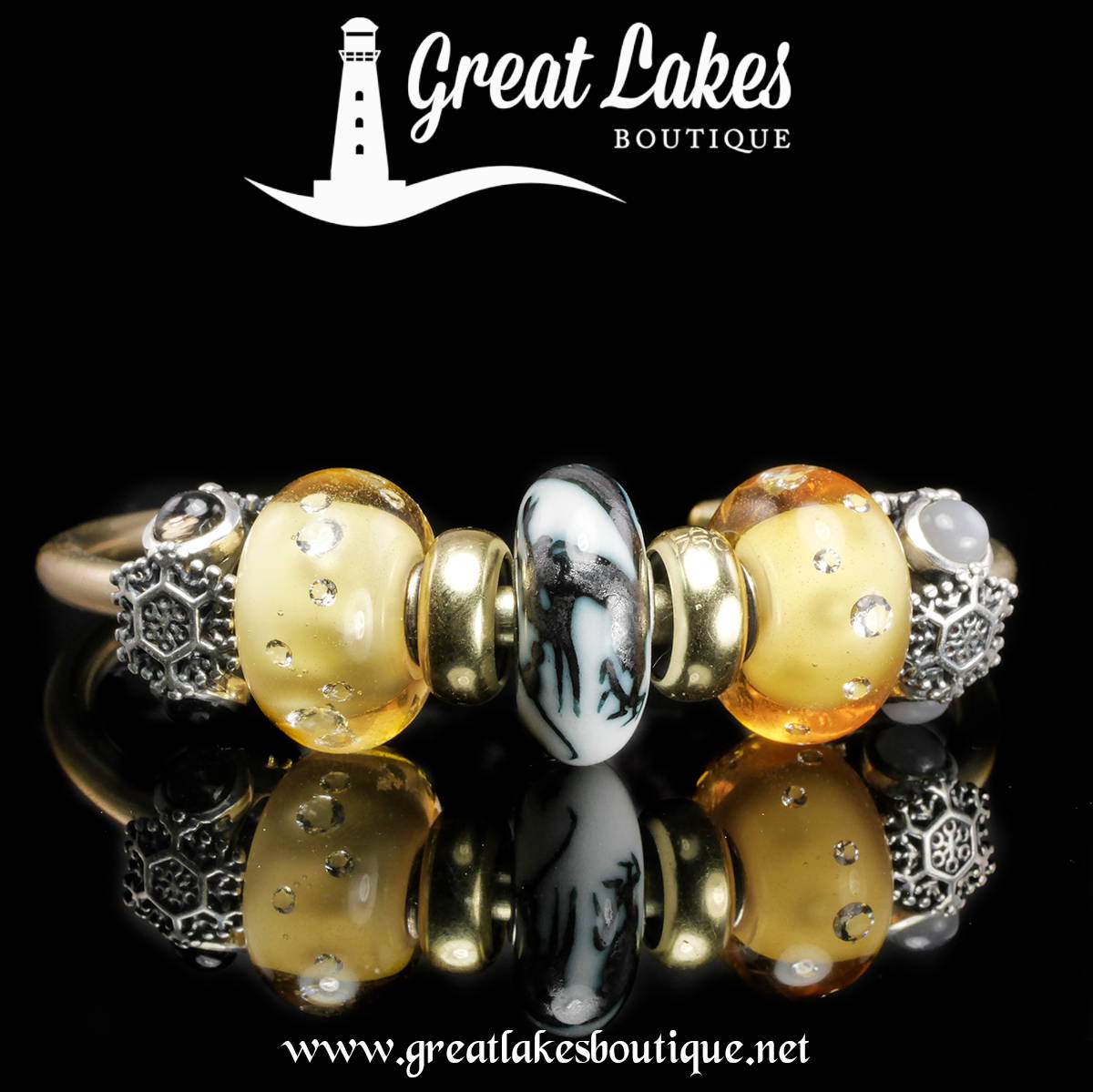 The Trollbeads Dragon of Power launched for Black Friday 2020 and is such a striking bead. There's been a little confusion regarding the effect that you can see on the dragon. The best way I can think of to describe it is that it somewhat resembles coal. It's so unusual and these beads have been incredibly popular to the point we have so few left now.
For this combination we've used the Dragon of Power as the focal and the two Diamond Bead Ambers on either side. Again it's the new Silent Night Stoppers keeping everything together.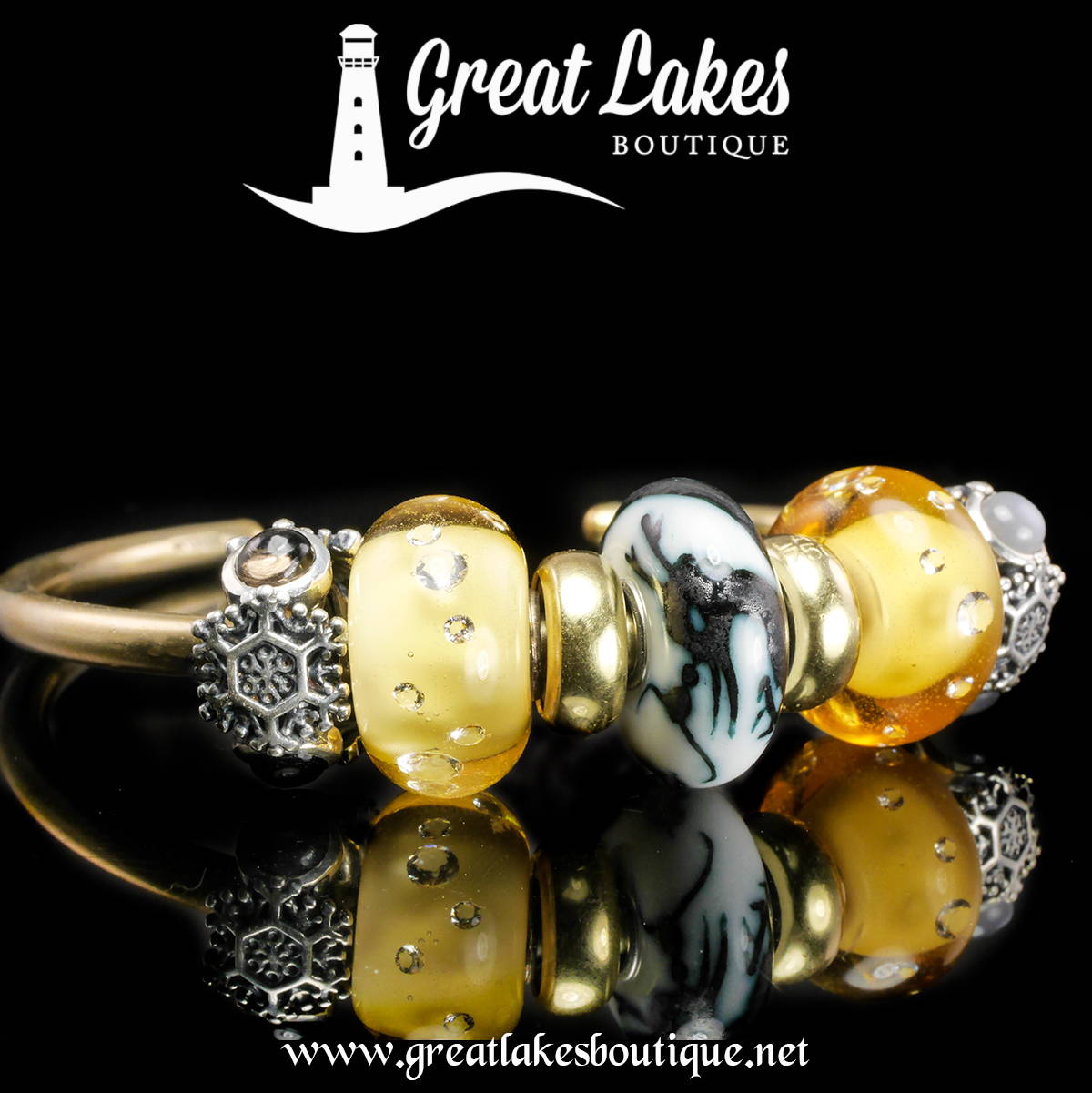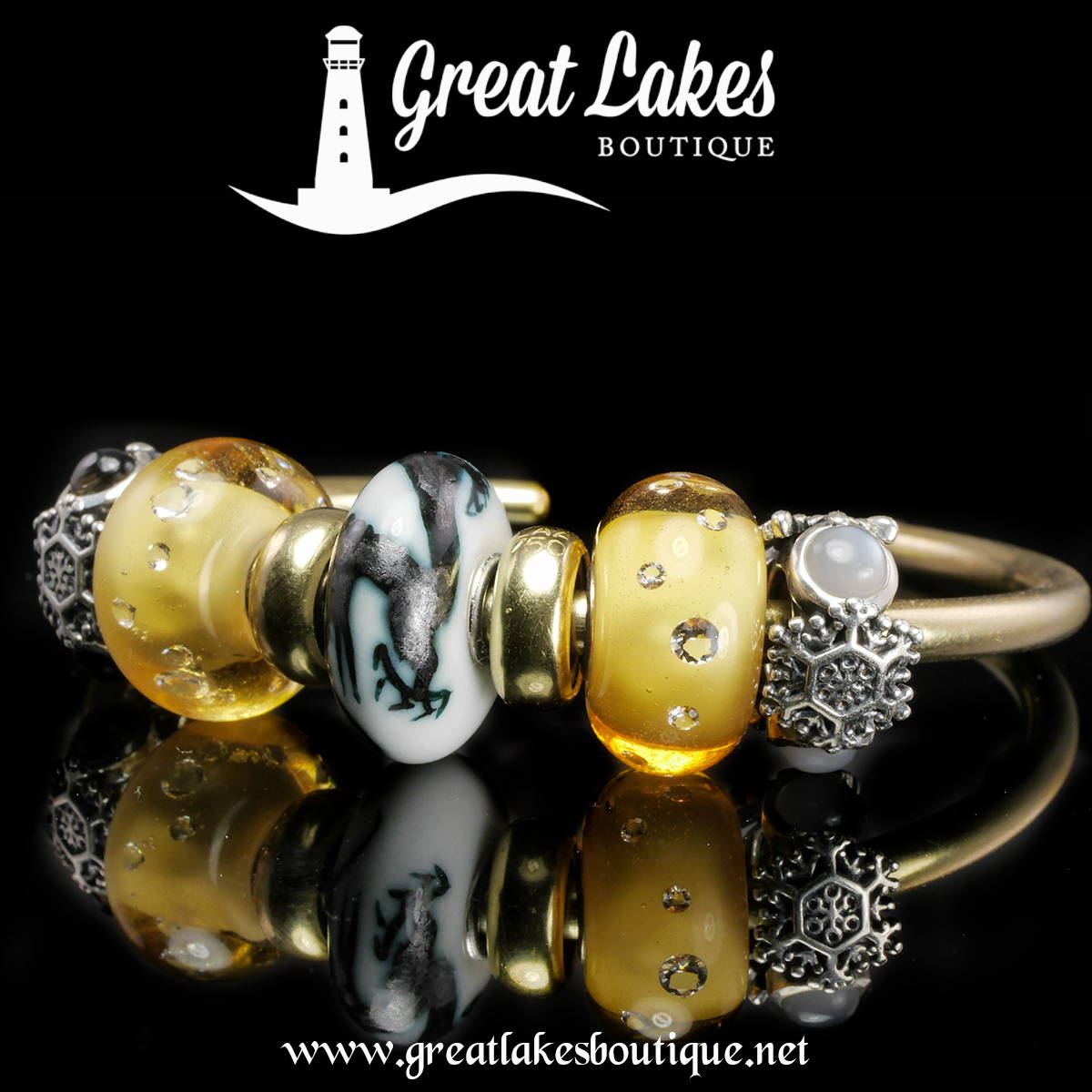 Like many people I have certain color combinations I revisit time and time again. Pale blue and this soft buttery shade is one such example.
The top bangle features The Palace of Amber Equinox and blue lace agate stones with the Trollbeads Wishing Star and Celestial in between.
The lower bangle features the Trollbeads Amber Bead Diamond with Silent Night and Evergreen stoppers.
There's something so tranquil about this icy blue and gold color scheme for me.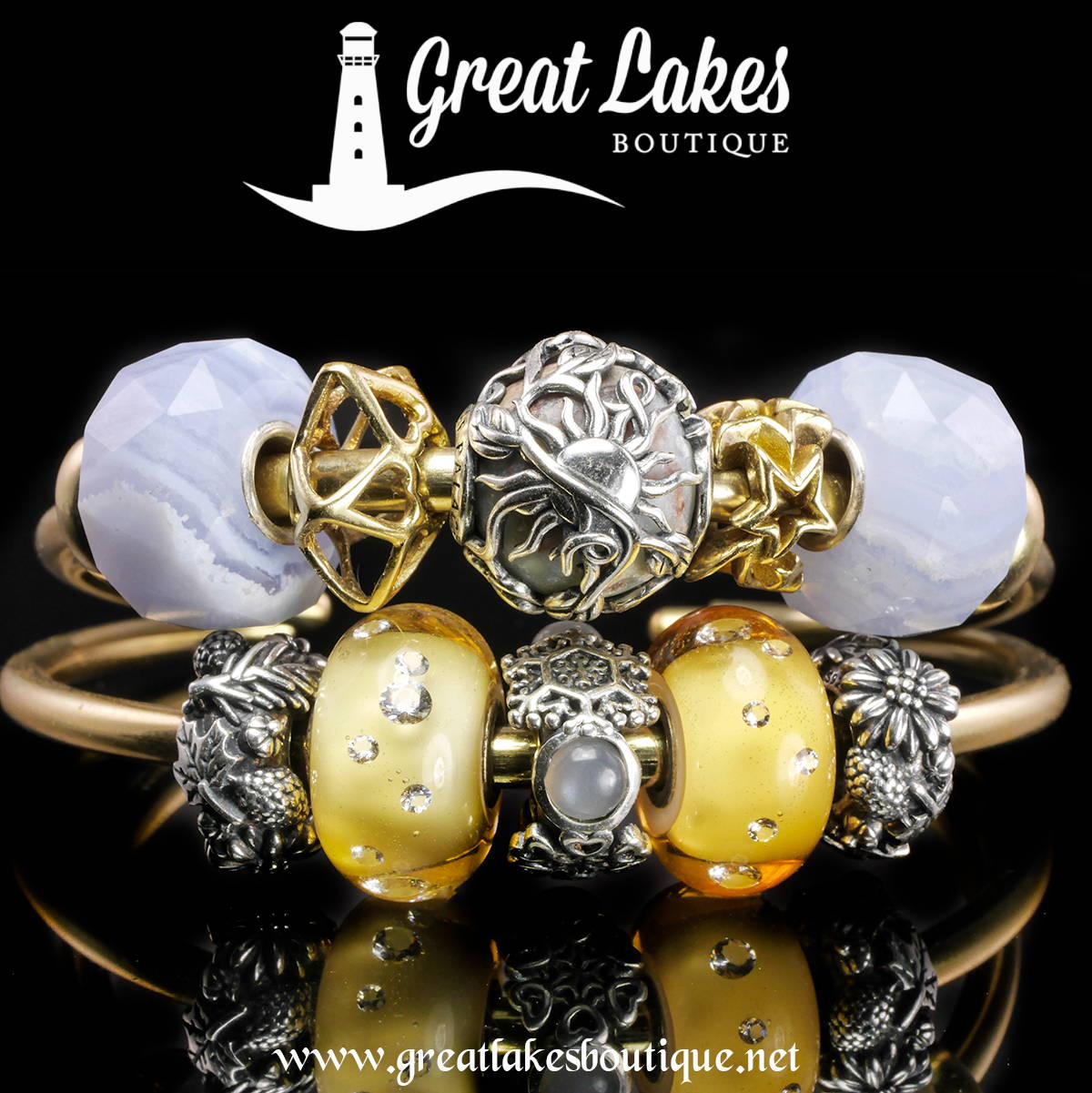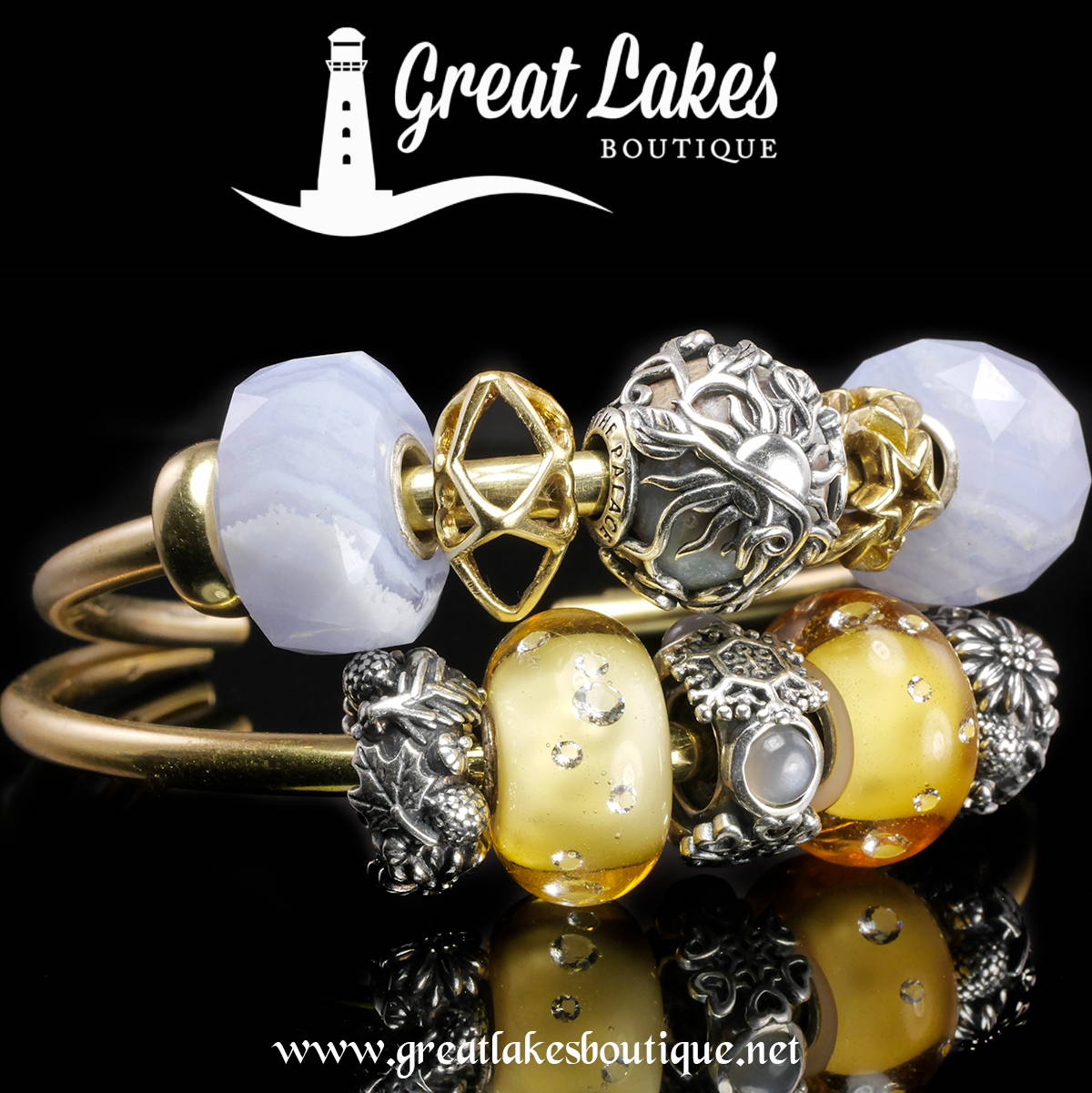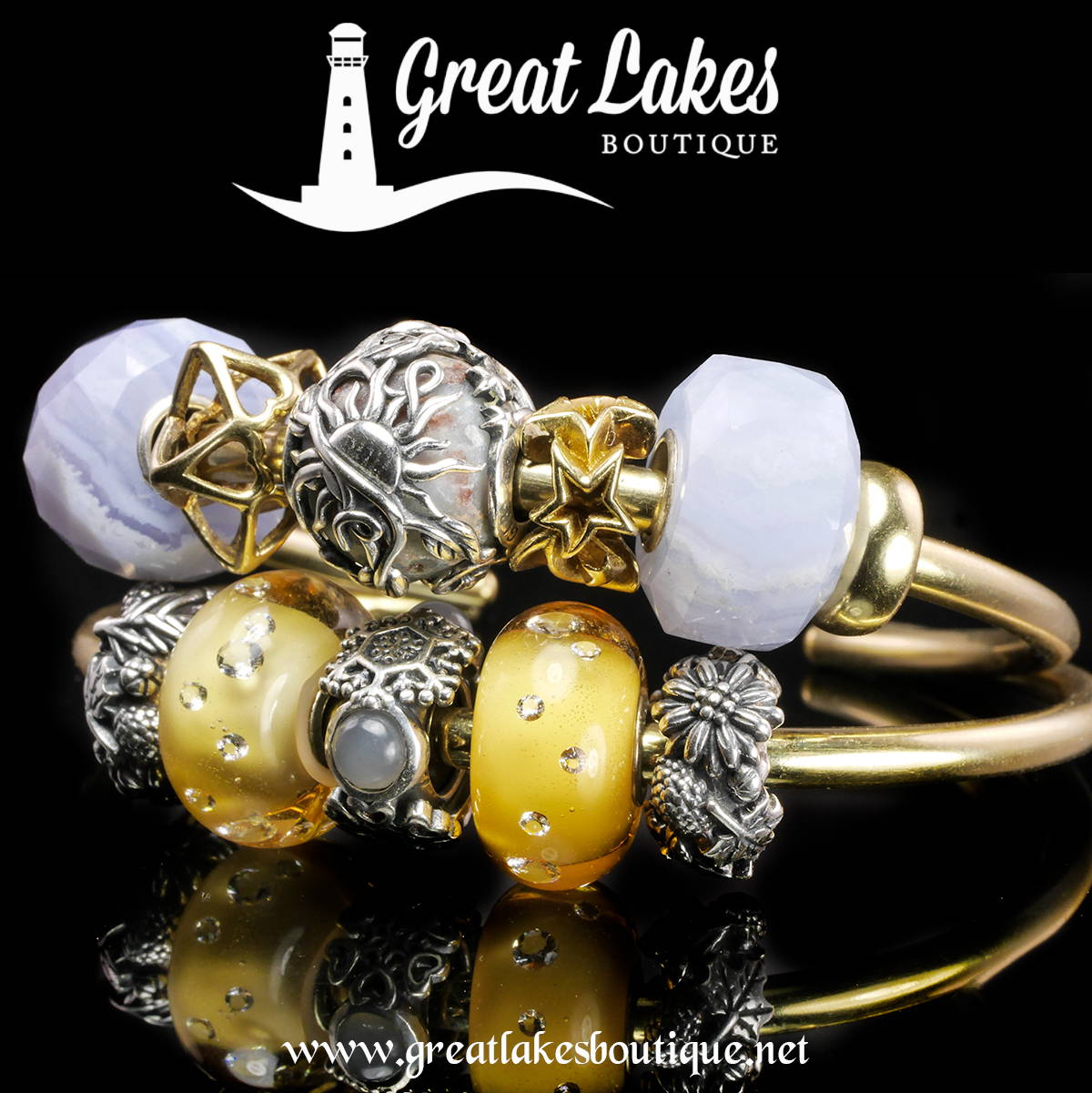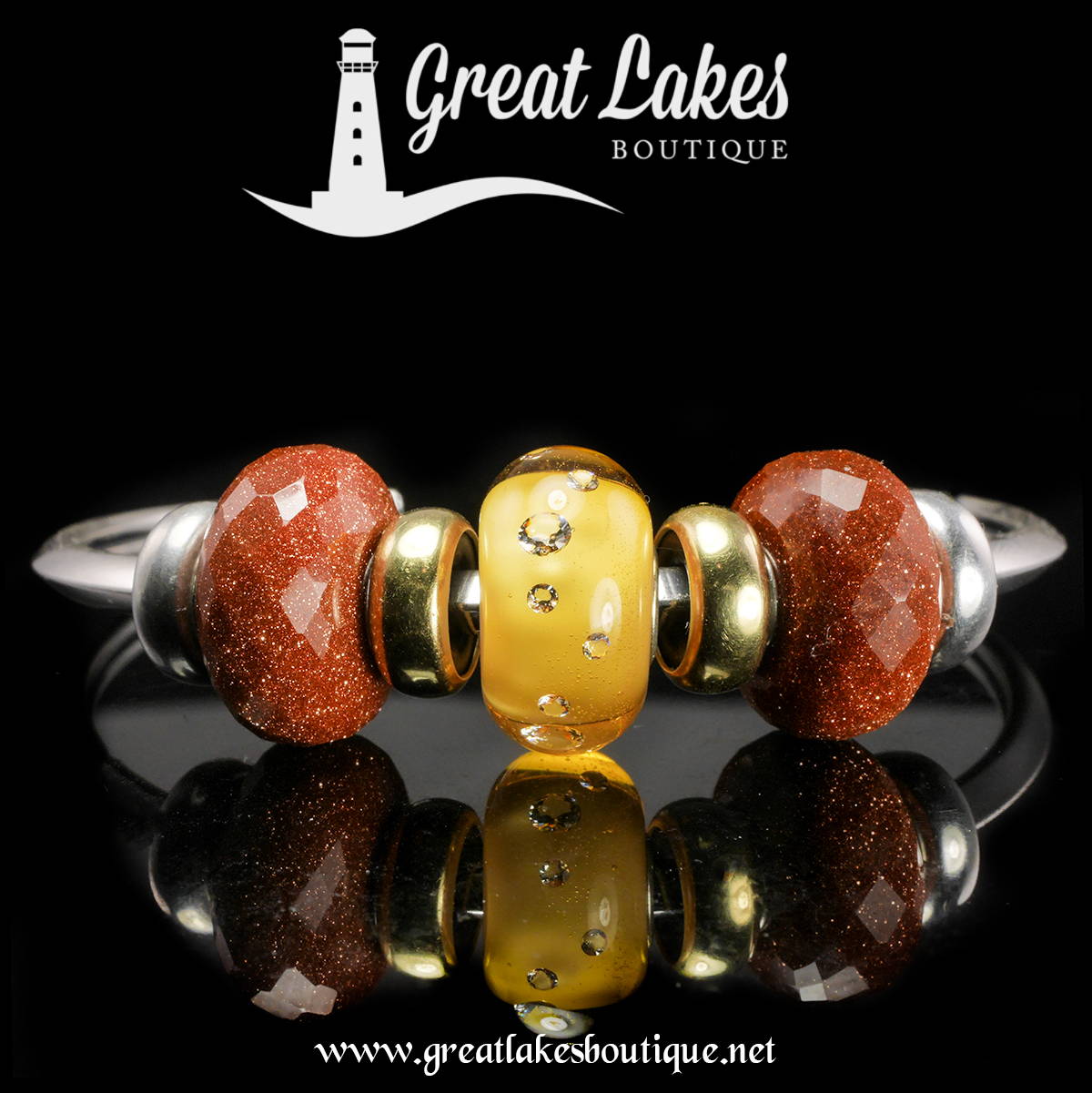 Last but by no means least is this much warmer combination. It might be cold outside but with that comes cozy nights in with hot drinks and layer upon layer of blankets.
This combination uses the Diamond Bead Amber with the new Trollbeads Faceted Goldstone, (still my favorite from the winter collection.) The bangle used here is the Heart Bangle and do remember that right now you can spend $250 or more on Trollbeads and get this bangle for free.
Please do remember to place the bangle in your cart with your qualifying order and the website should automatically deduct it's cost at checkout. (If not, we'll shoot you over a refund as soon as we see the order.)