This Trollbeads blog brings an in detail look at the Trollbeads Exhale Bracelet.
The limited edition Trollbeads Exhale Bracelet debuted on Friday and it's the 2021 Designer Bracelet. Designer Bracelets are when the components are brand new and they come with a really appealing reduced price versus full retail. This is in comparison to some starter bracelets where existing pieces are offered at a promotional price, usually in celebration of a new season.
Exhale has proven really popular in it's first few days and today we're sharing some of our own live images of this new bracelet set.
Do remember that if you're new to Trollbeads and are considering treating yourself to this bracelet as a starting point, their sizing can feel a little strange to begin with. Trollbeads bracelet sizes always include the lock. That means if you order a bracelet size of 20 cm, the physical chain length will be 18 cm and the lock will make up the remainder of the length. This is always the same regardless if you are ordering a complete bracelet set such as Exhale, or if you are ordering just a silver bracelet.
As always with the Designer Bracelets, the Trollbeads Exhale Bracelets features an exclusive lock, glass bead, silver bead and the bracelet size of your choice.
Exhale has somewhat of a double meaning. The glass is green and it's silver components are floral; both of which are celebrations of the warmer months. It goes a little deeper though and that's to address the horrific year we've all had in regards to the pandemic. While COVID-19 is very much an ongoing concern, there are glimmers of hope to be found. This fresh green shade is a color of hope and of healing. The little floral details on the lock and bead are symbols of new life. They're petite and they're delicate but they should be right now as we hopefully begin to look ahead to a new era.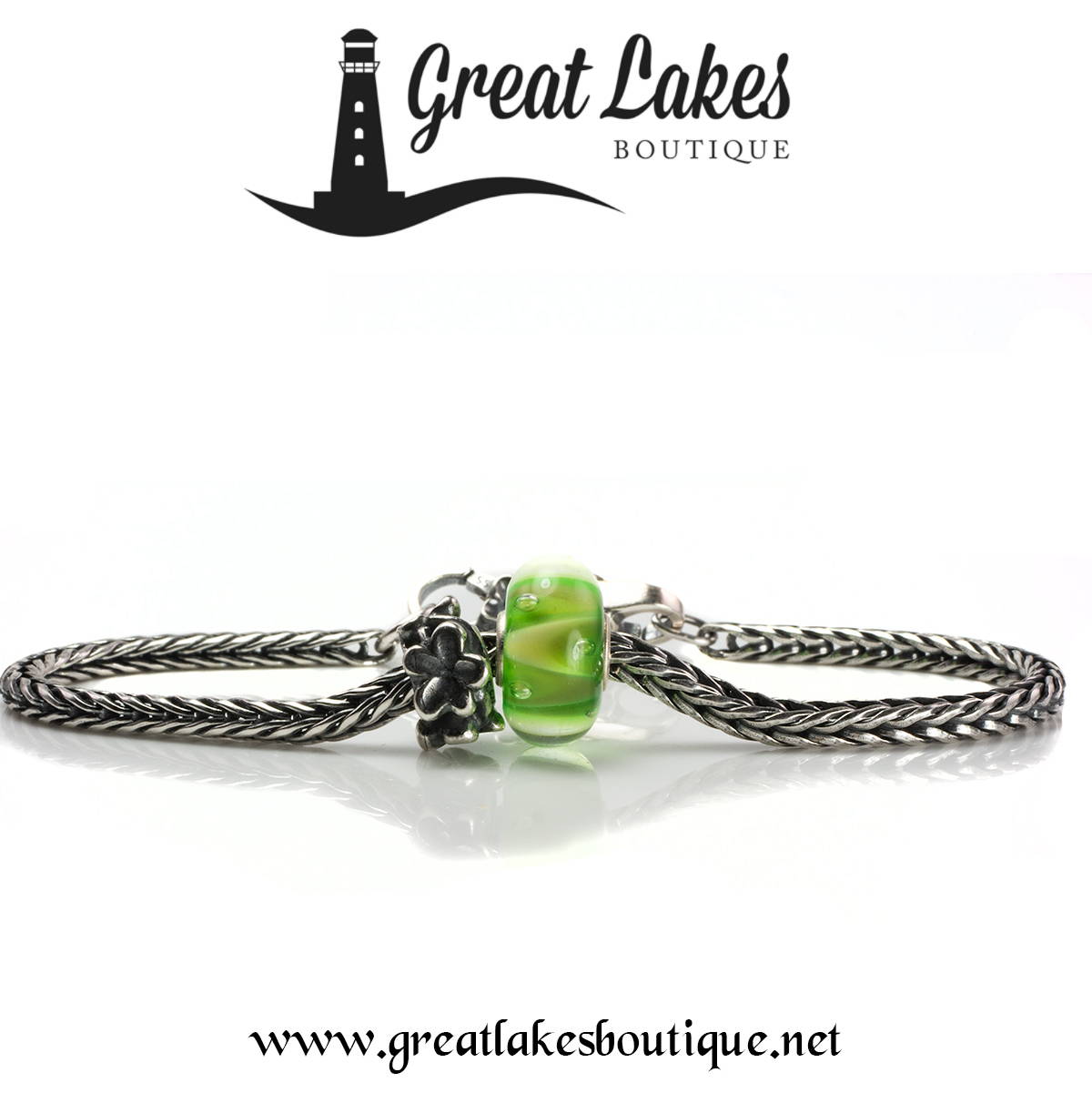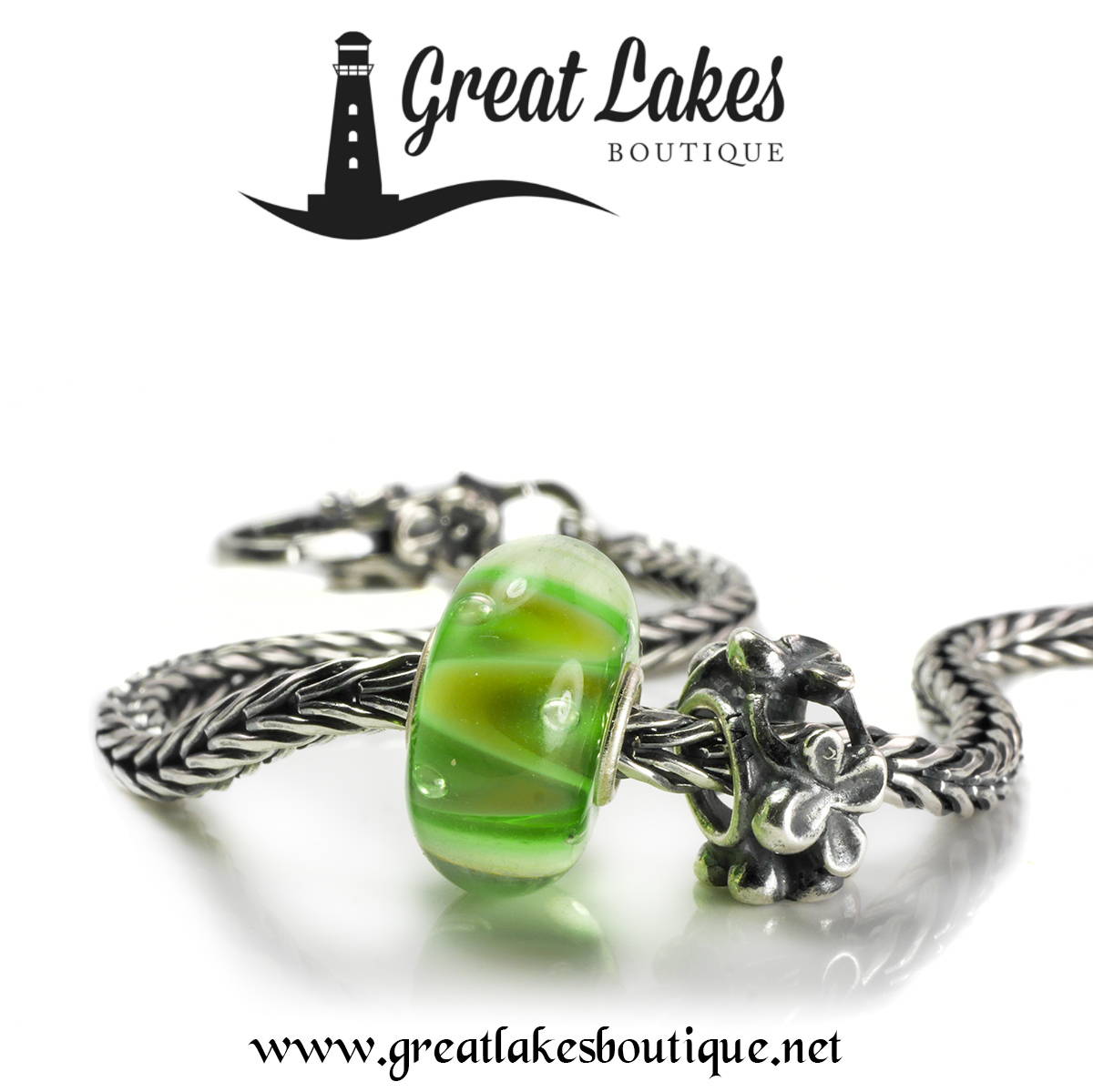 The Exhale glass bead is predominantly green with a wave style design. It has very subtle ribbons of a brown, slightly mauve shade in it. It's really important to mention that in bright sunlight, these strands of color vanish completely and the bead looks a strong pure green color. It's in softer, less direct light that the complexities of the glass begin to show. In that sense it's somewhat of a color shifter depending on the lighting conditions.
It actually looks like vegetation after a heavy rainfall. Where the colors just pop a little more than they do when they're sun parched. (Once again that feel apt as we hopefully begin to collectively move forwards.)
The silver beads on these bracelets are always petite but I personally love that. I tend to prefer smaller silver in general.
The bead and the lock coordinate beautifully in this set. Both feature these small but clearly defined flower motifs.
For those of you interested the silver bead measures about 6 mm in width, (as it sits on your bracelet) and about 10 mm in it's height. If you love the silver and would like duplicates but can't justify multiple bracelet sets, consider the Trollbeads Flower Wreath or Bella Fascini Flower Band. Both are of similar design and size too.
The Exhale Lock has these dainty flowers on all of it's sides. There's no shortage of Trollbeads floral locks but this one is distinctive and very pretty. There are no details placed around the lever of the lock and this makes it easy to open. There's nothing for your nails to catch on when trying to fasten the lock.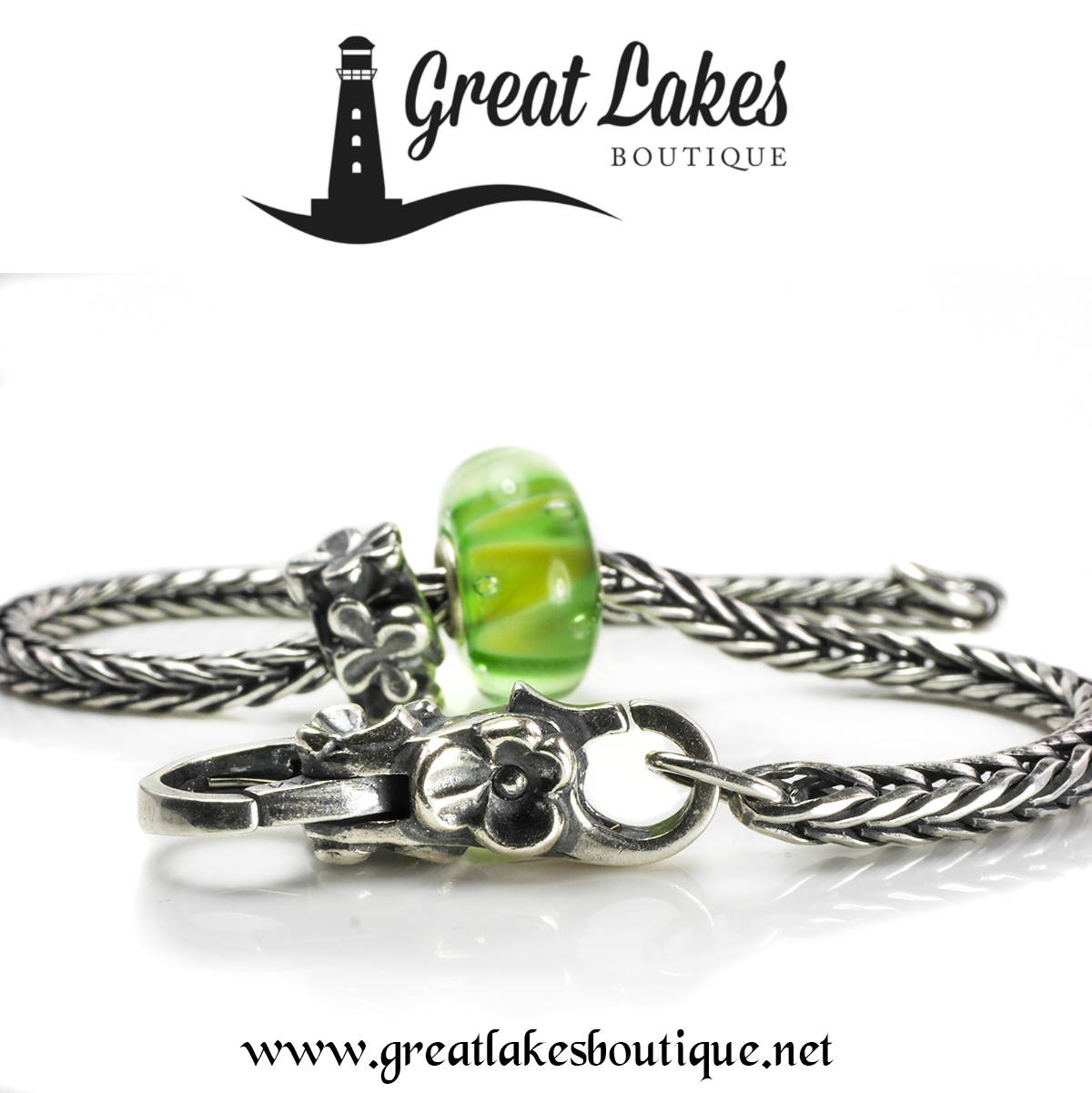 I've always been a fan of the Trollbeads Designer Bracelets. I generally keep them together exactly as they arrived and use them as ready to wear pieces. For this styling I've added the brand new Little Flowers Stopper from The Palace of Amber. It's a little bit chunkier in it's width but this stopper is going to prove so useful.
Above is the Trollbeads Hues of Wonder Designer Bracelet. The locks from that bracelet are real focal pieces in their own right and as you can see here, the silver bead sits between them neatly for this look.
This look is definitely one of my favorites with Exhale so far. I've opted for the darker, more olive green tones of The Palace of Amber Hope glass and the Bella Fascini Olivine Oval CZ. The small silvers on that upper bangle are the Bella Fascini Flower Bands that I mentioned earlier.
This contrast in green shades allows Exhale to stand out even more than it usually does and this is definitely a bold colored bracelet.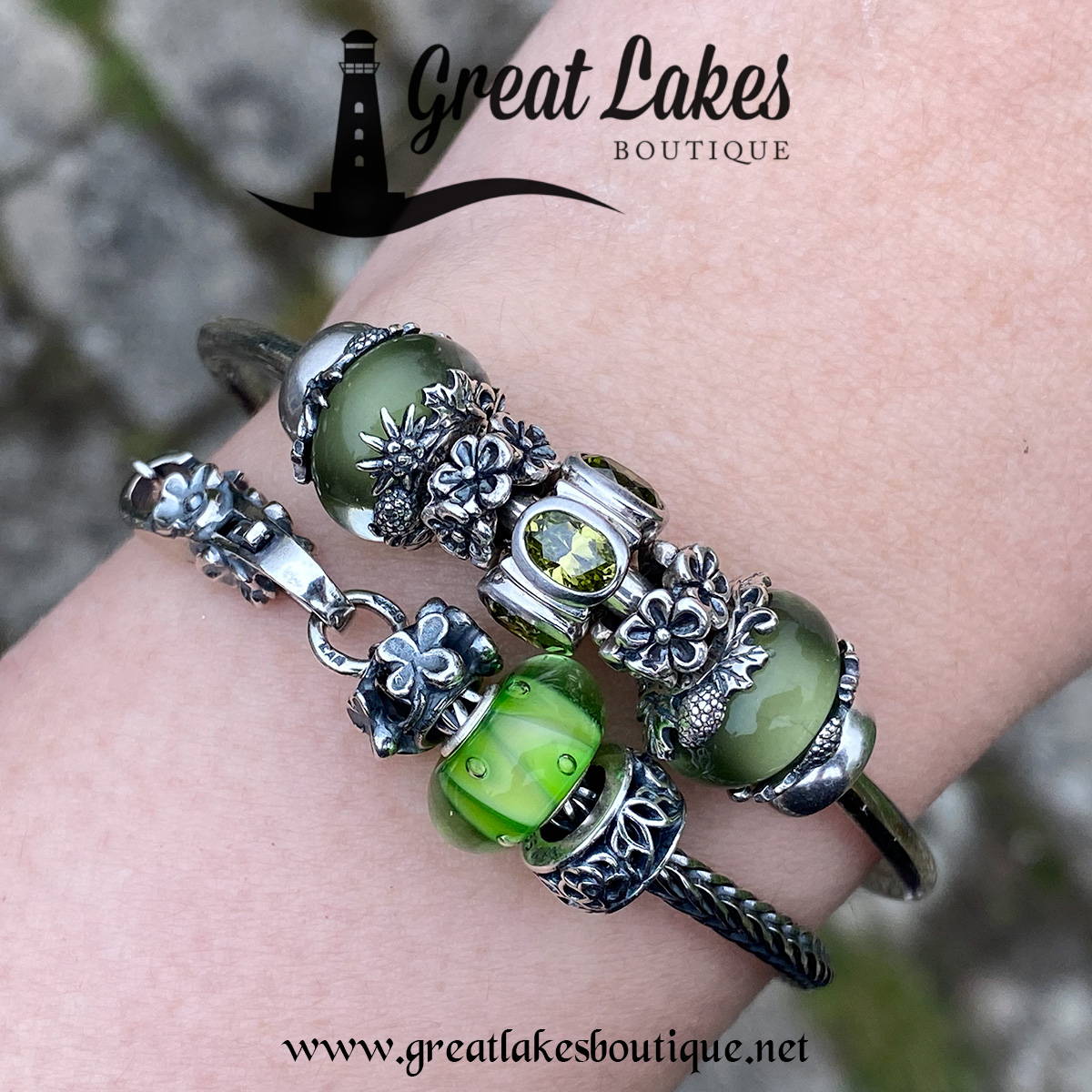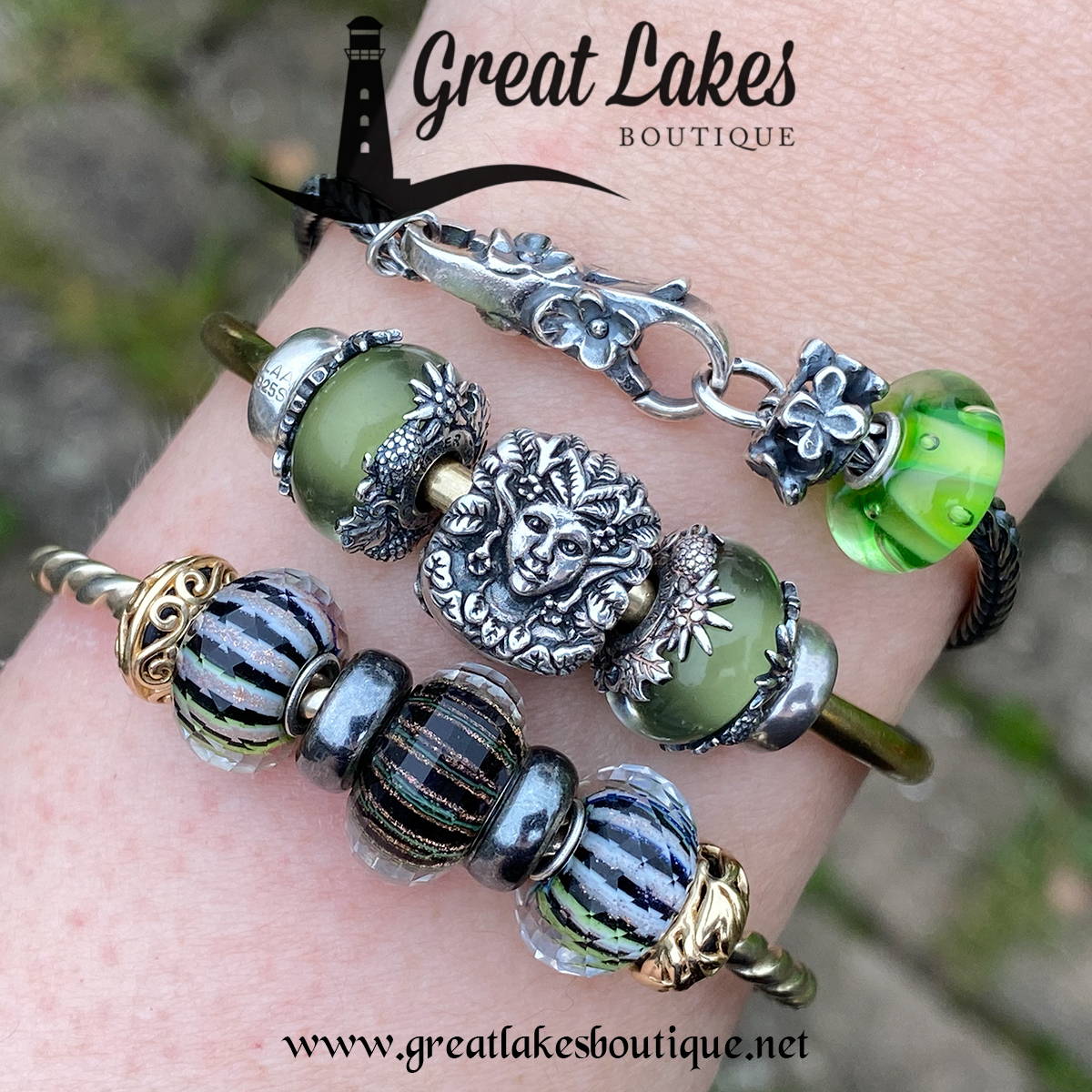 For this bangle set I particularly chose to use the Trollbeads Choice glass from the spring 2021 collection. Choice is such an underrated glass and although it's green and glitter stripes are consistent the entire way around the bead, the colored stripes fade from green to blue to the soft lavender seen here. I'd chosen this as it just complements the mauve shading you'll find in Exhale.
The central bangle uses our exclusive Redbalifrog Green Goddess as the focal and do remember this bead is 30% off as part of the Redbalifrog retirement sale. Our inventory is limited but she's a lovely celebration of spring and nature.
Finally you'll find a few more ideas below and I've been having a lot of fun with this bracelet set already.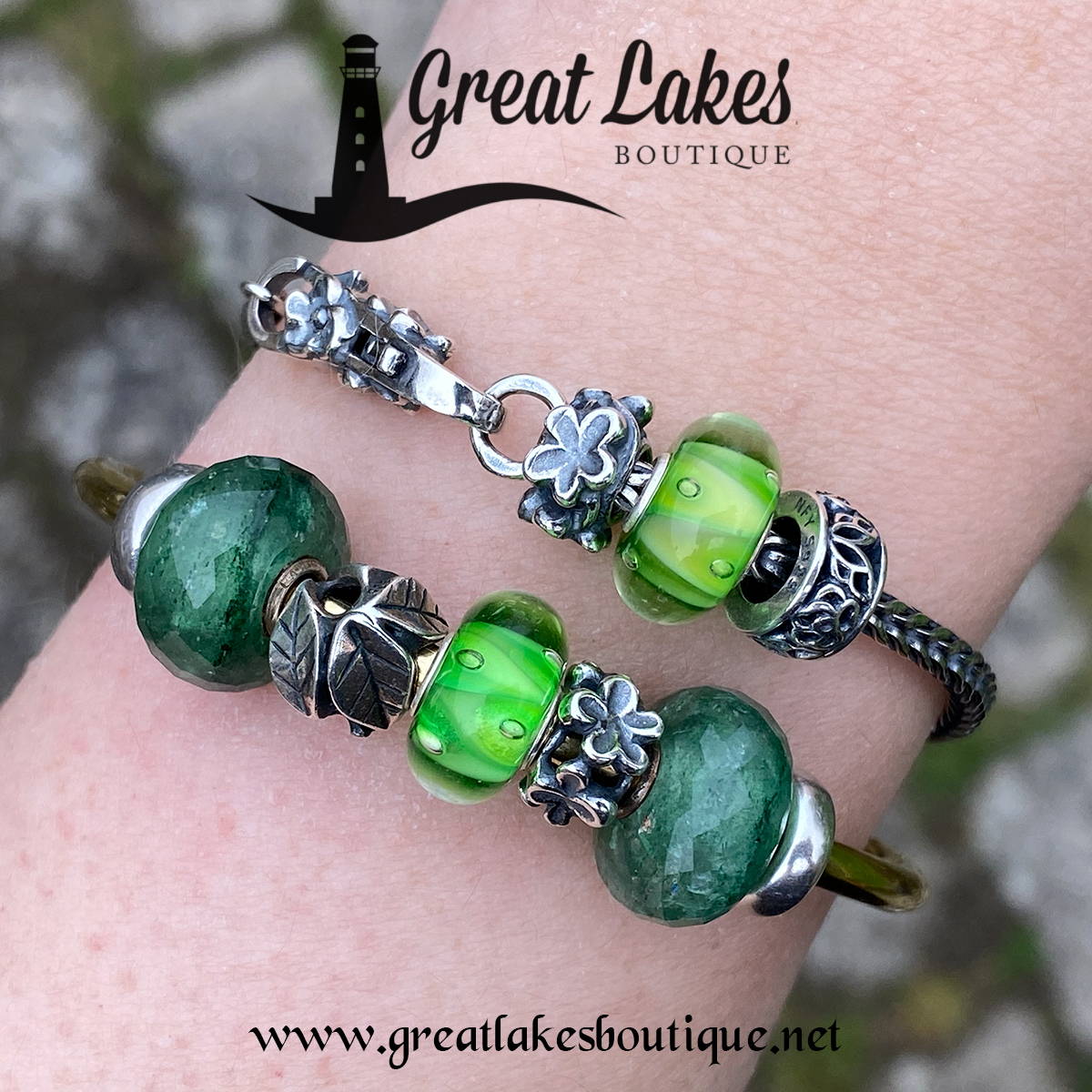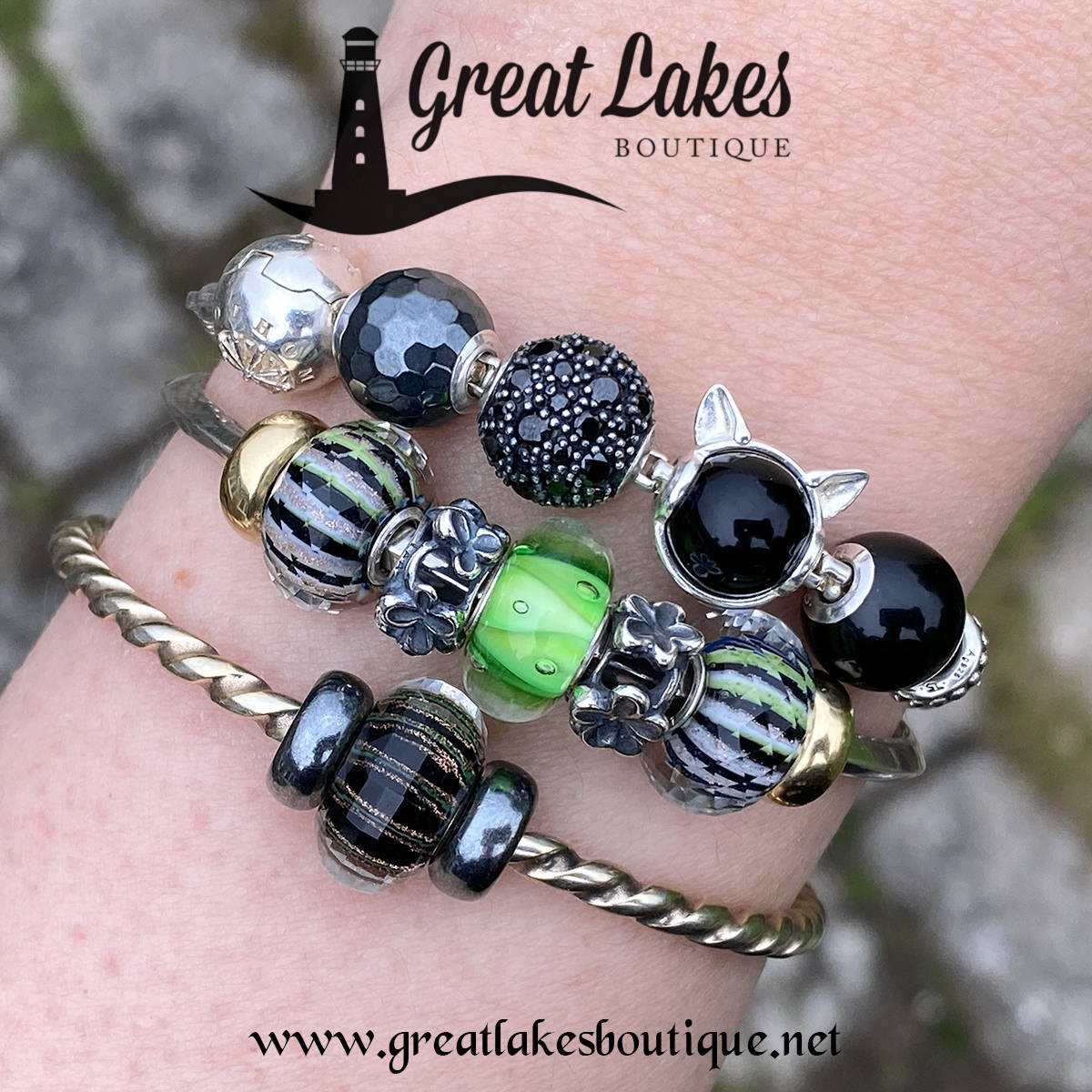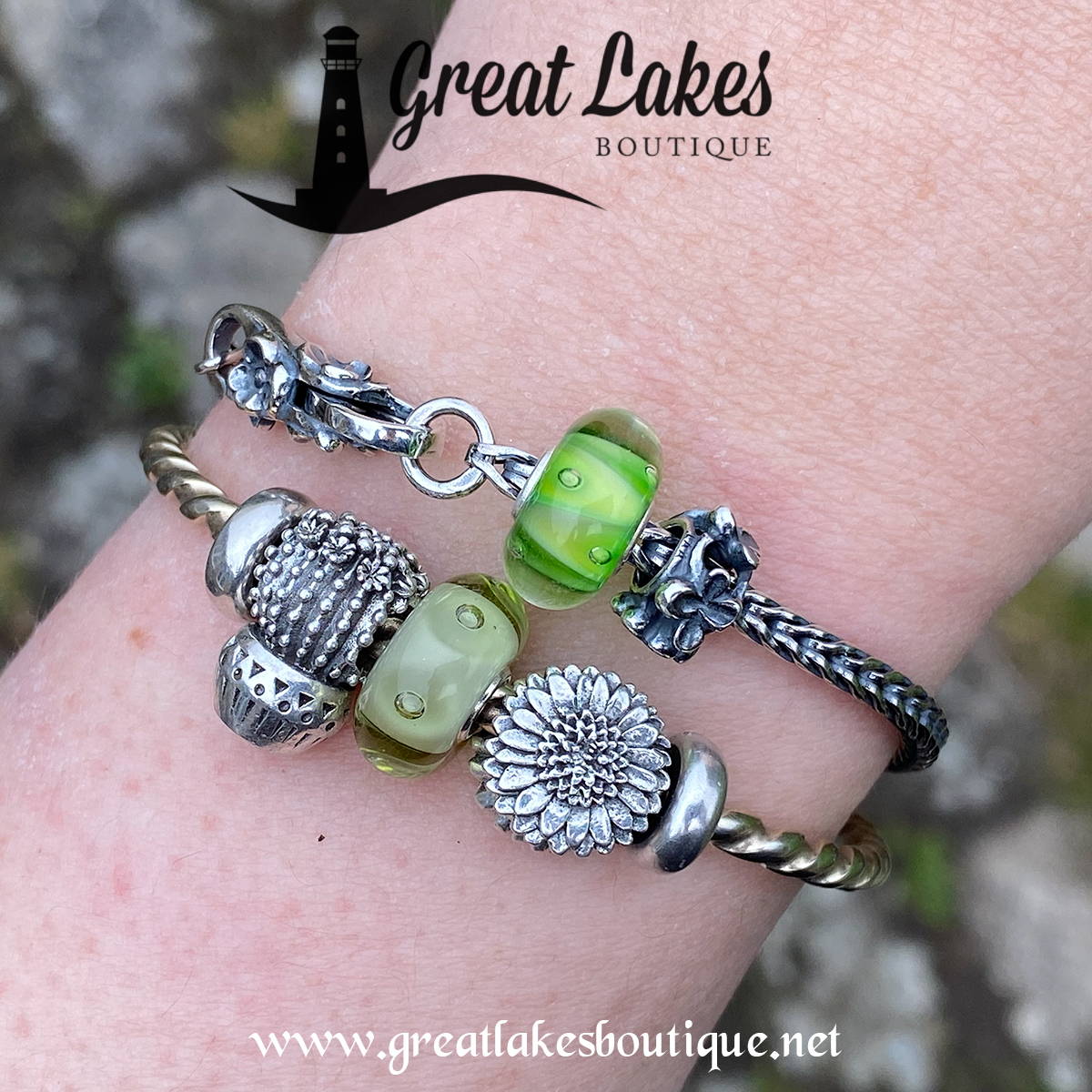 The Trollbeads Exhale Bracelet is retailing at the promotional price of just $120 and below we're adding the details of some of the other beads we've used in styling it here.