As fall has really started to appear I'm still loving the Trollbeads Autumn 2019 collection. Aside from all of those amazing new gemstones, the glass highlight for me is the Trollbeads Flowers of Poise. I know I'm not alone with this as it's been difficult to keep in stock.
Earlier today a new batch went live and there's both live images and video to choose from. These beads do vary and tonight's Trollbeads blog shares a little bangle inspiration starring the lovely Flowers of Poise.
The black based Flowers of Poise has the most beautiful and contrasting accents on the anemones. This is where the bead varies as this image shows well. The bead to the right has dark cinder colored flowers. To the left it's a much brighter blossom with creams and the beautiful blues.
It's this blue shade I wanted to focus on with The Palace of Amber Anzolite stones added to this bangle.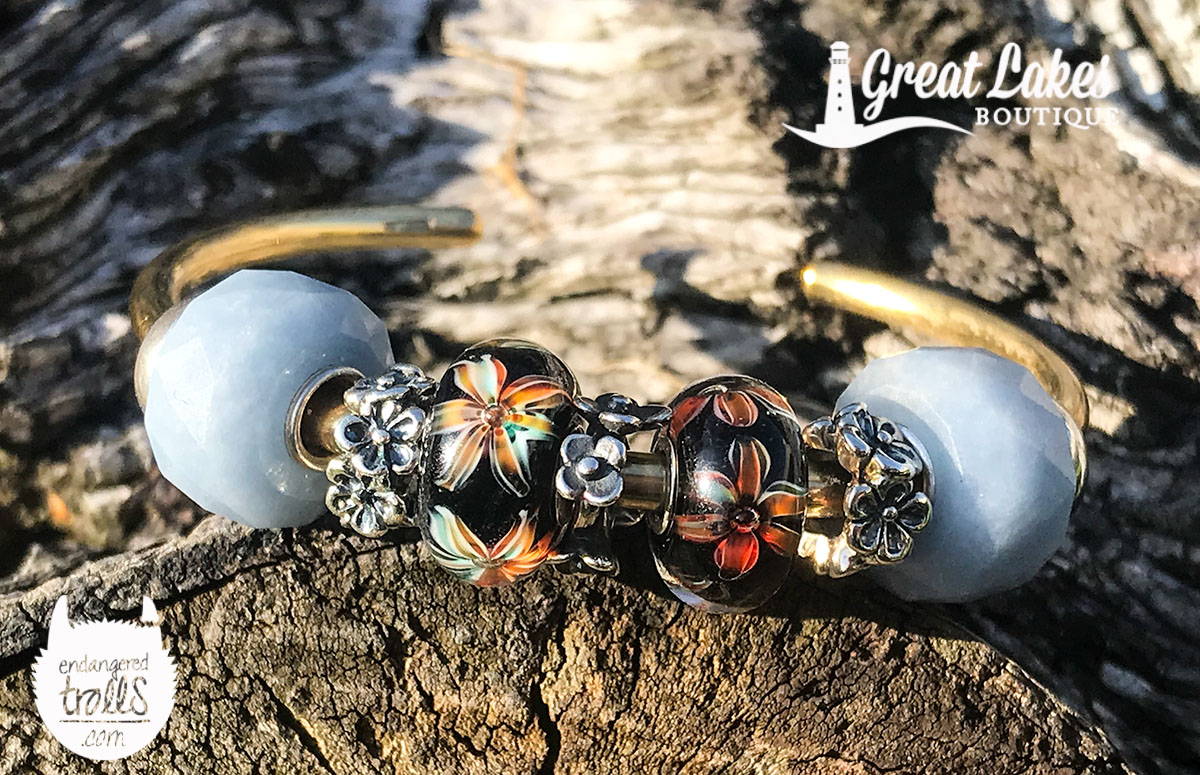 The Trollbeads Flower Wreath is the focal with two of the Bella Fascini Flower Bands to the side. The glass is so striking in it's own right that I didn't want to pull any attention from them. For me this bangle was about the color more than the silvers so I opted for quite delicate beads.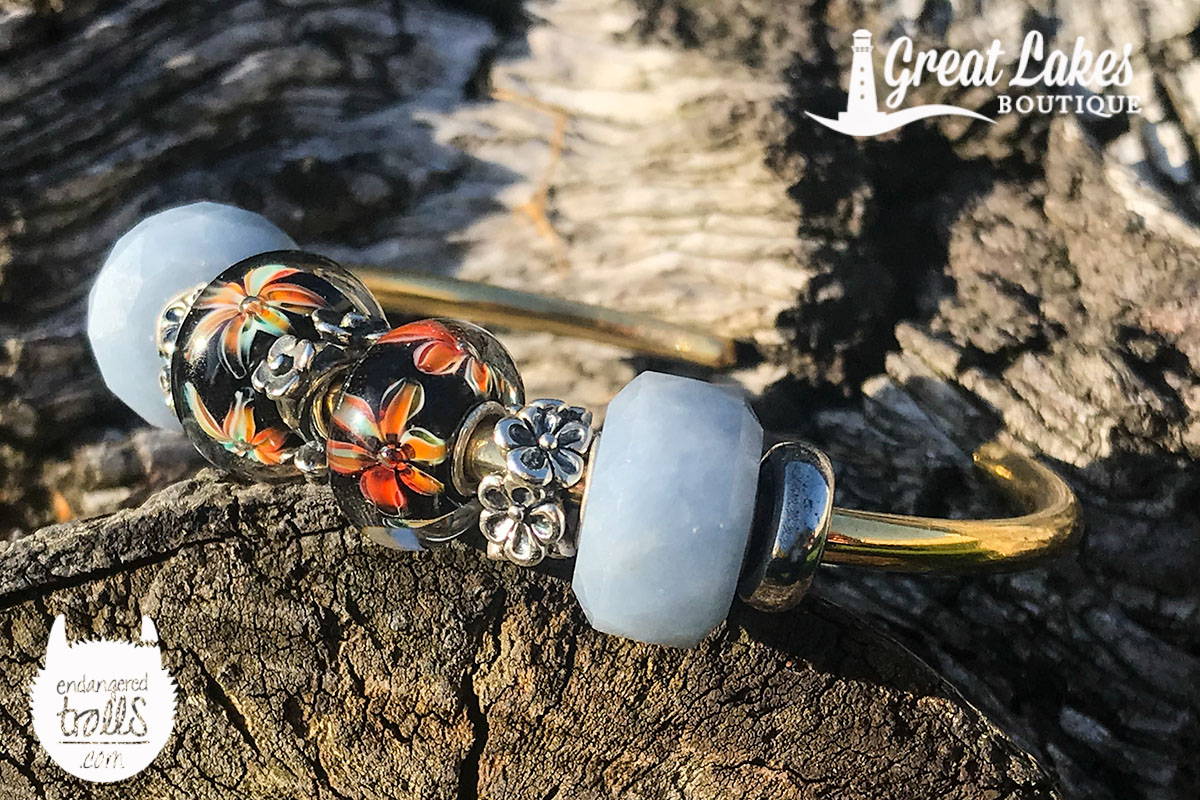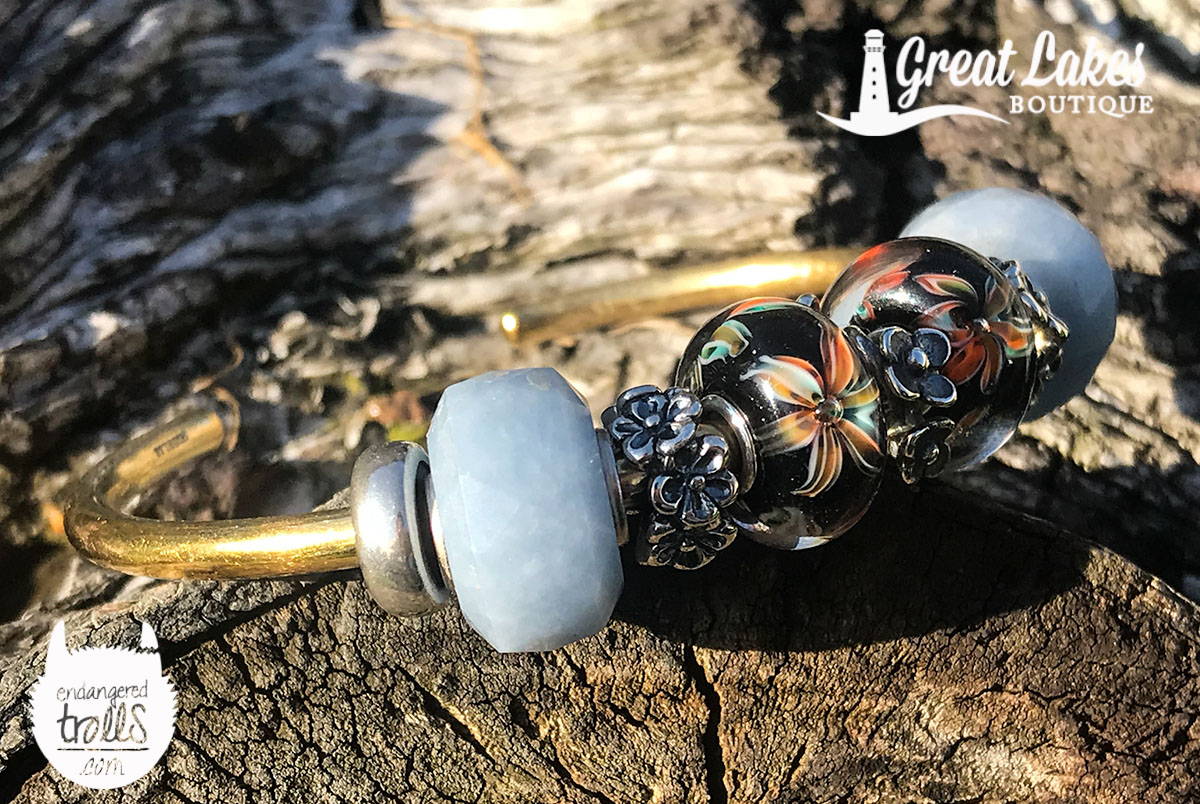 The second bangle features the beautiful Trollbeads Golden Poppies, another bead I adore from this release. It's of course encased by the Framed by Nature silver which is such a must have from the collection.
I love these two stacked together. The gold feels apt for the fall sunlight and the colors are dramatic and reminiscent of sunset.
Finally here's the two bangles together.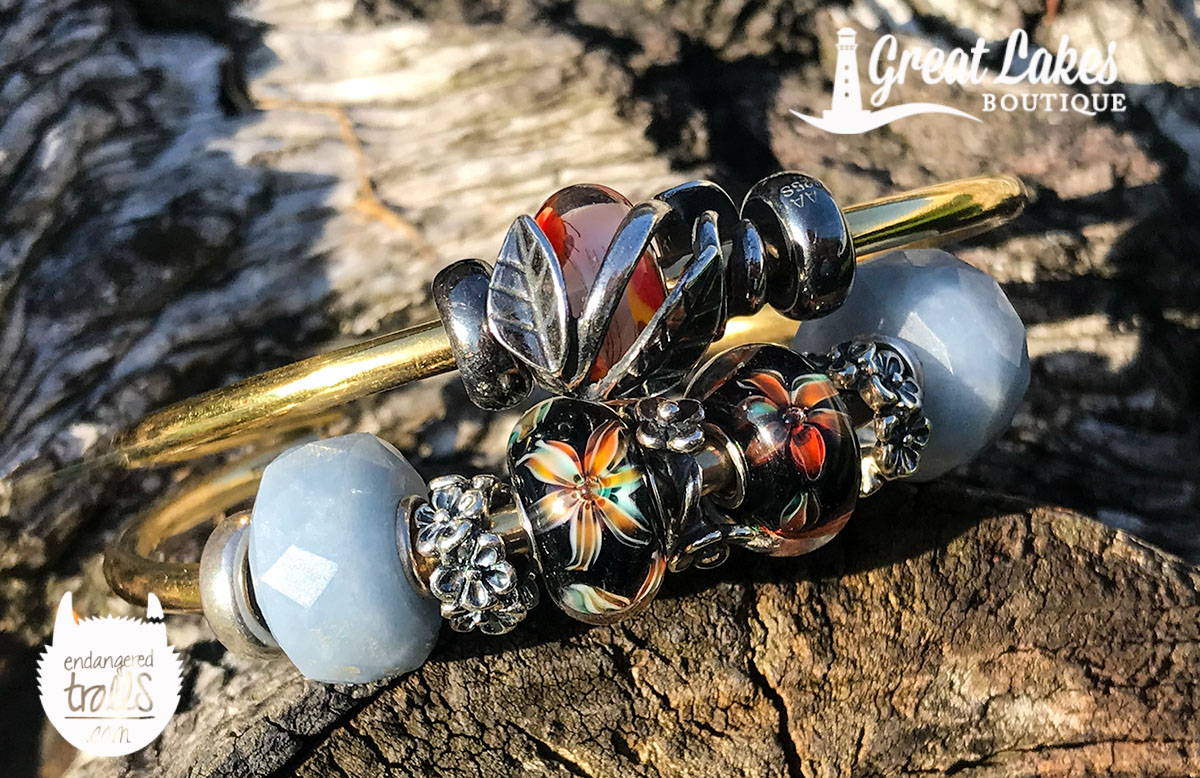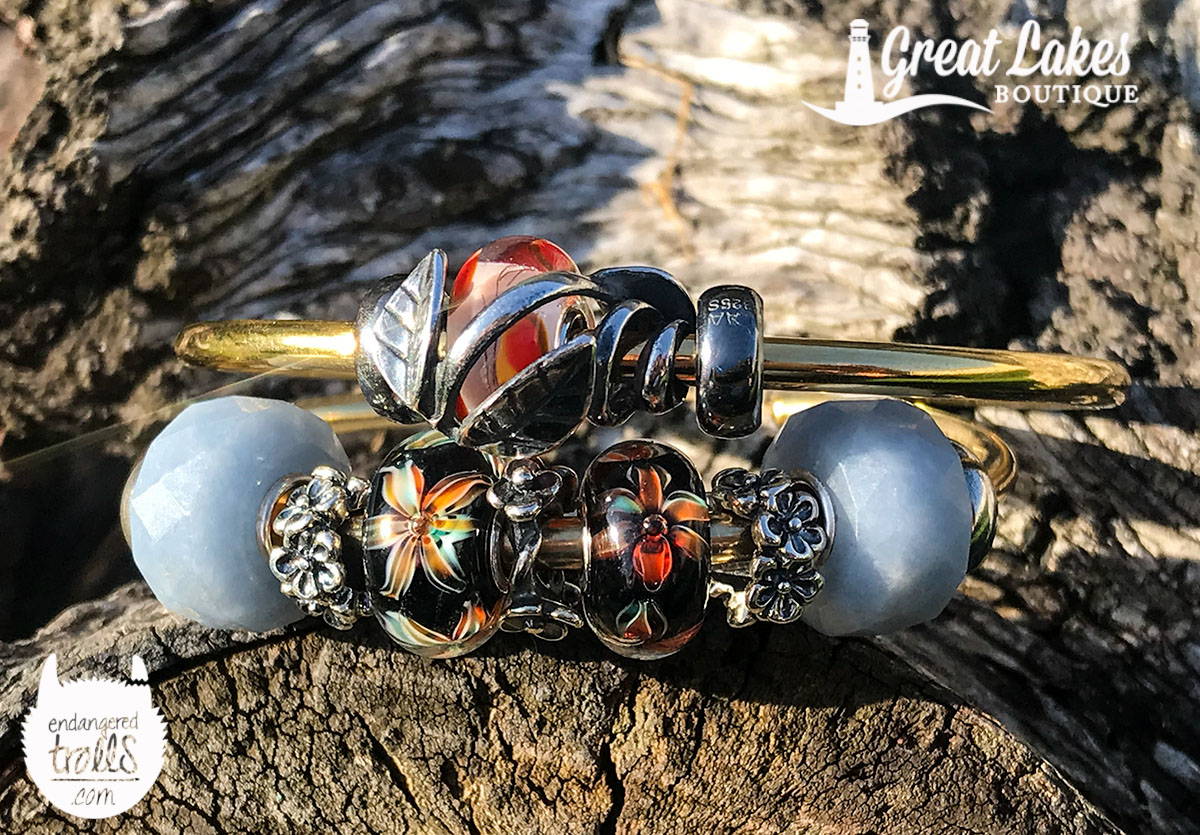 As a final finishing touch, I added the Bella Fascini Round Bangle Bracelet and a Trollbeads Bangle with the new Bella Fascini Ball Stoppers. The silver brings a little more contrast and I'm still crazy about this bangle and use of the ball stoppers as an end cap.
While this shot isn't technically correct with the mix of light and shade, it's actually precisely the vibe I was aiming for with the bangles anyway.
The last of our anzolite stones from The Palace of Amber are now live too for anyone wanting to recreate this look.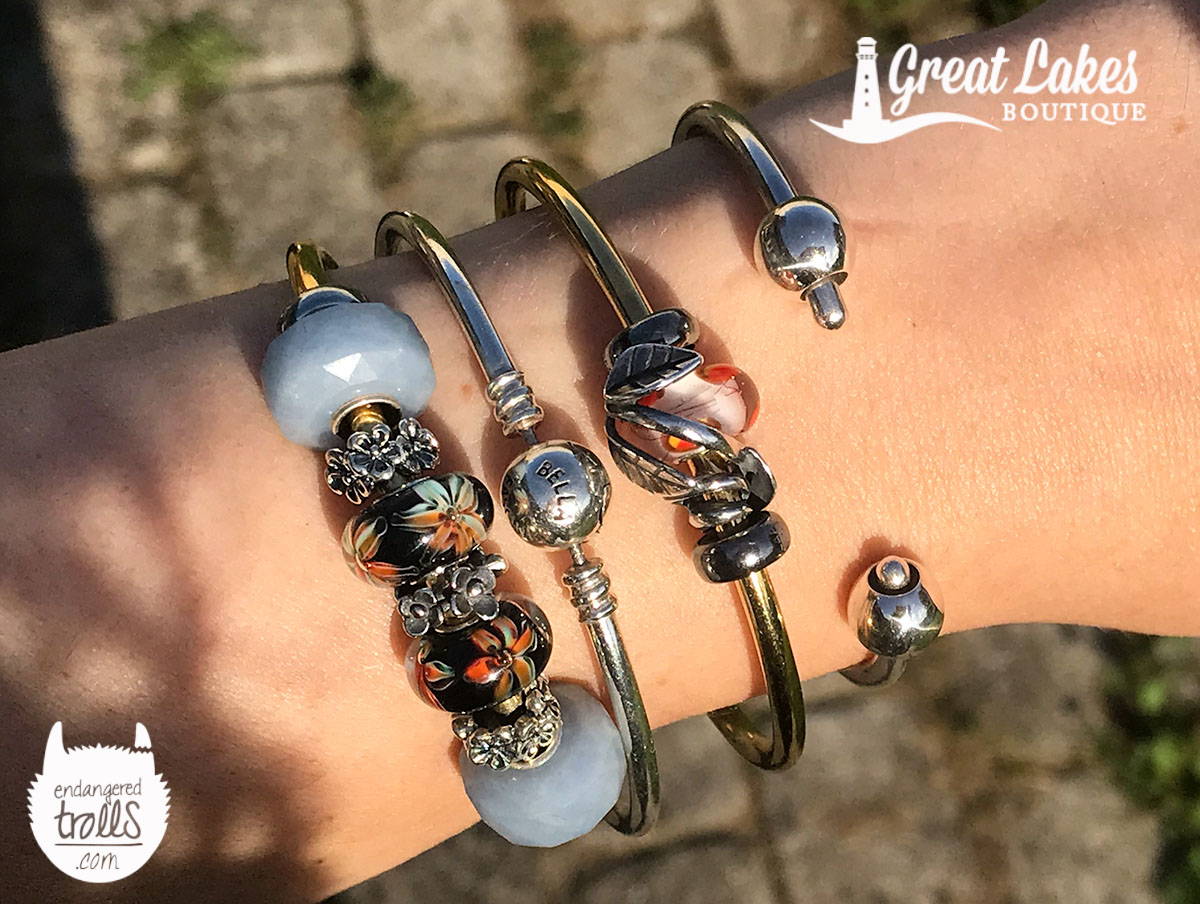 This stone will see you perfectly from the fall to winter season. It's incredibly versatile and amazing to contrast against warmer fall oranges.