This Trollbeads blog alerts readers to the return of the Trollbeads free gift with purchase promotion for June 2021 and this time, it's for the Trollbeads earring fans!
Just moments ago the latest Trollbeads free gift with purchase promotion started. For one day only (June the 4th,) spends of $300 or more on Trollbeads qualify for a free pair of Daisy Donut Earrings. To clarify this is a ready to wear set, so both the Sterling silver earring hooks and the Daisy Donut accessories are included.
This offer cannot be combined with other promotions and that includes the Trollbeads Summer Sale & the new Set in Stone pieces, but you can treat yourself to all of the newest releases and get these lovely earrings for free.
Please do be aware that for hygiene reasons, we cannot accept returns on earrings.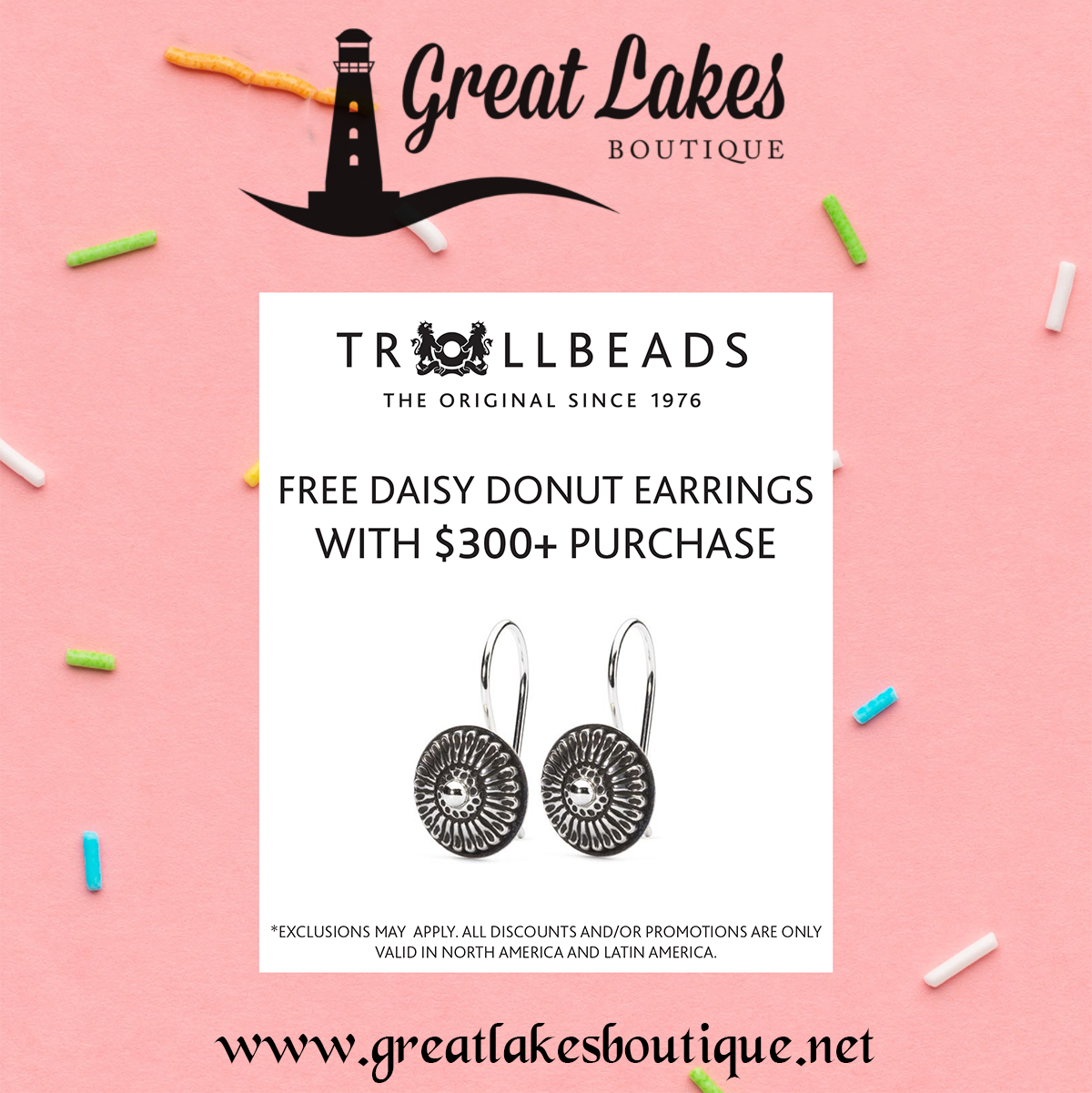 For those of you wishing to participate, please be sure to add the earrings to your cart alongside your qualifying spend. Use the code DONUT at checkout and the cost of the earrings will be deducted for you. If the earrings are not showing as free, it's likely because you're either trying to checkout with Paypal Express (this skips our checkout phase and doesn't allow the website to apply your discount,) or you have an item in your cart that is already reduced in price. If you're experiencing problems please send an email to victoria@greatlakesboutique.net or leave a message on Facebook or live chat and we can set the order up manually for you instead.
If you've never really explored the Trollbeads earrings, do take a look as they're so often overshadowed by the beads. They're a brilliant system and you can create some really unique looks with them. If the looks below convince you, remember there's a promotion running at the moment offering full gift sets of earrings for very reduced prices. Unfortunately you can't combine the sets with this promotion (again promotions can't be stacked,) but for something a little more extravagant they're a perfect option.