This Trollbeads blog brings an assortment of live images and our initial impressions on the Trollbeads Spring 2021 Collection.
It has been a whirlwind of a few days in regards to new season launches and of course that includes the Trollbeads Spring 2021 collection which debuted just yesterday. This is a really strong release from Trollbeads but we're only now finding time to share some of our initial thoughts on this collection.
We're starting with the new Trollbeads Uplifting Bubble Joy Kit. This is now the second season where we've seen a reappearance of the $39 glass and it's such a good price point. Further to that for both the winter and now spring release, these kits have been a real highlight actually. Certainly they might not have the complexity of design of the other kits but it's all about those colors.
Trollbeads have created another really beautifully blended kit here and I'd encourage those able to buy the full set. I'm particularly drawn to the more neutral shades, though perhaps it's just the time of year and the weather still being so chilly outside. Nevertheless if you want a ready to wear new season bracelet, this kit and a few silvers will provide exactly that.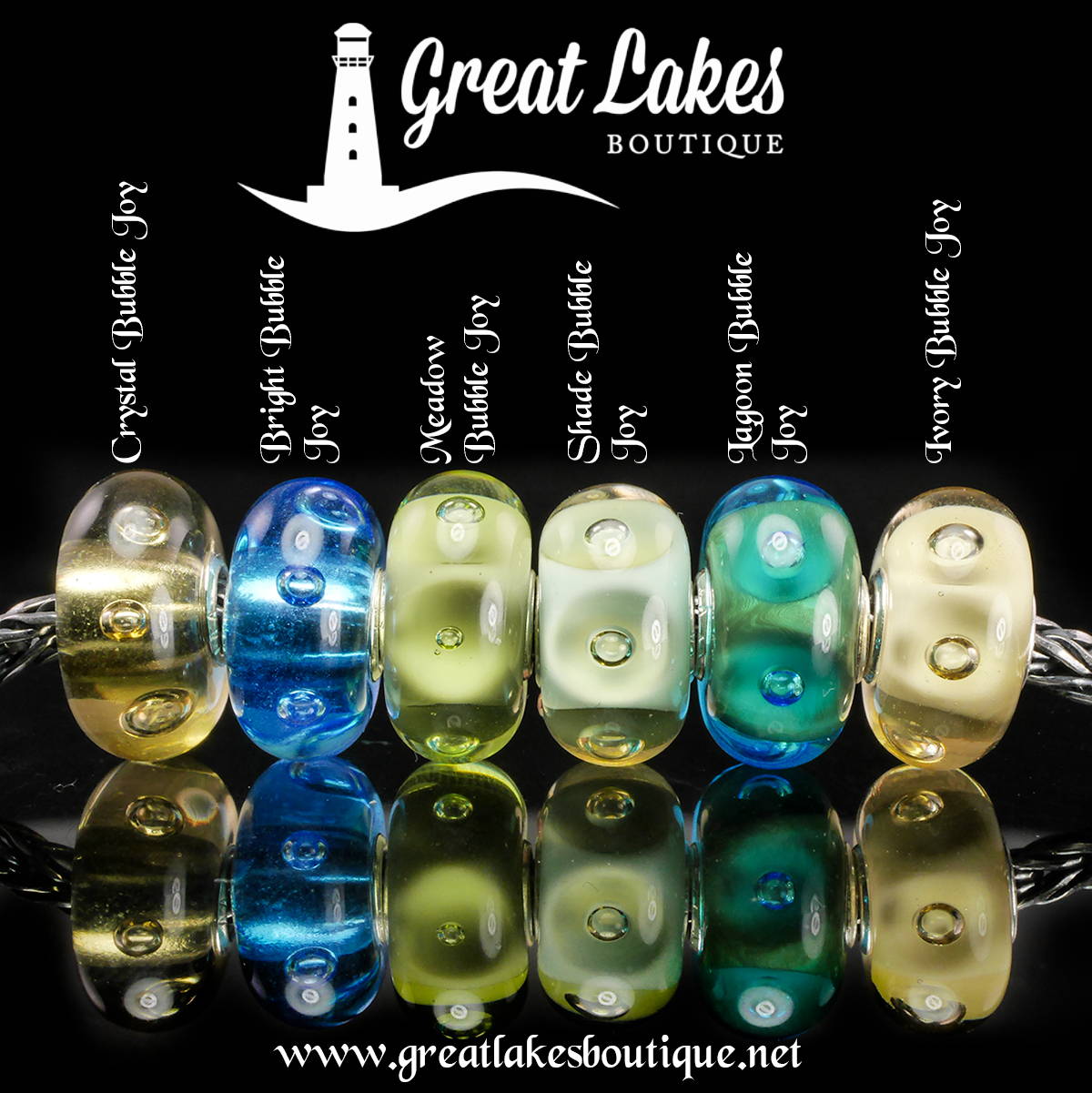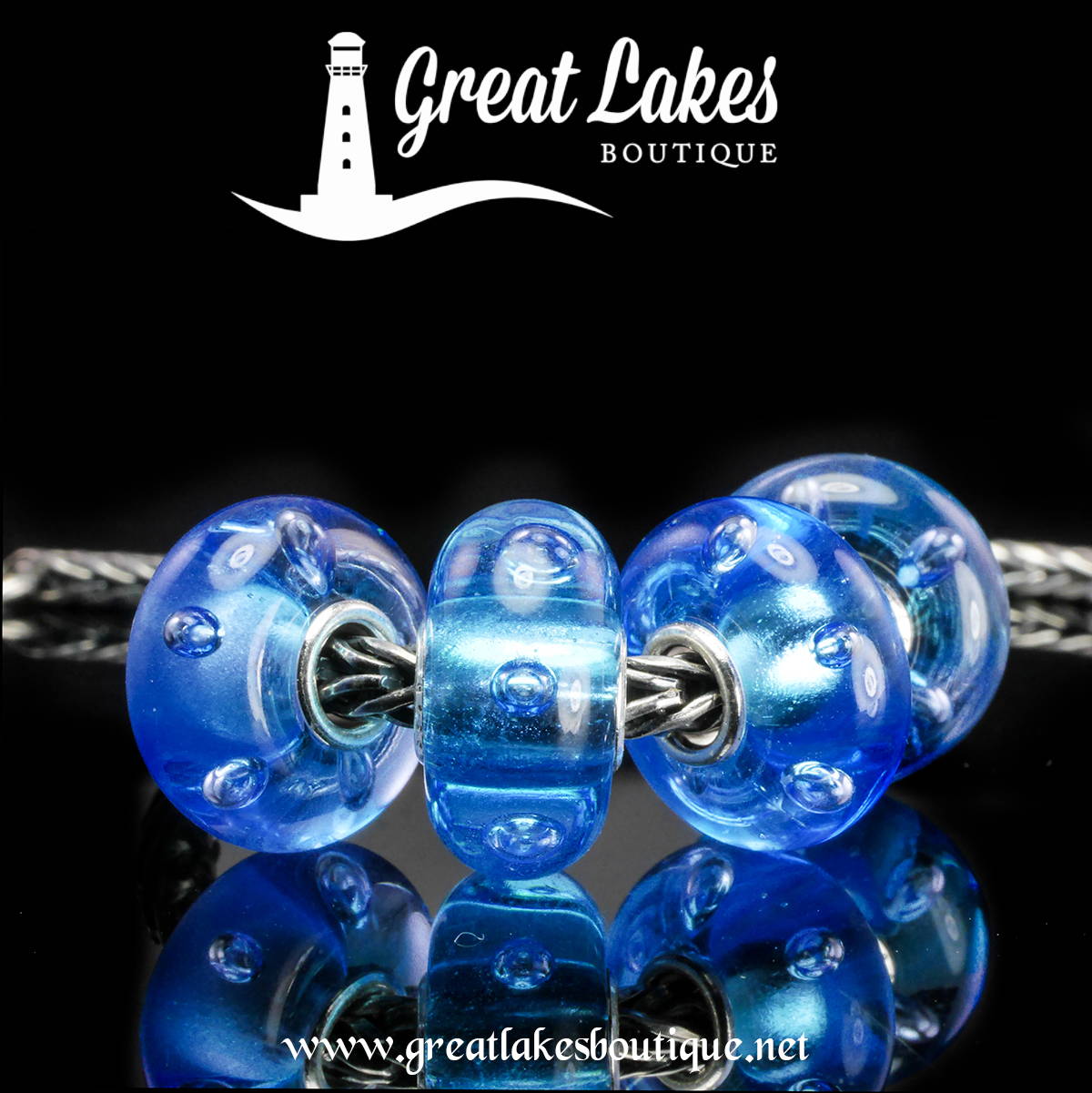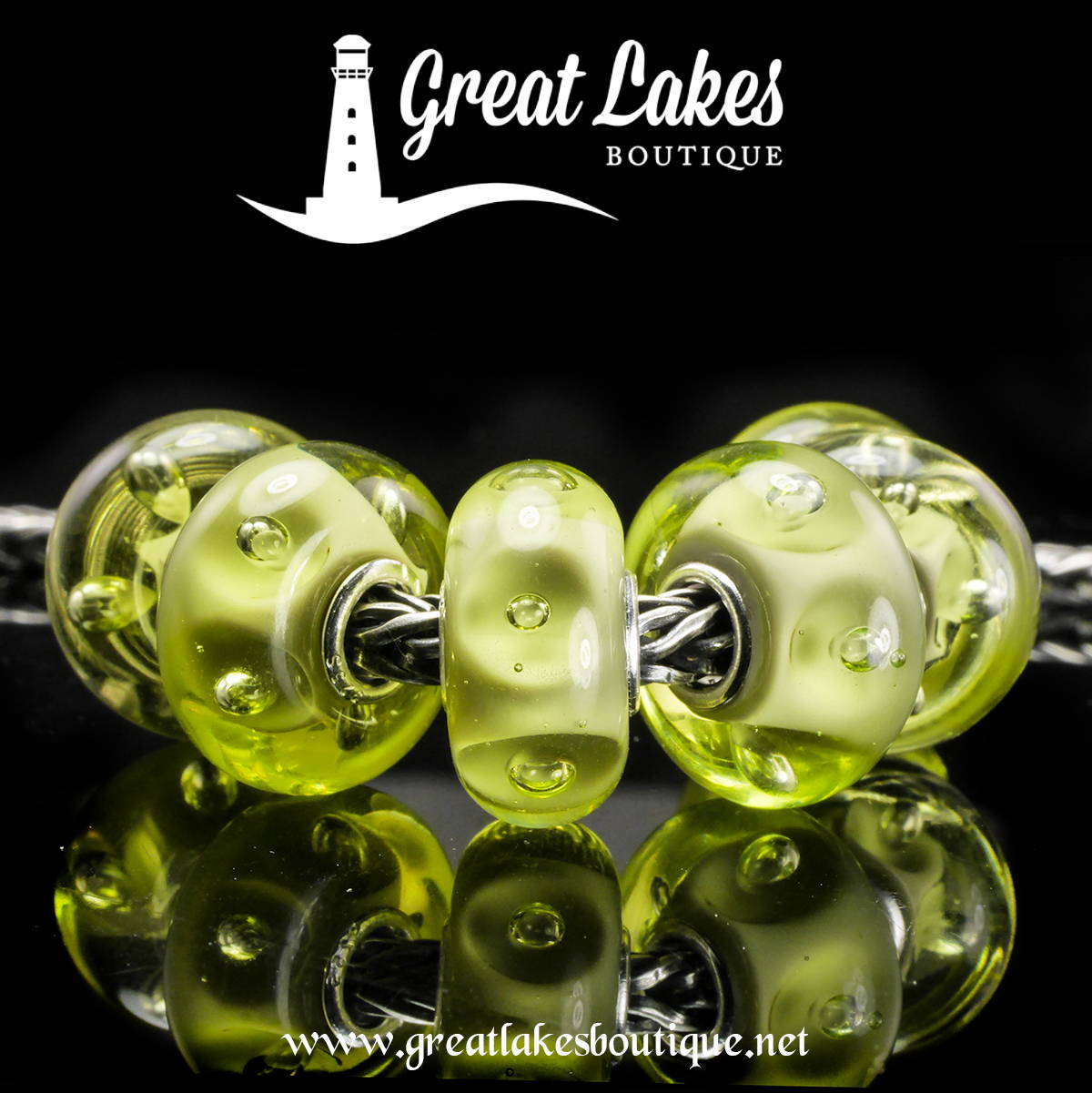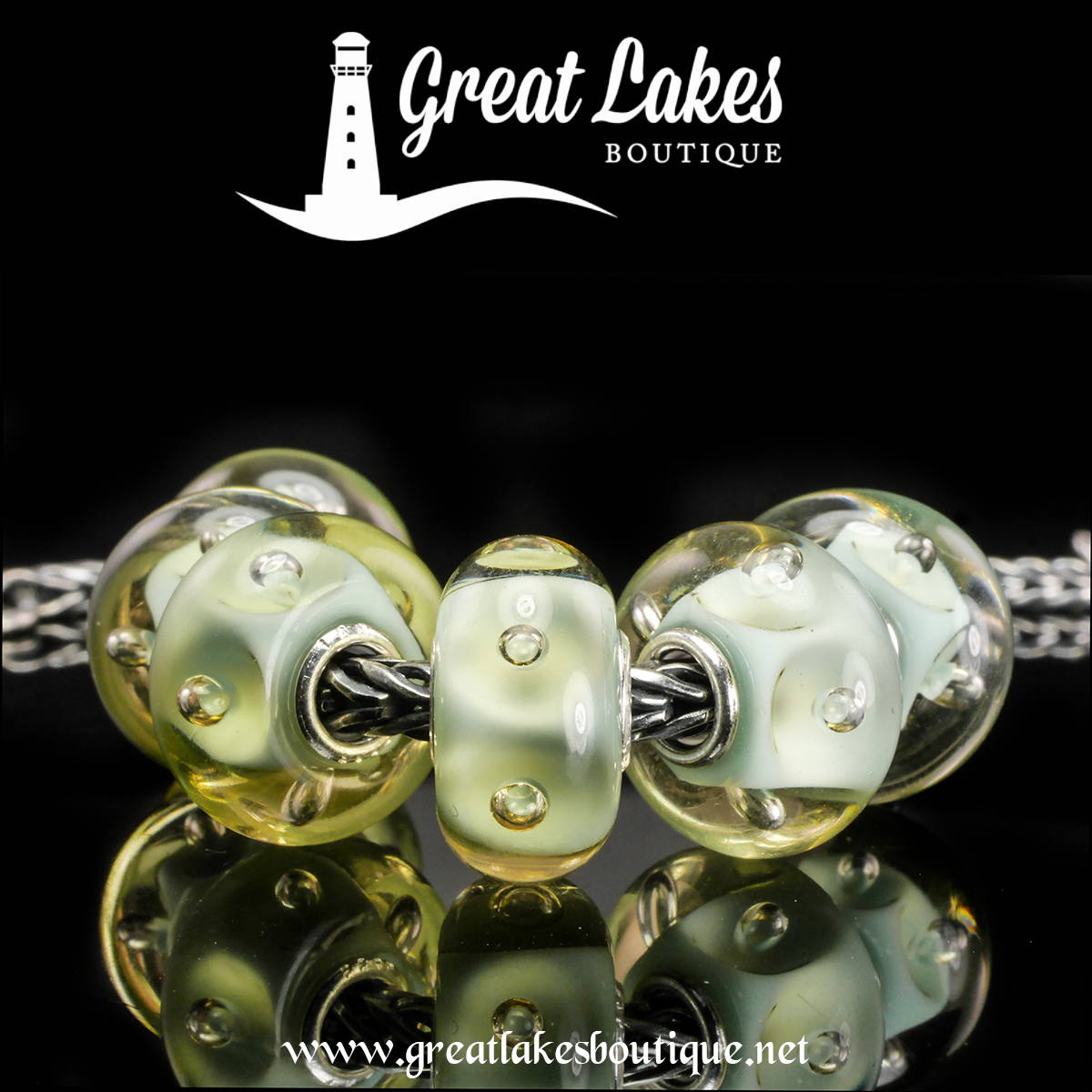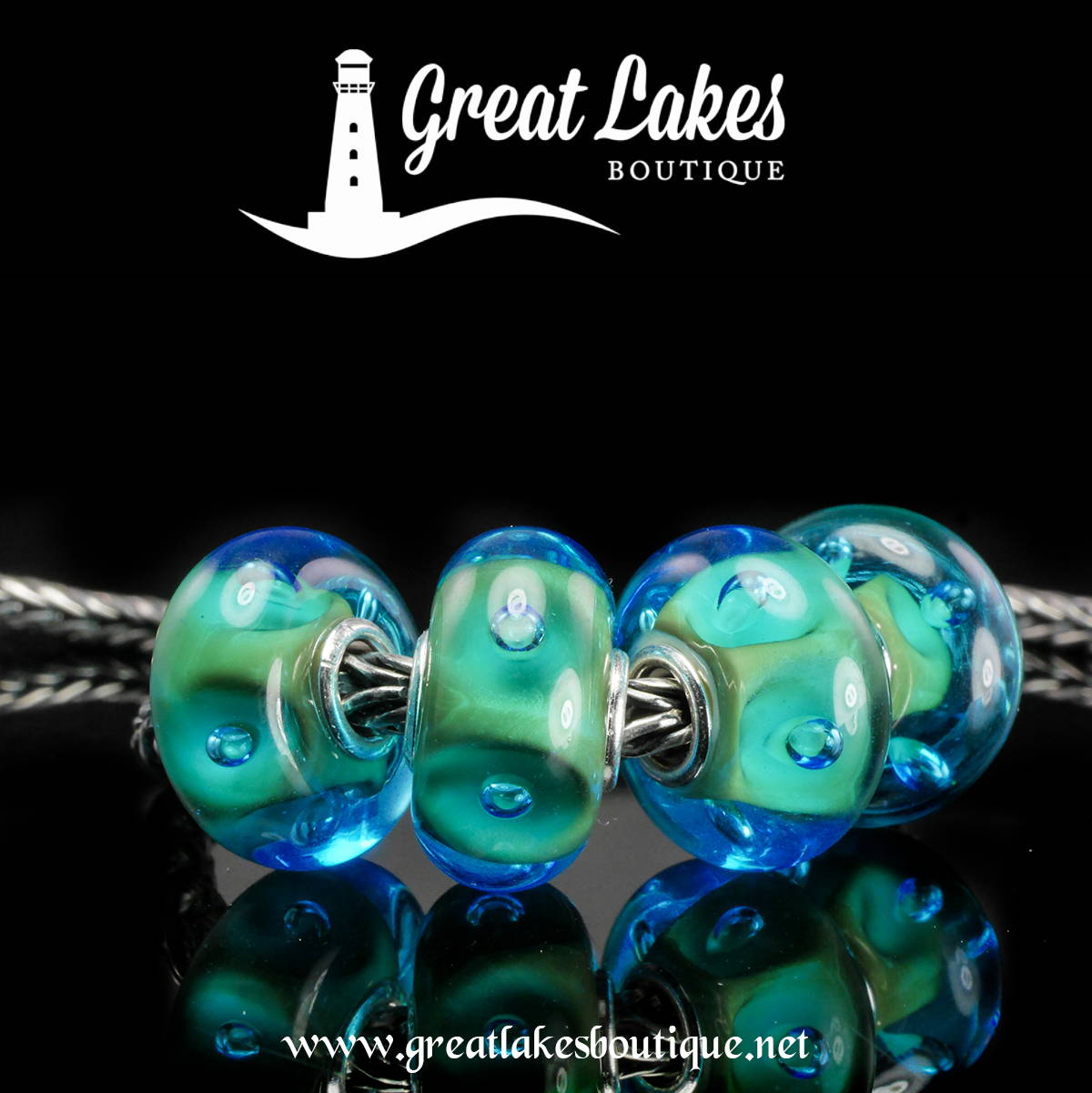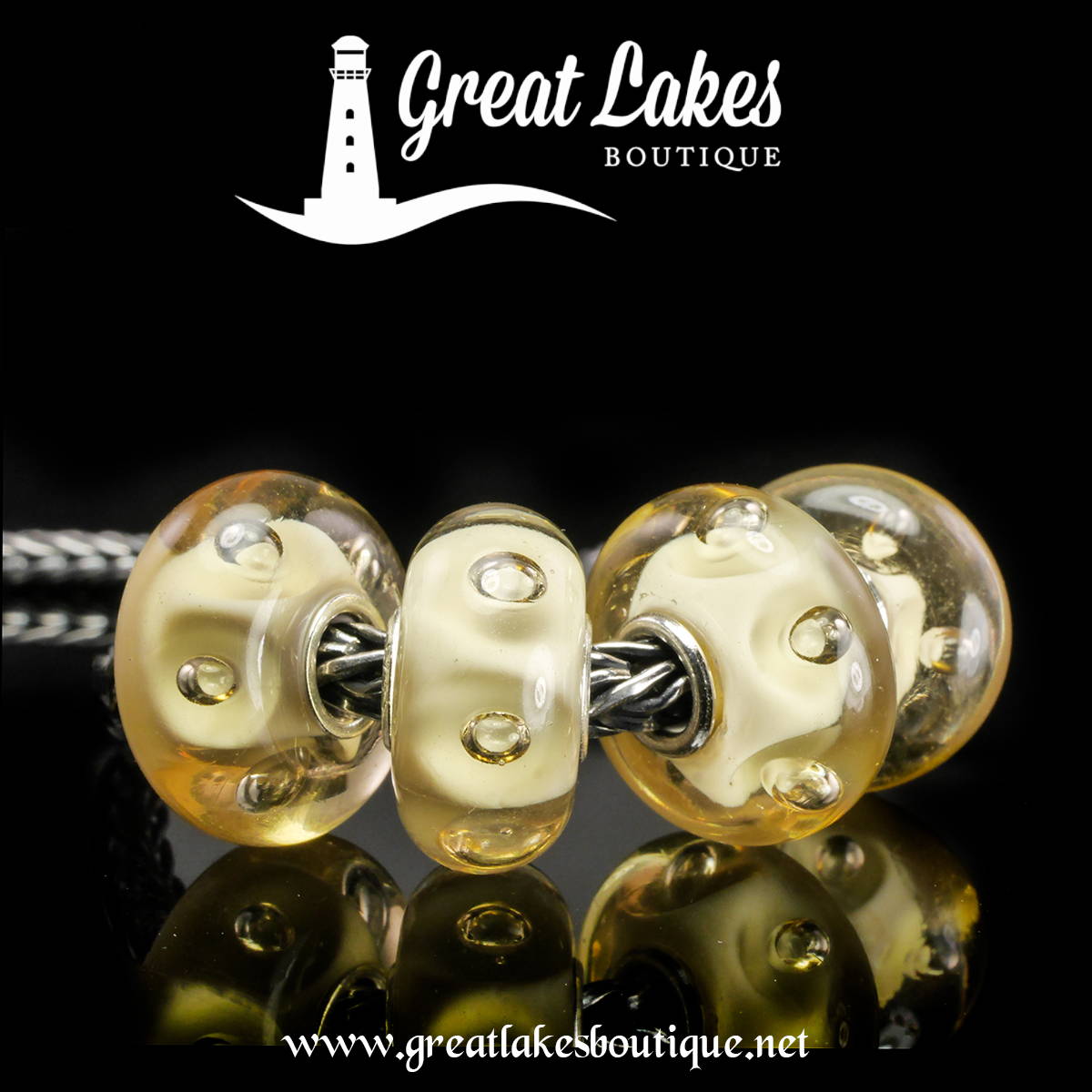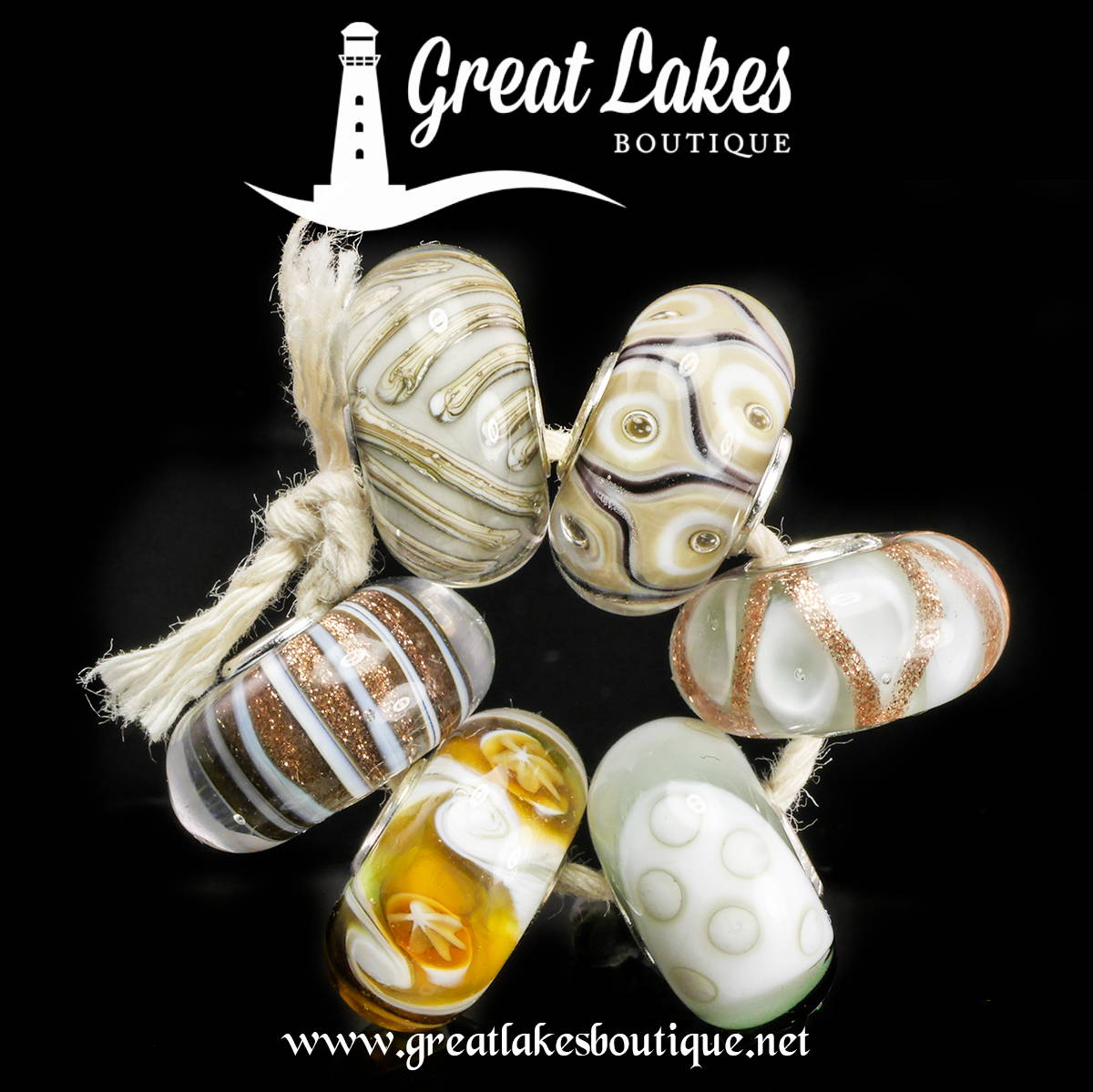 The second kit up in terms of it's price point is the Trollbeads Mist of Nature Kit and this is a real must have for those of us who adore neutral tones.
One of the highlights and most anticipated of the designs is probably the Sophisticated Armadillo and it has definitely been popular with the collectors. This bead is a mix of cream, gray and very soft moss green tones and is beautifully executed.
One bead that personally surprised me is the Desert Mist. It has what look to be small murini details inside which I'd not really grasped from the stock image. They almost look like small orange slices and it's a very pretty effect.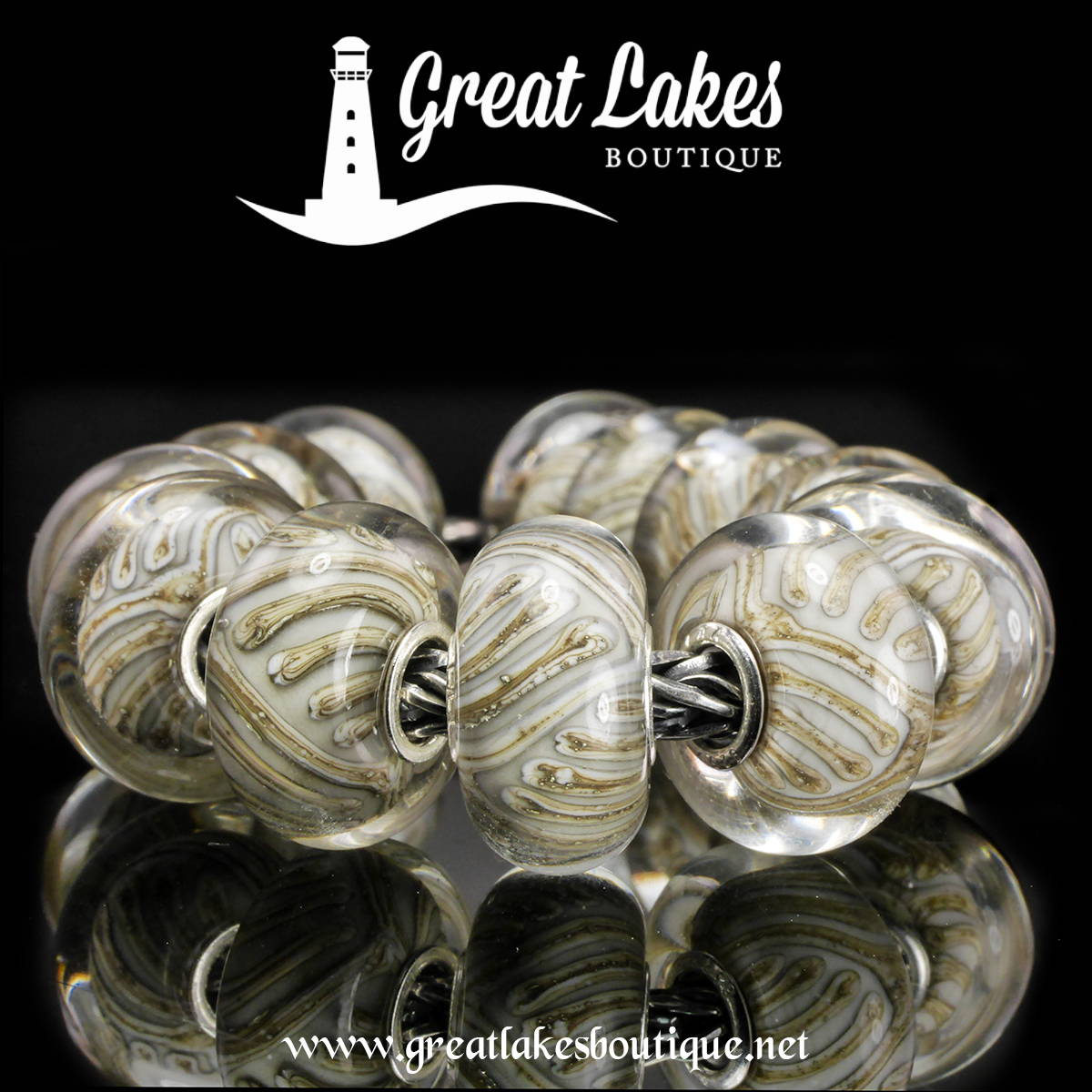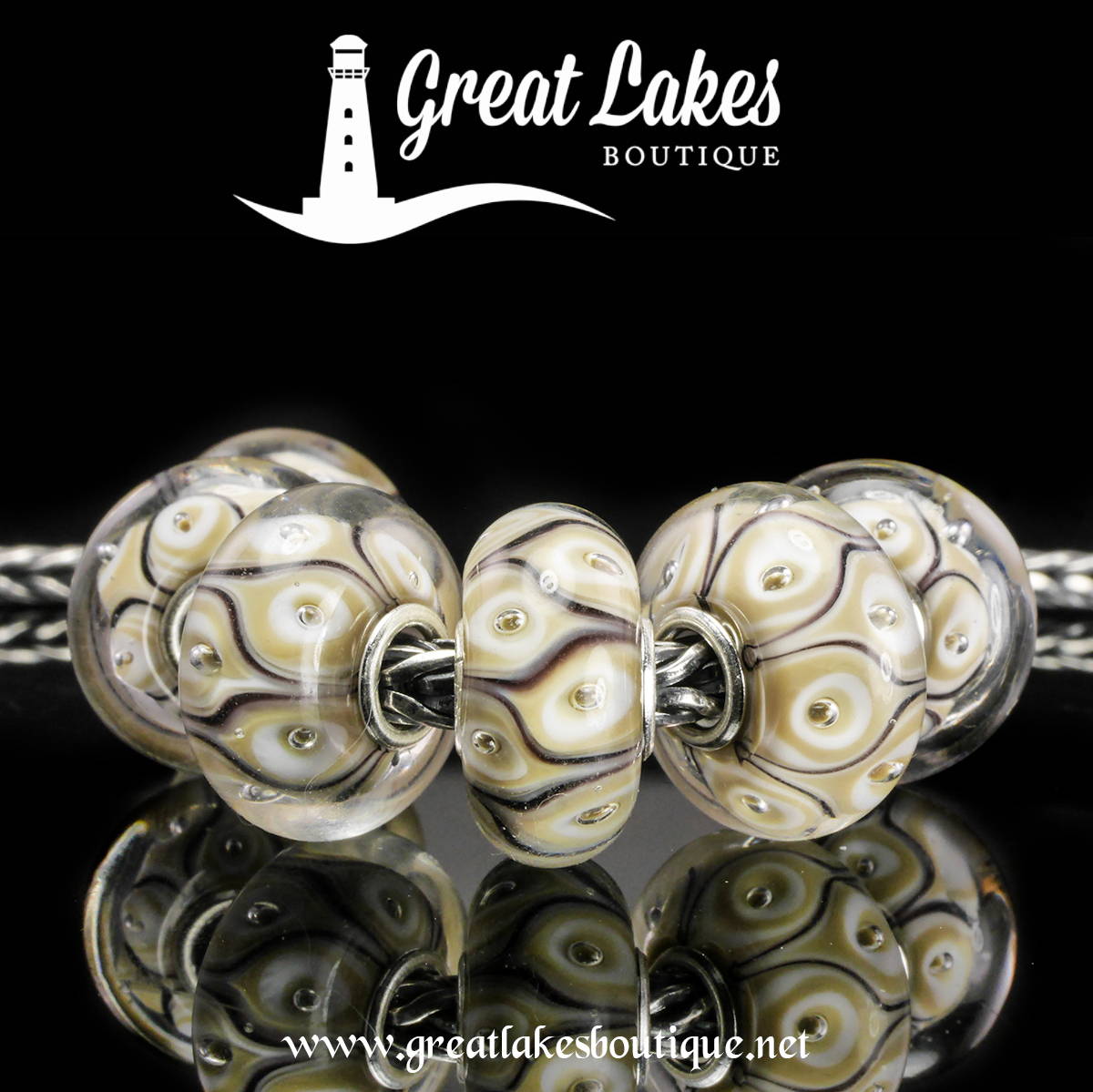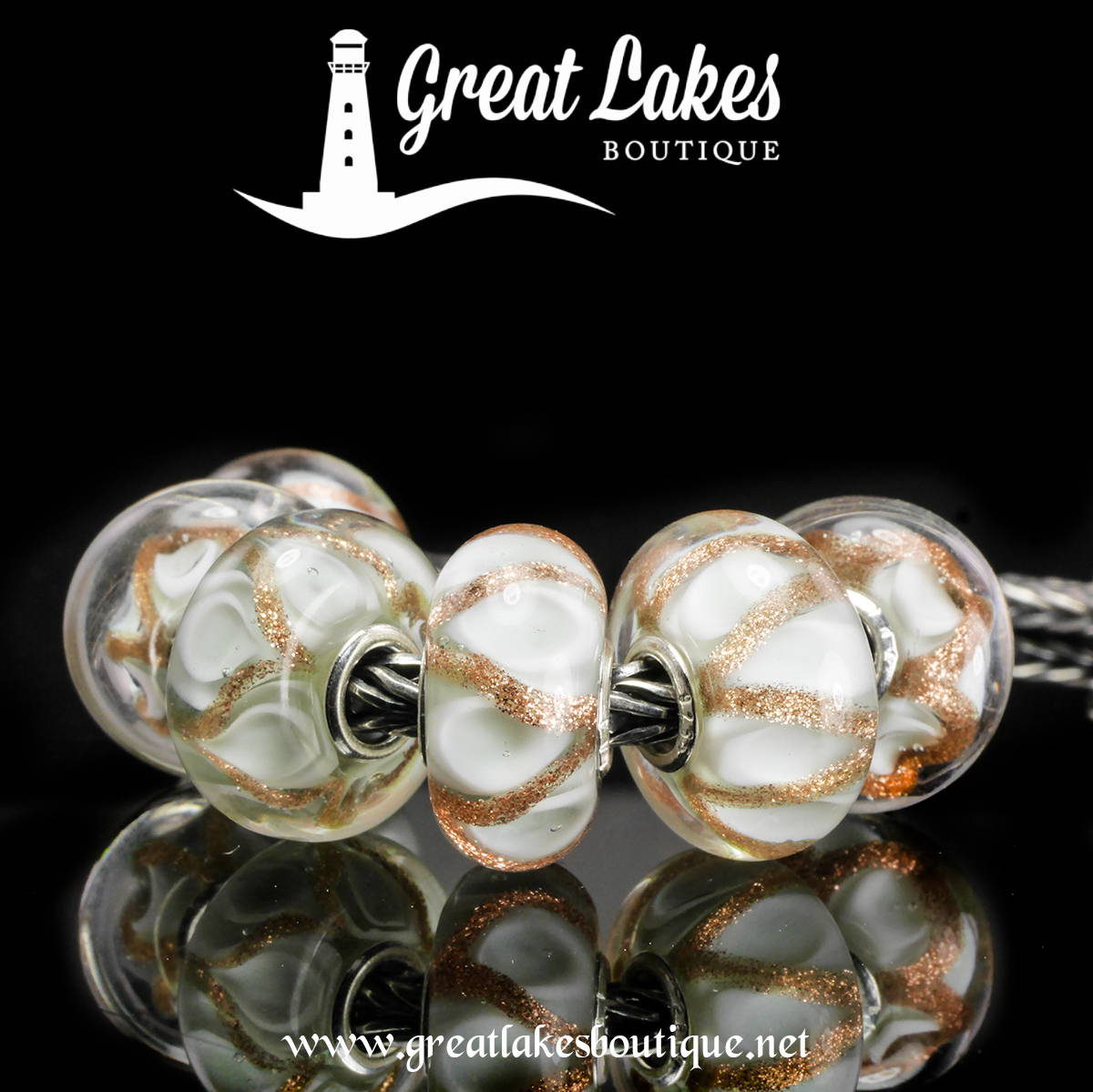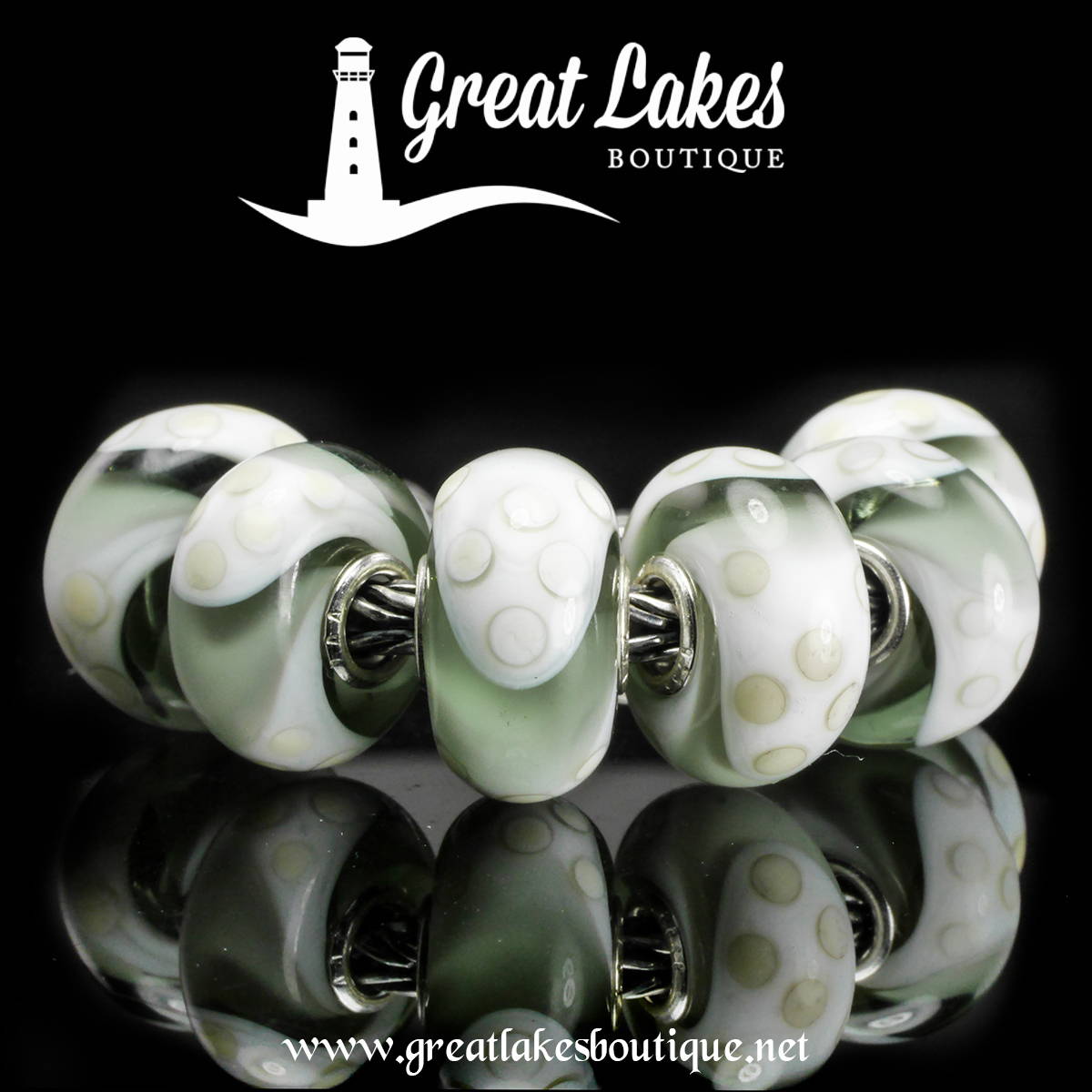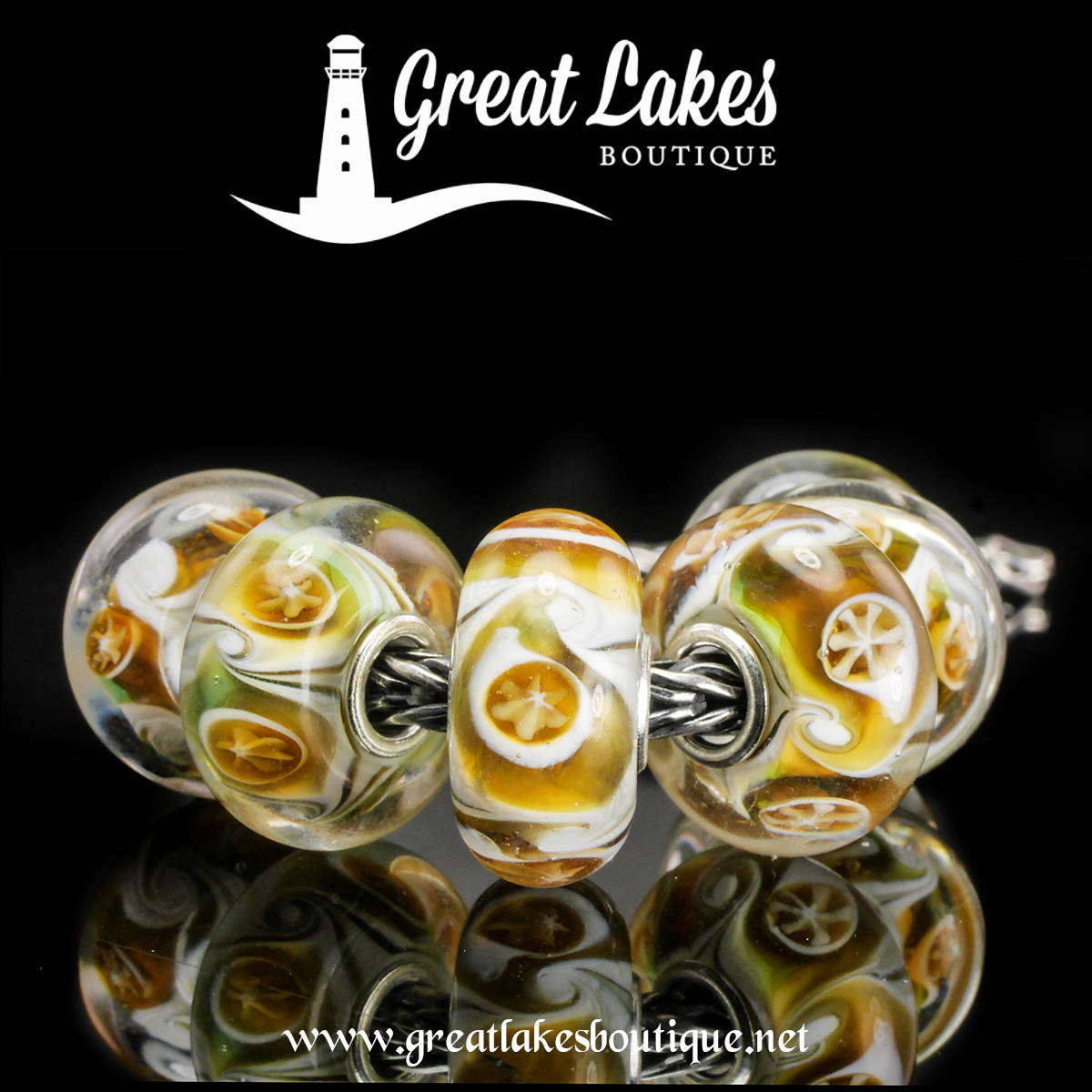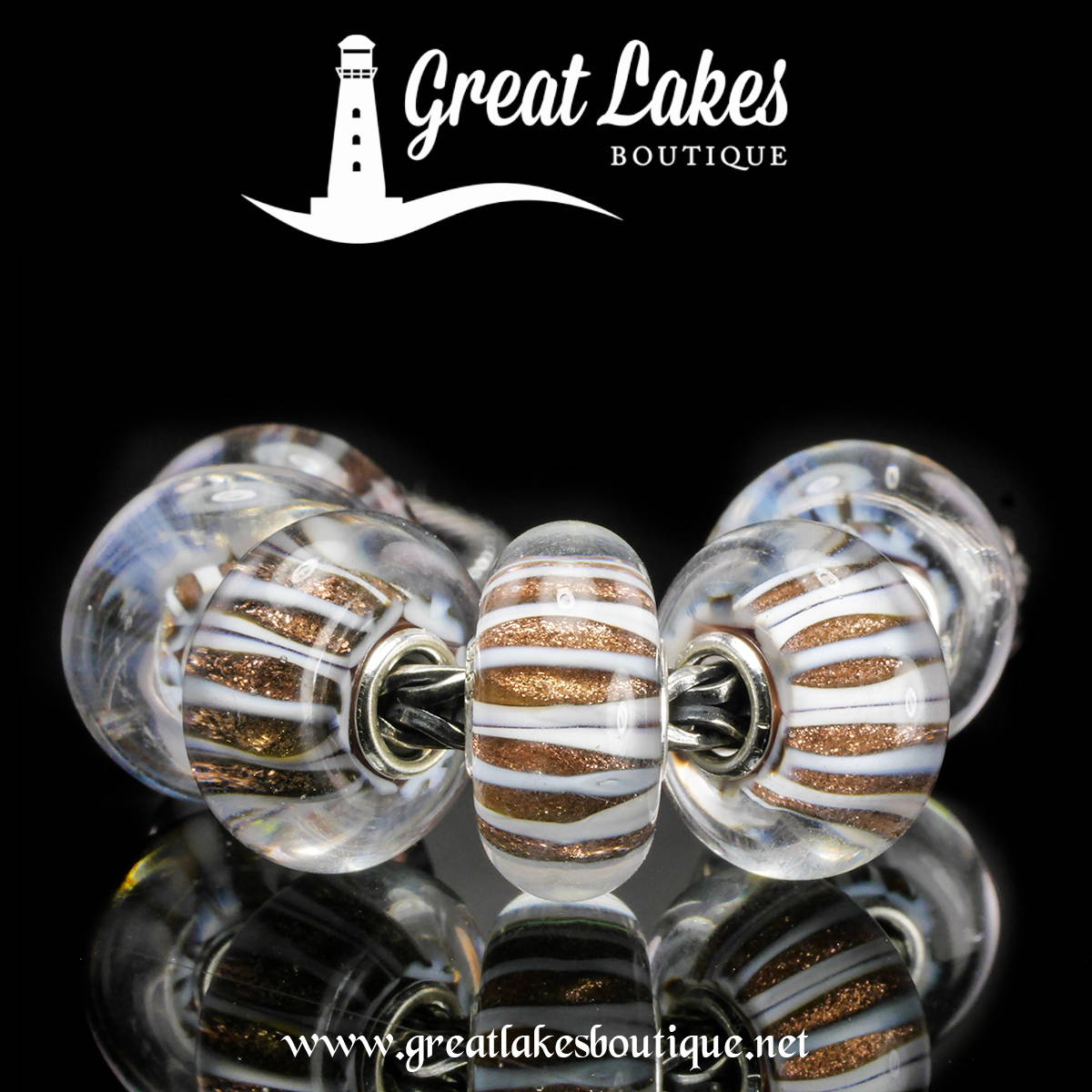 The third kit is the faceted Trollbeads New Wisdom Kit and this was so anticipated. There's abundant amounts of glitter, extremely precise faceted, ombre shades and sparkle. It's amazing and I haven't personally been quite so enthused about a kit since the Trollbeads Forest Life Kit, now sadly retired.
One question we received a lot was in regards to Perception and how it differs from Northern Lights Magic. That is actually easier to see in person. Perception has brown shades and is brighter in comparison with the People's Bead. Northern Lights Magic also has a purple overlay which makes it an altogether darker and more moody design. They're similar but for sure but no, they aren't the same.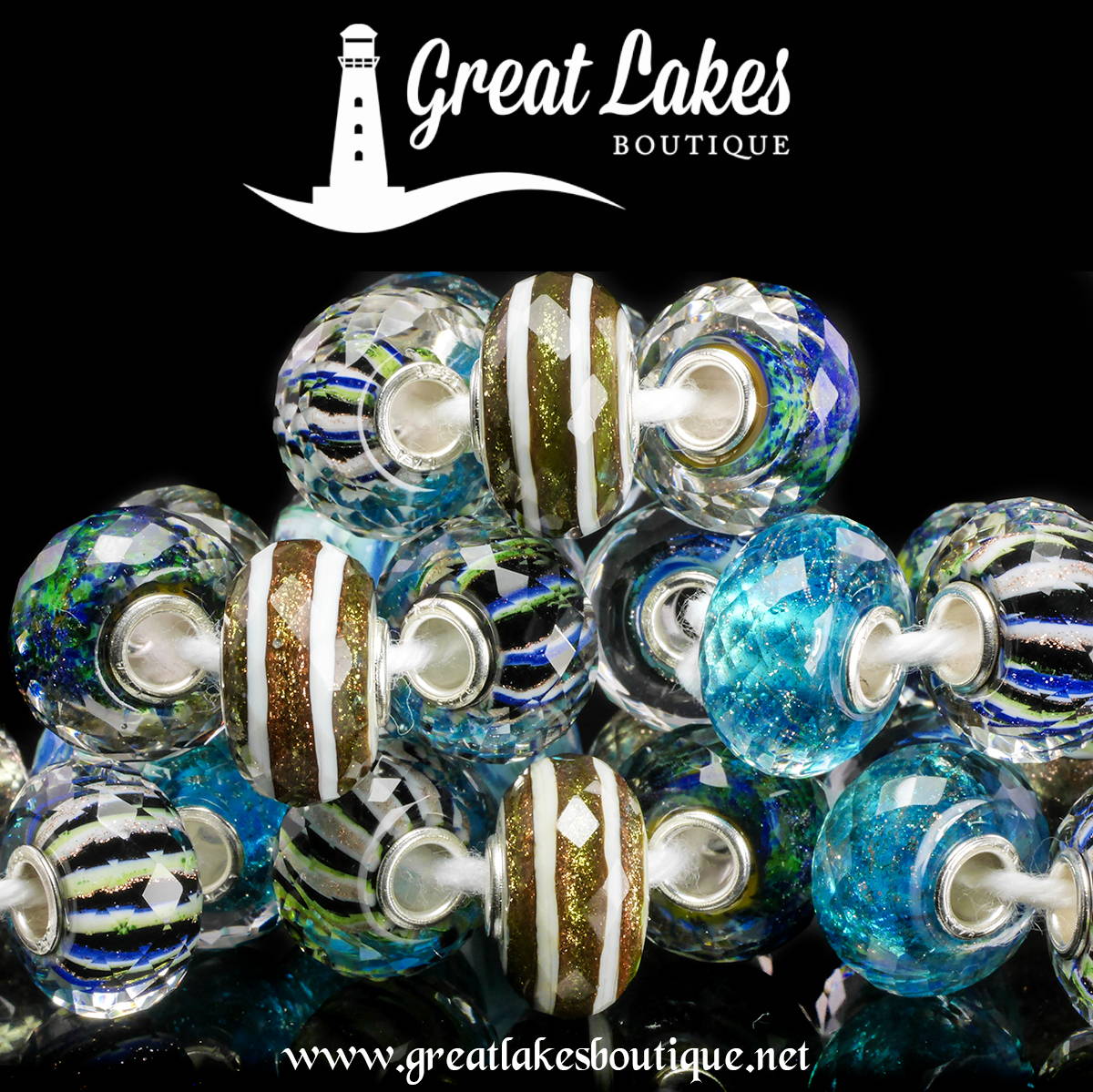 This kit has proven the best seller with customers and it's actually easy to see why. It's the flashiest part of the collection. There's so much sparkle and color and glitter that it's absolutely dazzling. If you enjoyed the aforementioned Forest Life Kit, I'm quite certain you'll love this set too.
Choice proved to be a surprising design in that it's actually ombre colored. The striped around the bead fade from blue, to green, to cream. I've seen some people mention it looks similar to the previous global event beads, Sophistication and Illumination. Yes that's somewhat true but they are distinctive. It's also worth noting that the faceting is not the same. The facets on those event beads differ and are exclusive to the global event designs. Again this is something easier to see in person. Sophistication and Illumination feel very elegant and aptly quite celebratory in this vibe. Choice feels playful, brighter and definitely suits the season.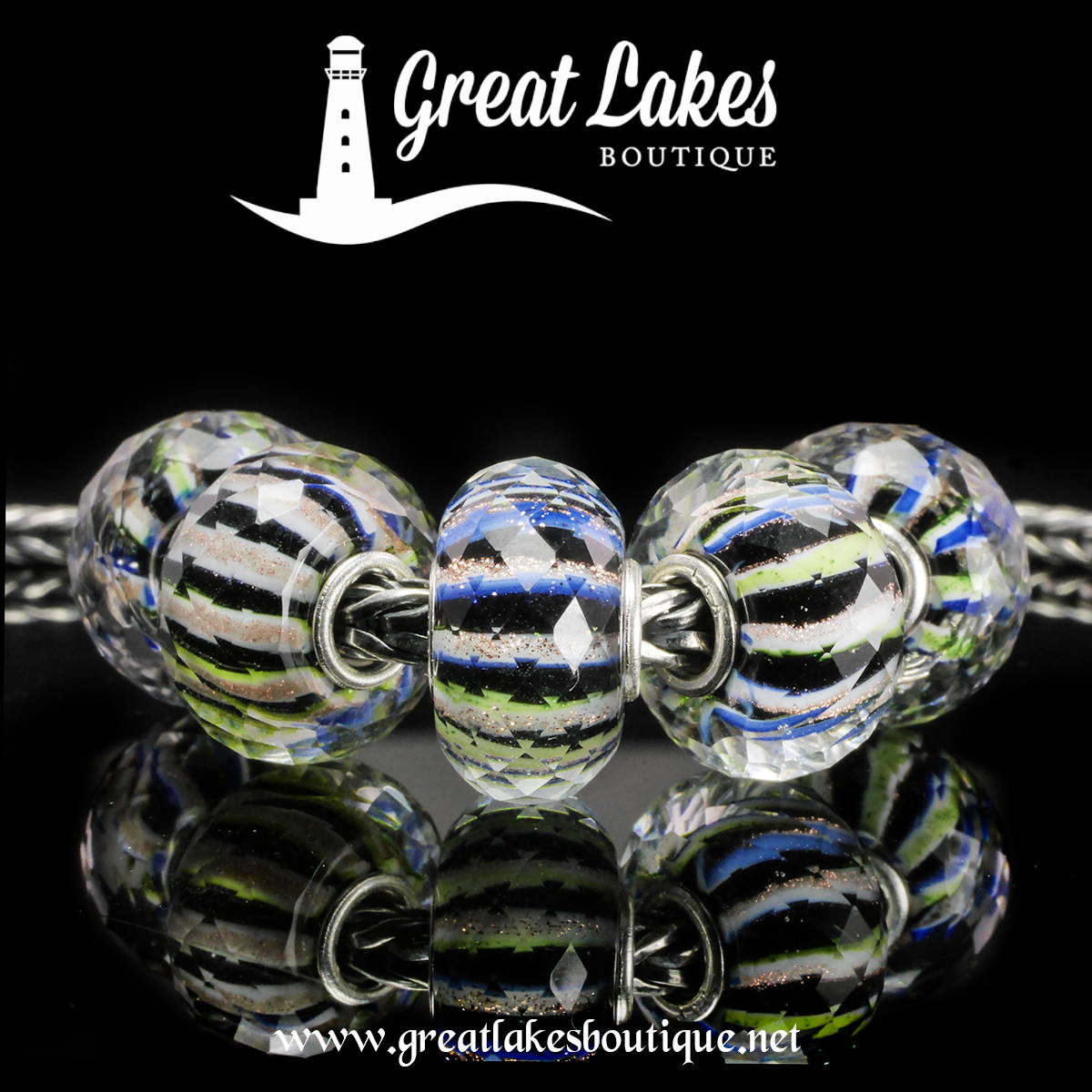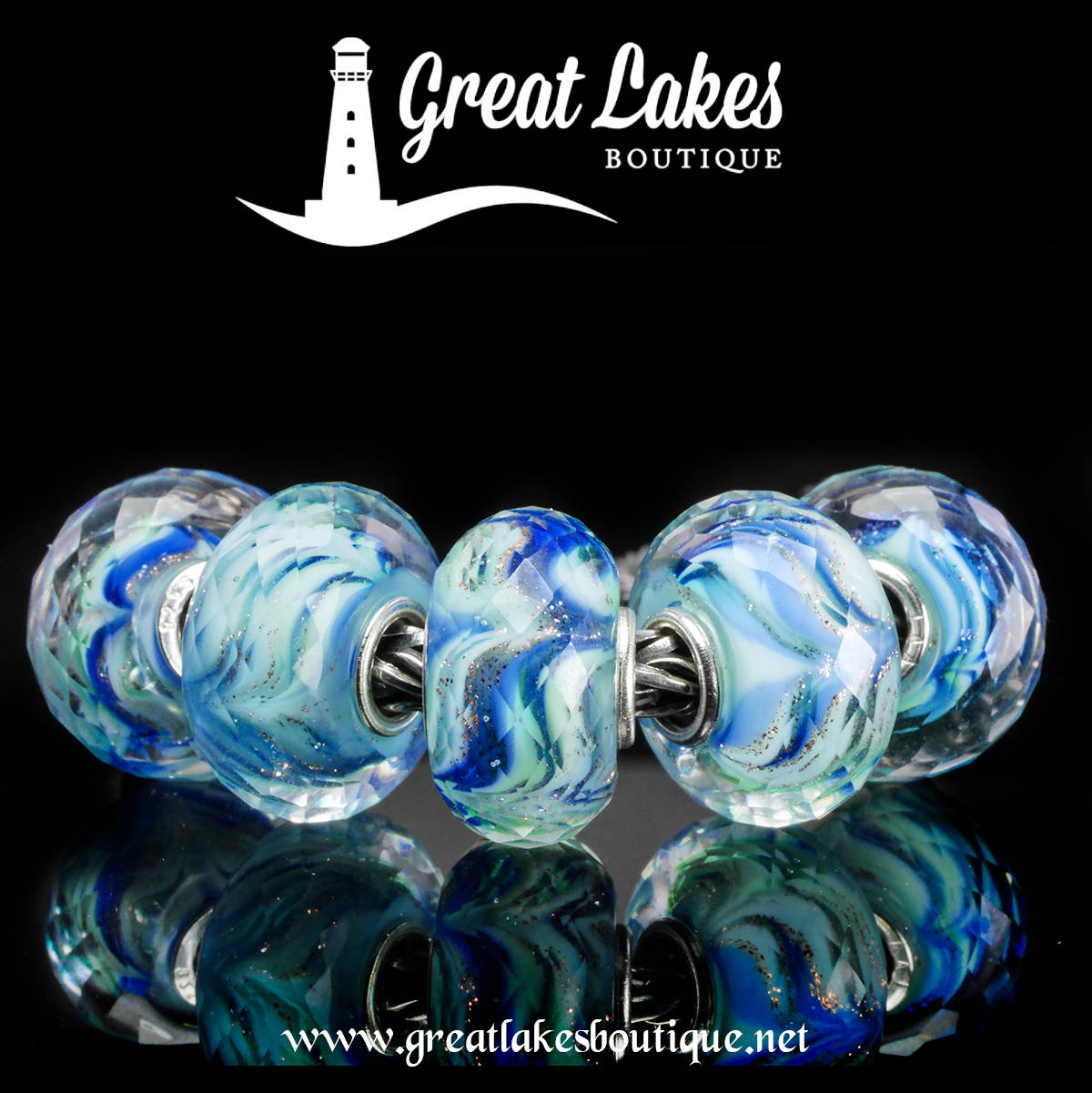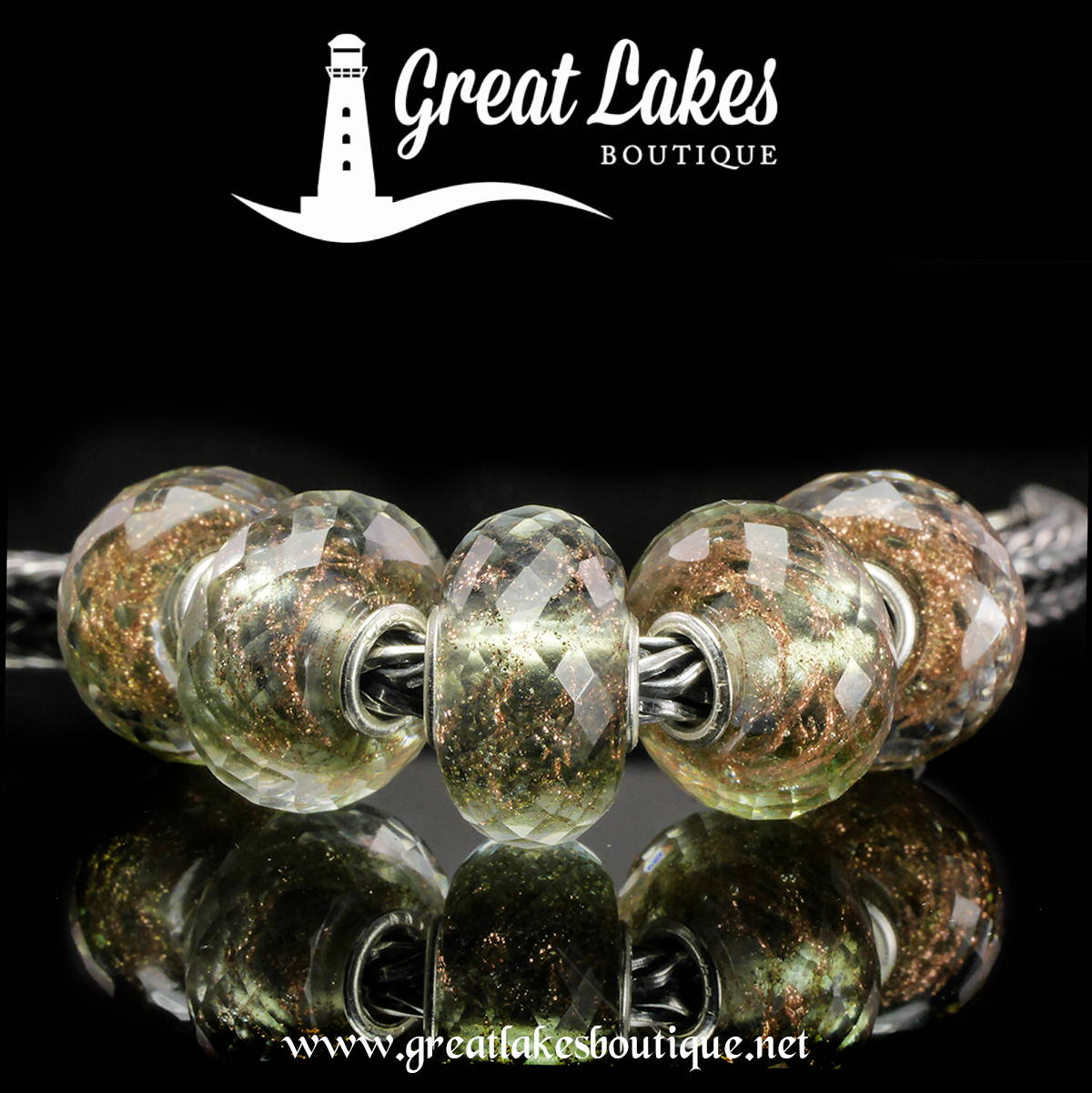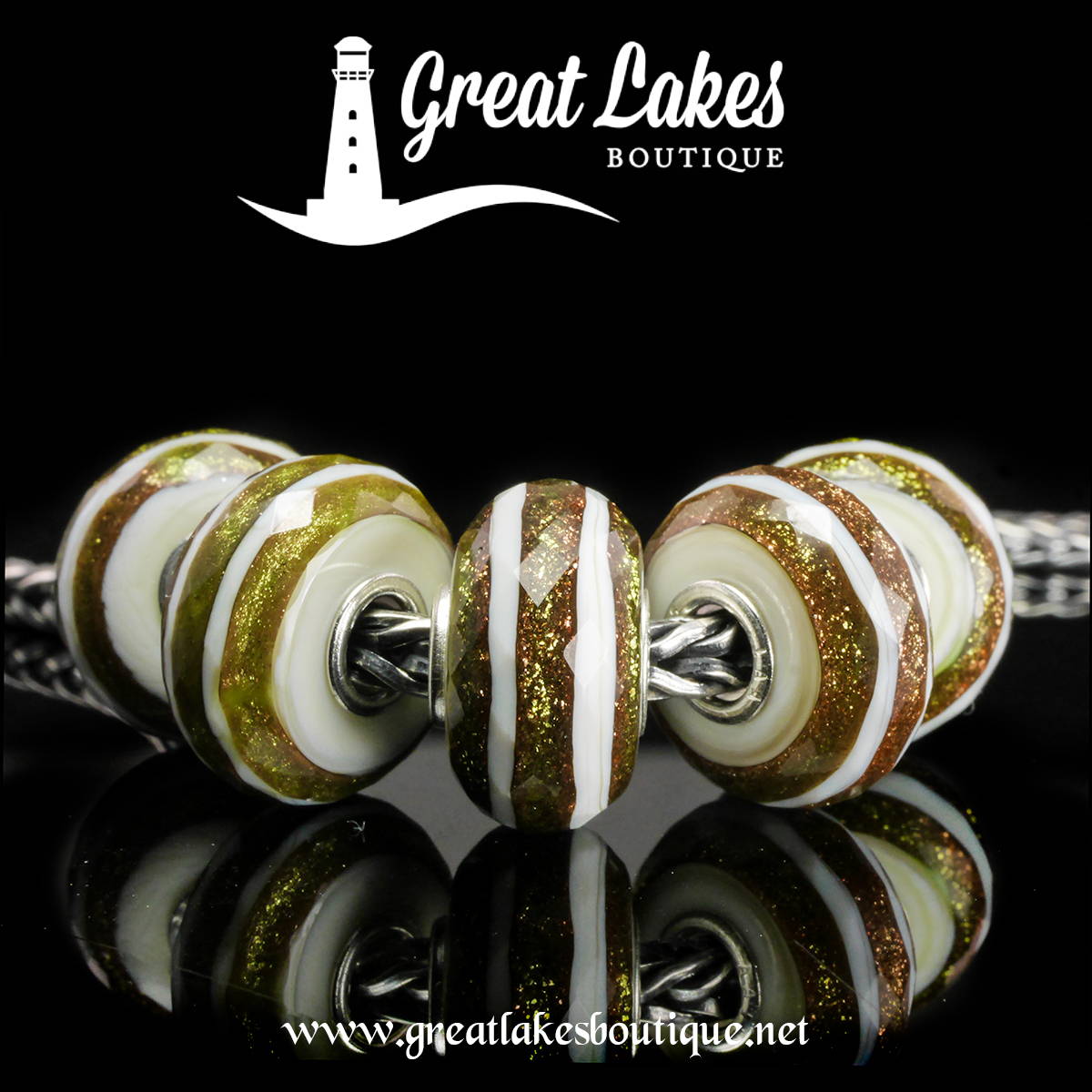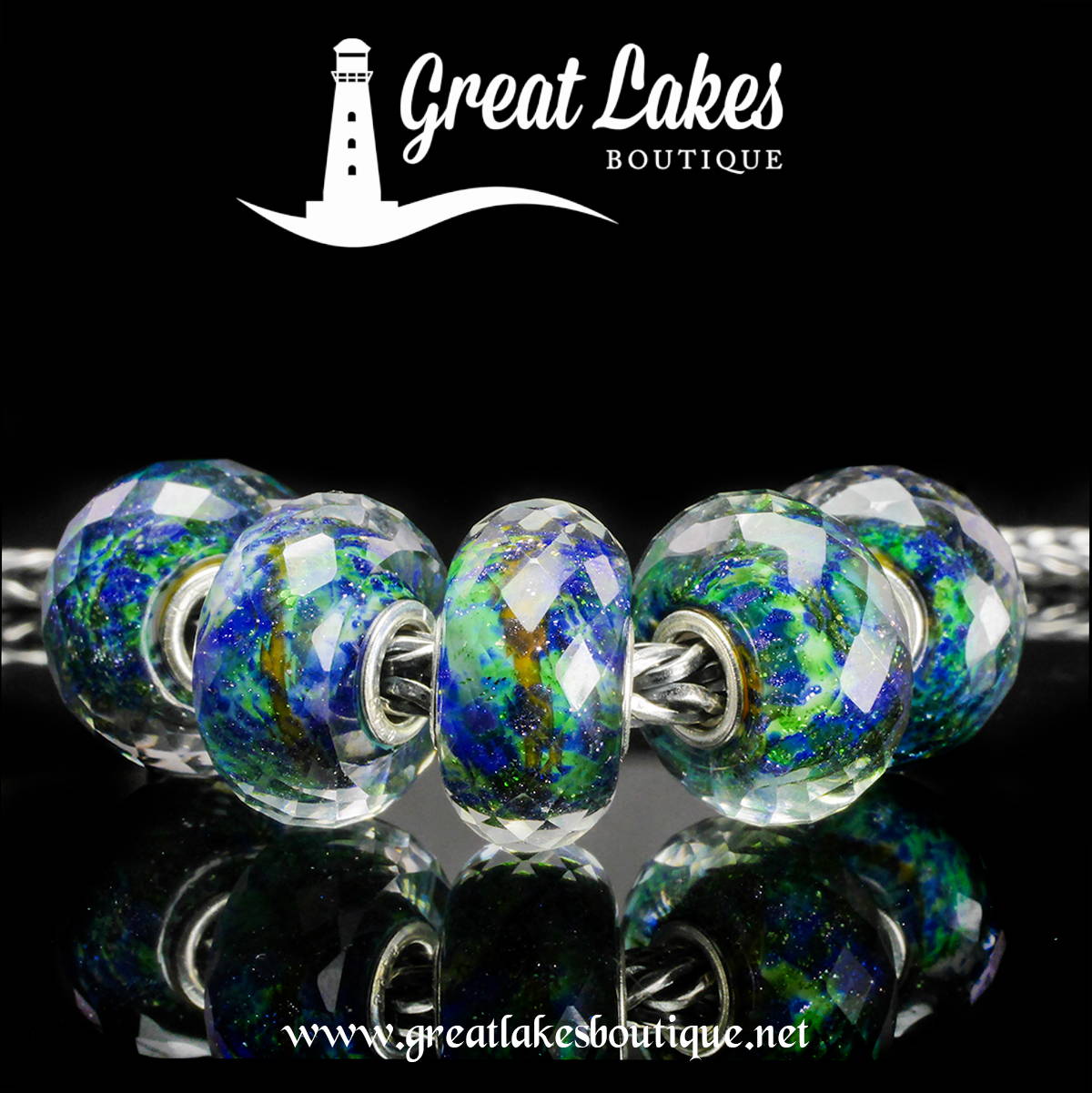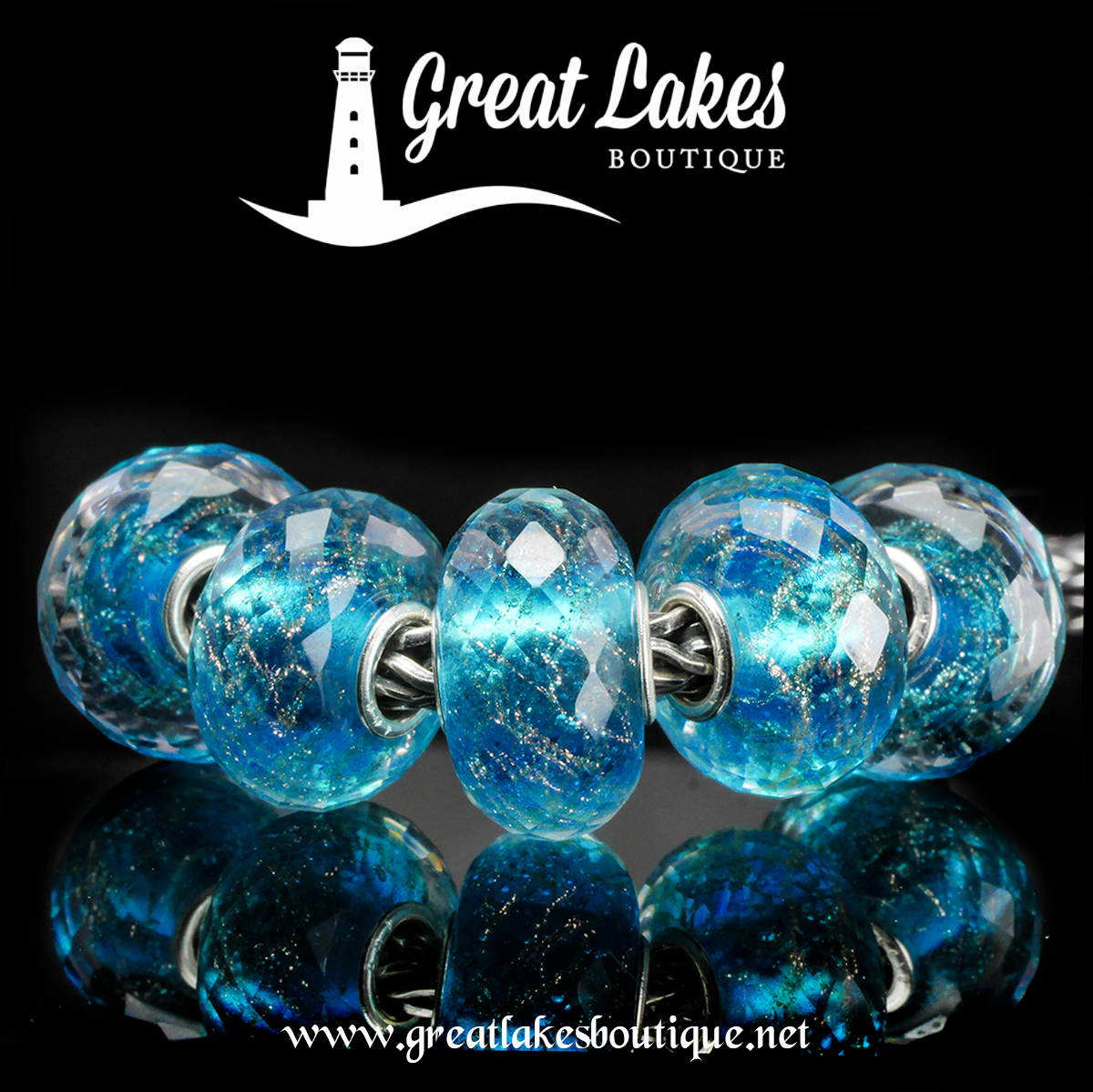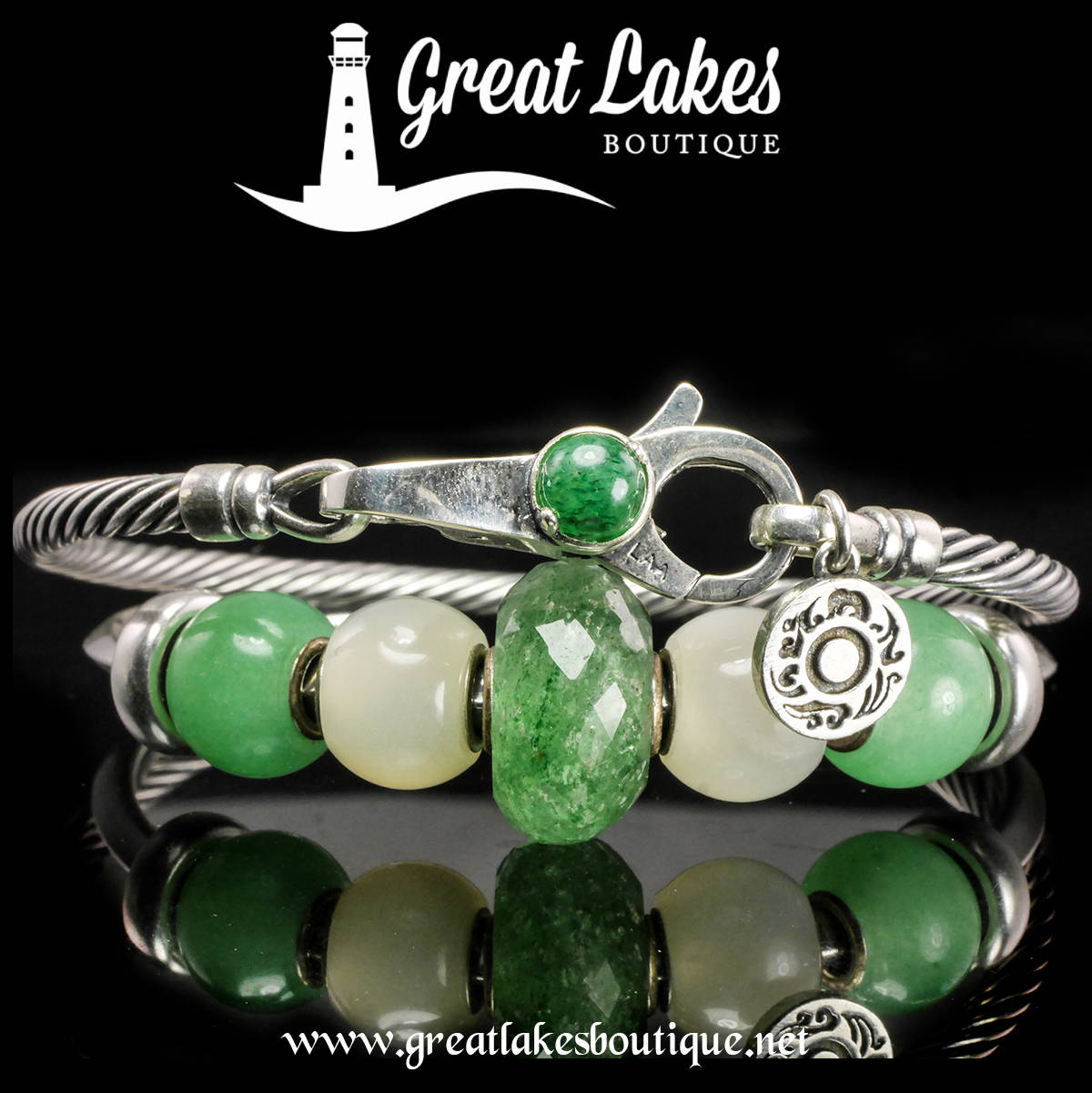 The Trollbeads White & Green Lock has proven incredibly popular too. This is actually a very simple clasp in Trollbeads terms but that's part of it's appeal. The more minimalistic design also makes it a user friendly lock. There's no detailing that can interfere with the mechanism itself.
We've styled it here on The Palace of Amber Twisted Alternate Bangle because it is a lock worth showing off. If you want your clasps to act as a focal feature, this bangle is worth considering.
Overall the clasp feel fresh and clean for the spring season.
I have to confess I was never a huge fan of the original and now retired Trollbeads Wisdom. The design felt dated to me and ironically for many that was part of it's charm. It was a real piece of Trollbeads history (and I do appreciate that but it just didn't work for *me*.) New Wisdom on the other hand, I'm enjoying. It's a large, focal piece but it feels baroque in it's styling which lends itself incredibly well to the gemstones used to accent it.
The small round gemstones tuck nicely into the sides of this bead so it works well as a focal framed by those.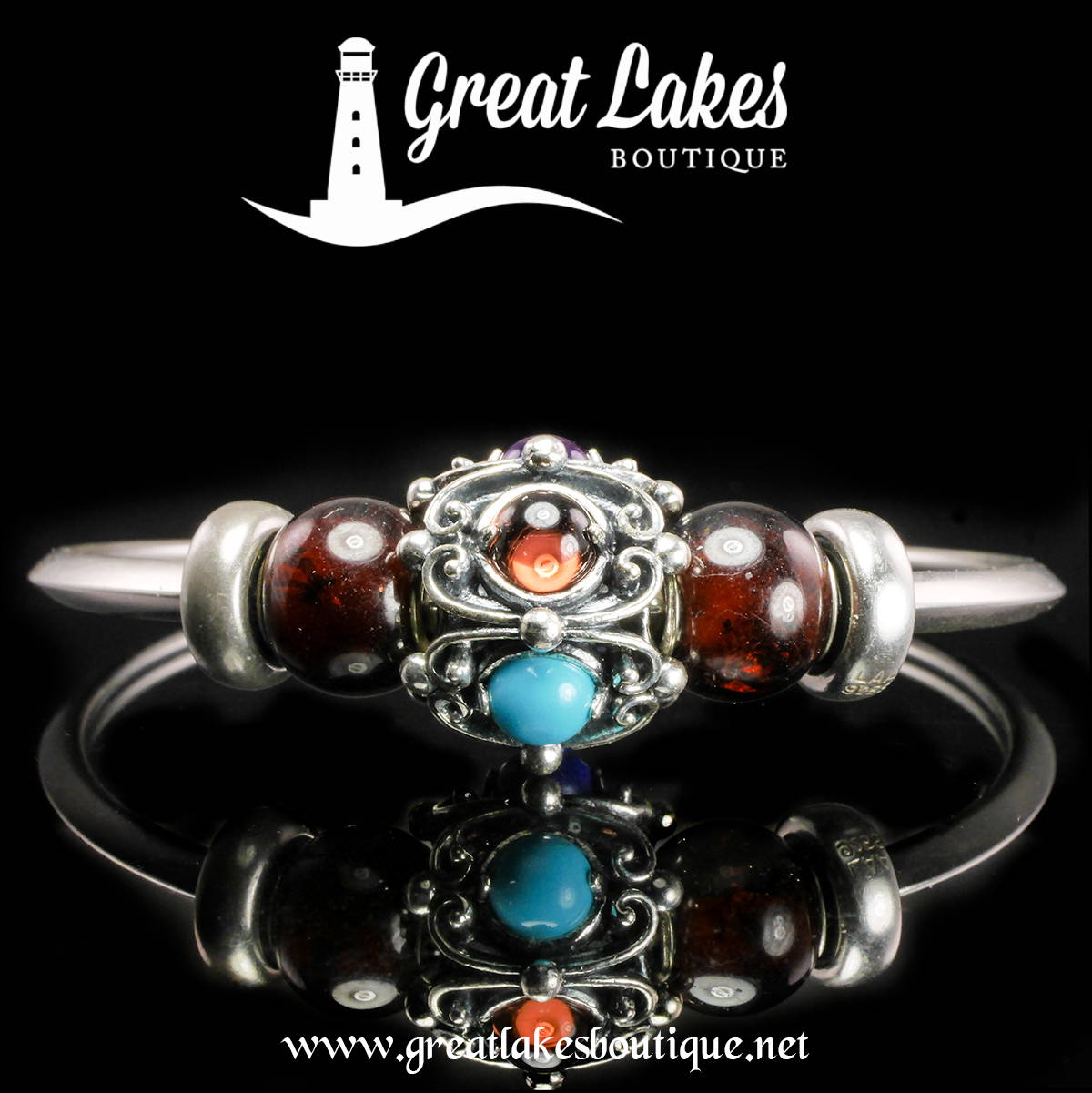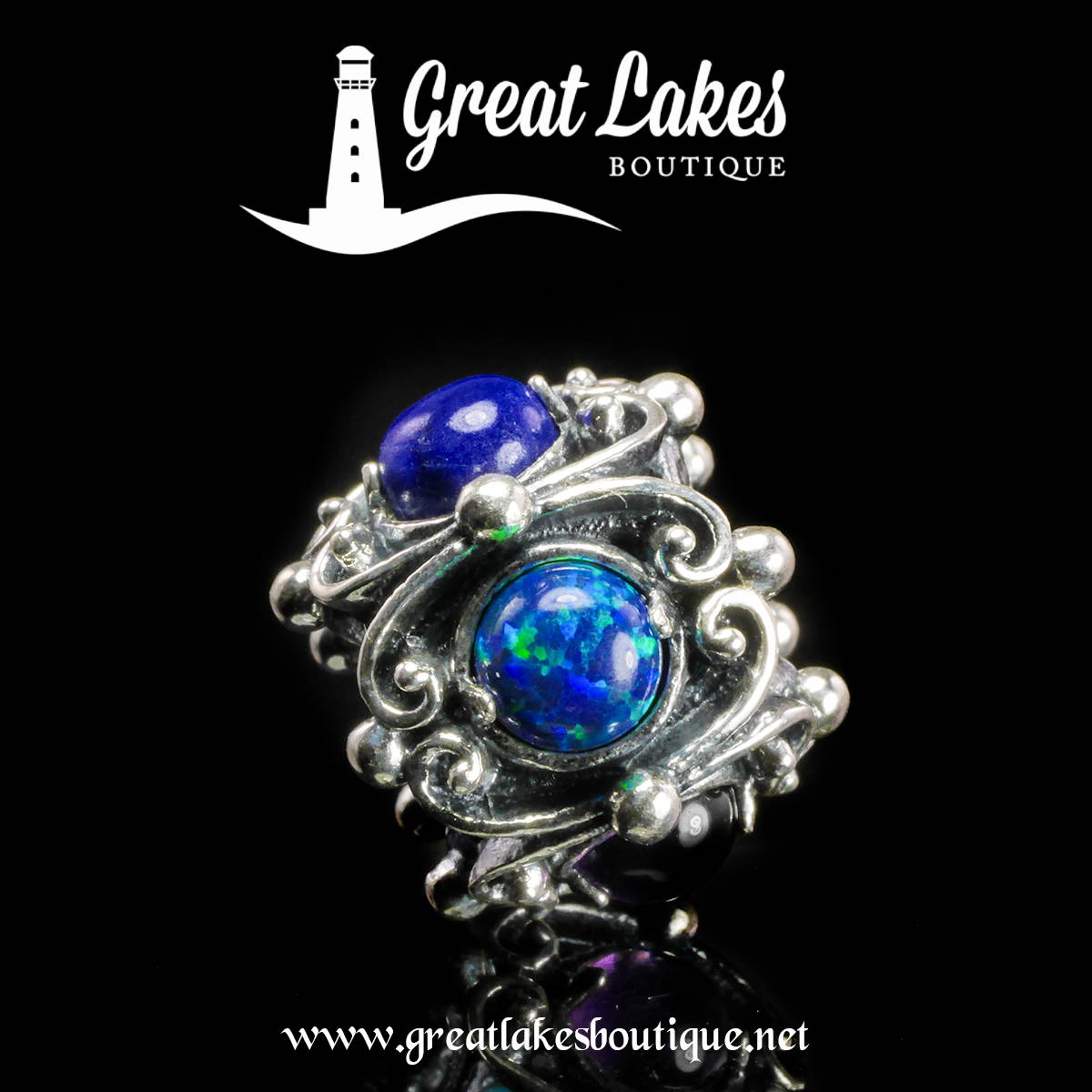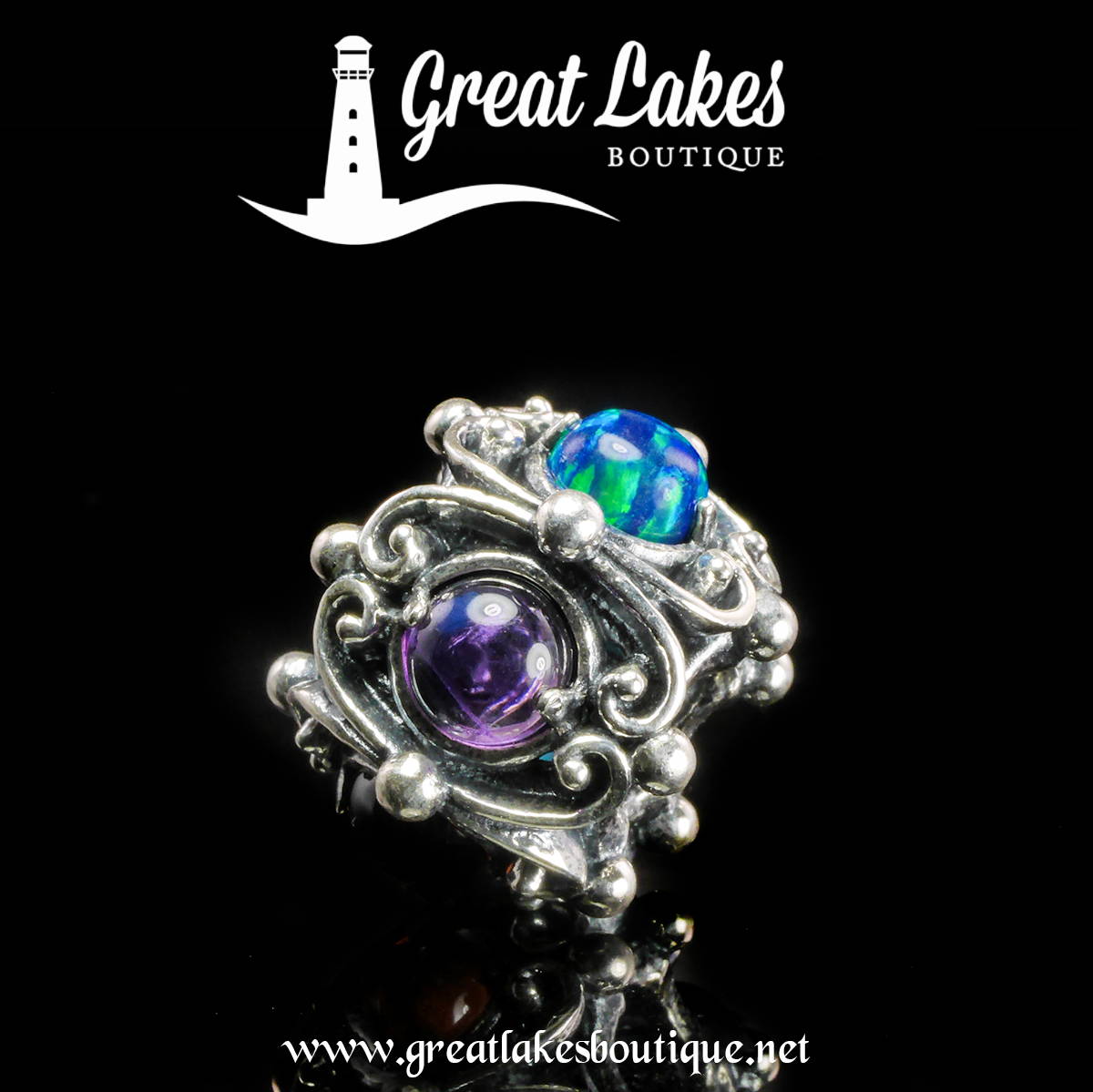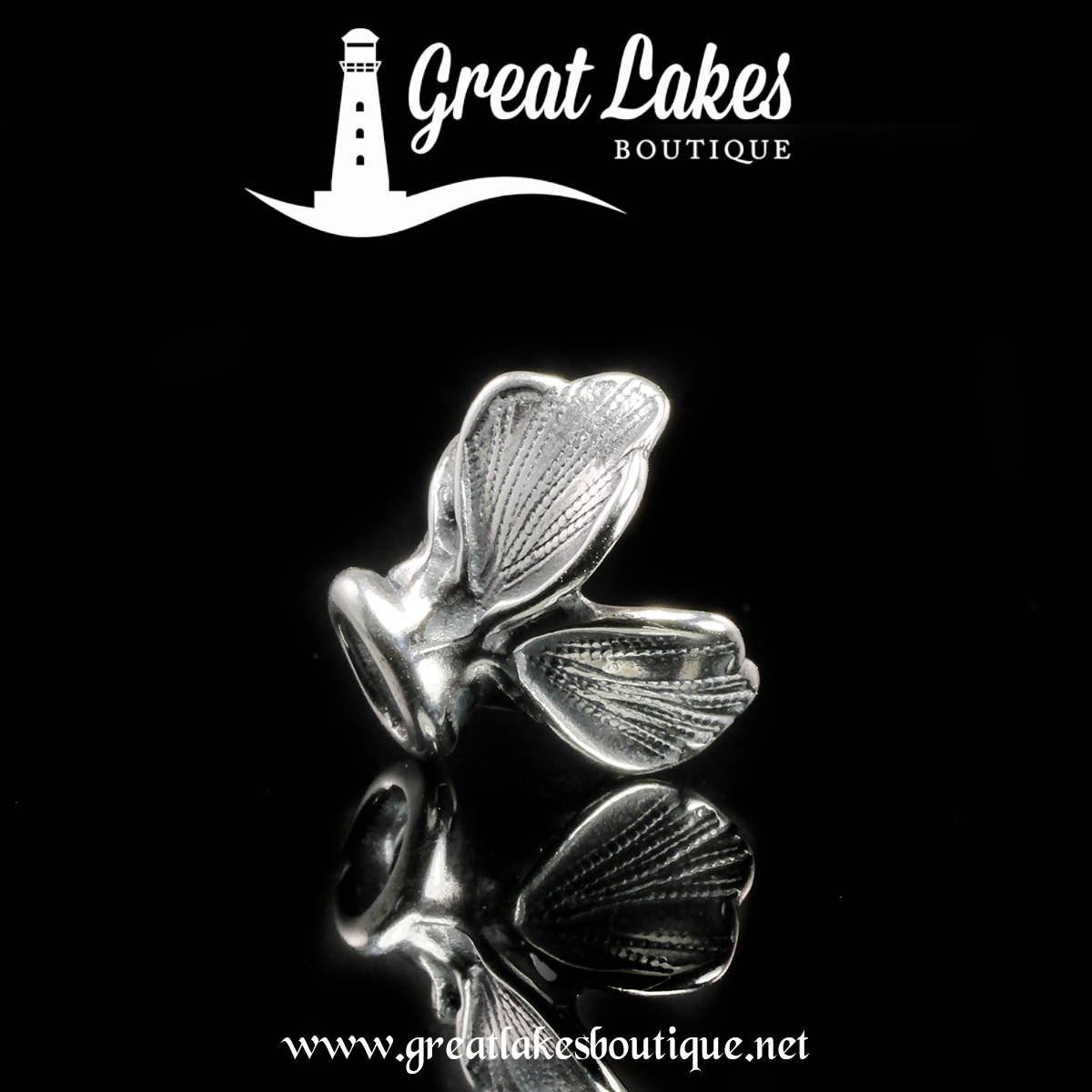 The Trollbeads Clarity Flower is an absolute favorite here at GLB and perhaps somewhat unexpectedly. There are a lot of flowers in the Trollbeads collection and in bead world in general but as is so often the case, it's all about the execution.
The petals of this bead will partly encase a smaller, neighboring bead. The small round gemstones work well, so will pearls. You can even hide a spacer inside.
The end result is so beautiful and some of our earliest combinations have been featuring this silver bead.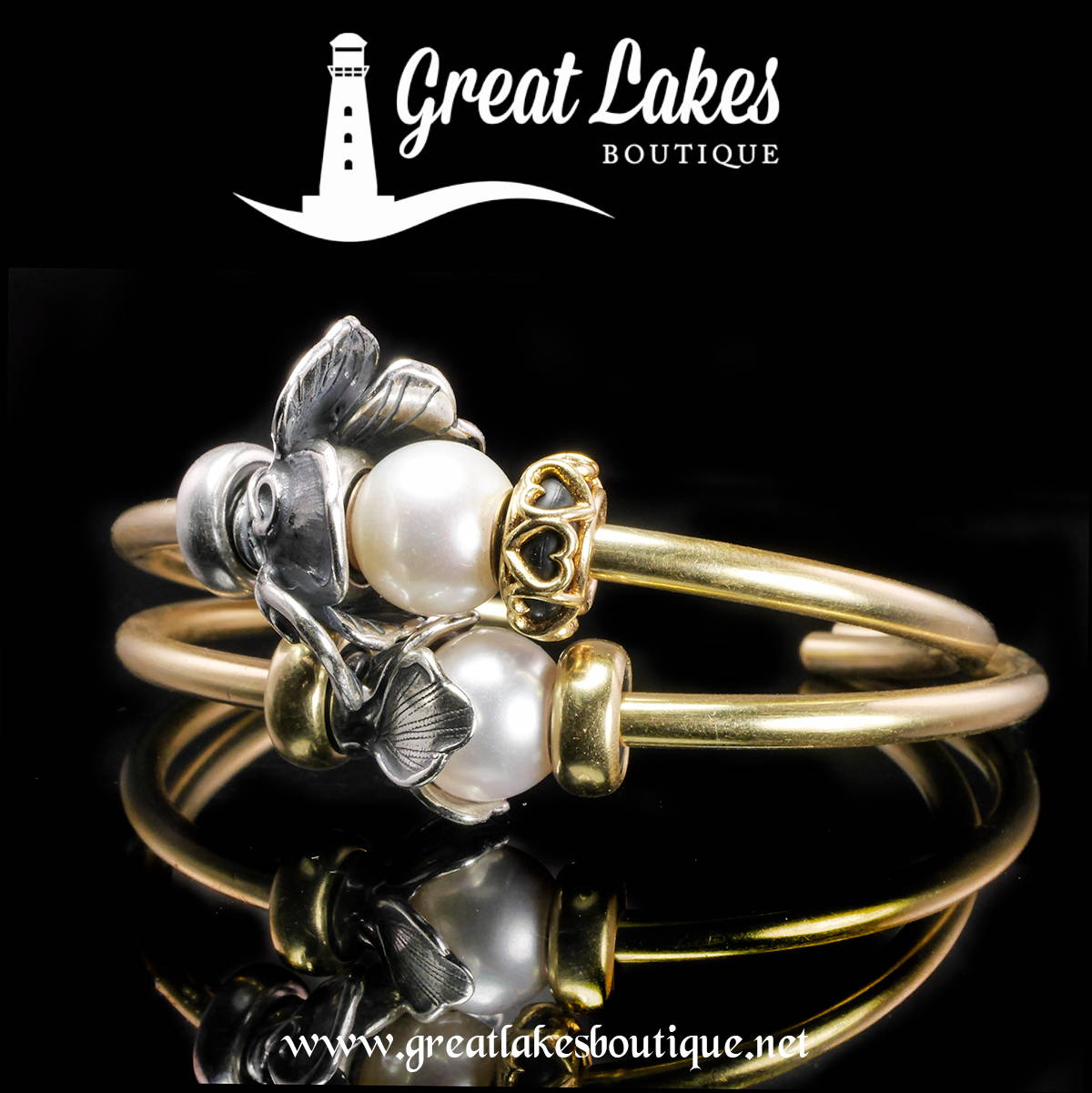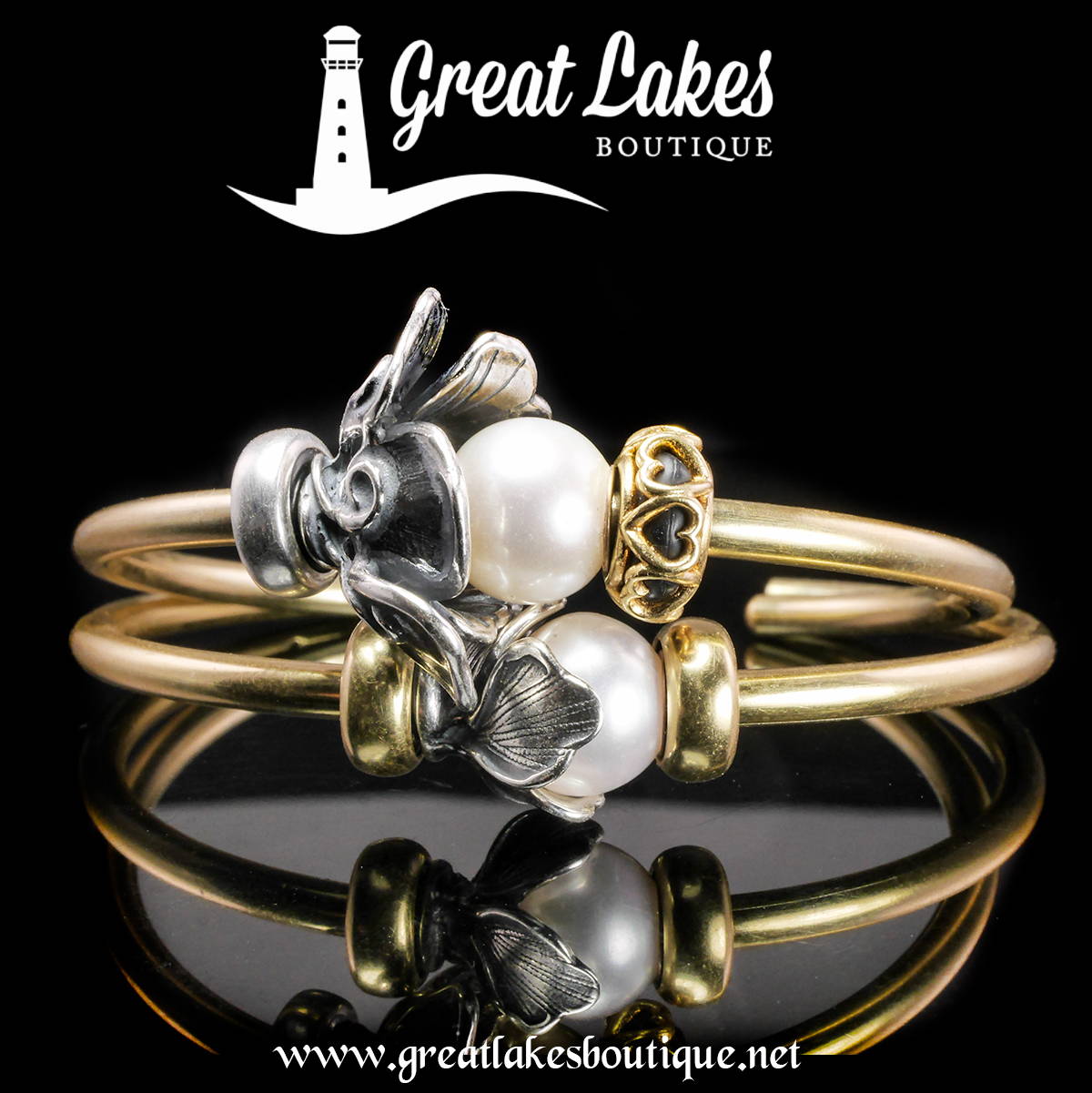 The Trollbeads Clarity Flower Pendant is also featured above and although described as a pendant, this is a piece you can wear on your wrist too. It's not too bulky or large and it's very sculptural, making a beautiful focal piece.
That said it looks beautiful on a fantasy necklace, much like the Giant Lotus Pendant it will slightly encase or umbrella another bead or pendant which is a lovely effect on fantasy necklaces.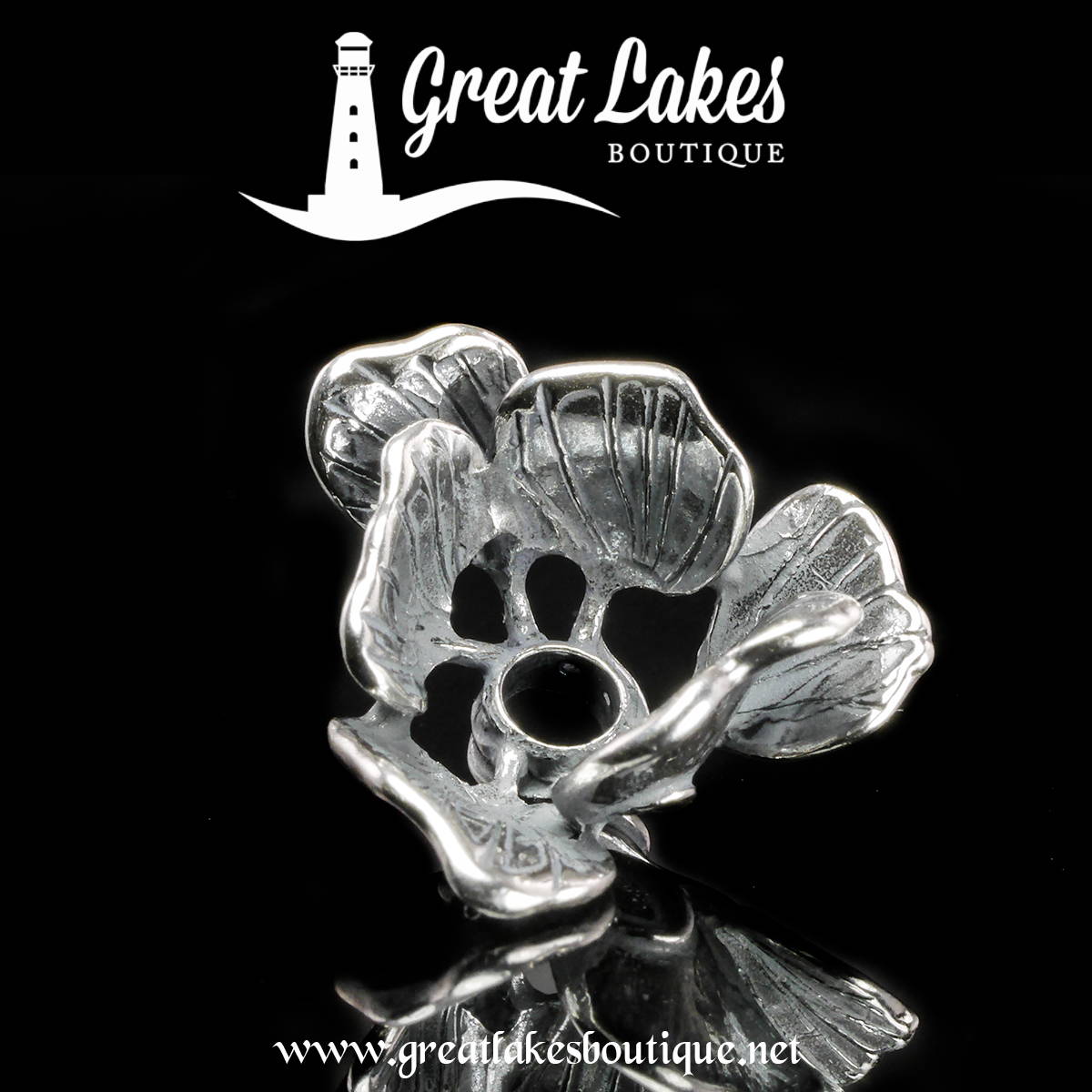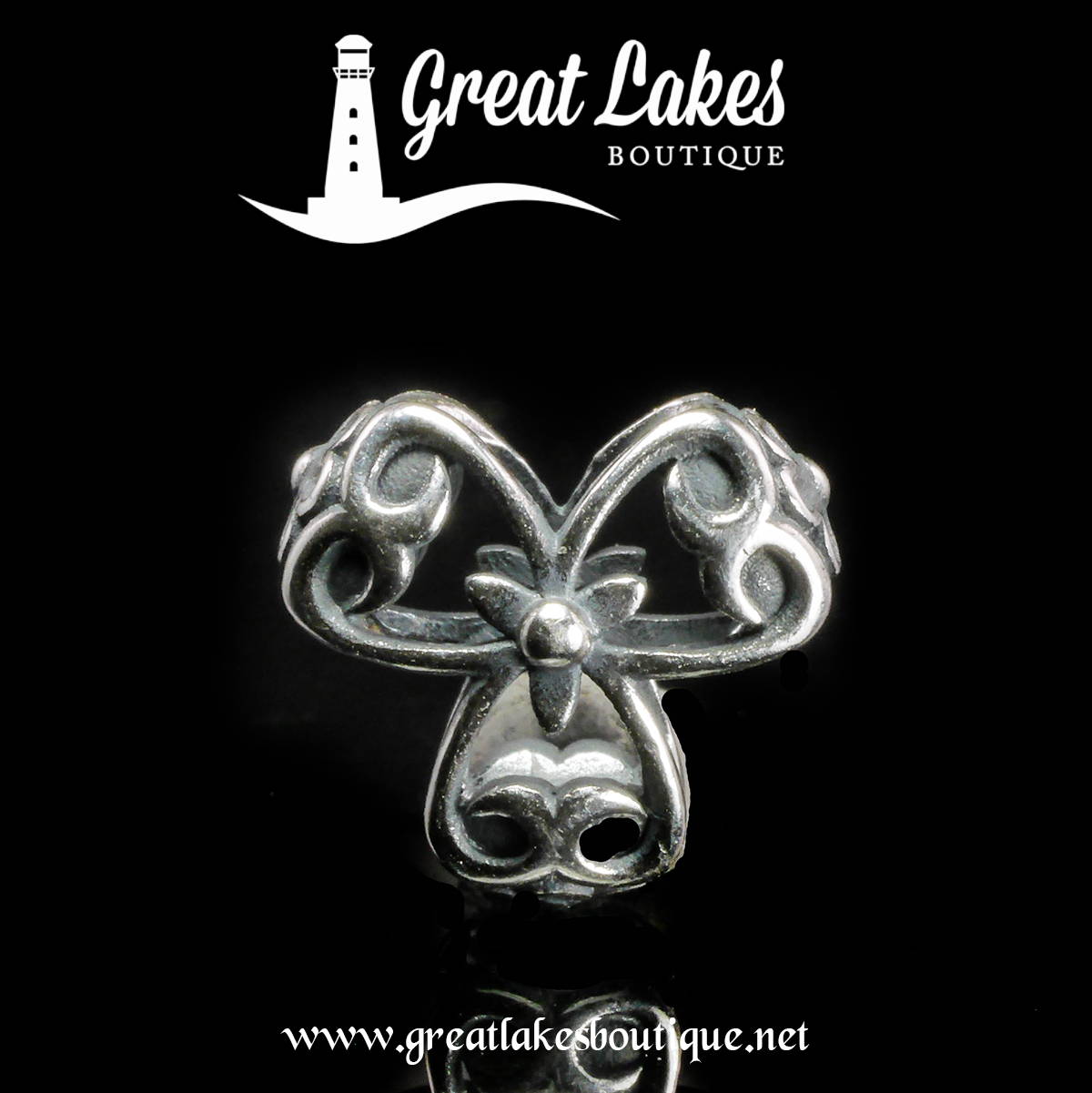 The Trollbeads Folklore Wisdom is actually a splitter allowing you to create some amazing fantasy necklace designs but it will of course work on the wrist too. Notice the small floral details on the edges of each petal. If you like Celtic inspired designs, this should appeal enormously to you.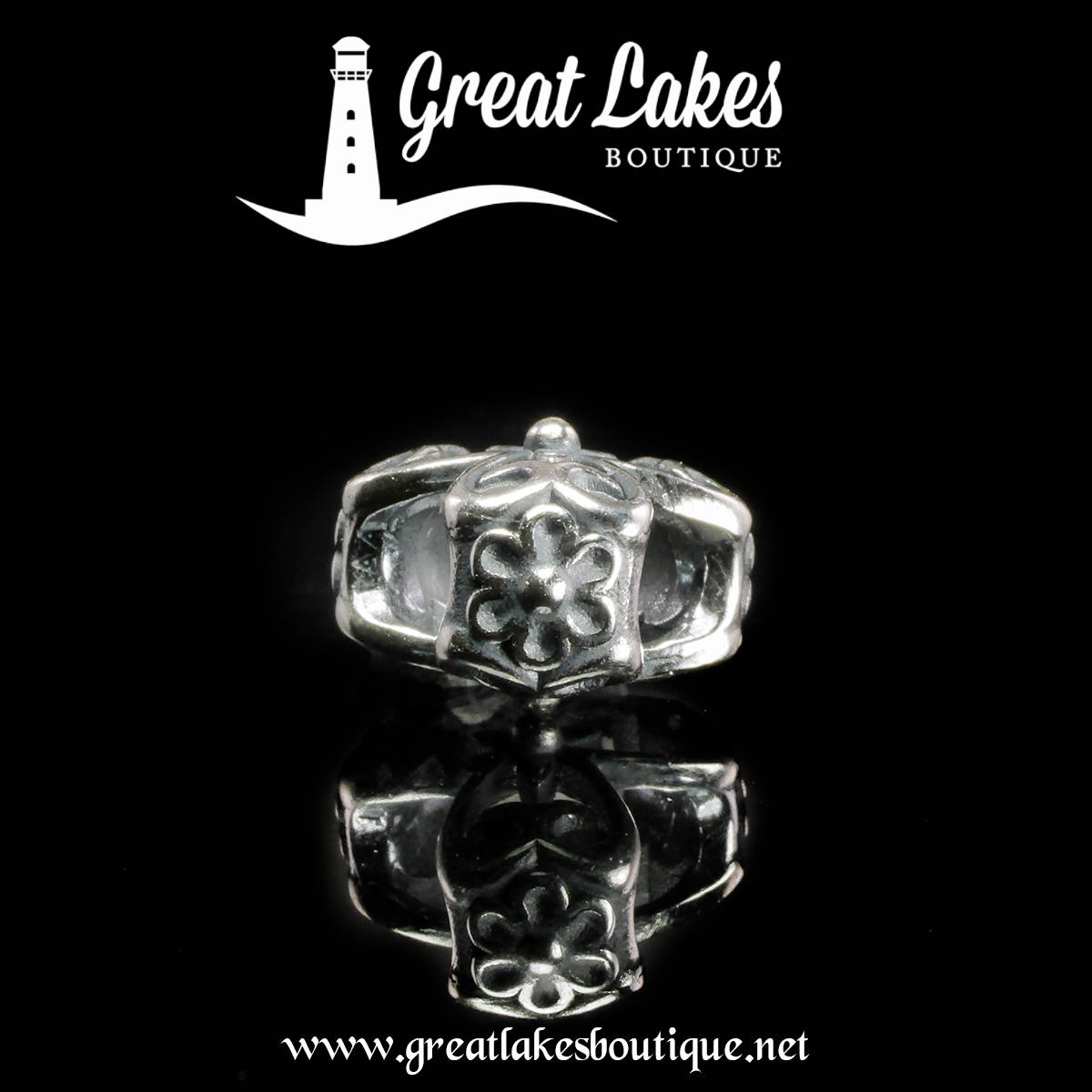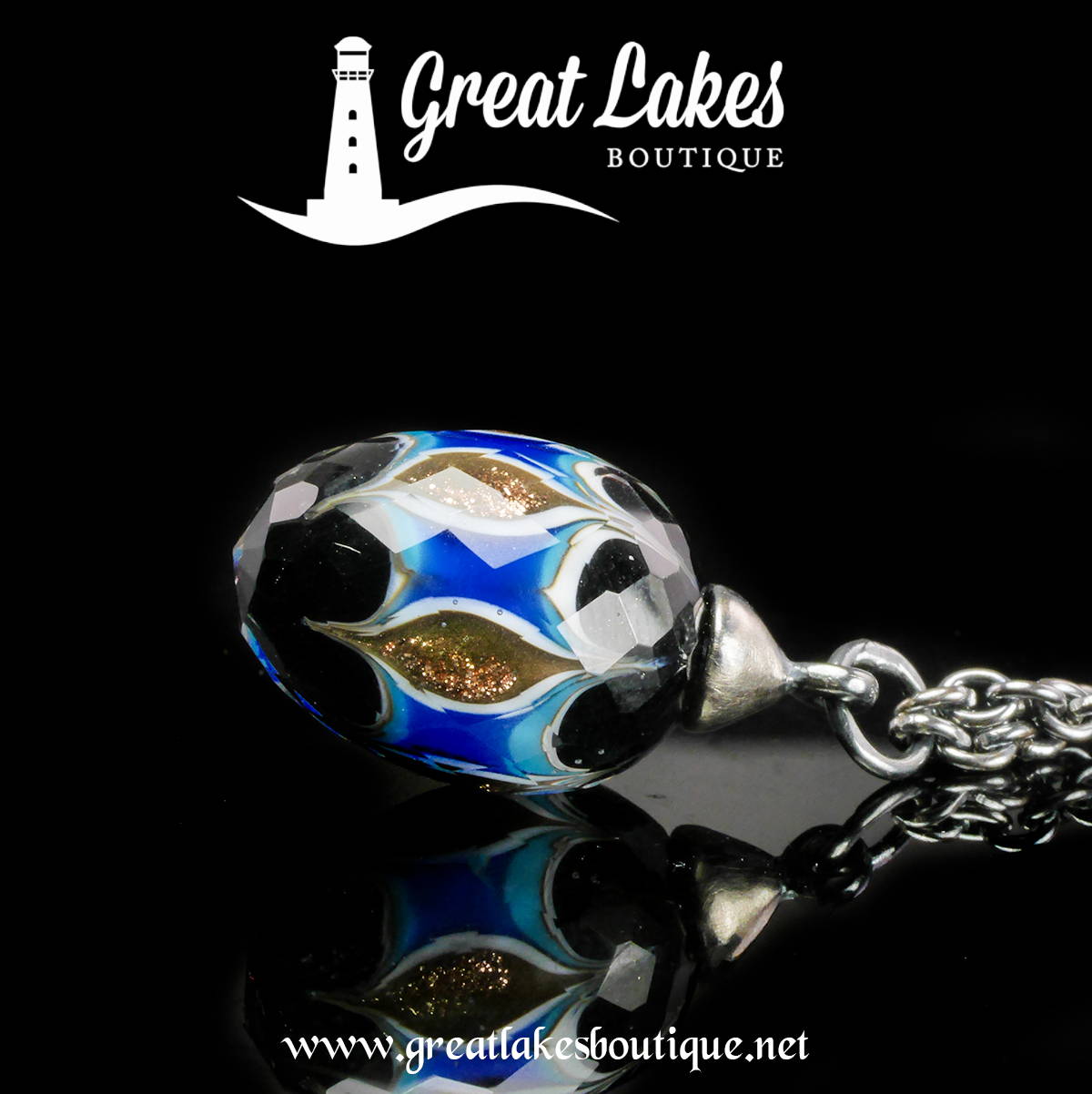 The Trollbeads Wisdom Fantasy Necklace is a limited edition piece so do keep that in mind as some recent limited editions have sold out very quickly. I'm bias here because I adore fantasy necklaces.
One thing we would like to point out. In all of the necklaces we have seen, none have had any of the brighter green coloring seen in the stock image. They're more the green used in the Trollbeads Sense; a mossy shade. The glitter accents are very much present and the necklace is still beautiful but if you were hoping for green, you might find that a long search.
The Trollbeads Mazy Spacers are extremely difficult to describe. They're very abstract. From some angles I've seen what almost look like crowns. From others they remind me of whirlpools or stormy weather. These are dramatic pieces and they look different from every angle. If you like conformity in your combinations, you might struggle with these. If you want something unusual and incredibly eye catching, do try them.
They do sit snugly on bangles and we've found no issue with them wiggling around when worn.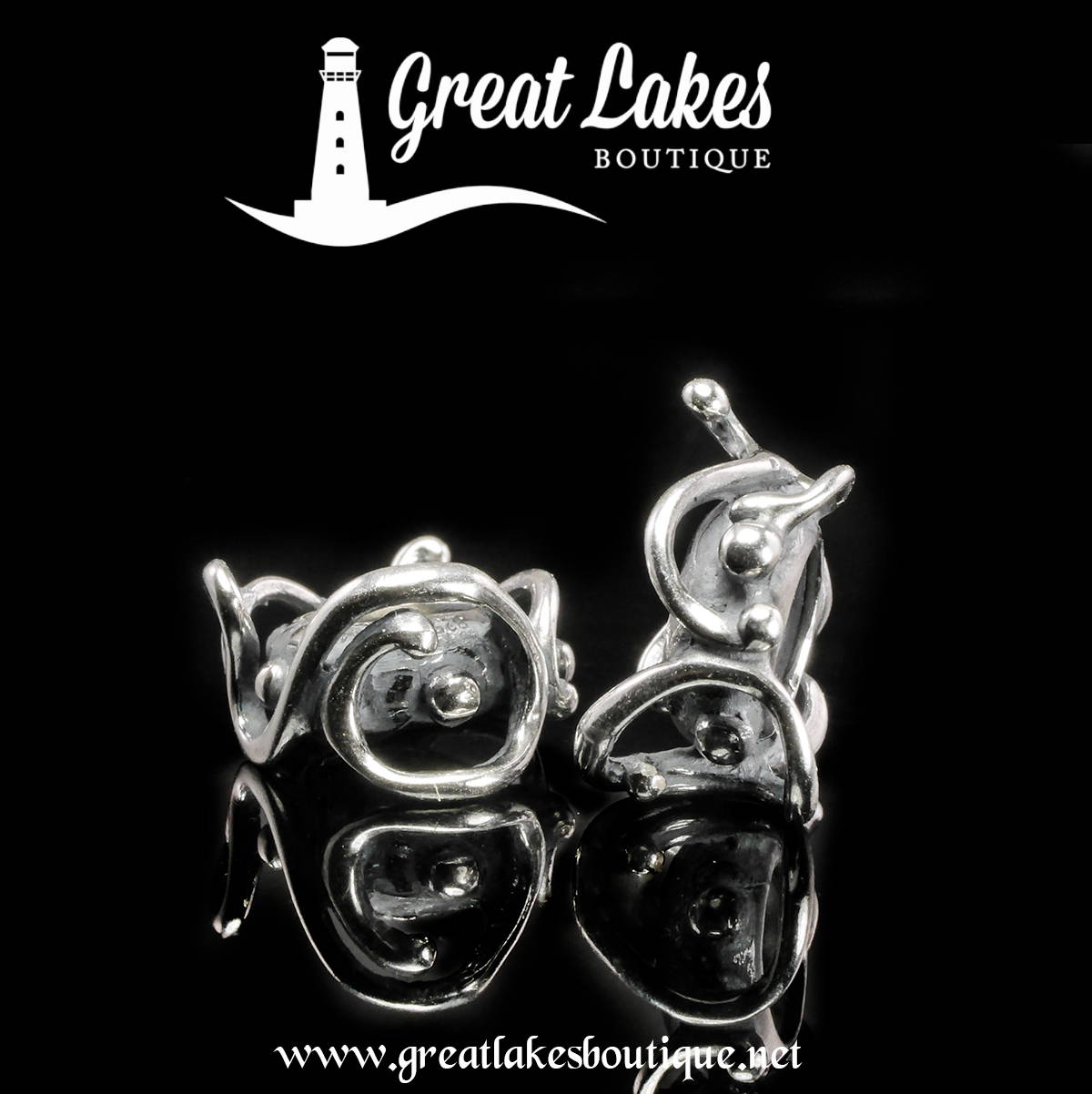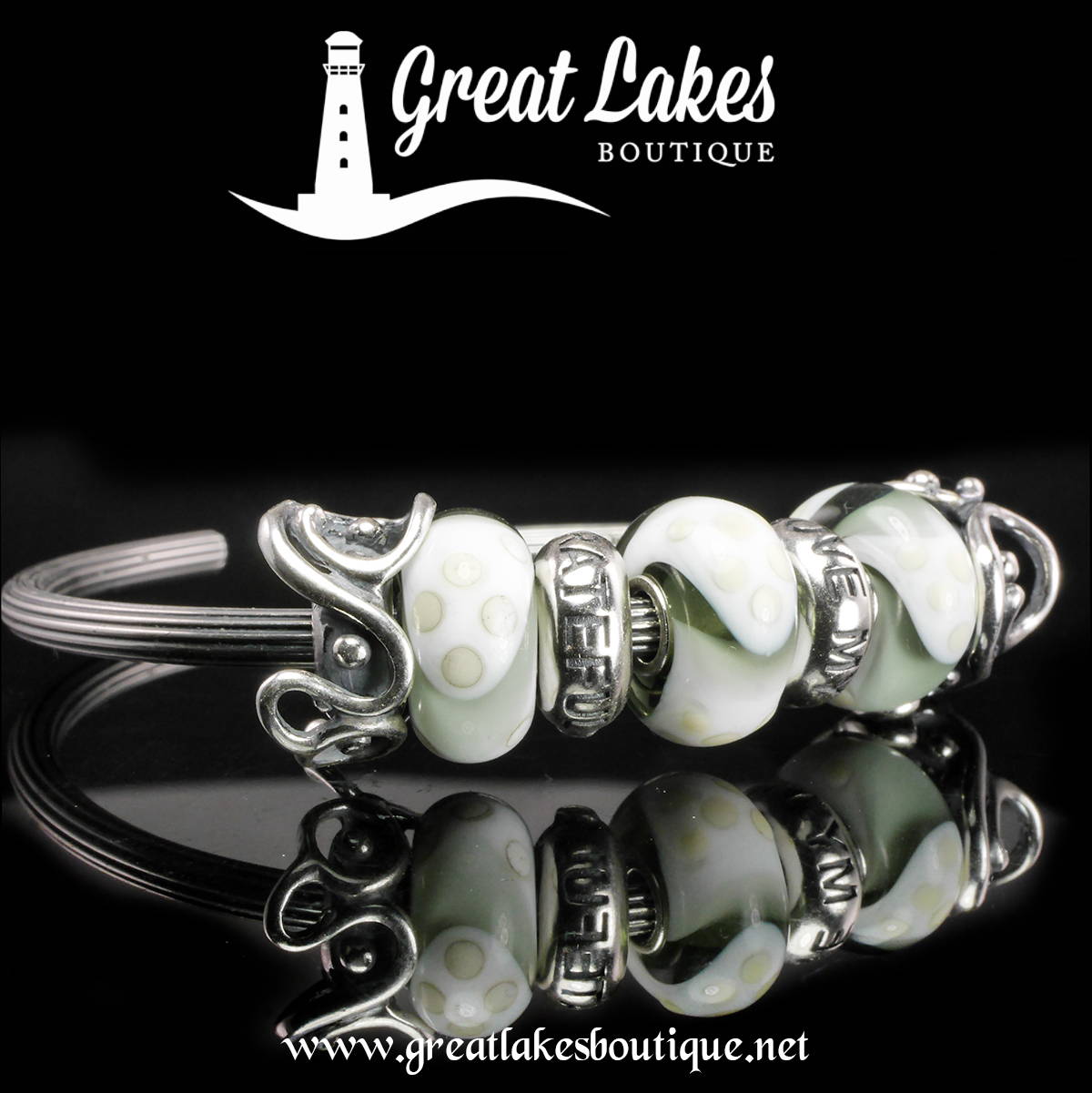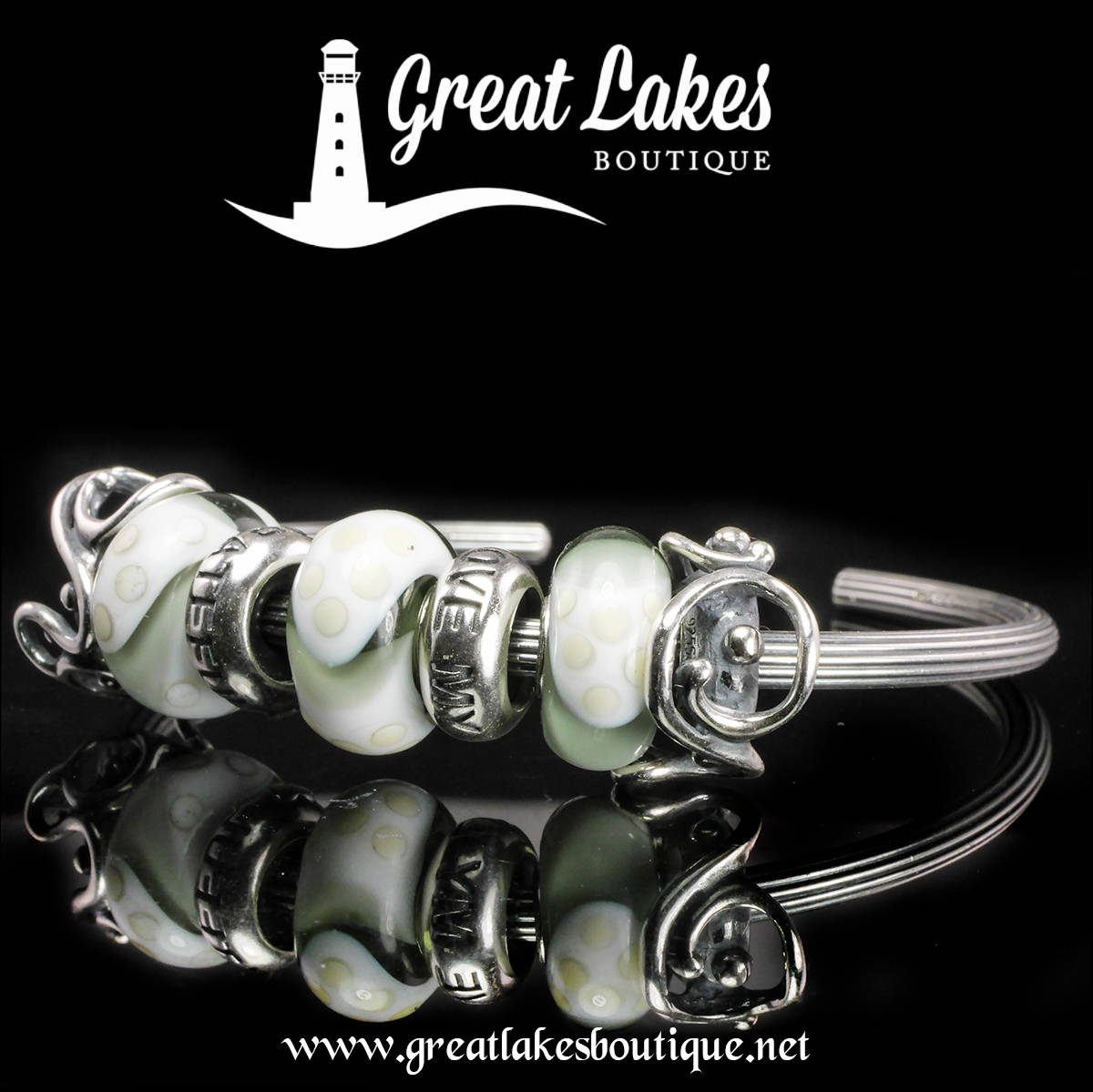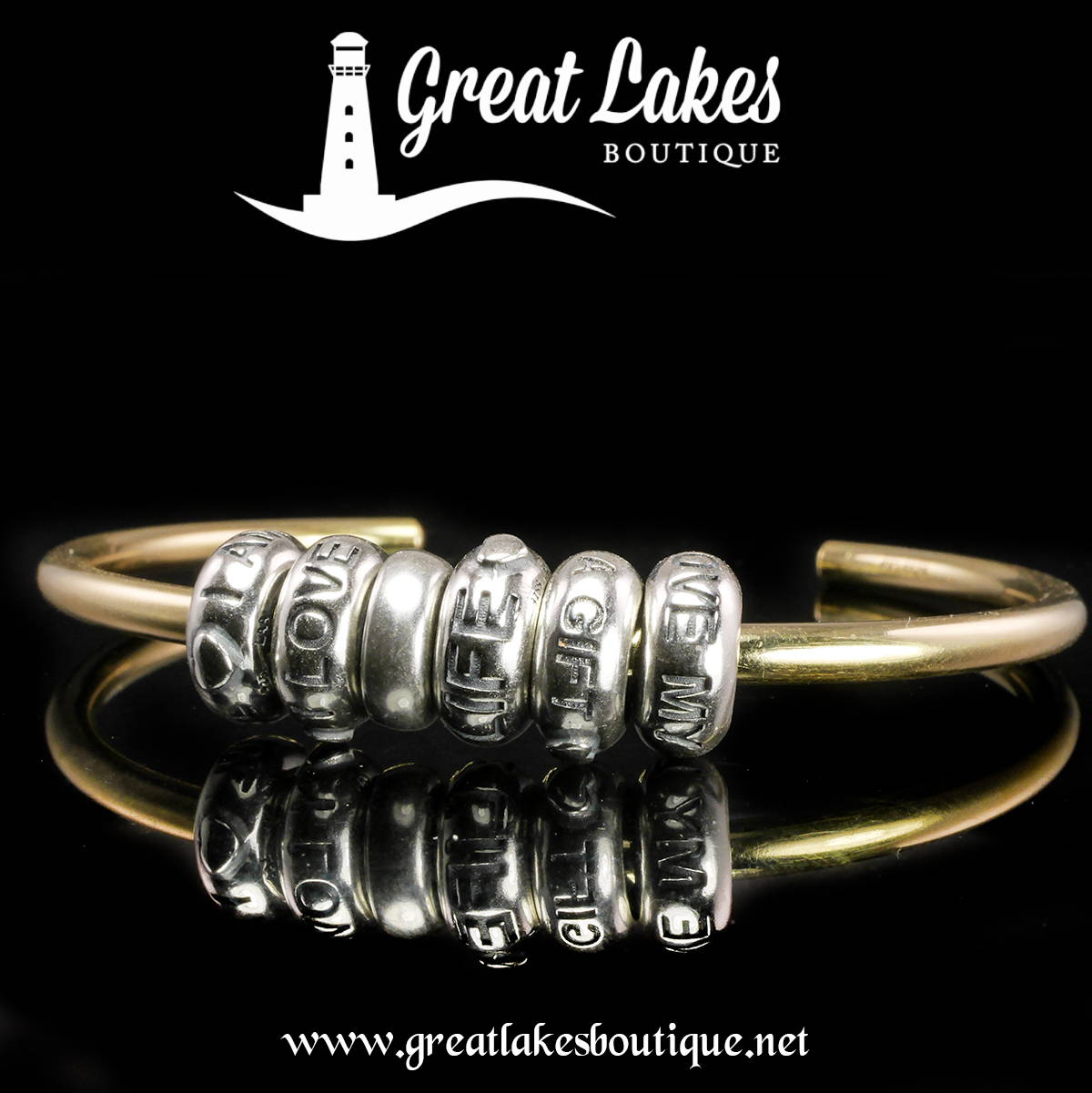 Next comes the new engraved spacers and what I didn't realize from the stock images is they also have small raised heart details too.
These are just a shade larger than the plain spacers and feature different uplifting messages that you can mix and match across your combinations.
The Trollbeads Rose of Beauty Pendant is strictly speaking for the changeable fantasy necklace. The lobster clasp fastening will allow you to wear it on a bracelet, necklace or a bangle though.
We've had several people ask about using it as a clasp on a bracelet and yes, this is possible but there's a couple of things to keep in mind. Firstly you will need a longer bracelet to account for the lack of the clasp. Secondly it can be fiddly to fasten your bracelets this way.
For those who really want to wear it that way, you might find it easier to clip it onto a lock instead. The effect will be similar but it's a little less difficult to execute.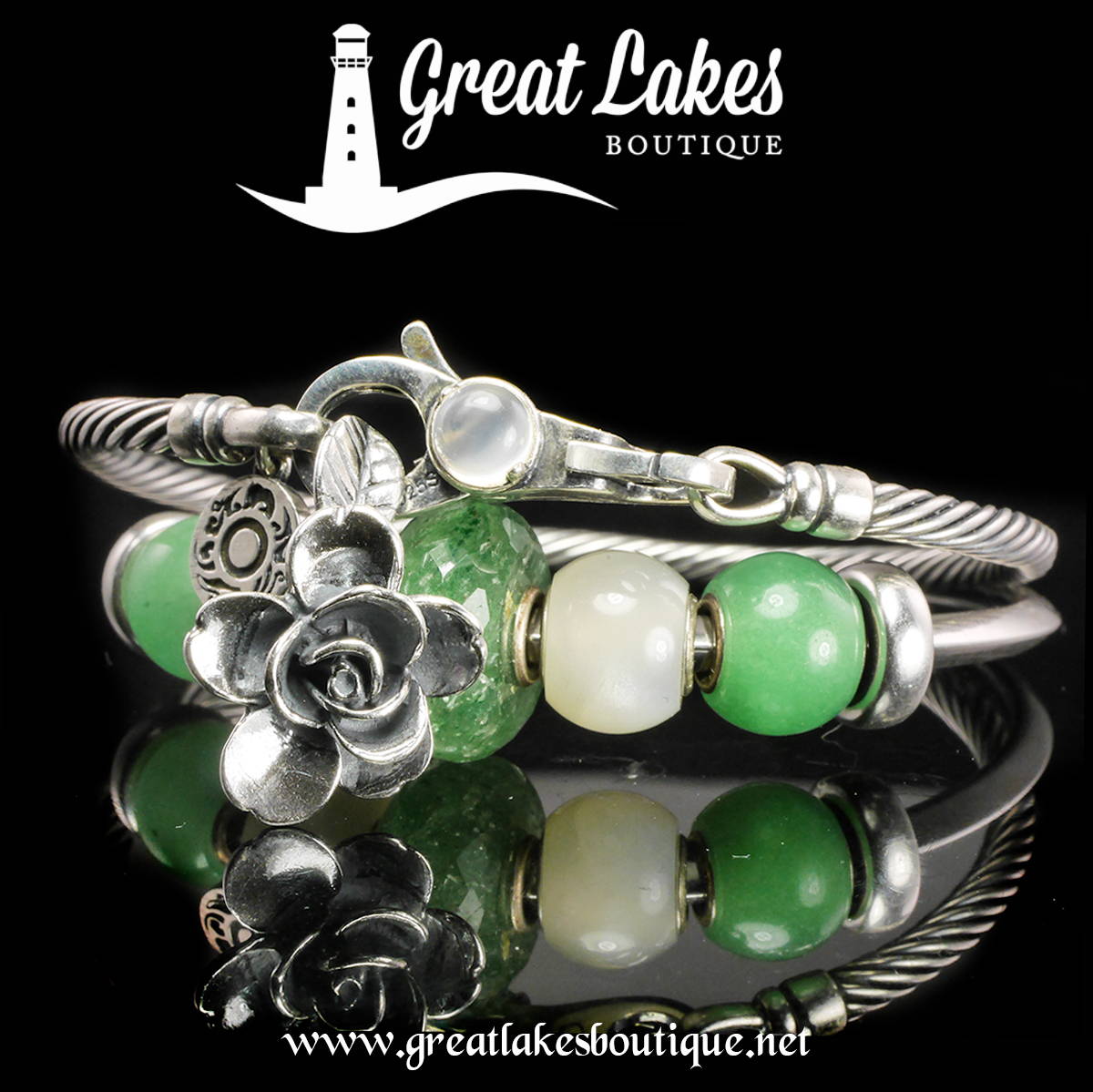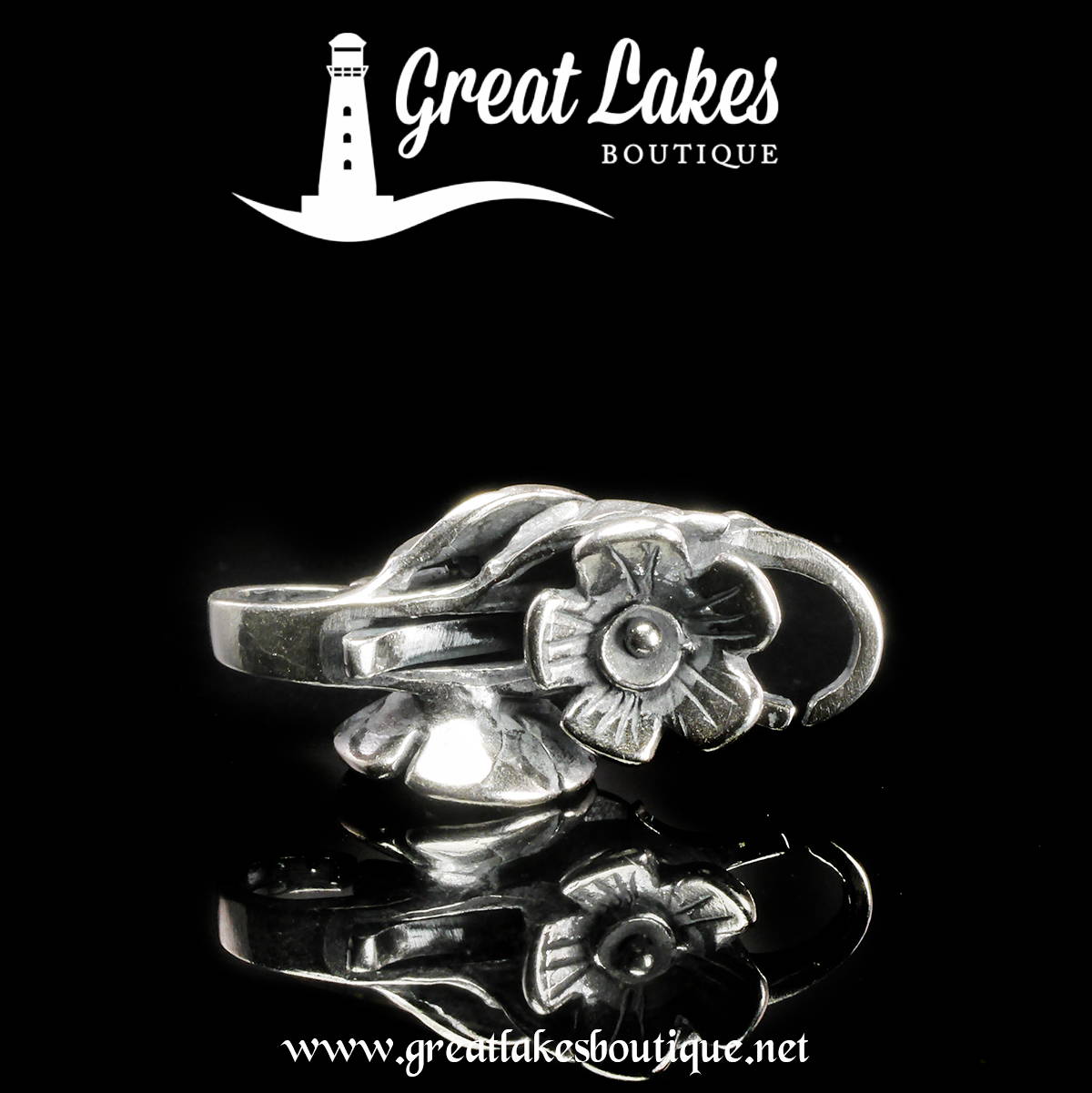 Lastly is the Trollbeads Crisp Flower Lock which feels like a mix of the limited edition Stories of You Lock from quite a few years ago and the current Lock of Leaves.
Regardless it's a staple floral lock and with flowers and nature being such a popular theme, it's going to prove incredibly useful for those seasonal bracelets.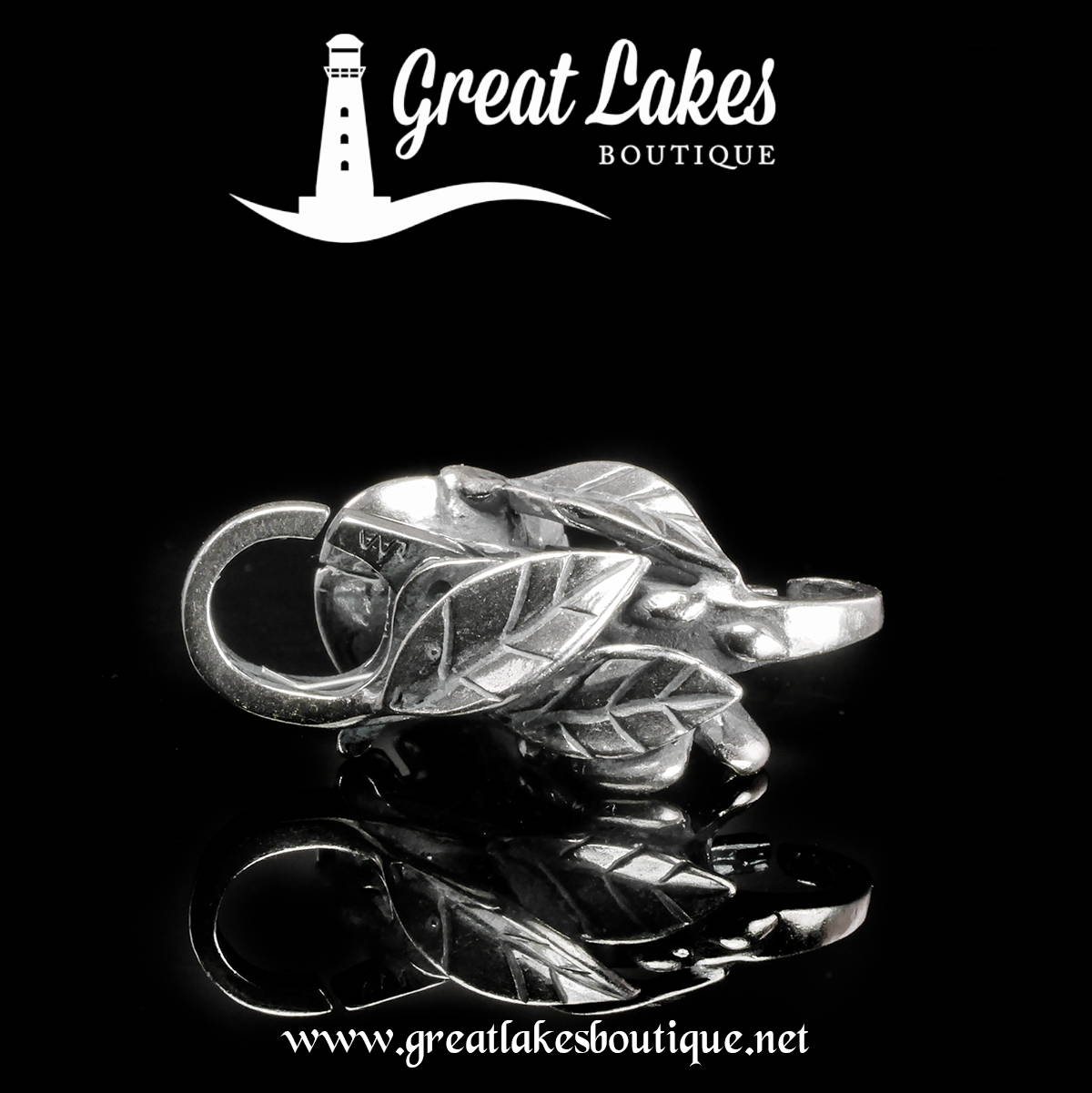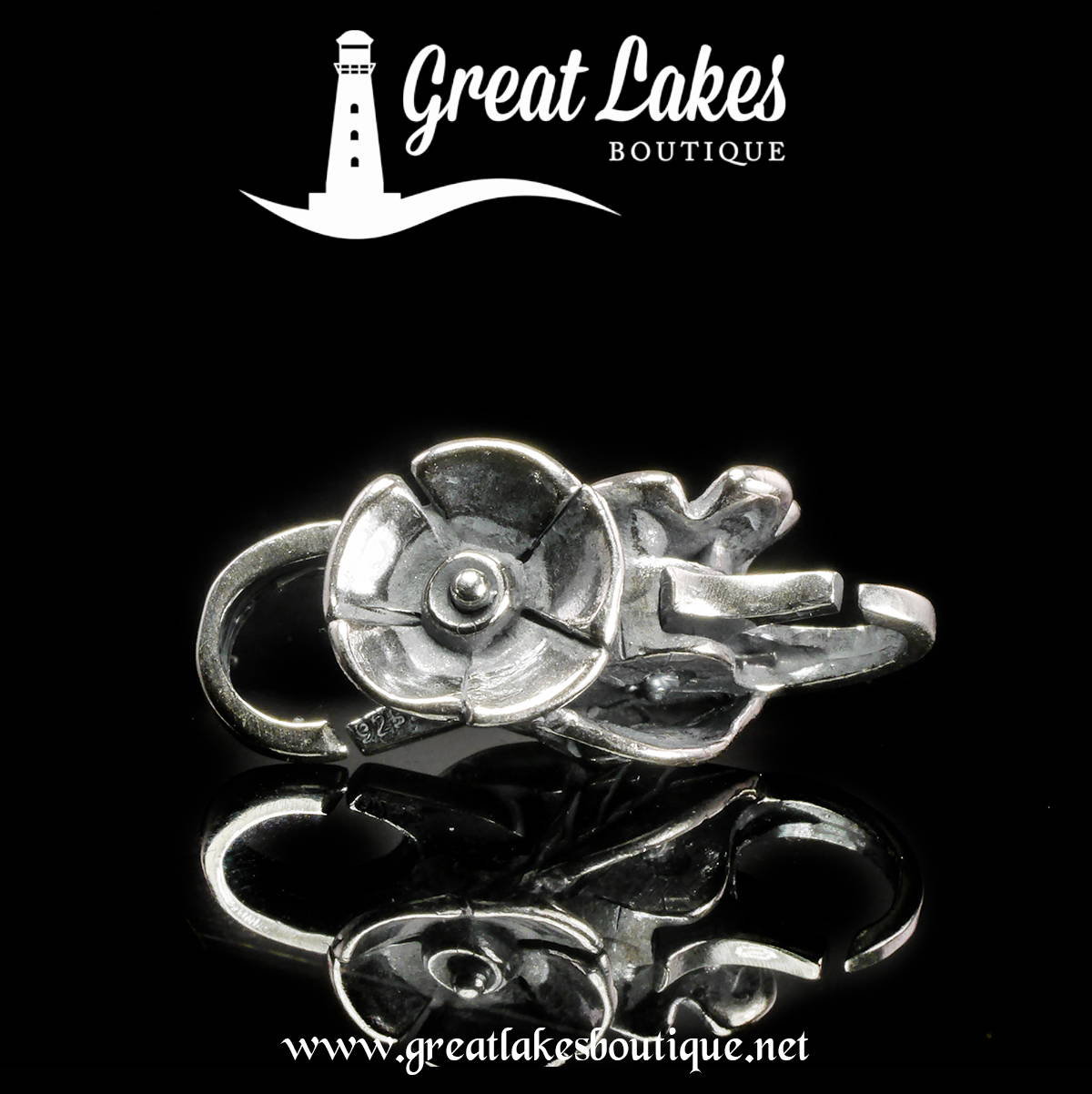 We've rephotographed and relisted what remains of our stock so you can better browse our live images so be sure to treat yourself to new designs for spring bracelets.