The new Trollbeads Spring Sunshine Bracelet is now available and is otherwise known as The Americas Bracelet due to it's exclusive satus.
This is a lovely ready-to-wear piece evocative of the lazy, hazy days of summer (which we're hoping there will be many of over the months to come!) Further to that though it's golden hues will stretch into the beauty of the fall season, bringing a lot of longevity to this creation.
The bracelet is retailing at just $109, reduced from a full retail value of $205 so it's representing fabulous value for month for both new and established collectors alike. It's an excellent way to introduce a friend or family member to the world of Trollbeads.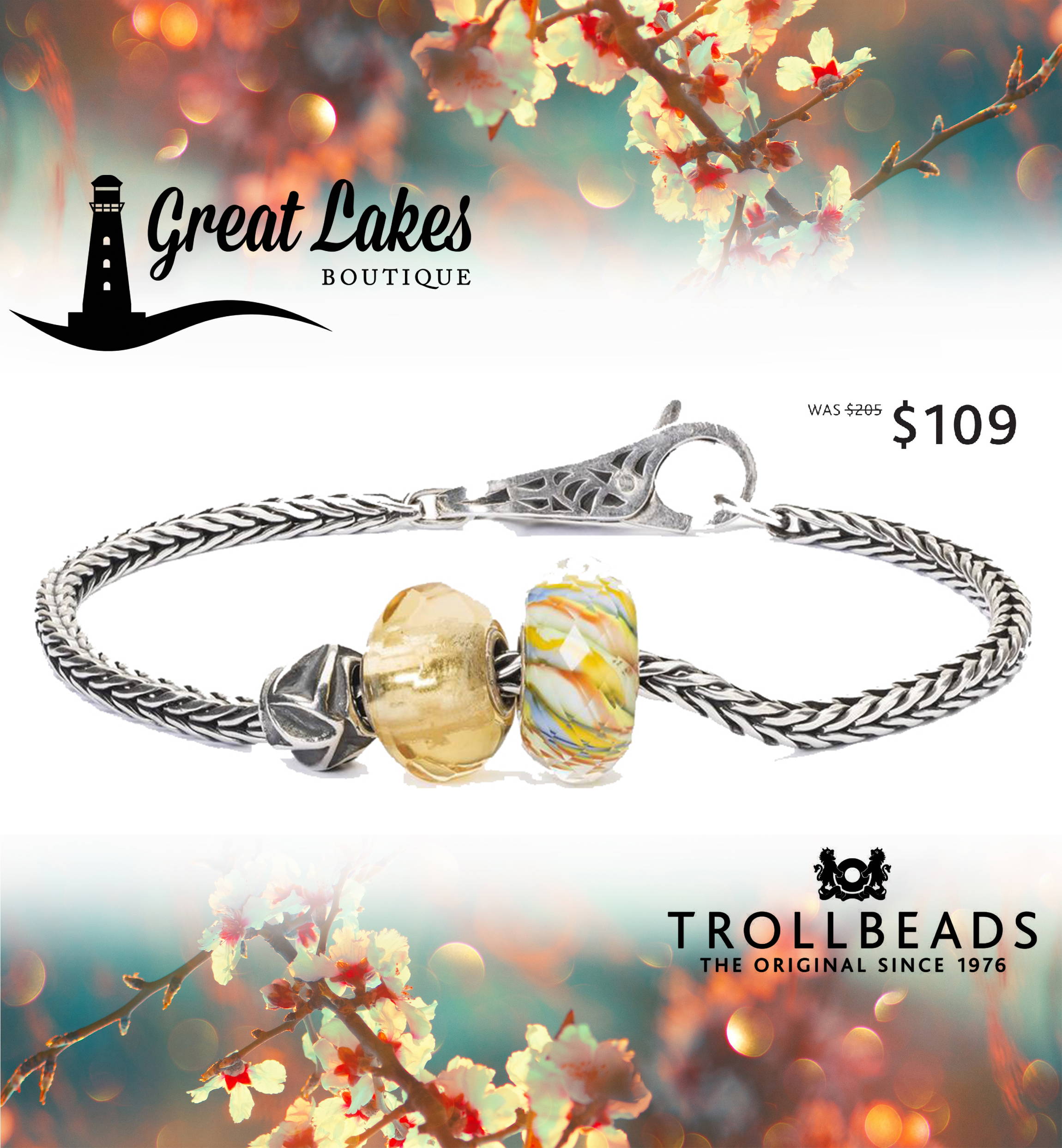 I'm a huge fan of starter bracelets for a few reasons. Firstly what's not to love about discounted beads and this bracelet is particularly good value for money when you consider the value of the individual components.
I rarely wear full bracelets so the lightness of a starter bracelet appeals to me in that sense. I frequently keep these bracelets exactly as is or add just a couple of additional beads.
Lastly it's always enjoyable to get a different take on design. Most of us design our own bracelets with some taking inspiration from blogs or social media but it's really easy to get stuck in a design rut over time. Some people always have to alternate glass with silver. Some like symmetry. Having a fresh set of eyes creating a bracelet can just bring something a little different and unexpected to a bracelet. (Though for reference here at GLB we're always happy to help put together entire brcelets or bangle combinations for our customers. Just reach out to us.)
The bracelet features your choice of chain size, the Turn Around Lock, the Falling Leaves silver, the Rivers of Life Facet and the Yellow Prism Facet.
From the first previews of this bracelet I was so keen to try it with the Trollbeads Diamond Bead Amber. Aptly that was also the Bead of the Americas and exclusive to the market, inspired by the rolling golden plains. For this bracelet I added the Diamond Bead Amber, a Citrine Tassel (these are dazzling in the sunshine) and a Trollbeads Feather. The bracelet is still a mini combination but I love the sparkle the Diamond Amber and the Citrine Tassel bring.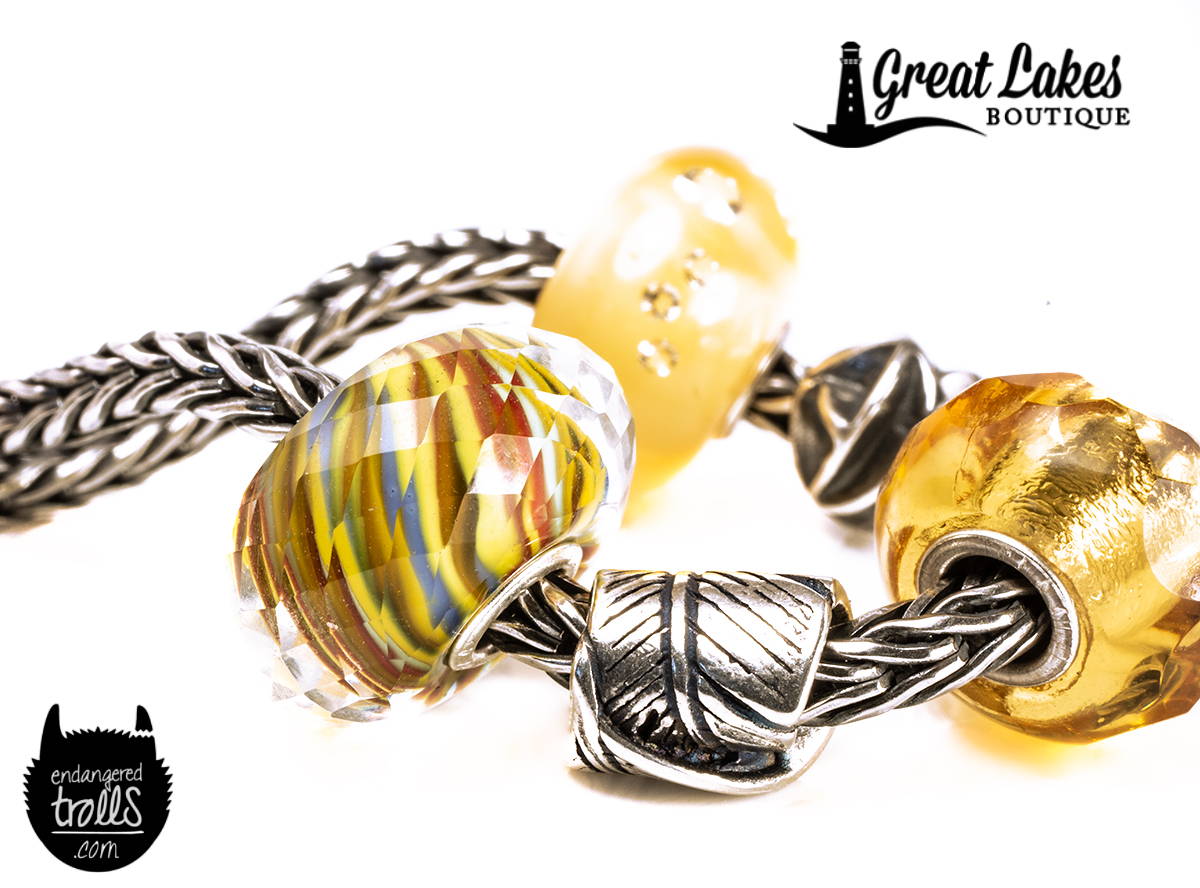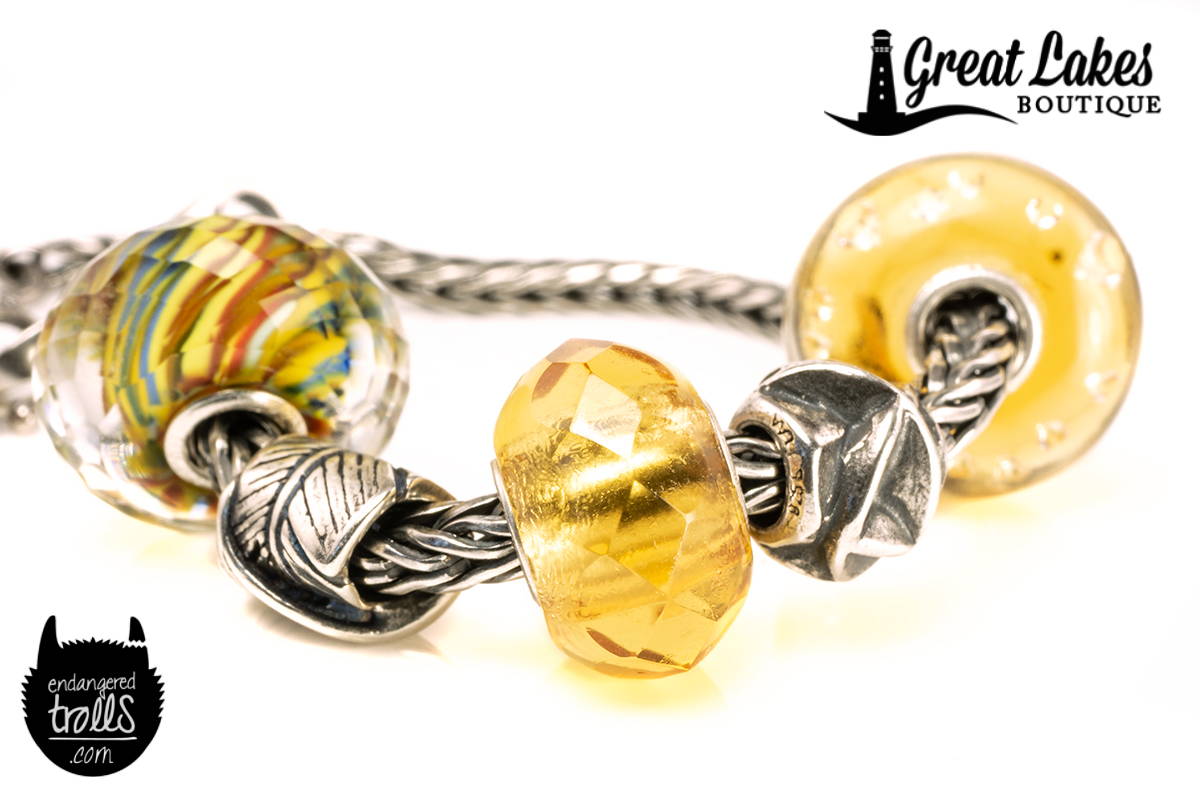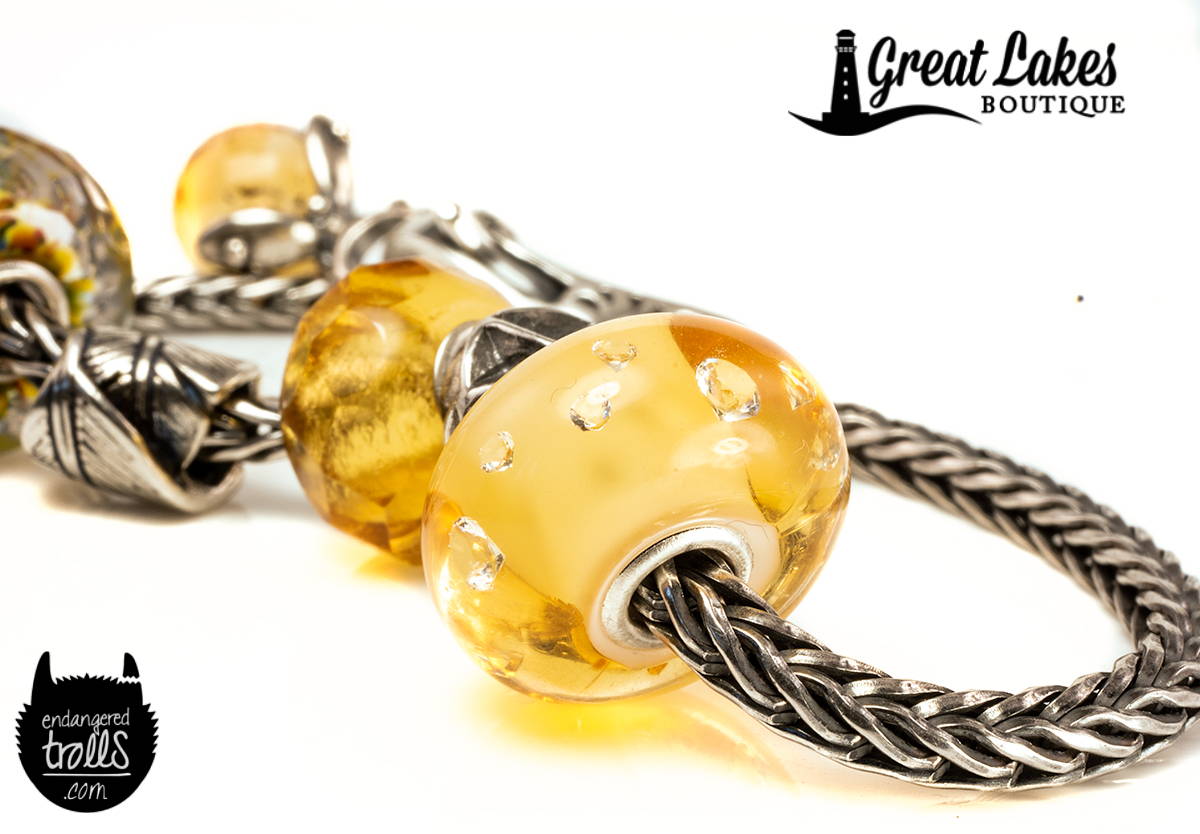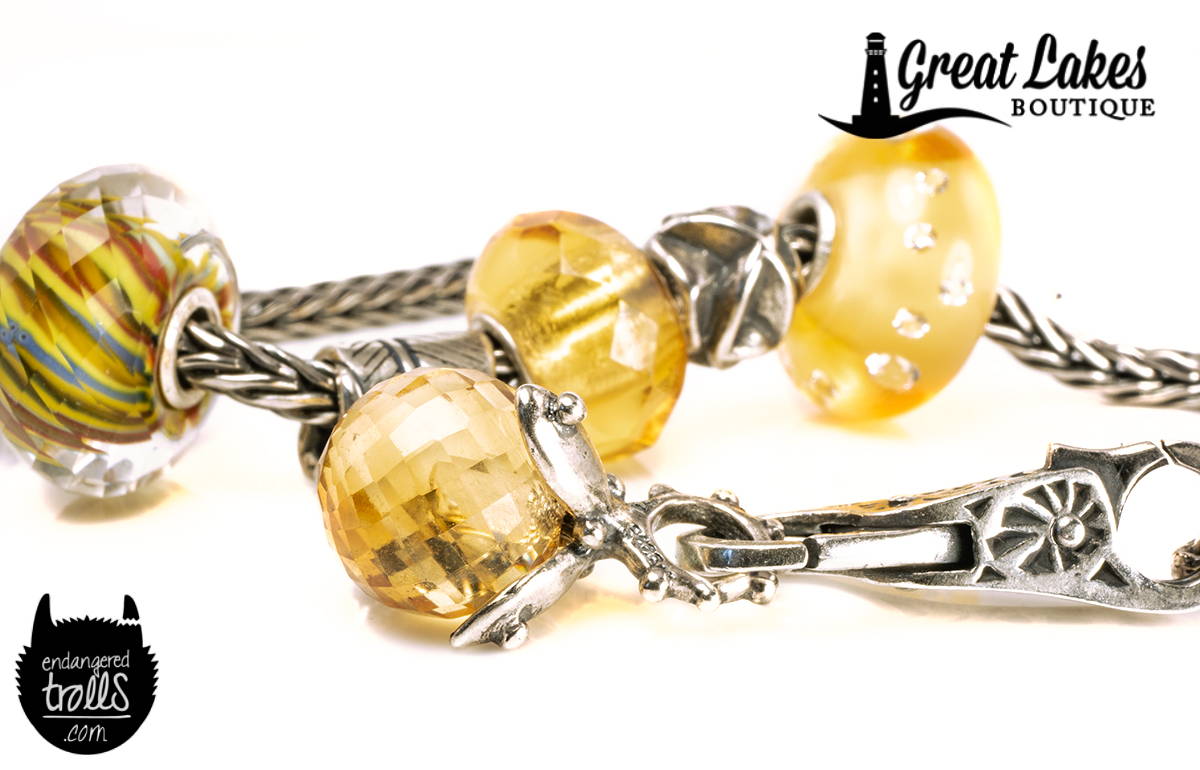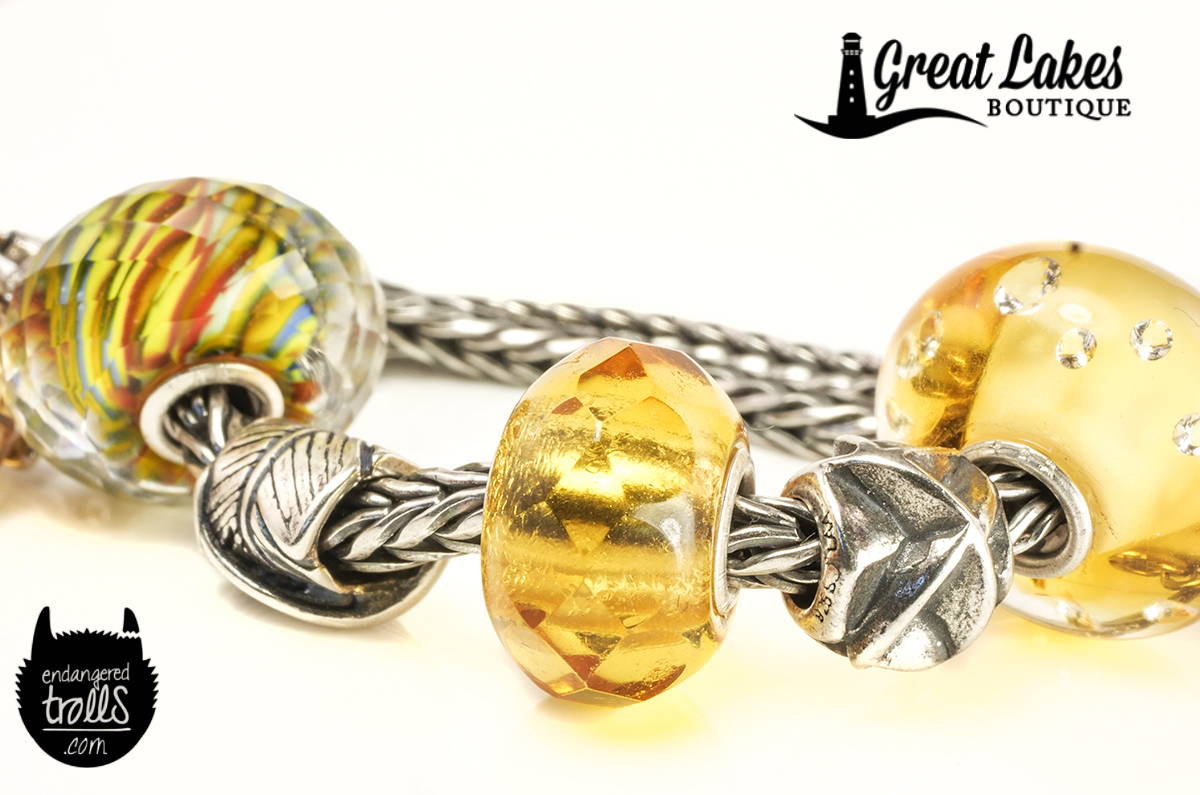 Whether you choose to use it as the basis for a larger combination or where it as it comes, the Spring Sunshine Bracelet is a great staple for the warmer months.