This time next week Bead Bash on the Lake Spring 2020 will be underway. Today we're wanting to share a summary of the promotions that will be on offer.
There is still The Palace of Amber event bead to be unveiled. Logistical issues surrounding the pandemic have caused delays in stock arriving with us. Those beads should be with us on Monday and we'll unveil the details once they are in hand.
The promotions however are finalized and you can find an overview of those and the special stock below.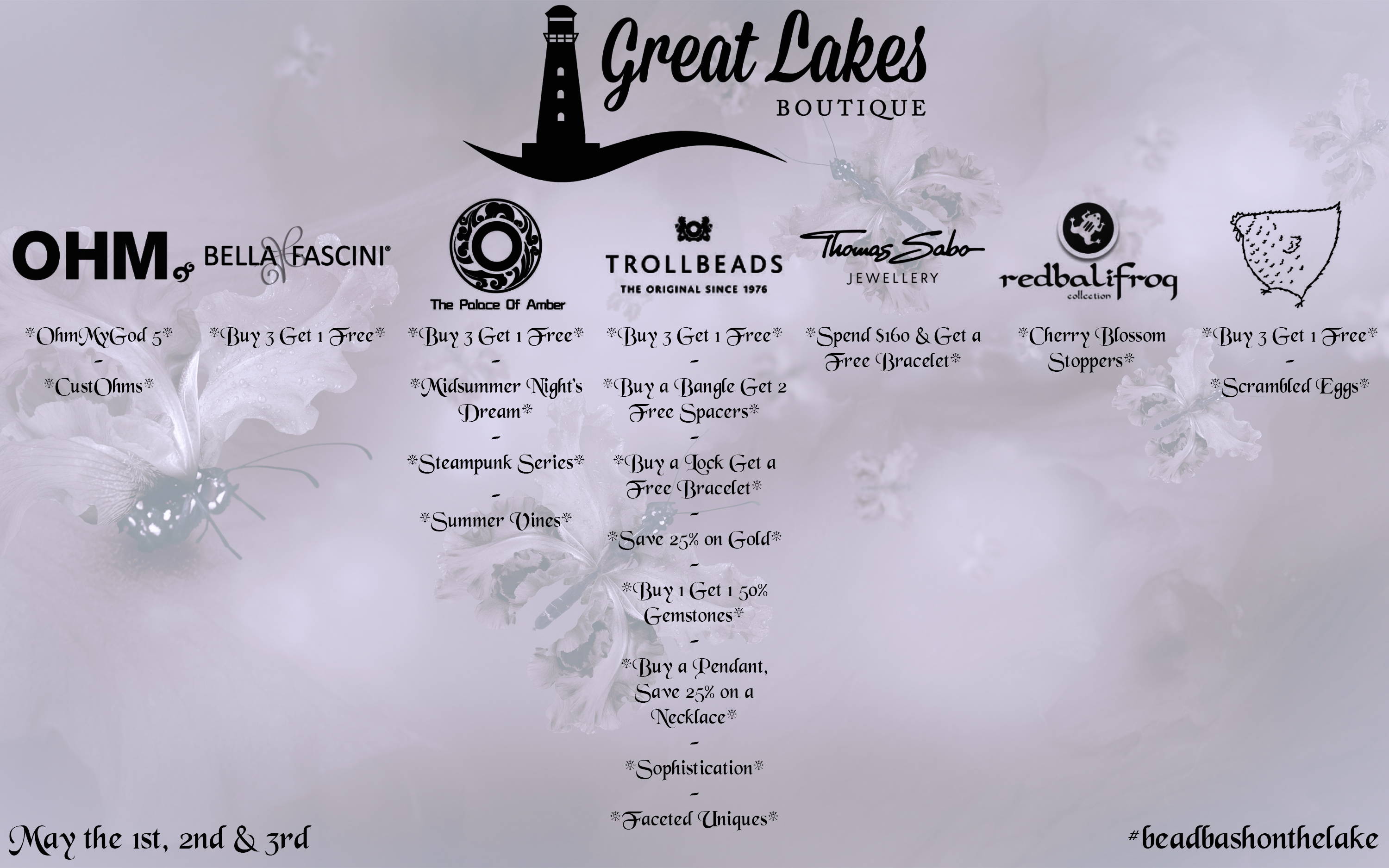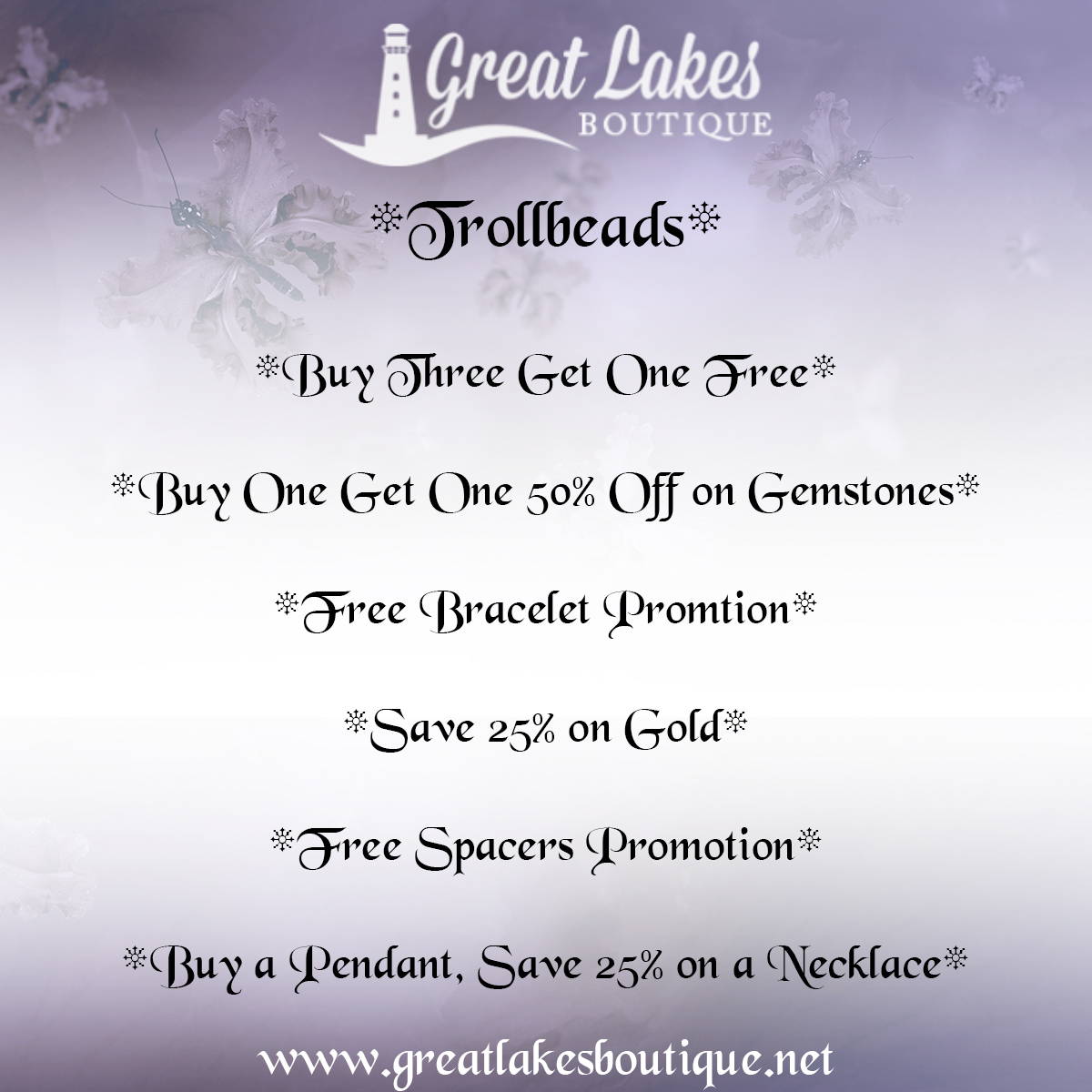 Please be aware that the Trollbeads promotions can only be offered to customers in America, Canada, Australia and Latin America. This is a change the brand made last year.
Similarly the Trollbeads Sophistication and faceted uniques (plus some more special stock yet to be confirmed,) is only available to customers in the above regions.
For the first time Trollbeads Sophistication will be available directly via the website from live images. This in itself is amazing news as normally the event bead cannot be offered online. Due to the unprecedented circumstances however, this is permitted for spring.
Below you'll find promotion specifics, disclaimers and guidelines. Please do read carefully. If you have any questions, please email victoria@greatlakesboutique.net or contact us via Facebook or the live chat feature on the website. (It's much better to ask questions now than try and wait until we're mid-event when the response time will be slower.)
The website will be processing all promotions automatically. For the most part that means when you have four or more products in your cart, one will be free. Please note it will not be discounted from your cart until check out.
If you spread your orders over the weekend, (for example you purchase two beads from The Palace of Amber on Friday and a further two on Monday,) you will be owed a free bead and that refund will be processed after the event is over.
If for some reason the website fails to deduct a free bead even once you have checked out, those refunds will be made after the event is over. Please note we strongly recommend you checkout your order and rest assured those refunds will be made. If you contact us and wait for a reply, you could miss out on your beads.
Shipping is free on domestic orders of $30 or more and international orders of $50 or more. The Trollbeads free bracelet promotion is exempt from this and any order including that offer will be charged shipping. Should you spend an additional $50, the shipping will be refunded after the event is over. We will combine orders also so any excess shipping refunds will also be made once the event ends.
Orders are final. Please do note click the buy button unless you are certain you want a product. It's not okay to buy several items as a personal reserve system and then sit and evaluate which you truly want. This is unfair on other customers.
All orders are shipped with USPS first class and first class international.
The website operates on a first come first served system. This means you must check out to secure a product. We highly recommend completing each order promptly as we're expecting high demand for certain products.
We cannot provide additional images of any product. We've taken extensive live images (and video) for this event. Where possible we've also done so in multiple lighting conditions.
Once again if you're unsure of any specifics, please let us know as soon as possible as response times during the weekend are going to be slower.
Thanks!
This field is required
This field is required
This field is required