This charm bracelet blog continues our gemology series with a look at another new arrival for spring, The Palace of Amber Green Chalcedony.
The Palace of Amber Spring 2020 gemstones have started to arrive and at the forefront is the new green chalcedony. As I'd mentioned in the gemology article for the Trollbeads Serpentine, there's a huge selection of green gemstones out there so is this one distinctive enough to join your collection?
Chalcedony is interesting because many other gemstones you will have heard of are actually types of chalcedony. This includes for example moss agates, carnelians and onyx. The green coloring in green chalcedony comes from nickel inclusions. Fear not those with nickel allergies (I have a terrible reaction to it,) it's trace amounts within the stone and you won't have issues.
You may have also heard of it's other name, Chrysoprase.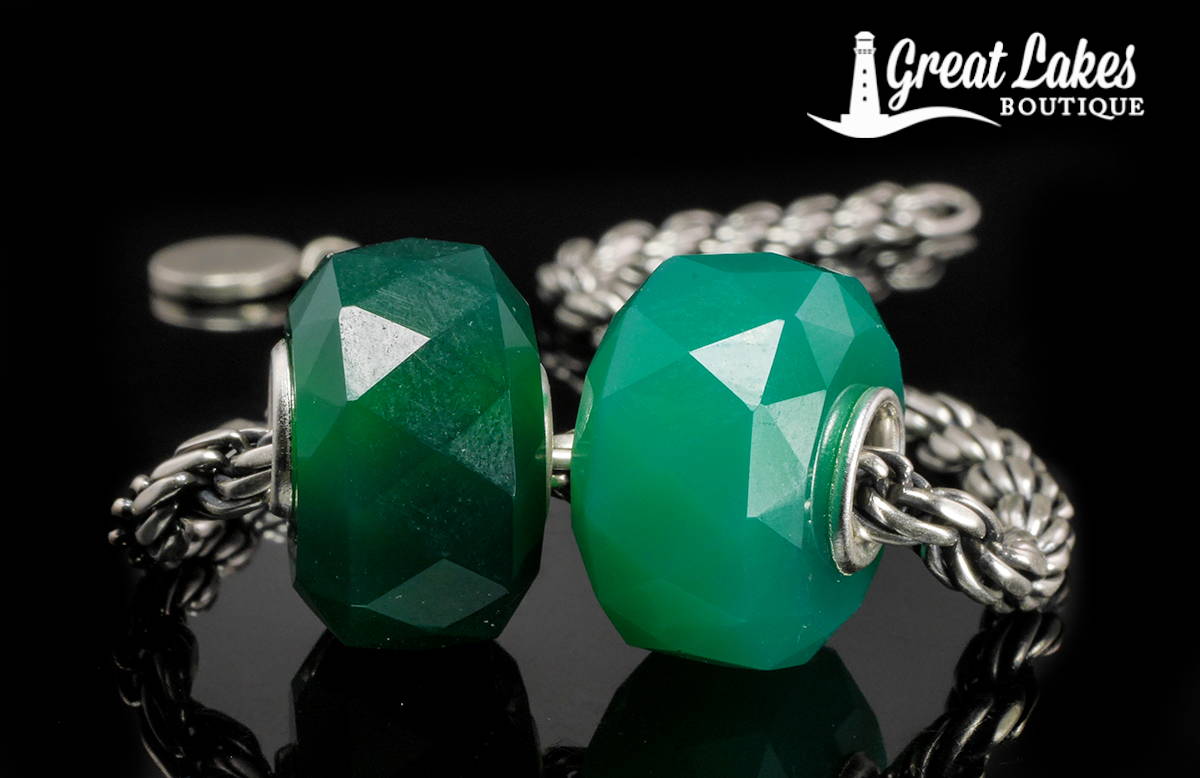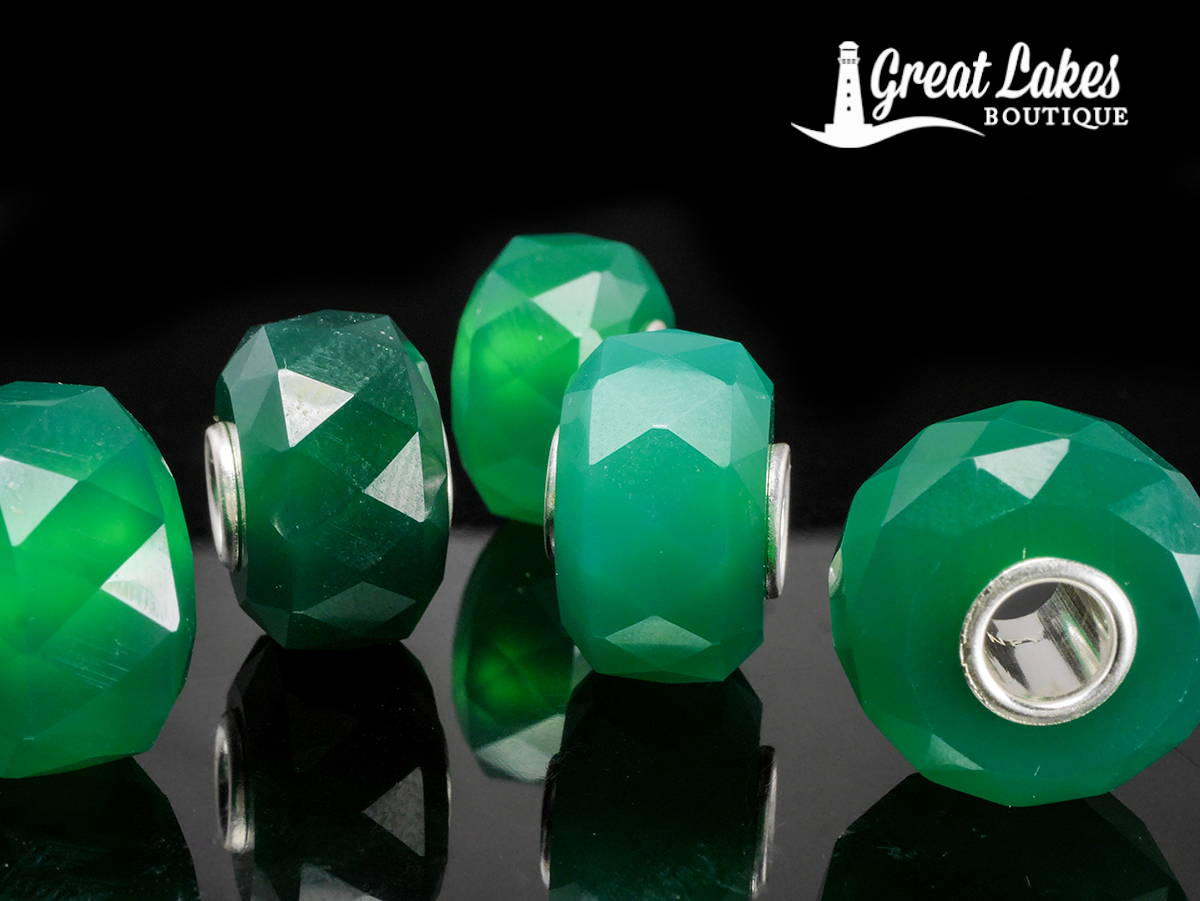 I love these stones for one very simple reason; they are almost entirely free of inclusions. Most gemstones have inclusions. We try to stress to customers that stones aren't glass and you can't expect flawless surfaces and perfect translucence.
These green chalcedonies however, are very uniform. They're ranging in their translucency but for those who like that "perfect" look, these are for you. There's no crystalline inclusions to be seen at all, which results in a highly flawless look.
Moving onto their color. They do range of course and this batch show variation from a traditional emerald green through to really vibrant grass green shades. You'll find some examples of a teal shade in between.
From left to right below is malachite, amazonite, emerald, moss agate, green chalcedony, green aventurine, green chalcedony, green aventurine, green chalcedony, green rutilated quartz, emerald, amazonite and malachite.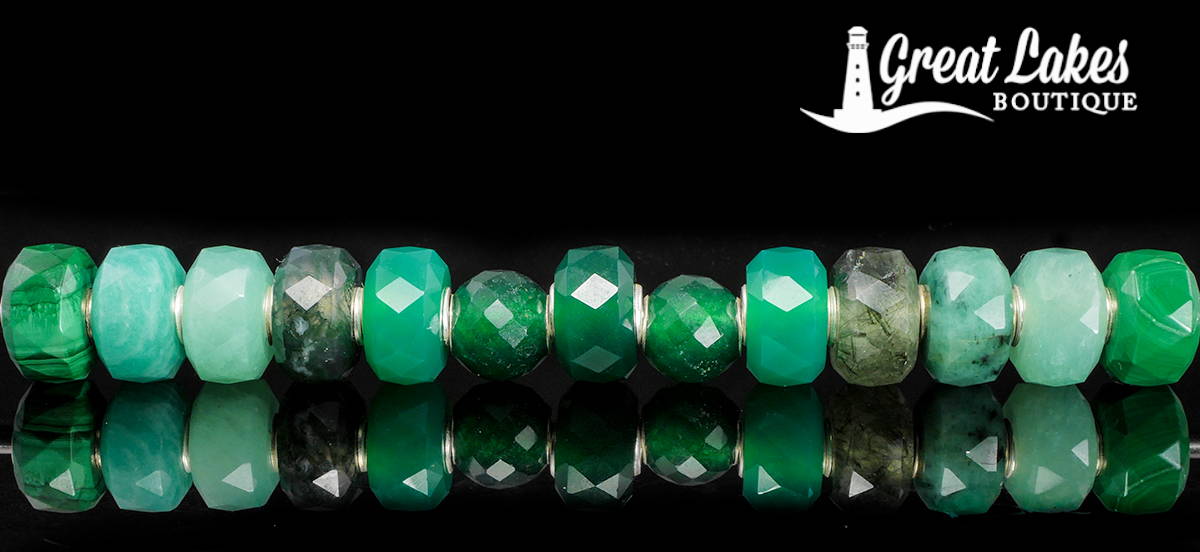 Here you can see a comparison with green aventurine, a really popular stone for the spring. Green aventurines are so lovely and a favorite of mine but they do generally have inclusions. If you look closely you can spot the small dots of color in the stone on the top. The chalcedony here however, is milky and opaque.
Some examples and those that sit towards the teal shades aren't terribly far removed from the treated translucent amazonites you'll sometimes see.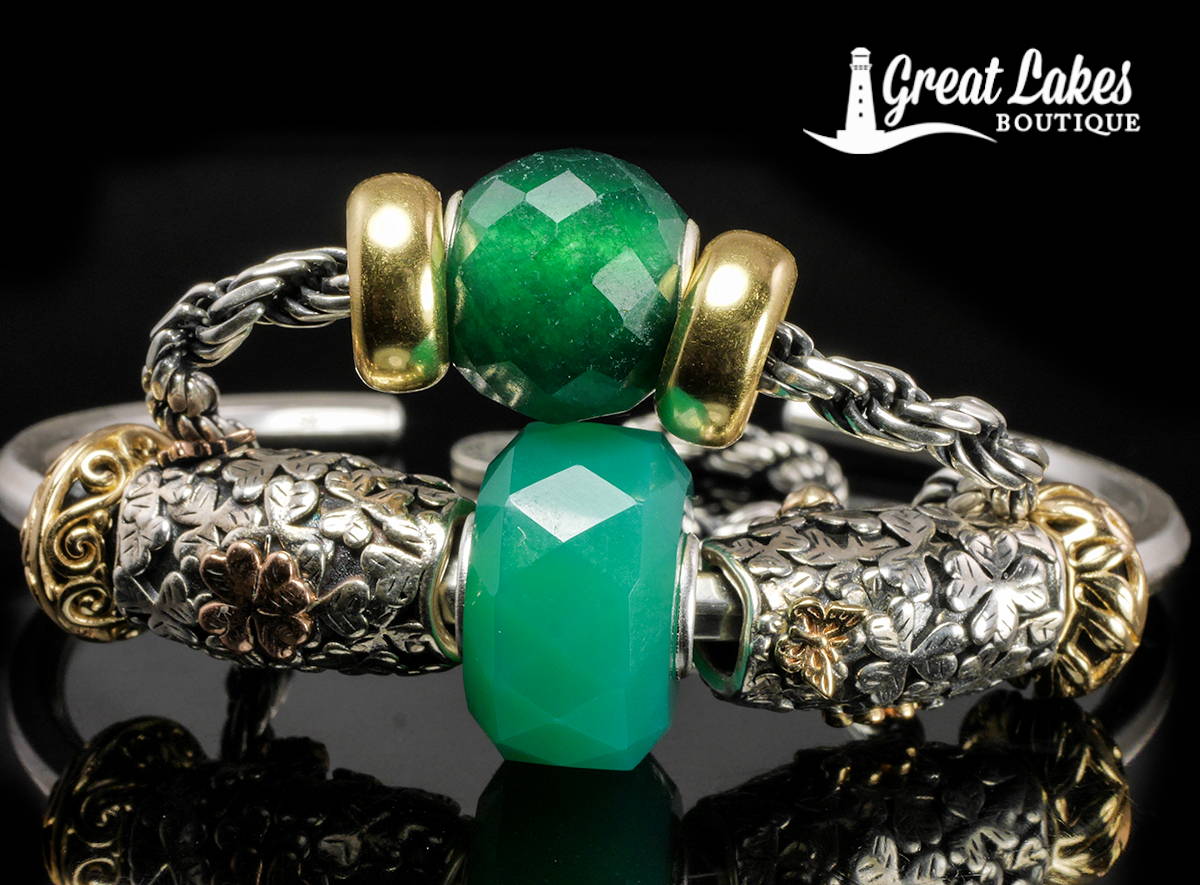 To try and illustrate how clean these new stones are, I've taken a few macro images of a selection of green gemstones. (As a disclaimer they're actually semi macro due to current camera constraints but I've got as close as possible.)
Below you'll see The Palace of Amber Green Strawberry Quartz and Trollbeads Green Aventurine.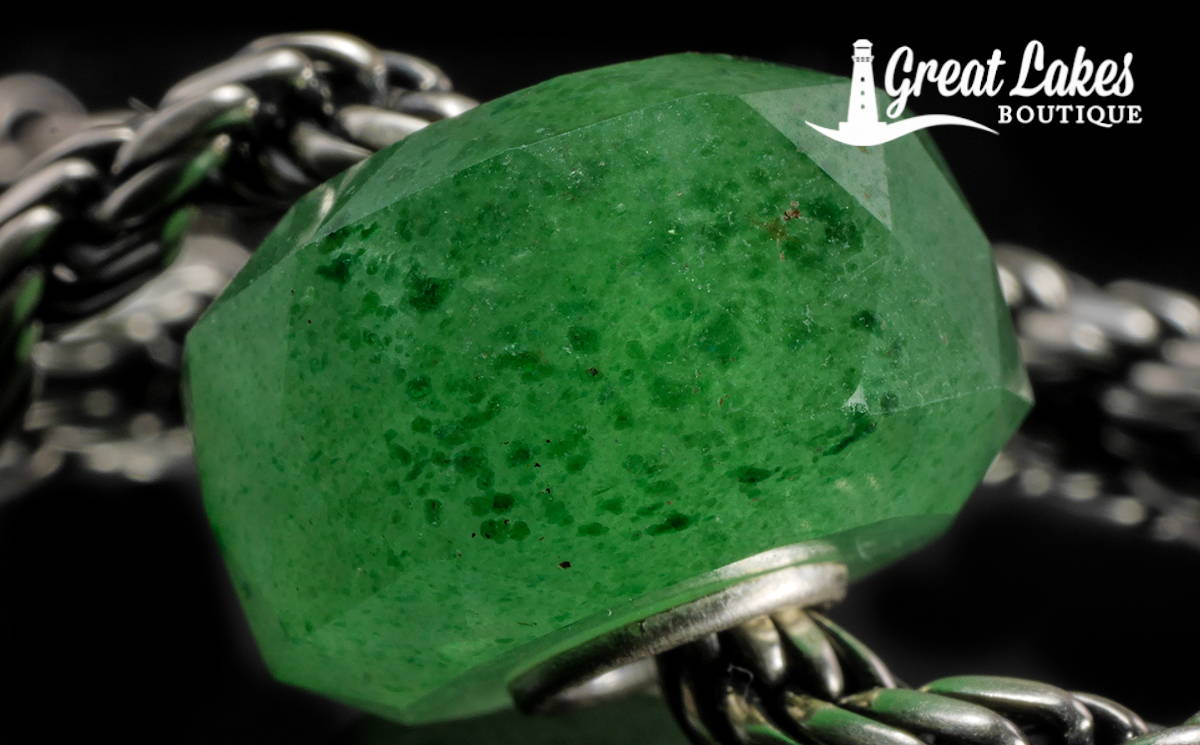 Below this time is The Palace of Amber Moss Agate and Green Rutilated Quartz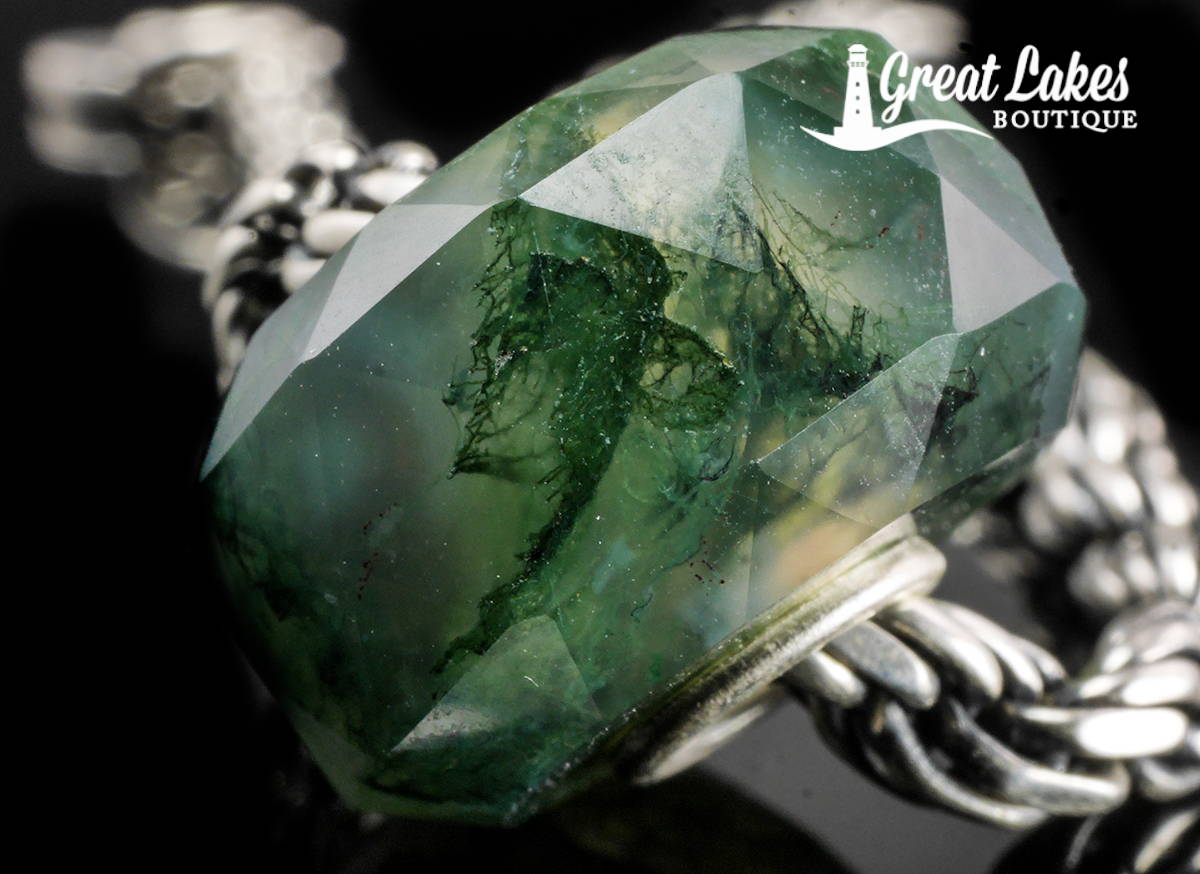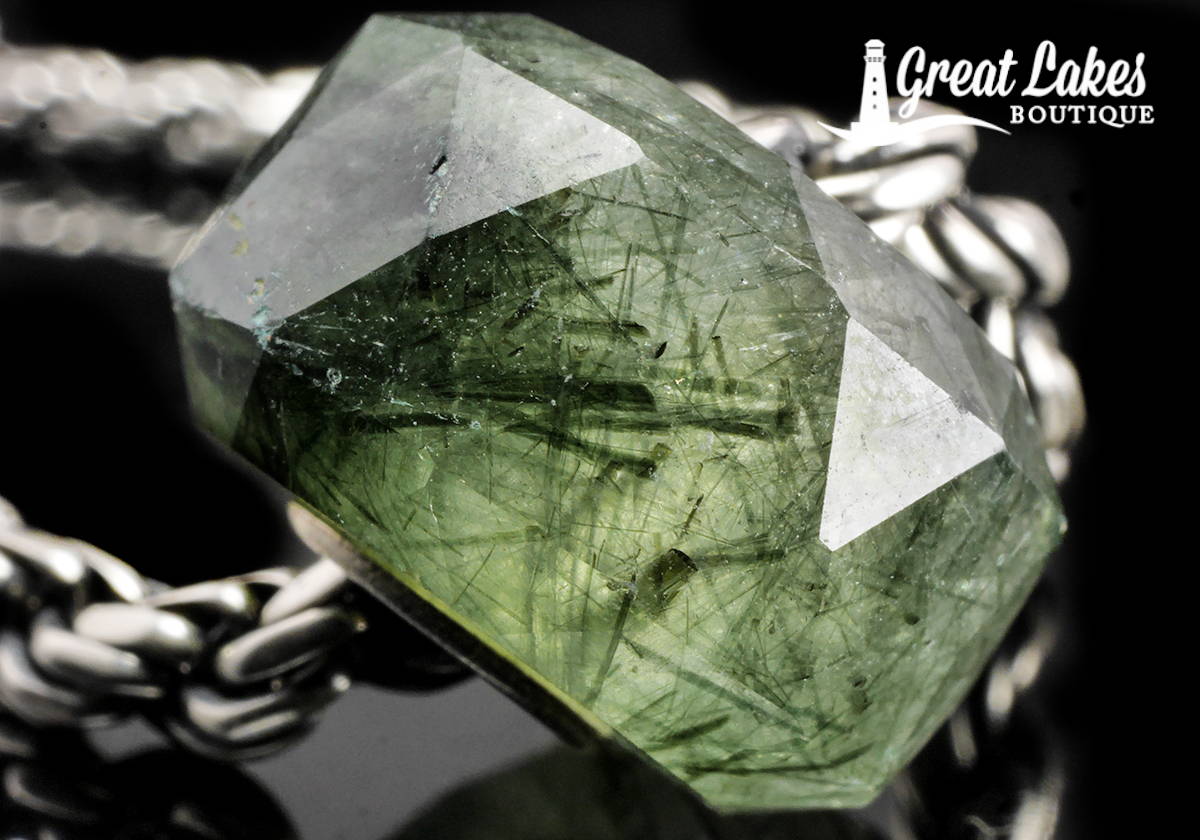 Finally the new green chalcedony.