This jewelry blog takes a closer look at our favorite pieces from the brand new Scout Curated Wears Fall 2021 collection.
The fall collections have been arriving for the past few weeks and it's proving such a strong season already! Fall always seems to get cut quite short due to the holidays. No sooner is Halloween over than everything turns to Christmas and holiday releases because of course, they need to be out there in good time. That means the fall season itself gets squished somewhere in between end of summer sales and the countdown to the festivities. It's such a shame as fall releases are usually amazing.
Scout Curated Wears is such a popular line with our customers and our team too. It's easy to wear, easy to gift, stylish, fun and so well priced too. Here at GLB we find ourselves looking forward to seeing the new season colors and stones this brand release, all in the knowledge that nothing will come with such a hefty price tag that we're left yearning for things out of reach.
This brand are well in tune with both seasons and trends. Just look at how evocative of fall this campaign image from last year is. From warming amber hues to earthy, organic, darker fall shades with everything designed to be layered and stacked.
One size fits all means you never have to worry what will fit and what won't.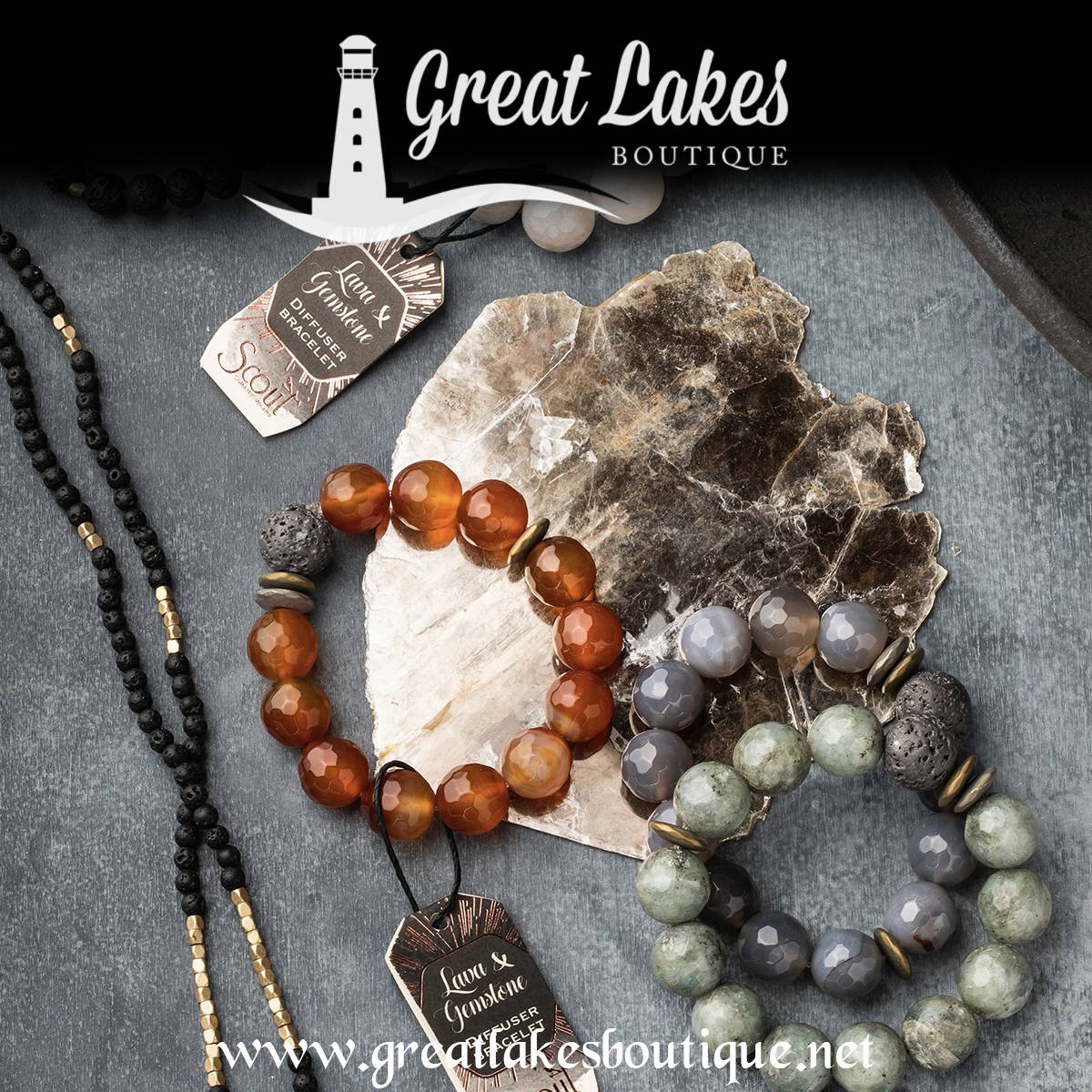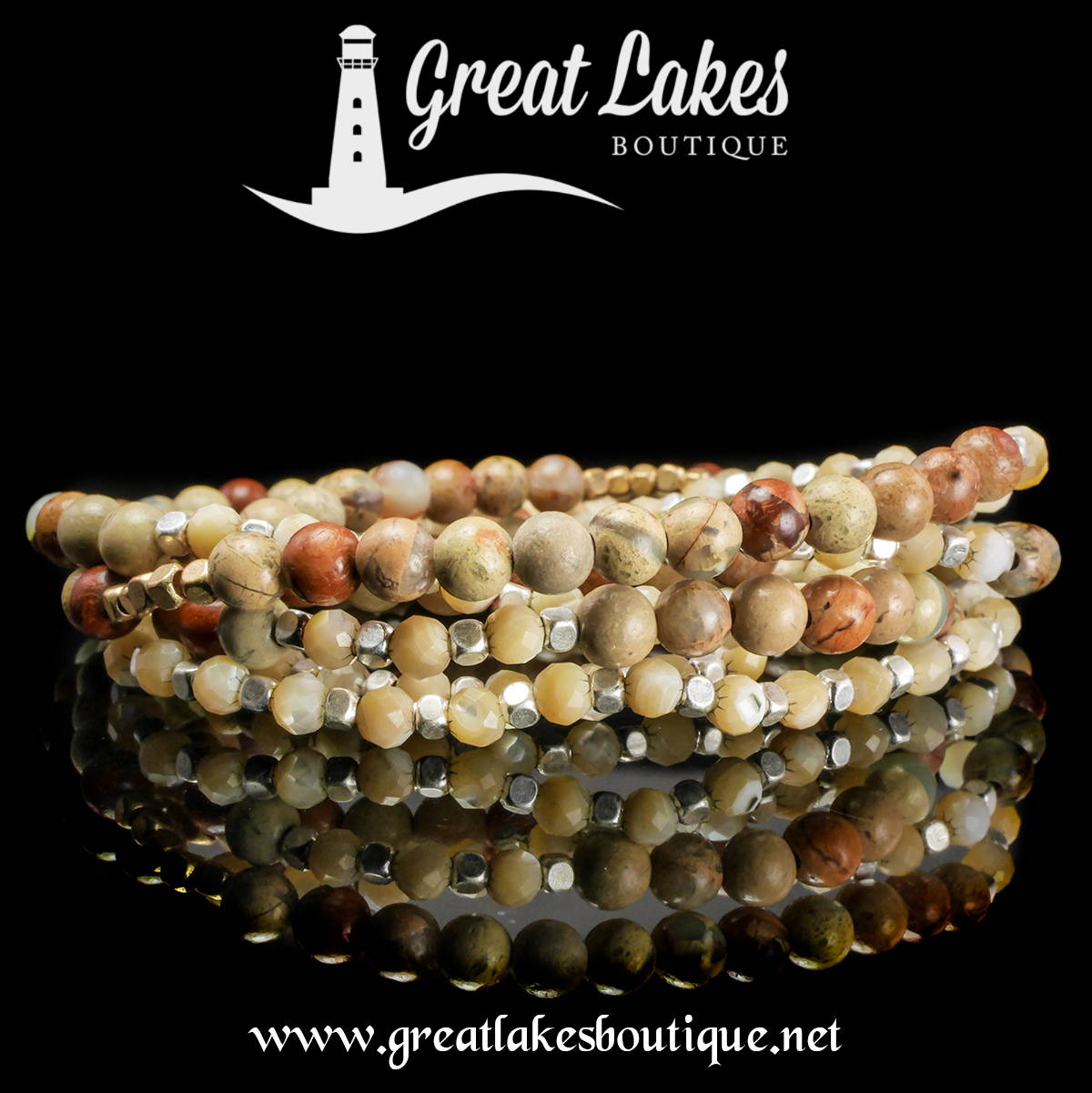 There is so much to love about the Scout Curated Wears Fall 2021 collection but I'm highlight just a few of the favorites here.
New for fall are the duo-wrap sets. This name can be a little confusing in the sense that most of Scout's designs are multi-wrap bracelets (or necklaces.) It refers to the fact these sets combine strands of different size and stone types to make it look like you're layering. Some are complimentary colors, some are contrasting and they are amazing. They make stylish, on trend looks so effortless! Pictured here is the Aqua Terra Jasper & Mother of Pearl (earthy, Bohemian and soothing,) the Tourmaline & Smoky Quartz, (very traditionally fall feeling with lovely berry shades) and the Lava Apatite & Silver, (bold, daring and cool.)
These sets include the bracelets as seen here but also a complementary crescent moon pin which is super cute! While it's easy to think of pins as a little dated, we've been adding these to scarves or even extra holes on handbags for a really subtle, coordinated look. It's always the small details that pull outfits together.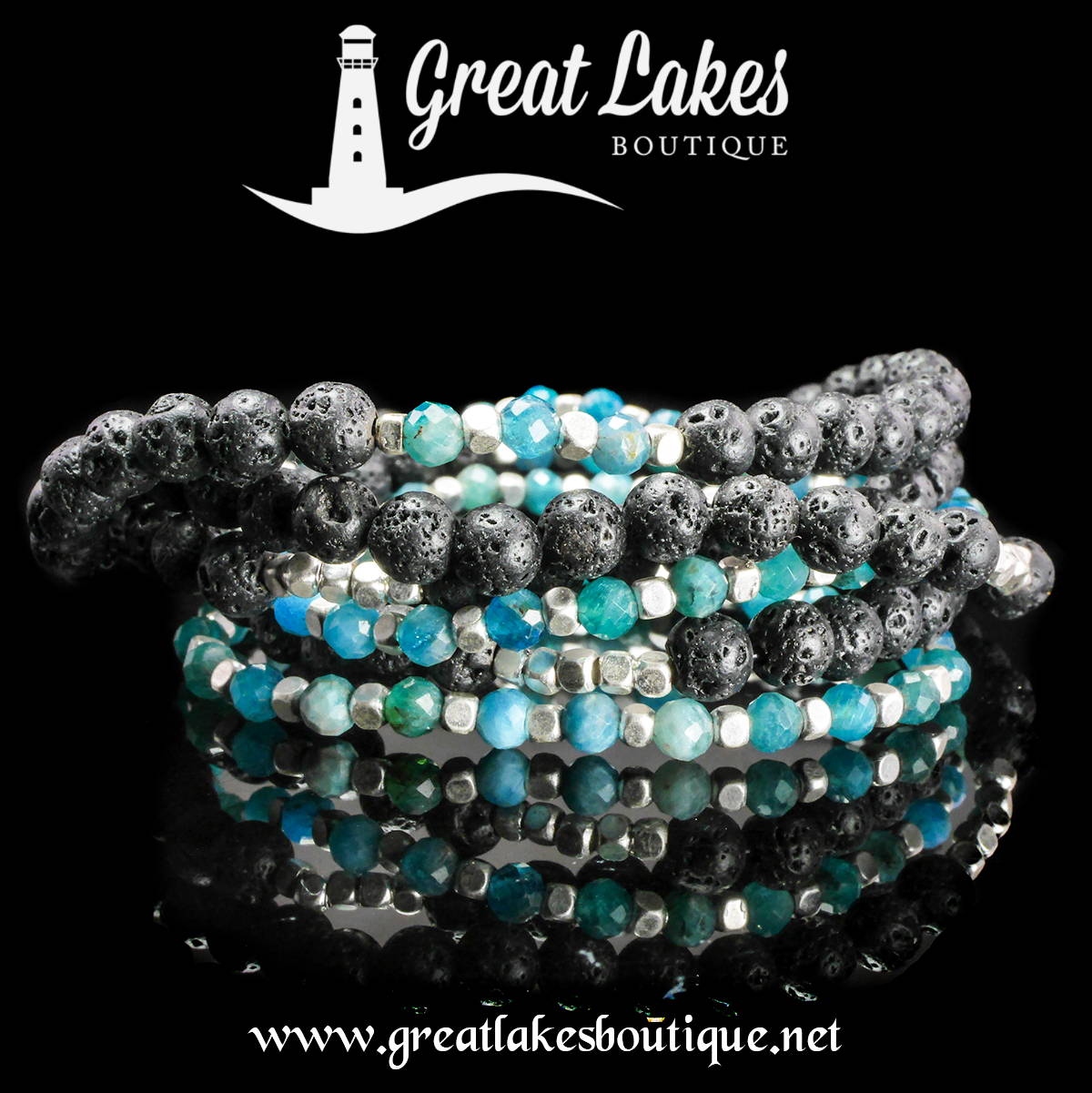 The Good Karma Miyuki Bracelets are back in new colors for the fall and with new inspirational messages too.
Pictured here are Raven & Silver and the Topaz & Gold and notice those darling messages on the inner metal bar, reading "Sparkle & Shine" as a special touch for the upcoming holiday season.
These bracelets are incredibly comfortable thanks to their low profile design. If you can find bracelets annoying in day to day life, these are ideal. They also layer so well!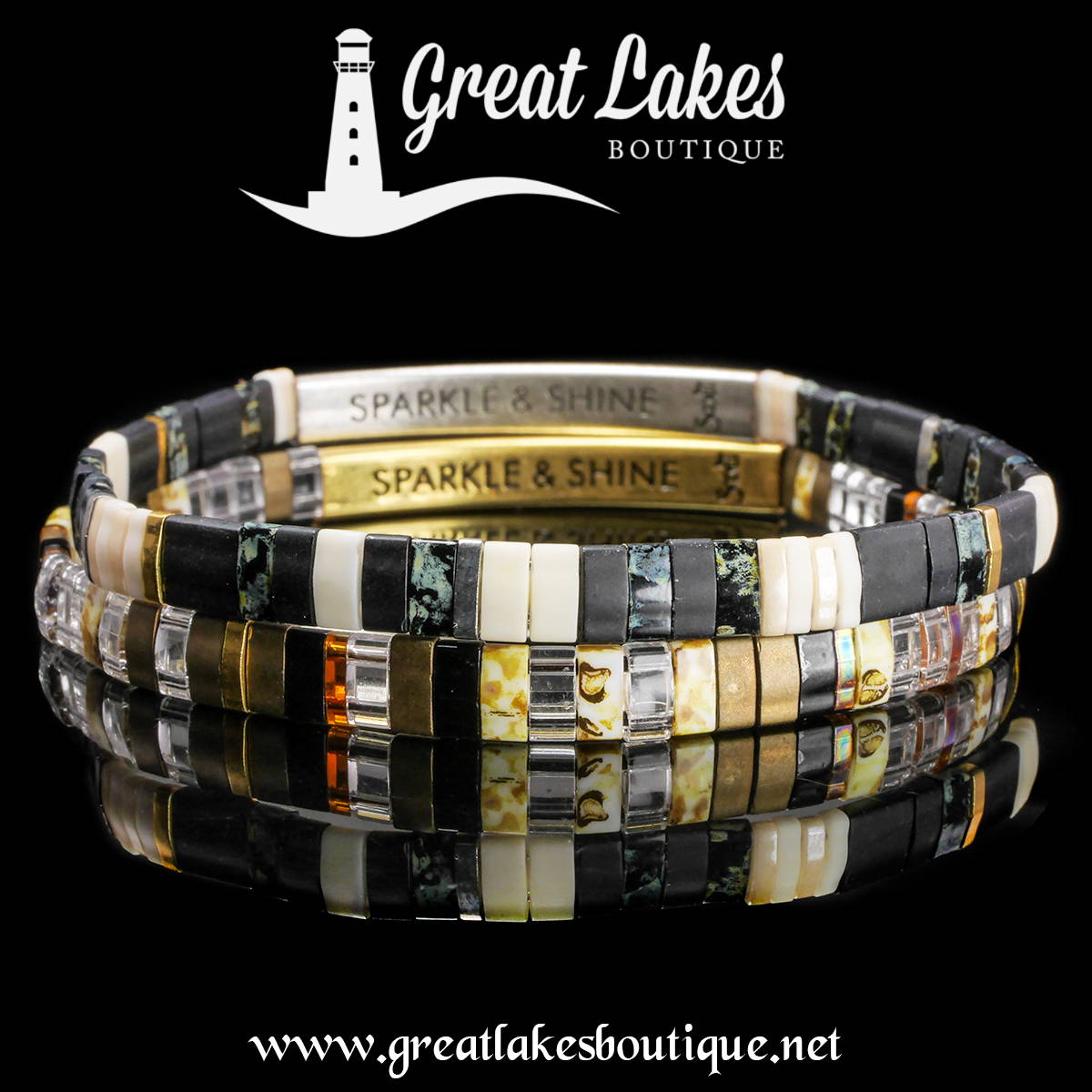 Newly launched just today are four new additions to the Scout Empowerment Bracelets. These are a little chunkier in terms of the individual bead sizes and each feature a motivational word. It's worth remembering that at this brand's heart is the concept of empowering women with a percentage of every single sale going to women's charities.
The new additions for fall are Dream and Grace, using lapis lazulis for a cooling blue look (pictured here) and rhodonite and rose quartz for a warmer, more traditional fall asethetic.
Again these are very comfortable to wear because they sit so flat to the wrist, minimizing them ever catching on clothing or other pieces of jewelry.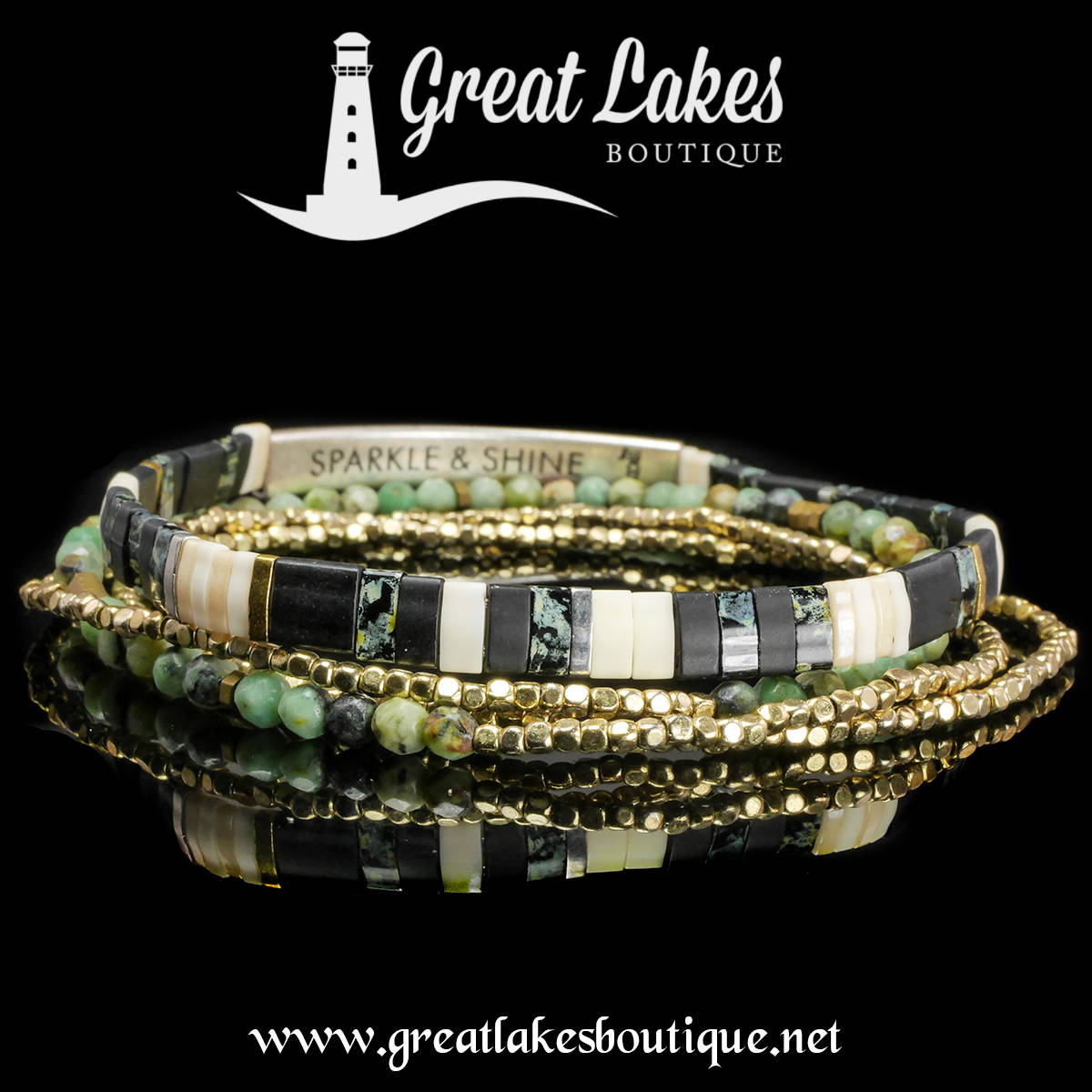 For those of you who collect our bead bracelet lines, Scout layers so well with bangles and bracelets and often you can find gemstones that will complement each other too. Check out some of the ideas below.