This bead bracelet blog brings a preview of The Palace of Amber Steampunk Season II collection, exclusive to Great Lakes Boutique.
Spring saw the launch of a very special release from The Palace of Amber. Steampunk is an amazing genre that lends itself so well to jewelry design. It's a theme we all love so much here at GLB and so we approached the talent that is The Palace of Amber with an idea. The Palace of Amber make incredible gemstone beads, not only in terms of the huge scope of stones they work with but also the quality. Simultaneously the silver is always intricate.
The result was a series of steampunk inspired gemstone beads, (stones and steampunk are just a match made in heaven.) Due to the fact stones are entirely unique, no two beads are the same. There are different cores, different shapes and the stones all have their own unique features.
Tonight sees the release of The Palace of Amber Steampunk Season II.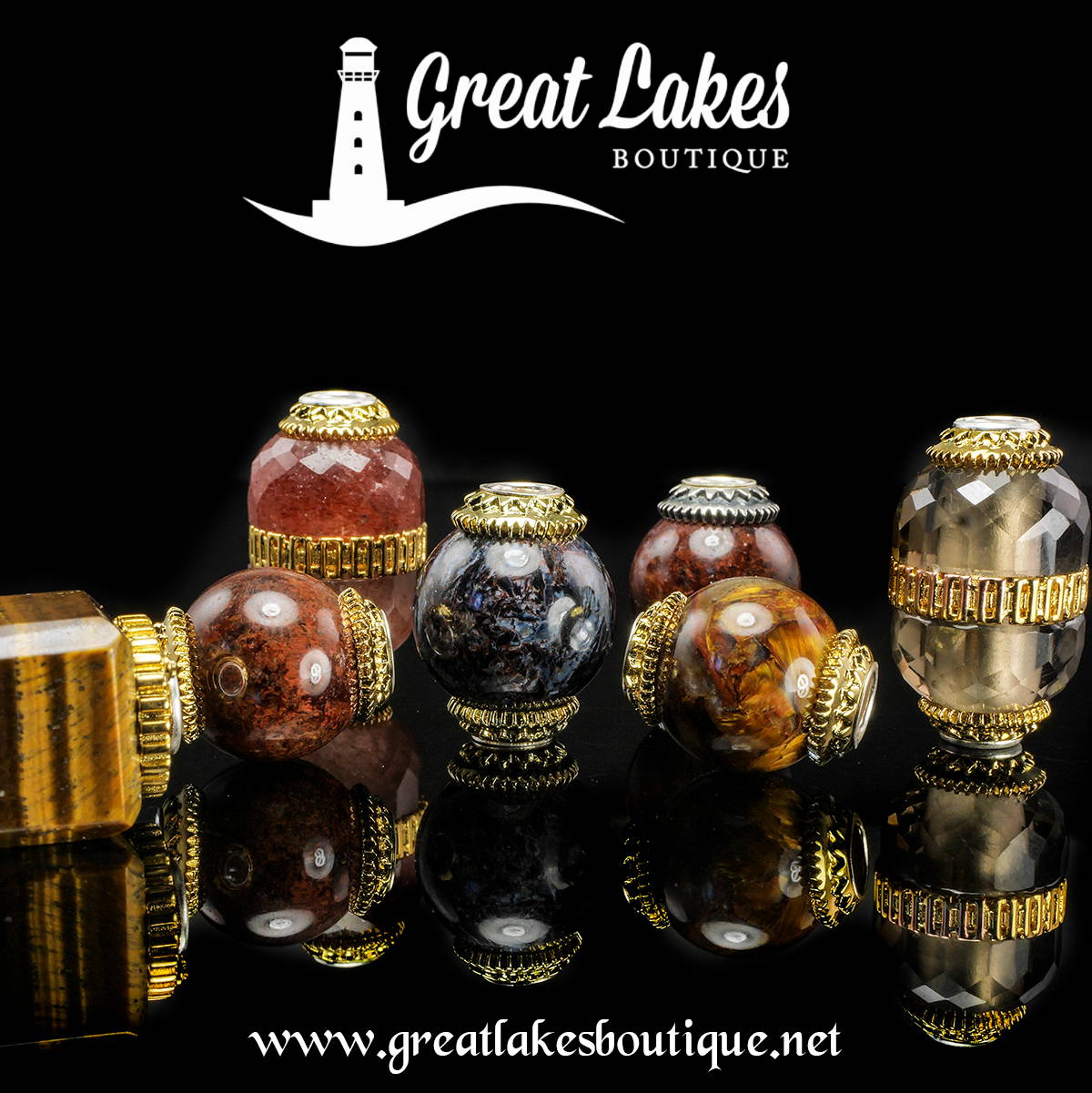 The Palace of Amber Steampunk Season II launches at 6pm EDT this evening, (Thursday August the 20th.) We decided not to hold these beads for Bead Bash on the Lake for multiple reasons. Firstly there are some amazing colors that you're going to love as we head into fall. Second to that we've heard after a couple of events now that some customers feel they never have a chance to take real advantage of the promotions to work through their existing wishlists, because there's so much new stuff and a limited budget. With this in mind and knowing we have event beads, we wanted to spread things out a little. Finally there's been some release delays recently that we know have saddened some people.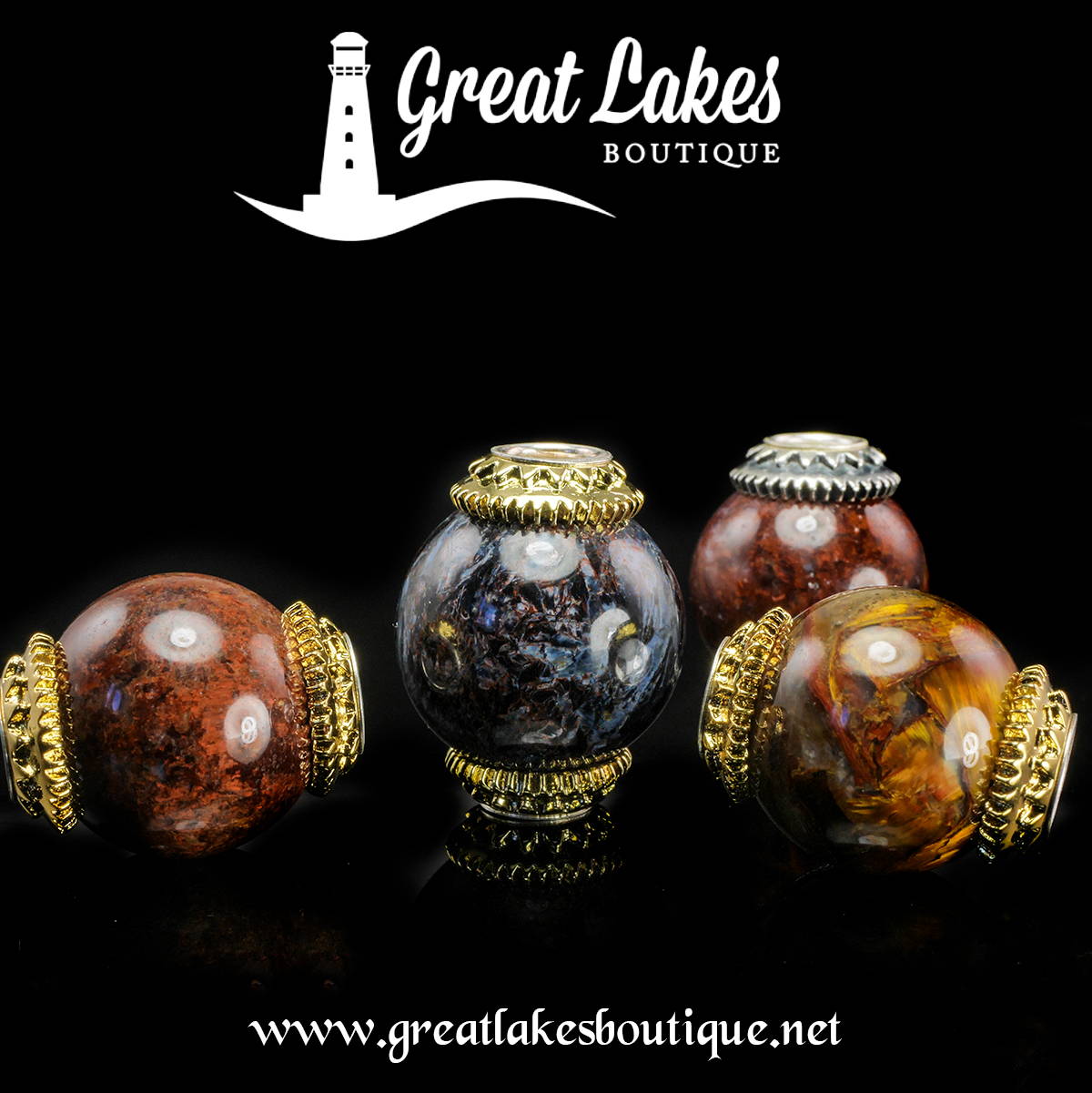 Season II brings a host of fall inspired shades with some new stones and some classic favorites. Cores will be available in both the standard sterling silver and the new Spark finish. Spark is gold plating over a mix of silver and copper. This ensures that if the plating eventually begins to show wear, the metal underneath is still yellow so the look will remain exactly the same.
One of the new stones for season II is the pietersite. Pietersite is an expensive gemstone, only found in Namibia. It's actually an aggregate of hawk's eye and tiger eye and though it's predominantly brown and reds, you can find some amazing electric blue shades. It's an exquisite and very hard to source stone.
So to recap. The Palace of Amber Steampunk Season II collection will be live tonight at 6pm EDT. These beads are completely exclusive to GLB and we're expecting the next release to be for spring. Not only do the gemstones take a lot of sourcing but these beads aren't super easy to make. As with all beads from The Palace of Amber, these are universally cored and will fit all major bead bracelets. Some will fit bangles, others will not and that will be detailed in each product listing.
We'll then be spending the weekend sharing with you some inspiration as to how we wear these beads. A nearly always style them as a focal with other stones so do be sure to check out our current gemstone inventory. Earth tones will stand you well going into the fall and we have some lovely tiger eyes, feldspar moonstones and pseudomorphs waiting for you.