This Trollbeads blog alerts readers to the start of the Trollbeads carrier sale.
The latest Trollbeads carrier sale is now here and it provides the perfect opportunity to stock up on bracelets & bangles ahead of the new season releases.
There are more exclusions and restrictions this time than in previous promotions so it's important you pay attention to the applicable promotion pages. Not all products are included.
Please be aware that all Trollbeads free bracelet promotion orders will have shipping fees applied to them. If you spend $50 or more on full retail items, these shipping charges will be refunded once we process your order.
Buy a Trollbeads silver lock, get the silver bracelet for free. Please note despite the graphics, not all locks are included in this. You'll find all eligible locks by clicking on the button above.
Each lock has a drop down menu allowing you to choose your required bracelet size. Please remember Trollbeads size differently to all other brands as their sizing includes the locks. So if you order a 19cm bracelet, the physical chain you will receive is 17cm to allow for a 2cm standard lock. Please be sure to accommodate this when you place your order.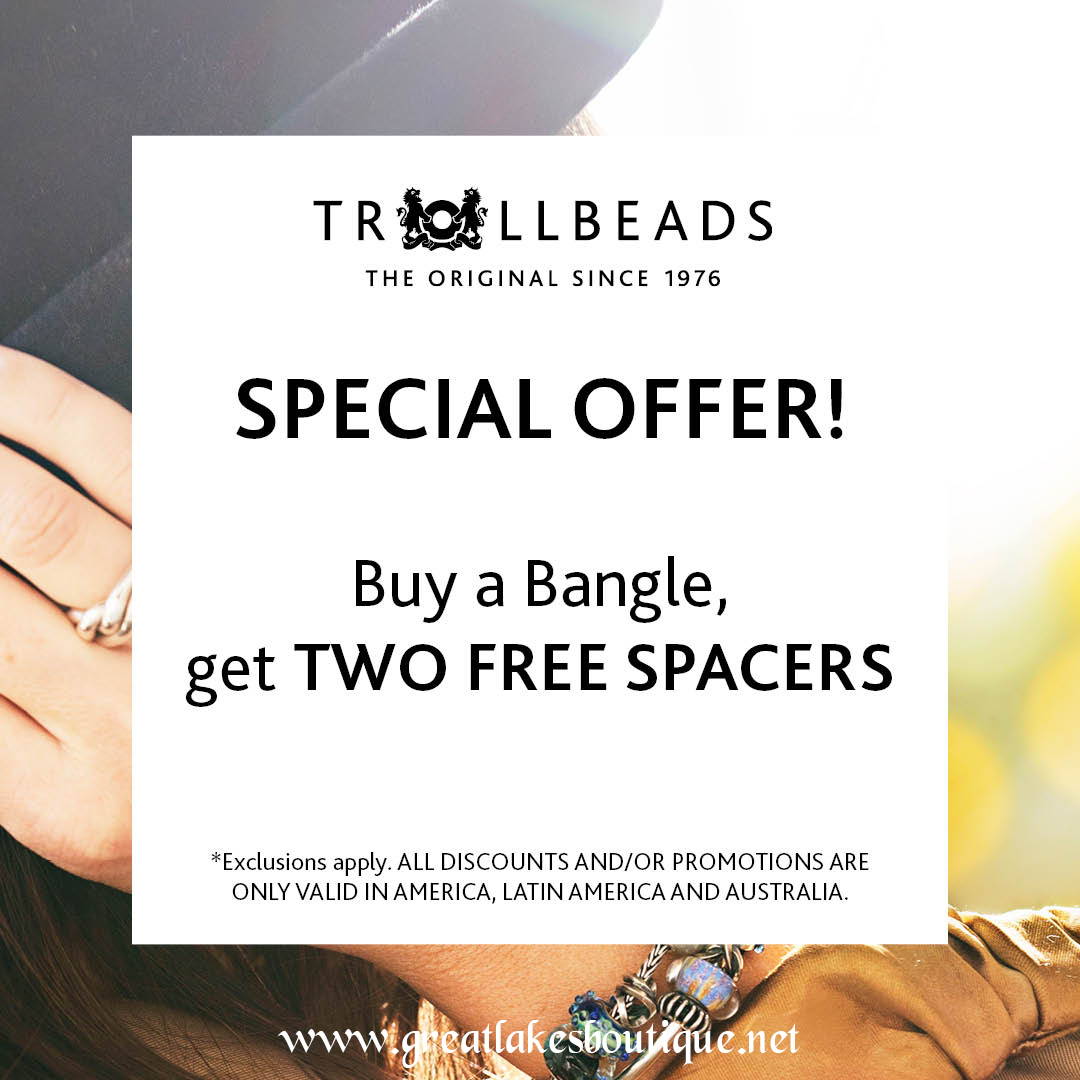 Buy a Trollbeads bangle and get a free pair of plain spacers.
Silver Bangles, Twisted Silver Bangles, Heart Bangles & Star Bangles all come with free Plain Silver Spacers.
Copper and Twisted Copper Bangles feature free Copper Spacers.
This time around the Gold Plated and Twisted Gold Plated Bangles are excluded entirely (even with free Silver Spacers.)
Please choose your options from the promotion page found above.
Buy a Trollbeads Silver Necklace & save 25% off a pendant to wear on it.
Again there are exclusions. The carriers are Fantasy Necklaces and the Signature Silver Necklace. Neck Bangles are excluded.
Not all pendants are included either so it's important you use the link at the top of this article (also on the front page of the website.) The website will deduct the 25% discount automatically for you once eligible items are in your basket.