This charm bracelet blog brings styling ideas for The Palace of Amber Steampunk Season II beads.
On Thursday night The Palace of Amber Steampunk Season II beads debuted on our website and they've proven hugely popular again. These are very high quality stones so if you're a gemstone fan and you've yet to take a look, be sure to check them out.
These are large, focal beads though there are still some remaining that fit bangles. Those are noted in the product descriptions.
The intention was always for them to be focal size. They make amazing pendants on The Palace of Amber Baroque Necklace but larger size also allows the gemstones to really shine. Those tiger eye cubes are a perfect example.
So how to style them if you aren't a necklace wearer?
I generally layer mine, wearing no more than two at a time and today we're sharing a few ideas for doing just that.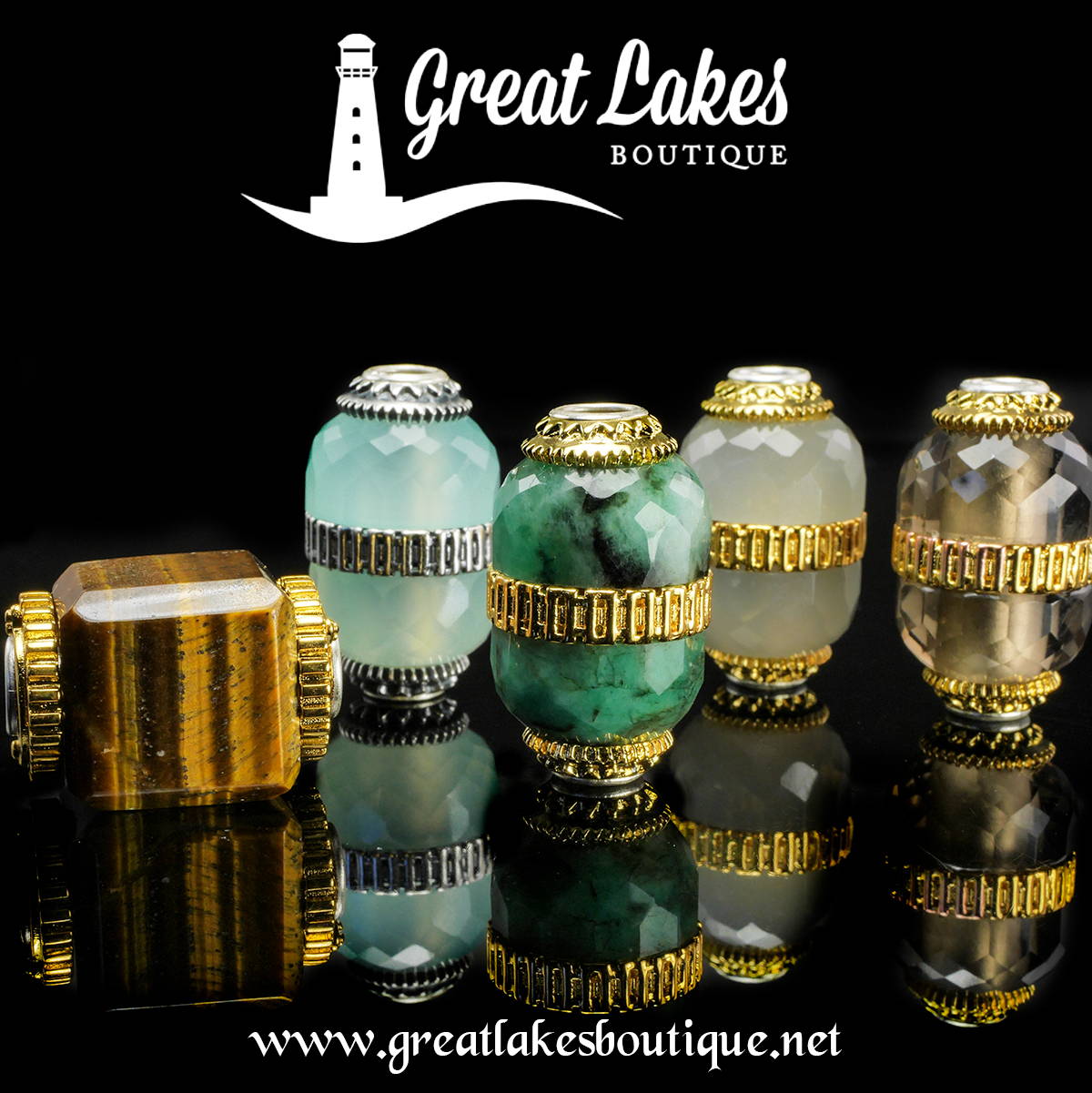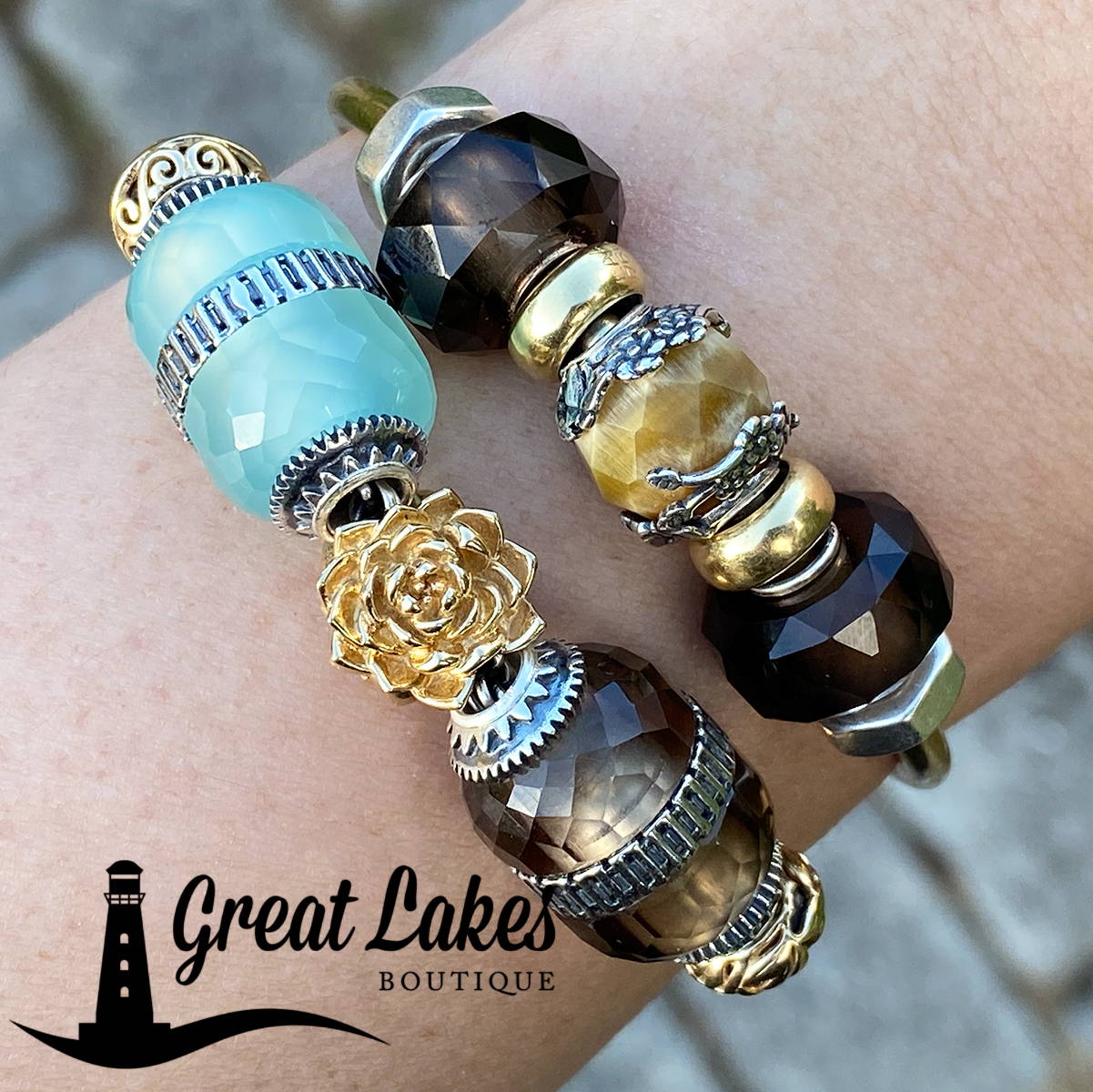 This is one of my favorite looks and features one of the key colors from The Palace of Amber's fall 2020 collection, the mint green chalcedony. It's an accent shade to the darker chocolates of smoky quartz and the misty grays of the gray moonstones.
I've warmed this combination up with gold spacers and Fortitude in Gold and it's such a pretty set of colors.
Moss agate is one of my favorite stones, at least once I realized they came in translucent versions. They look like terrariums.
This very fall inspired combination mixes moss agate, smoky quartz and a focal Pumpkin Patch. Pumpkin Patch is one of my favorite of the decorative core series and you can still find a few of those on the website.
Keeping to a single steampunk barrel like this stops the combination getting too overwhelming.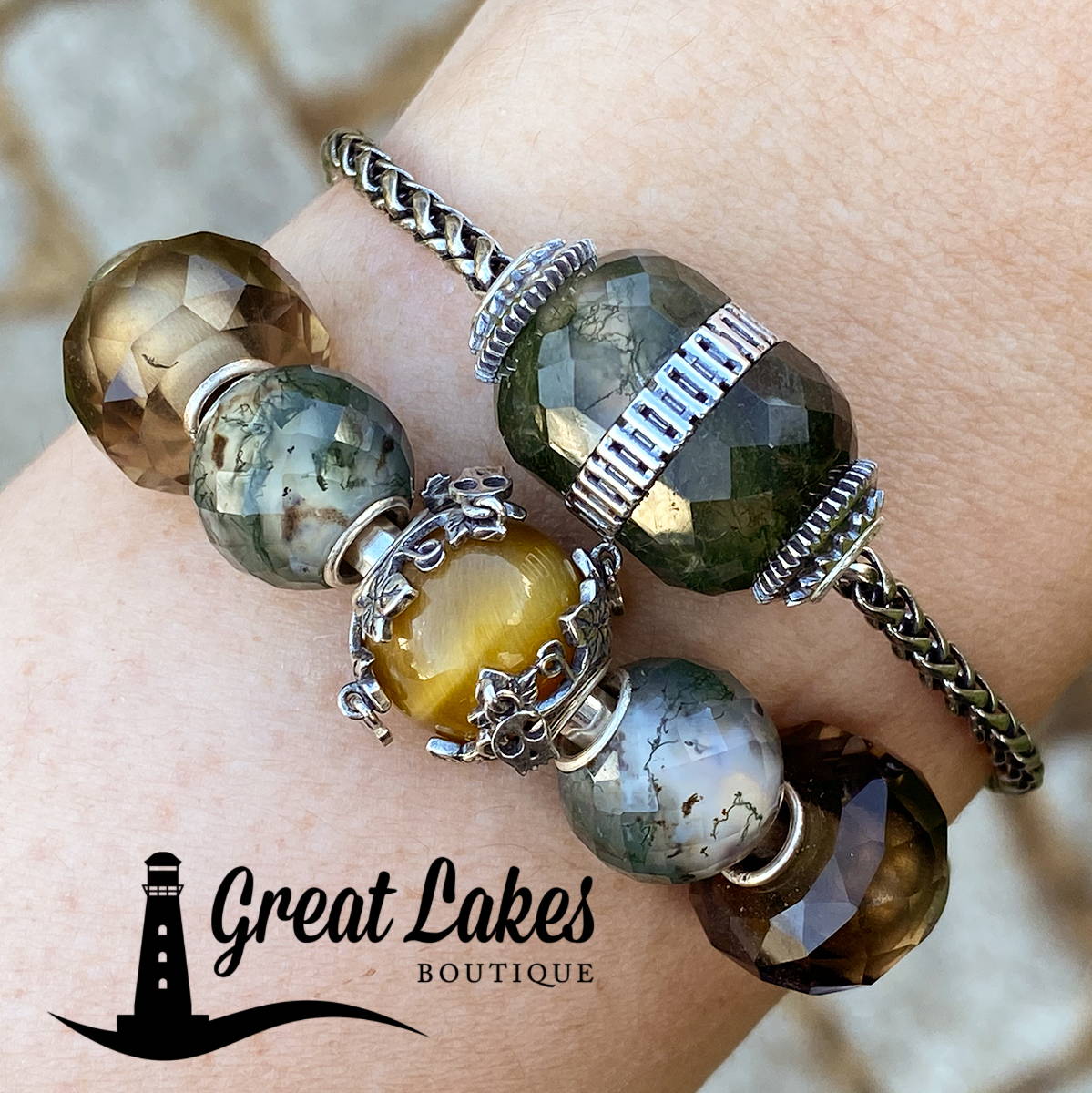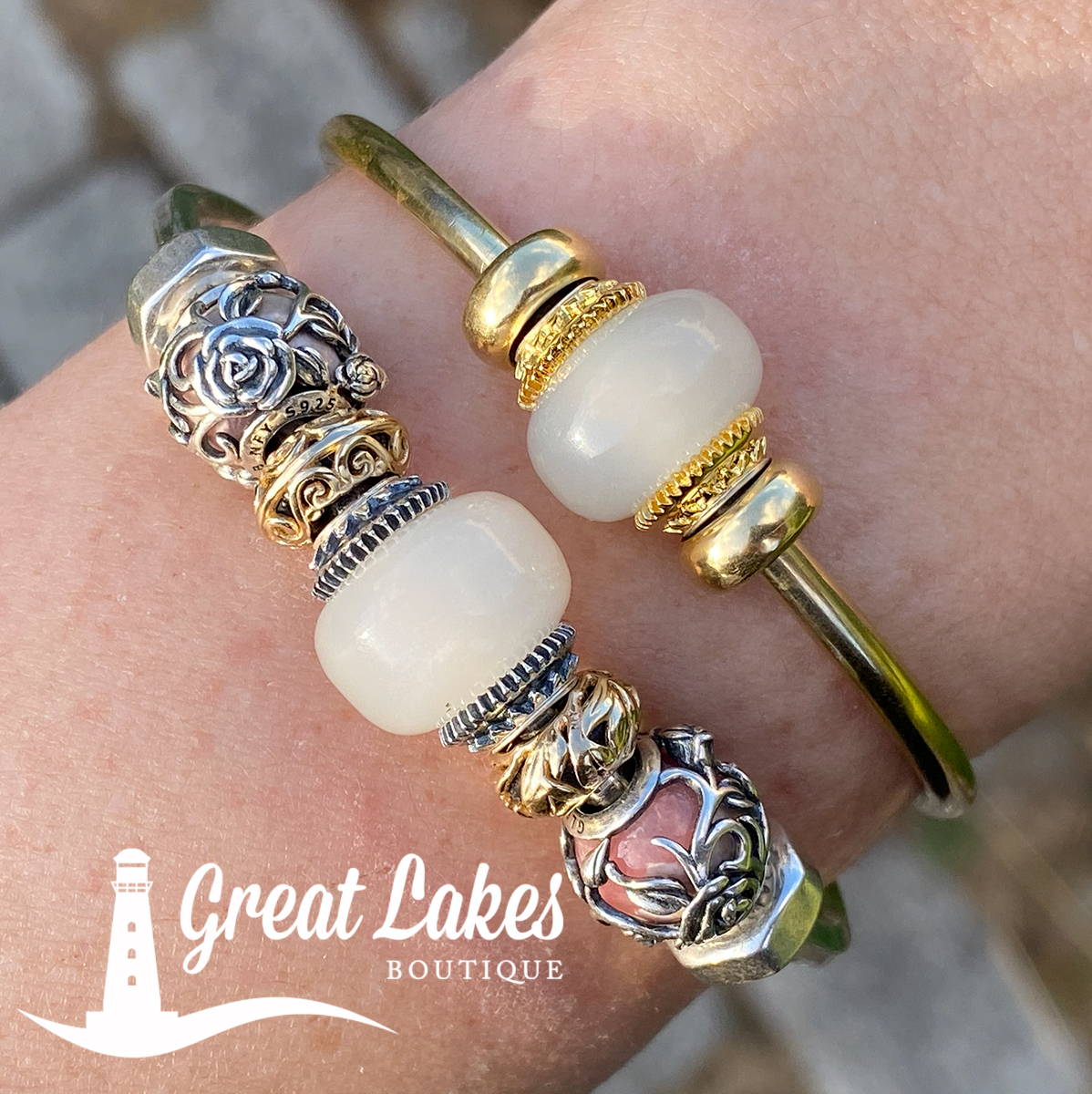 The white moonstone beads have a completely different vibe and feel much more feminine. There's also two which are small enough to wear on bangles.
This combination is so pretty in person and features The Palace of Amber Midsummer Night's Dream to introduce a little late season pink to the combination.
For more traditional fall combinations I can't get enough of tiger's eye as a stone. I adore that it looks so much like wood.
This one has been style with Pumpkin Patch, smoky quartz and the Summer Vines with cat's eye quartz. Again there's a little gold in there to warm up the whole combination. Gold spacers are such a good way to bring that warmer hue to a combination without venturing into the realm of full beads.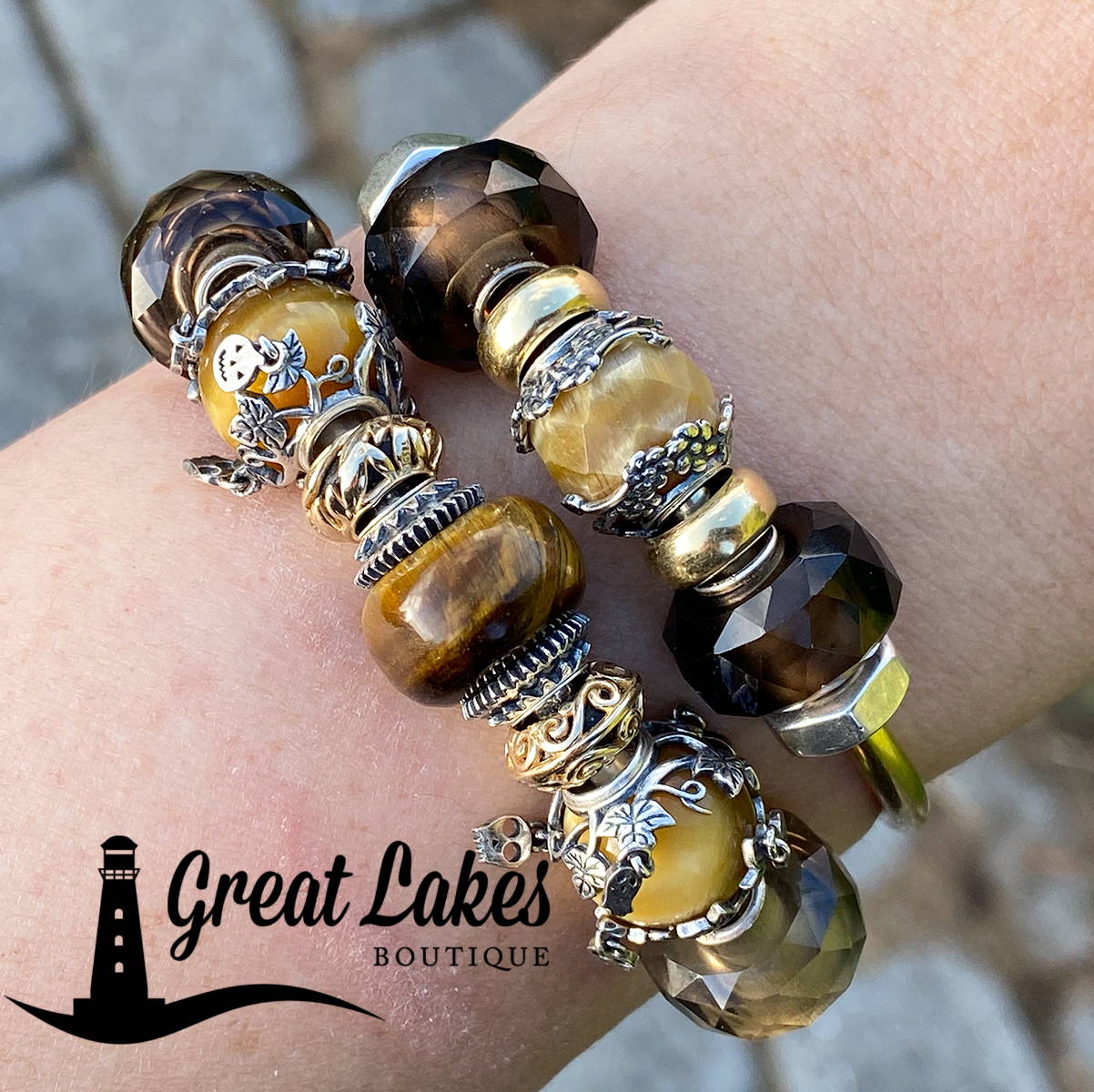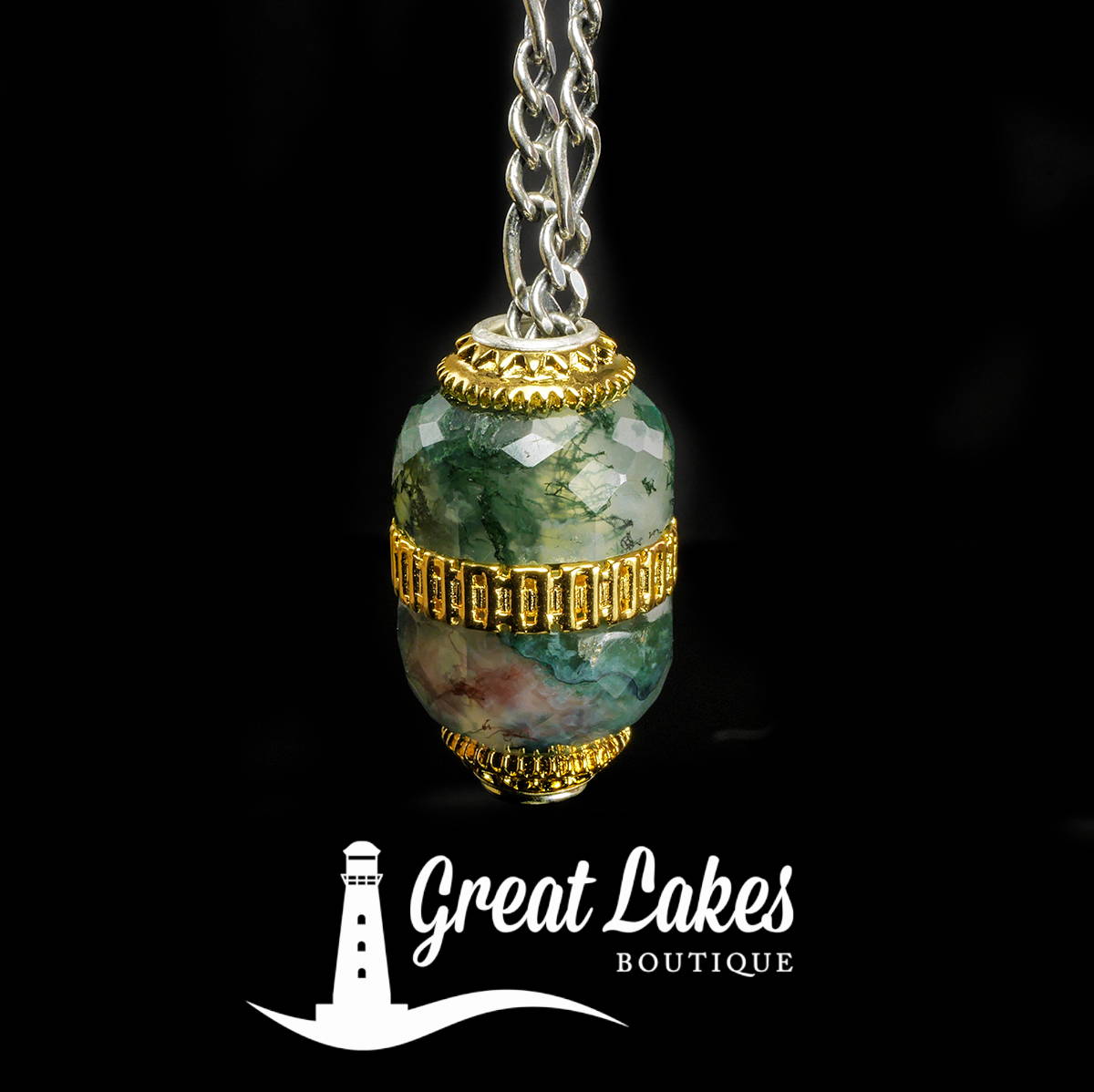 If you do love necklaces, these are so well suited to The Palace of Amber Baroque Necklace. The style of this necklace allows a bead to float without having a pendant underneath, (unlike the Trollbeads fantasy necklace for example.)
Of course you can add more beads above or below should you like but even alone the end result is