This charm bracelet blog brings the full instructions for participating in your preferred Thomas Sabo Karma Beads promotion during Bead Bash on the Lake Fall 2020.
During Bead Bash on the Lake Fall 2020 you'll have the choice of two different Thomas Sabo Karma Beads promotions. We've specifically done this to cater to both brand new collectors and more seasoned fans alike. The two offers do not stack and for that reason you need to choose which to participate in with each order you place. Please read the following guide carefully as it will walk you through the whole process. Alternatively feel free to email victoria@greatlakesboutique.net or message us on Facebook to have your order processed manually.
Your two options are:-
Spend $120 or more on Thomas Sabo Karma Beads and get a free silver Karma Beads Bracelet worth $69.
For those of you not needing more bracelets, you can do a straight forward buy three get one free across beads, stoppers, safety chains (and yes, you can apply it to carriers too.)
You can't mix these two offers in one order. You can place multiple orders, each using a different promotion.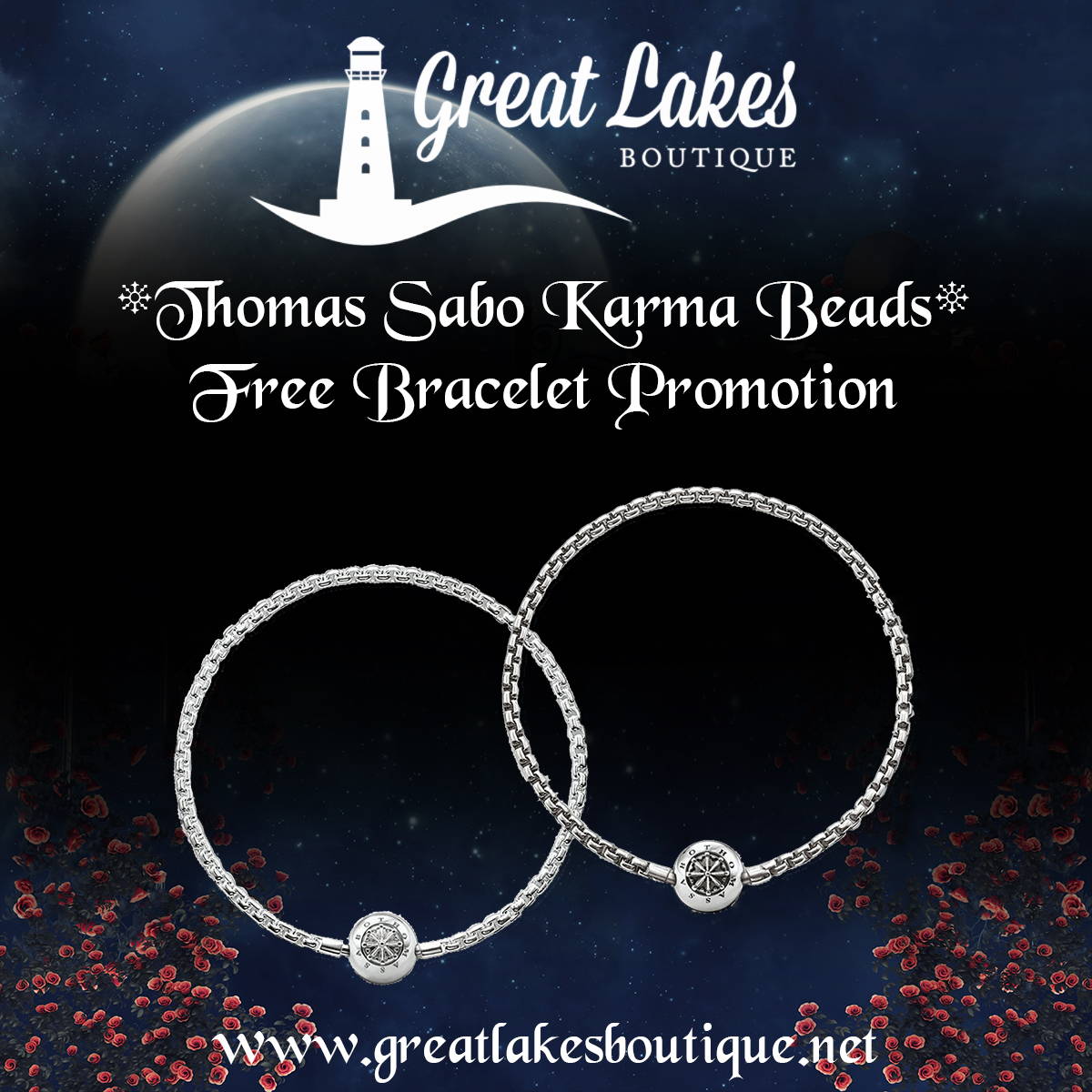 When you have four or more Karma Beads items in your cart during the event, the cost of the cheapest will be automatically deducted at checkout. If the buy three get one free promotion is the one you prefer, you can just proceed through checkout.
If you'd prefer to get a free bracelet, firstly choose your size and finish here (or by clicking the button underneath.) Ensure you have $120 or more of Karma Beads in your basket and then head to checkout.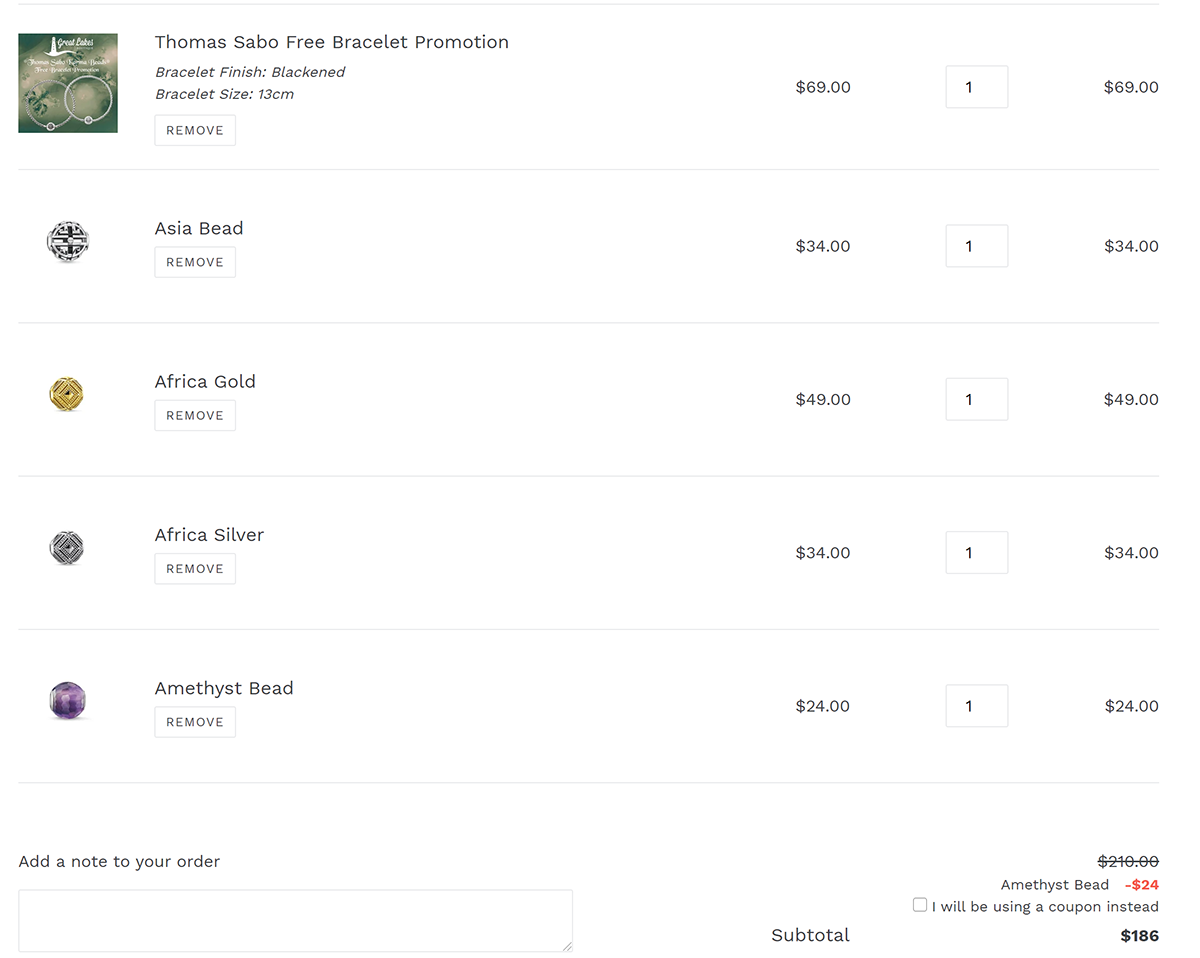 Your cart will look something like this. The free bracelet will show at a full price of $69 and at the bottom, you'll instead see the cheapest bead deducted from your total.
In the bottom right corner is a check box that says "I will be using a coupon code instead". Please click that box.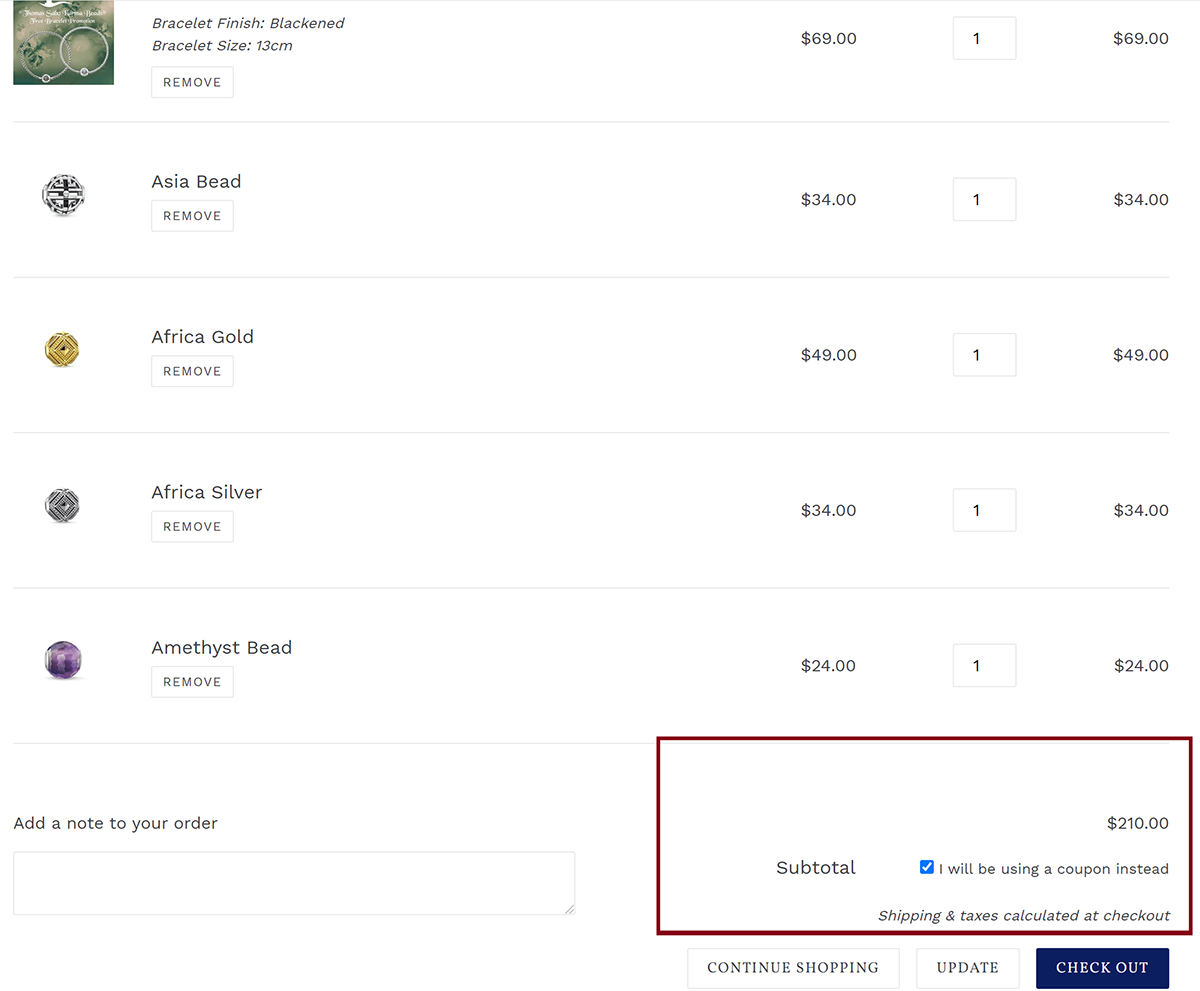 A new box will magically appear asking you to enter a gift card number or a discount code.
Please enter the code FREEBRACELET (all caps, no spaces.)
You can then click apply.
The website will then deduct the $69 cost of the bracelet and mark it as free. The free bead will be revert to it's original retail price.