This charm bracelet blog shares a little Thomas Sabo & The Palace of Amber rose gold bangle inspiration.
Rose gold is highly underrepresented when it comes to charm and bead bracelets. Admittedly the color tends to fade in and out of current trends in waves versus yellow gold which is considered a little more classical in it's enduring popularity. Rose gold does suit some skin tones better than yellow gold however and for those who love the hue, it's lack of appearance in bead world can be frustrating.
For those who follow us on social media, we style The Palace of Amber and Thomas Sabo Karma Beads together a lot. The two complement each other so well. Thomas Sabo have a small (but very pretty) range of rose gold plated beads and with the introduction of The Palace of Amber Spark, rose gold has also appeared there too.
This is a combination I've been wearing a lot recently and it's so pretty and feminine. All of the glass beads here are The Palace of Amber, while the rose gold plated beads and gemstones are from Thomas Sabo Karma Beads.
The bangle in the center is a solid rose gold bangle handmade here at Great Lakes Boutique. These bangles are narrow enough to accommodate Trollbeads and just offer an alternative for those who prefer to avoid plated jewelry, especially on your actual bangles which are more prone to the wear and tear that can cause the plating to fade. Prices on these do vary depending on the cost of the gold at any given time and they are also custom made to order. As a rough estimate, the prices are usually around the $1300 mark and for anyone wishing to order, please just drop an email to victoria@greatlakesboutique.net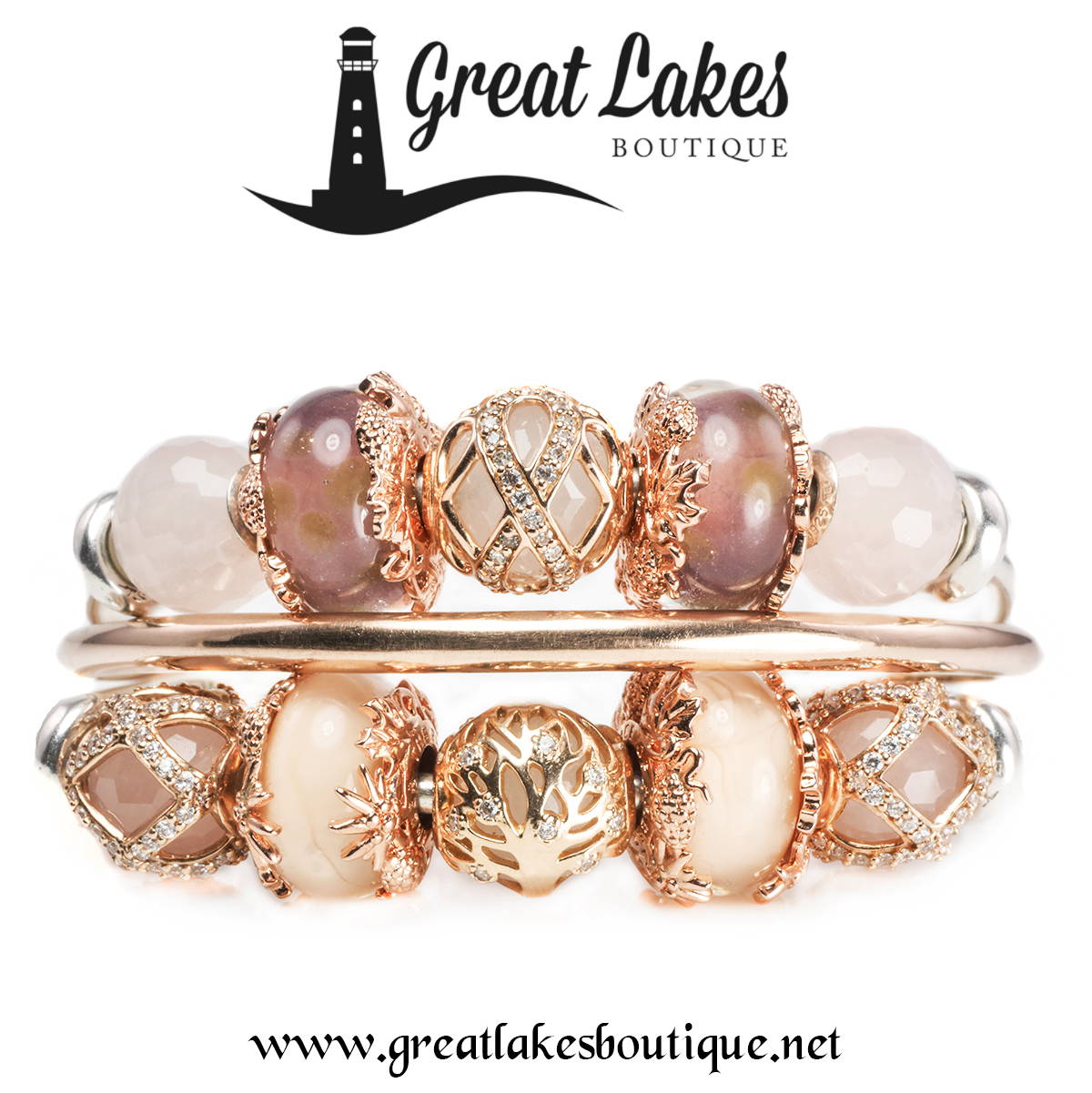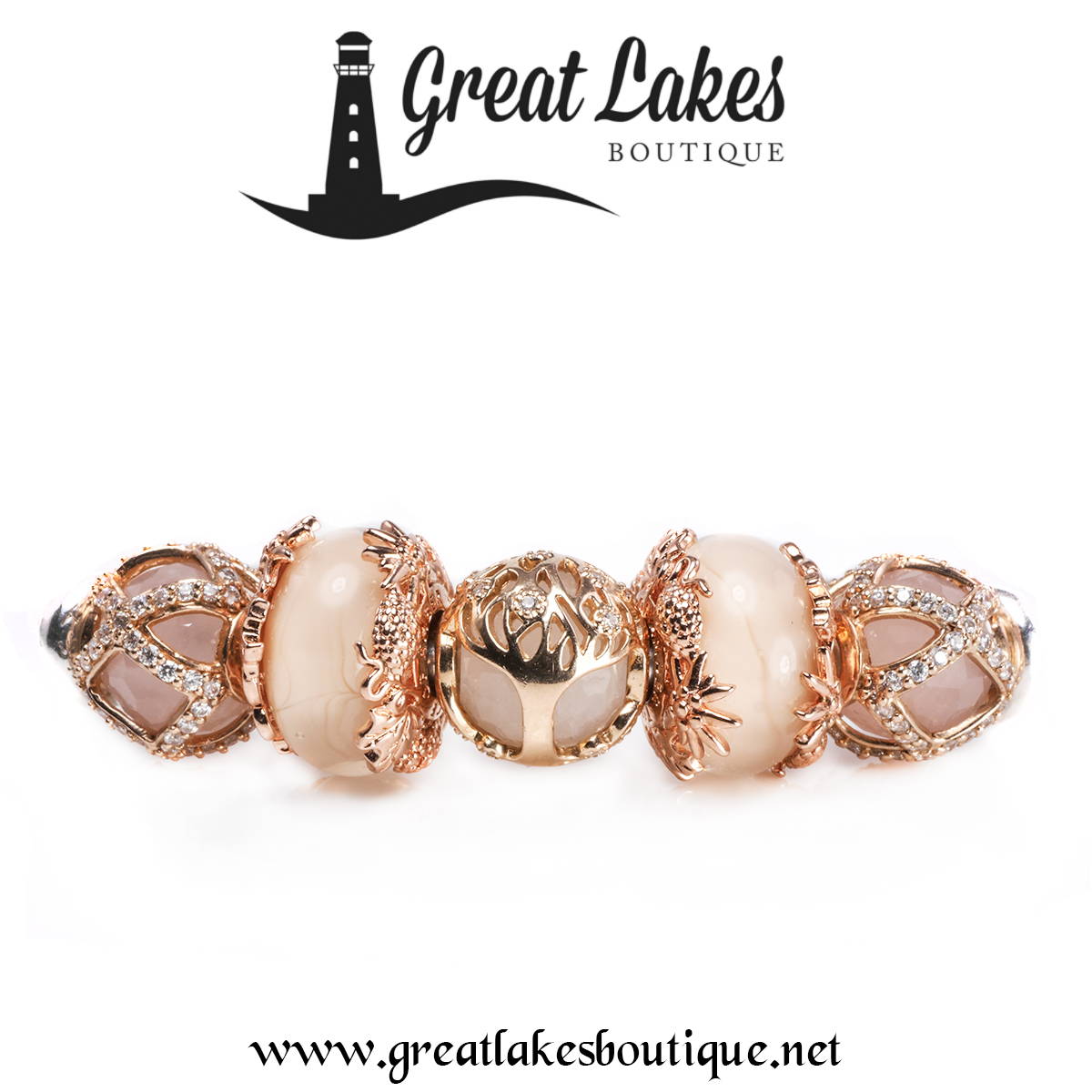 Of the two bangles used in this stack, this is definitely my personal favorite. The glass here is The Palace of Amber Winter Rose with the Rose Spark core. Spark is The Palace of Amber's own plated finish but it's more akin to Pandora Rose or Shine than it is to traditional plated jewelry. For Spark a layer of gold plating is placed over an underlying mix of Sterling silver and copper. The underlying alloy is then either yellow gold or rose gold in color, ensuring that if the plating just fade with extensive wear, what shows underneath is the same shade. You'll avoid the dreaded duo-tone or faded look that can be seen with plated jewelry.
The focal bead here is the Thomas Sabo White Tree which is one of my favorites across the entire line. The two end beads are the Rose Gold Maharani beads which use rose quartz at that center.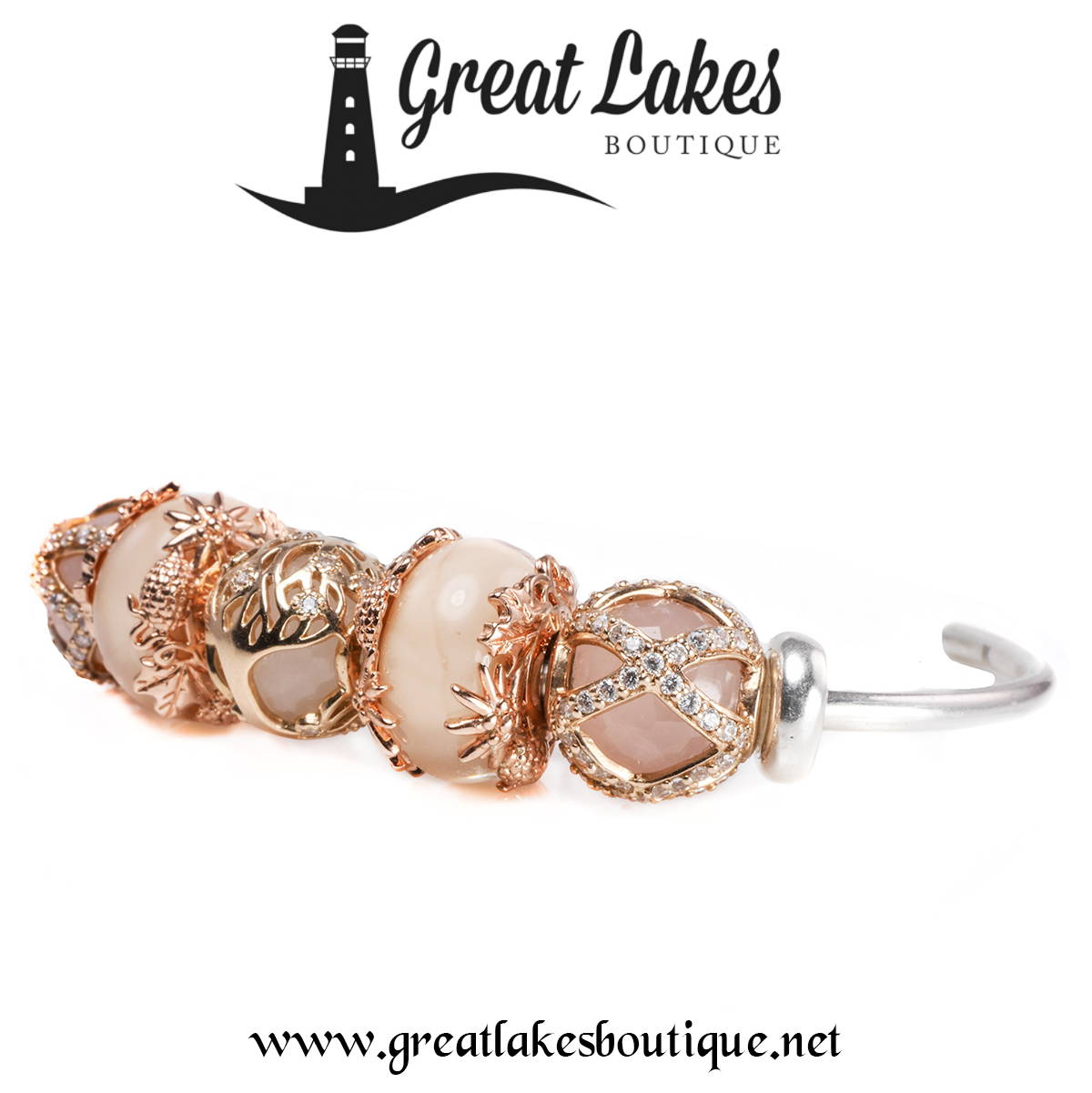 The second bangle adds a little more color with The Palace of Amber Sugar Plum glass. All of the glass used on these bangles is exclusive to Great Lakes and the core on each is identical in it's design. This design has now been used on Winter Rose (cream,) Sugar Plum (pink) and Hope (green.) For those who prefer yellow gold or Sterling silver, both of those options are available too.
The center here is the Thomas Sabo Karma Beads Infinity with a milky quartz at it's heart. The two outer stones are rose quartz and we've always been so impressed with Thomas Sabo Karma Beads gemstones.
Please do keep in mind both bangles used are the Thomas Sabo Karma Beads Classic Bangles as Karma Beads won't fit The Palace of Amber (or Trollbeads) bangles.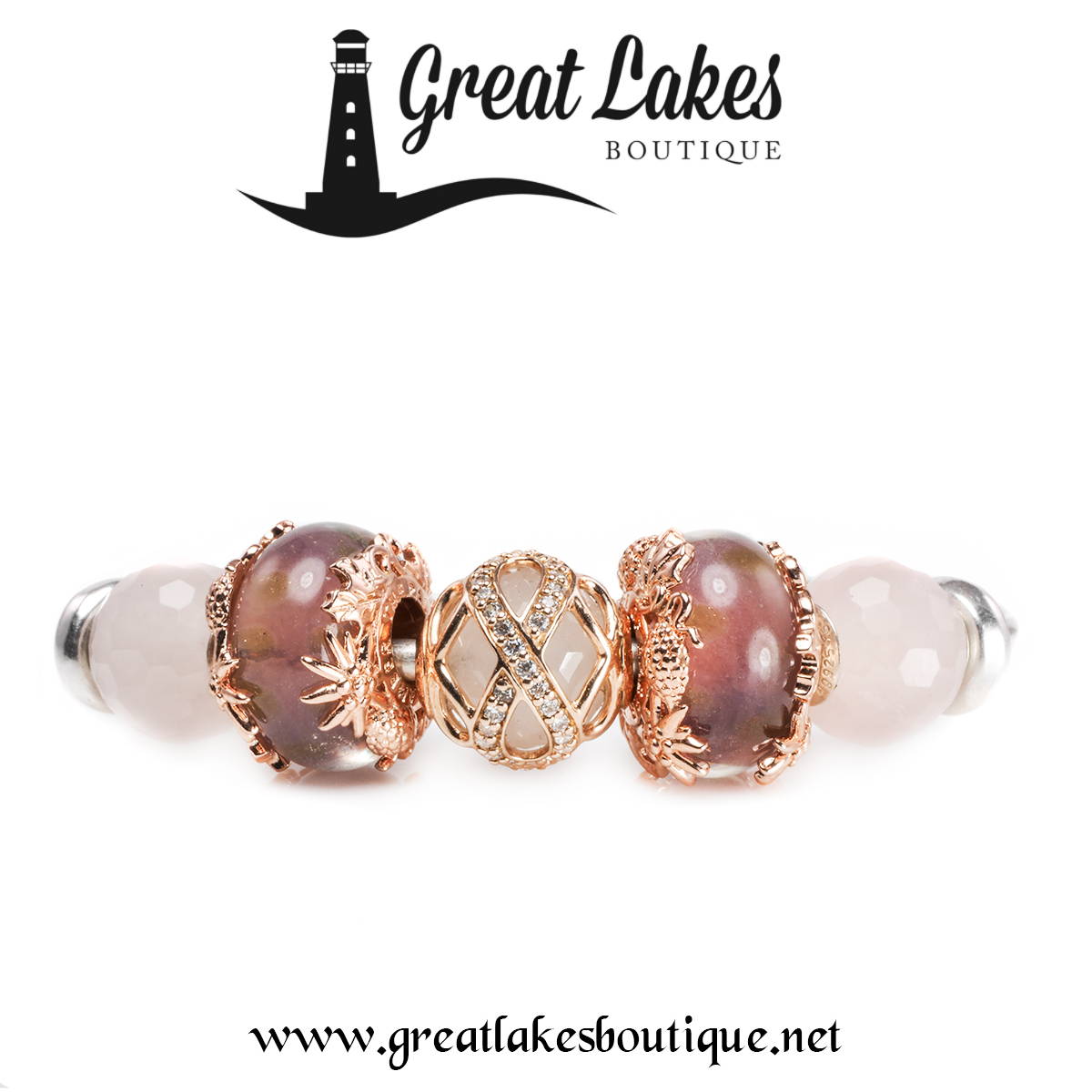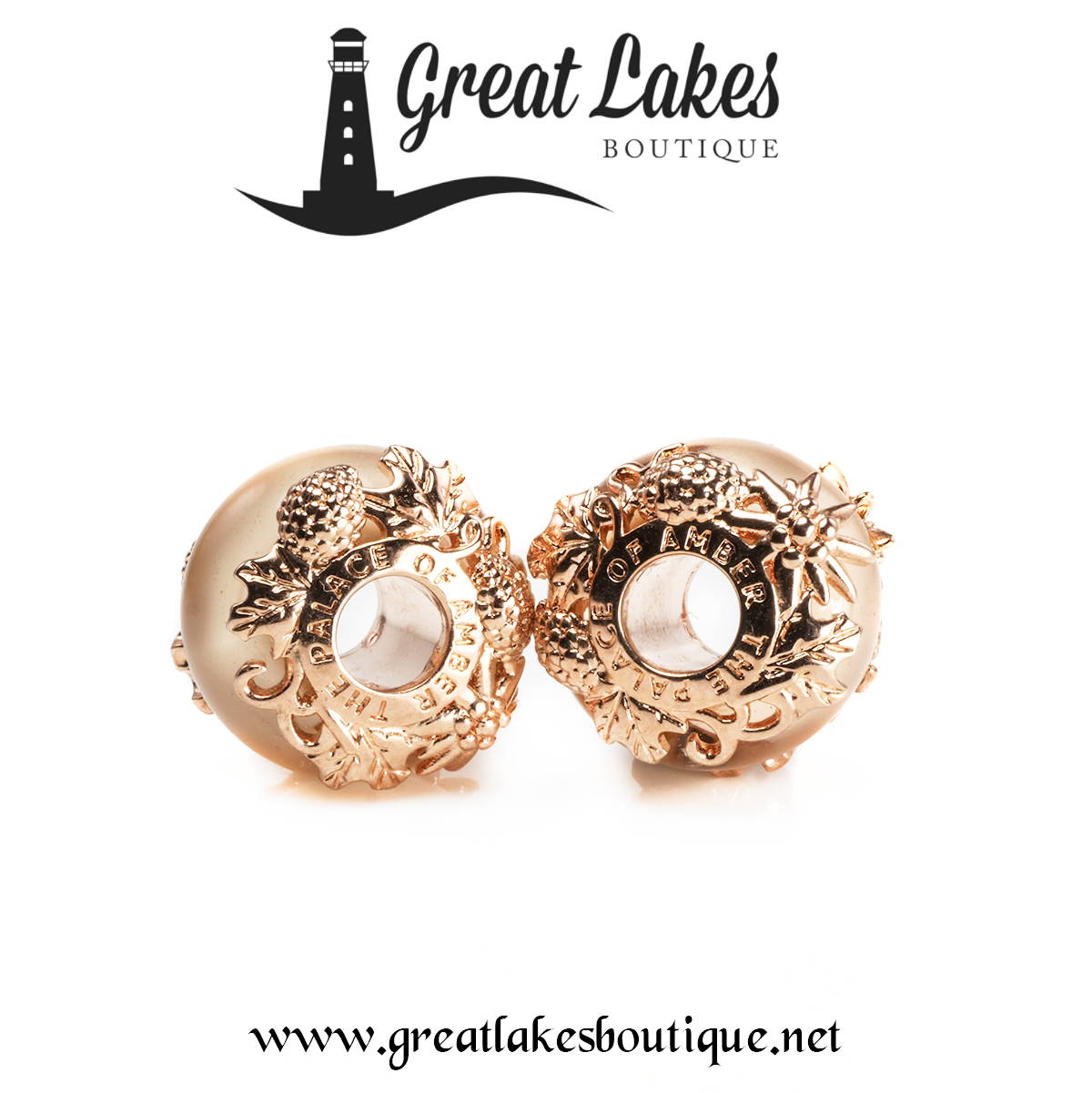 Here's a closer look at that exclusive core. It's a nature themed design featuring pine cones, star flowers and leaves in this really lovely pattern.
For those new to The Palace of Amber, the cores are single piece tubes through the entire bead. They aren't the end caps that you'll encounter with some brands.
Winter Rose is a very soft cream shade with the lightest hint of a blush added to it. This glass does look a little darker or paler, warmer or cooler depending on what it's styled with. The Spark core makes the glass look much warmer in shade than the Sterling silver version but rest assured, it's identical.
Finally this is the stack in the sunshine and it really does sparkle in the light.
Do note that for this picture, I've used the Pandora Rose Bangle just to show the comparison between that finish, the Thomas Sabo rose gold plated beads and The Palace of Amber Spark finish. The three are very similar and definitely interchangeable.
Below you'll find all of the direct links for the pieces used in this article.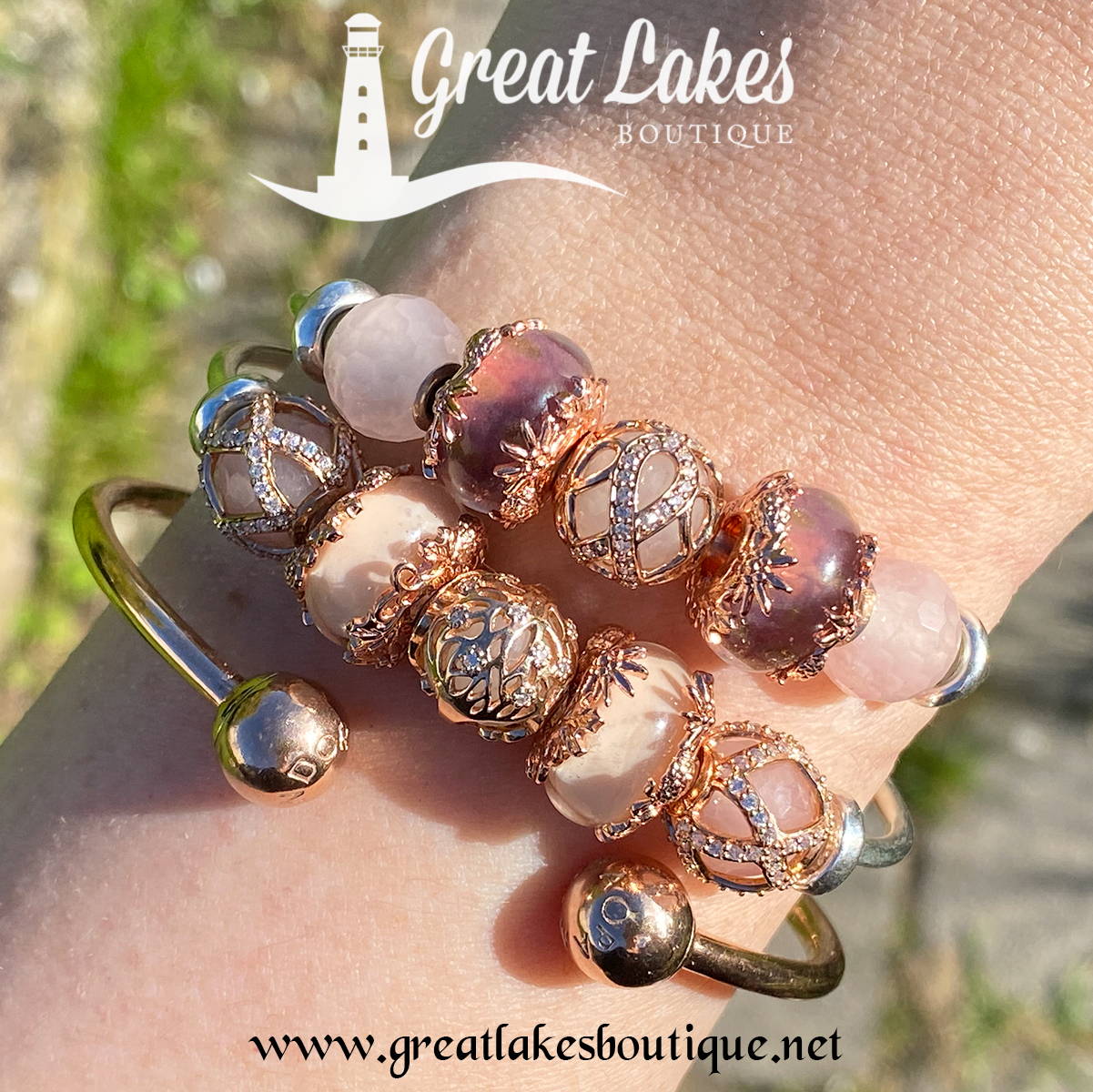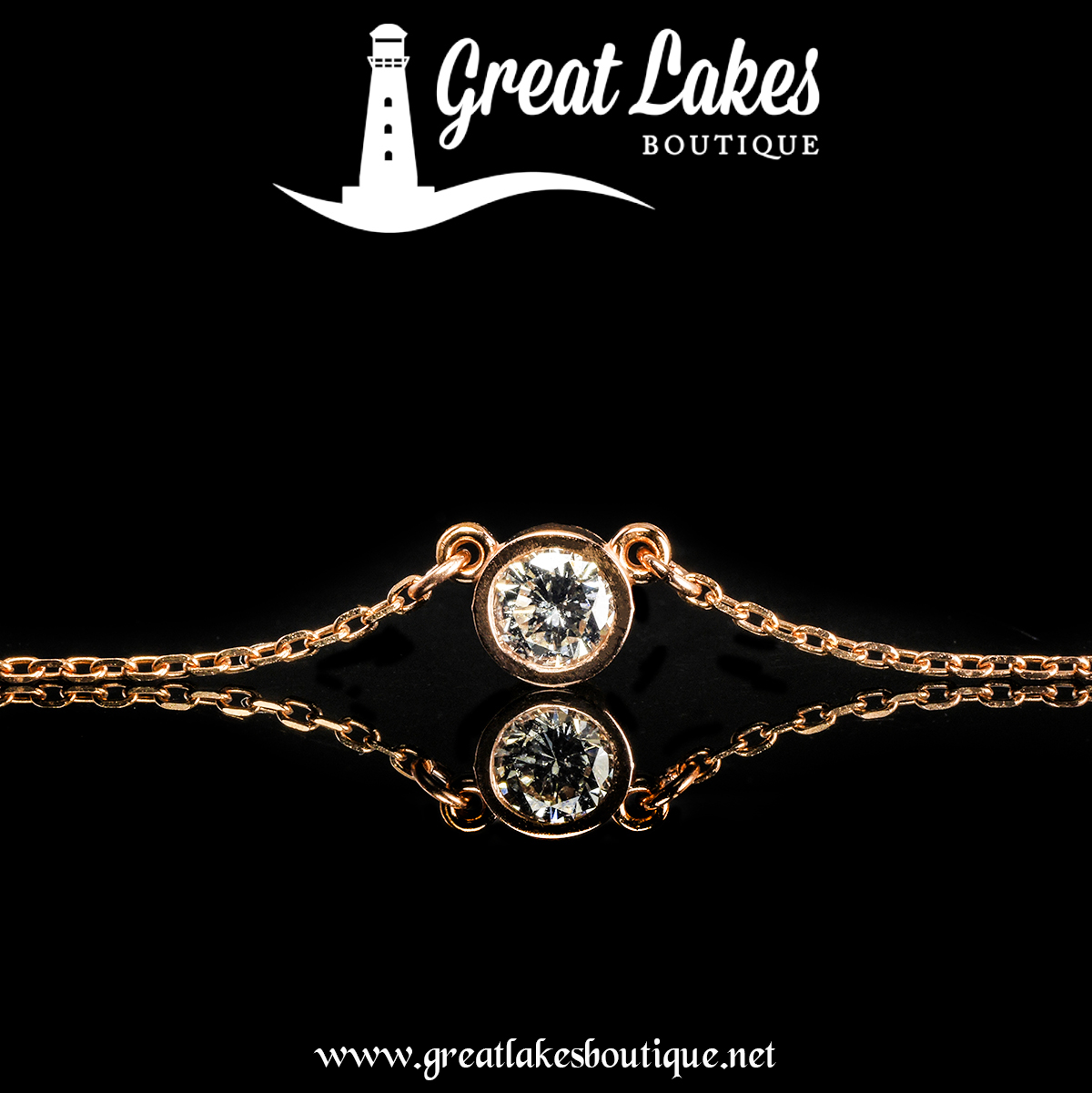 For those of you who love rose gold, we do also have our Diamonds in Motion range available via the website. This series is all handmade in store and they're so popular. It taps into one of the current jewelry trends for fine, delicate, feminine chains punctuated by beautiful gemstones. Worn alone these are ideal for everyday styling because they're elegant and understated. They can also be layered together however to create very dramatic looks.
Since COVID there's been a strong trend towards more understated diamond jewelry pieces that can be worn by day and night and dressed to suit all occasions.