New to the world of Trollbeads jewelry? This Trollbeads blog explains how to choose your Trollbeads bracelet size and navigate their slightly confusing sizing system.
Trollbeads are just one of our bead bracelet brands here at Great Lakes Boutique. Their bracelet sizing can be very confusing to those new to the brand but this guide will help you choose the perfect size. Please remember that this size guide applies to Trollbeads only.
Trollbeads bracelet lengths all include the lock in their calculations. This means if you order a 7.9 inch / 20 cm bracelet, the physical chain length you receive will be 7.1 inches / 18 cm and the lock will make up the last 0.8 inches / 2 cm.
This may sound confusing but makes sense when you consider that Trollbeads bracelets require the use of a separate lock.
When ordering Trollbeads bracelets you always order the completed size you require. This is the same regardless of whether you're shopping for just a chain or a ready to wear bracelet set with the lock included.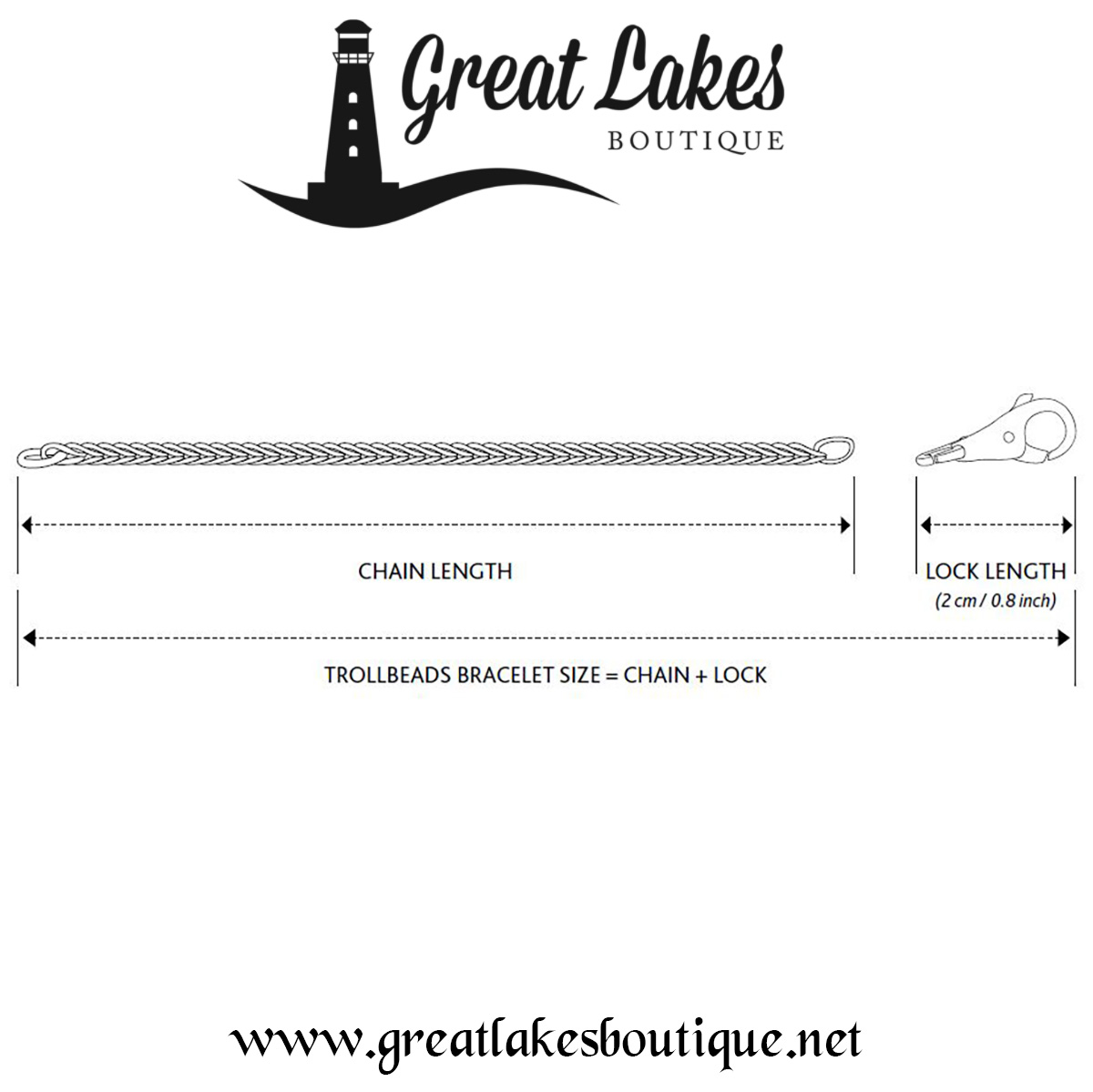 If you're unsure of your bracelet size, we always recommend measuring. You can use either a tape measure or something as simple as a ribbon or piece of string and a ruler.
Always measure where your wrist is the broadest. This gives you your physical wrist side.
Add 0.8 inches or 2 cm to the measurement you receive. This ensures you have enough room to add beads and to fasten your bracelet.
The end number will give you your required bracelet size.
If you prefer your bracelets a little looser, you can then choose one size up to allow yourself more room.
This handy table below will help you to convert your physical wrist size, to your Trollbeads bracelet size and also details the chain length you'll then receive to help avoid confusion at delivery.
| | | |
| --- | --- | --- |
| Wrist Size | Required Total Bracelet Size | Physical Chain Length You'll Receive |
| | | |
| | | |
| | | |
| | | |
| | | |
| | | |
| | | |
| | | |
| | | |
| | | |
| | | |
| | |
| --- | --- |
| Pandora Bracelet Size | Trollbeads Bracelet Size |
| | |
| | |
| | |
| | |
| | |
| | |
| | |
If you already wear a bracelet from another bead bracelet brand, you can use that as a basis to choose your Trollbeads bracelet too. Do remember again that if you order a 7.9 inch / 20 cm Trollbeads bracelet, the physical chain length you'll receive in your order will be 7.1 inches / 18 cm. You must account for that lock.
For example if you wear a Pandora bracelet with a total length of 7.9 inch or 20 cm, then the equivalent Trollbeads bracelet size will fit you. If your Pandora bracelet is a tight fit when full of charms, we do recommend going just one size up for Trollbeads as their beads are generally a little bit larger and it will give you a more comfortable end fit.
You will find a larger selection of sizes for Trollbeads bracelets. It's worth noting that the Trollbeads bracelets do not stretch with wear so you do not need to account for that.
Finally take a look at the video below which can help you understand exactly how Trollbeads bracelets are measured :)