Trollbeads Day 2019 is on Saturday (June the 15) and as usual we're gearing up for an amazing day. Trollbeads Day is now an annual event that celebrates everything about the brand. The occasion is marked with a limited edition release and though we didn't know it all those years ago, every consecutive year has focused on a different material.
Today we can finally share live images of these new beads and they're even more beautiful in person than the official stock picture had suggested.
The Trollbeads Blush of Blue Kit launches next week and it's porcelain! This is the first time the brand have worked with china and fear not, it has a similar durability to glass for your beads.
To add to their commemorative value, the core is stamped with the year 2019.
Trollbeads Day 2019 - Trollbeads Blush of Blue
What to expect? Firstly they do look like porcelain. Sure from a distance they could pass as glass but in your hand there is no mistaking the material.
You will find some variation in the pattern as they are hand painted. We have seen none that appear poorly executed at all. The primary variation seen in our stock is with the depth of color to the blue ink. Some are darker while others are paler.
They are stunning and with a very distinctively Asian flair.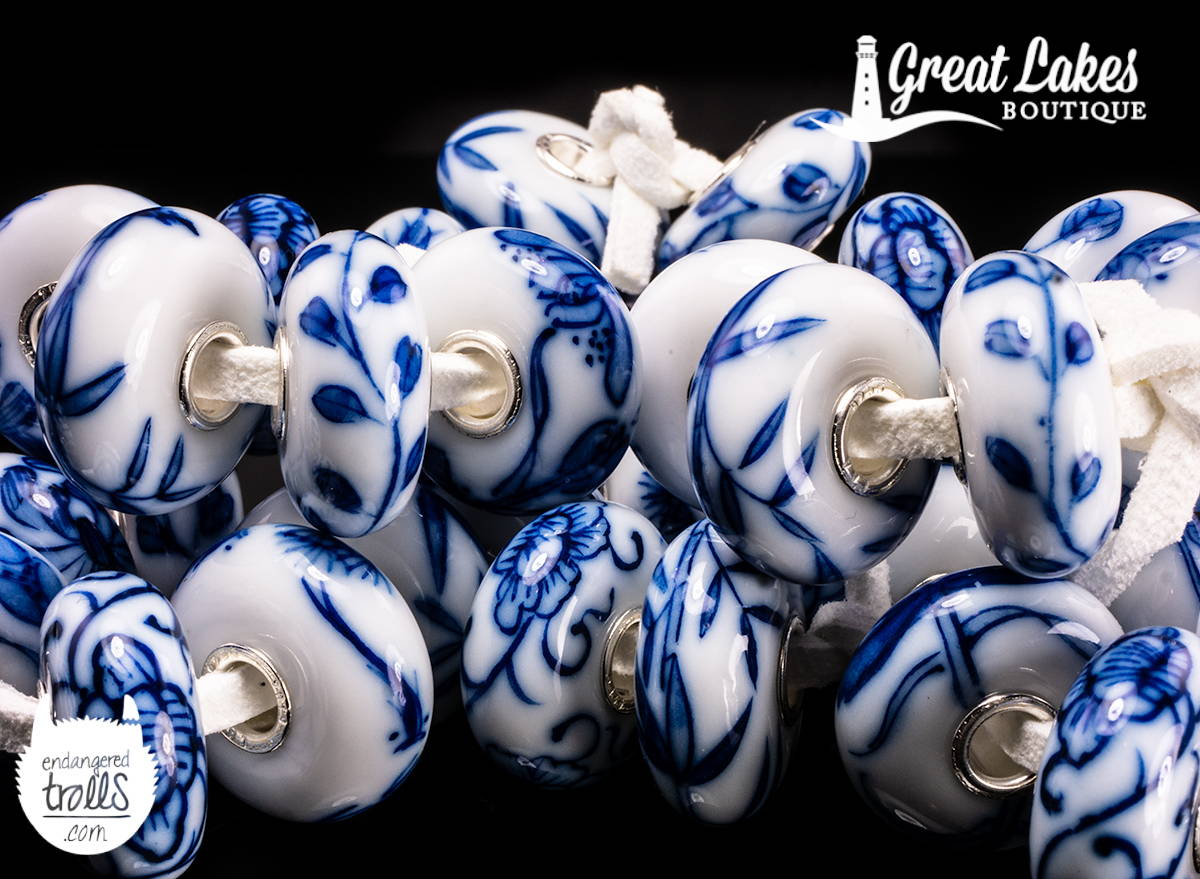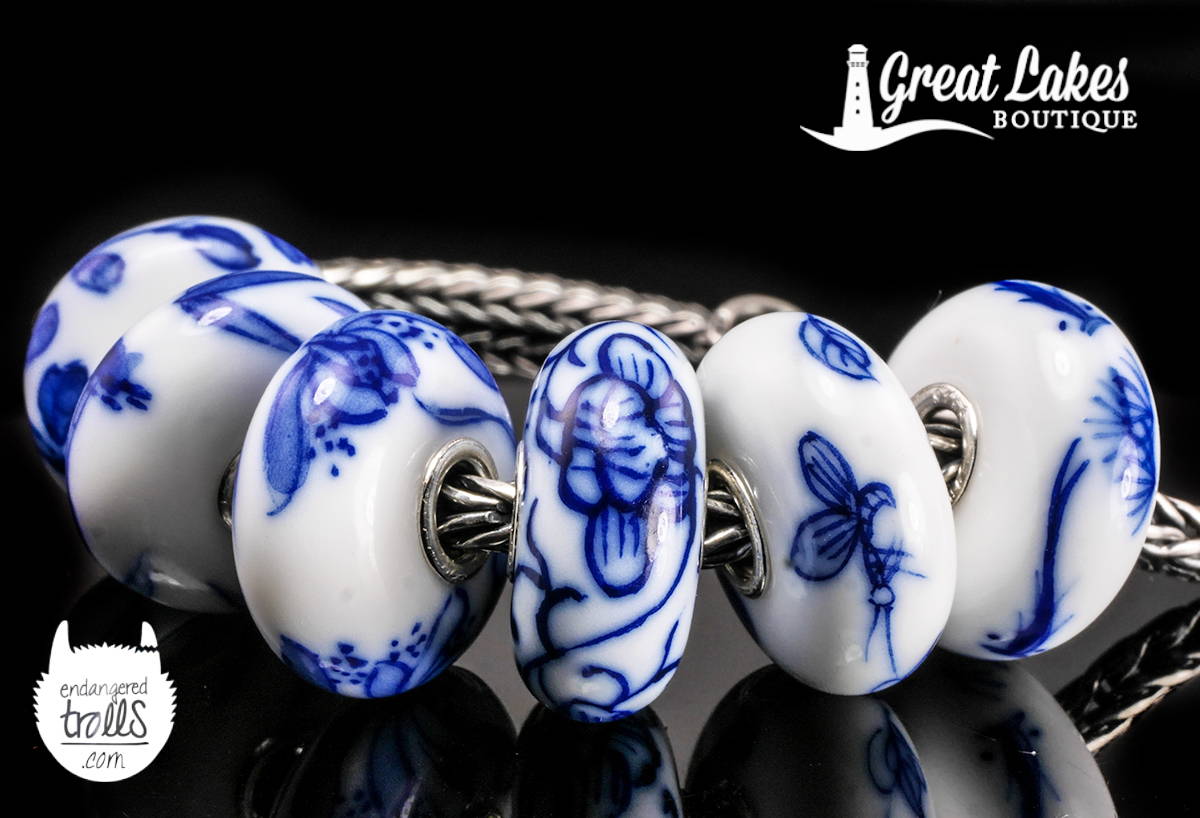 Blue and white porcelain is iconic to a couple of design houses. One of these being Royal Copenhagen, the city that has always been home to Trollbeads. The style of these beads is loyal to the roots of hand painted porcelain however and that lies with China. Indeed one of the designs featured in the kit is called Bamboo.
There's a little variation in size but very little and these beads so far have proven wonderfully consistent in that sense.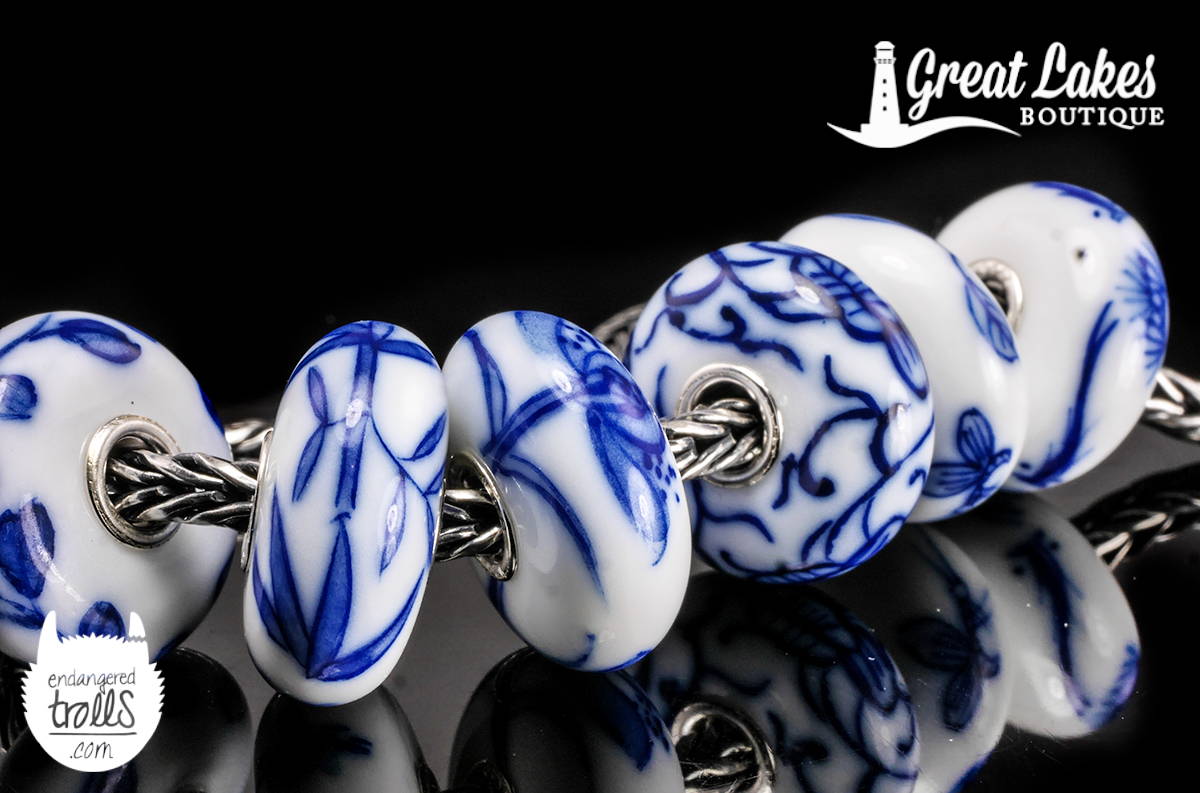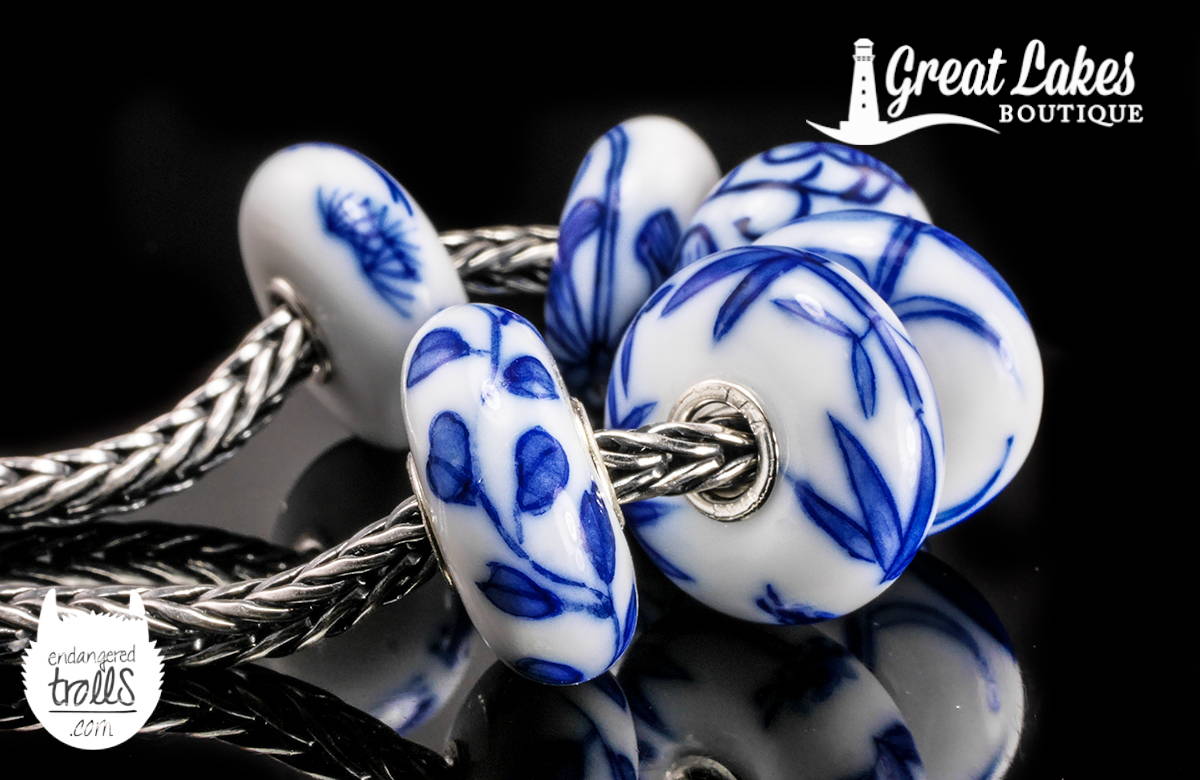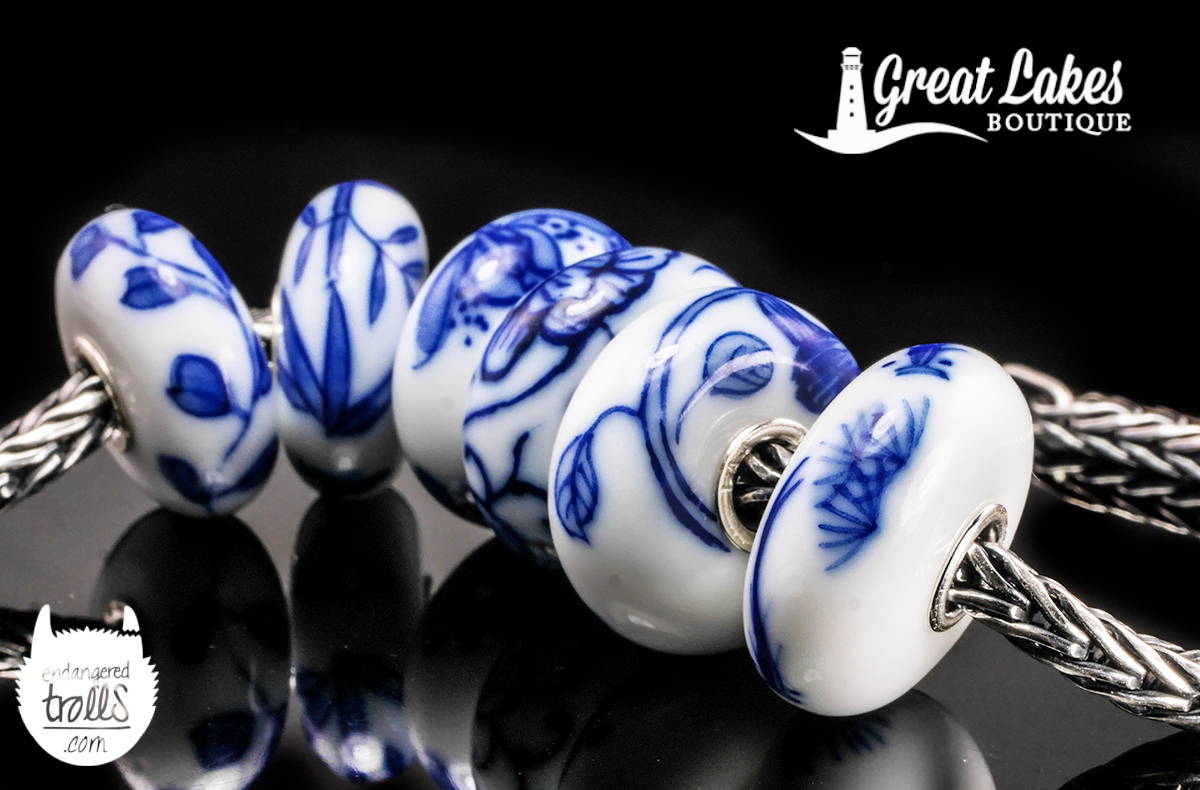 Trollbeads Bamboo Brush
The Bamboo Brush is very easy to recognize, even for someone as generally oblivious to flora as myself. The leaf detail extends around the bead as opposed to focusing on the face.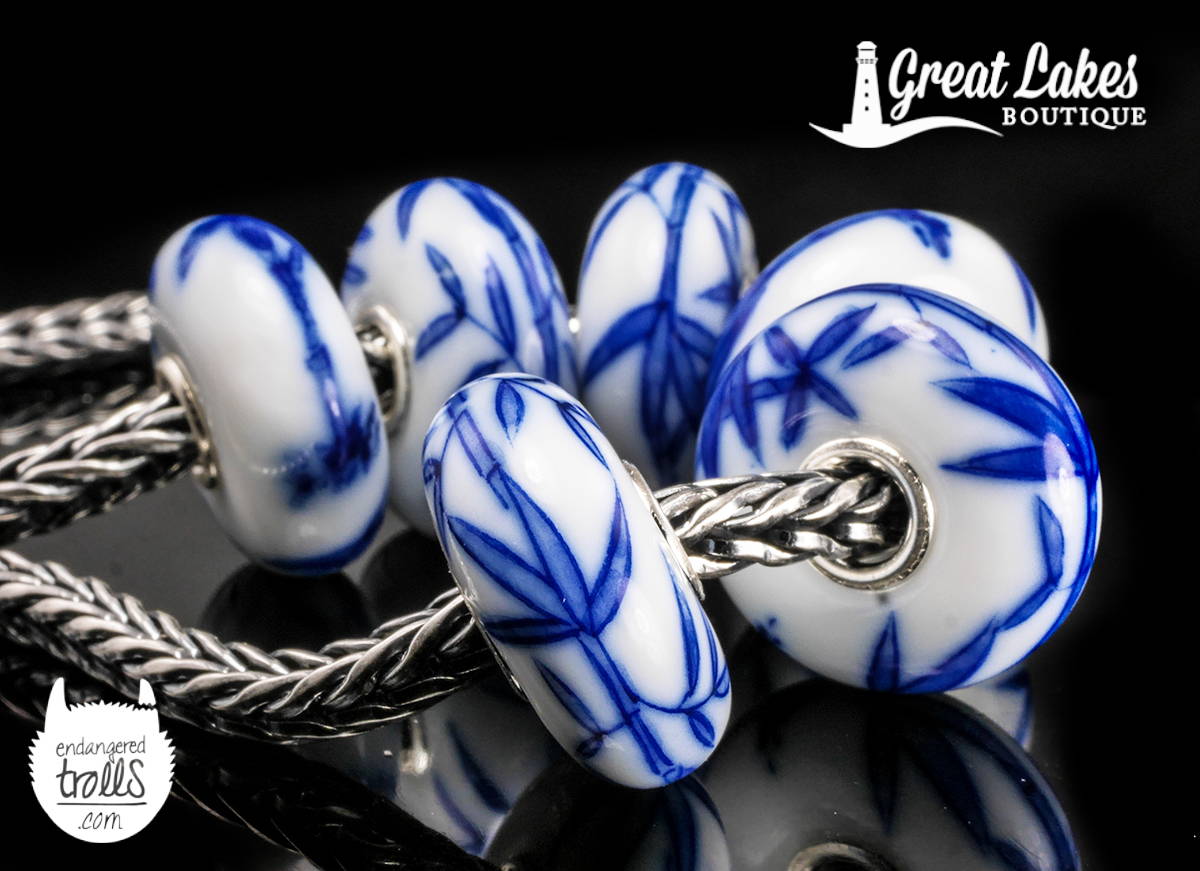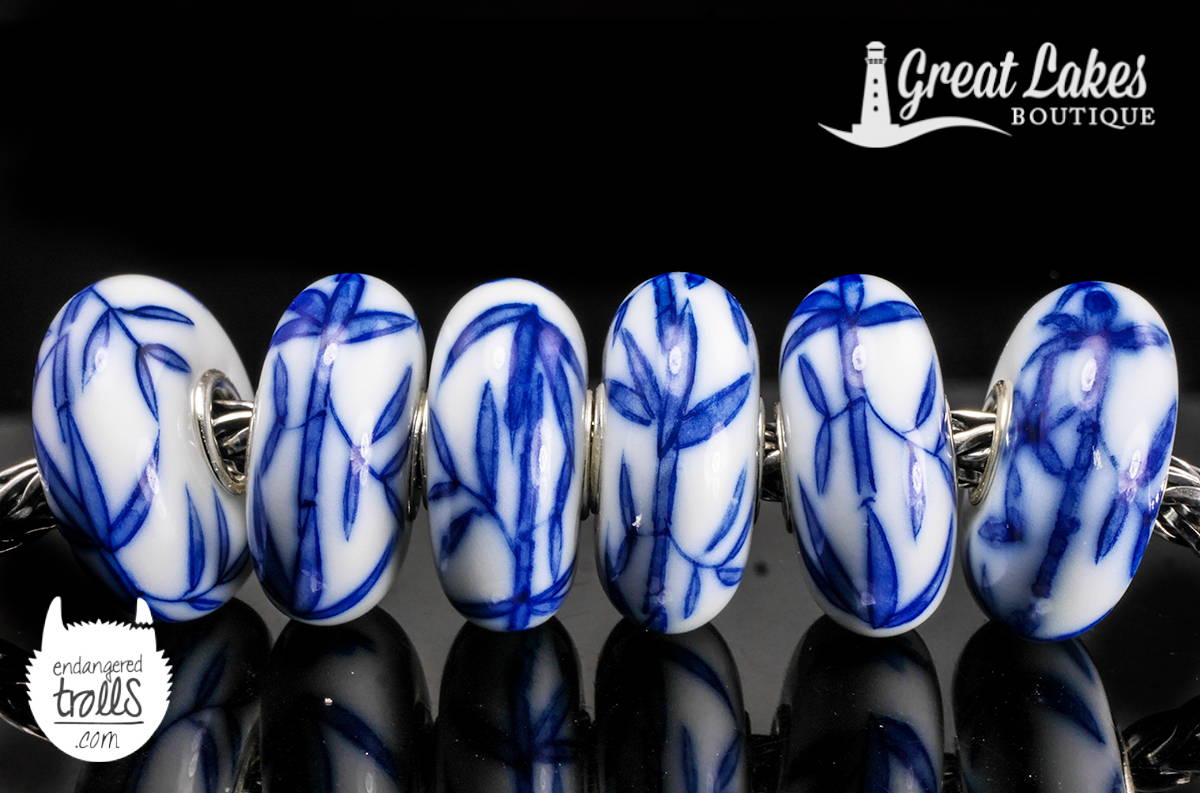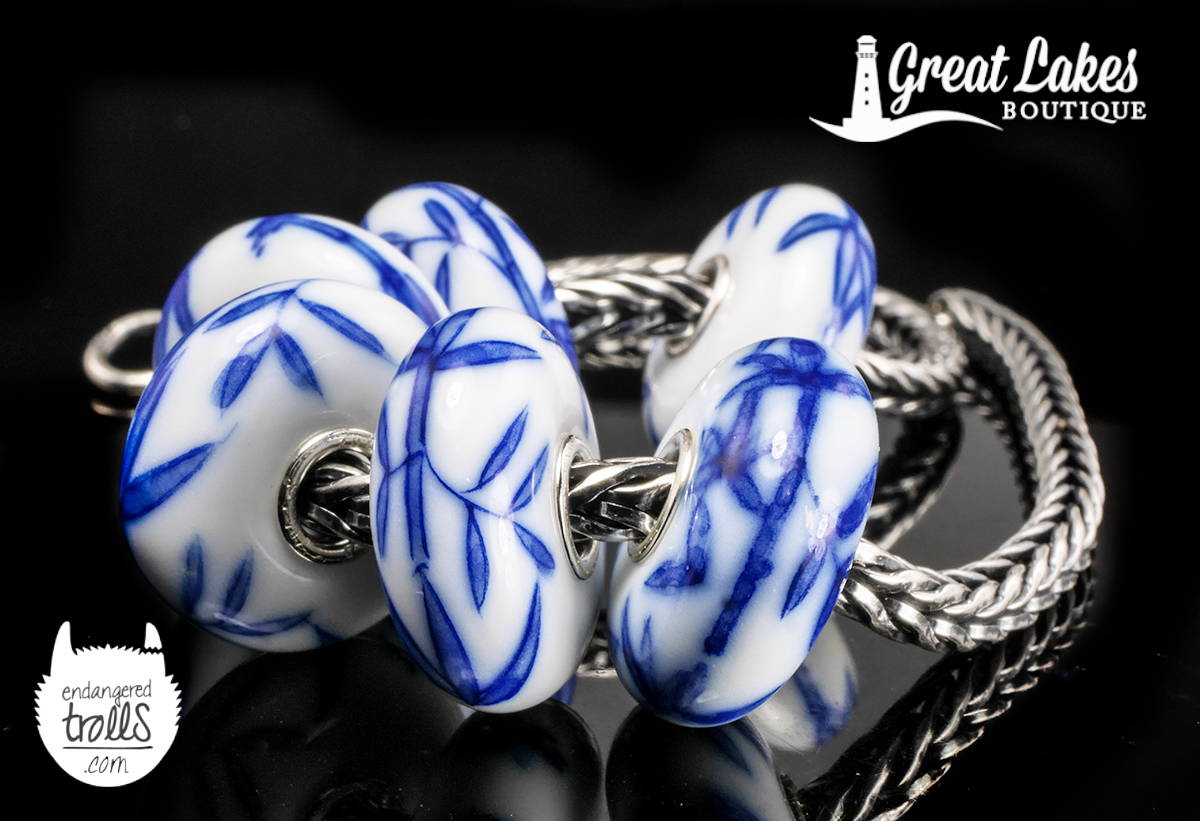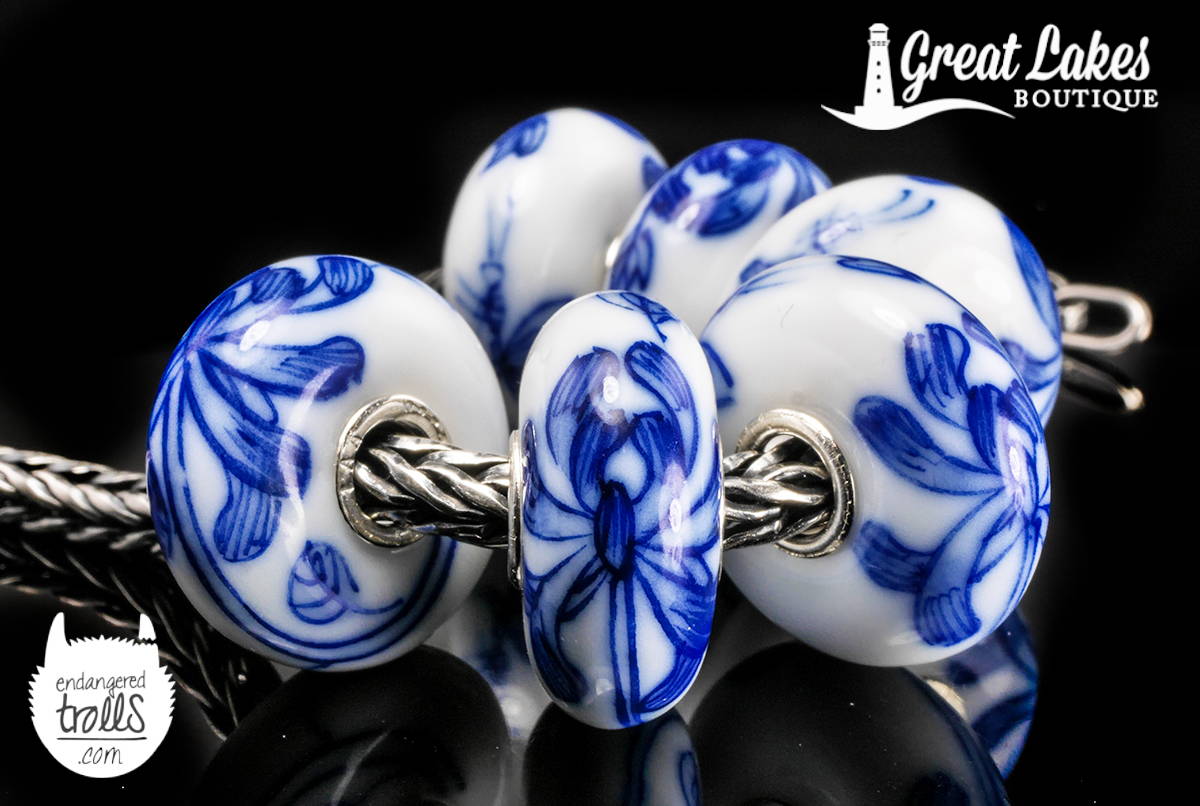 Trollbeads Chryanthemum
Though this is such a loved flower the world over, most species originate from Asian.
It's difficult to choose a favorite from this kit but this I suspect will prove popular in the community. Again the petal details wrap around to the core and give the design a more organic feel rather than it just being flat.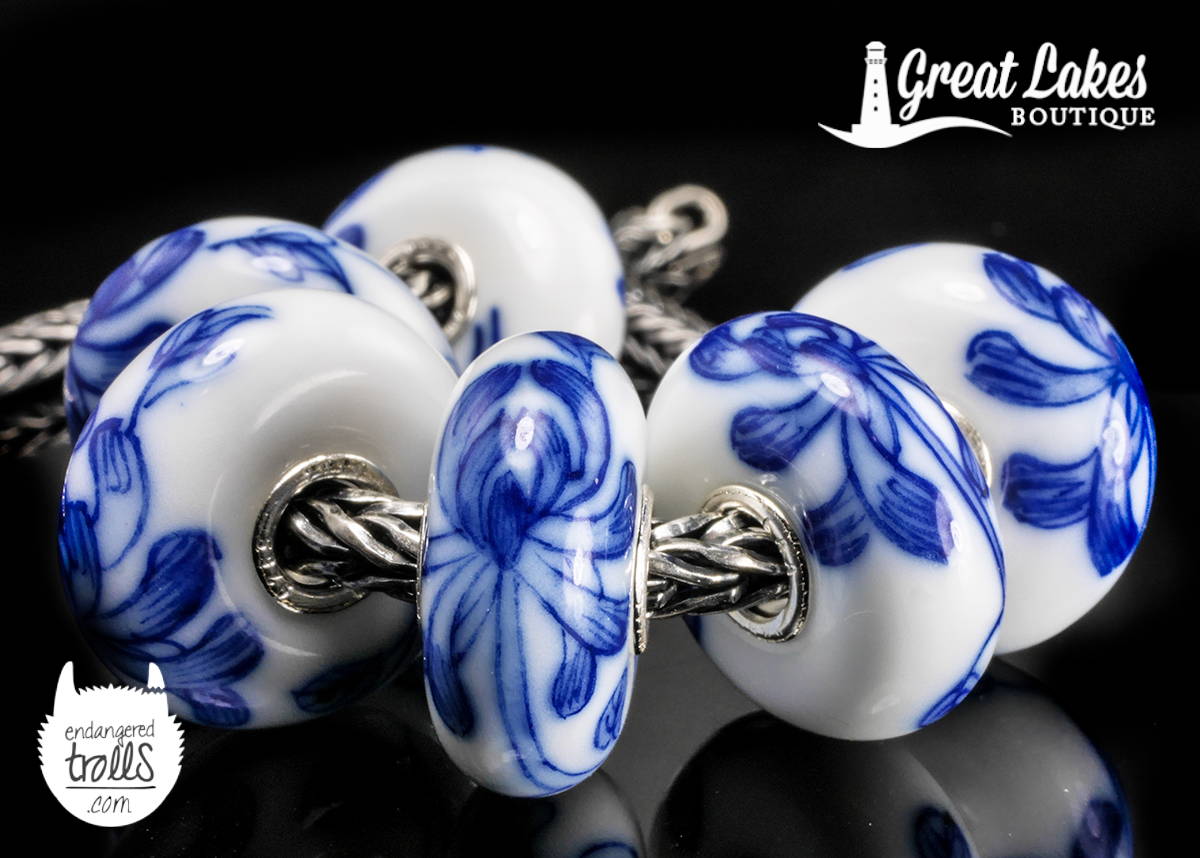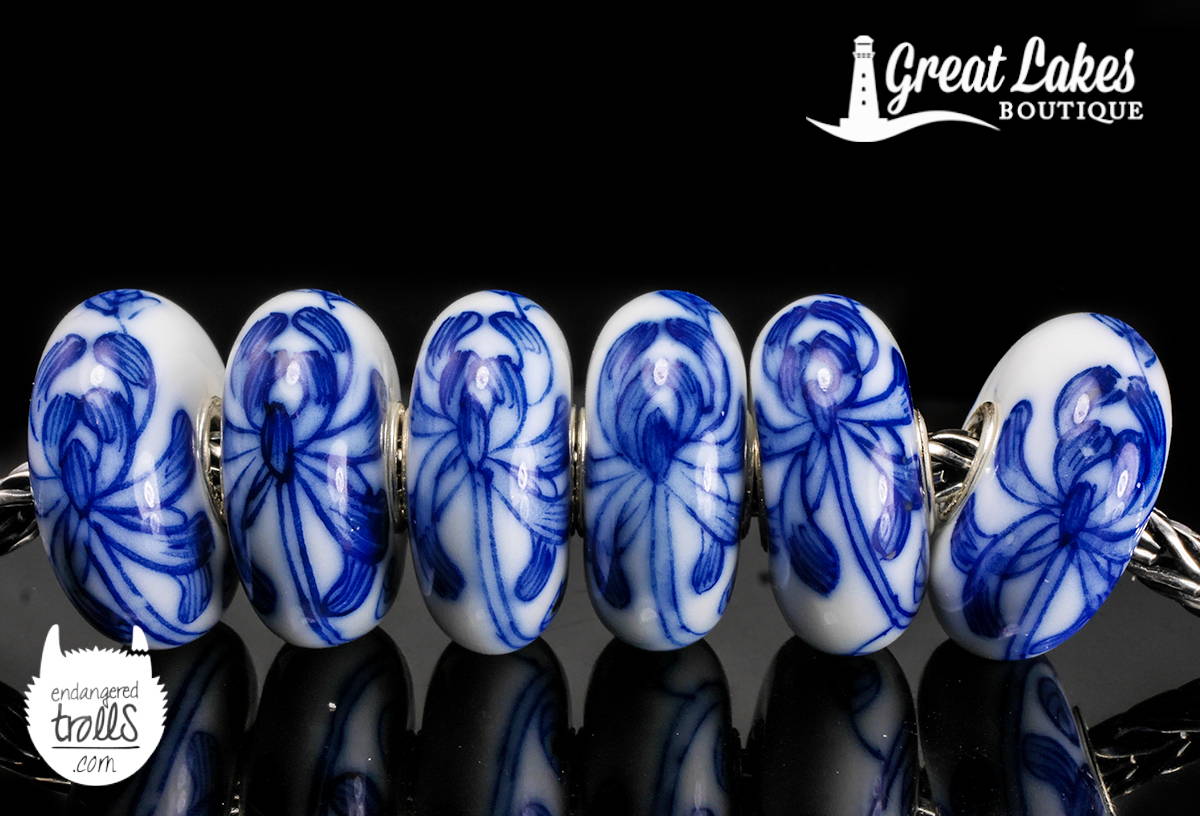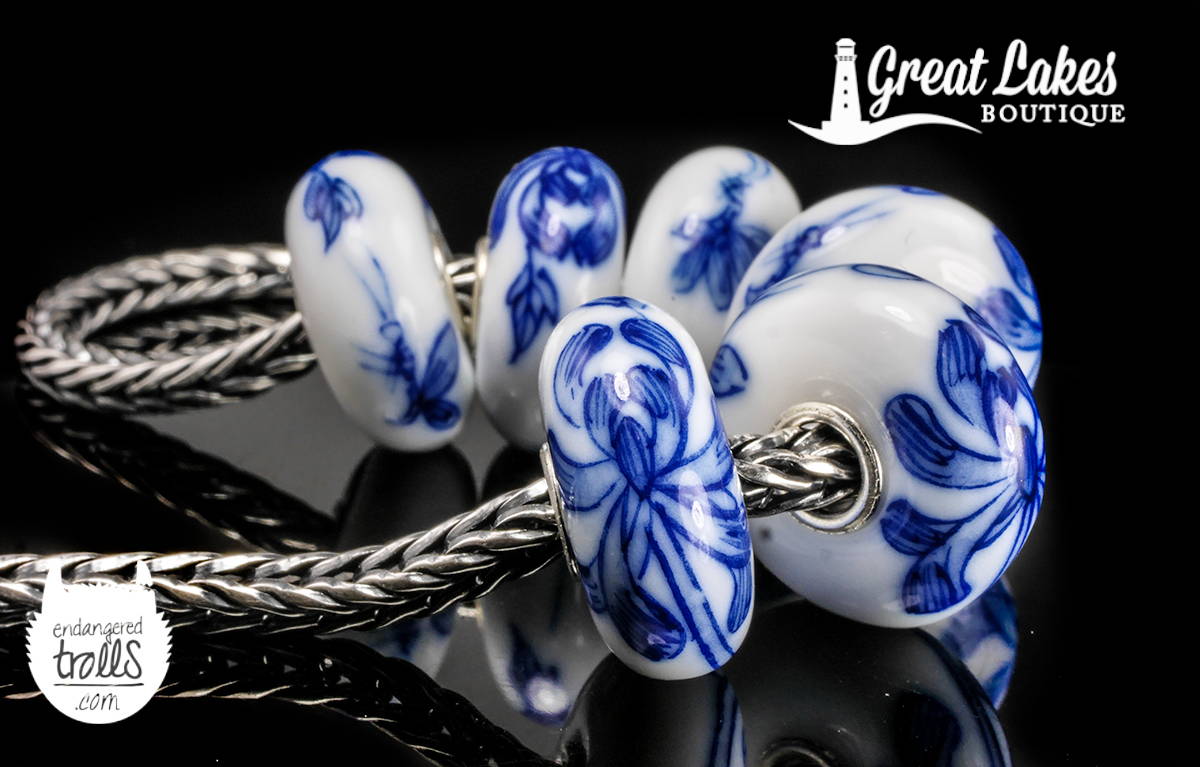 Trollbeads Fish Brush
This is the bead with the sparsest design and yet it's so elegant and almost delicate feeling in it's strokes.
It's perhaps a little abstract in the design though if you look at the bead just to the right of the center, you can distinctly see the watery shape of a koi beneath the surface of a pond.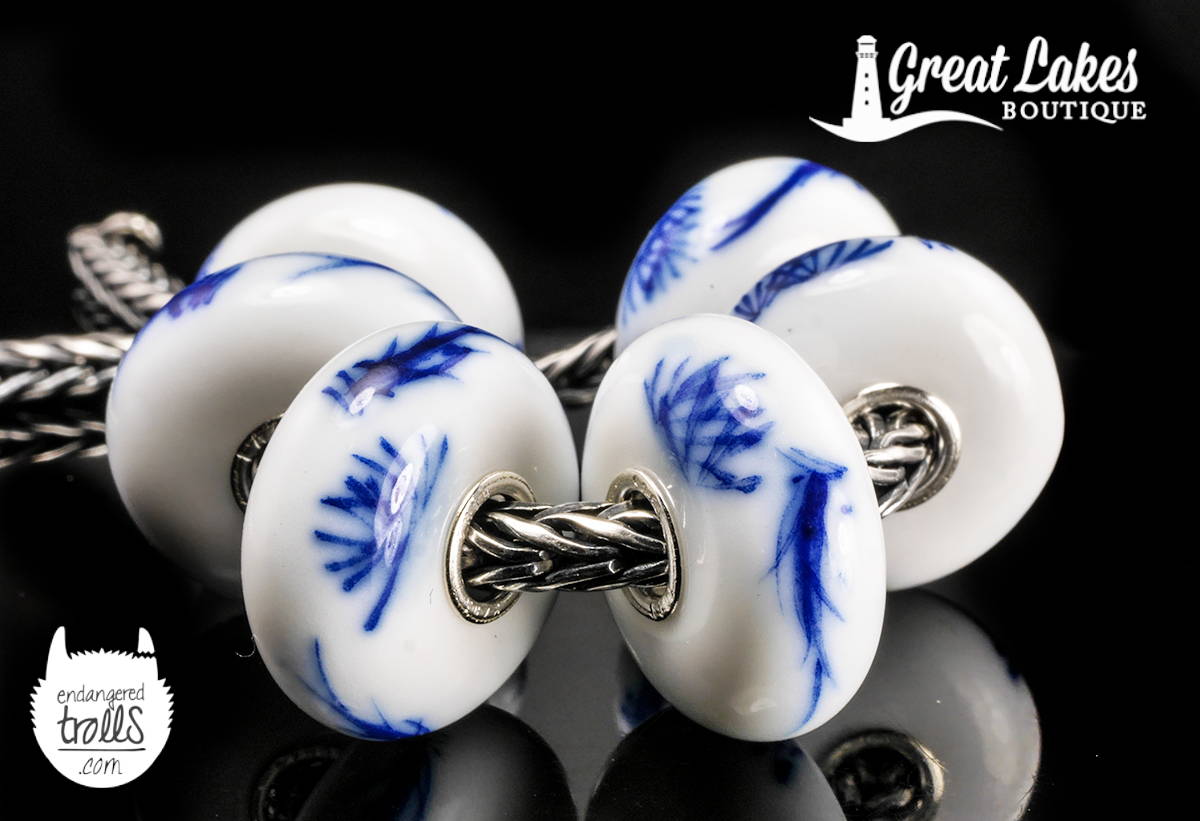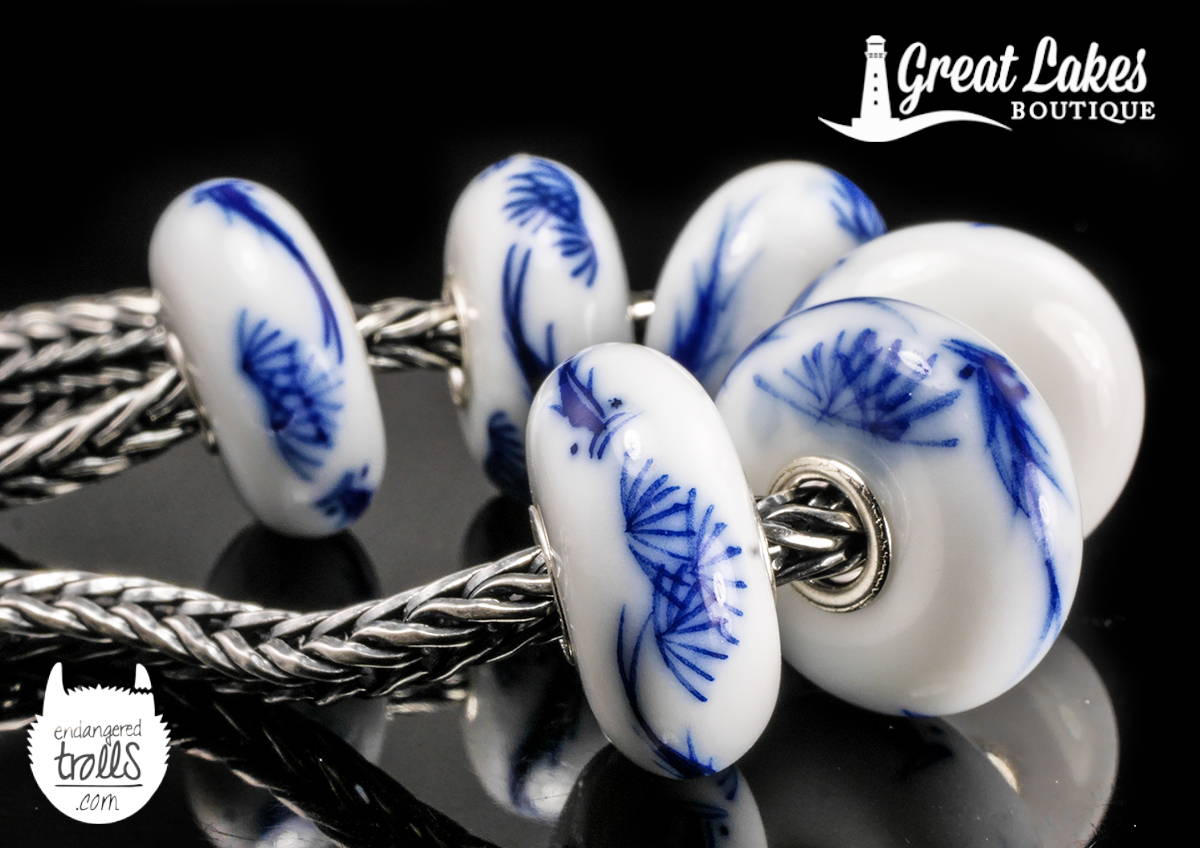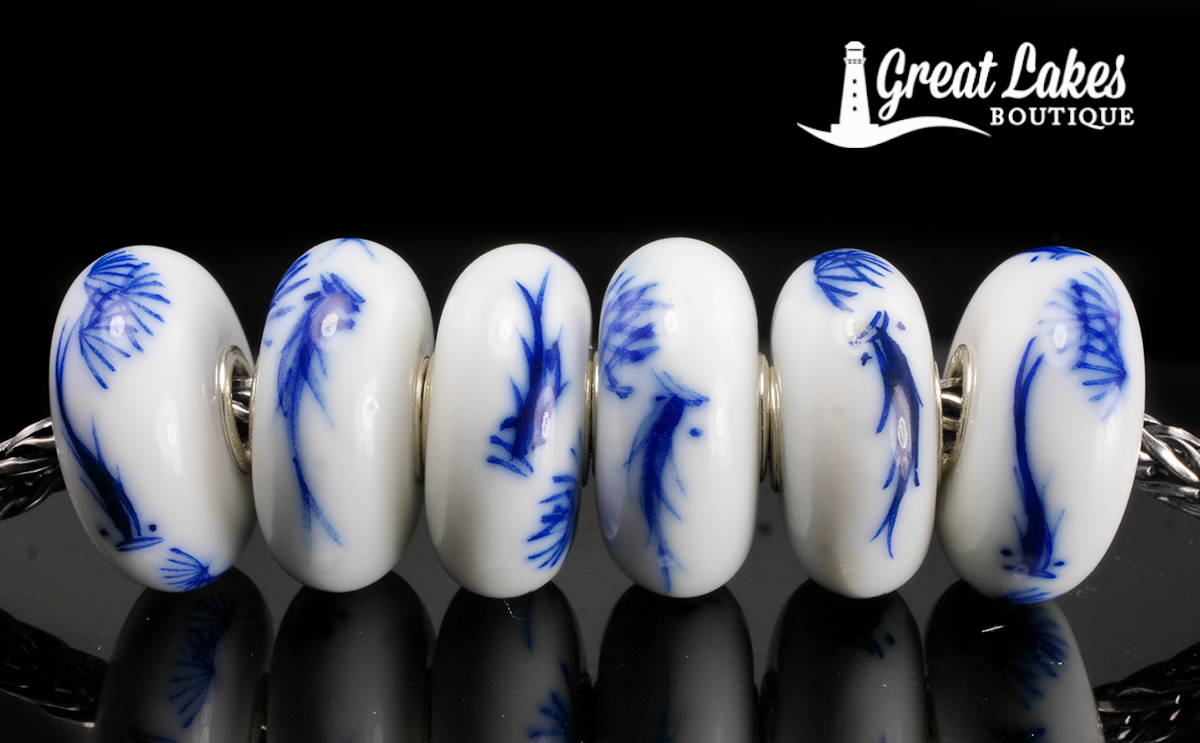 Trollbeads Lotus Brush
This is another very intricate, heavily painted design and again it's so beautiful. The lotus top detail reaches around to the core and these beads all feel so fluid in their design.
Notice bead four on the rod below as that's an example of a slightly paler bead.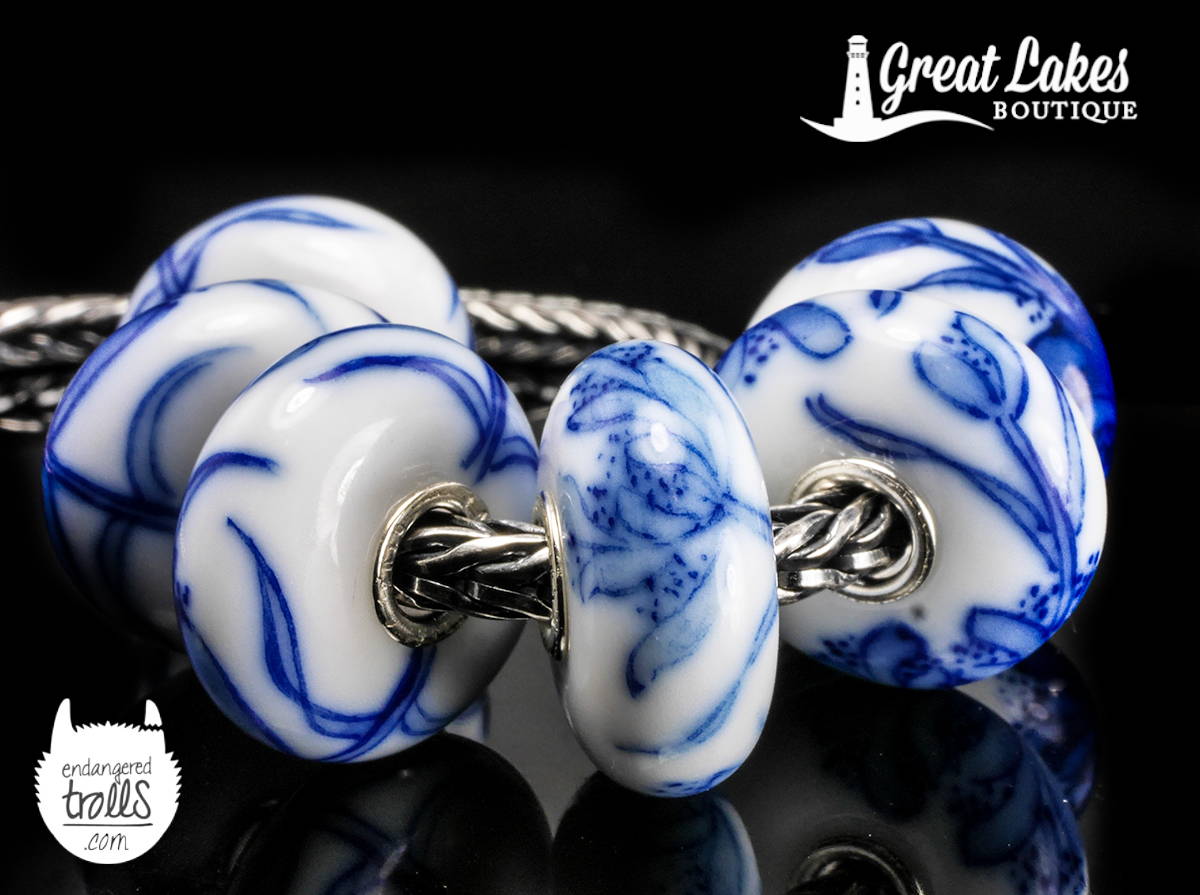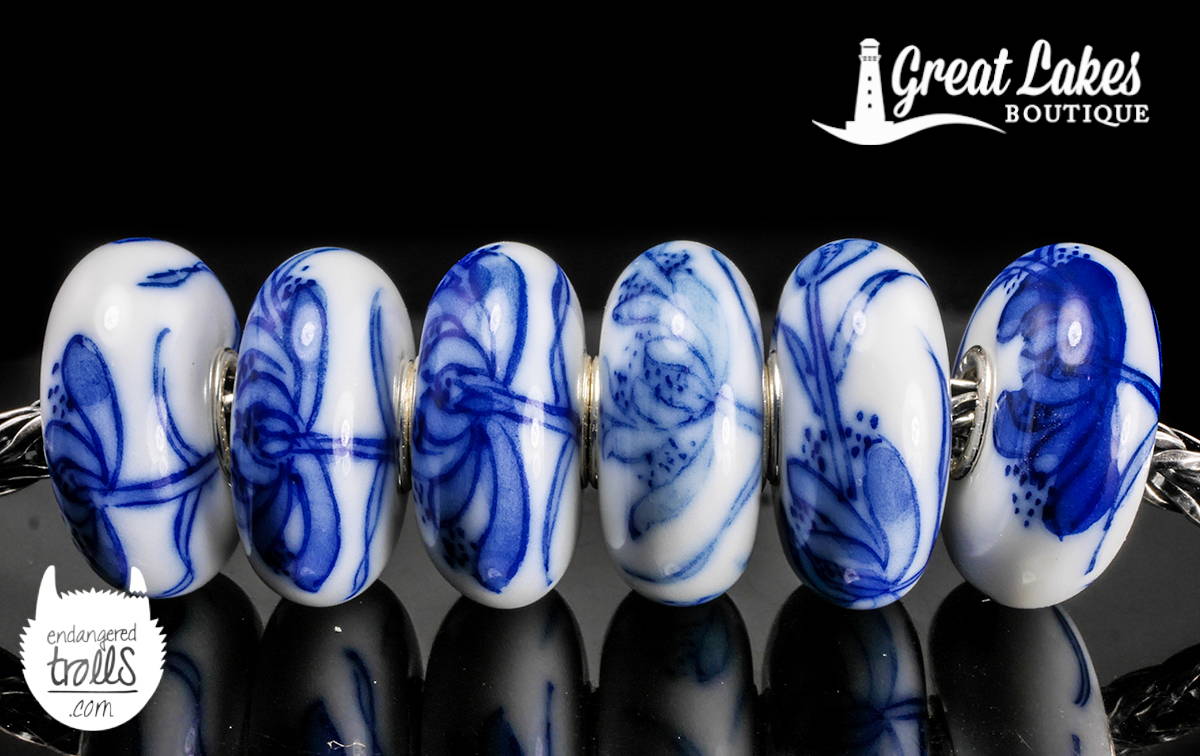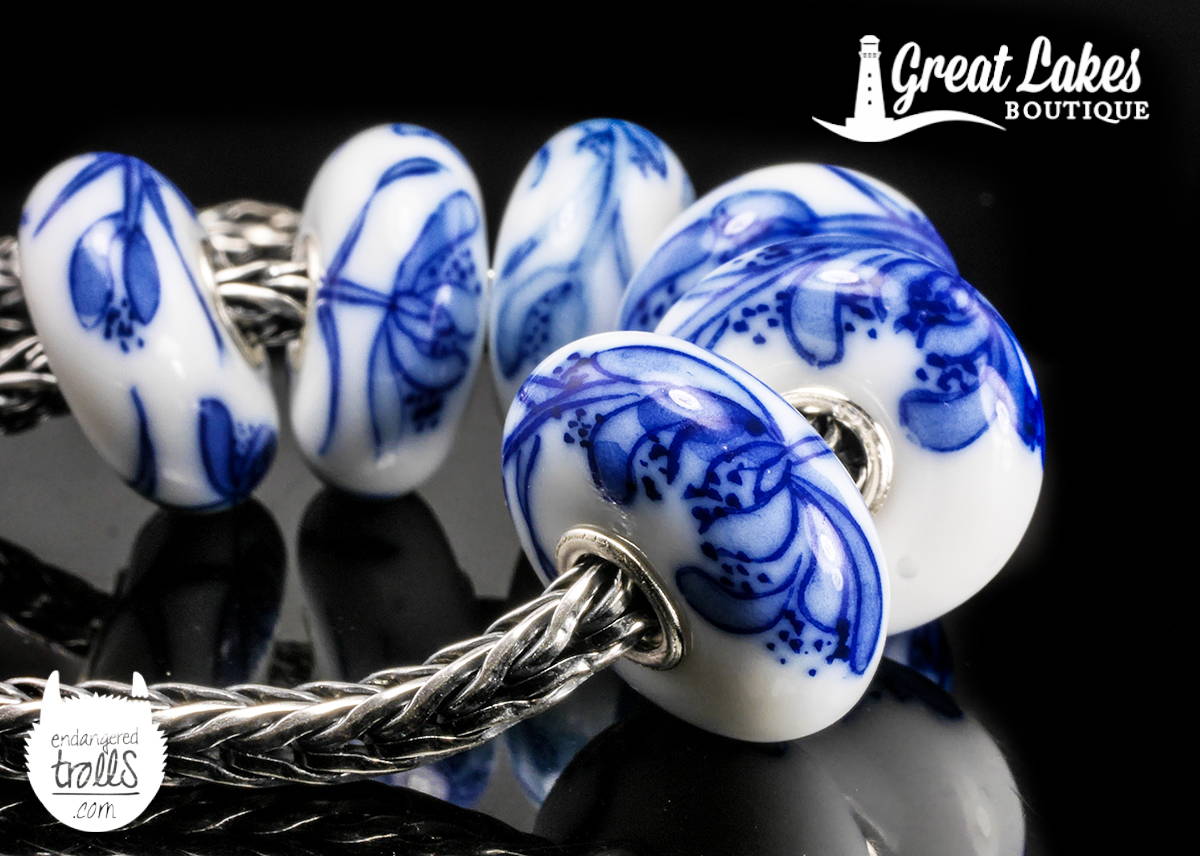 Trollbeads Plum Tree Brush
Though I mentioned choosing a favourite is difficult, (I'm enamored with this kit,) this would be my choice.
The design is so intricate and there's very little bare white porcelain. It's very striking and I love those smaller branches reaching around the core.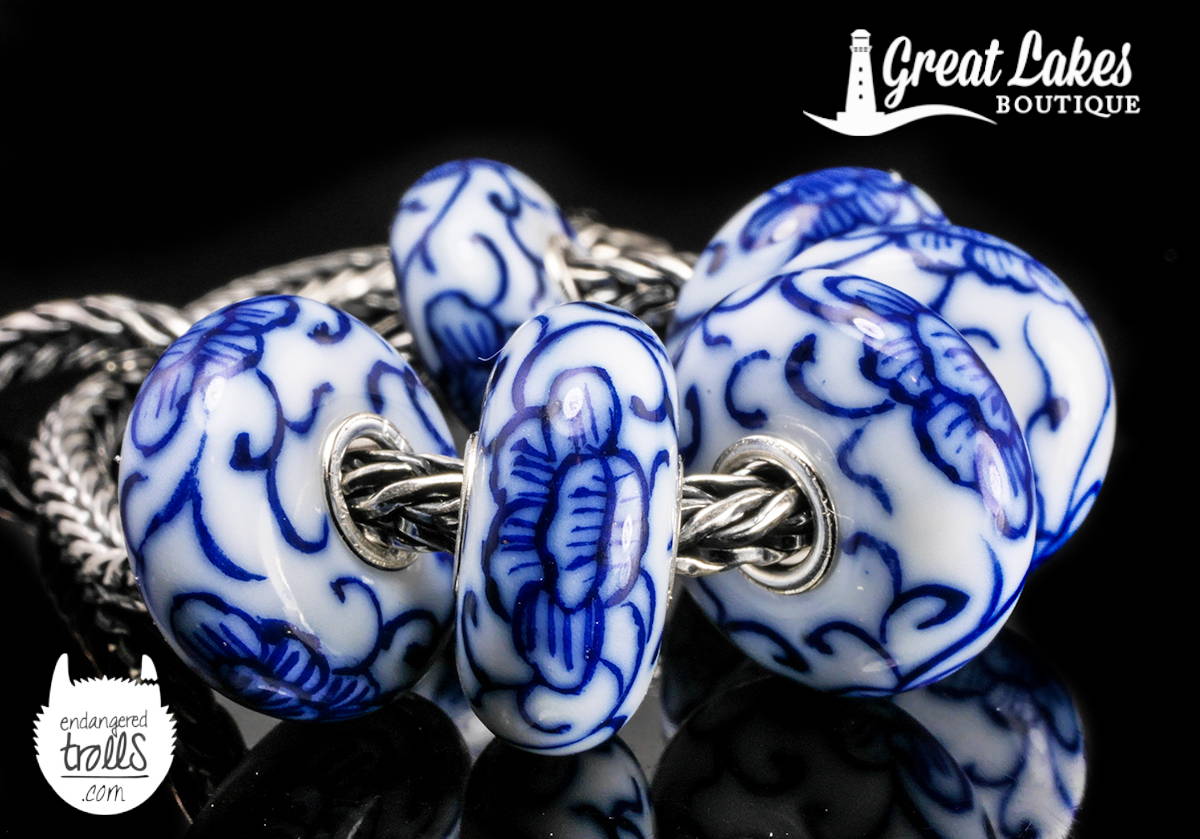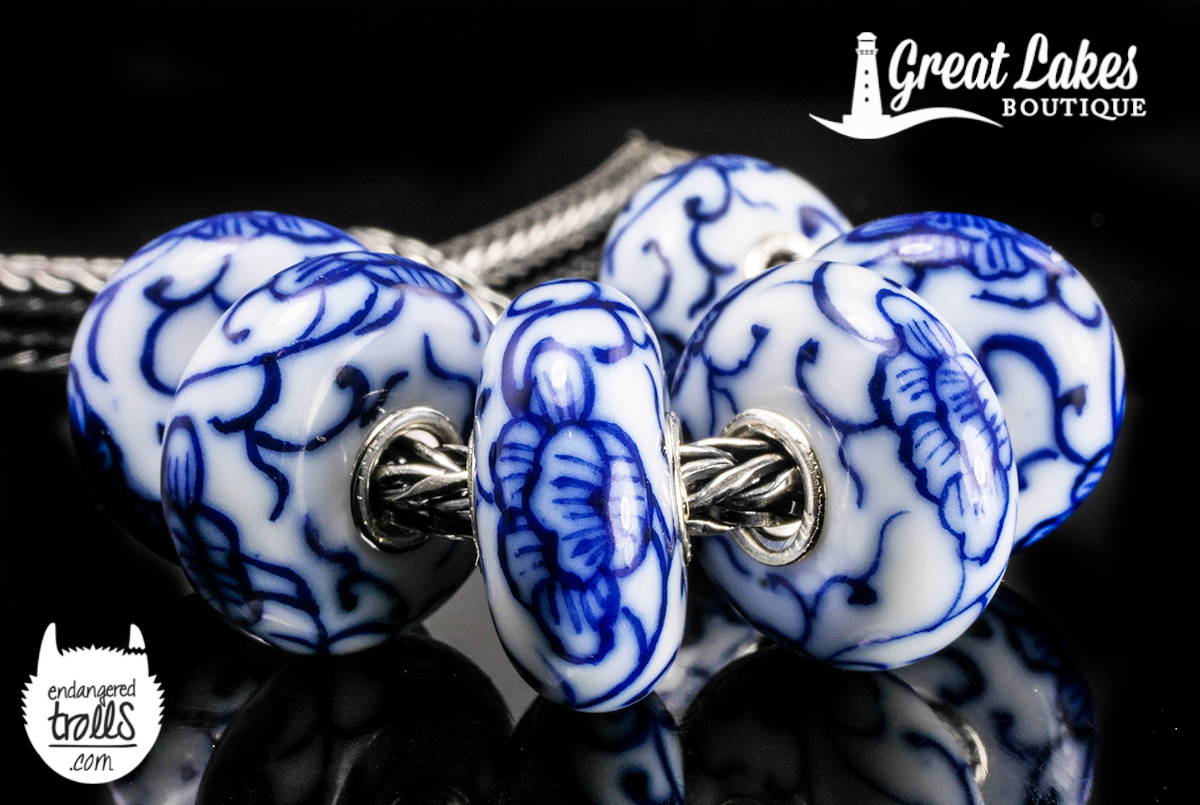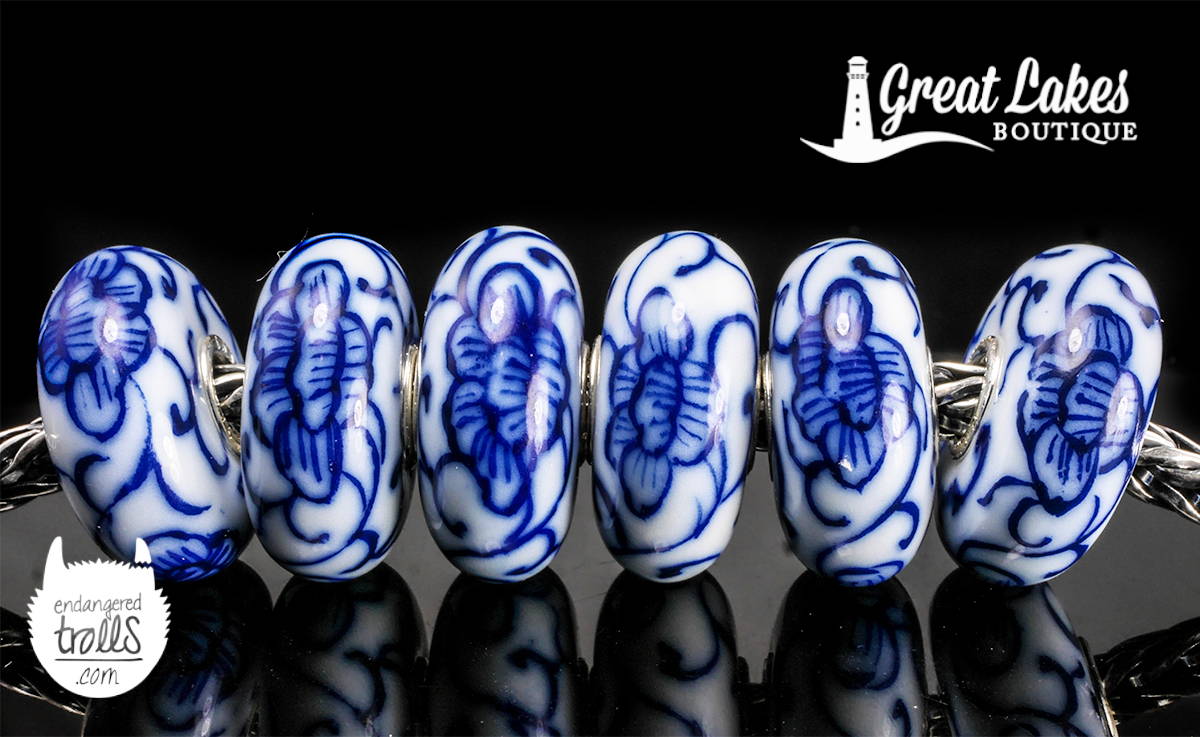 Trollbeads Vine Brush
Last but not least is the Trollbeads Vine Brush. The beauty of this bead is in it's simplicity. A few of them would look spectacular with the Trollbeads Spring Leaves punctuating them.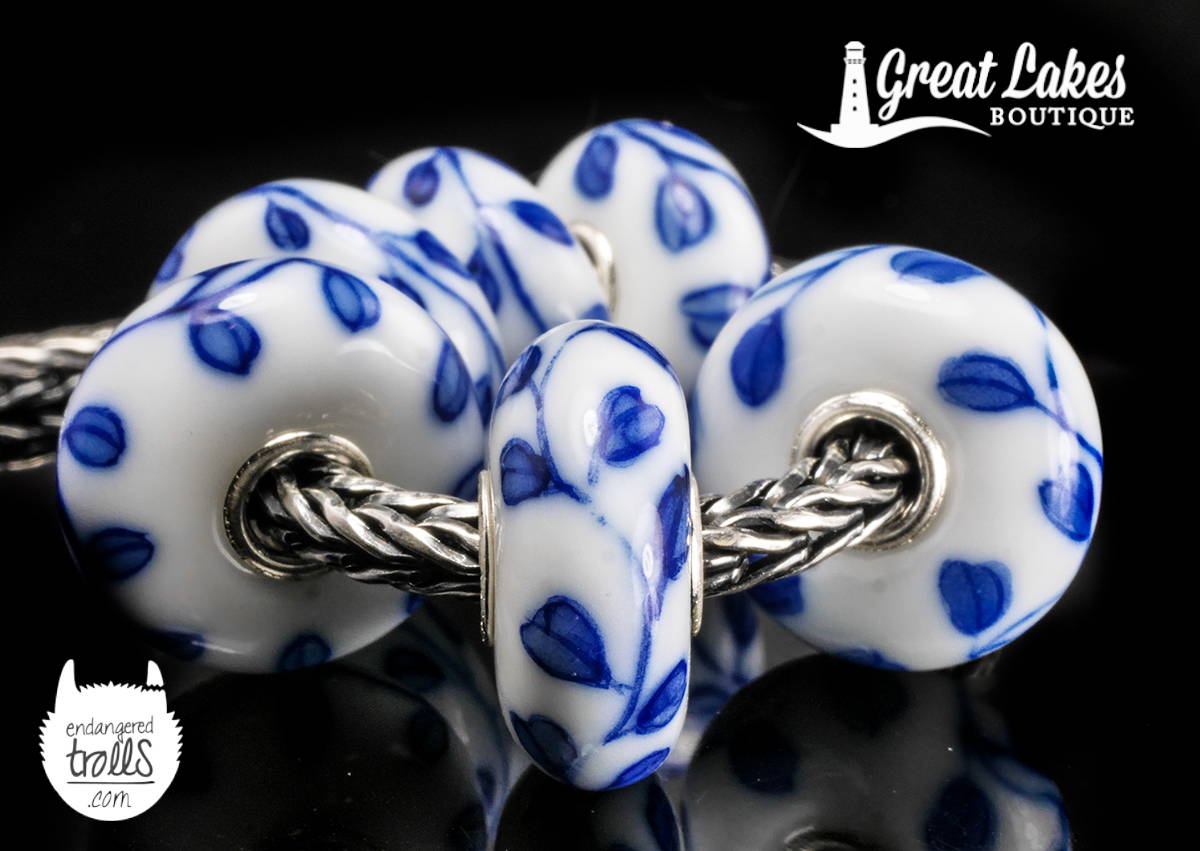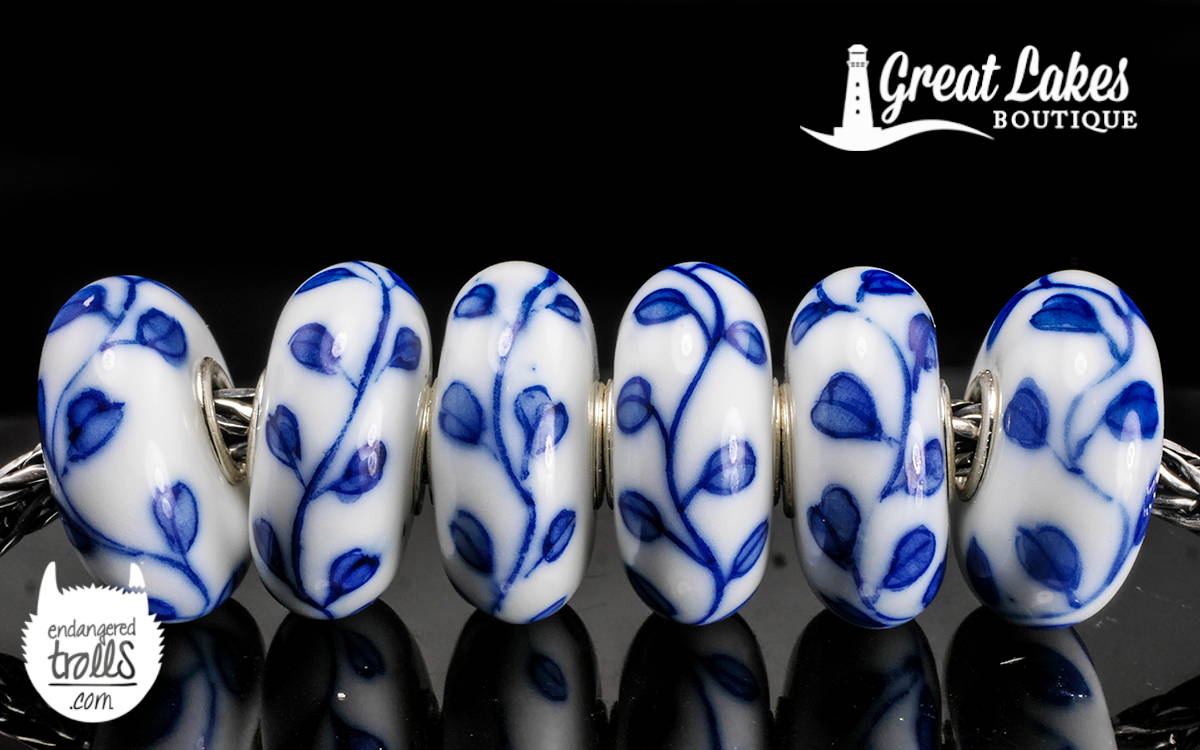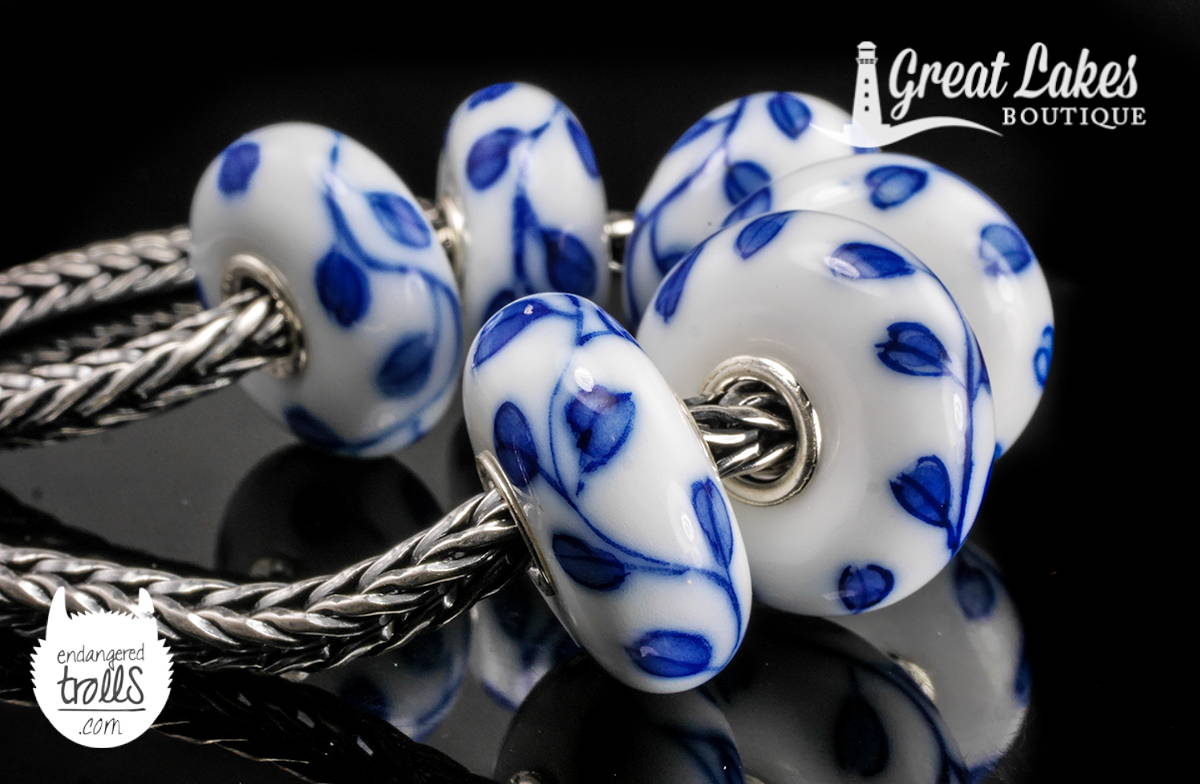 Trollbeads Day 2019 - Styling
Being impatient to wear these immediately led to a very simple bangle combination. It uses the new Trollbeads Round White Moonstone and Round Lapis Lazuli from the summer 2019 release. These smaller, single colored stones let the porcelain be the focus but just add a little space to the combination.
The darker Trollbeads Oxidised Spacer adds an edgy finishing touch (and contrast) to the silver bangle.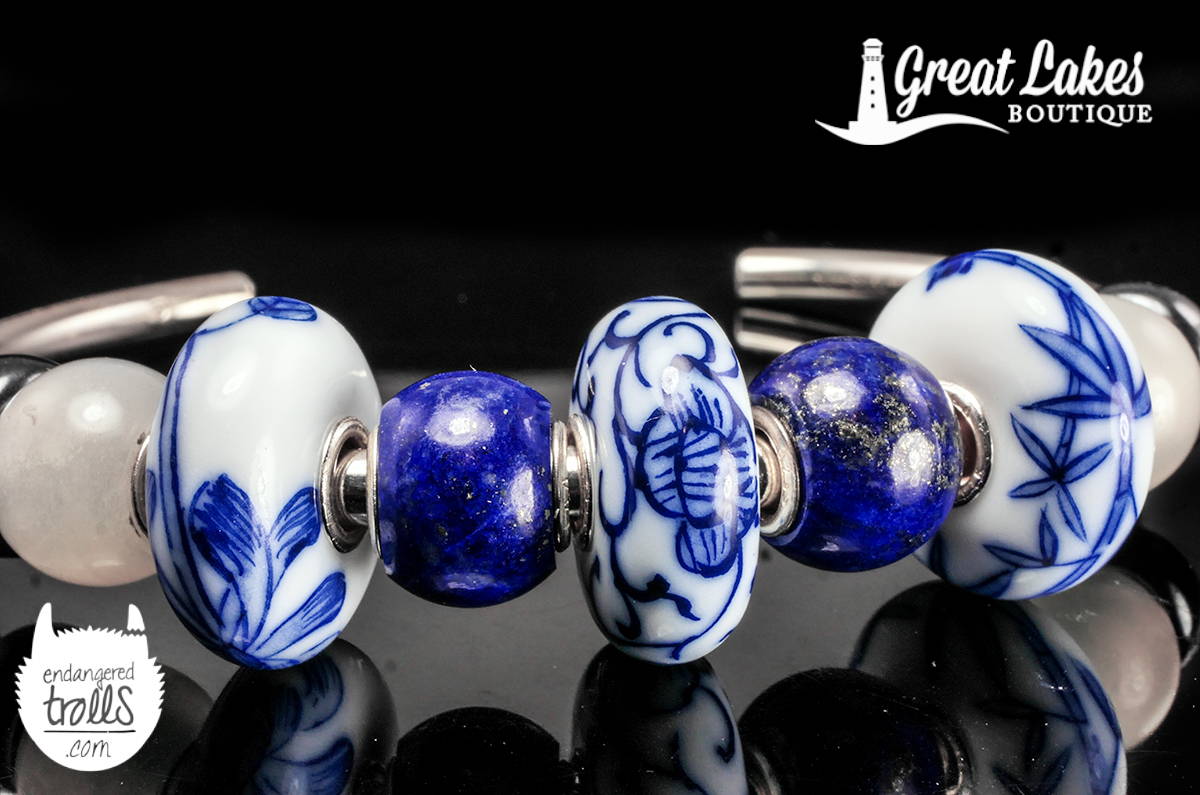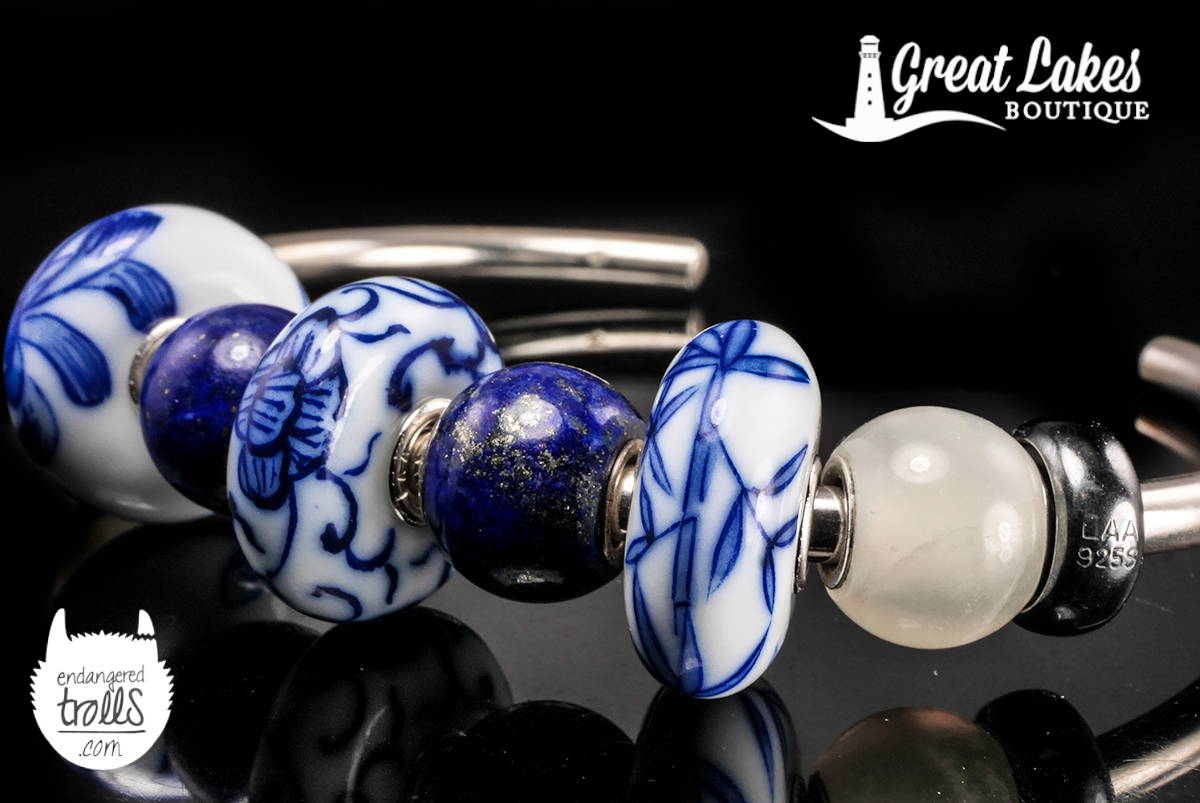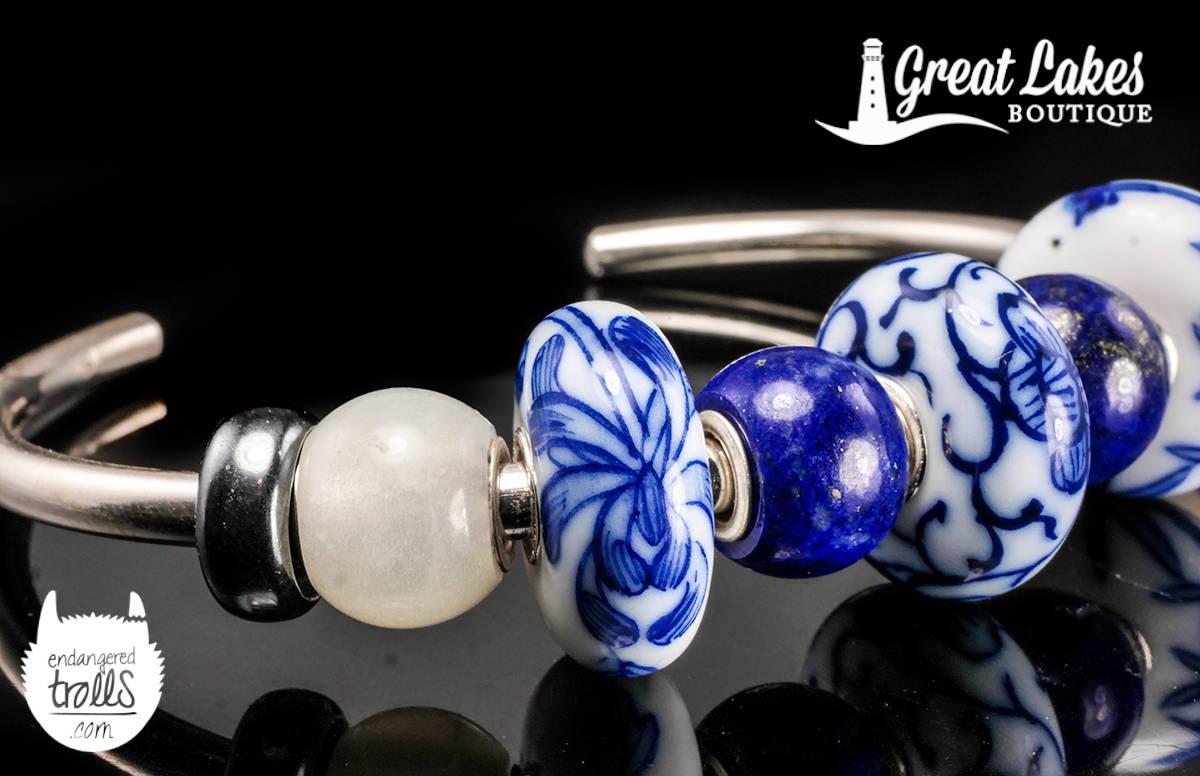 The Trollbeads Blush of Blue Kit launches in store and on our website on Saturday June the 15th. During this countdown week, we'll be sharing more styling ideas and listing some beautiful blue gemstones and glass uniques to help you get in the mood for Trollbeads Day 2019! Until then, be sure to check out the summer 2019 gemstones as they complement this new porcelain kit perfectly.