I absolutely cannot wait for the fall season to arrive. I love the changing of the colors outside, the crispness in the air, the cool cozy nights, Halloween and pumpkin spiced anything. With this in mind today's Trollbeads blog shares a little pre-fall inspiration starring some of my favorite Trollbeads glass from the past year.
The Trollbeads Diamond Bead Amber is America's exclusive in the series of limited edition diamond beads. The color was chosen to represent the great plains of America and it's a wonderful shade for the autumn and harvest festival season.
Also featuring on this bracelet are the Trollbeads Flowers of Grace and Flowers of Elegance. These debuted for the spring collection and immediately I couldn't wait to use them during the fall. They're also an example of why Trollbeads are so famed for their glass design.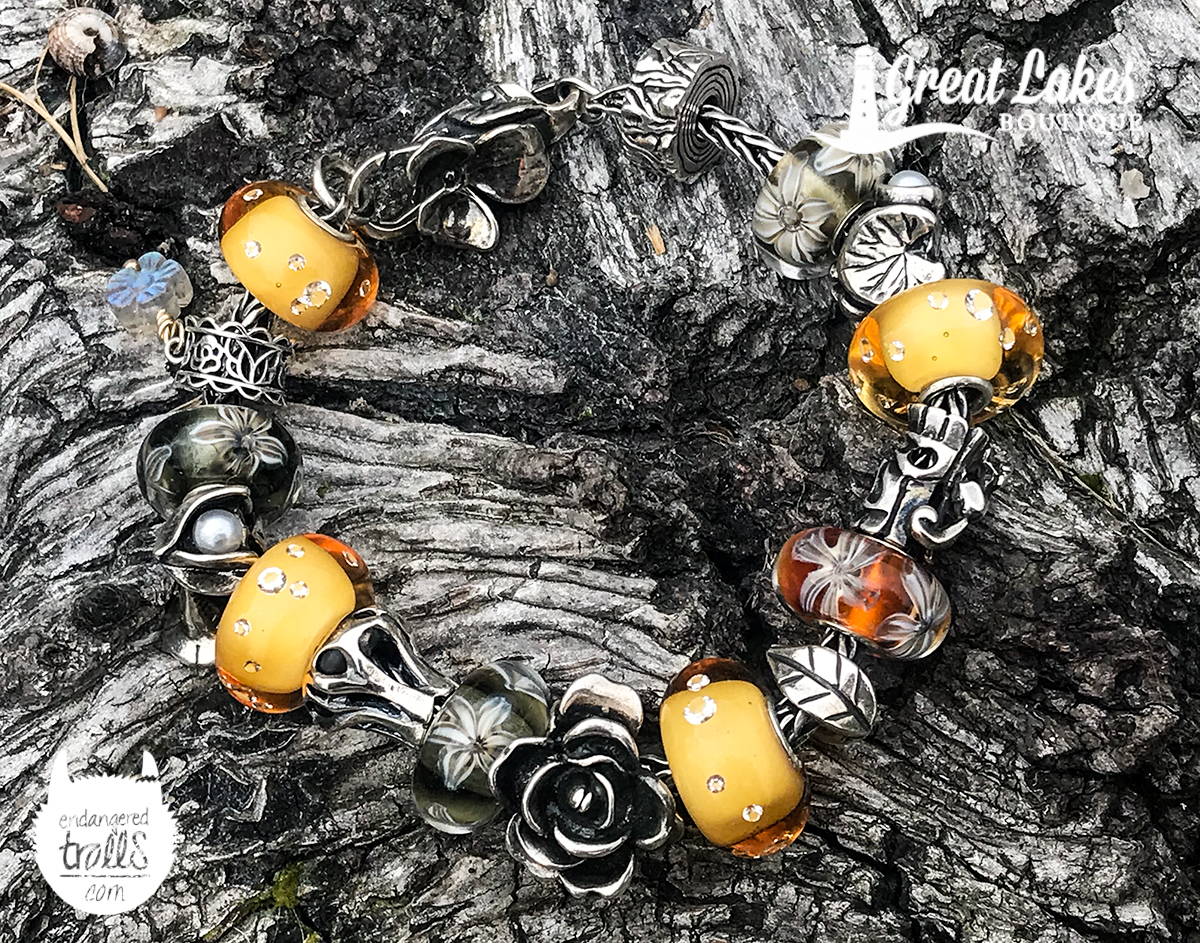 This bracelet makes use of both fall inspired silver beads but also some of the flowers of the month series. These launched many years ago now but are still so popular. They're beautifully detailed and their pearl accents add a real delicacy to them. Pictured here is the well known Trollbeads Rose of June, a really large and focal bead.
Below you'll also spot the Bindweed of September.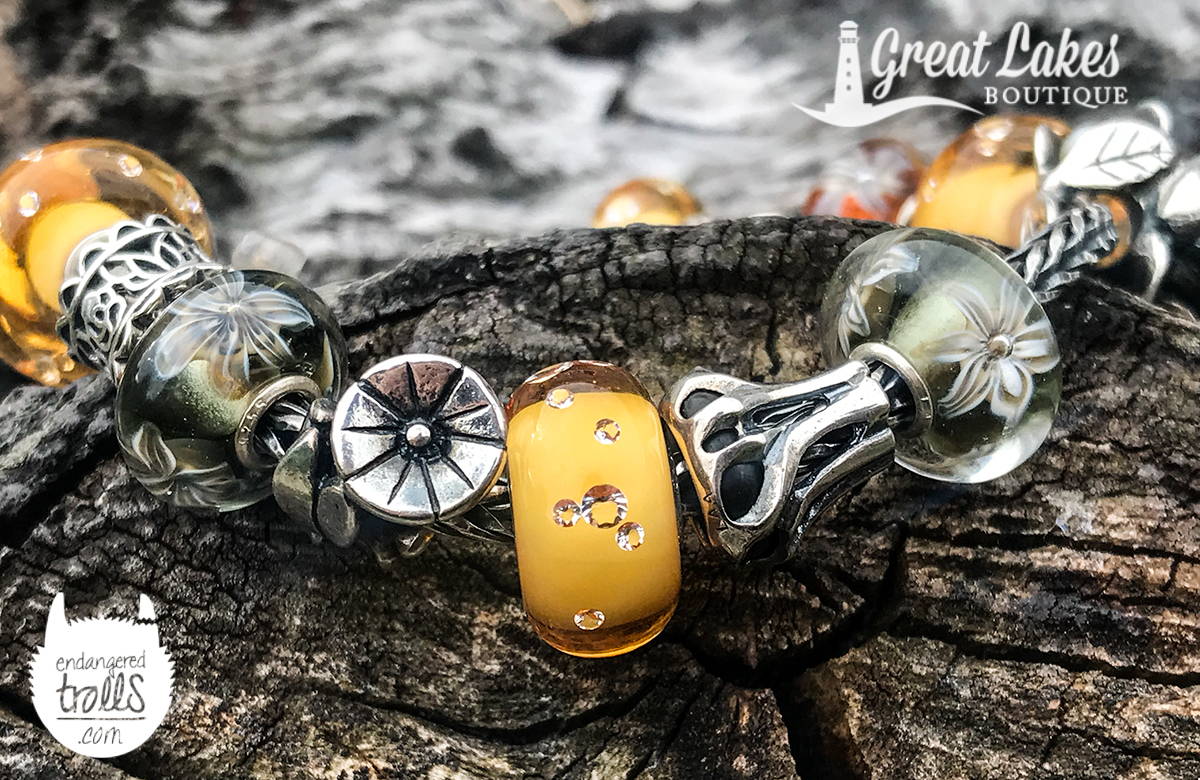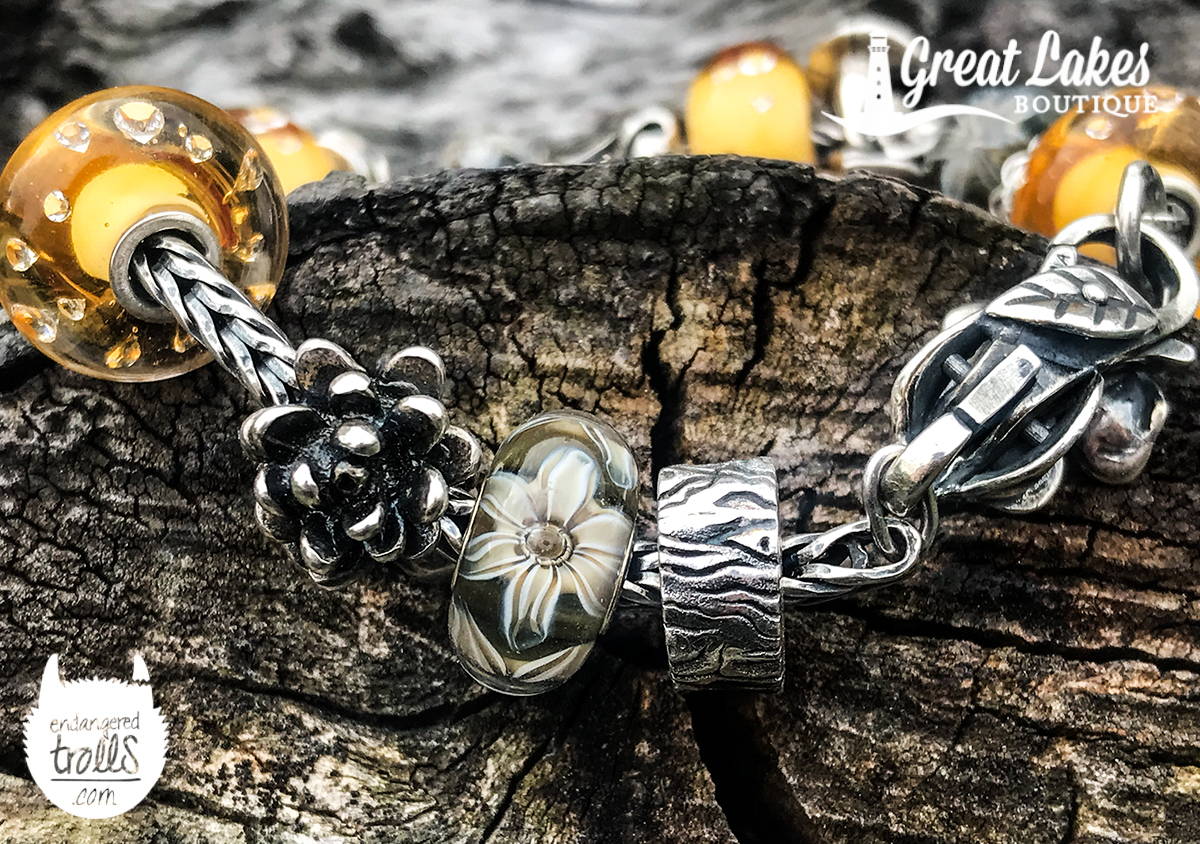 This is an almost pure Trollbeads bracelet aside from the small The Palace of Amber carved labradorite flower. The labradorite is one of my favourite stones and these have all been amazingly flashy which brings a touch of magic or ethereal air to the combination. We're currently listing the very last of our stocks of these so if you missed them do take a look as once gone, there won't be any more.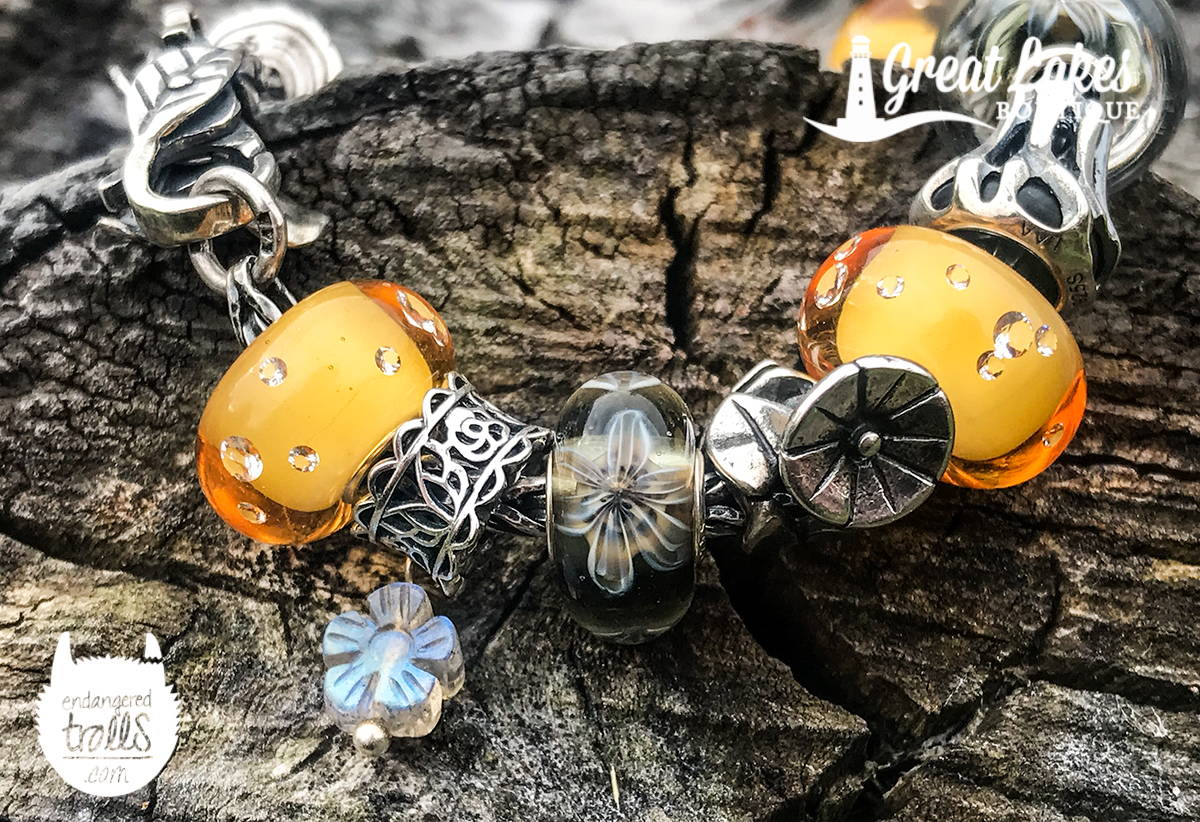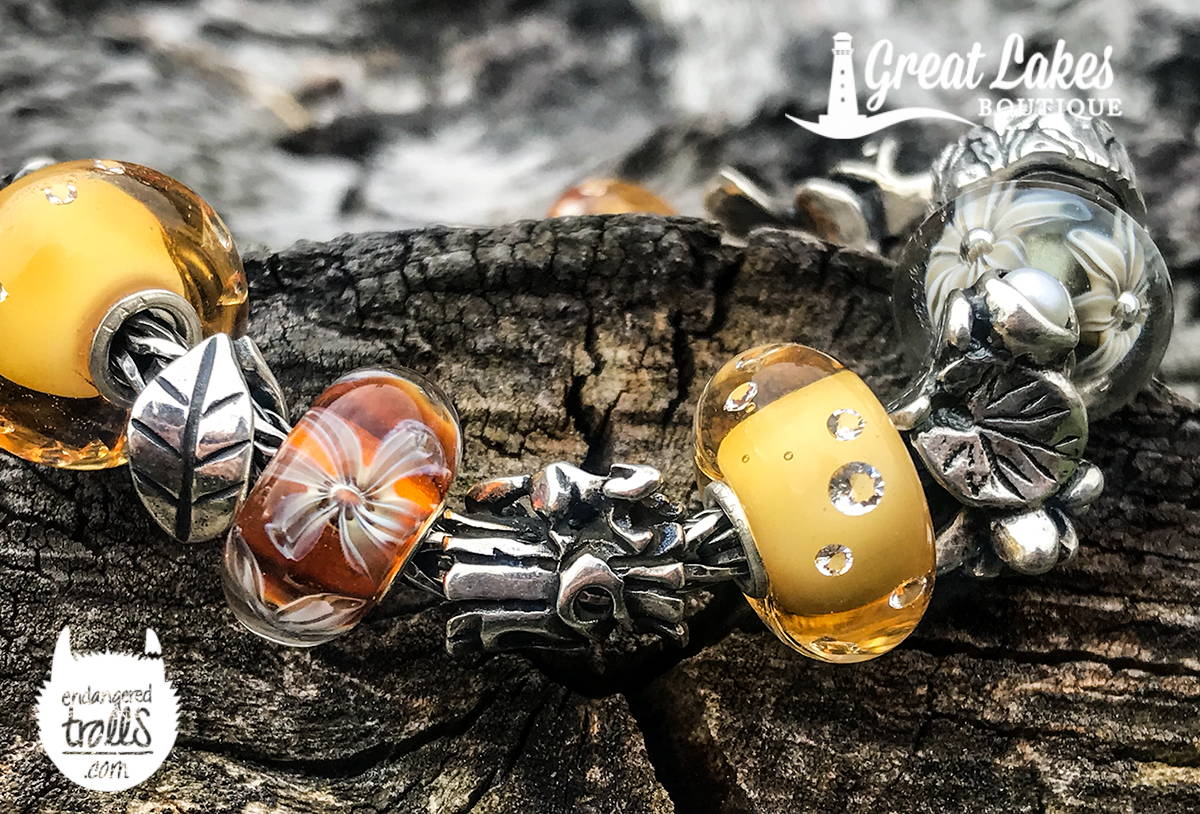 Though inspired by Norse mythology, the Trollbeads Ratatoskr is one of my favorite autumnal beads, though small it fits so well with the theme.
You'll notice the silver bead from the Trollbeads Hues of Wonder Starter Bracelet to the left as another perfect fall bead.
I've stacked the whole combination with a couple of my daily wears right now. Both of which featured in articles earlier this week.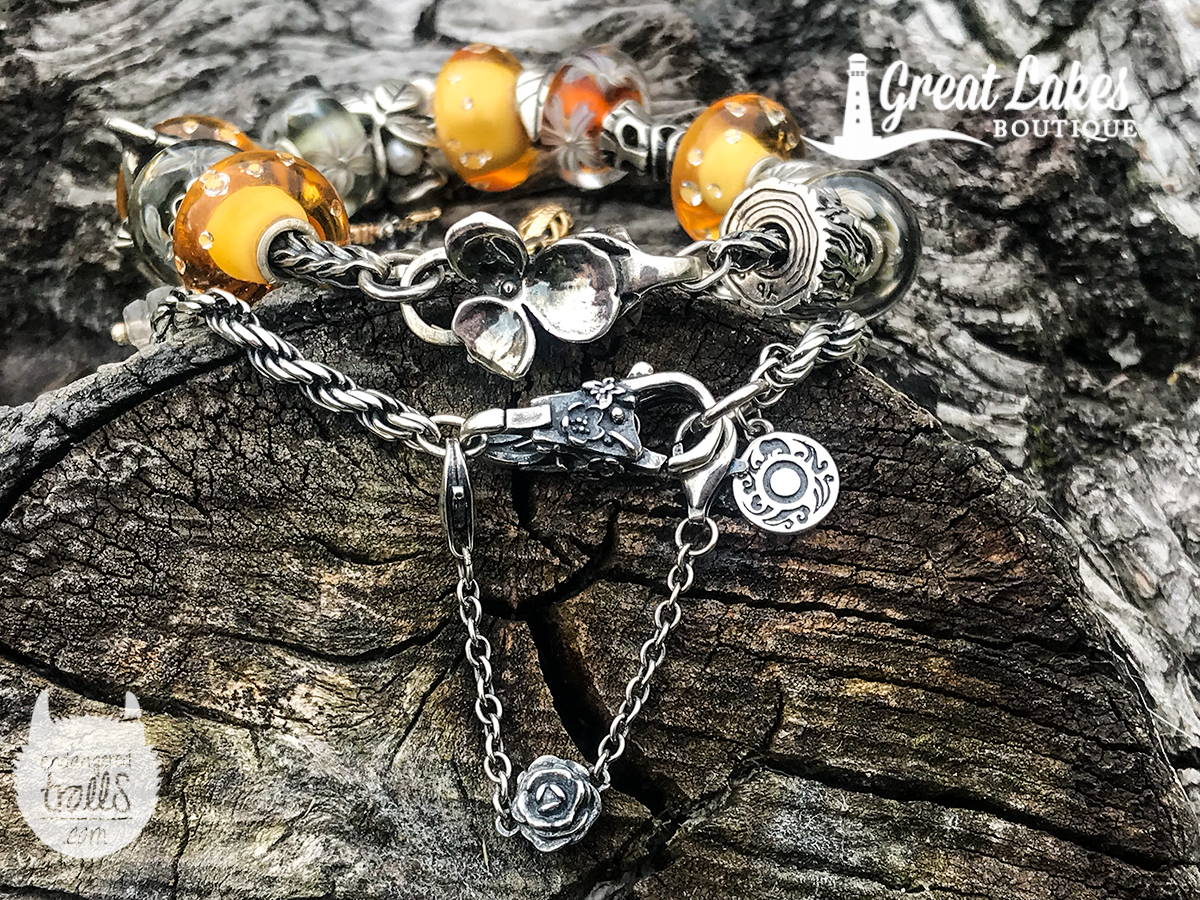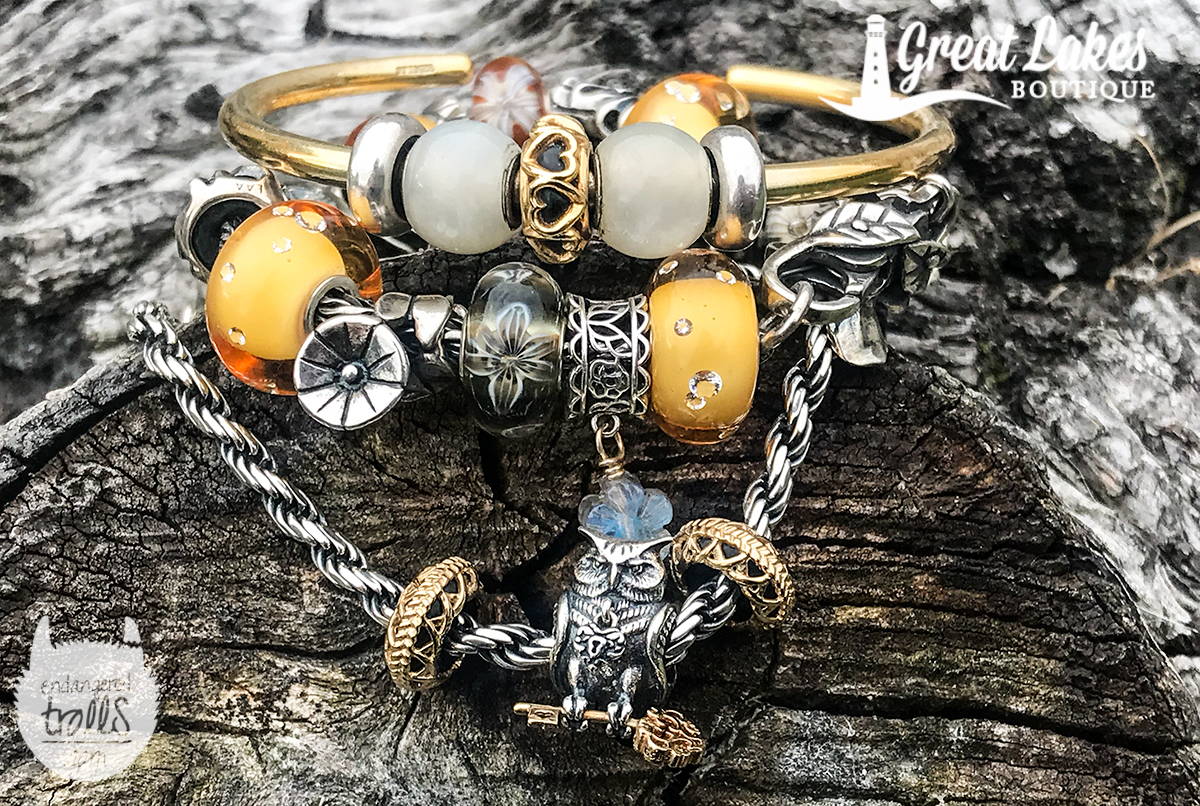 Finally a few on the wrist shots. I love how autumnal the combination feels. Both the colors and the gold bring such a warmth to the combination, while the florals still add plenty of acknowledgement to the last of the summer season.
I've already mentioned I'm wearing the new bracelet from The Palace of Amber with nothing more than the Rumpelstiltskin Stoppers and a focal. It's almost too beautiful to cover with beads.