This bead bracelet blog brings the details of the Bella Fascini promotions for Bead Bash on the Lake Fall 2020!
We're a little over two weeks away from the start of Bead Bash on the Lake Fall 2020 and today we're confirming the Bella Fascini promotions!
For those unfamiliar with Bead Bash on the Lake, this is our twice annual, multi-brand event, celebrating all of our brands. You'll find a mix of promotions, sales, special products and brand new releases, some of which are exclusive to Great Lakes Boutique. The event is wholly online for fall and begins on Friday September the 25th, ending on Sunday September the 28th. No tickets are required and it works exactly the same as when you normally shop our website.
We have two Bella Fascini promotions for our event weekend. Please note these cannot be stacked.
Buy Two Get One Free
Buy One Get One 50% Off on CZ Beads
So the buy two get one free can be applied to any of the collection beads. To clarify this means when you have three beads in your cart, your third will be free. For the signature CZ line however, it's buy one get one 50% off. This means when you have two CZ beads in your cart, one of those will be half price.
These two offers provide amazing discounts on Bella Fascini and it's so well timed because the brand has some of the best holiday inspired beads out there.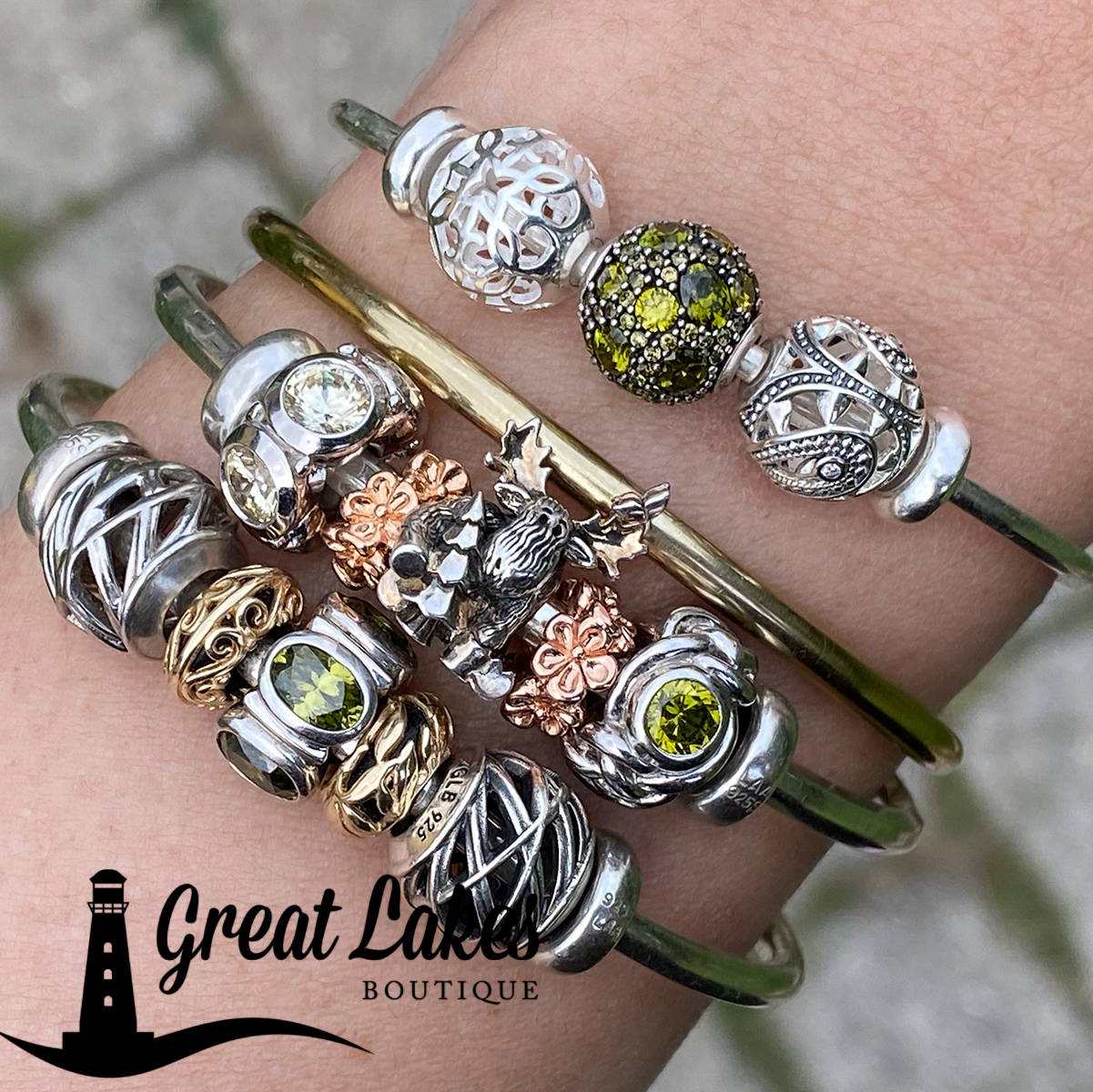 If you've never seen their signature CZ line, they are so pretty. We use them extensively here at GLB as an alternative to glass. You'll find a range of colors in different styles too. Pictured here is the Olivine shade in both the oval and Celtic style, styled with the pale yellow in the round version.
It's not always that glass feels right and the signature CZs give you that option.
The website will process these offers automatically for you. We know many of you end up with multiple orders over the weekend and please be assured we make any refunds necessary after the event is over. If you shop a few beads one day, then a few more the next, we'll make sure promotions are applied and refunds made as required.
Here's the recap on what has been confirmed so far ;) It's going to be a real shopping extravaganza as the promotions this time around are very strong and the special stock is amazing. It's set to be a real celebration of all of our brands.
Buy Two Get One Free on Bella Fascini
Buy One Get One 50% Off on Bella Fascini Signature CZ Beads
70% Off Ohm Beads
70% Off Henhousebeads
The Palace of Amber Equinox Event Bead
Trollbeads Sophistication Event Bead
Stay tuned for more Bead Bash on the Lake updates tomorrow!