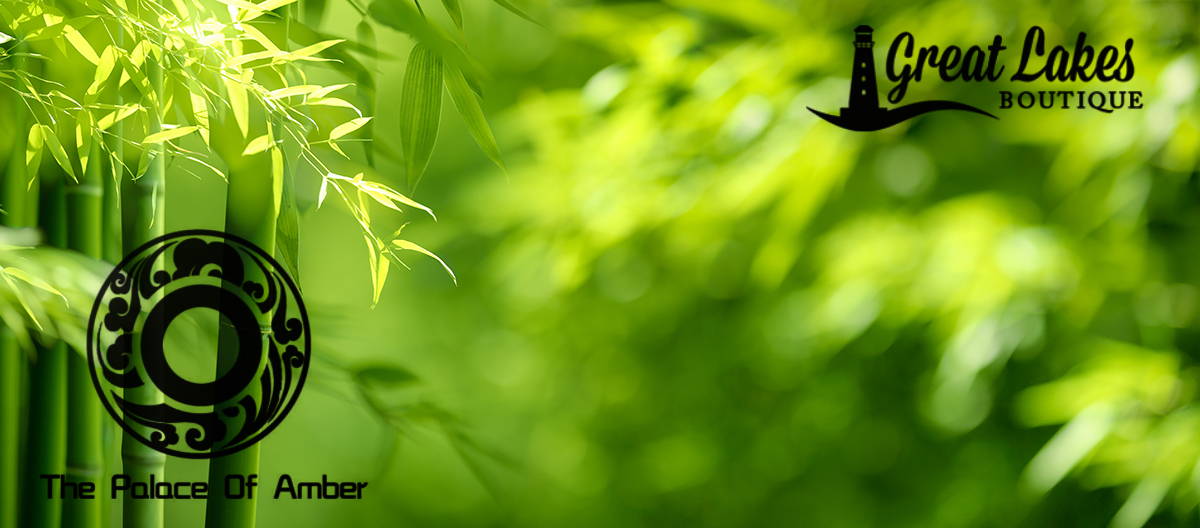 It's a new week and we have a very special preview to share with you today. This a design The Palace of Amber have been working on for months and we loved them from the very start. Today we're proudly introducing The Palace of Amber Tuan Tuan.
The Palace of Amber Tuan Tuan
Tuan Tuan is one of two giant pandas on loan to Taiwain from China. The loaning of giant pandas has traditionally been considered a gesture of diplomacy. Obviously the giant panda are so severely endangered and absolutely iconic to China so loaning any of their animals is huge honour. Tuan Tuan lives with his mate Yuan Yuan at Taipei Zoo and the pair have successfully bred in the past.
The Palace of Amber Tuan Tuan is a hand carved agate designed to be worn as a necklace with the accompanying The Palace of Amber Bamboo Forest Pendant.
Tuan Tuan will retail at $55 while the Bamboo Forest will be $45.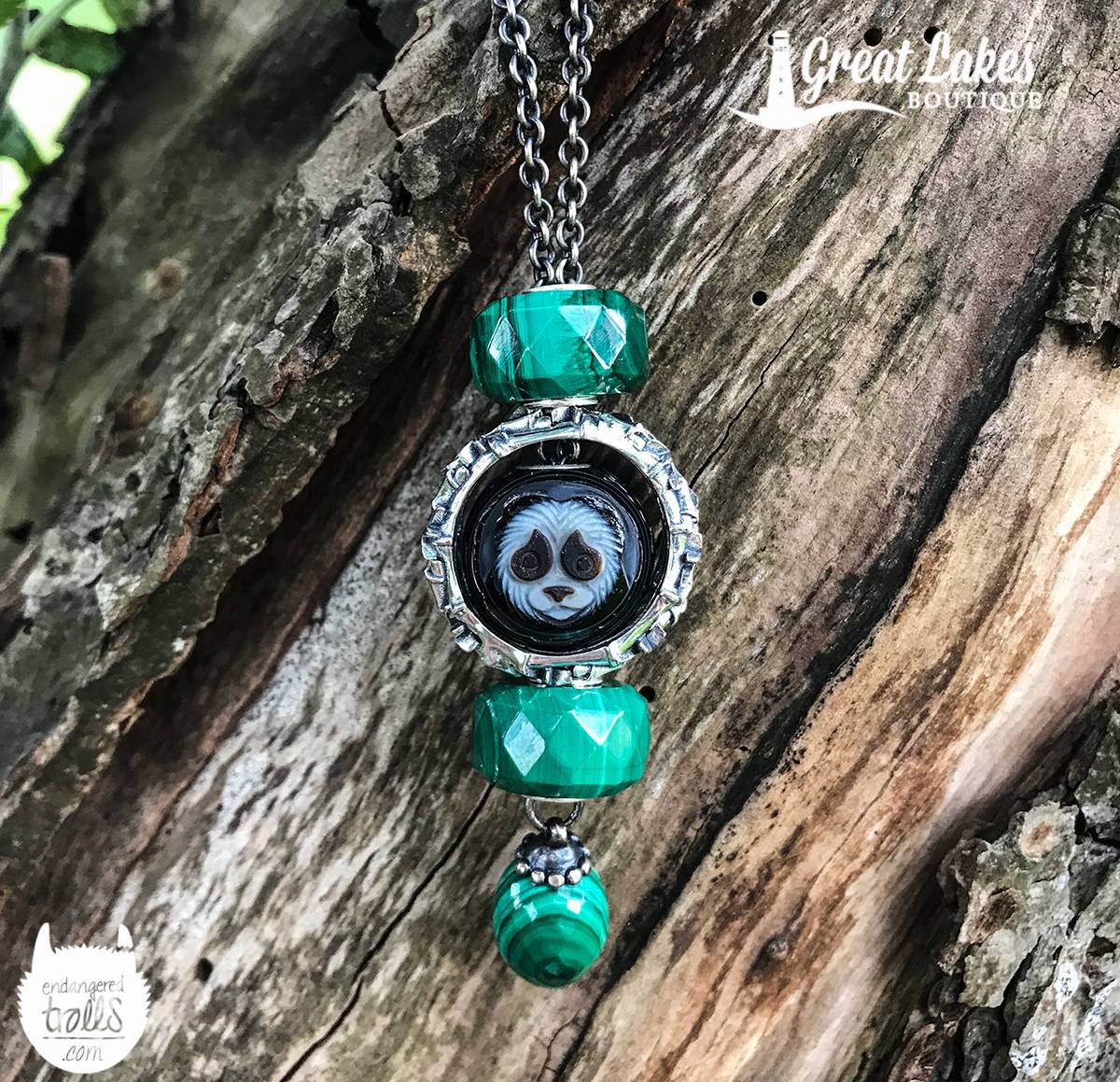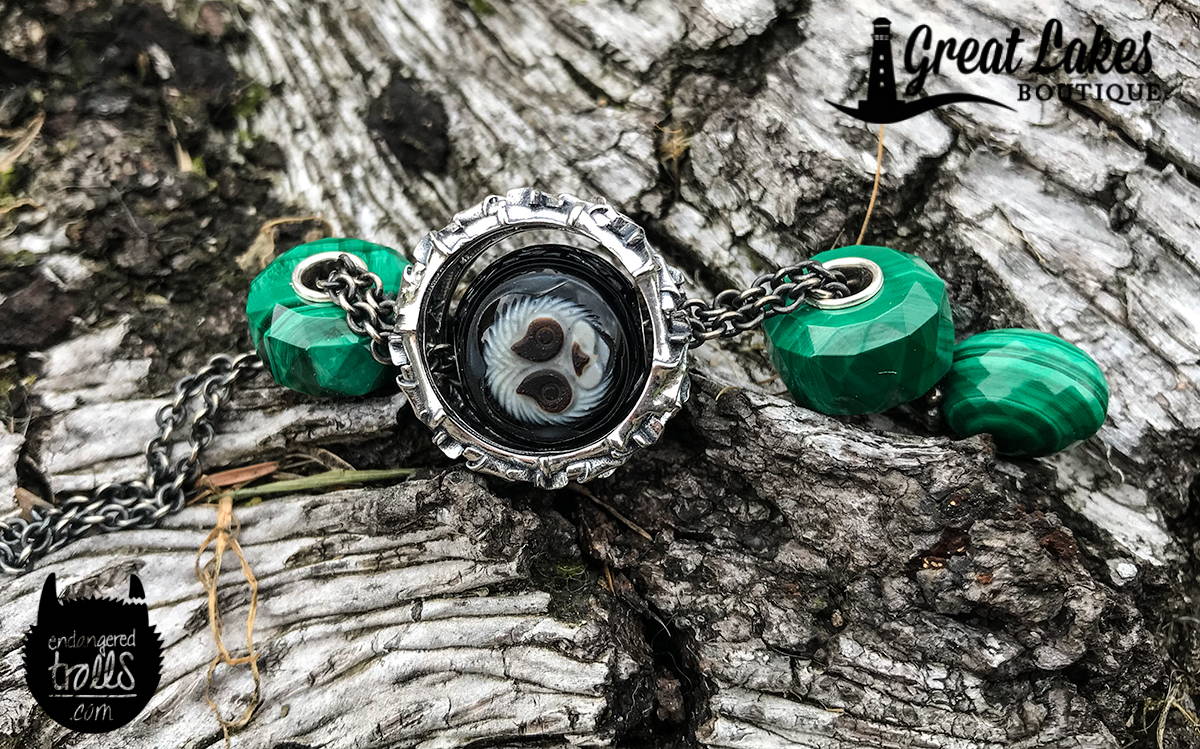 It's style here on the Trollbeads Fantasy Necklace with Malachite and I've used a couple of The Palace of Amber Malachite stones on either side of the pendant, representing the lush green bamboo forests that the panda call home.
It's simply one of the most striking and unusual necklace combinations we have encountered and incredibly apt for this Taiwan based brand.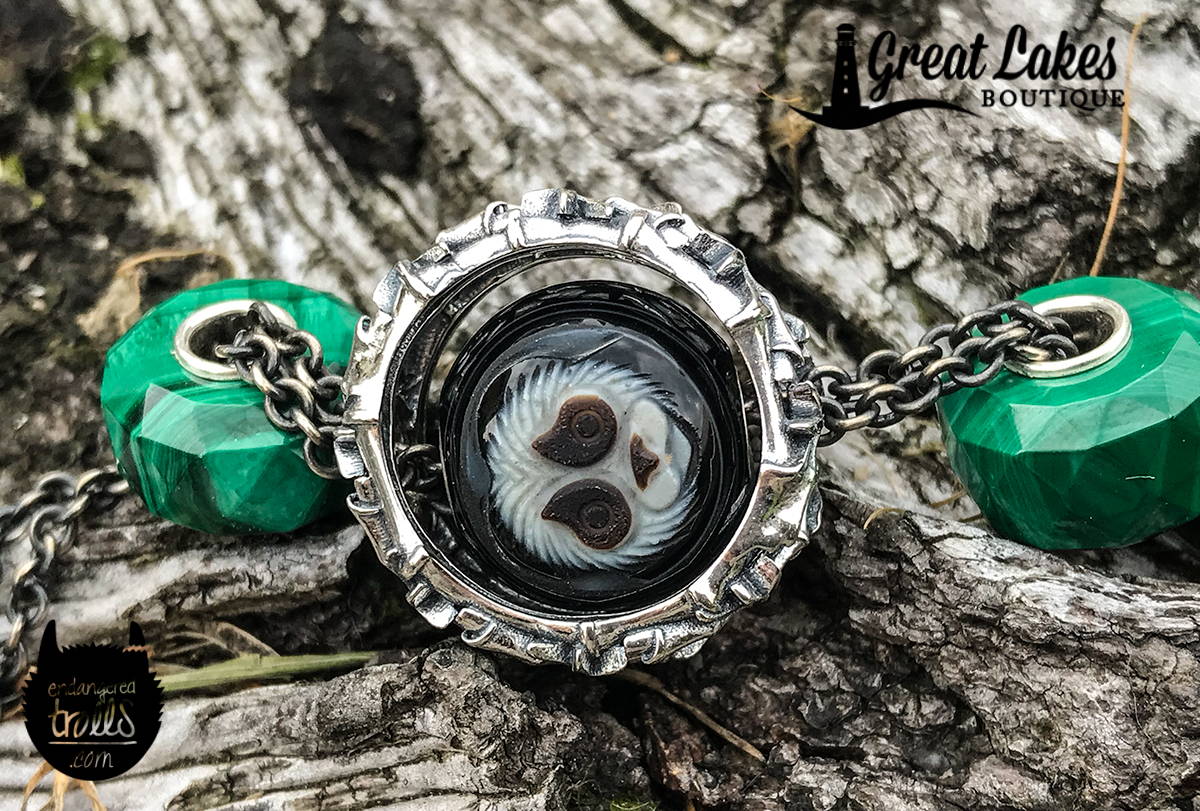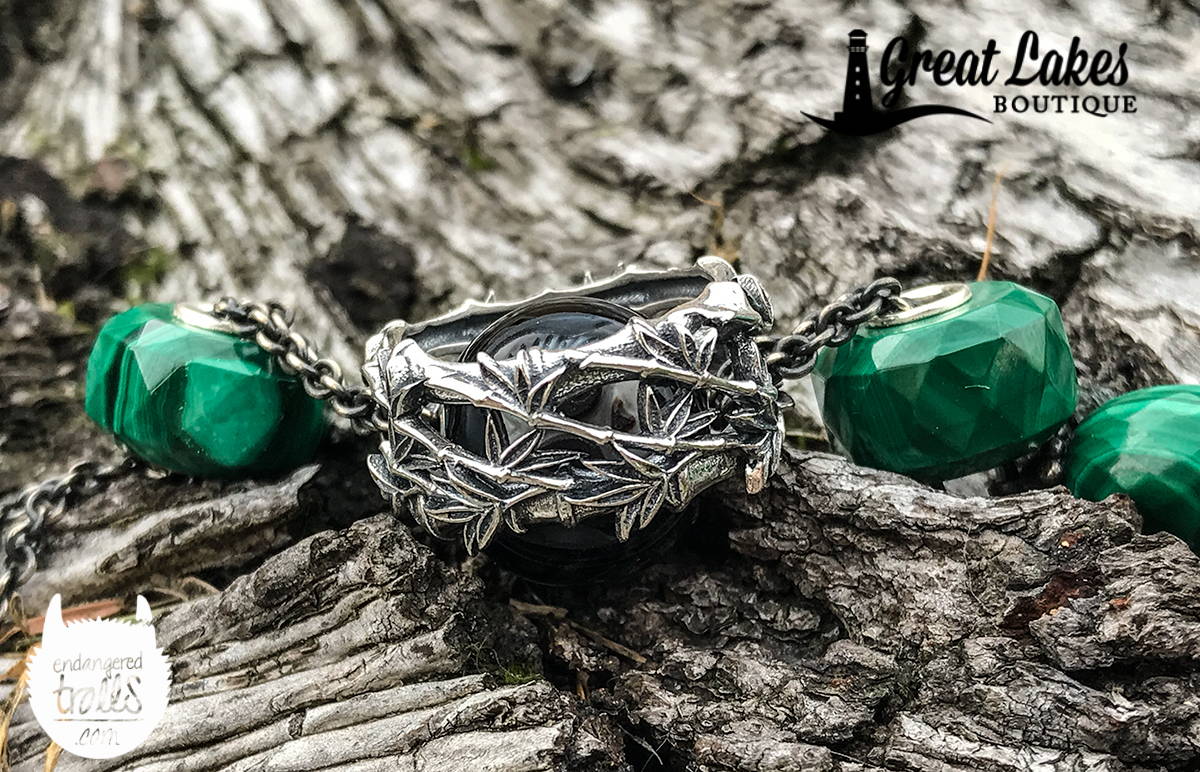 The detailing of the Bamboo Forest is lovely in it's own right and it would actually make a lovely ring.
For reference just about anything fits inside the Bamboo Forest, including gemstones so you could make a far more elaborate necklace combination than this should you so choose.
Though designed and cored for a fantasy necklace, both pieces do of course work on bangles and bracelets.
Personally I'm loving a coordinating bangle and necklace. To the right I've styled this with the new Trollbeads Round Malachite and a couple of uniques.
For reference there'll be some of these uniques available via the website in time for the release of Tuan Tuan.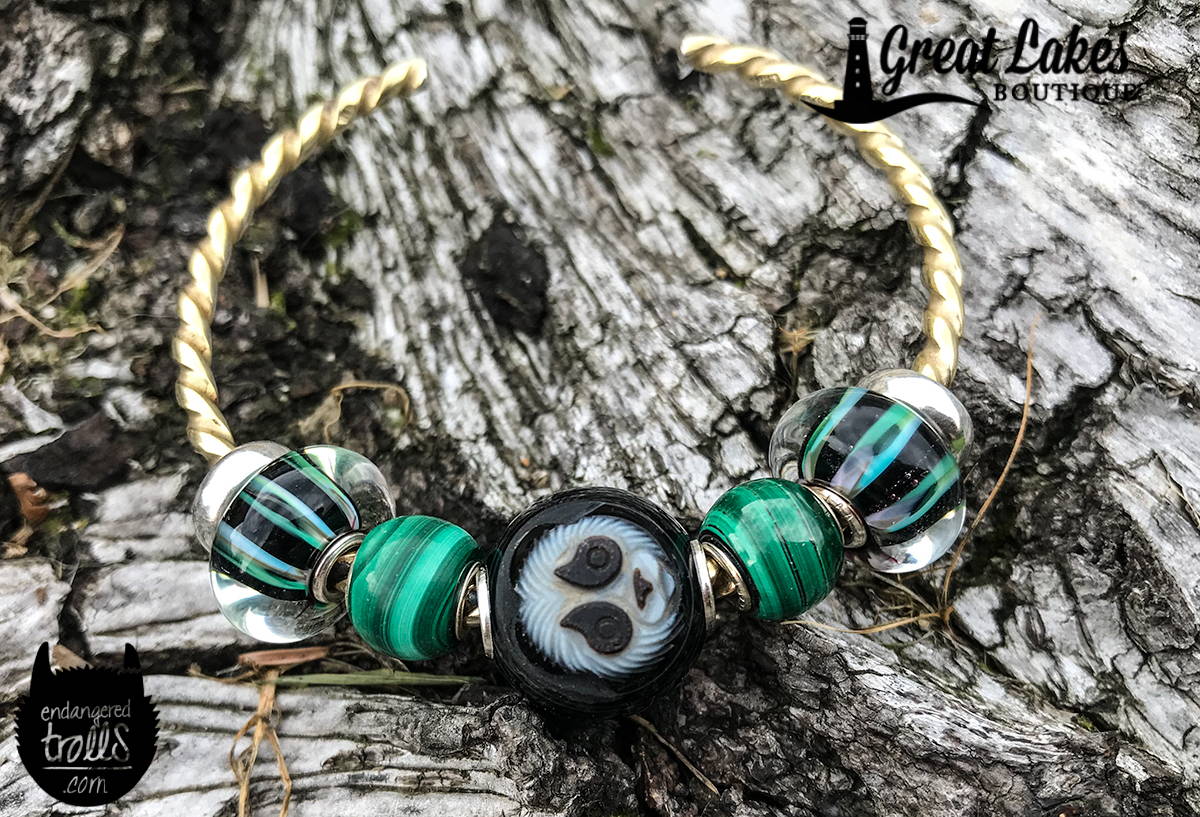 Now for the important part. Tuesday (June the 4th) will be the Great Lakes Boutique Adopt a Panda evening. At 7pm EDT The Palace of Amber Tuan Tuan will be live on our website. There is a little difference in some of the facial features so of course we will be selling these from live images. You can purchase them independent of the pendant or with it, (though I'd absolutely recommend Bamboo Forest too as it's a beautiful piece in it's own right.) There will also be new stock of The Palace of Amber Malachites, alongside with some beautiful new, carefully curated Trollbeads gemstones, all designed to help recreate your own bamboo forest theme.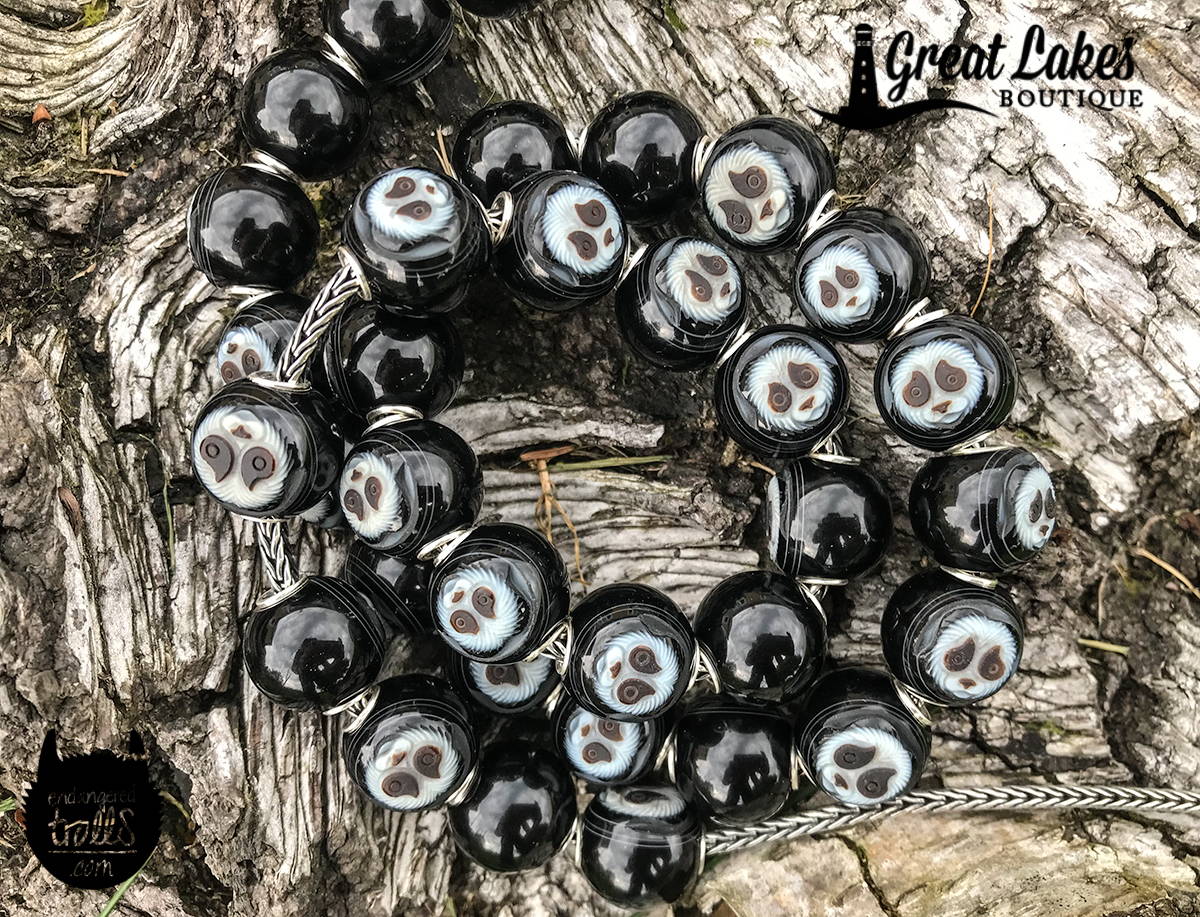 Want to get in the mood already? The Redbalifrog Bamboo Bangle would make a great wrist piece. Alternatively you can also find lovely new Luca + Danni Panda Bear Bangle too.
If you need a fantasy necklace, the malachite version it's the perfect color for Tuan Tuan.
The new Trollbeads Round Malachites or even Round Green Aventurine work so well as the spherical shapes complement each other.