There's now less than two weeks to go until the craziest shopping day of the year. This Trollbeads blog brings the full details of the Trollbeads Black Friday 2019 Promotions.
Due to the sheer number of offers that run consecutively over the weekend, there's always a lot to keep track of. Some offers are only available for a very short period of time. Be sure to take notice of those times as we have to adhere to them very strictly.
Trollbeads Black Friday 2019 - Weekend Long Promotions
The following promotions begin at midnight EDT on Friday the 29th (so as Thursday night turns to Friday.) They will end at midnight EDT on Monday December the 2nd.
All weekend there will be a blanket 30% off all Trollbeads excluding:-
Sense of Shimmer (Black Friday 2019 bead)
Trollbeads Winter 2019
Trollbeads Autumn 2019
Our website will be processing this discount automatically with no promotional code needed. The sale prices will be shown once an item is in your basket.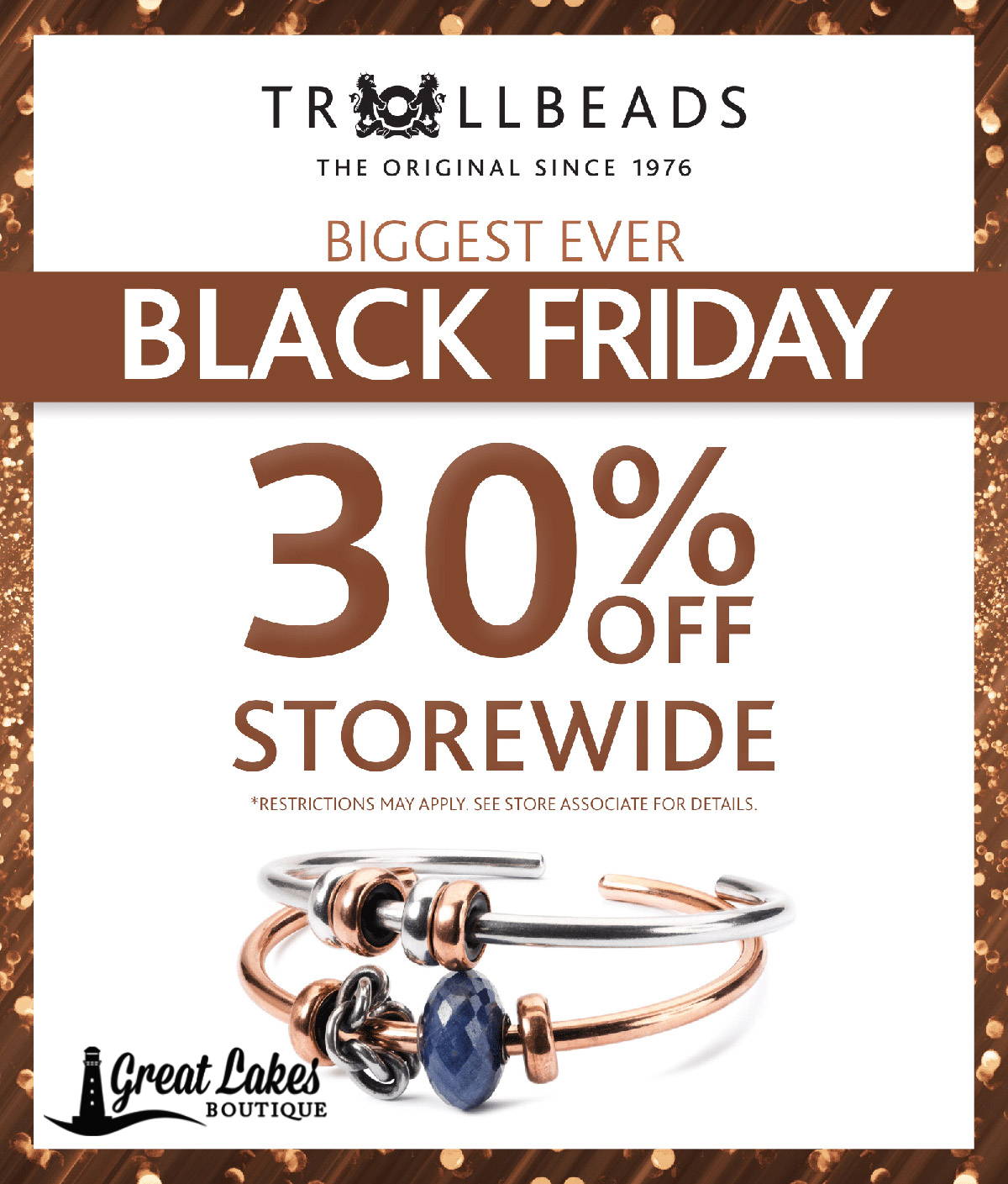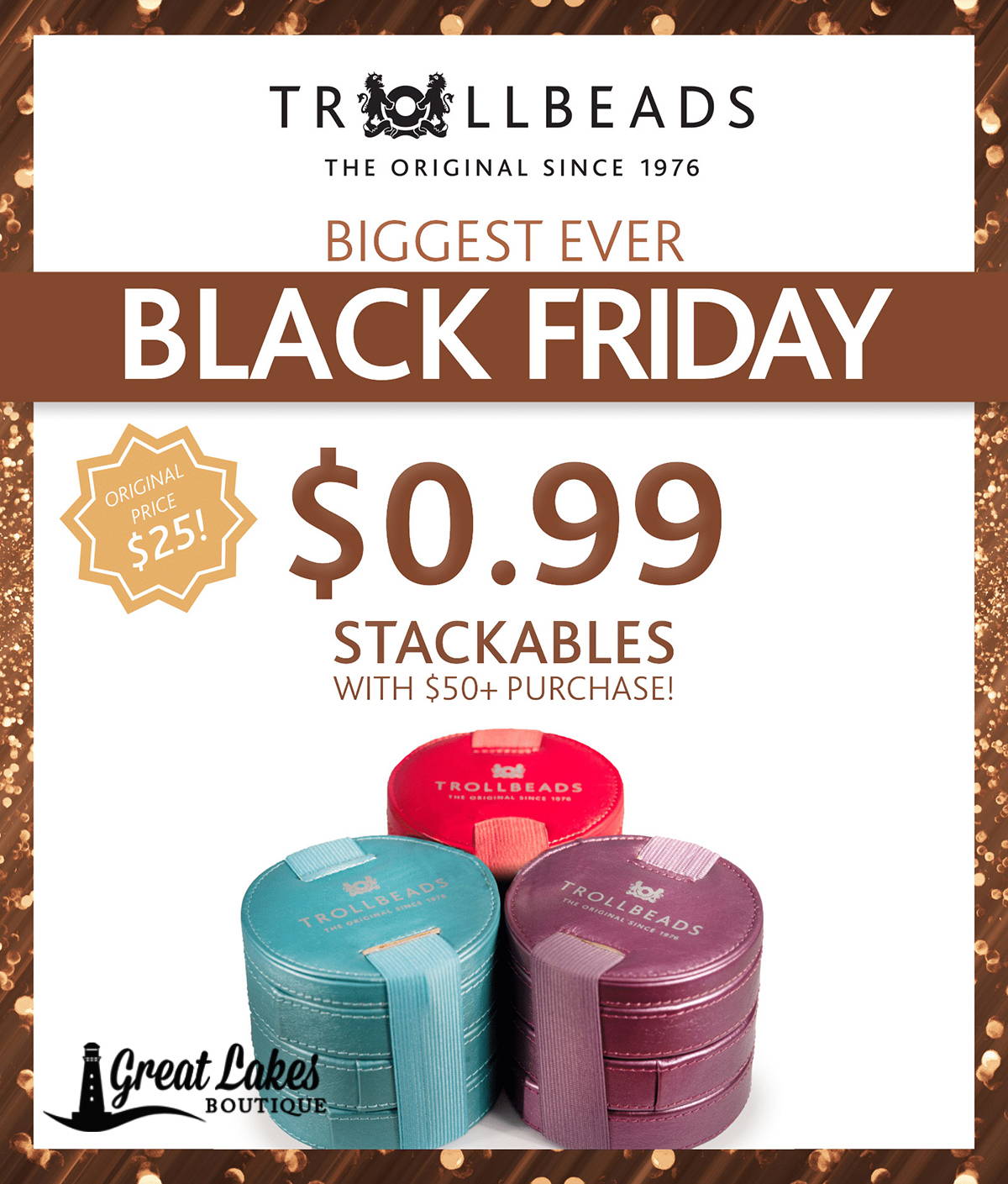 For those of you spending $50 or more on Trollbeads, you'll be eligible to purchase a Stackable Jewelry Case for just $0.99.
Please do note that due to the ever increasing costs of shipping, there will be additional shipping charges for this item.
For the above reason, it won't be automatically added to carts. We will likely use a promo code system for those wanting the case.
For the entire weekend the Trollbeads Vine of Dreams Bracelet will be just $75, reduced from $120.
This is an amazing offer on a lovely bracelet and for those of you gift hunting, it's a perfect choice.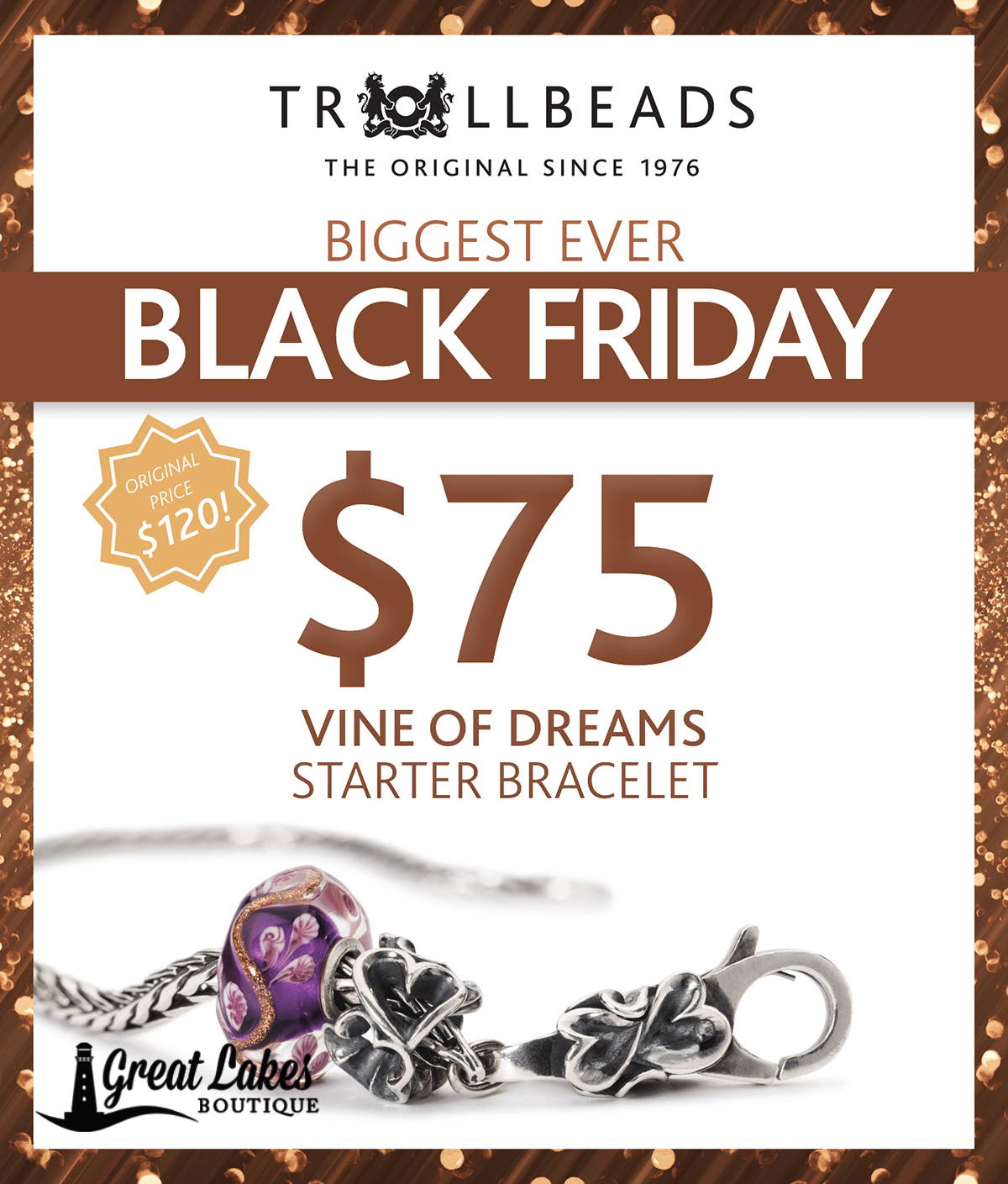 Trollbeads Black Friday 2019 - Friday Only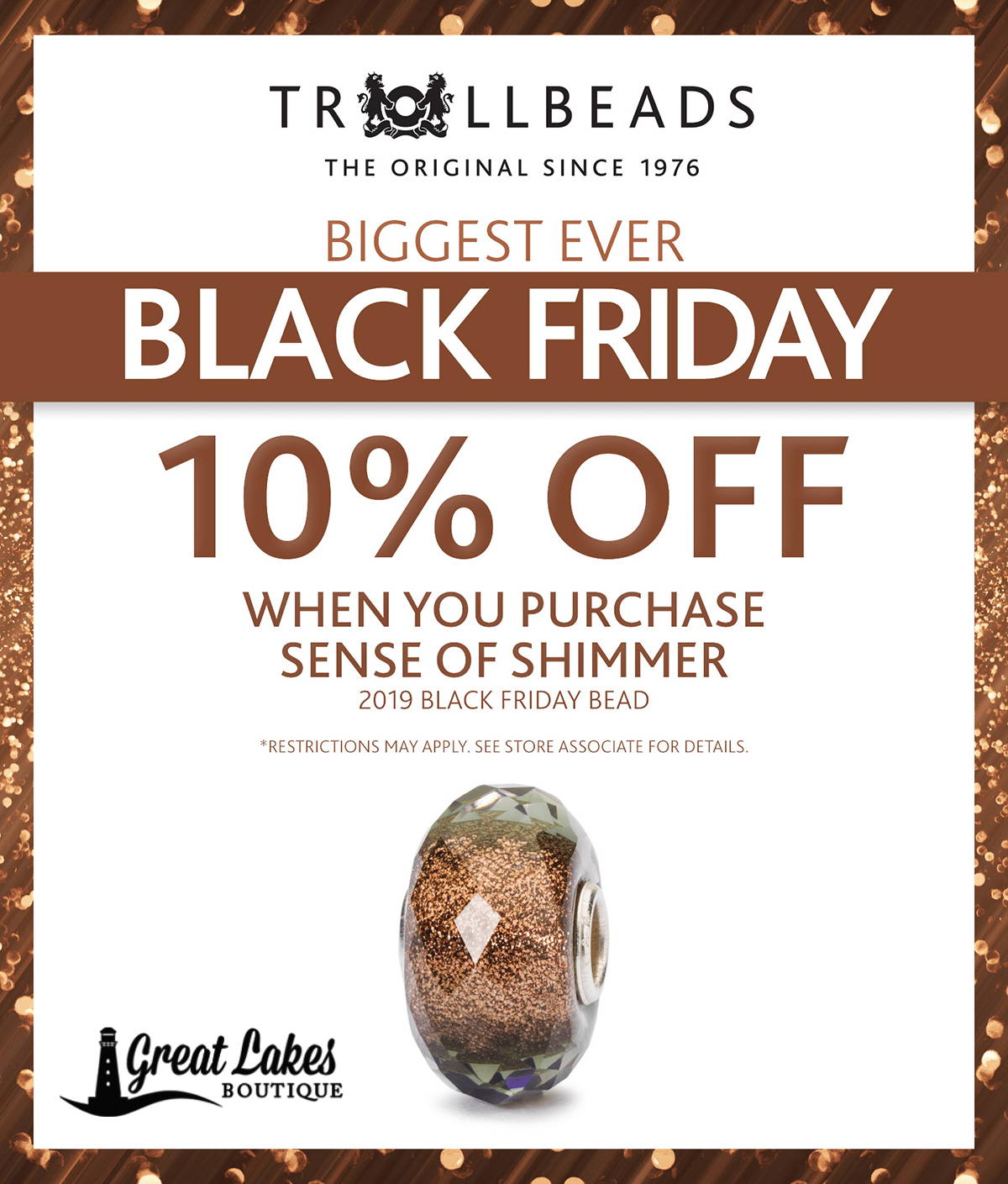 Beginning as the clock strikes midnight on Friday the 29th and running for just twenty four hours, you can save an extra 10% on your entire order if it contains the Trollbeads Sense of Shimmer bead. Please note the winter & fall collections are excluded from the discounts.
This bead will launch at midnight as a limited edition with a retail price of $50.
We are expecting extremely high demand.
For our in store customers only
For just two hours between 10am and midday on Friday the 29th of November, Trollbeads gold will be buy one get one free.
Please note this offer does not stack with the 30% sale nor the 10% sale. Though you will be able to buy single gold beads with those savings.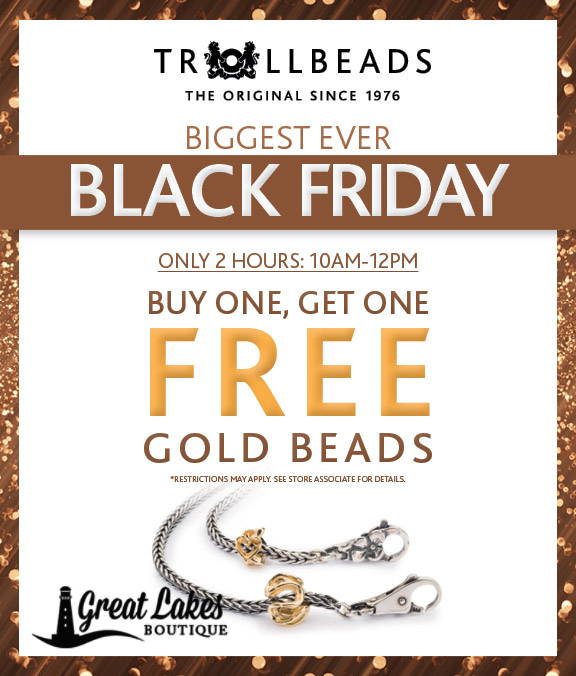 Trollbeads Black Friday 2019 - Saturday Only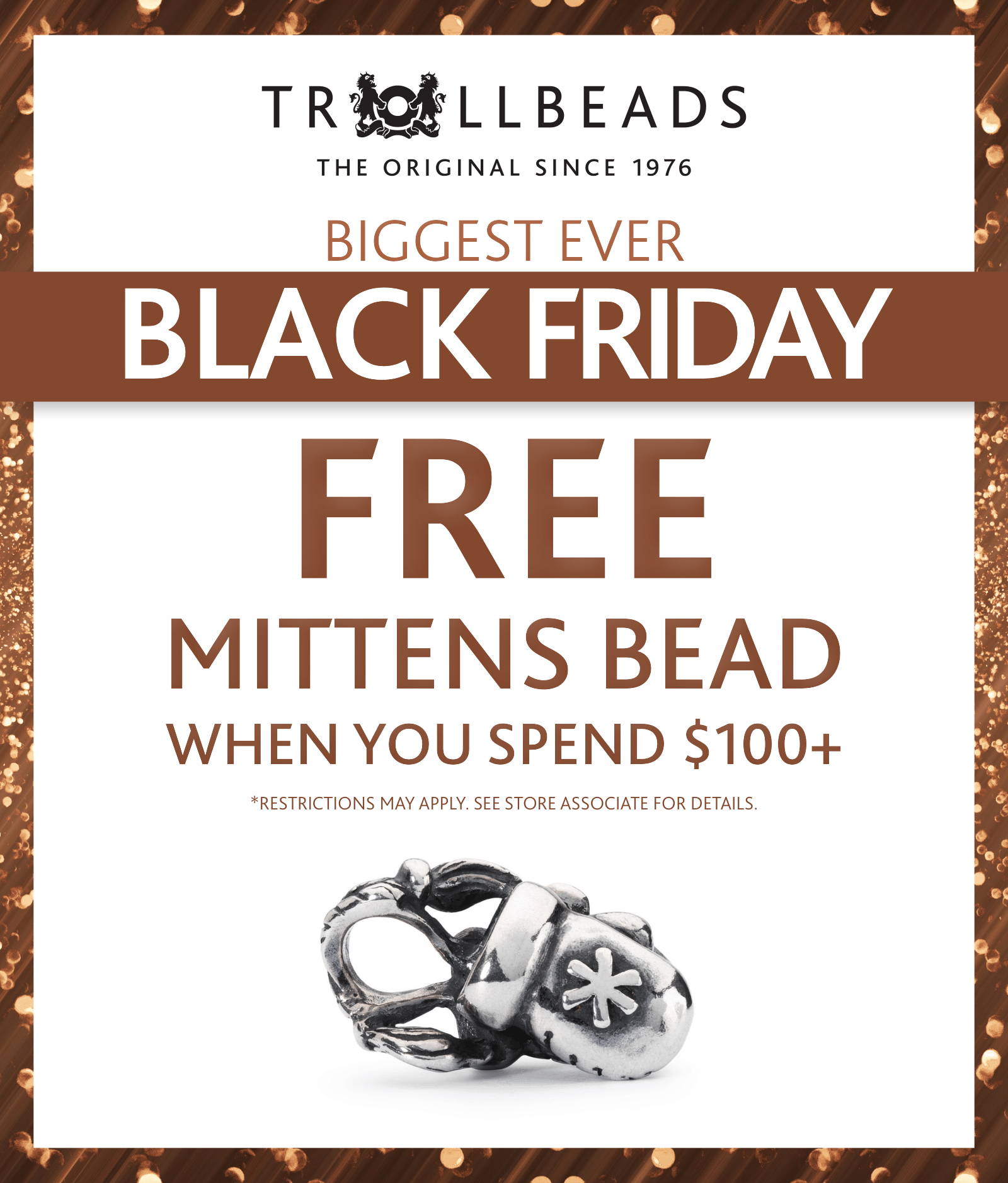 Finally beginning at midnight on Saturday the 30th (so as Friday turns to Saturday) and lasting for twenty four hours only, spends of $100 or more on Trollbeads will qualify for a free Mittens bead.
We will manually be adding this bead to all qualifying orders. It won't automatically appear in your cart.
This promotion ends at midnight on Saturday night so is only available for Small Business Saturday.
Trollbeads Black Friday 2019 at Great Lakes Boutique
Obviously there is quite a lot to keep track of here and again please do take notice to the days and times of the Trollbeads promotions. We cannot make exceptions to those.
Here's a recap:-
Save 30% on Trollbeads from Friday the 29th to Monday the 2nd. (Exclusions apply.)
Spend $50 and qualify for a Stackable Jewelry Case for $0.99 (All weekend.)
Shop Vine of of Dreams for $75. (All weekend)
Save 10% on your entire order if it contains the Trollbeads Sense of Shimmer (Friday only. Exclusions apply)
Buy one get one free on Trollbeads gold (Friday between 10am and 12pm only. In store only)
Get a free Trollbeads Mittens on spends of $100 or more. (Saturday only.)
As we get a little closer we will make a blog covering everything related to Black Friday. Please do remember if you have any questions relating to the Black Friday offers, it's much better to ask in advance. We will be very busy across the weekend and online support could be a little slower. If you're waiting on answers you can risk missing out on beads or offers.
A final note on shipping charges.
There will be shipping applied to all sales orders. If your order includes $40 or more of non-sale items, then shipping will be refunded once we reach the order.
Please note carefully that this is a refund made after the order is placed.
Lastly do remember if you're still wanting to shop the Trollbeads Winter 2019 or Autumn 2019 collections, there will be no discounts on those during Black Friday weekend. It's actually better to place those orders soon and thus avoid the inevitable slower mail speed associated with Black Friday and then Christmas.
You can shop live images of both those collections via the links below.