This Trollbeads blog brings live images of the Trollbeads Spring 2020 collection.
We're now just days from the launch of the Trollbeads Spring 2020 collection on Friday the 17th of January. For our online customers, you can begin shopping at midnight on Thursday night and of course this includes live images too.
Today we can begin sharing with you our own live studio images of this amazing new release.
Trollbeads Spring 2020 Glass
Trollbeads are so well known for their glass that it's always difficult to not be immediately drawn to any new glass design. Undoubtedly one of of most anticipated pieces of this new release is the Trollbeads White Roses. This design originally launched in pink in 2015 and it was hugely popular.
It will retail at $61 and is not marked as a limited edition.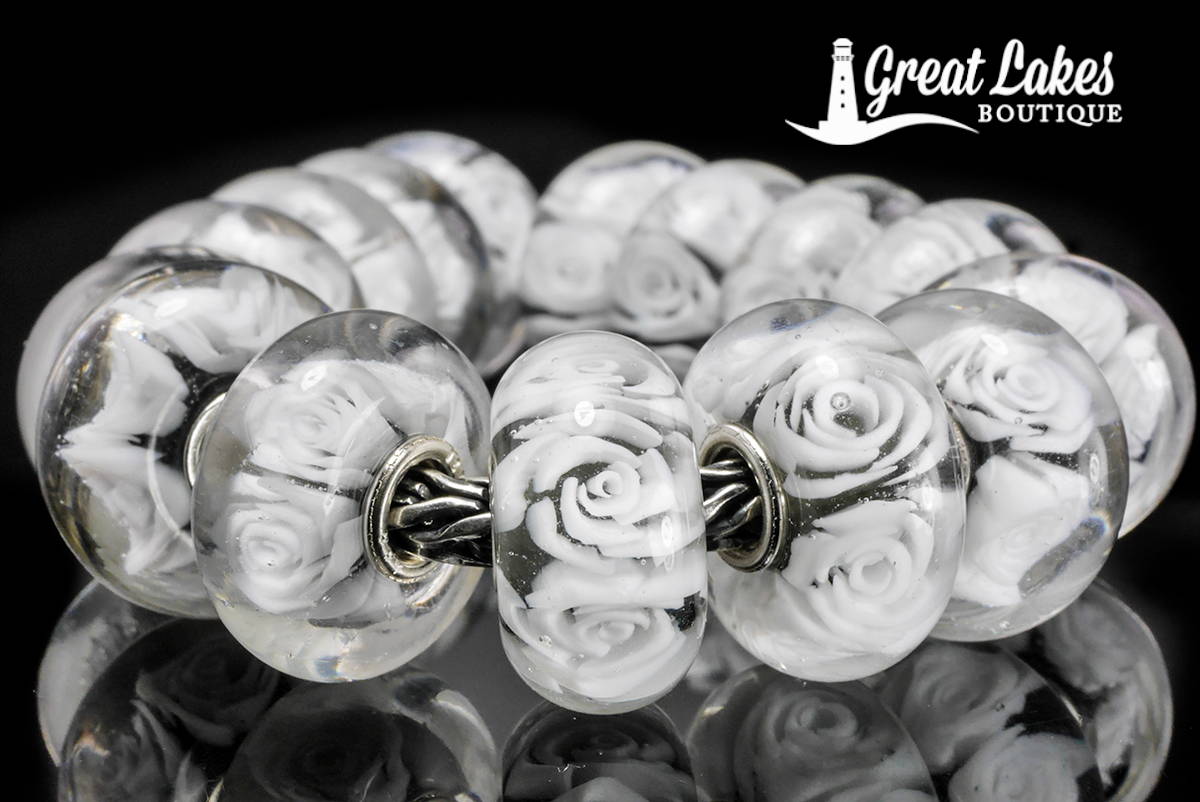 "The blossoms of innocence and true love. White roses carry with them serenity and peace."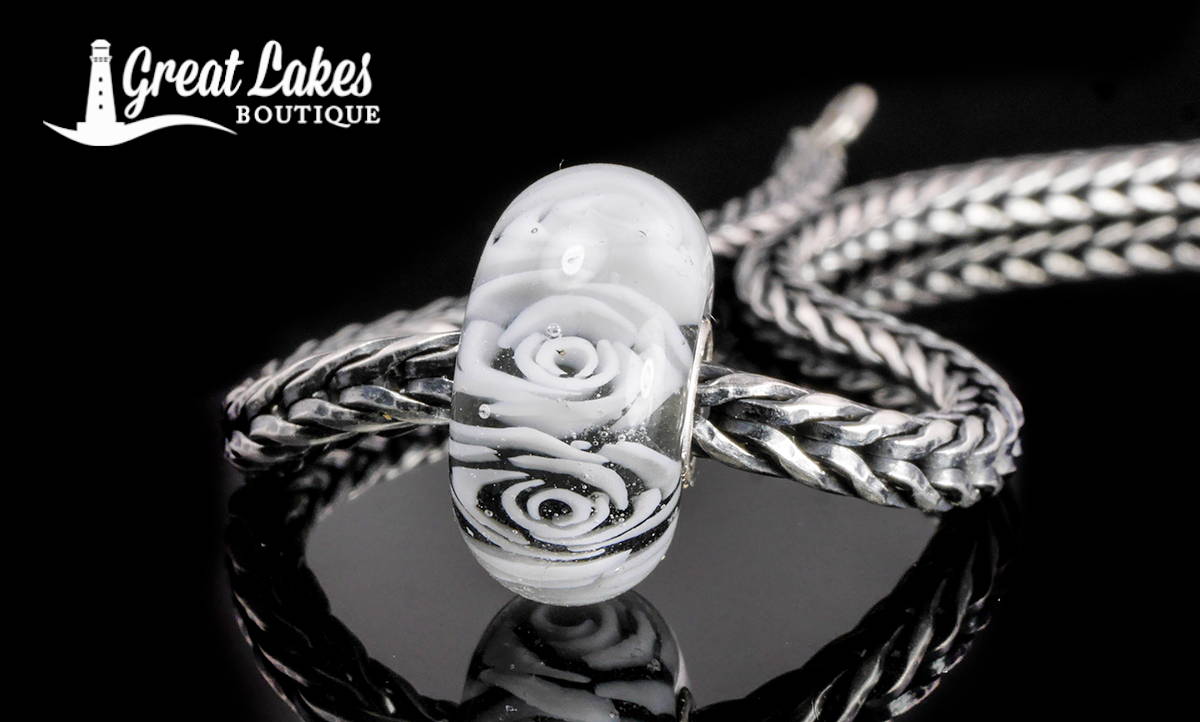 You'll spot a lot of variation in these beads. Firstly some are really quite large by recent standards. Others are petite so there is a lot of size variation. Beyond that you'll find differences in how much the grey-black base shows. Some beads feel lighter in vibe as you see very little of that base. Others you'll see a lot of contrast.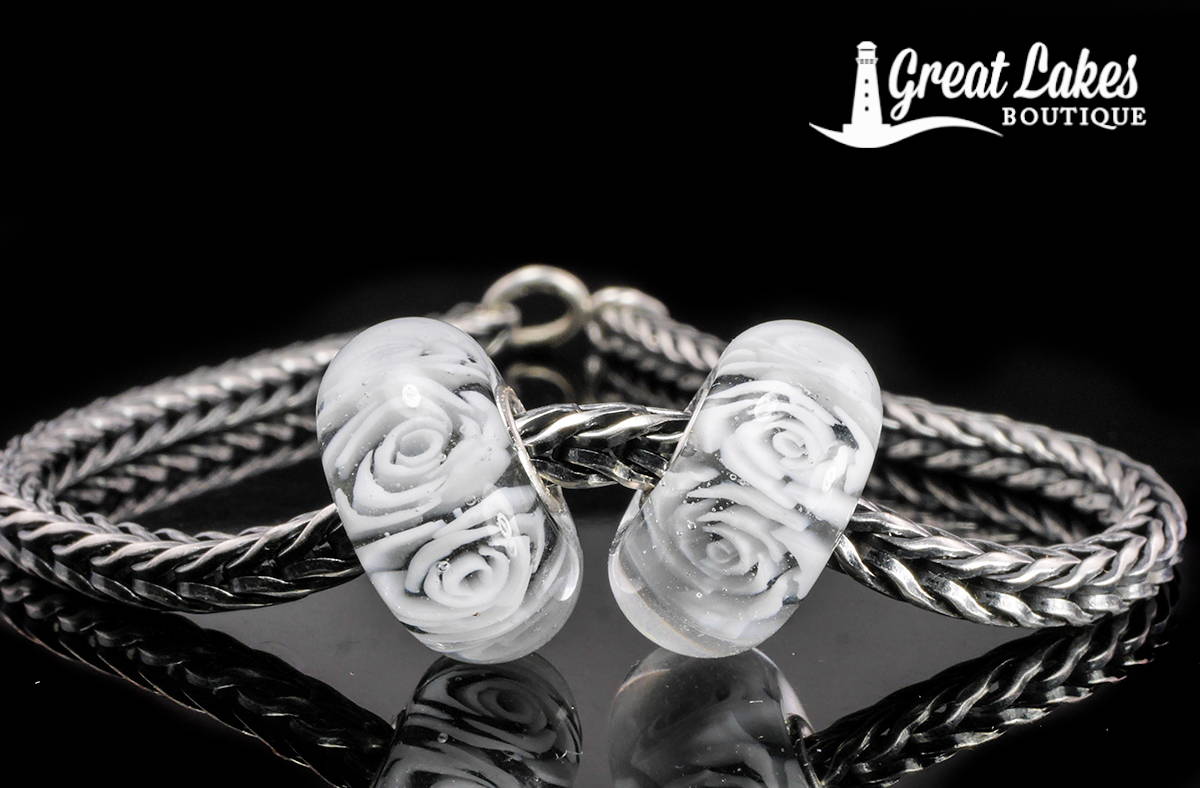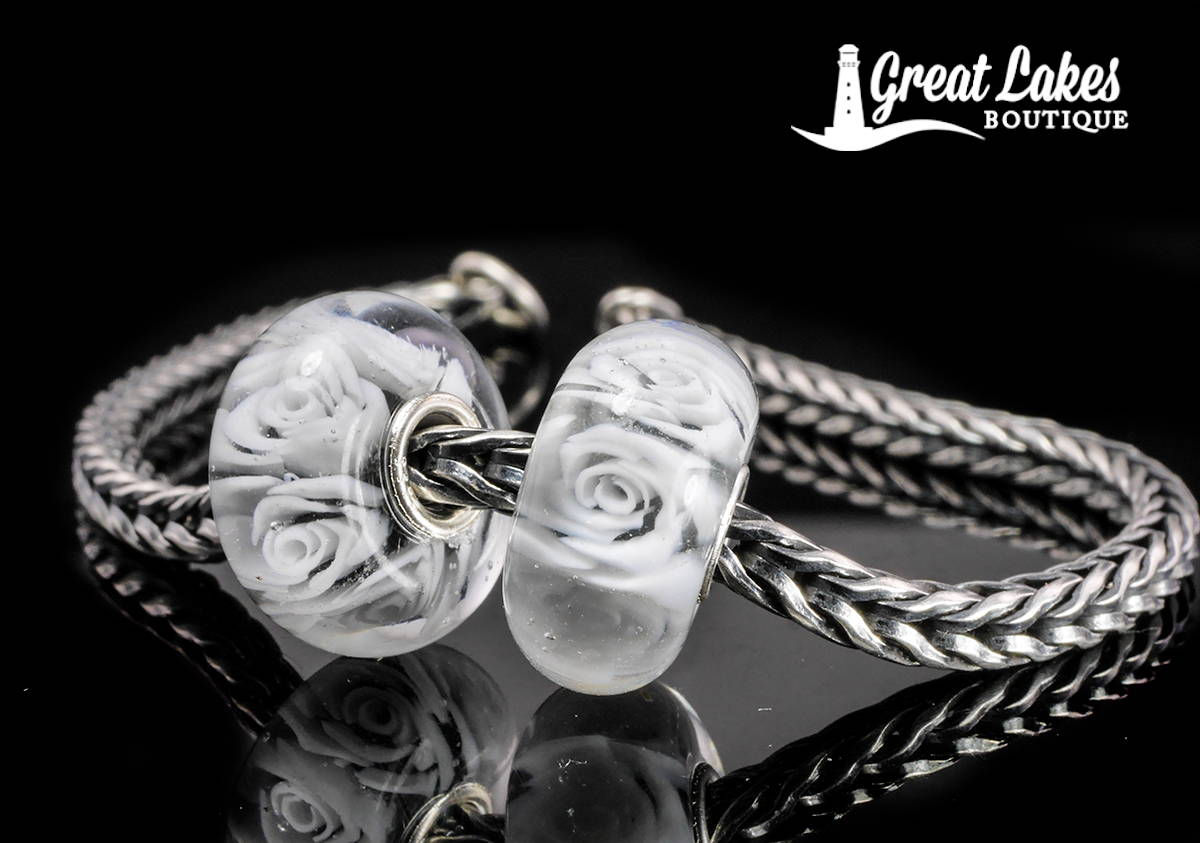 The Trollbeads Love Story Kit is one of the two new kits debuting for spring. The beads are available individually at $50 each or as a kit at $248 and they are standard collection glass, not limited editions.
The beads blend beautifully together and will make the basis for a lovely, light feeling spring bracelet.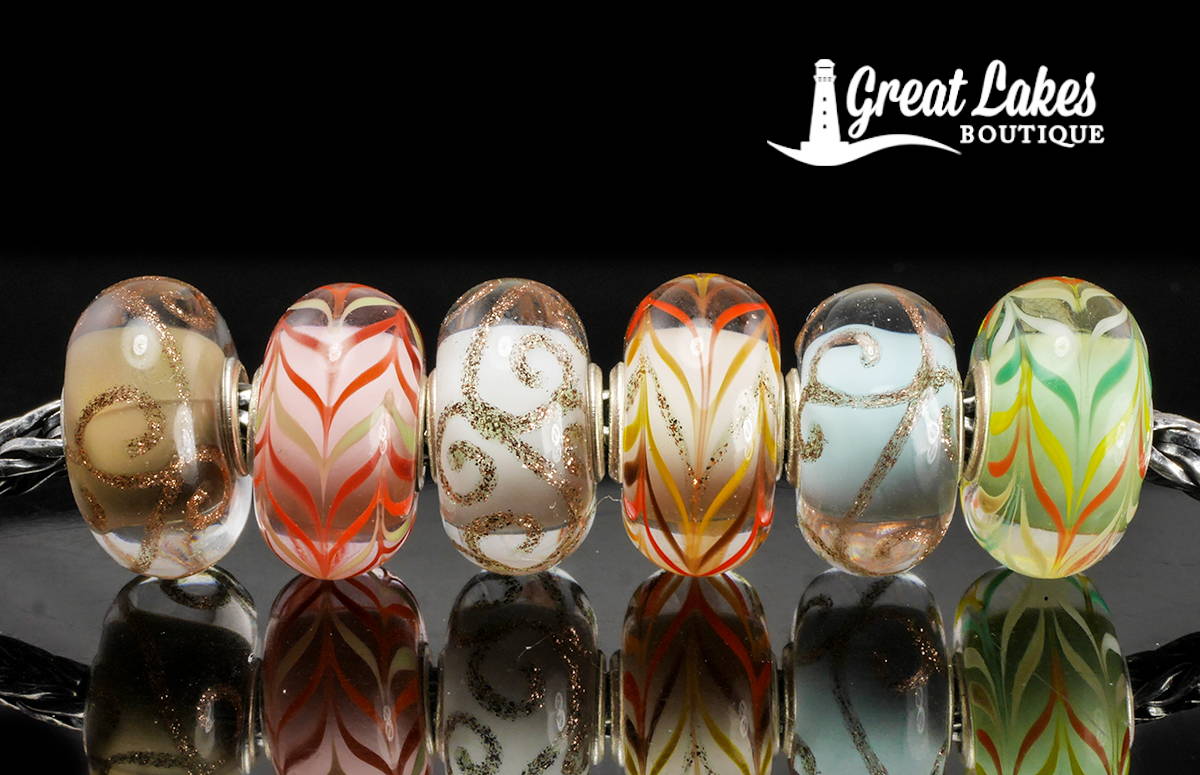 "Let's walk the trail of happiness and feel the scent of love"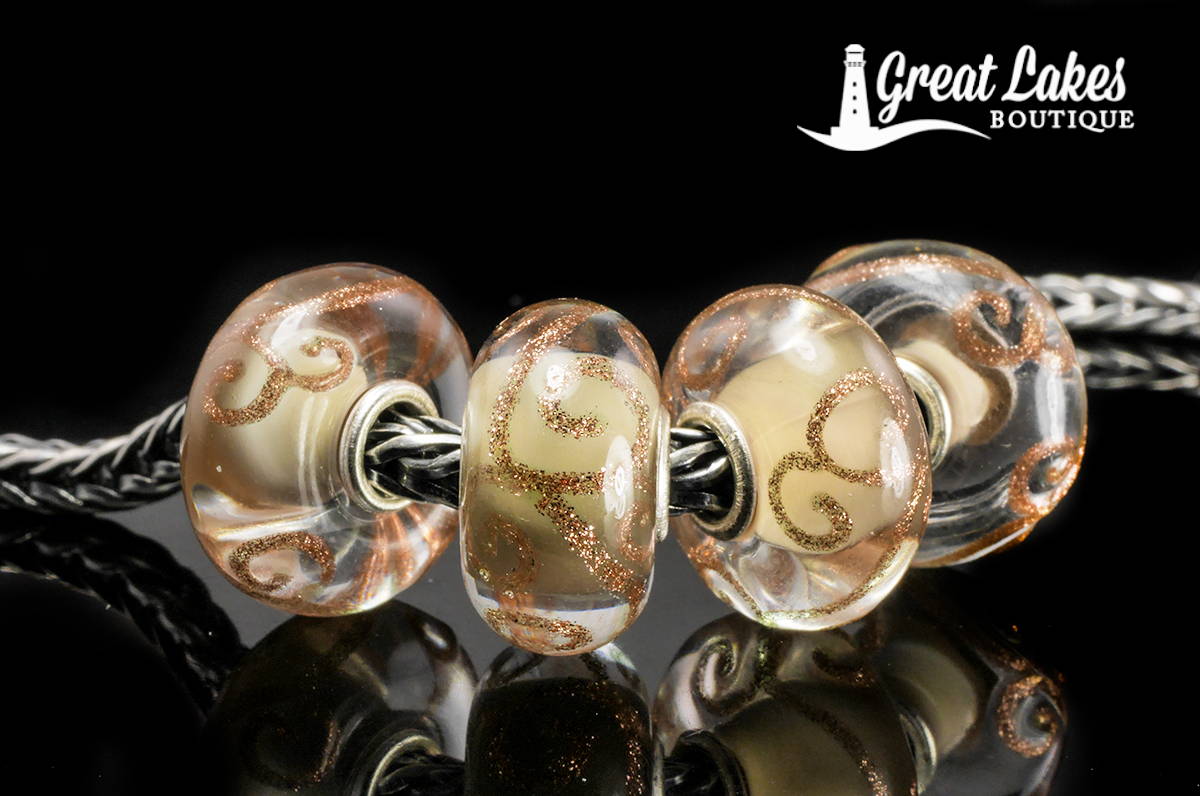 The Trollbeads Kindness is an amazing mocha colored glass with glitter ornament details and it's my favorite from this set. It's going to make the basis of some cozy, neutral bracelets and styled with creams and golds will be so very elegant.
If you like versatility in your glass, this is definitely one to consider
The Trollbeads Innocence is my second personal favorite from this kit and I'm already dreaming of bangle combinations with this, Kindness and some Round White Moonstones and Round Labradorites.
One word of caution with this bead. The base is a true ivory but it will reflect any other color around it. As such it can look like it has hints of other shades but it doesn't. Wear it with gold for simple daily styling.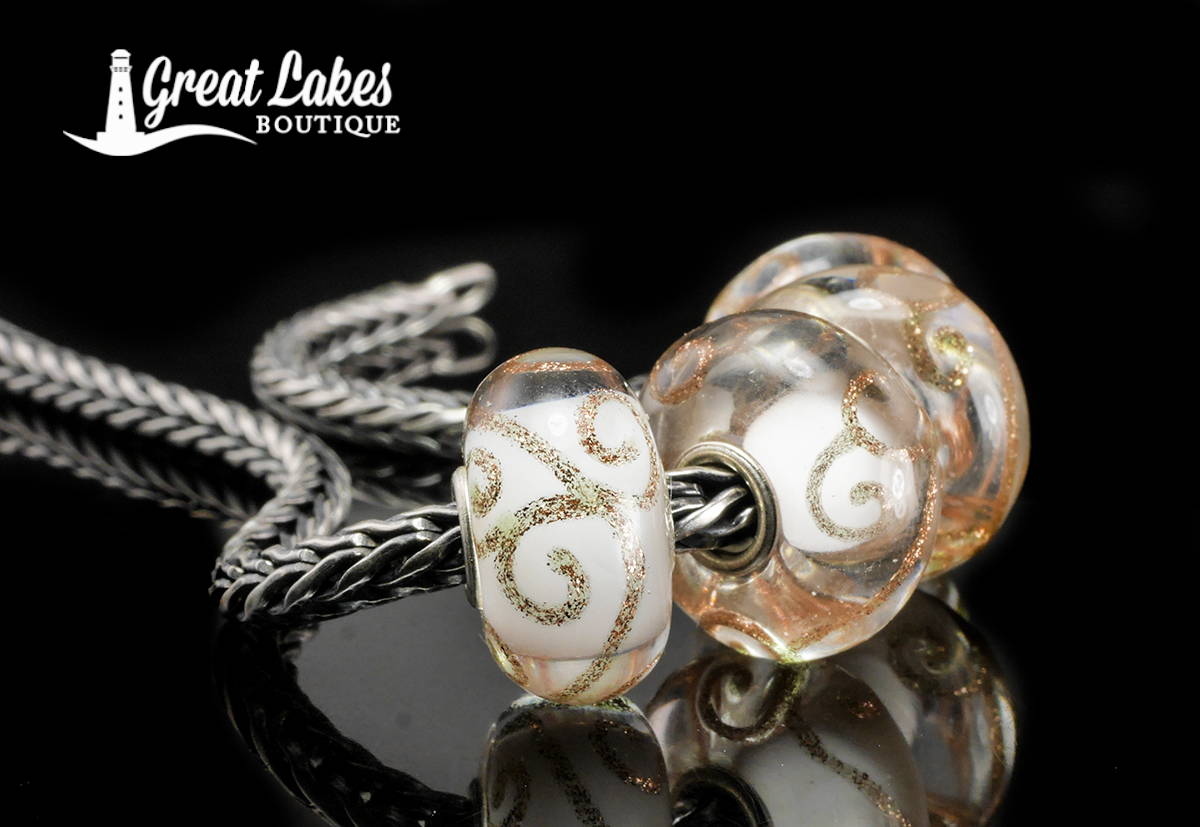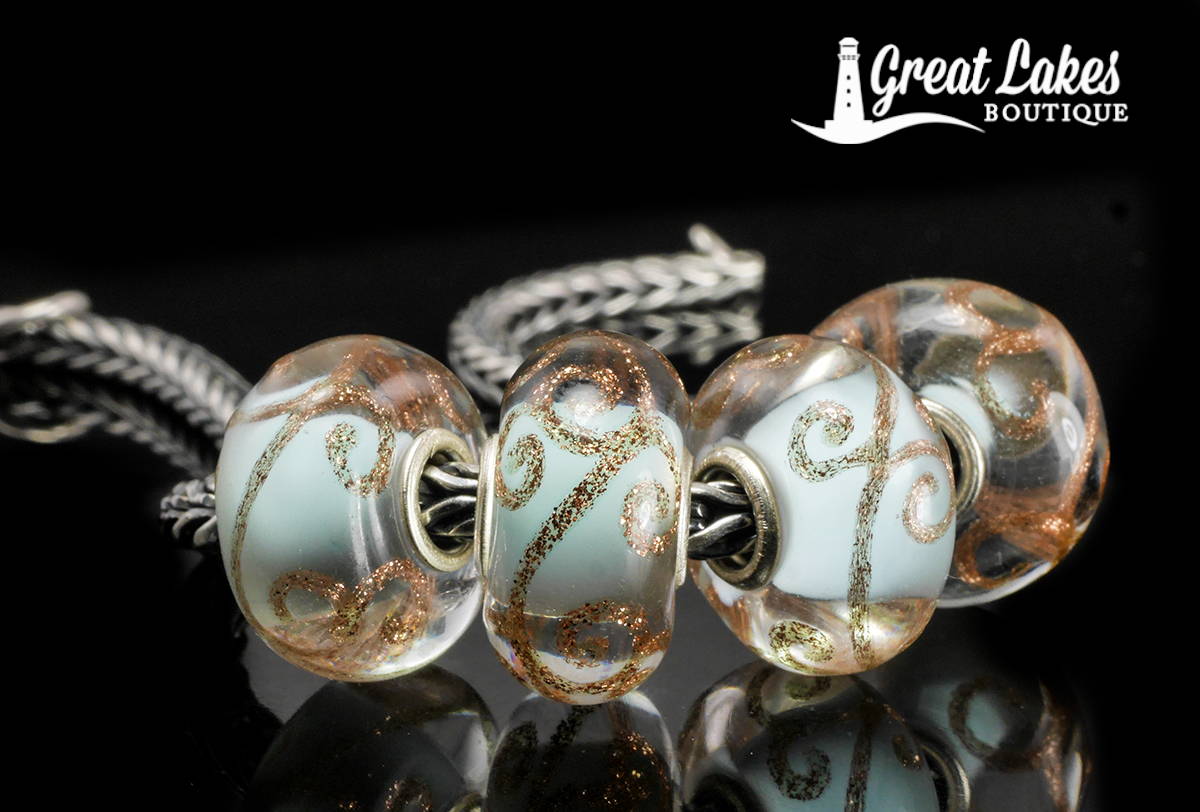 The last of the three glitter ornaments is the Trollbeads Hope and this has a soft baby blue shade. This one definitely feels very spring like in it's color for me.
All of these designs are showing some variation in their size but also in that glitter. With some beads the ornament design is more spread, with others much more compact.
Next is those three new ribbon designs. Whenever I see these I can't help but be transported in my mind to old May Day or Beltane festivals with ribbons decorating everything. They're incredibly cheerful and I like them more than I had expected to.
The Trollbeads Romance has a candy pink base with red, green and mocha ribbon highlights.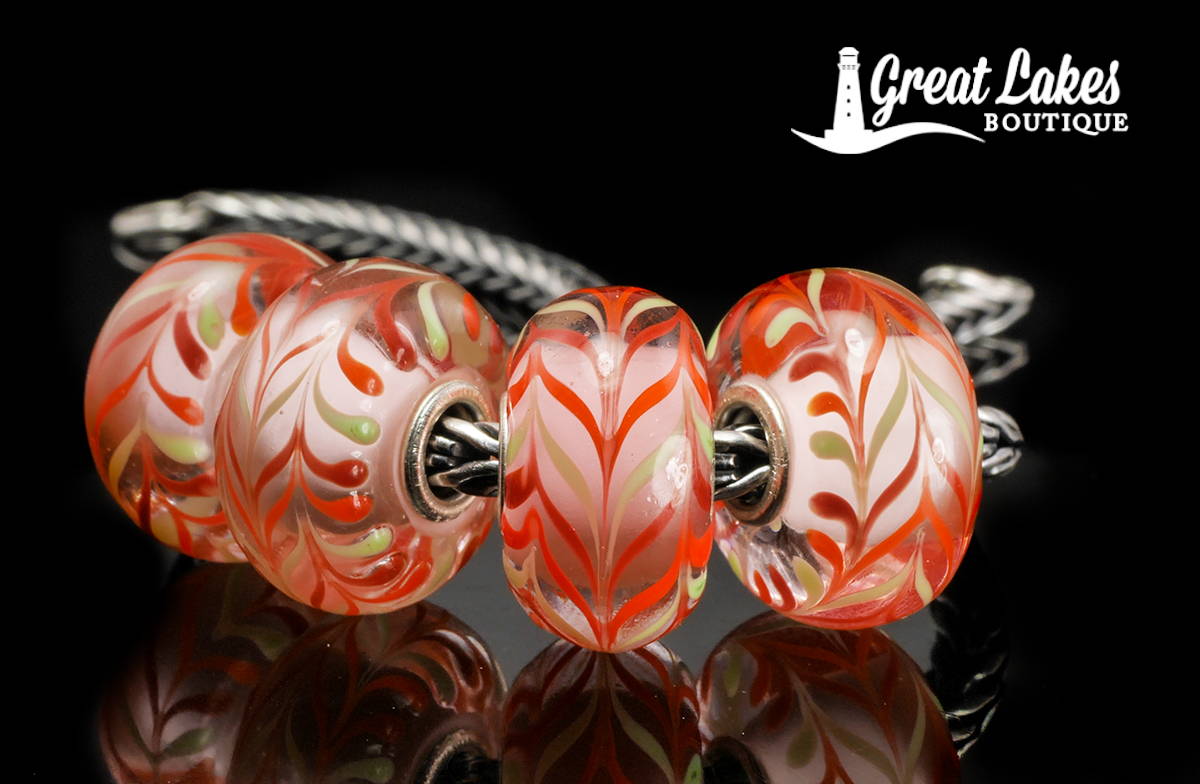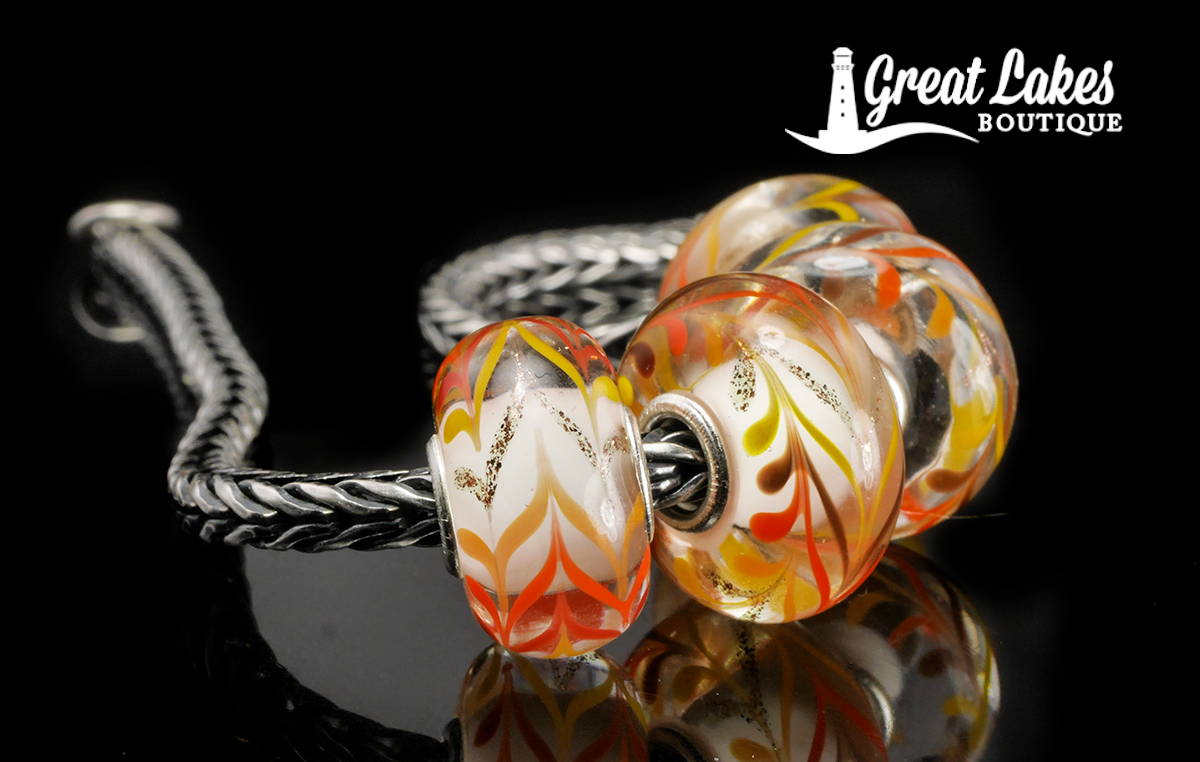 The Trollbeads Joy is my favorite of these three as it looks like it should be adorning a harvest festival bracelet. The base is an ivory, much like Innocence but the pumpkin and cinnamon colored ribbons are just lovely. If you're a fall person in general, pay attention to this bead as it will suit you.
Finally is the Trollbeads Promise, a summer festival bead.
It's worth noting that all of these glass seem to be on the petite size. We've seen a little variation but not to the extreme of White Roses.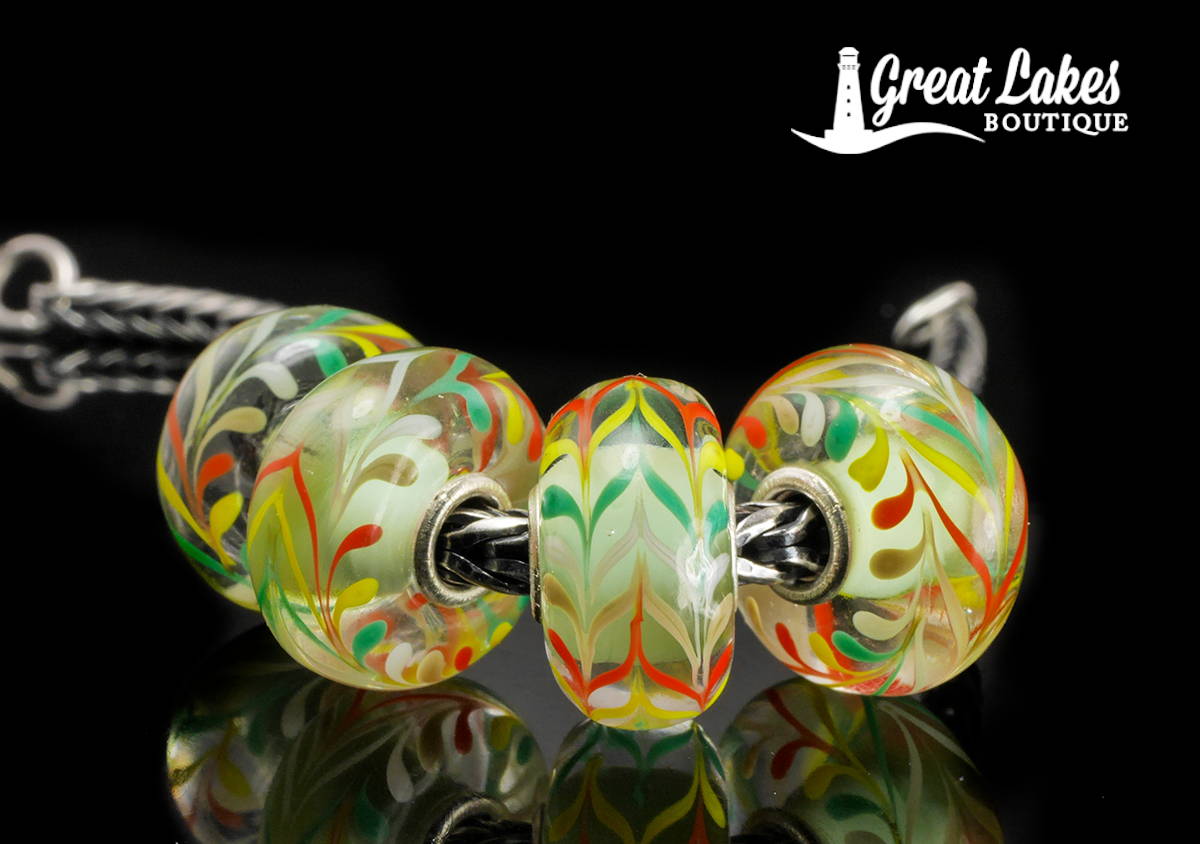 The second of the two kits is the Trollbeads Love Song Kit and of the two, this one appeals to me the most. Once again these beads seem to be generally on the petite side though you'll find some variation.
The colors in this kit are spectacular together. They feel seasonal with a romantic air. Once again the full kit retails at $248 or the individual beads for $50 each.
Make it start with a lovesong and let it last forever.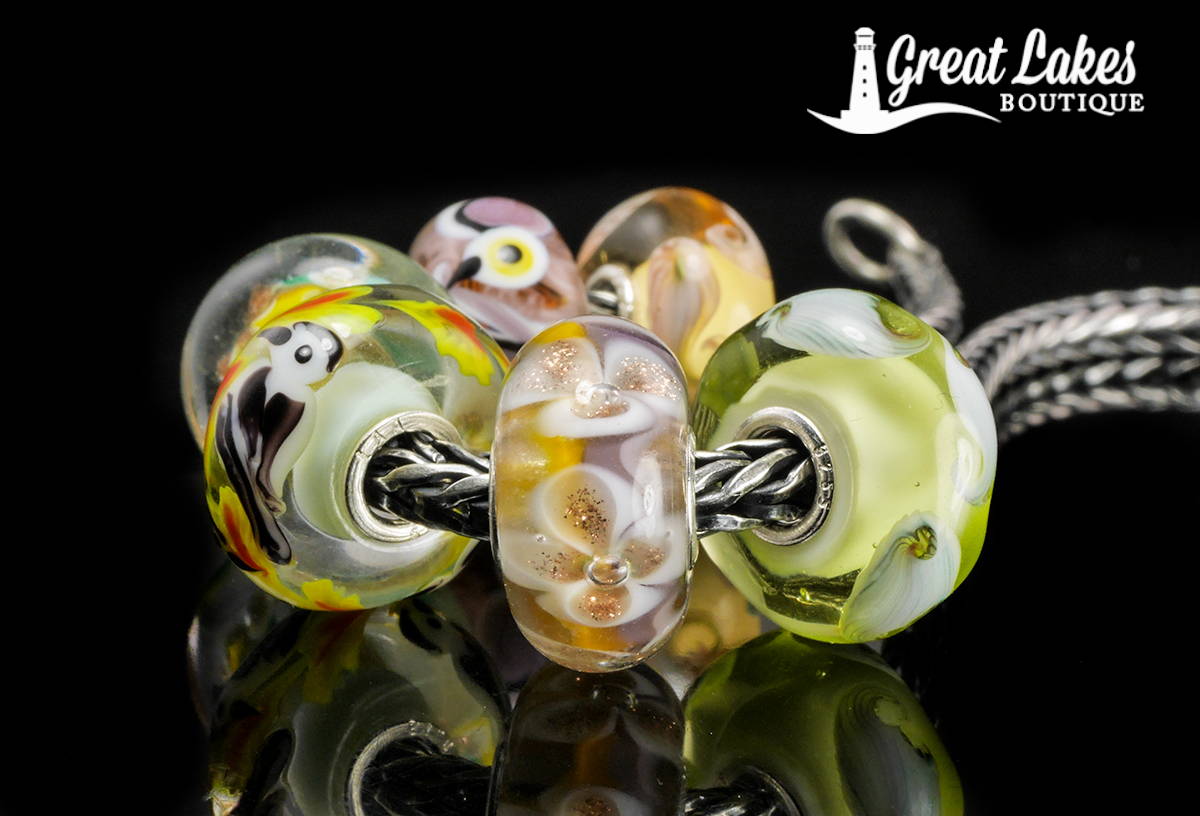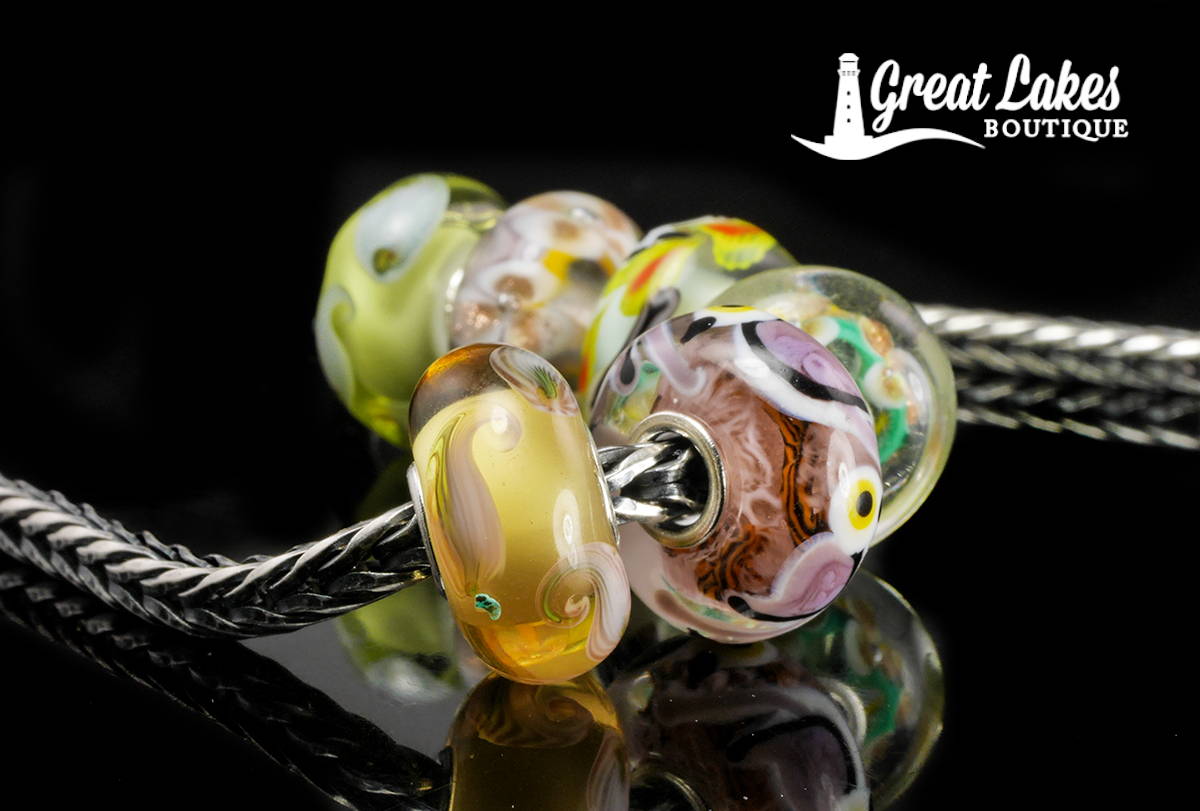 The Trolbeads Song of Hope is the latest of the bird designs we've been seeing from Trollbeads. There's a striking contrast here between the black and white bird motif and that soft green base. I do personally prefer this bead to the recent winter unique birds and it does feel very springlike in it's vibe.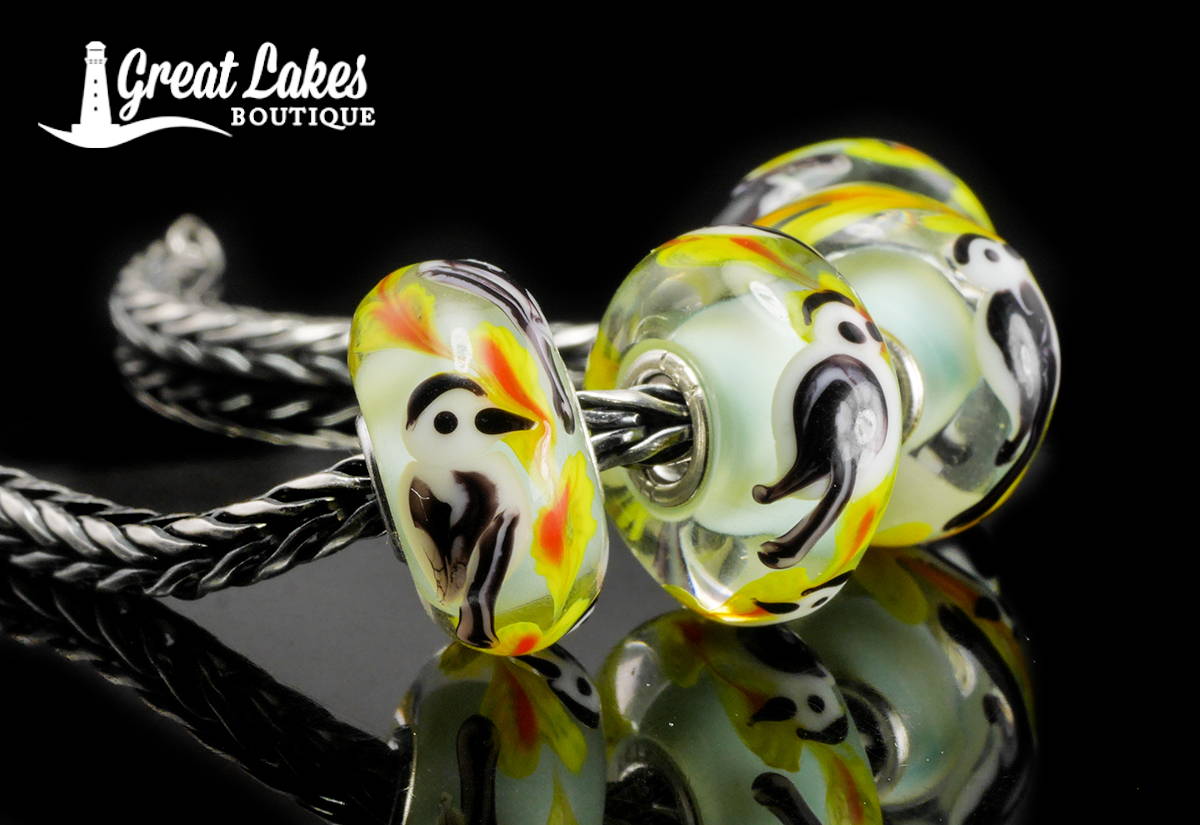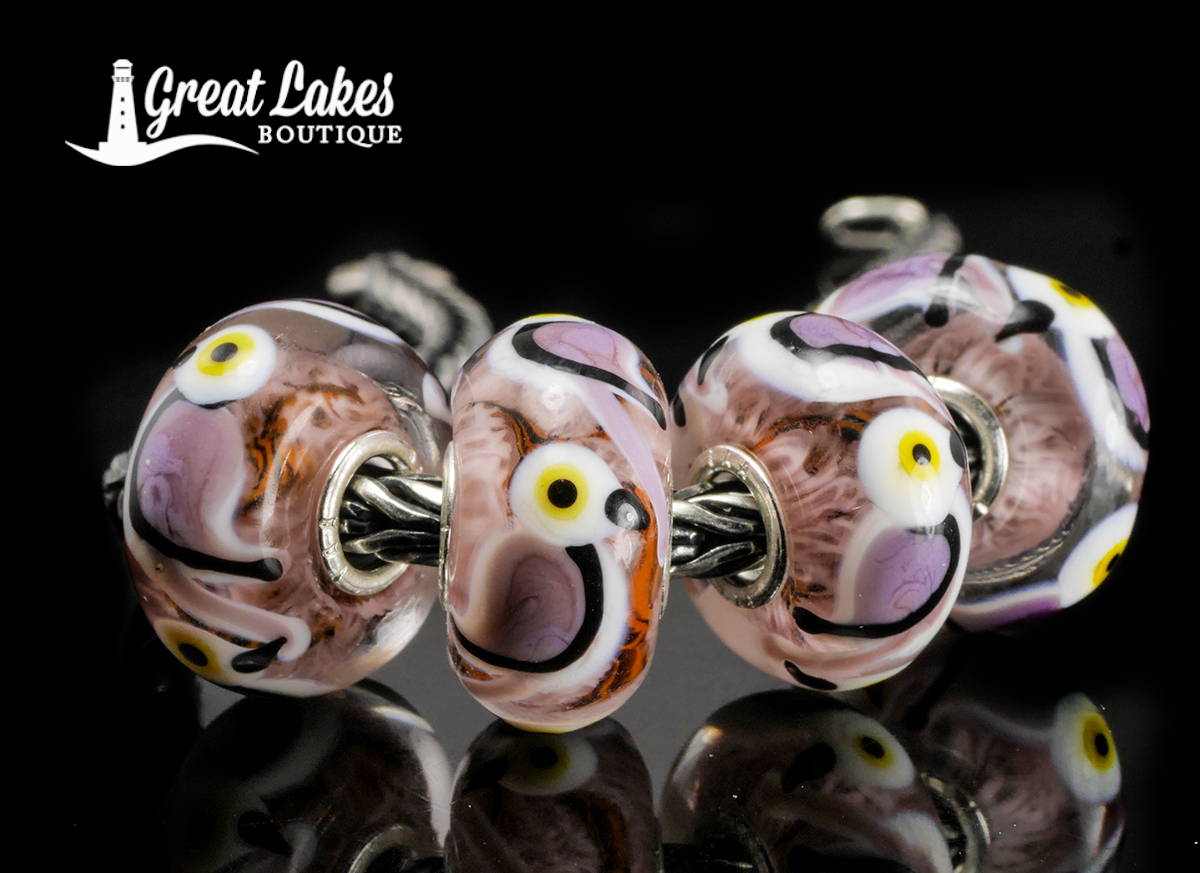 Whether you're a fan of the bird glass or not, the Trolbeads Song of Love is such a beautiful color. It's somewhat of a lavender or pale grape shade with almost a water color effect base. It's very pretty and such a great choice of color for the spring season.
I have no doubt that the new Trollbeads Aisle of Luck is going to be one of the most popular beads from this release. Though the base is a mottled green to yellow mix, it then has a band running the full way around with a stronger green and yellow split. On the surface of the bead you'll find gold glitter floral details.
There is some variation in these, some are a little more teal in that band, others more green but they're all spectacular.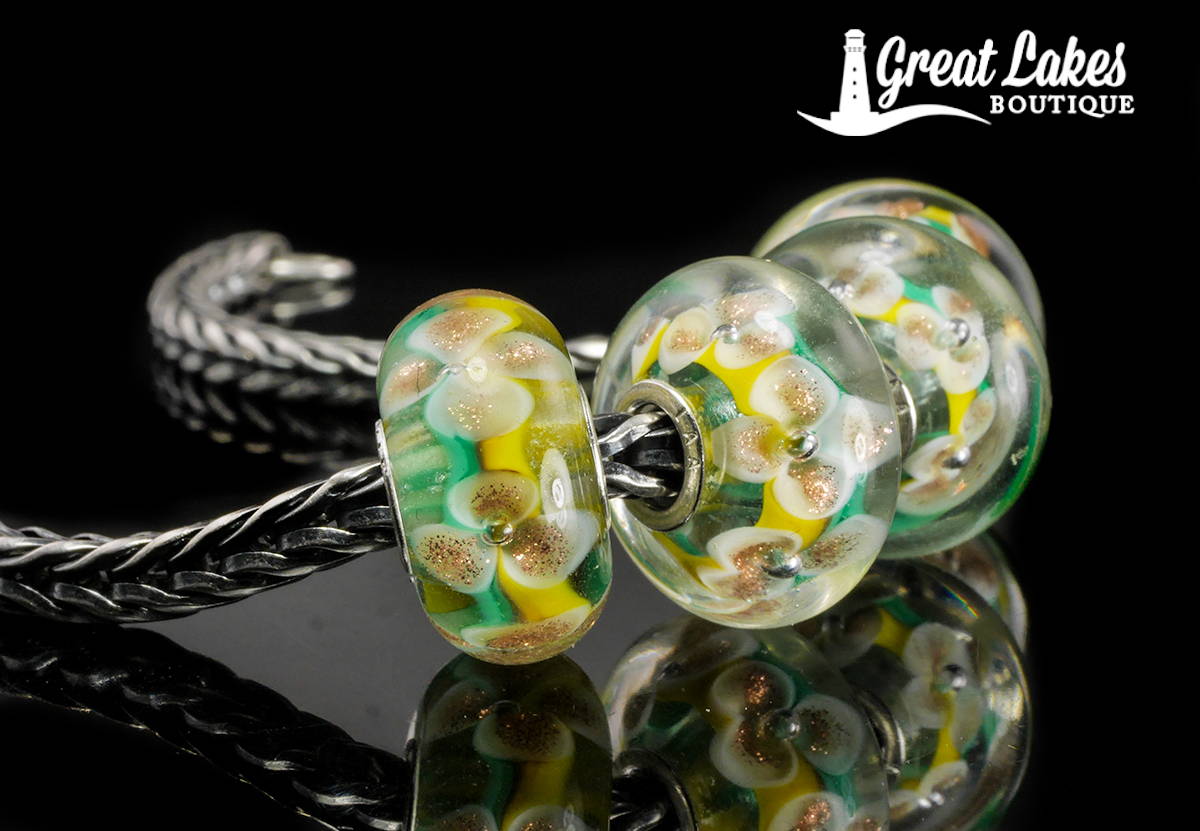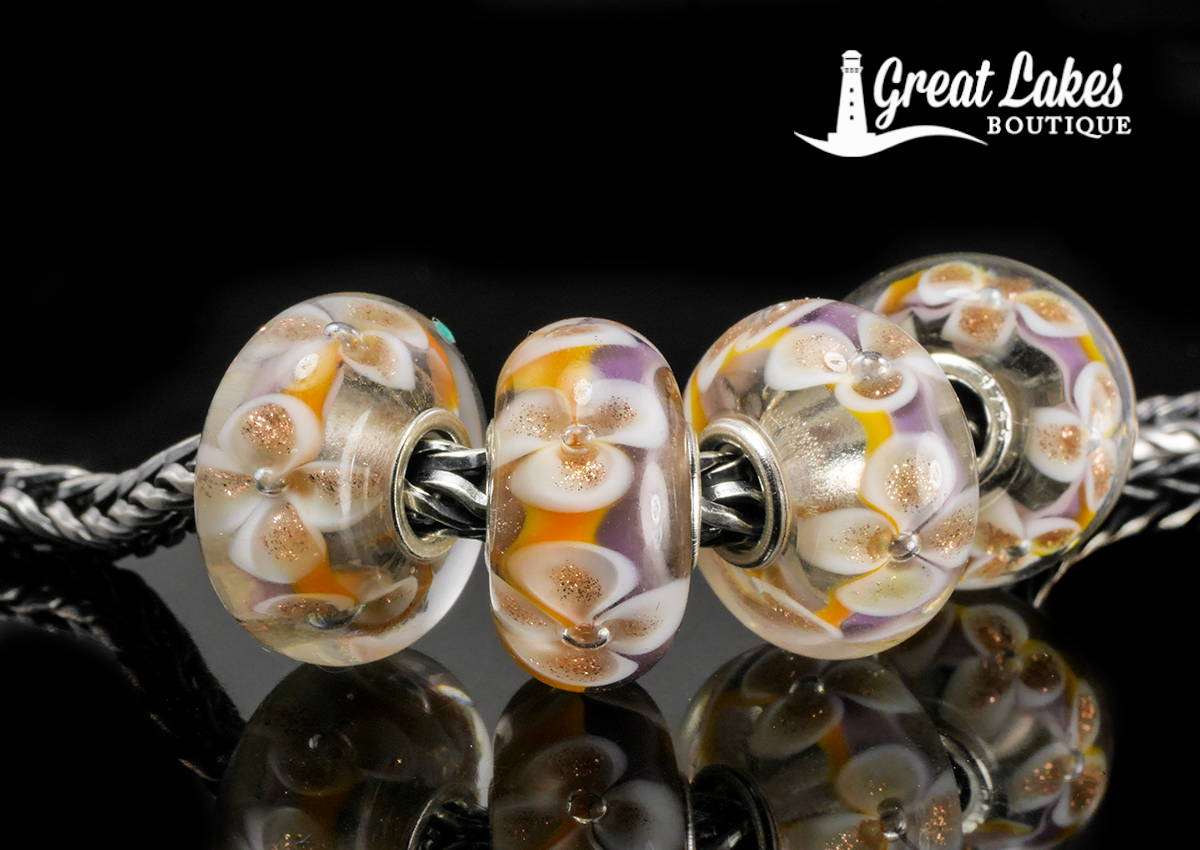 The second of these designs is the Trollbeads Aisle of Passion. This has a neutral base with a pumpkin and grape colored stripe under those glitter flowers. You'll find some variation in the exact shade of these again. Some have a slightly softer orange than others which is actually great as I think most people will find beads to suit their personal taste. Again though these are so beautiful. If you need an instant easy styling idea, pick up the Trollbeads Scirocco.
The Trollbeads Voice of Romance is one of two beads featuring this new floral detail. Voice of Romance has a buttery colored base, similar to Amber Violets. 
The pattern is again a very soft grape color and there's a huge amount of fine details in these blossoms.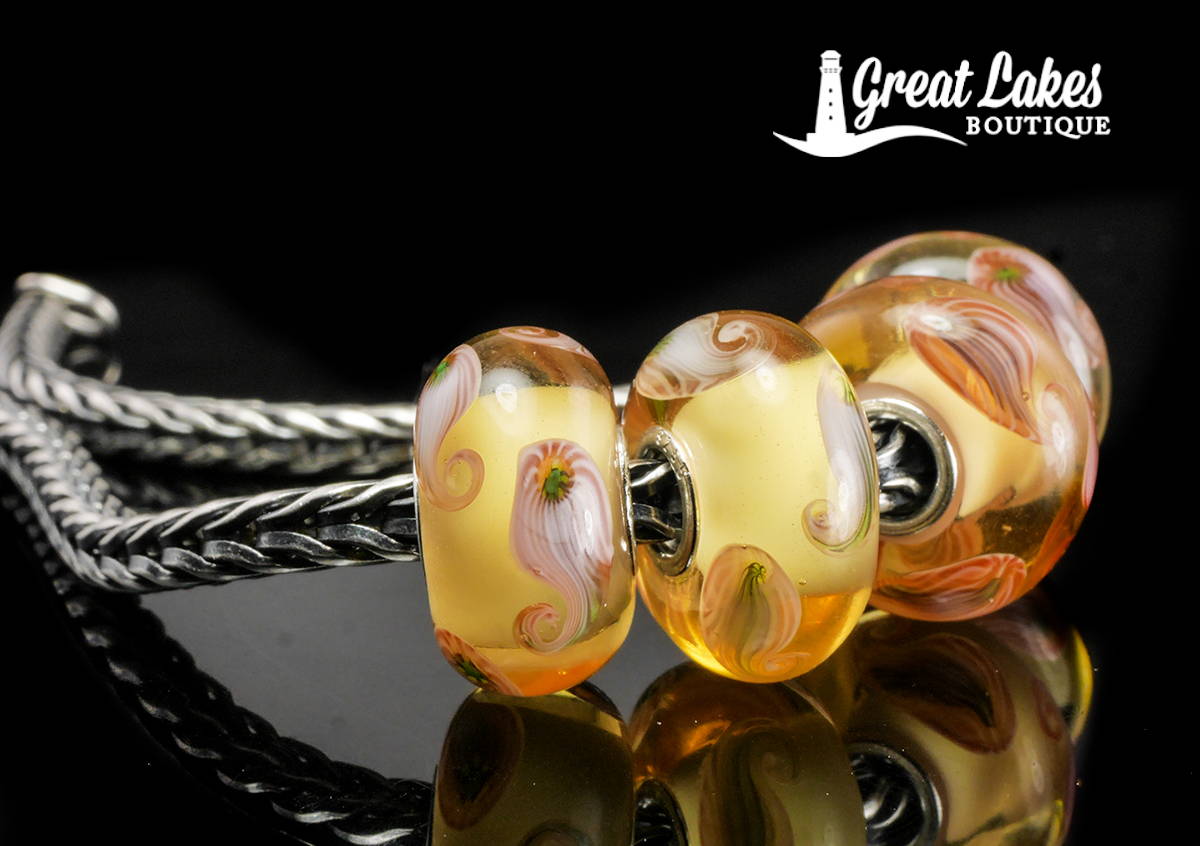 The final bead for this kit is the Trollbeads Voice of Happiness and this is such a soft, tranquil shade of green. The details on this bead are almost a periwinkle blue shade and it teams beautifully with the new Trollbeads Serpentine.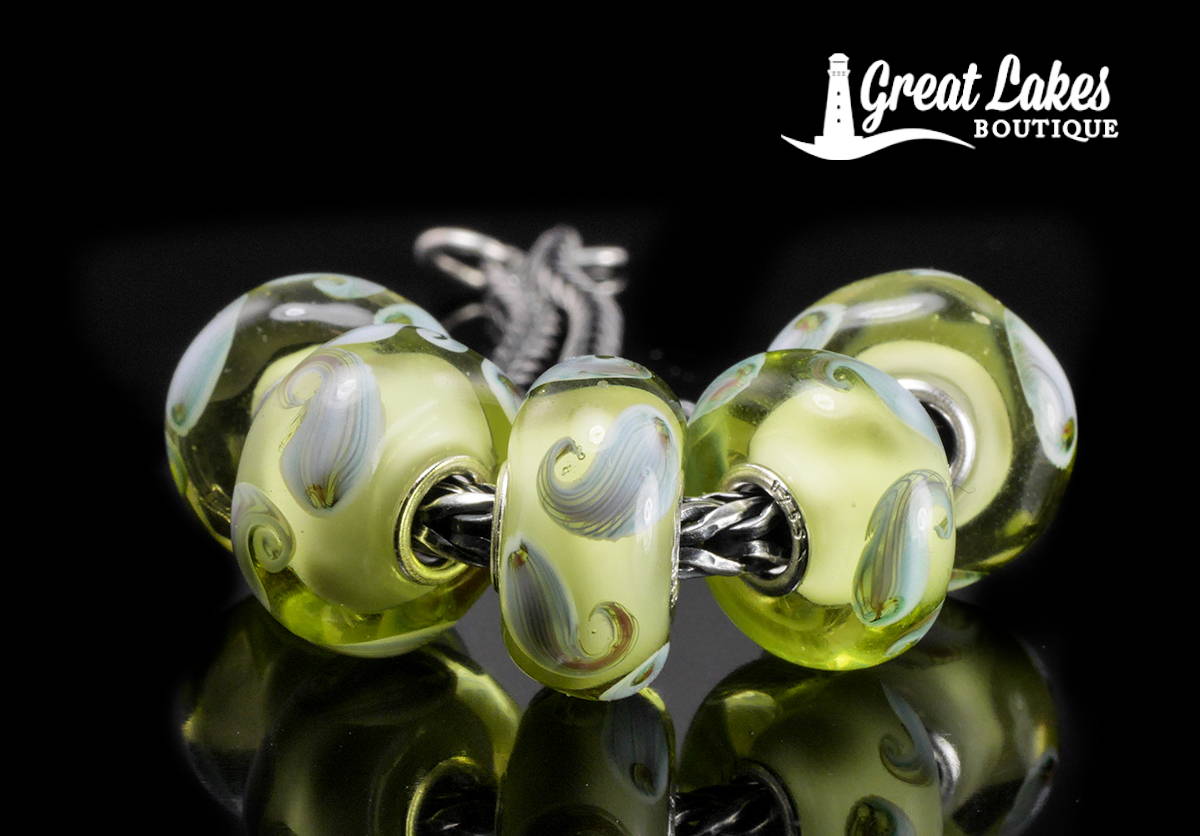 Trollbeads Spring 2020 Gemstones
Two new gemstones join the collection for spring and as a stone enthusiast, these are always of high personal interest to me. I was very pleasantly surprised by them this time and what's more, they're unusual.
First is the Trollbeads Serpentine. The stock image shows an almost acidic looking shade of green. The stock we have seen so far is more of a soft pea green and it's absolutely lovely. It seems a very unique shade as gemstones go and a little later this week, we'll be sharing more live images of the Serpentine compared with other green stones.
You'll find some mottling on these beads but it's subtle and mostly they're a solid color.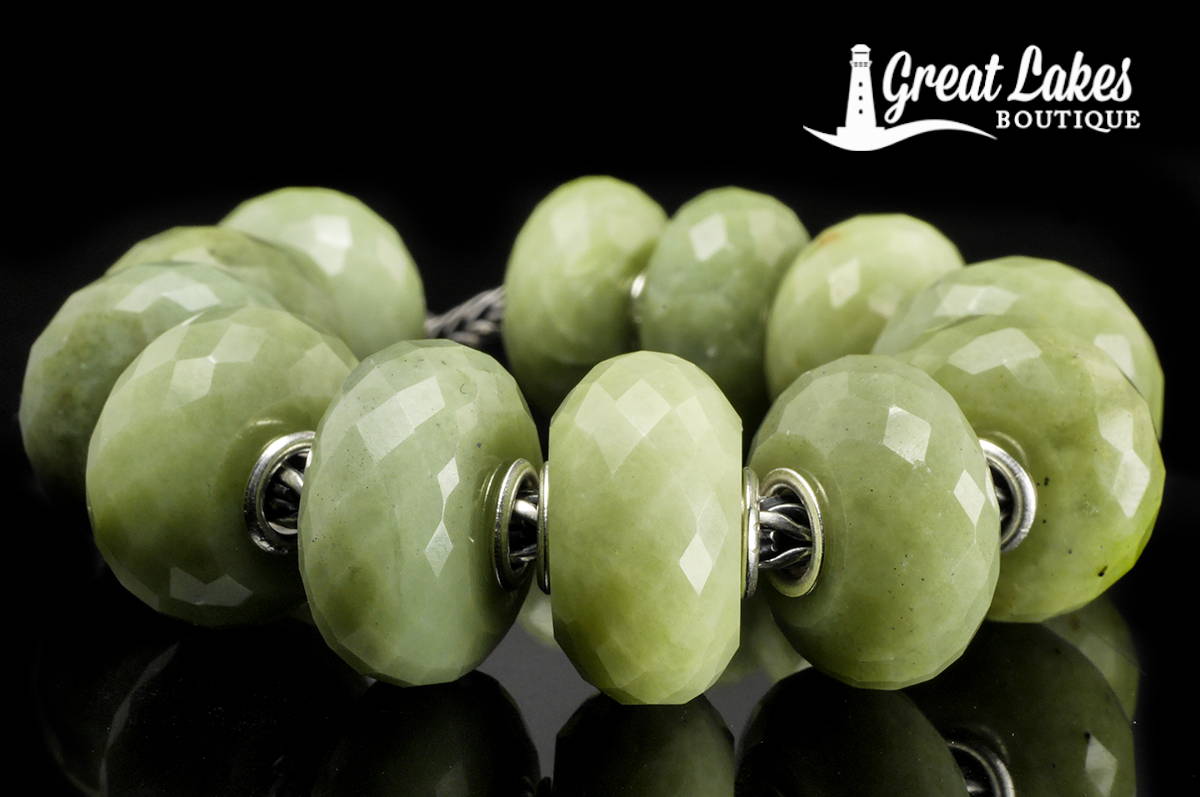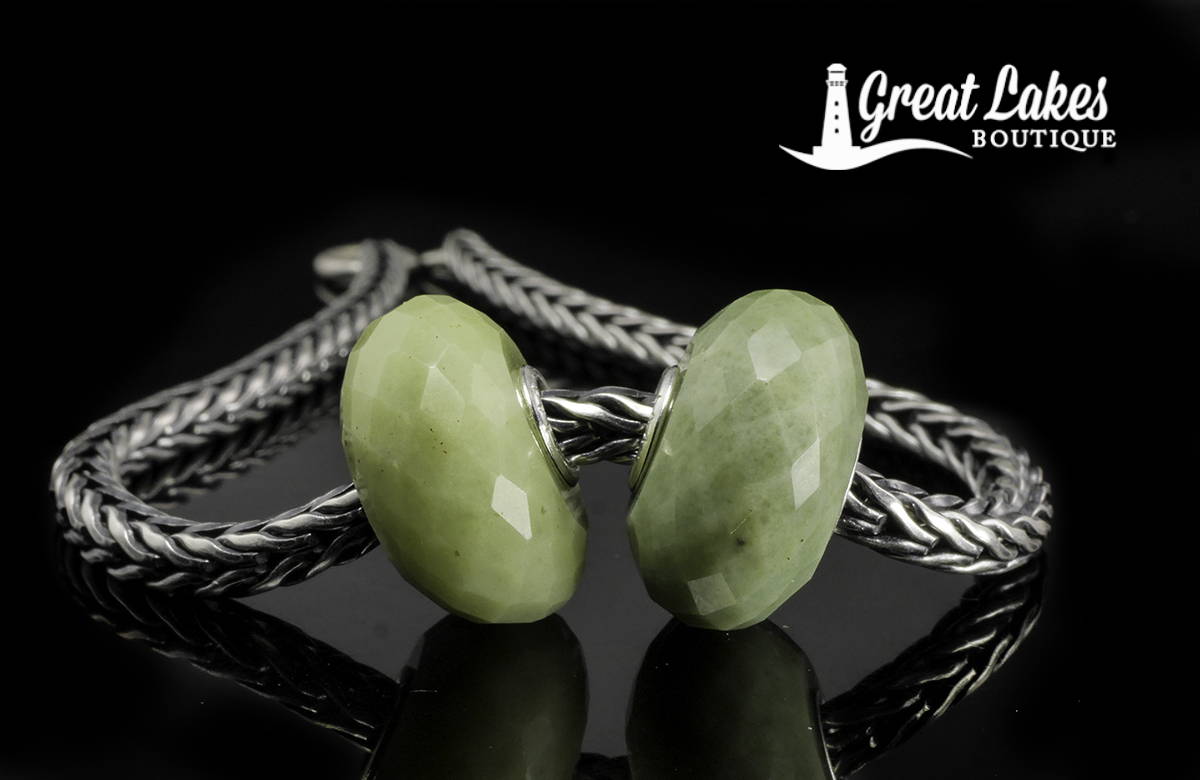 In this image I chose the two color extremes I could find in our stock and this should give you some idea of the potential color variation.
Next is the Trollbeads Feldspar Quartz Rock and one of the strangest stones I've seen. These stones, as the name implies, are a mix of feldspar and quartz. They have clear patches or inclusions and this is the quartz. In images they can almost look damaged or cracked but running a finger nail over them will detect nothing, rather those patches feel a little like glass. In color they're a cream shade and very far removed from the Feldspar Moonstones.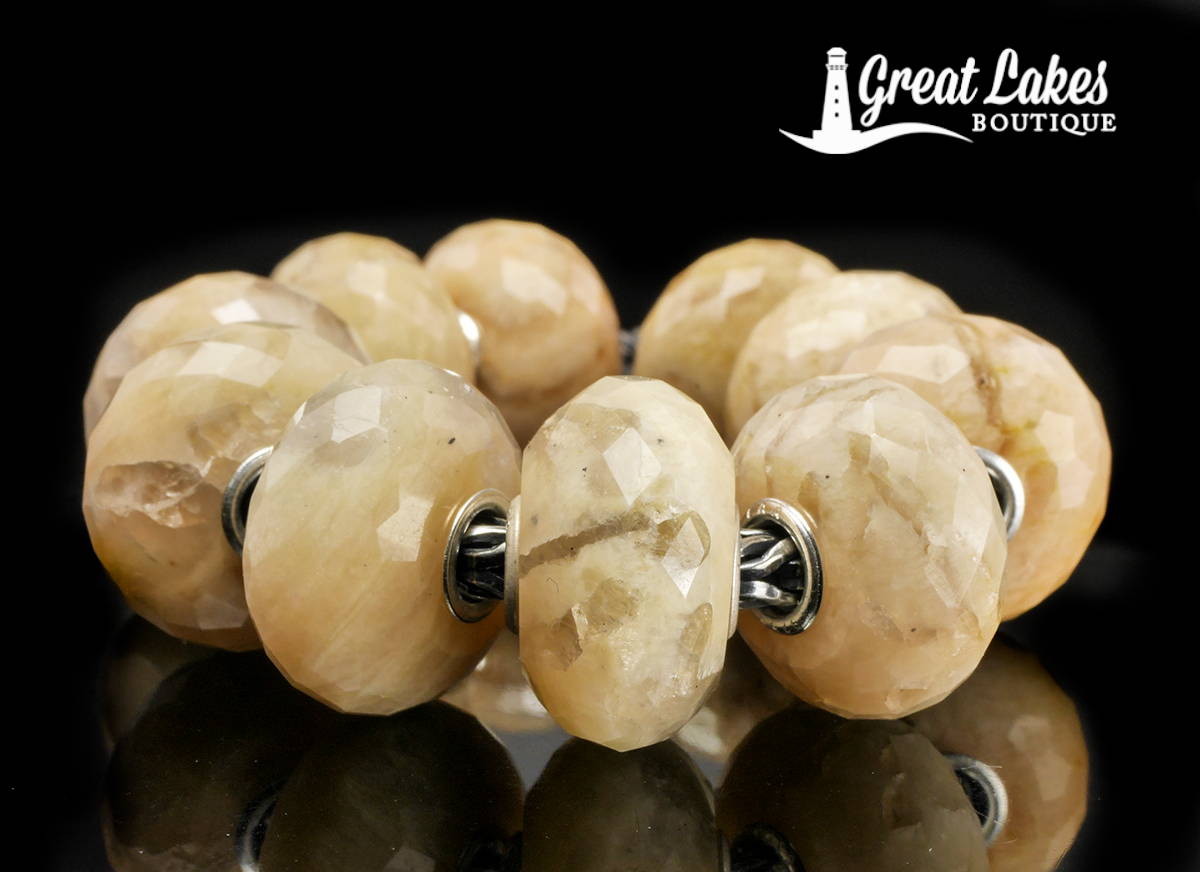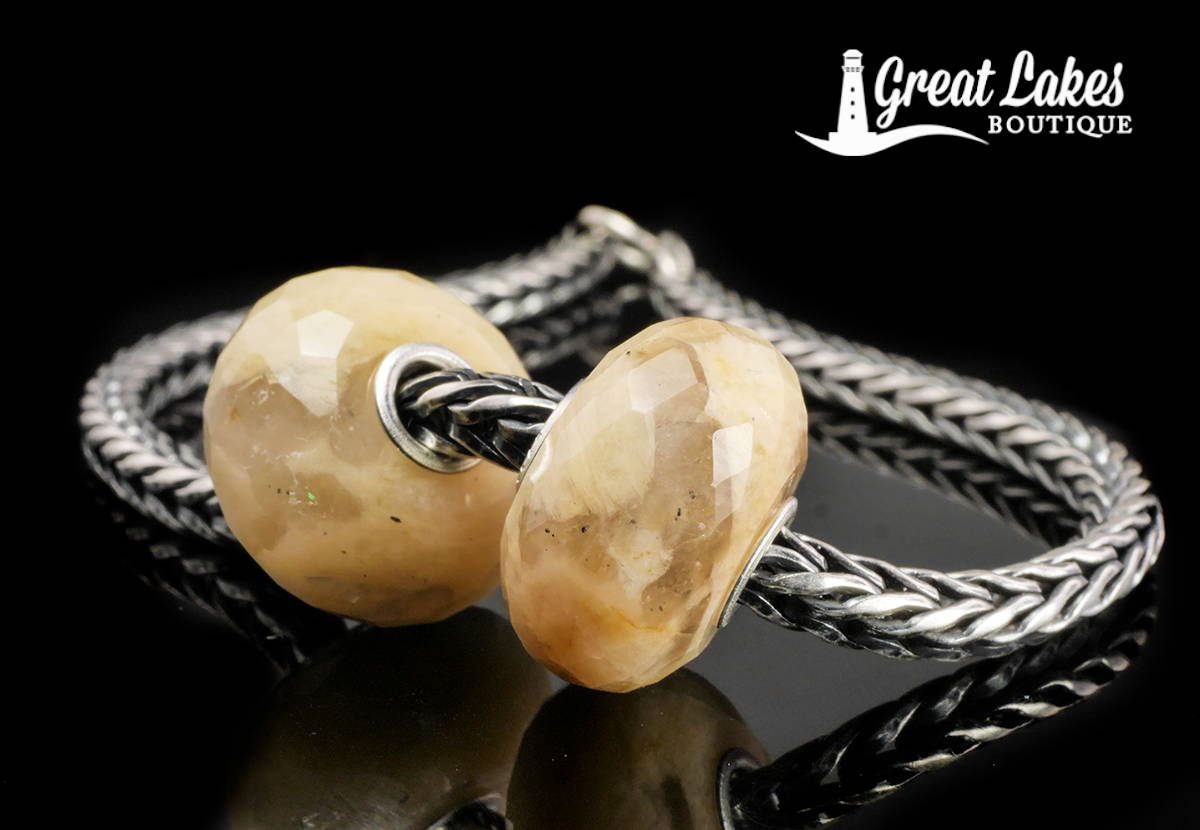 Trollbeads Spring 2020 Silver Beads
The Trollbeads Silver Flow is the first of the new silver beads and as many had suspected, it can be threaded multiple ways. It's going to retail at $50 and I can just see it being a really versatile bead. It would be an ideal candidate for gold too.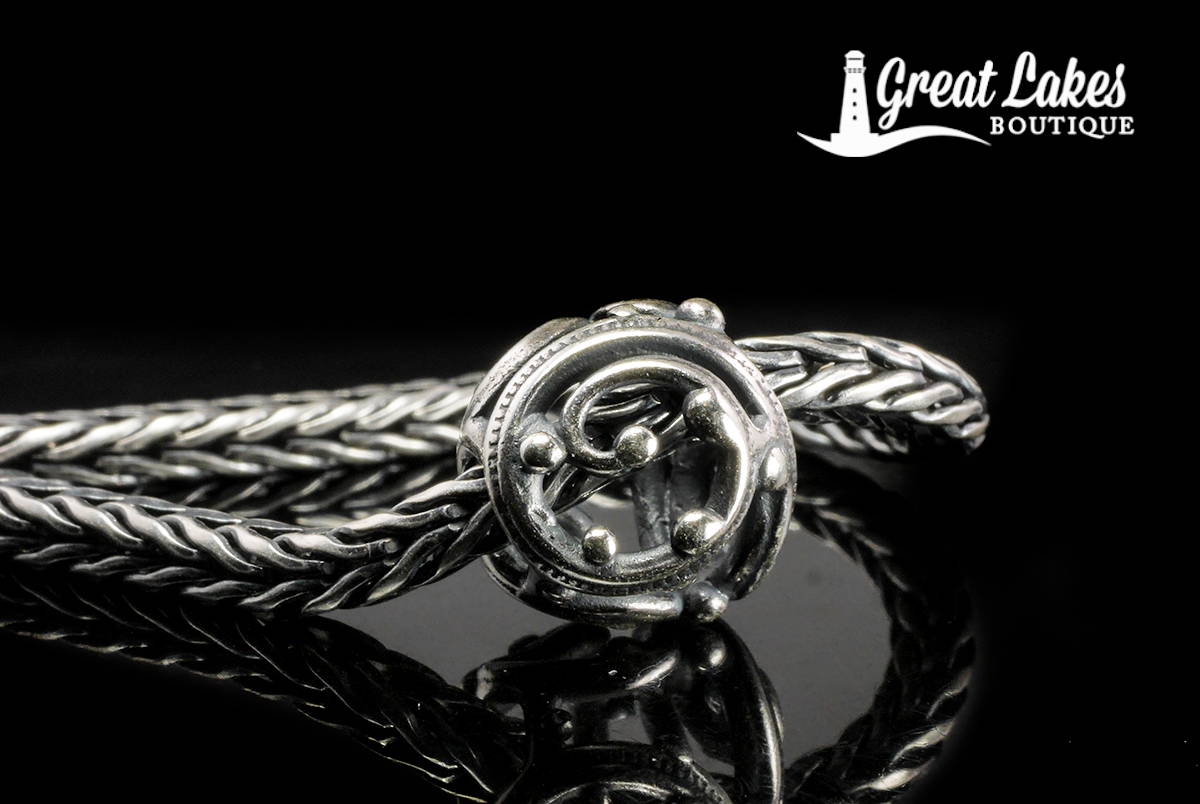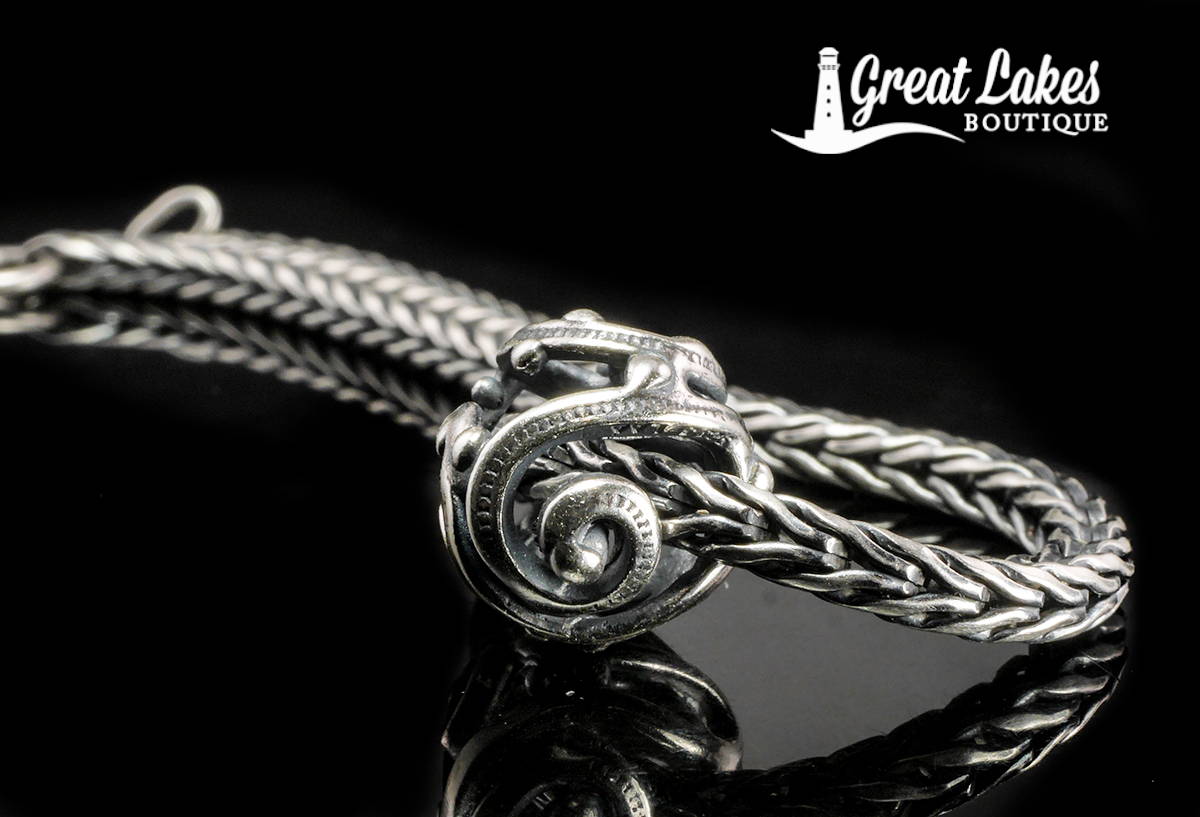 The Trollbeads Joyful Flower definitely has an air of Alice in Wonderland to it. (On that note the Love Song Kit would look lovely on that theme too.) It will retail at $50.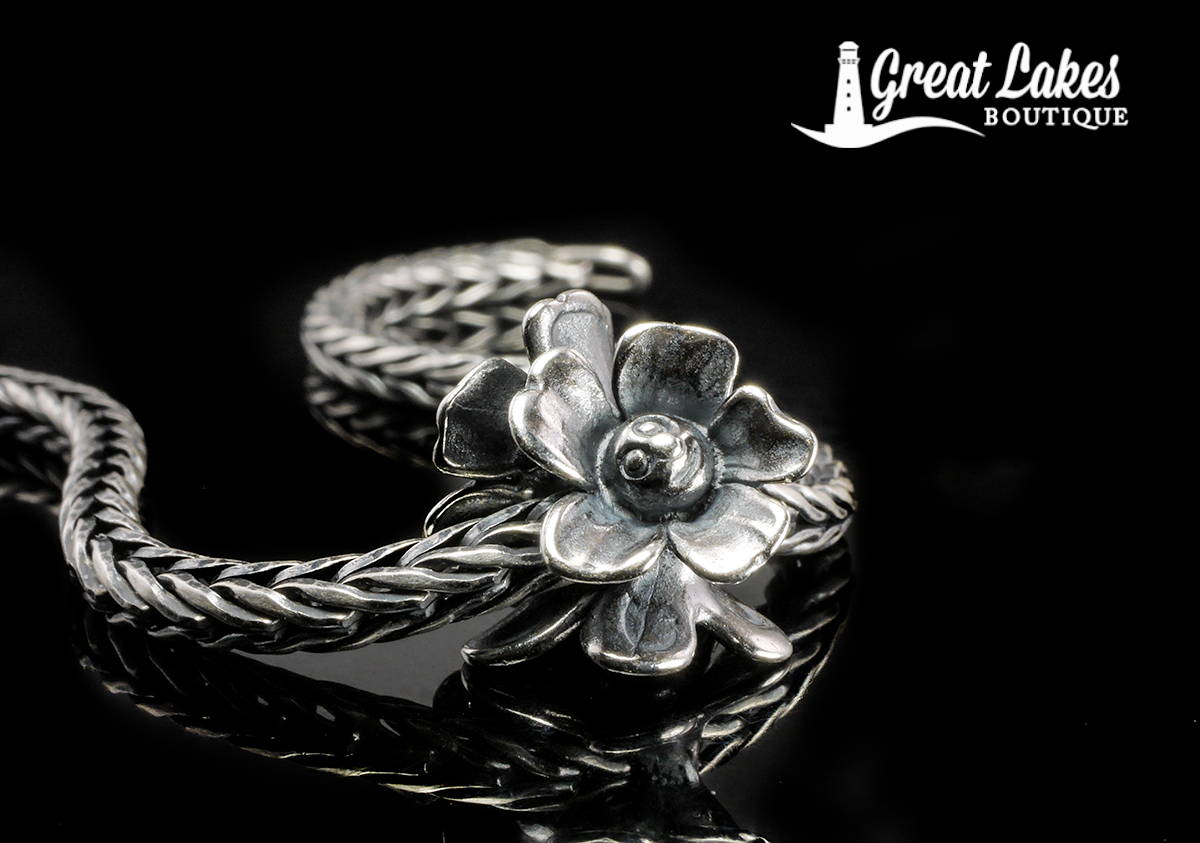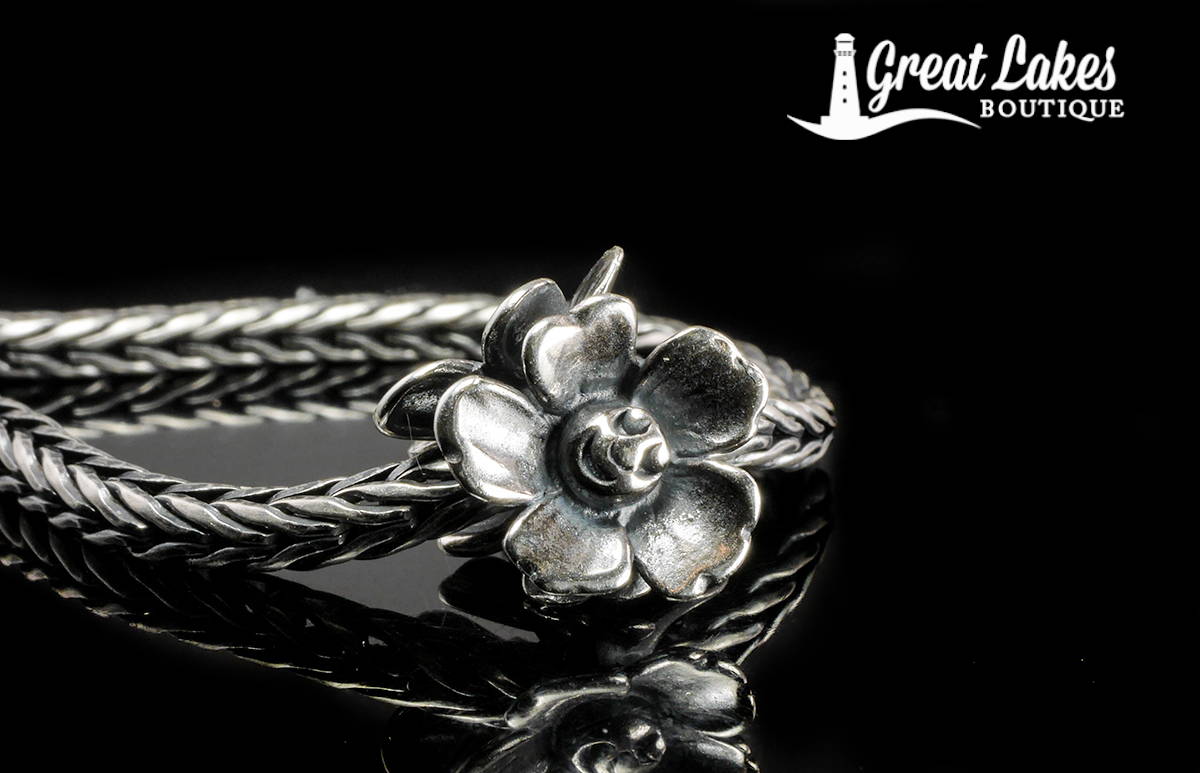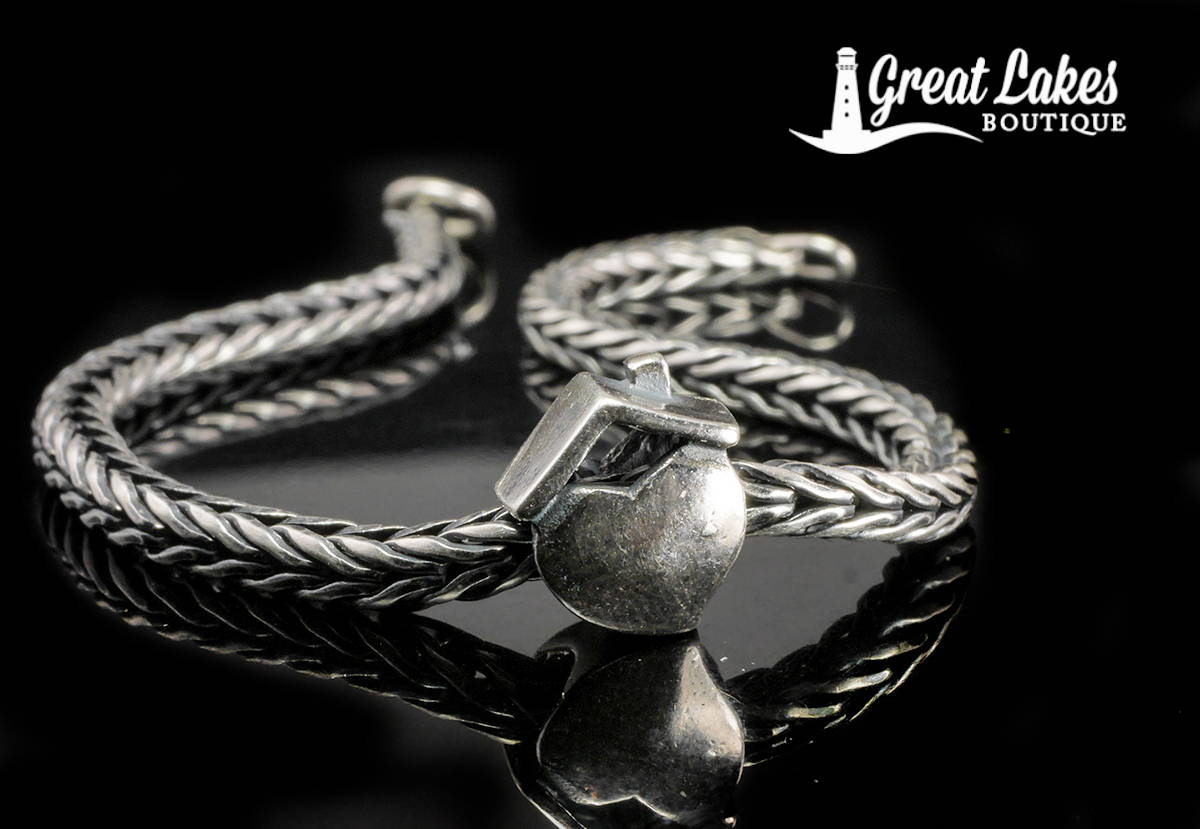 The Trollbeads Home is a very sweet bead with a lovely sentiment. For those with family themed bracelet this is perfect but it's also ideal for representing a move. It will retail at $39.
The Trollbeads Love Rings is a petite design symbolizing unity. Though it's difficult to see, there's a small heart detail where the two rings join. It will retail at $39 in silver or $363 in gold.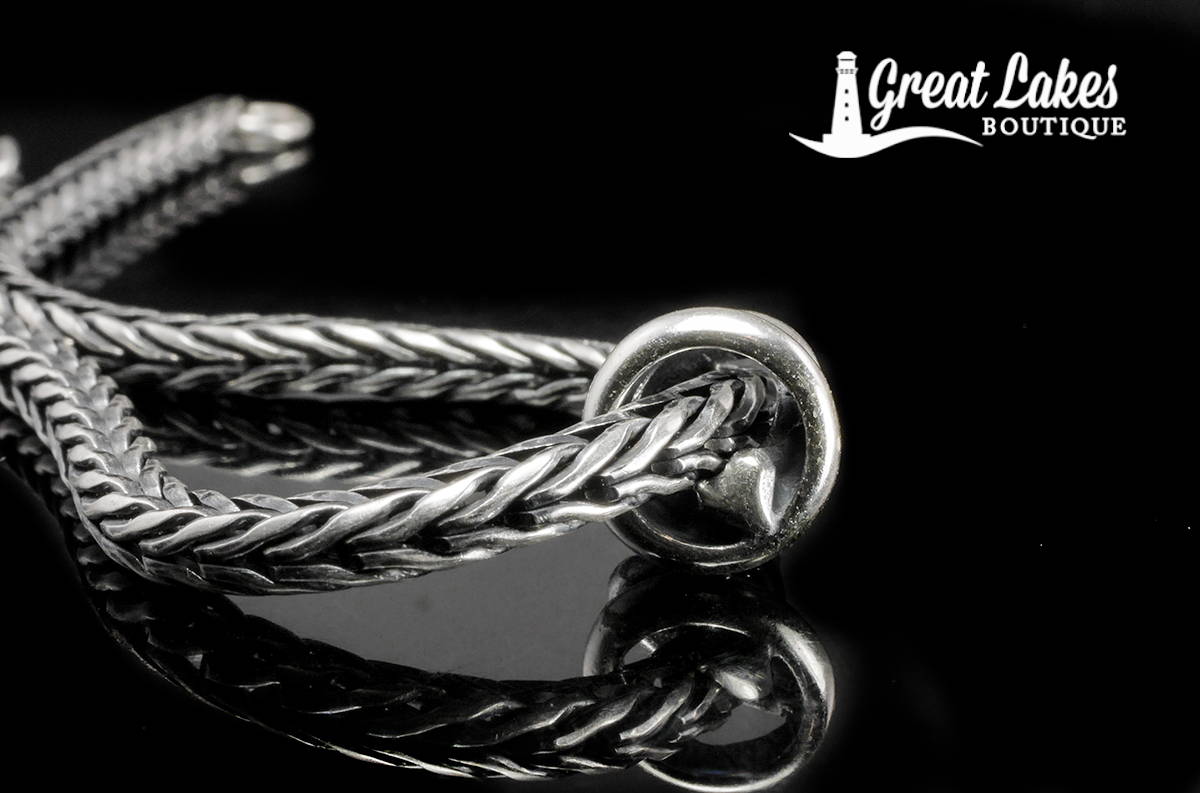 I've always loved ladybugs so was so happy to see new designs with this theme for spring. First is the Trollbeads Ladybugs bead, retailing at $50. There's lovely detail on this bead and though it's not huge, it still feels quite chunky.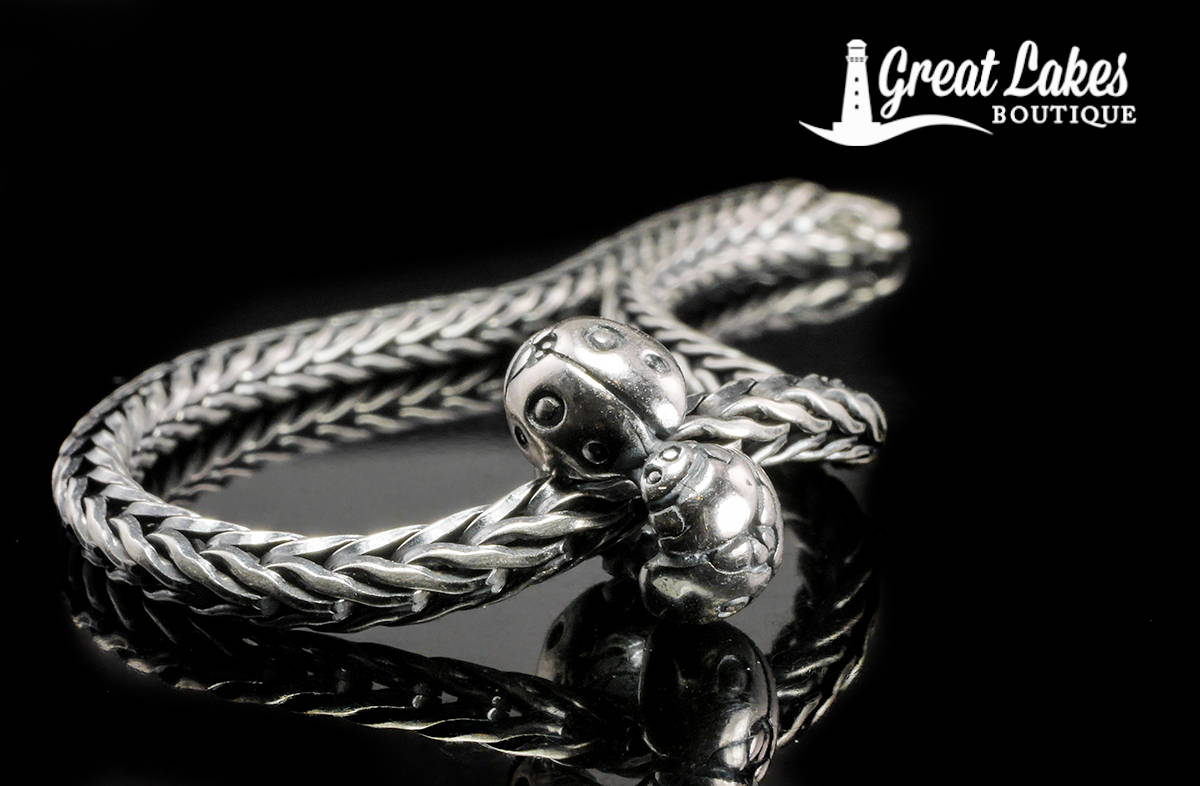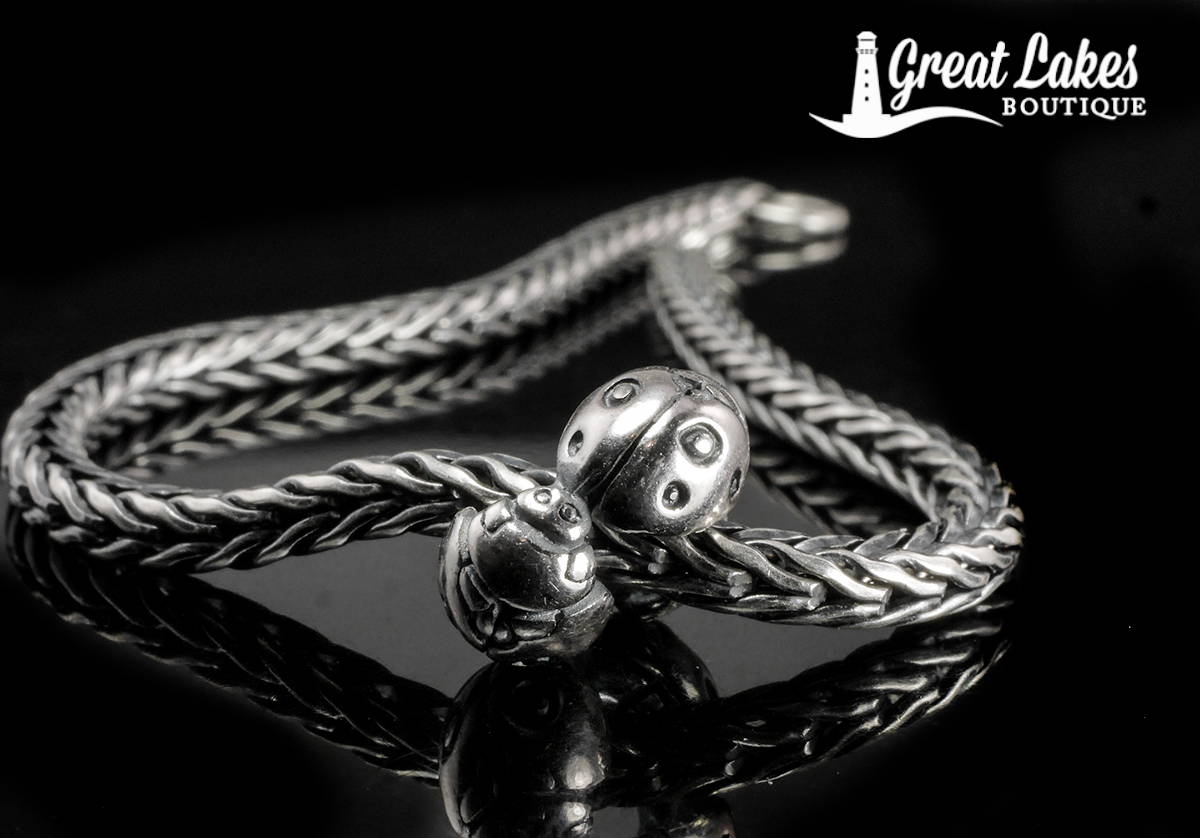 The coordinating Trollbeads Ladybug Lock is a lovely, chunky clasp with so much detail. The actual lever is actually one of the bugs which is a cute feature and helps the lock to feel more part of the bracelet design. It will retail at $72.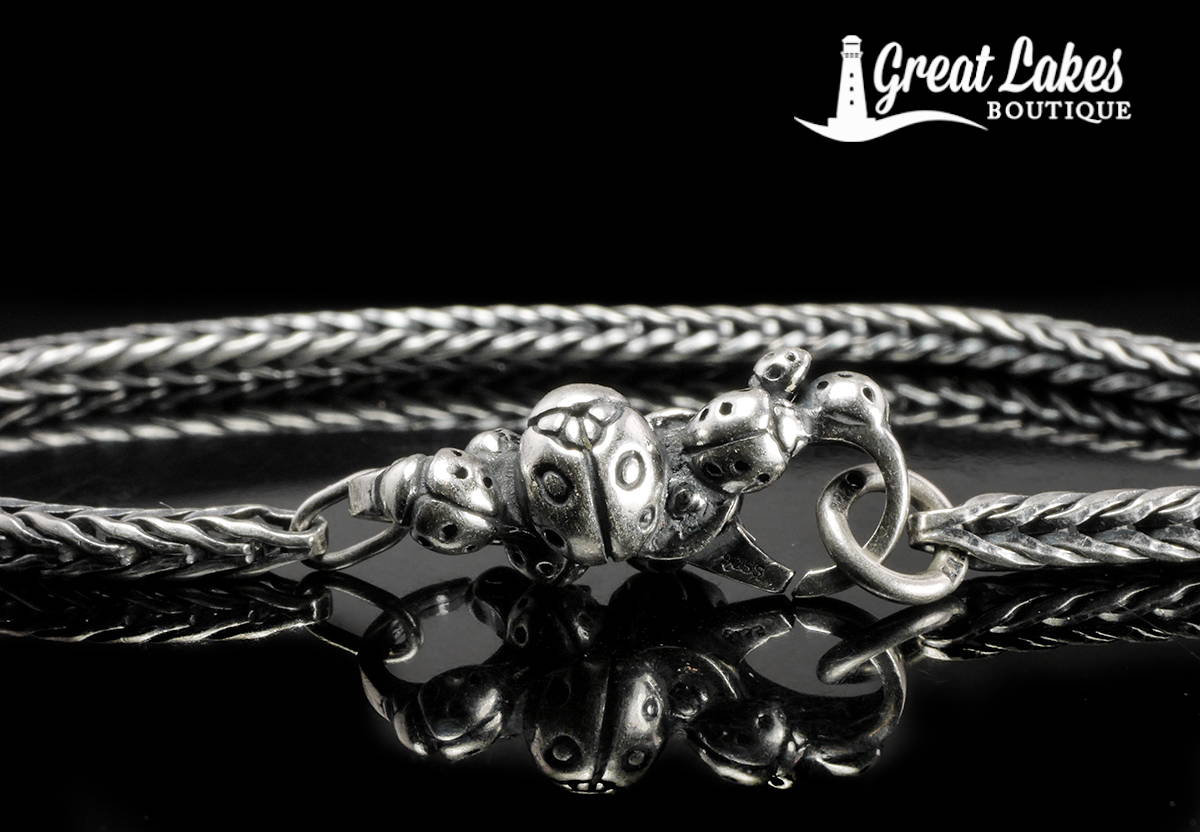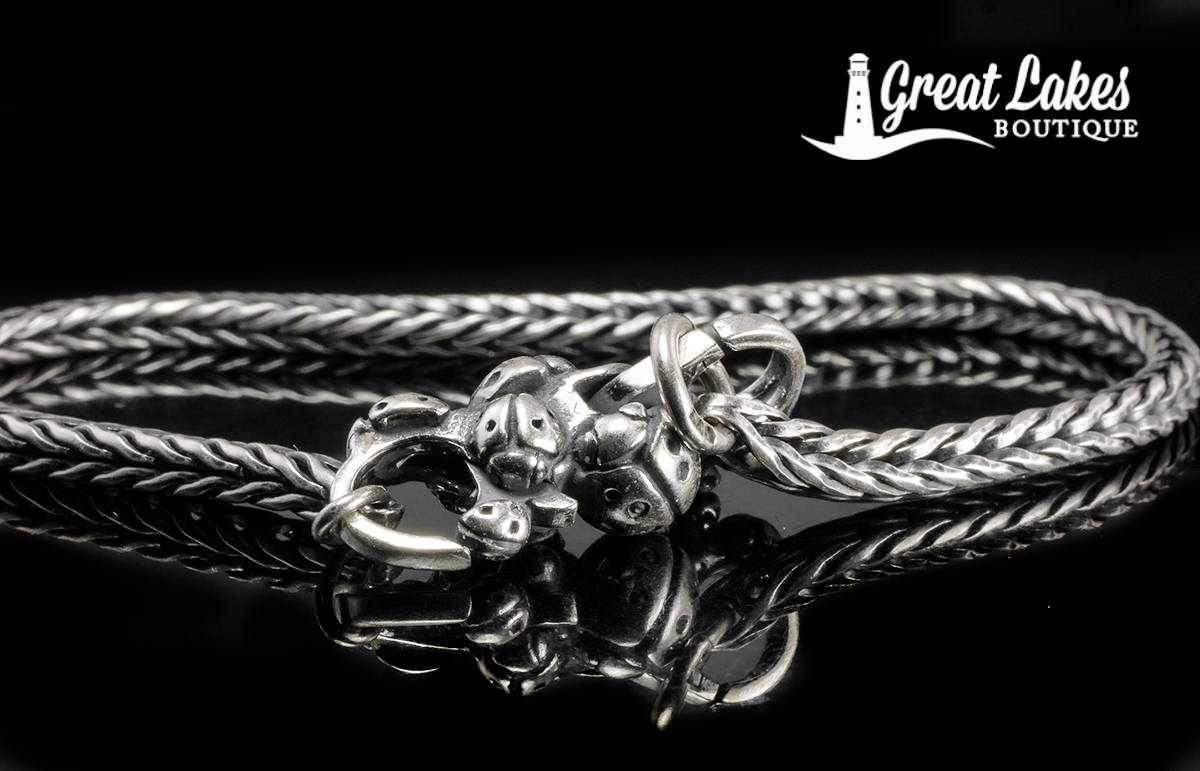 The second of the two locks is the Trollbeads Flow, retailing at $50. This is a more abstract lock but with lovely lines and I feel it's going to be very versatile.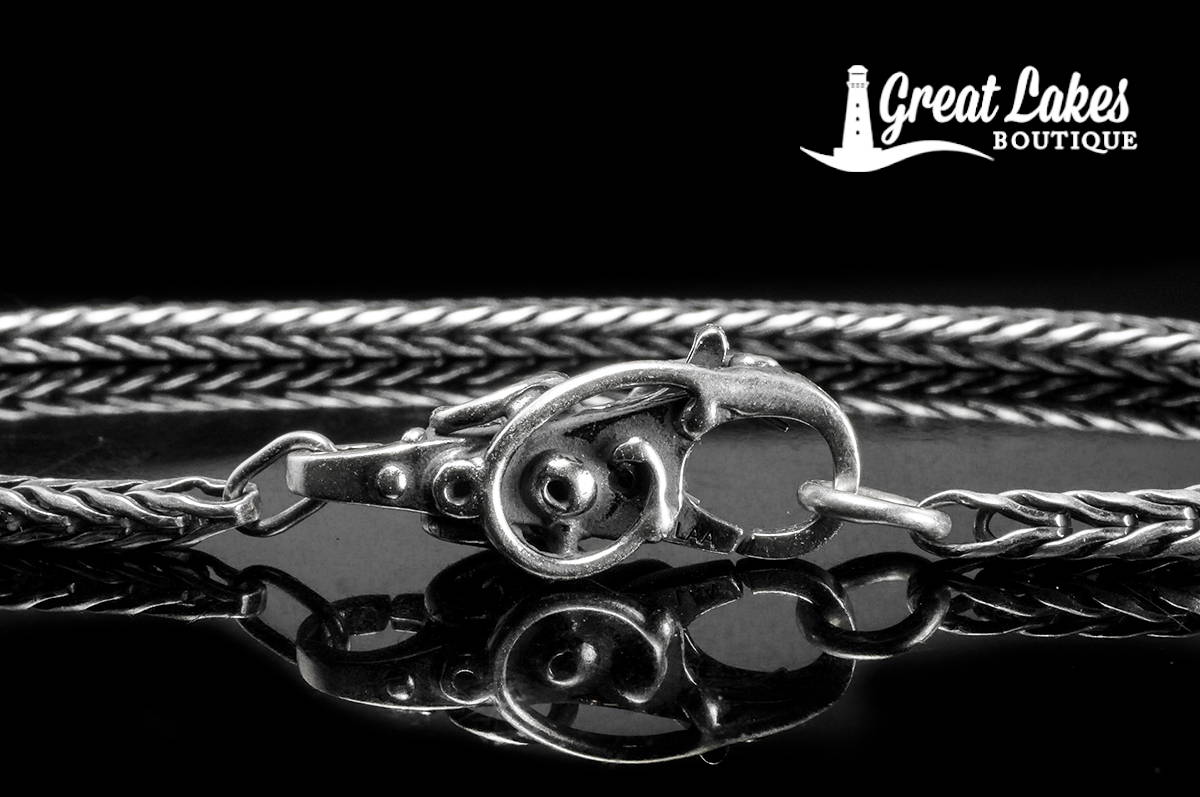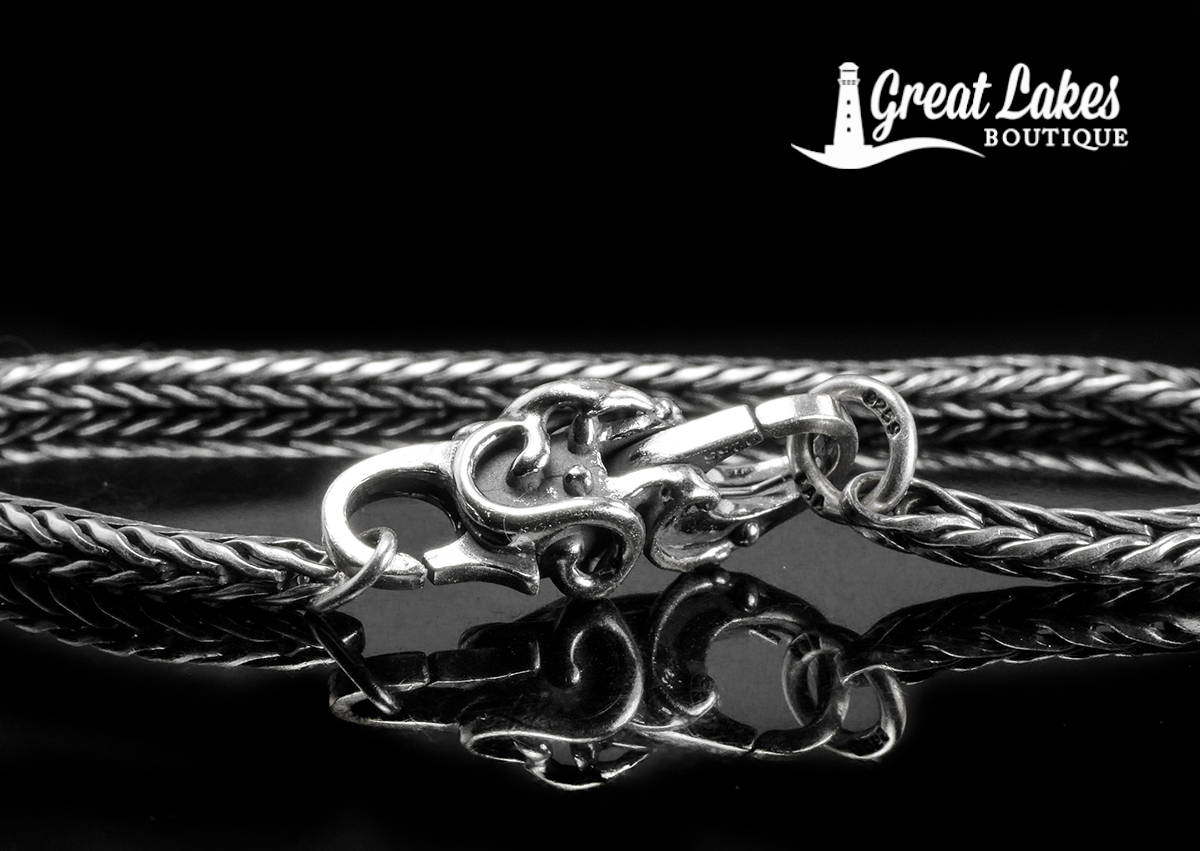 Finally is the Trollbeads Evolution Spacer. This adorable spacer features a tadpole or polliwog, a froglet and then a frog. It's adorable for all those spring, forest or pond themed bracelets. These also do sit tight on a bangle (and in fact I had to wiggle them a little to remove them again.)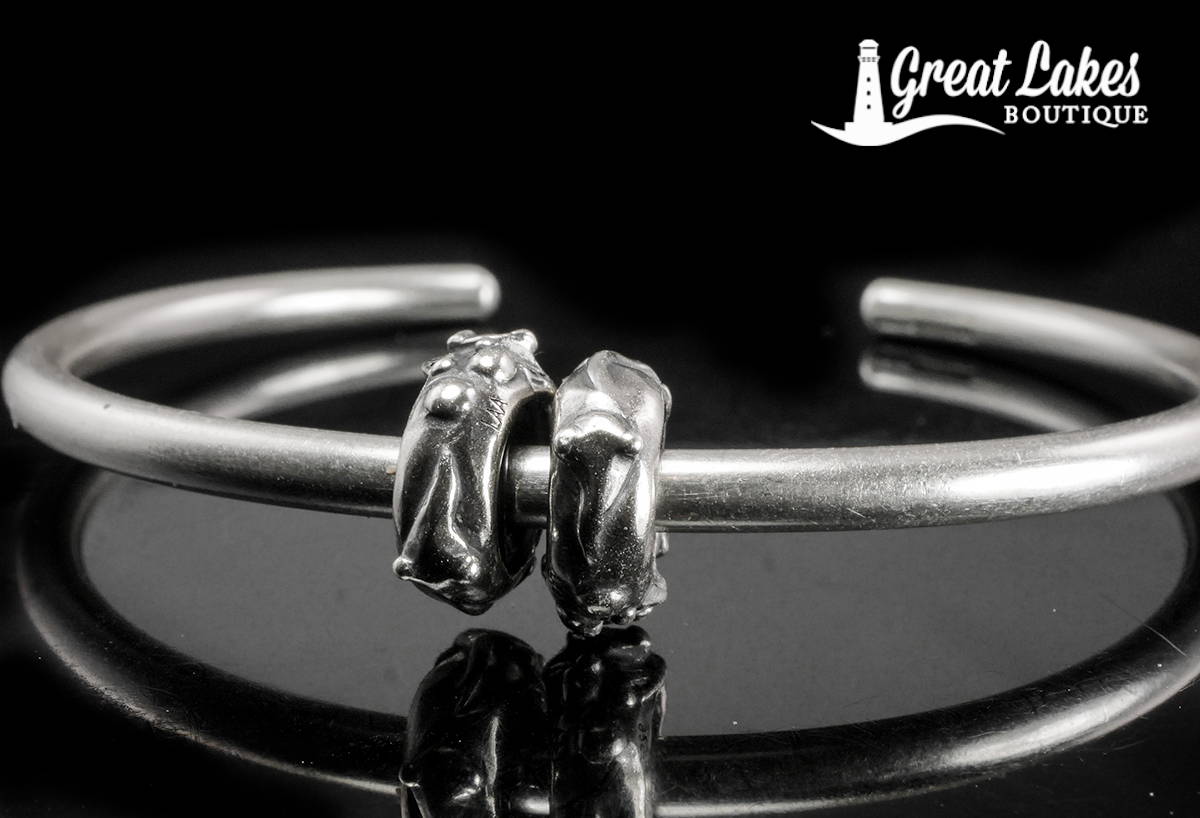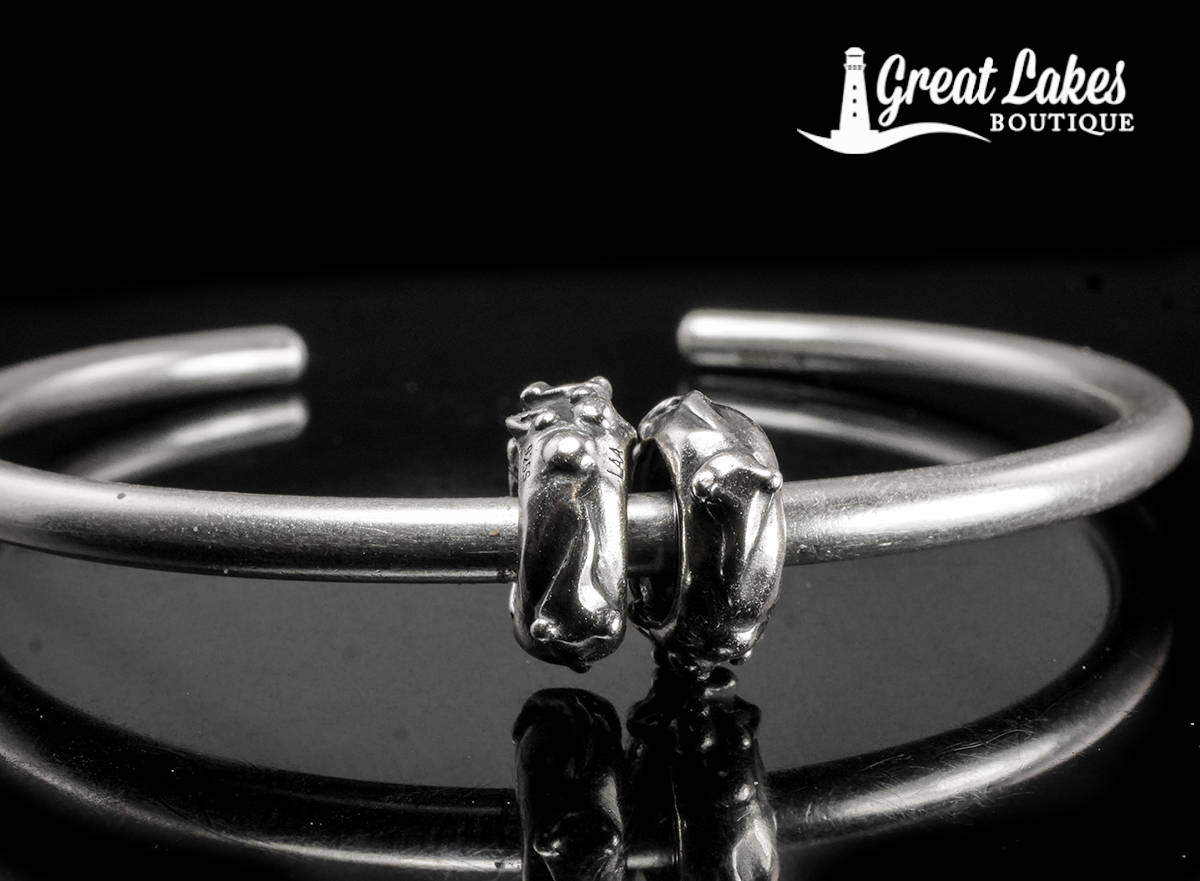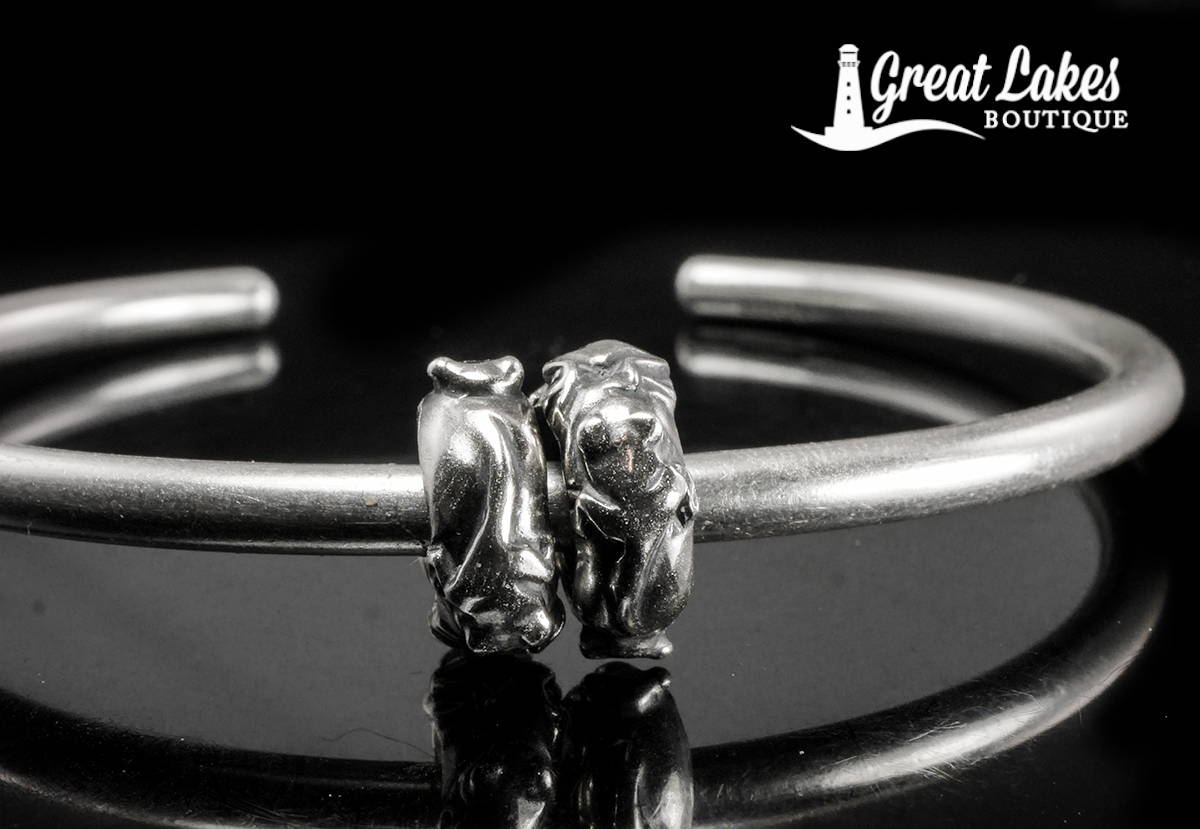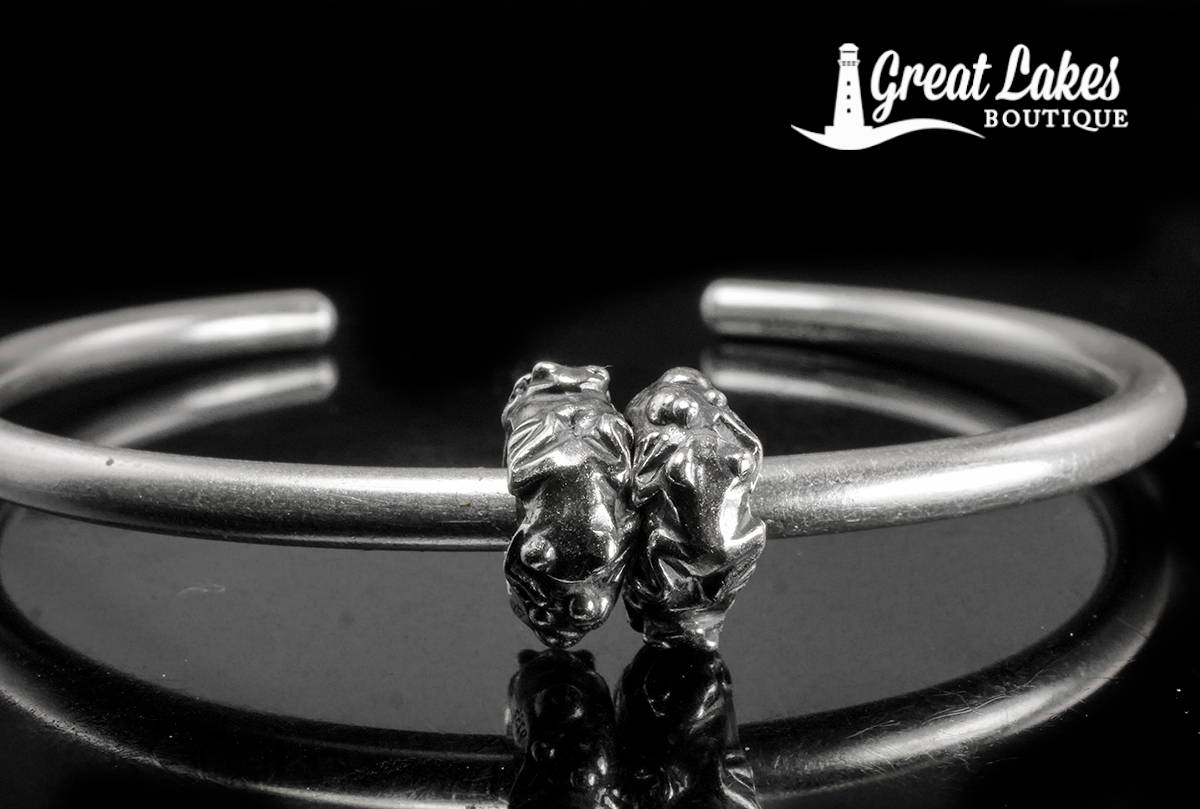 Trollbeads Spring 2020 Summary
The Trollbeads Spring 2020 collection is very pretty. It's brimming with spring motifs but that's offset by some less predictable elements, such as the very striking and unusual choice of stones.
There's several glass this time I'd love multiples of, including the entire Love Song Kit and both Innocence and Kindness. The Evolution Spacers, both locks, Flow and Ladybugs are also absolute must haves for me.
Missing here are live images of the rings though perhaps we'll revisit those in the future.