This week there's been a lot of focus on completely, dramatic bracelets. Today's Trollbeads blog shares some much simply, daily styling and indeed my personal current combination.
For day to day wear I prefer to keep jewelry light, especially during the summer time. I spend so much time at a keyboard that having full bracelets around my wrists is uncomfortable. Here I'll be sharing exactly what I'm wearing.
I've only developed an appreciation of yellow gold in the last few years. Prior to that I hated the color and though I'd love a Trollbeads gold bracelet one day, I adore the contrast of silver and gold together.
This stack is all about contrast, both via the use of mixed metals but also the carriers themselves. The Palace of Amber's new bracelet is decorative enough in it's own right without the need for further beads. The Trollbeads Twisted Gold Plated Bangle stands out against the smooth version.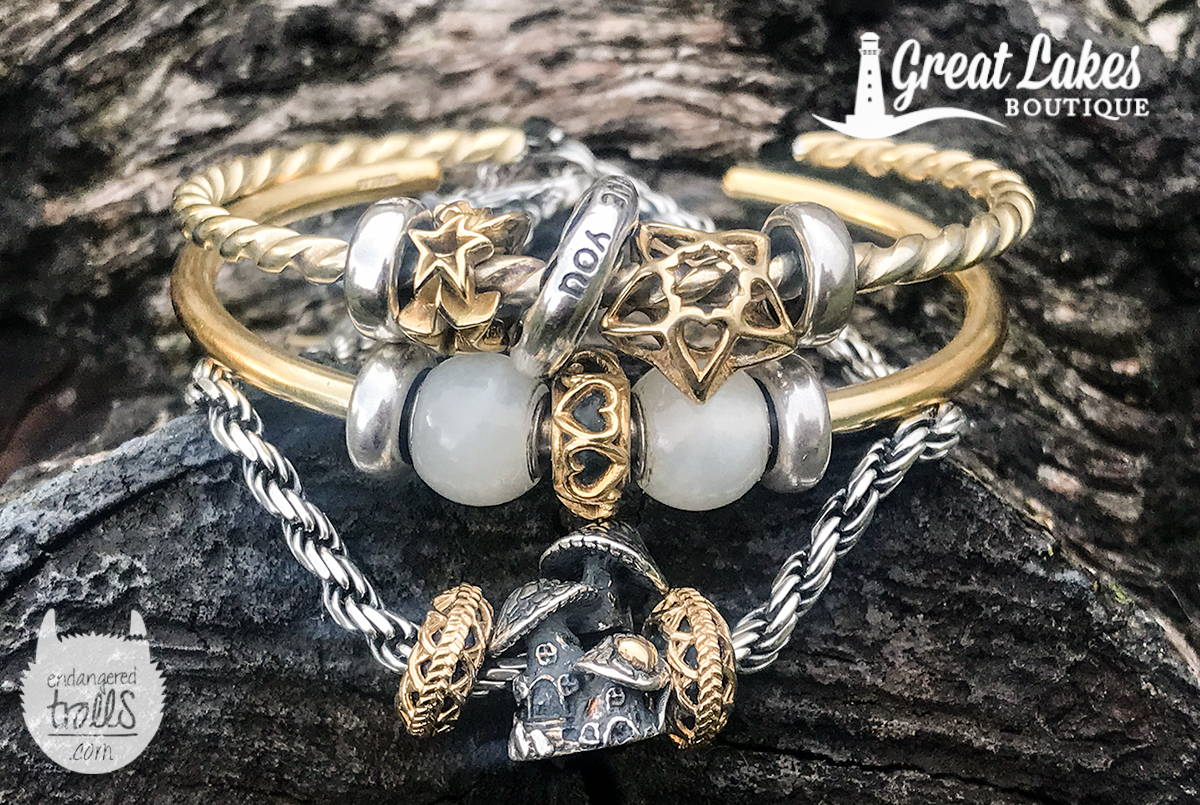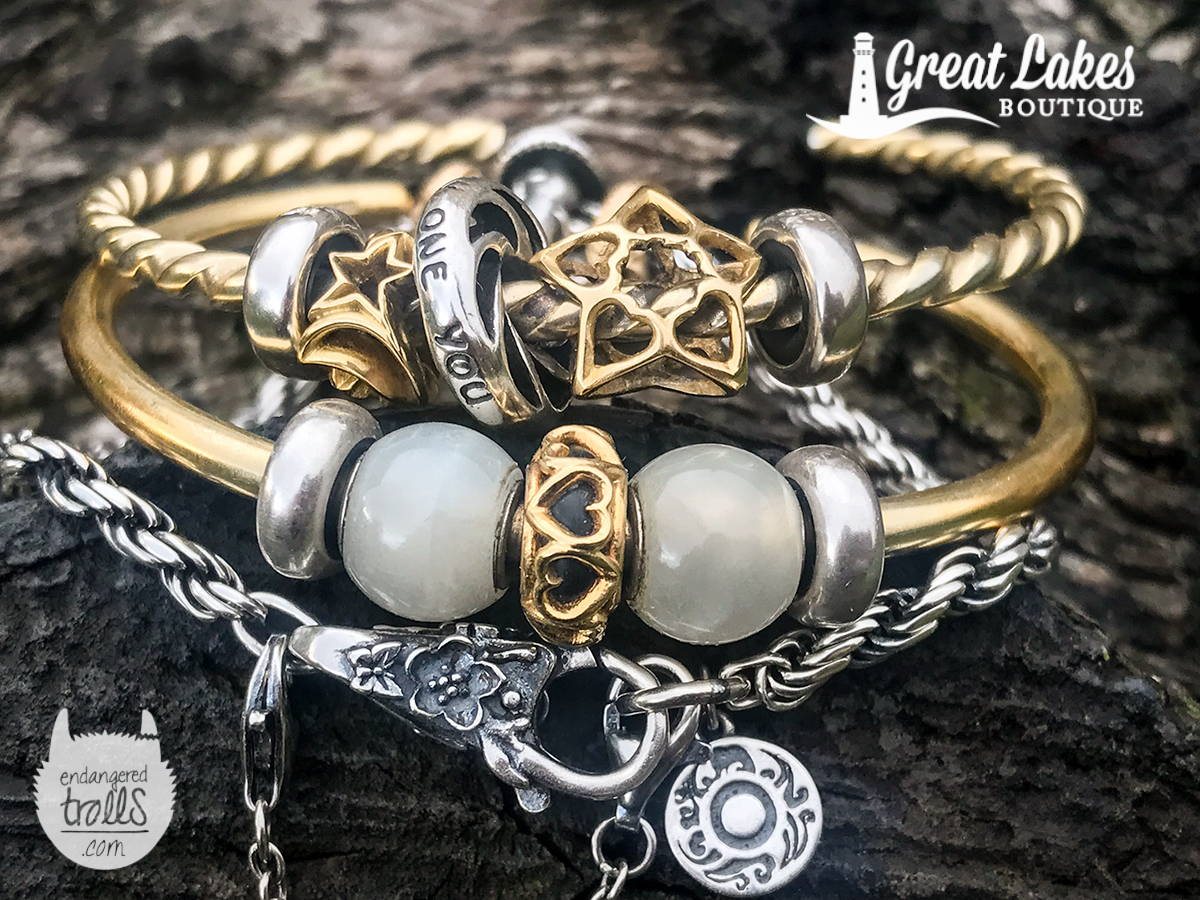 The top Trollbeads bangle uses two of my favourite gold designs; the Wishing Star and Celestial and both of these are actually only available in gold. Nestled between is the Trollbeads Only One You. I'm not usually one for slogan style beads but this is a message that's always been quite poignant for me. Feeling you just aren't enough seems to be such a common thing for many of us so it's a nice daily reminder. As an added advantage, I've always enjoyed the coin style spacers.
The bottom bracelet is the beautiful Trollbeads Lovesome Spacer in between the new White Moonstones.
Decorative safety chains are something I really hope to see more of in the future. Certain elements of a bracelet or bangle are essentials but it seems a shame when those can't be turned into a design element themselves. The Palace of Amber Rosa Safety Chain is quite simple but still adds an extra touch of interest and it complements the new Plum Blossom Lock too.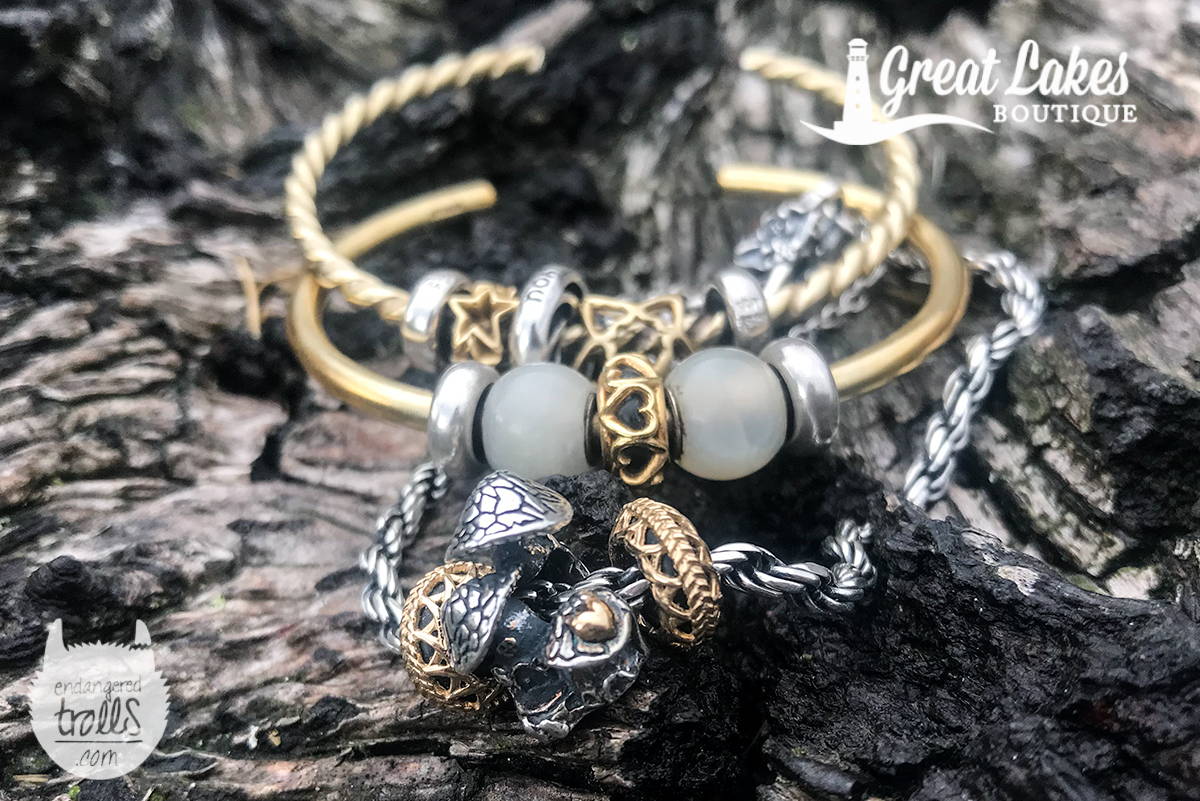 The theme of Bead Bash on the Lake Fall 2019 is an enchanted weekend so there's been a lot of preoccupation here at GLB with all things magical and mystical.
The Palace of Amber Make a House a Home is the focal bead on the bracelet with two of the new Rumpelstiltskin Stoppers. This combination just feels utterly fairy tale-esque and the gold heart detail actually stands out a lot on a bracelet. This has been one of the best selling duo-tone pieces of the summer
The whole stack together is light and comfortable. For those of you that like the small tinkling sounds from your bracelets, you definitely get that here. As you can see I'm still wearing the Trollbeads Summer 2019 gemstones and loving them! With the Trollbeads Autumn 2019 collection the next large release from the brand, I can't help but wonder if we'll see that line expanded. There are so many stones I'd love to see in this cut.
For those of you who like a little more drama, adding more bangles or indeed a gold bracelet sans beads would be incredible.