Friday (November the 8th) sees the launch of the Trollbeads Winter 2019 collection, officially entitled the Trollbeads My Sun, My Moon, My Stars release. Ahead of the launch this Trollbeads blog brings a live image showcase of the new pieces.
When we first saw the preview, I stated that I found this a real Nordic inspired release. It's not a typically traditional Christmas collection and I think that's part of it's strength. You'll find versatility beyond the holidays and yet if you look below the surface, you'll find it honors much of the Scandinavian roots of the brand.
Picture burning open fires, clear Scandinavian night skies, incredible displays of the Northern Lights, dense pine forests and of course, a whole lot of hygge.
Trollbeads Round Sunstone
Trollbeads are showing their continued commitment to the new round gemstones with their latest offering. The Trollbeads Round Sunstone may initially feel a strange choice for a Christmas release. It's actually a little less so when you consider the brand's Danish roots.
The Viking celebrations of Yule which pre-date Christmas, began around the winter equinox where they celebrated the return of the sun and the days getting longer again. What better choice than the beautiful sunstone?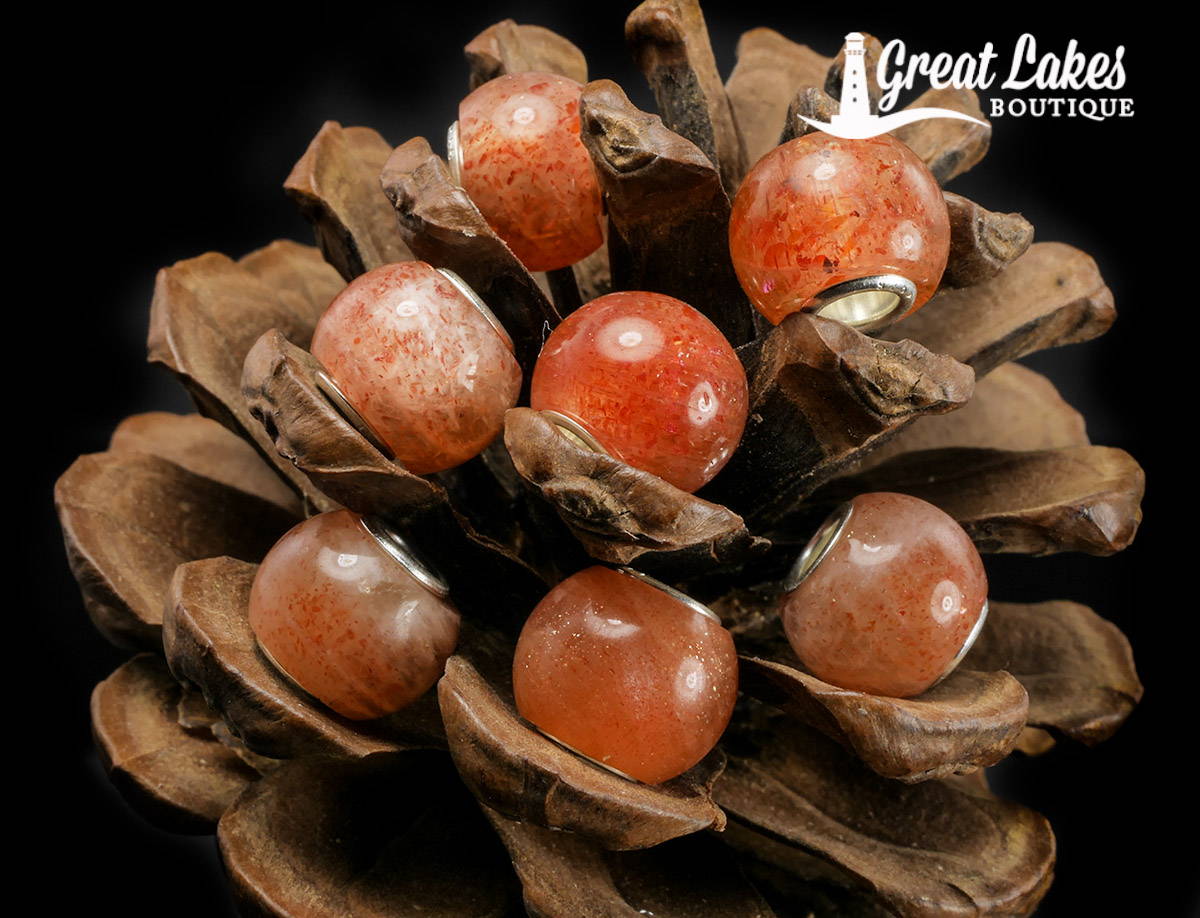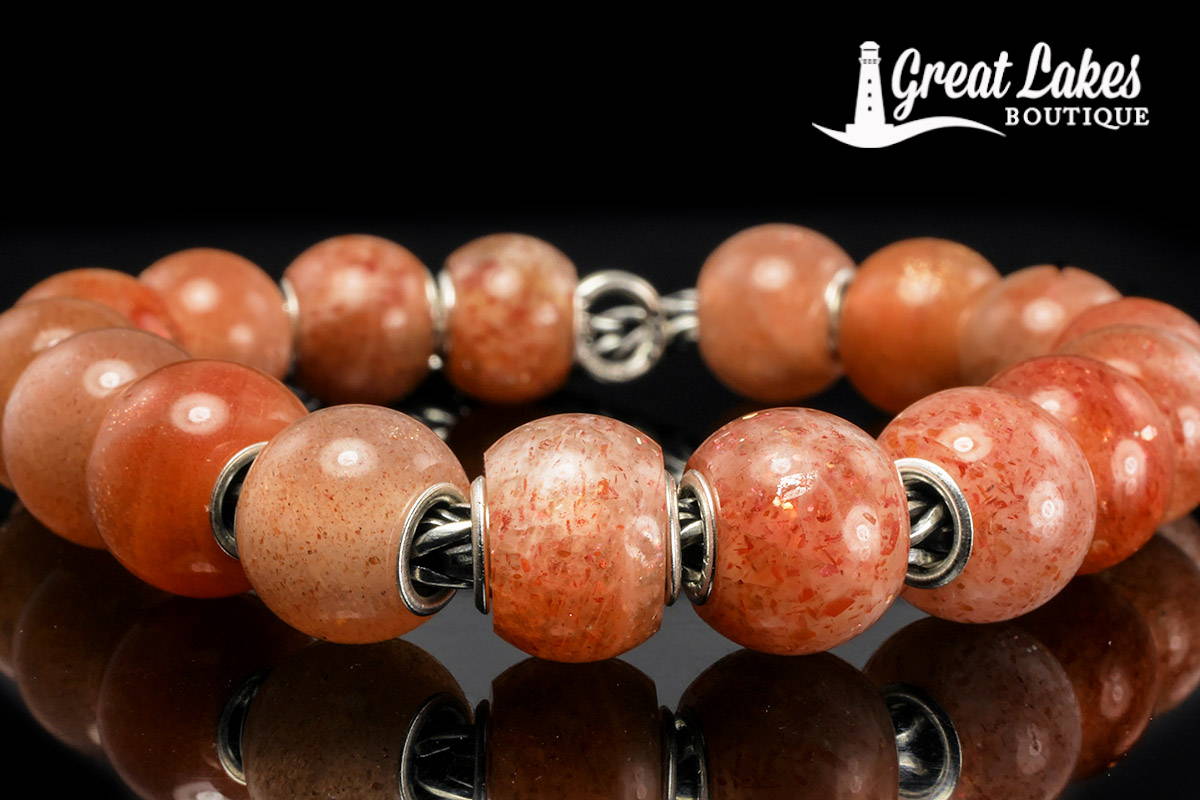 Though sunstone is often mistaken for the feldspar moonstone, they aren't the same. The moonstones are opaque and known for a creamy, pearlescent finish. The sunstones by contrast are a little more translucent and have flakes of copper hematite inside.
In both instances the moonstones and the sunstone can vary in their individual shades. If you like the Trollbeads Feldspar Moonstones however, you should love the sunstone.
So what can you expect? These are so beautiful! You'll find a range of colors from quite deep, almost blood orange shades through to very pale examples.
The amount of glitter in the stones varies too and it's always easier to see under direct light. It's a nice clean stone in the sense that it's not one that cracks easily. Though it has inclusions, these are mostly small flecks as opposed to the crystalline inclusions that some people mistake for internal cracks or flaws.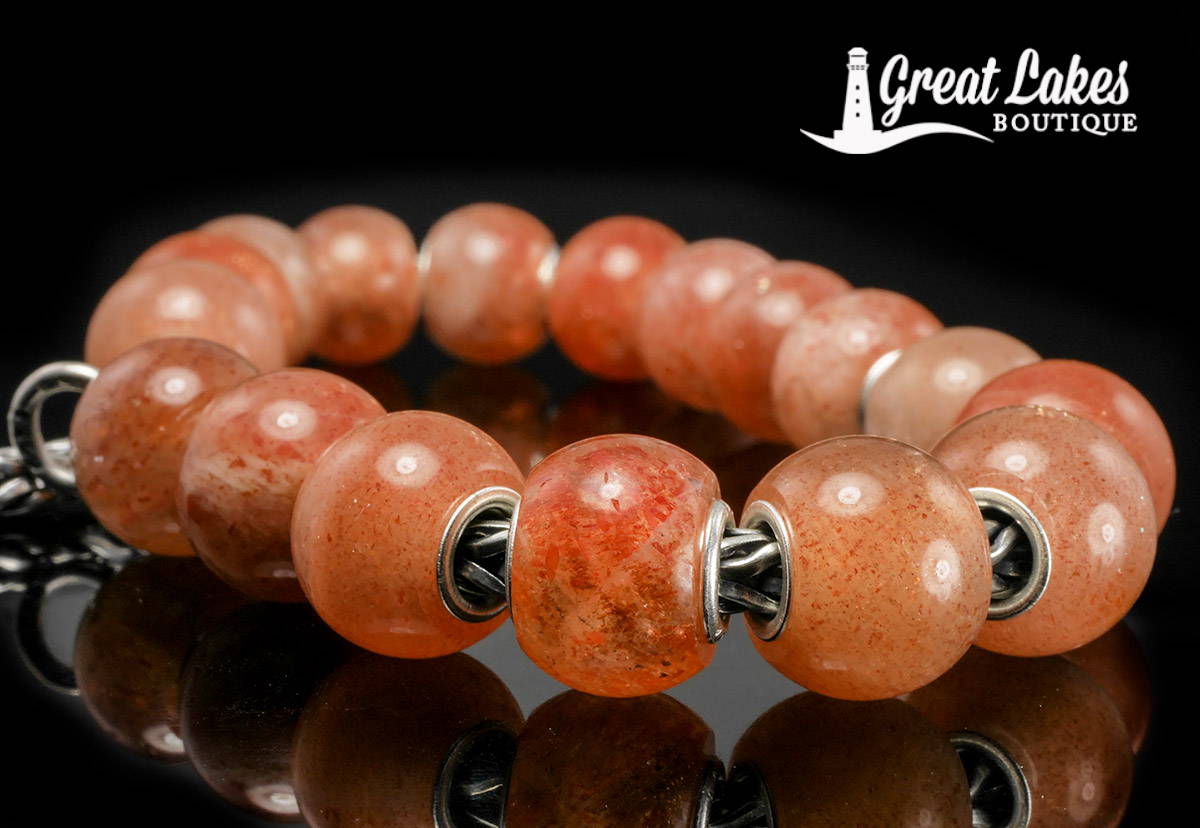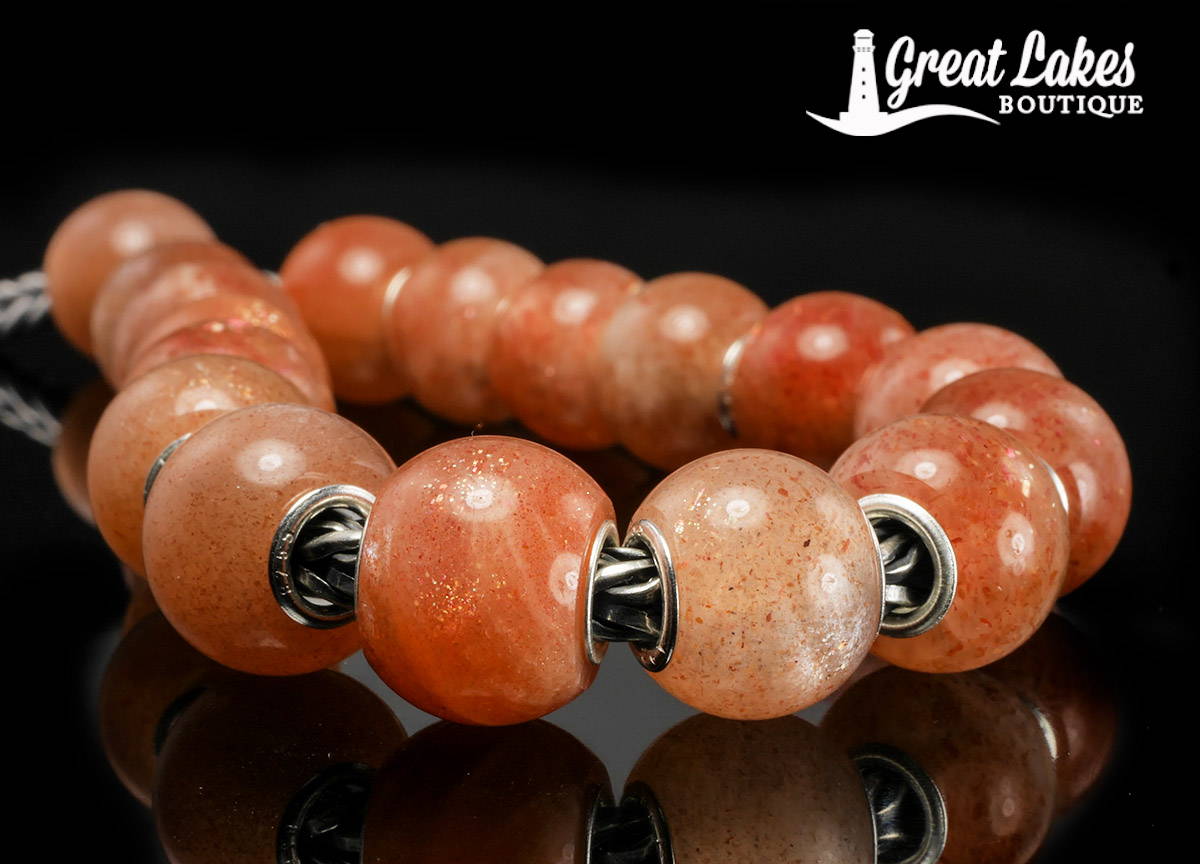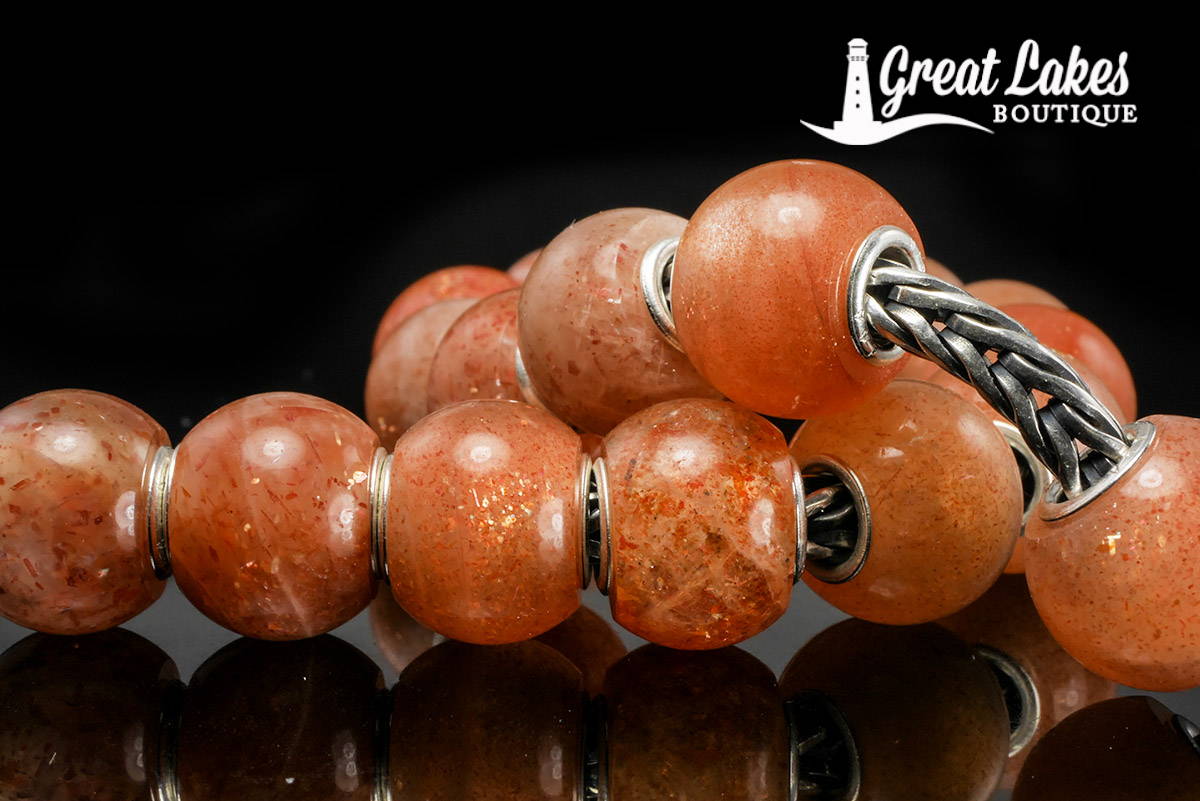 As with most gemstones, it's definitely worth shopping live images of these as the variation is huge. One thing I should note, the stock we received is quite consistent in size which is wonderful to see.
Overall it's a very pretty stones and my fellow gemstone enthusiasts can look forward to hunting interesting examples of this.
Trollbeads Golden Night Kit
This release features the single, limited edition Trollbeads Golden Night Kit and again those Nordic influences shine through for me. This kit is better in person than the stock images suggest. Why? Because there are some nuances and details that just weren't showing in the stock images.
The Trollbeads Golden Branches has a midnight blue base with subtle silver inclusions. The gold glitter branches are then on the surface with a hint of an ivory border. The result is a bead that resembles snow laden winter trees against those iconic Scandinavian starry skies.
It feels very wintery and this is one of the several things I love about the release; versatility. This is a set of glass that will see you through the entire winter season, not a kit you'll tuck away a few days into new year. That's quite an important aspect I think.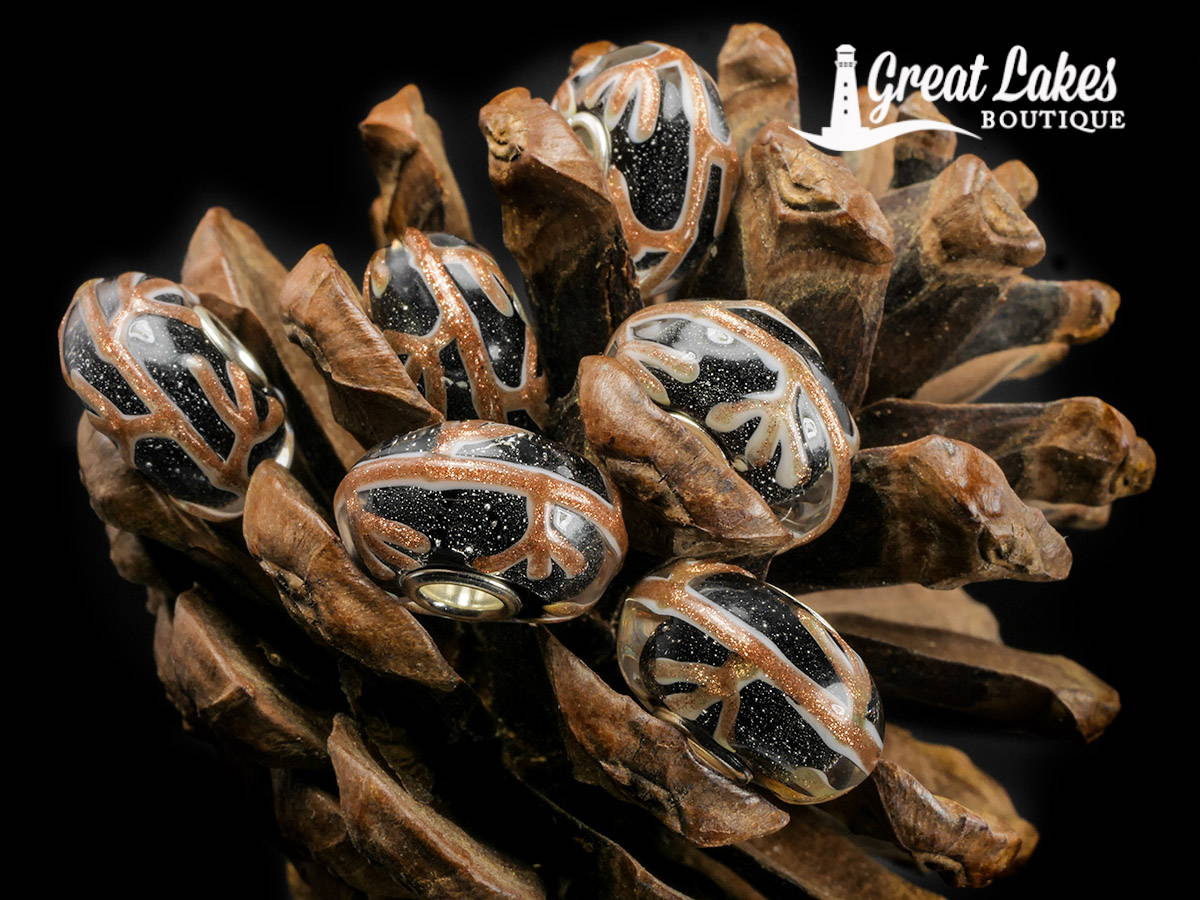 The base is subtle and it's mostly visible under strong lights. Don't expect crazy glitter when you're sat in a dark room. There is a little variation as to how much of those silver inclusions you'll see. The single bead pictured below was the most extreme example I could find.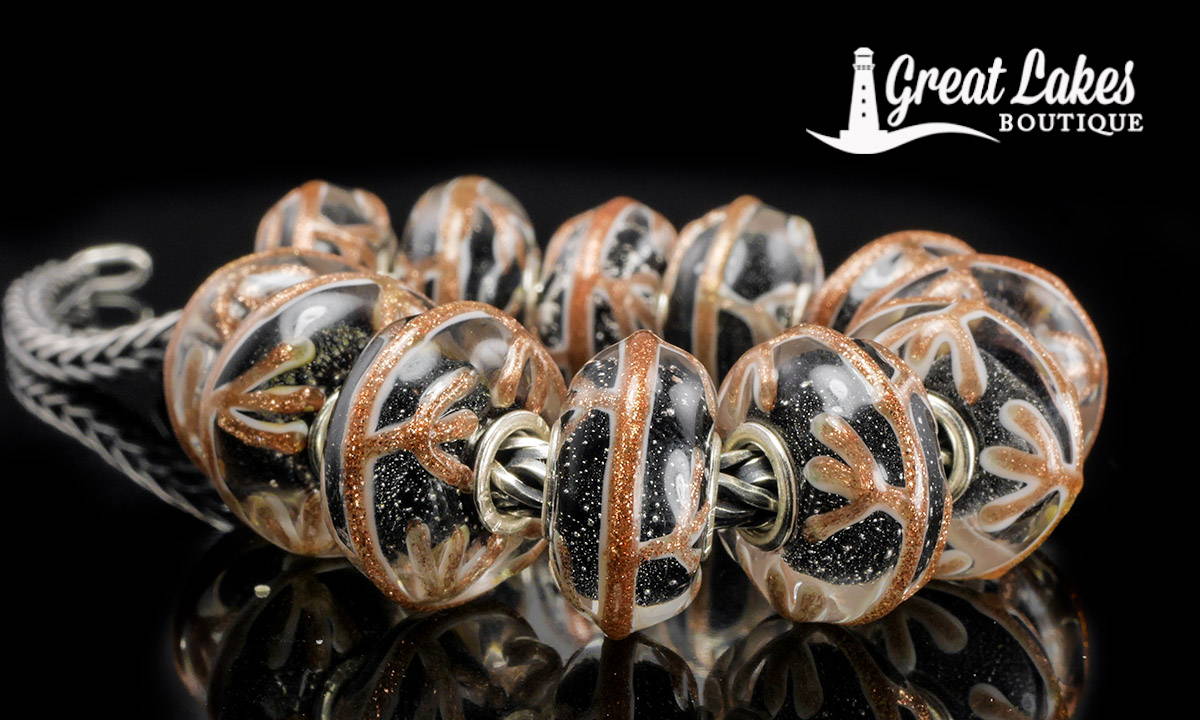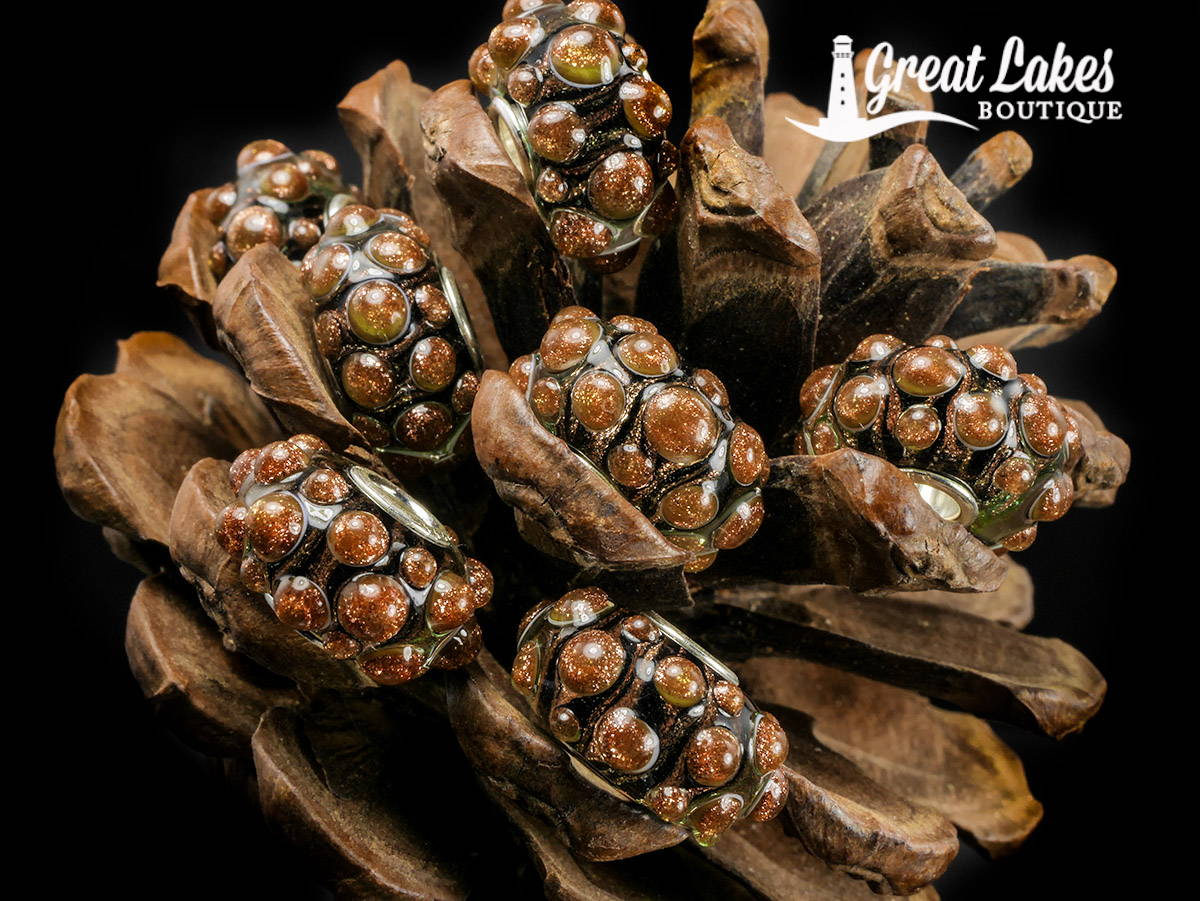 The Trollbeads Golden Buds is lovely and reminiscent of the rare budded unique found in the Christmas Glitter Kits.
It's base is a deep hunter green with then raised golden bronze buds on the surface. It's an elegant, luxurious color scheme and again the choice of green feels just a subtle nod to the brand's roots.
The base of this bead is actually striped and with some beads you'll glimpse these stripes between the buds. They've used horizontal dark gold stripes around the entire bead. If you removed the buds, it would be similar to a green version of Illumination, though without the facets.
The green shade looks somewhat similar (perhaps a shade or two darker) to the Trollbeads Sparkling Moss. If you loved that glass, you should really enjoy this too.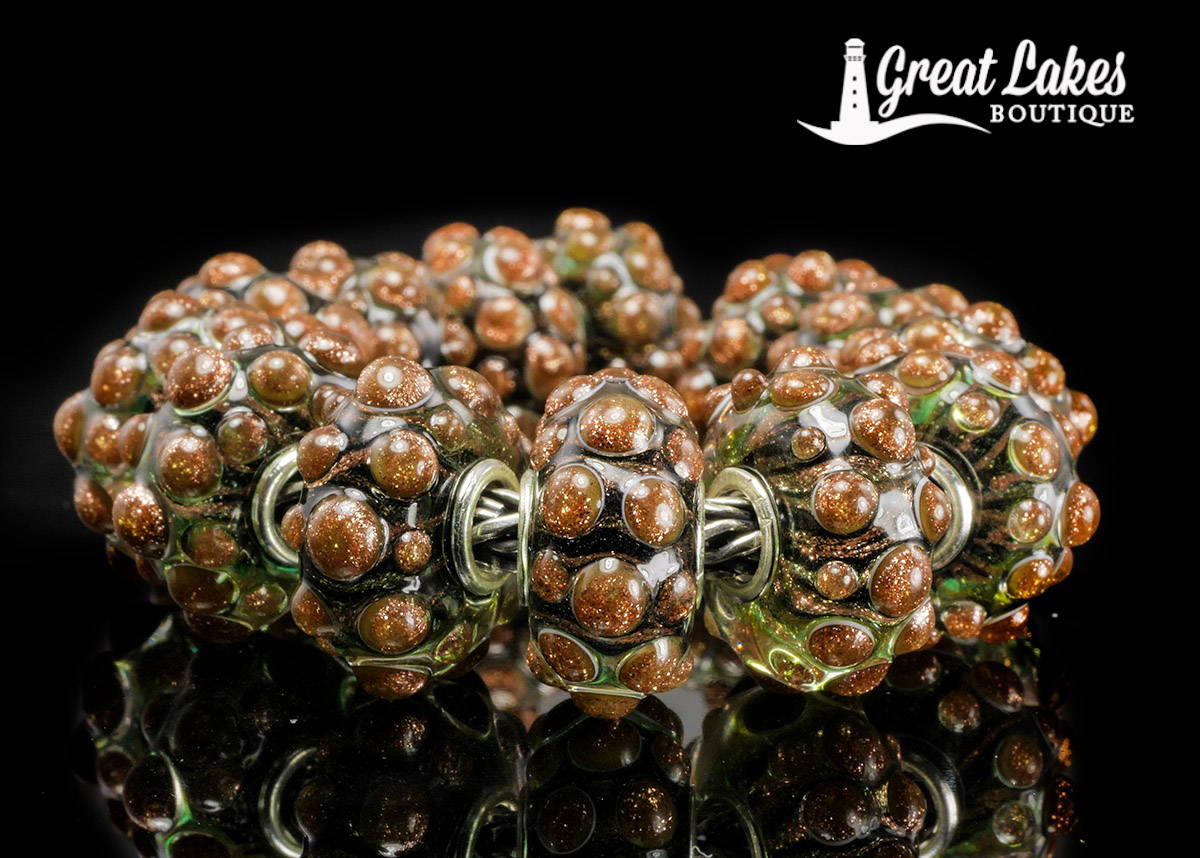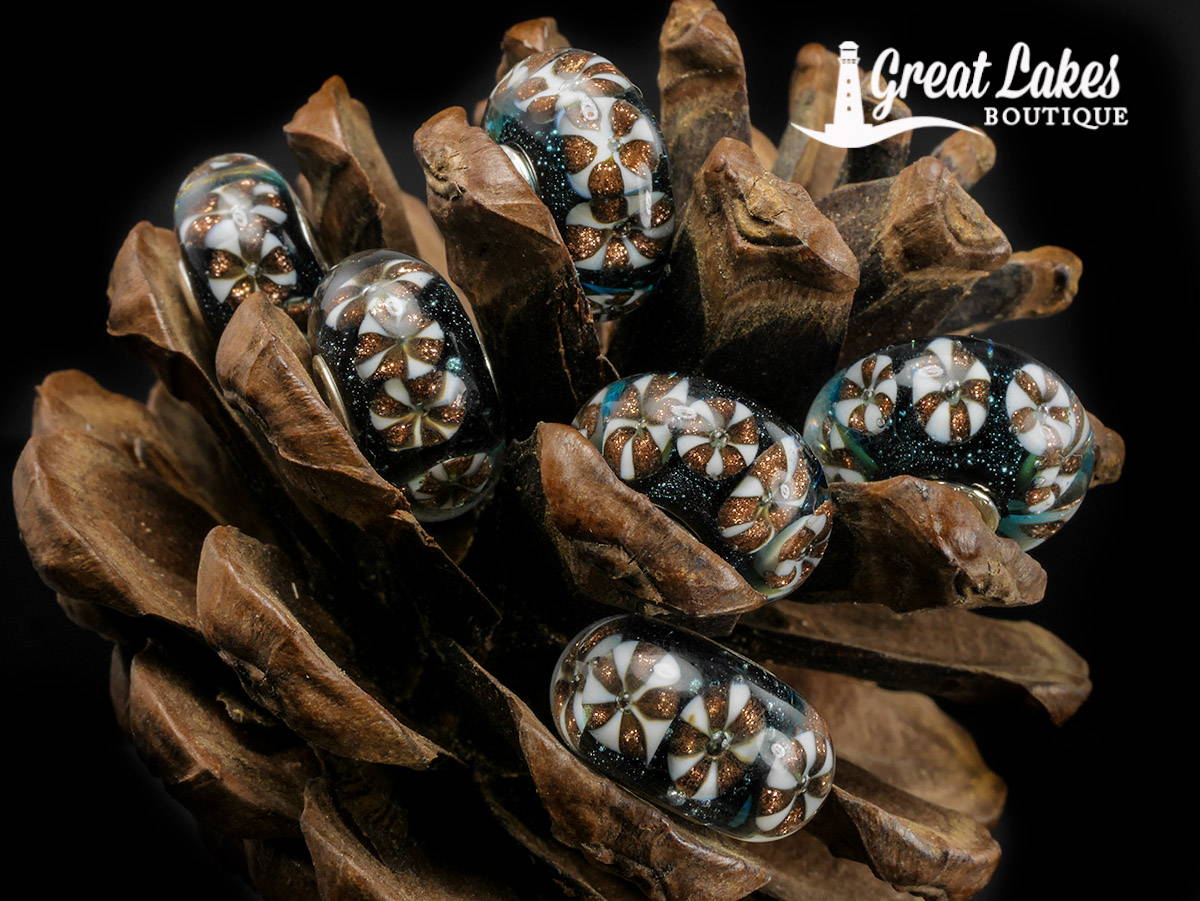 The Trollbeads Golden Ornaments was one of the kit I was originally a little indifferent too. The stock image suggests this to be a midnight blue bead with murini details and maybe a little similar to certain uniques.
Though the base is indeed a deep inky blue, it has a teal translucent glass overlay which creates a lot of depth and a very beautiful night sky look. You'll see silver glitter though again it's quite subtle and mostly visible in direct light.
The teal glass makes this bead glow. Not literally but it's quite a strong contrast to that murini detailing. Incidentally those murini don't just sit on the surface, they alternate between being close to the core and just under the top layer. Again this creates a depth that just isn't captured in the stock image. They look like they're floating an it's a very, very pretty effect.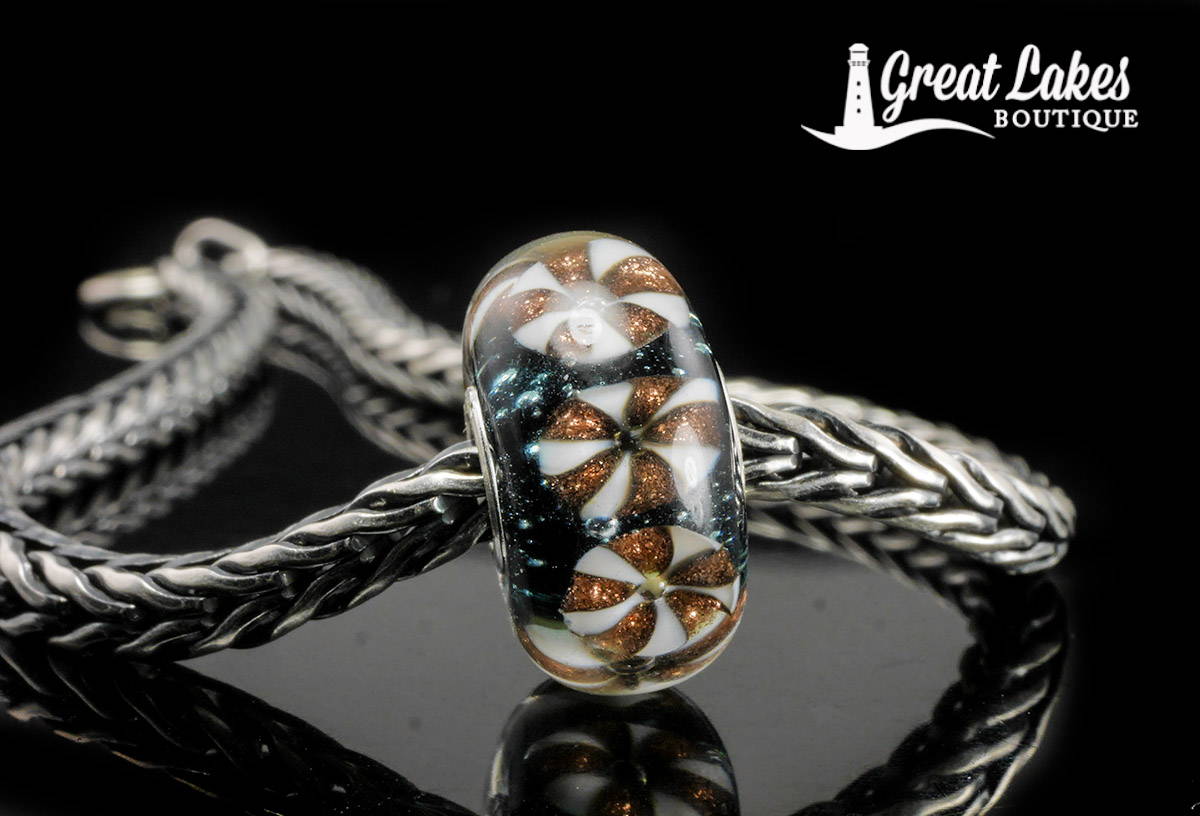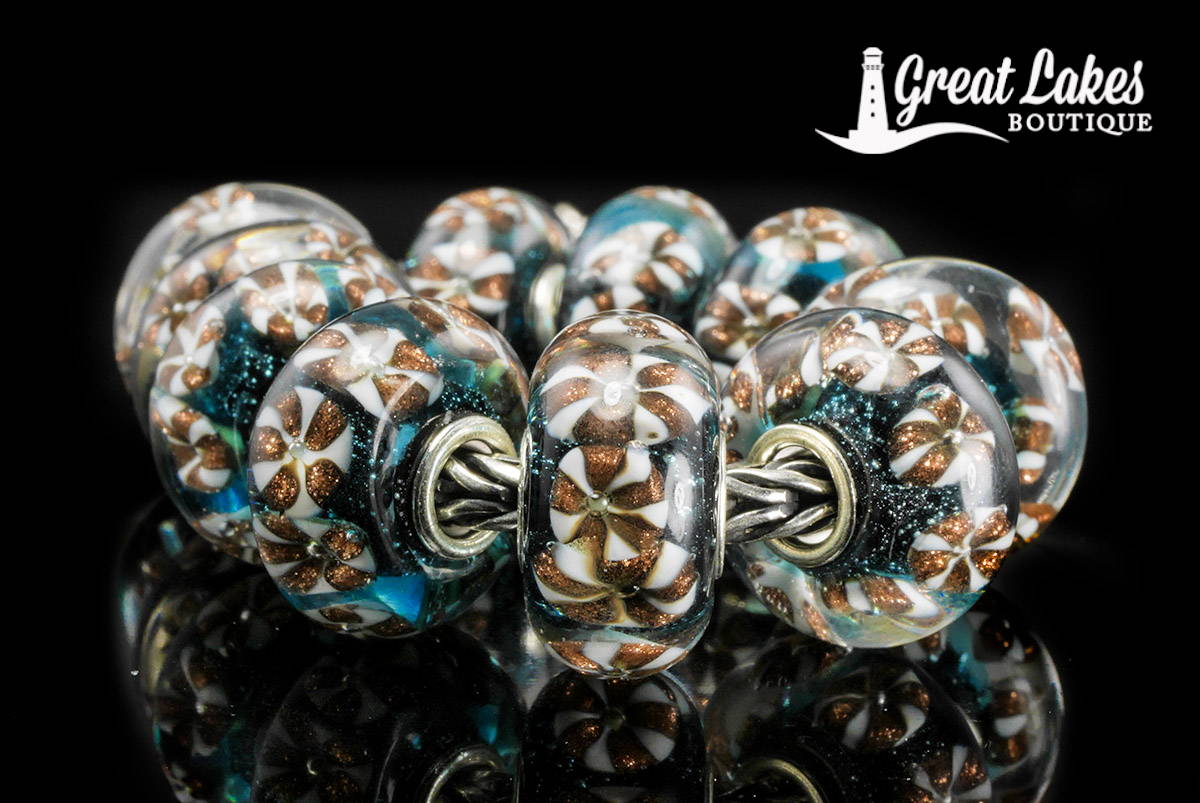 The Trollbeads Golden Swirls is just a classic, beautiful design. This bead has a black core with a raised ornamental glitter design. I suspect this will be one of the most popular as it's going to be so simple to style. Two of these on a bangle with a gold focal will give you a timeless, elegant and yet subtly festive look.
For those of you who love the Christmas Glitter Kits, it will fit well there too.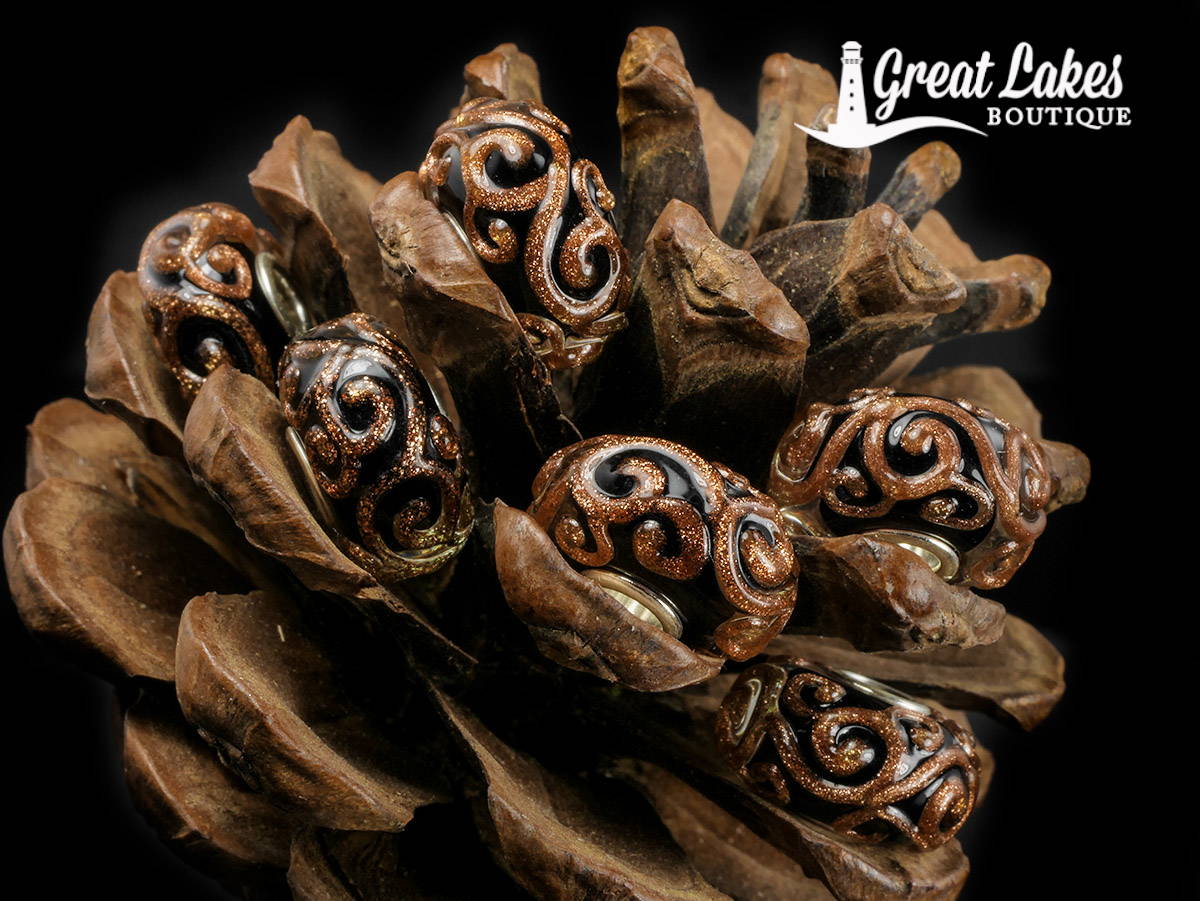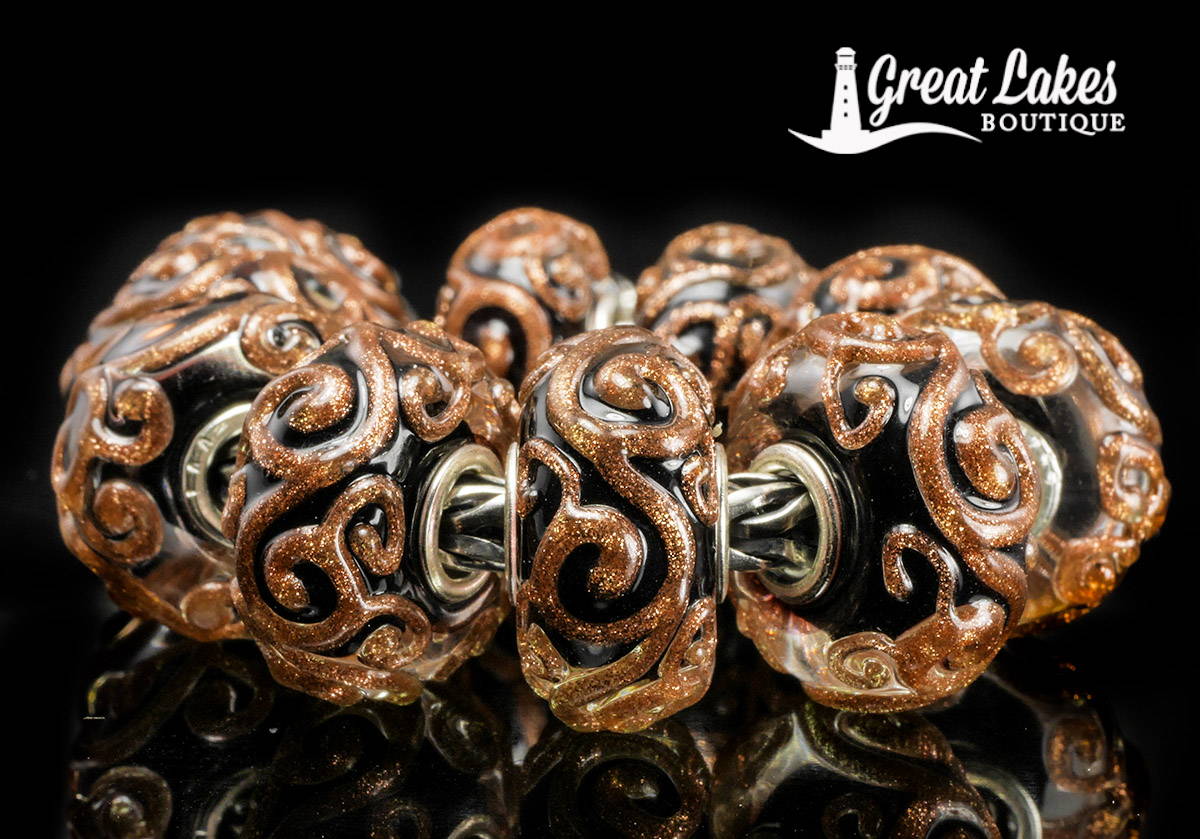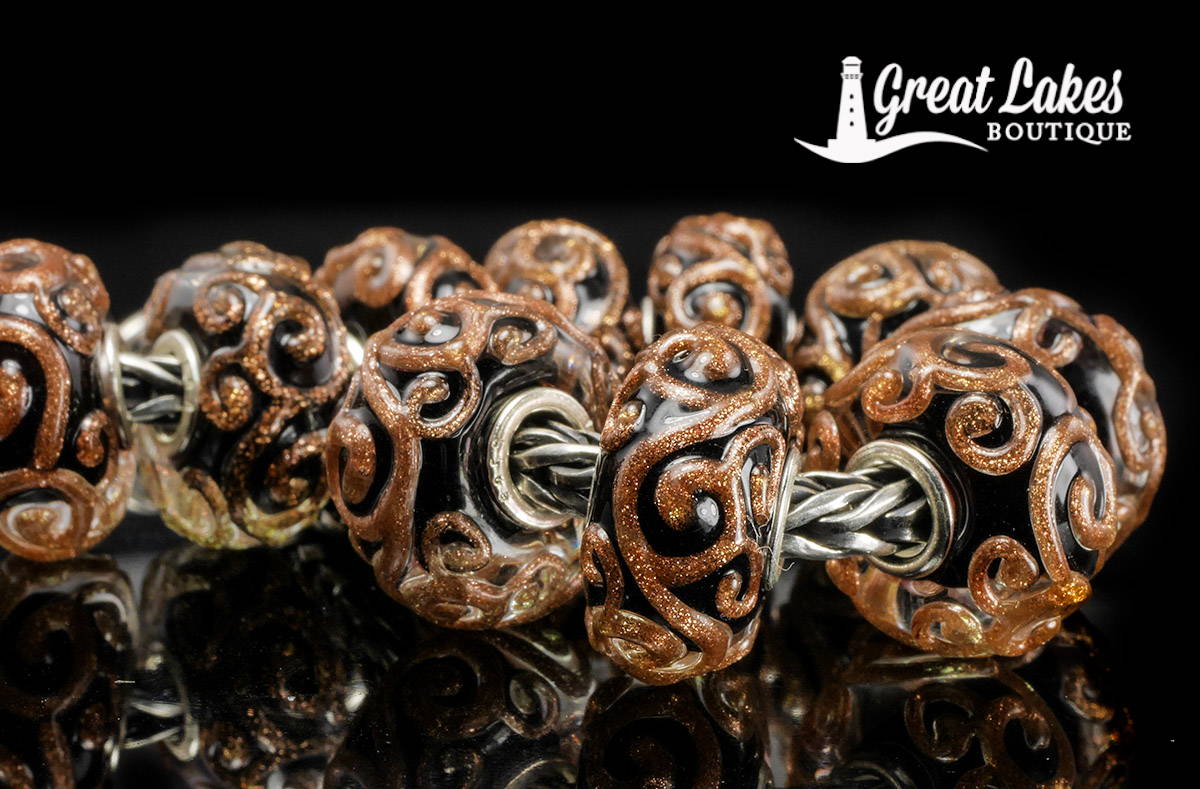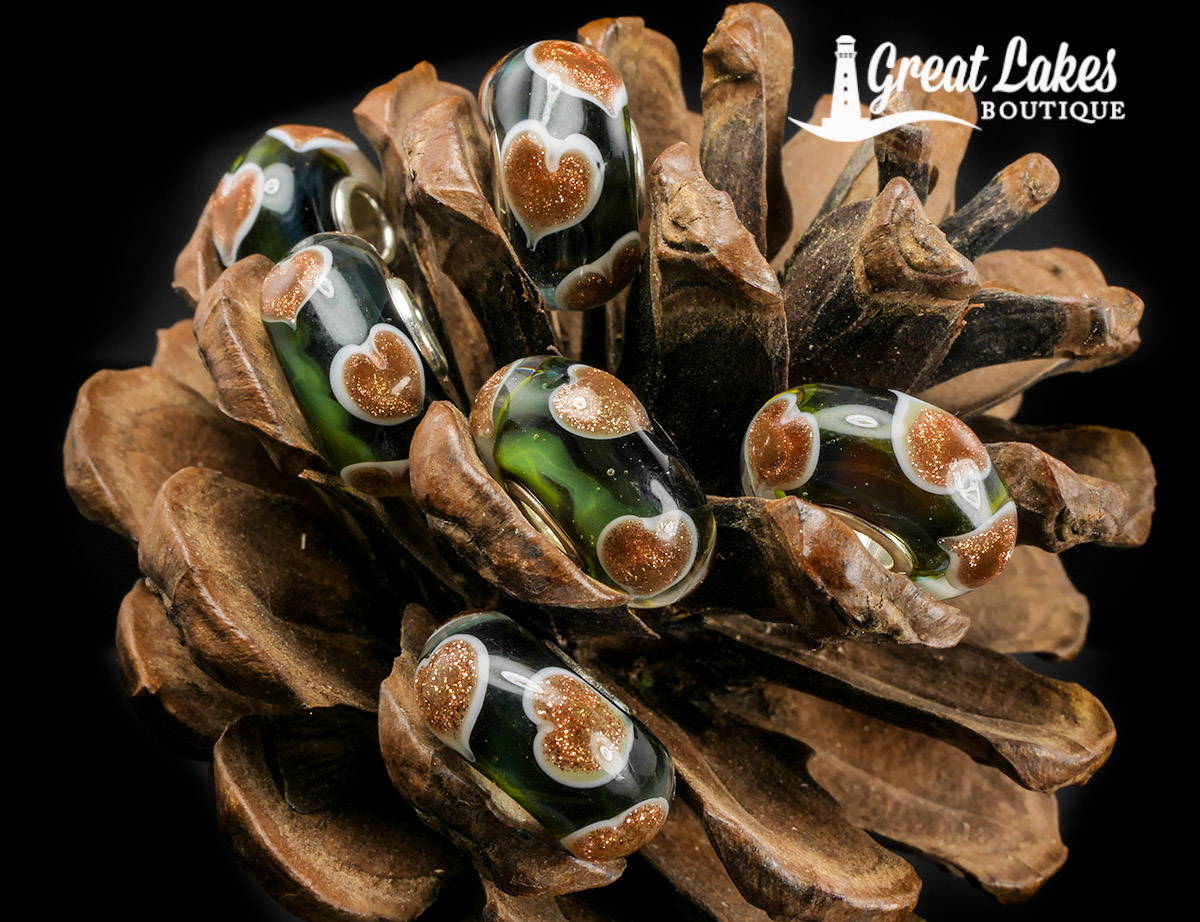 We're back to that lovely green base for the Trollbeads Hearts of Hope. I'll be the first to admit that hearts aren't generally my thing but the colors in this instance make the glass so appealing.
Once again the base actually holds more interest than the stock image suggested. Some of these have a multi-toned base with brighter accents placed close to the core. It's not evident on all of the beads and even then it will be mostly blocked by the gold heart details when worn but it's lovely and brings to mind the iconic Northern Lights.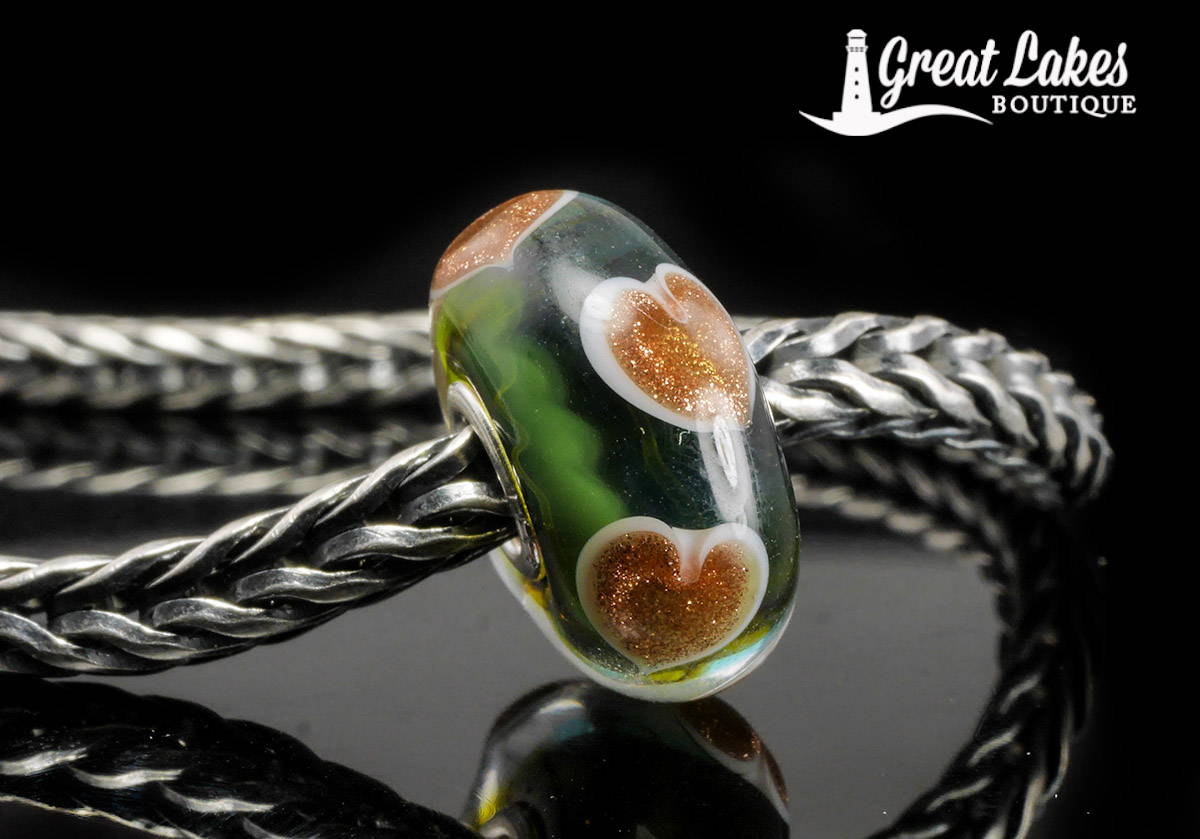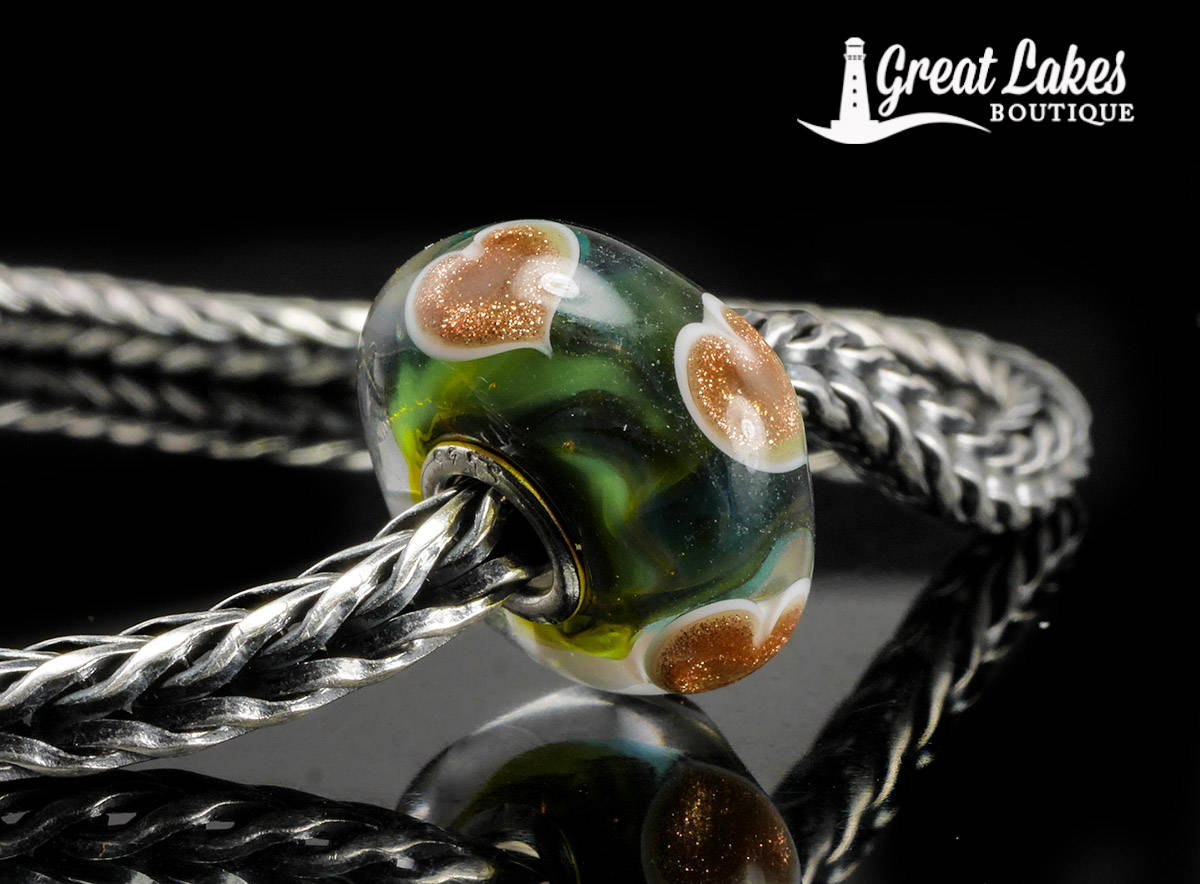 The final bead in the kit is the Trollbeads Hearts of Joy; a traditional festive red. It brings a strong contrast to the rest of the kit and yet I can't help but think of the classic woven or paper hearts that decorate traditional Danish Christmas trees.
Wear it with the Trollbeads Lovesome Spacer for an instant dash of cute Christmas cheer.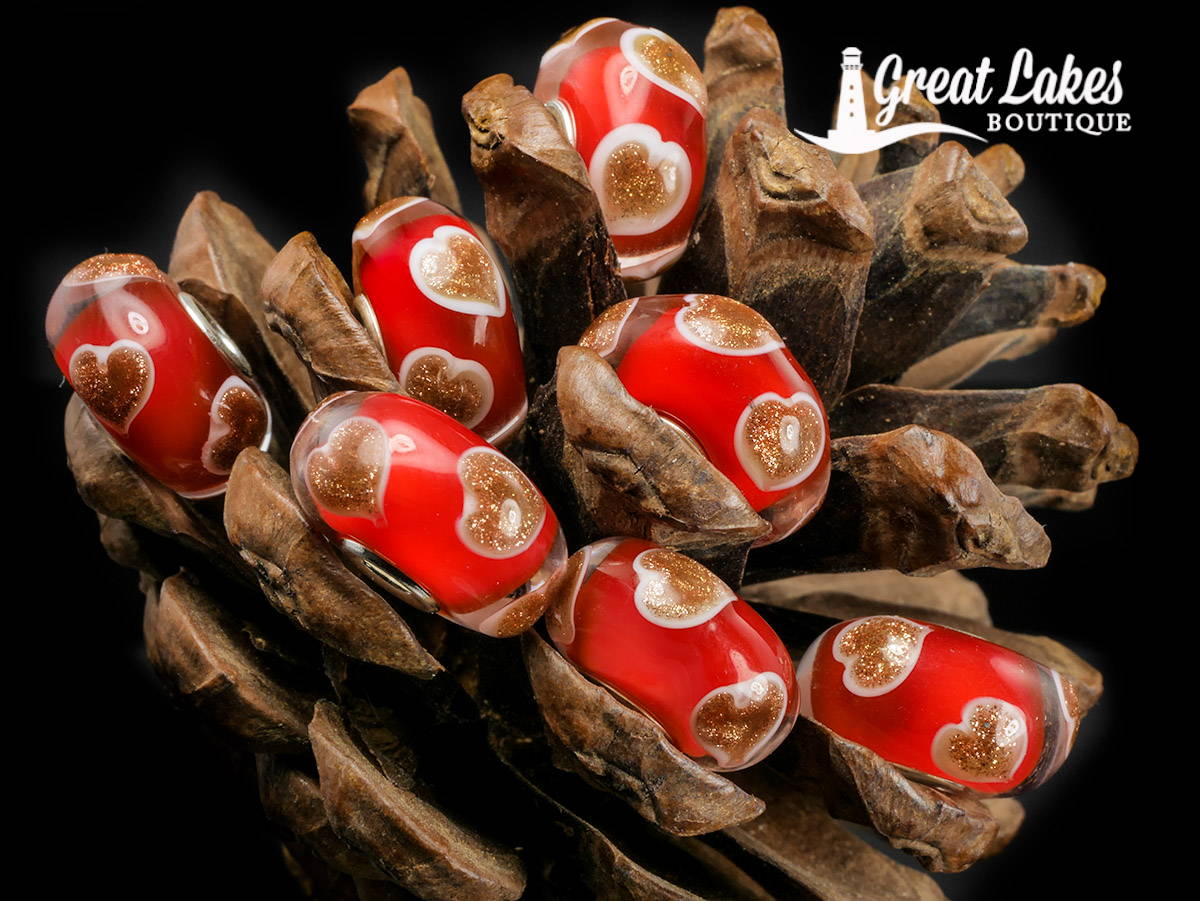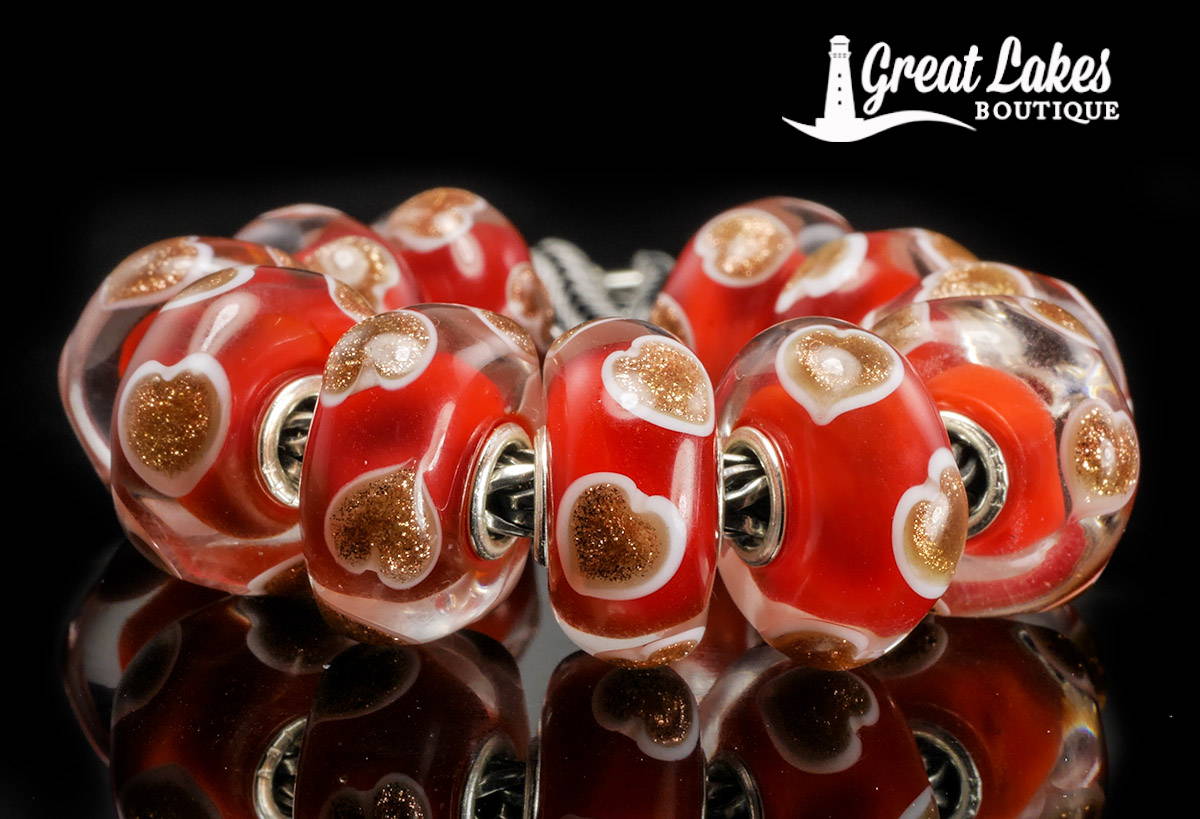 Trollbeads Christmas 2019 Silver Beads
The Trollbeads Moon & Stars will be a favorite I suspect, alongside the Trollbeads Moon & Stars Pendant which unfortunately isn't pictured here.
They're simple pieces but ohhh how we collectors love moon and star motifs. The bead version is designed to just slightly wrap around one of the small round stones. It makes for a very cute combination.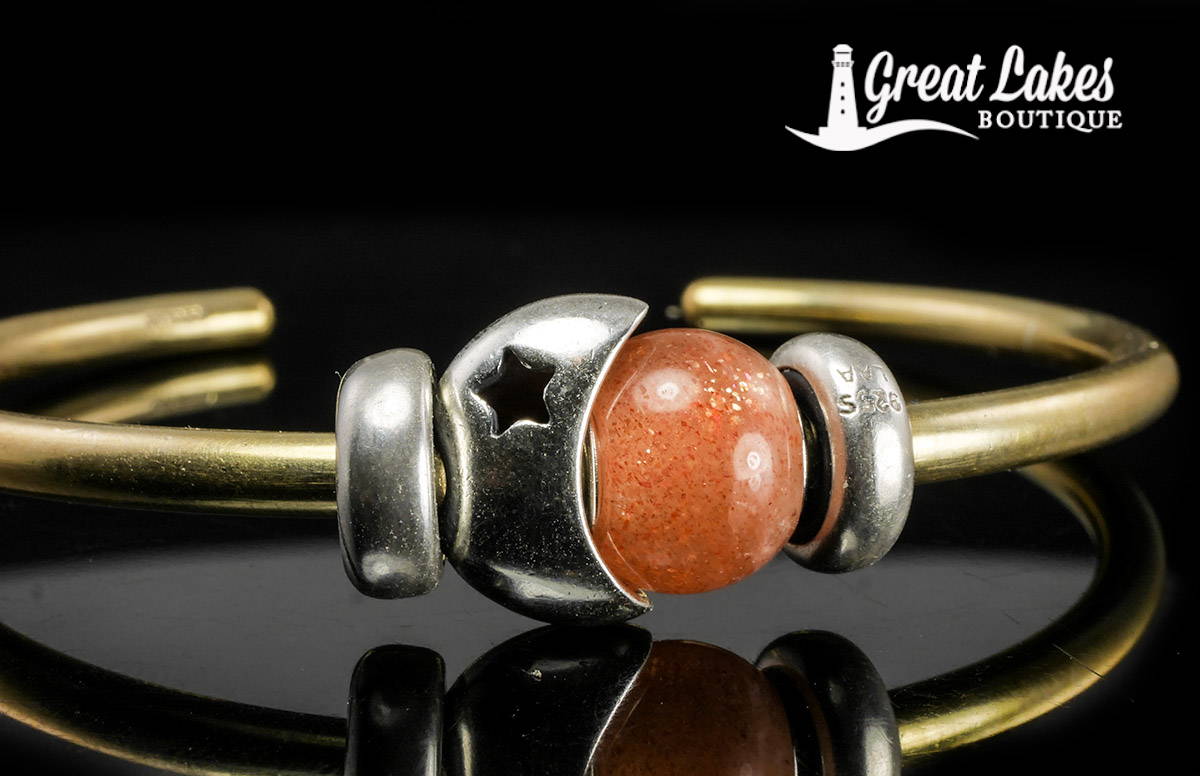 The new Passion set is a coordinating bead, pendant (though still a comfortable bead size,) ring and earrings designed by Ragnar R. Jørgensen. Again you feel the Norse influences shining through in these designs.
Both the bead and the pendant are cored for either a bracelet or a fantasy necklace with brings a little more versatility to them.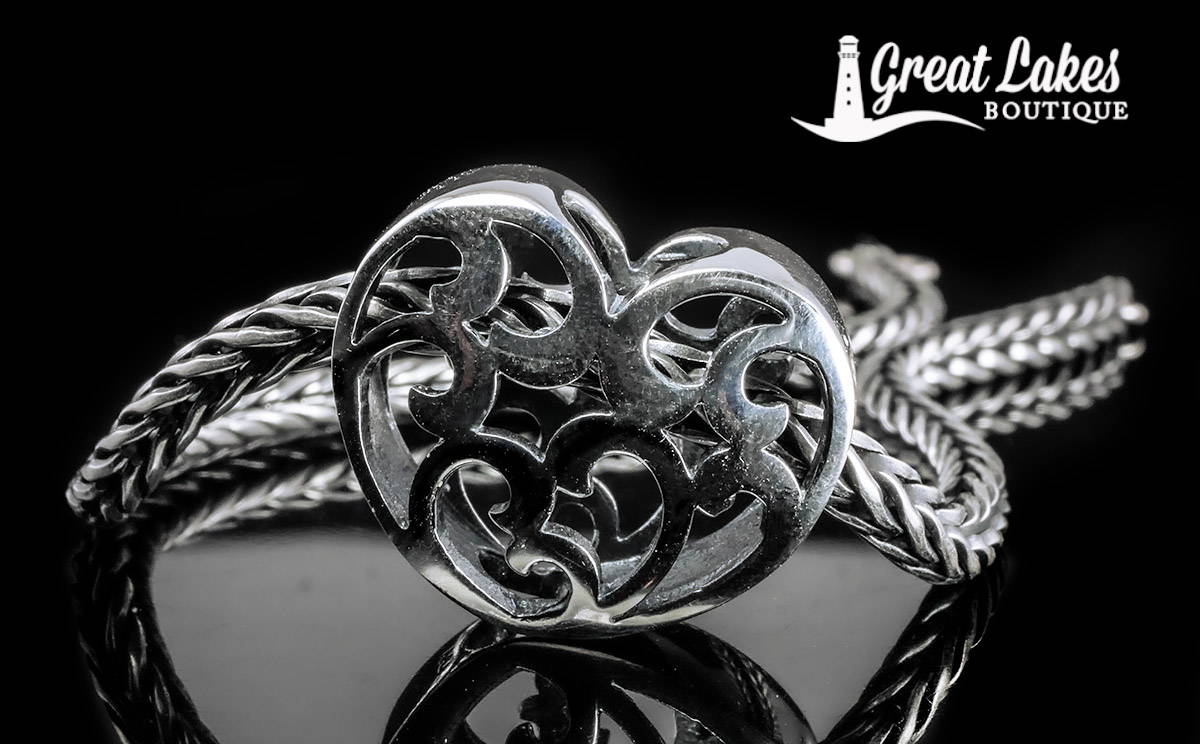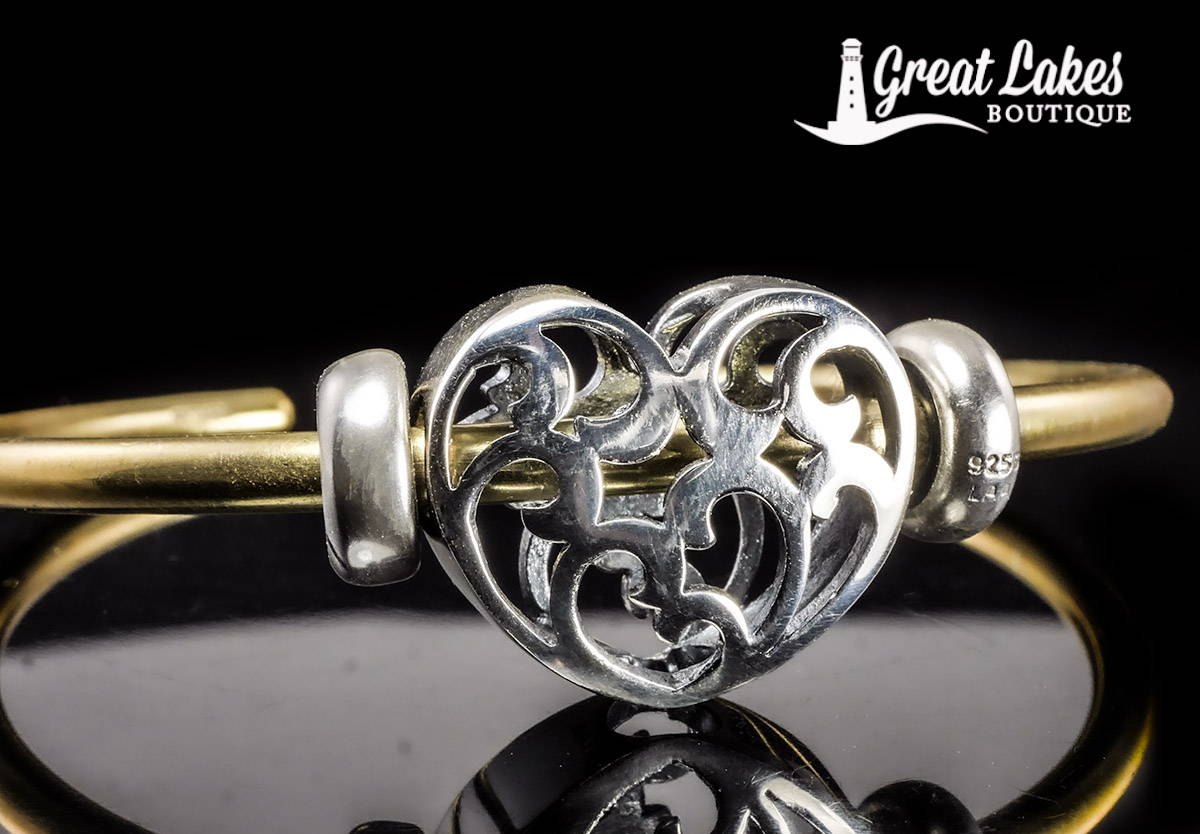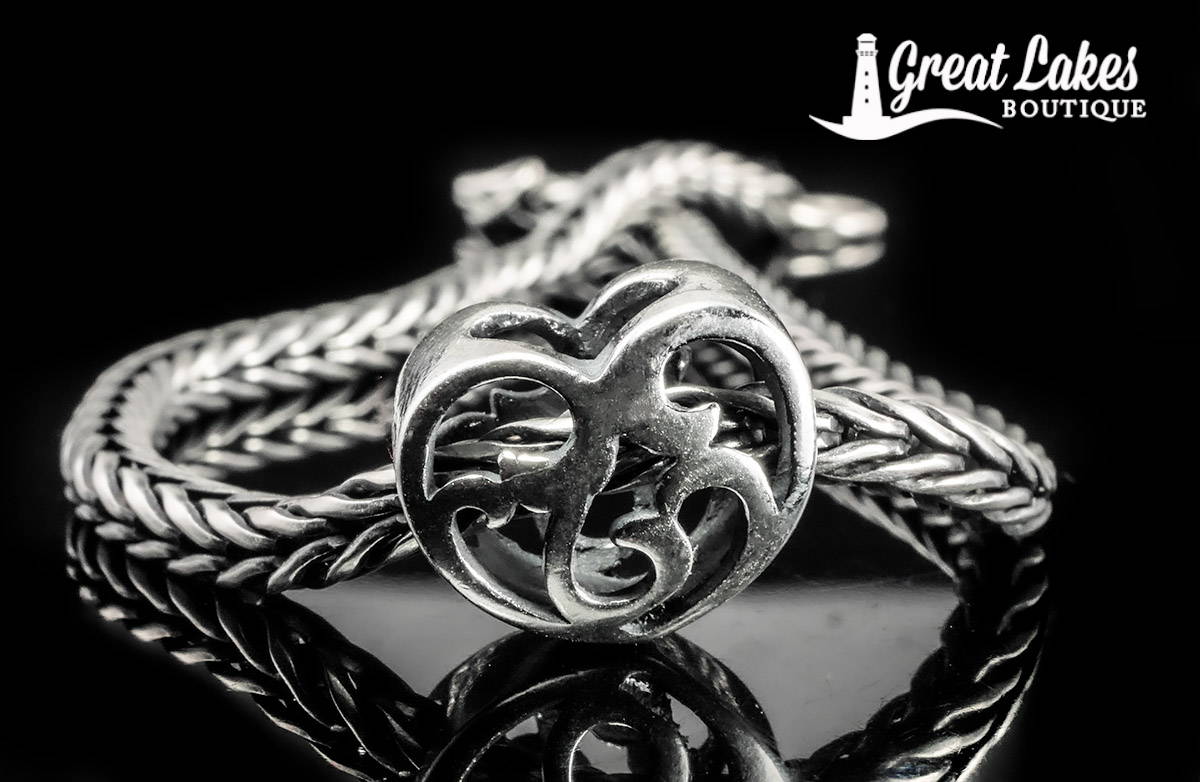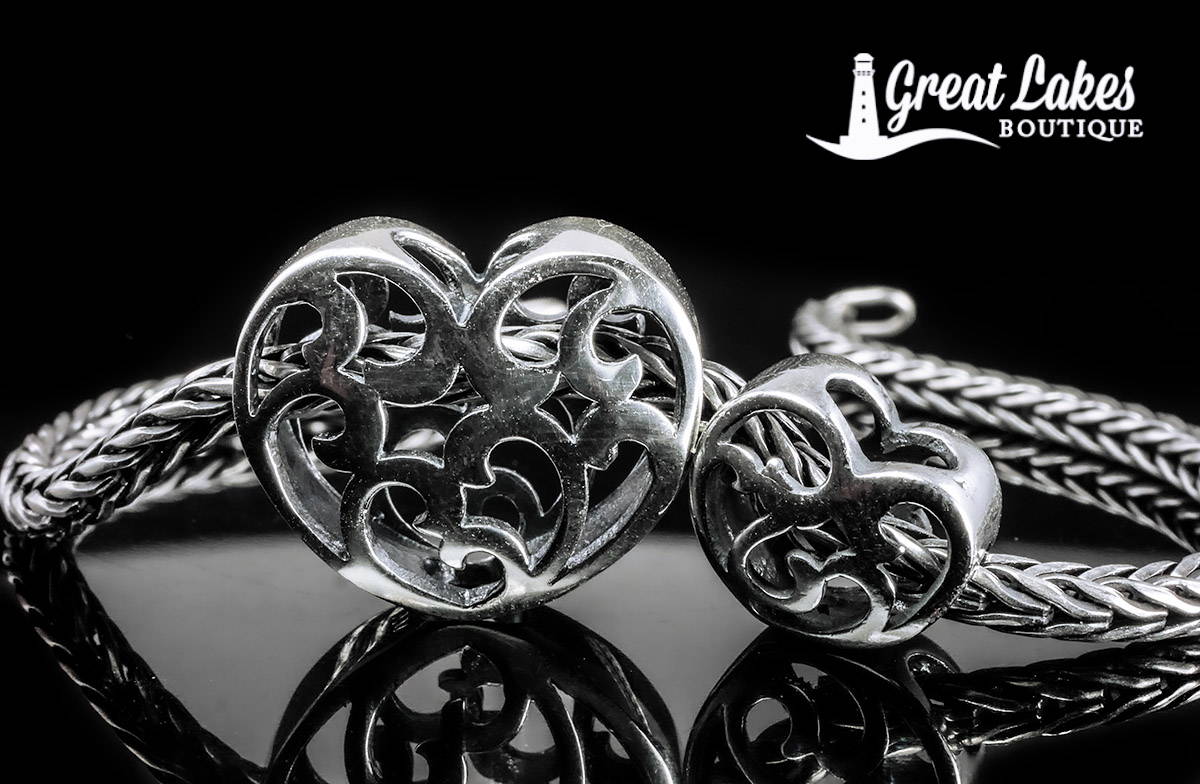 If you think the design of the Passion pieces looks a little familiar, you'd be correct. It's also used on the silver bead and lock for the new From the Heart Bracelet set. Remember they're just $120 for the bracelet so if you like the design, it's worth getting to be completely coordinated this season.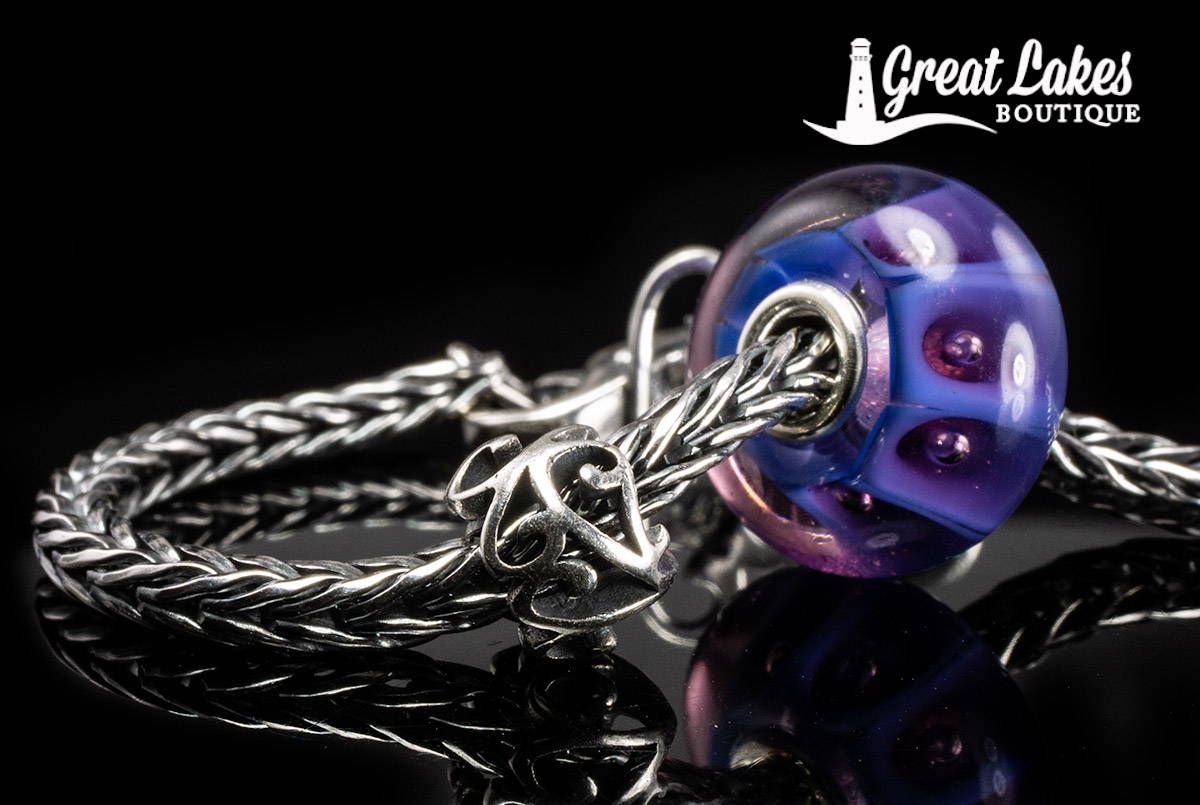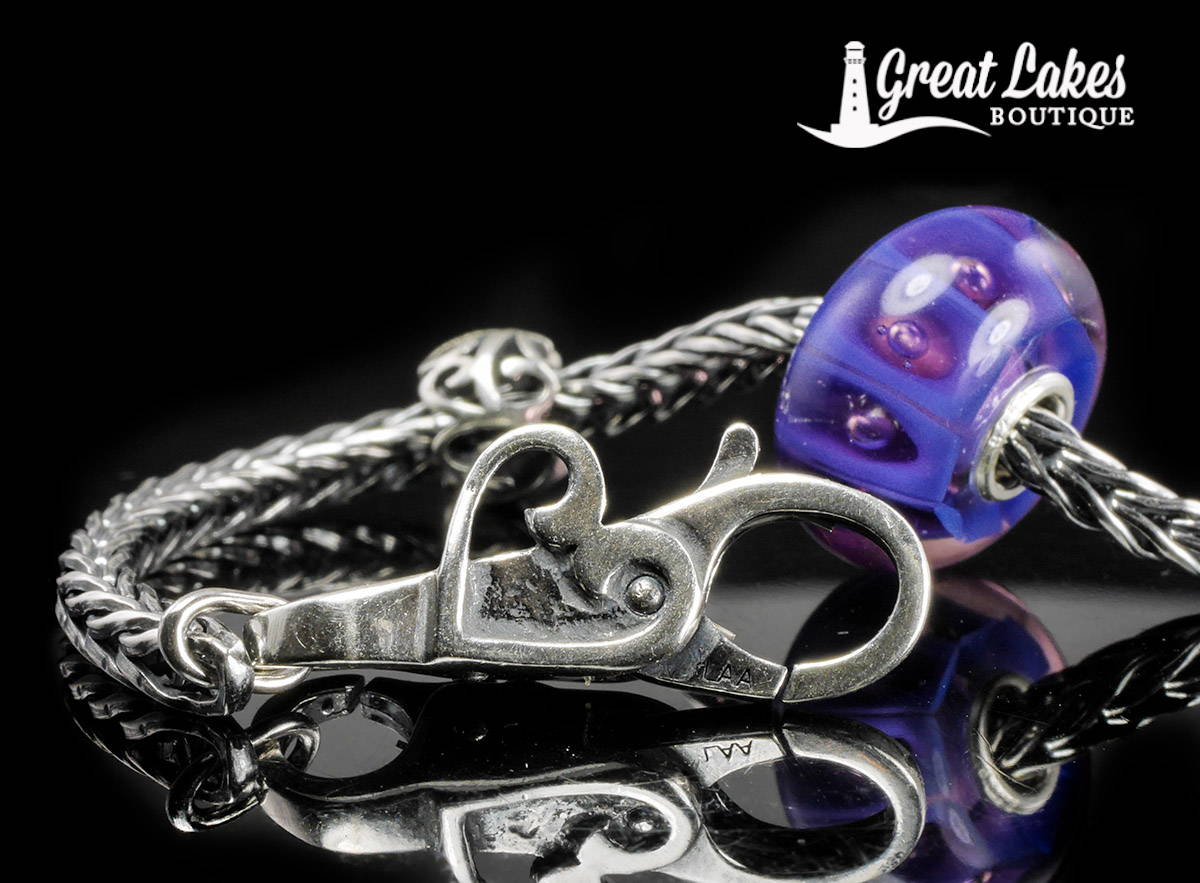 The Trollbeads Spirit of Christmas continues the series that began with the Spirit of Freedom and most recently saw the Spirit of Sleep launch.
This is a good size focal bead and a must have for fans of the traditional Christmas Nisse.
I quite like the idea of putting them all together on some kind of wheel of the year inspired bracelet. Actually the more I think on that, the more I hope it's a series Trollbeads choose to continue.
The final decorative silver pieces are the much anticipated alphabet spacers. These really captured the imagination of collectors following the first preview and yes, they're a lot of fun.
They sit snugly on bangles, they're a large enough size for the letters to be discernible. They're also addictive because it's just fun to create various words of phrases. The fact these are also stoppers is such a great move on Trollbeads' part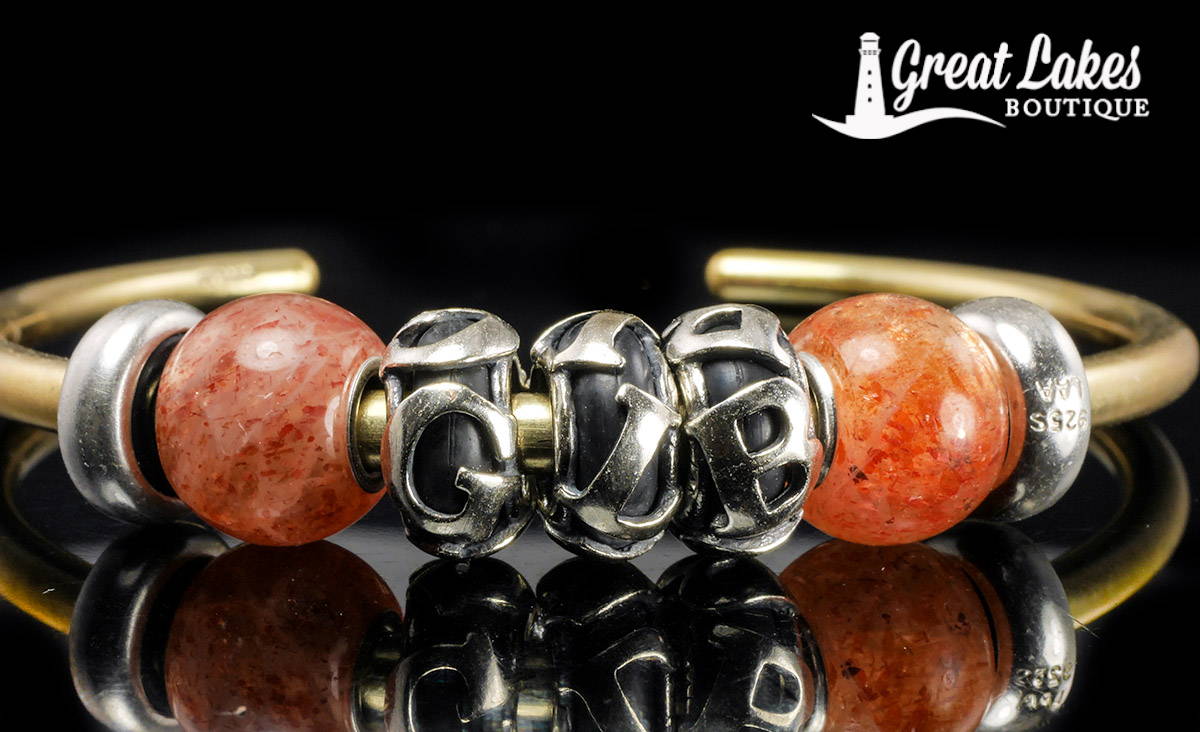 Trollbeads Winter 2019 Launch
For those of you new to either Trollbeads or Great Lakes Boutique, we like to make a real celebration out of new releases. We're all collectors here in store and we're just as excited for new beads as you all are.
At midnight on Thursday night (as Thursday turns to Friday,) live images of the release will launch on our website. Please do note we're now back on EST or Eastern Standard Time after we switched to winter time this weekend.
You'll be able to choose exactly the beads you want.
We're loving the release here at GLB and are big fans of the fact it feels more of a winter collection than strictly Christmas. We're currently in that somewhat awkward time of year where all of the holiday products are appearing but does it really feel like Christmas yet? Equally we try to encourage customers to place their orders of products that we know are going to be in high demand so as to avoid any potential disappointment. Particularly as the mail from Thanksgiving onwards tends to move at a snail's pace.