This bead bracelet blog brings details of the promotions for The Palace of Amber during Bead Bash on the Lake Fall 2020.
We're now a mere eight days from the start of Bead Bash on the Lake Fall 2020 and predictably things are a little chaotic for us.
Today we're announcing the final promotions for the event weekend and of course it's the turn of The Palace of Amber.
These promotions are actually a little more complicated and we do apologize for that. We're doing it this way to ensure the best possible offers for our customers.
There are two offers spanning most of The Palace of Amber inventory.
Save 50% on Retired Silver (Plus Select Beads)
Buy Two Get One Free
The select 50% off beads will span all retired glass (please note the new Peacock glass are excluded) and some older gemstones. In the days before the event a dedicated page will launch here on the website with all of the beads that fall into this category.
Buy two get one free will then apply to the majority of the collection but all new season beads are excluded. This includes Equinox. Again a page will be setup to show the beads included in the buy two get one free offer.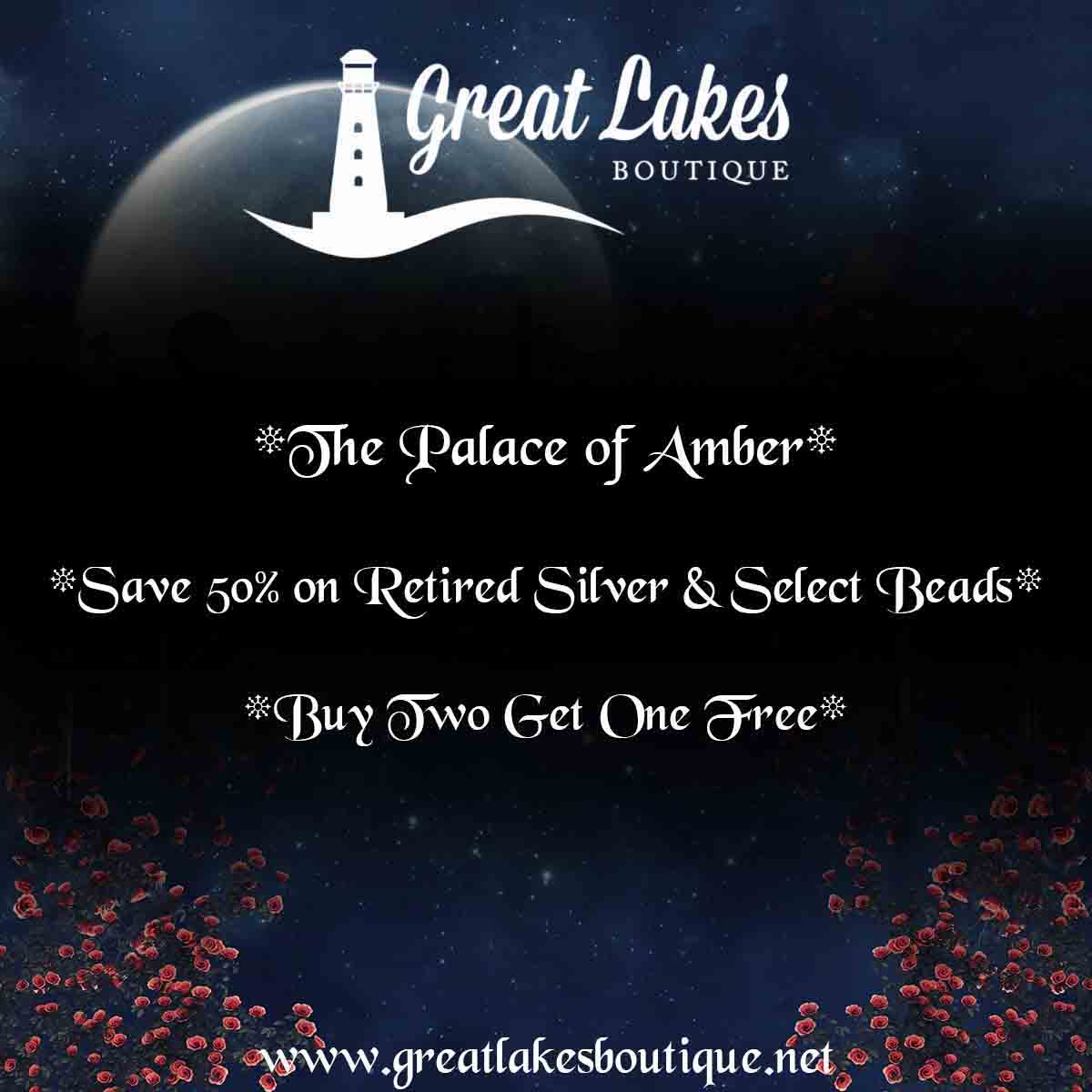 These promotions do not stack so you can't apply buy two get one free to beads already discounted by 50%. Ahead of the start of the event, we are aiming to have product stickers live for all brands, showing exactly what (if any) promotions apply to said item. We hope this is going to make it clearer for customers exactly what is excluded. We know some of you run into issues with knowing what is new season or what was from the Trollbeads Summer 2020 collection and so on.
Please be aware however that no promotion will begin until the clock strikes midnight on Friday September the 25th (so that's as Thursday turns to Friday on EDT.)
Shipping charges will apply to any beads in the 50% off category. Those of you who spend $50 or more on full priced beads will then receive a refund after the event. We will also combine all orders so you only pay one set of shipping fees (where applicable.)
At this point all promotions have now been announced. There will be a summary post bringing all of this together for you, along with an FAQ
Trollbeads Buy Three Get One Free (excludes fall 2020, summer 2020, Trollbeads Day 2020, Sophistication, faceted uniques & other event special stock.)
Trollbeads Buy One Get One 50% Off on Gemstones (excludes red jaspers and hornblendes)
Save 25% on Trollbeads Gold
Trollbeads Free Bracelet Promotion
Trollbeads Free Spacers Promotion
Buy a Trollbeads Pendant, Save 25% on a Necklace
Bella Fascini Buy Two Get One Free
Bella Fascini Buy One Get One Fifty Percent Off on Signature CZ Beads
Thomas Sabo Free Bracelet Promotion
Thomas Sabo Buy Three Get One Free
The Palace of Amber 50% Off Retired Silver, Glass & Select Stones
The Palace of Amber Buy Two Get One Free (excludes all new season beads & Equinox)
Save 70% on Ohm Beads
Save 70% on Henhousebeads
Special stock will include:-
The Palace of Amber Equinox Event Bead
Trollbeads Sophistication Event Bead
Trollbeads Faceted Uniques
Trollbeads Antique Jewelry Pieces
We also have another event bead unveiling tomorrow.
This is going to be an absolutely huge event in terms of the promotions and savings on offer. Please keep in mind our inventory is limited.